Globe and Mail: Losing Buildings in Toronto

Unprotected Robinson Cottages, At Risk
Alex Bozikovic
Which Toronto buildings deserve heritage protection?
+read
---
Globe and Mail: Expensive Steak at Toronto's Casa Loma
John Semley
Casa Loma's BlueBlood revitalization
+read
---
Globe and Mail: Daniels Faculty of Architecture, Landscape and Design

Daniels Graduate Studio, spectacular roof
Dave LeBlanc
Hiding in plain sight
+read
---
W.BEZ: Johnson Publishing Building, Chicago
Lakeidra Chavis, forwarded by Tamara Anson-Cartwright
The Fading Extravagance Of The Johnson Publishing Building
+read
---
Toronto Star: Severance or Weston HCD?
Alex Mckeen

A Weston homeowner wants to split his large lot and build two houses. Many of his neighbours want to stop him
A development proposal to knock down an old house and put up two new ones is part of a larger conflict between heritage an...
+read
---
PLACES: Benjamin Franklin College, Yale University for Sale
Belmont Freeman
Tradition for sale
With the 2016 refurbishing of the Beinecke Rare Book Library, Gordon Bunshafts translucent marble reliquary built in 1963...
+read
---
The Guardian: Brutalist Housing goes to V&A
Mark Brown
V&A acquires segment of Robin Hood Gardens council estate
+read
---
Canadian Architect: Knox College becomes Daniels Faculty of Architecture, Landscape and Design
Ken Greenberg
Turning Full Circle
Establi...
+read
---
InsideToronto: Exciting Future for 1300 Gerrard Street
Joanna Lavoie, Beach Mirror

'Exciting' future envisioned for unique east Toronto venue
Leslieville residents Robert Ind...
+read
---
Metro News: Bus Terminal Design Charrette
Sarah-Joyce Battersby

Young designers set to breathe new life into 87-year-old Bay St. coach bus terminal
When Mayor W. Stewart ceremoniously purchased the first ticket at Toronto's new coach terminal on Dec. 19, 1931, a throng ...
+read
---
Spacing: The Little House in the Lawren Harris Painting

It's in Yorkville, photo Spacing
Ellen Scheinberg and Jim Burant
In search of the elusive Lawren Harris
+read
---
Toronto Star: Opinion - Save the Salem Chapel
Vicki Mochama
Preserving Salem Chapel, promoting a rarely told past: Mochama
...
+read
---
Arch Daily: Interesting infill on a very narrow site
HVB Complex / 23o5studio
Text description provided by the architects. A multi-functional facility was built on the site wit...
+read
---
Globe and Mail: Junction Destructor lives again
Dave LeBlanc
Industrial art deco repurposed
+read
---
BlogTO: Future for Ten Editions Bookstore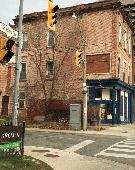 photo Catherine Nasmith
Lauren O'Neill
Toronto Can't Decide if it Should Demolish Bookstore for Student Residence
The University of Toronto will not go down quietly in its fight to tear down a 132-year-old retail store for a new high ri...
+read
---
Broadway World: Recognition for National Arts Centre Alterations

National Arts Centre, Diamond Schmitt Architects
Diamond Schmitt Architects Receives Jury's Choice Award for Arts Centre Rejuvination
+read
---
Citytv: Group to Save Garrison (Robinson) Cottages

Robinson Cottage

Neighbourhood group hopes to save Toronto's Garrison Common cottages

A neighbourhood group is rushing to save a cluster of... +read
---
Toronto Star: Supreme Court Rules Against BC First Nation Desire to Protect a Place of Indigenous Cultural Value

Tonda MacCharles


Supreme Court approves B.C. ski resort development on Indigenous lands

... +read
---
Globe and Mail: Property Tax Reform for Small Business (Main Street0
Cailynn Klingbeil

Toronto eyes new tax class that could spell relief for small businesses
+read
---
Toronto Star: Dufferin and Queen Studio Spaces, lost but not found
Julien Gignac

Queen West artists stand against demolition of studio space
...
+read
---
CBC Hamilton: St. Catharines Early Black Church in Jeopardy

Harriet Tubman
Samantha Craggs
Harriet Tubman's former church is in dire need of repairs
+read
---
CBC News: Kensington Market Heritage Minute

Goldlist Poultry, Tom's Place is in the same building now, owner Tom Mihalik narrates the minute.

Ron Charles


New Heritage Minute features Toronto's Kensington Market

Toronto's ... +read
---
BlogTO: Don Mills and Eglinton Reboot

Lauren O'Neill


Giant Development Coming to North of the Ontario Science Centre

New renderings have emerged of a massive planned community near Eglinton and Don Mills Road, giving us further insight thi... +read
---
BlogTO: WE Headquarters at Queen and Parliament in Toronto
Liz Power

This Might be Toronto's Nicest Office Space
+read
---
NOW: Toronto Dominion Center
Pauline Berkowitz
The Toronto-Dominion Centre 50 years later:
How Mies van der Rohe's creation remains a declarati...
+read
---
Historica Canada Minute on Kensington Market

Baldwin Street, Catherine Nasmith
Historica
Kensington Market Heritage Minute launch
An interesting animated video on the evolution of Kensington Market, home to me and Built Heritage News....
+read
---
Globe and Mail: Ron Thom House near Peterborough
Dave LeBlanc

Modernist home designed by Ron Thom blends into natural landscape
In the early 1970s, after enjoying international acclaim with both Torontos Massey College...
+read
---
Honeycat Productions: Welland celebrates its Heritage sites with a new film
Diana Williamson

Welland's 27 Designated Properties celebrated on film
The Welland Heritage Advisory Committee commissioned a film to celebrate the owners of the 27 "designated heritage" proper...
+read
---