Issue No. 163 | May 28, 2010
Feature Stories
Doors Open Toronto 2010 program highlights - 'Get into architecture'
Subscribe to Acorn in a Nutshell
Queens Park Views: Post Mortem
R.C. Harris research,
Lang Tannery: What's wrong with this picture?
Events
Roundhouse Park and Toronto Railway Heritage Centre Open
Friday, May 28
+ read
---
Music at Sharon 2010
Sundays, June and July
+ read
---
Heritage Toronto Trillium Dinner Cruise
Friday, July 2
+ read
---
Toronto Island House and History Tour
June 13, 2010
+ read
---
"Conservation in Context: Changing Historical, Theoretical and Operational Perspectives".

+ read
---
Advertisements
Built Heritage News Sponsors
1. Doors Open Toronto 2010 program highlights - 'Get into architecture'
Doors Open Toronto Press Release
This year's edition of Doors Open Toronto on Saturday, May 29 and Sunday, May 30 will present up to 150 buildings that highlight the architectural diversity of Toronto. This free city-wide event features more than 40 new locations as well as numerous walks and talks. The official program guide will be published in the Toronto Star newspaper on Thursday, May 27.
Doors Open Toronto offers many free exclusive architecturally-themed locations. Details about each participating venue are listed on the "Buildings to visit" page at http://www.toronto.ca/doorsopen.
New Locations: A number of iconic Toronto buildings are new to Doors Open Toronto this year, including the restored Allstream Centre at Exhibition Place, the Canadian Lesbian and Gay Archives, Stephen Caras Design in a 1905 former bank building, and the Sunnyside Pavilion. Visitors get rare access to Toronto's first Jewish burial site, at the Pape Avenue Cemetery, and can learn about Buddhist practice at the Kadampa Meditation Centre Canada.
The new Rogers Studios (home to Citytv and OMNI Television) opens its doors on Sunday only. Quadrangle Architects Ltd. will be on site to talk about designing this state-of-the-art broadcast facility. A new industrial location is the Portlands Energy Centre, where mandatory protective wear is provided for a limited number of tours on Saturday only. The home of Second City celebrates 35 years of its comedic legacy while Gilda's Club of Greater Toronto welcomes visitors to its Lombard Street Firehall centre for cancer support. Frontier College showcases 110 years as Canada's original literacy organization in Gzowski House. New places of worship include Church of Jesus Christ of the Latter-day Saints, First Narayever Congregation and St. Stanislaus Kostka Roman Catholic Church.
Welcome Back: Several popular venues return to the roster this year following a hiatus, including Le Méridien King Edward hotel (featuring the Crystal Ballroom), the award-winning McKinsey Building and the Redpath Sugar Refinery. The Royal Alexandra Theatre welcomes presentations by Lorna Harris, grand-daughter of architect John Lyle.
Ask an Architect: Architecture is the theme of this year's Doors Open Toronto. Ten Toronto firms open their doors to showcase their work: Bortolotto Design Architects; Diamond and Schmitt Architects; du Toit Allsopp Hillier/ du Toit Architects; Farrow Partnership Architects; Kasian Architects; Levitt Goodman Architects; Moriyama and Teshima Architects; Stantec Architects Office; Taylor Smyth Architects; and Zeidler Partnership Architects.
Several venues host their architects, including Bethel Green Senior Residence and Church (Robert Reimers); City Hall Podium Green Roof (Chris Pommer/Plant Architect Inc.); Evergreen Brick Works (Joe Lobko); Hugh Garner Housing Co-op Green Roof (Monica Kuhn); Humber Arboretum (Taylor Hazell Architects); Scarborough Chinese Baptist Church (Teeple Architects Inc.); St. Gabriel's Church (Roberto Chiotti/Larkin Architects); Toronto Community Housing's new property at 501 Adelaide St. E. (Adam Feldmann/Architects Alliance ); Toronto Transit Commission - Mount Dennis Bus Garage; and University of Toronto's Regis College (Kevin Weiss/Larkin Architects).
Livewithculture.ca profiles a number of locations and their architects at http://www.livewithculture.ca/category/architecture/.
Walk the Walks: The Toronto Society of Architects (TSA) launches two new guided architecture walking tours, available for free only on the Doors Open Toronto weekend. "Toronto's Cultural Renaissance: Buildings of the 21st Century" highlights the architecture of the city's recent "cultural renaissance" (three times daily) while "Skyscrapers of the Financial District" features the historic to modern buildings of the financial district (twice daily). The TSA offers these tours hourly from 11 a.m. to 3 p.m. Attendees can register at the TSA's table at Toronto City Hall from 10 a.m. each day. Space is limited. More information about this program is available at http://www.torontosocietyofarchitects.ca/?q=node/431.
Keep Walking! Shawn Micallef, author of the new book "Stroll: Psychogeographic Walking Tours of Toronto," leads a stroll through the Annex from Coach House Press on Saturday at 1 p.m. Factory Theatre offers building and walking tours/talks around its historic Irish Claretown area conducted by local historian Joanne Doucette (Saturday and Sunday).
At Evergreen Brick Works, Diaspora Dialogues presents literary walking tours of the quarry on the theme of labour and architecture with Toronto artist guides Gein Wong, janet romero-leiva, Gili Haimovich, Samantha Bernstein and Falen Johnson (Saturday from 1 to 4 p.m. and Sunday from 10 a.m. to 1 p.m.).
There are also walking tours of the Beach community (Saturday only, 10 a.m. and noon), the revitalized Regent Park Phase One (Sunday only) and departing from Fort York (Sunday at 1 p.m.).
Steamy attractions: Audiences will be able to celebrate the 100th anniversary of the Trillium, the last side-wheeler paddle steamer operating in North America, which will be moored both days at the water's edge in Harbour Square Park (west of the Toronto Island Ferry Docks). The captain, steam engineer and crew as well as columnist-historian Mike Filey will be on board.
Toronto's railway heritage gets on track at the opening of the Toronto Railway Heritage Centre and Roundhouse Park. Heritage locomotives are featured alongside a functioning interlocking tower, the restored historic Don Station and a miniature railway traversing the park. Enjoy tours of Steam Whistle Brewing, housed in the John Street Roundhouse.
Family activities: More than 30 Doors Open Toronto locations will offer activities and events for families. The Horse Palace at Exhibition Place and the Evergreen Brick Works will provide programs all weekend. A full list of locations and the 2010 Kids' Guide to Doors Open Toronto (produced by City Parent), which includes a number of activities for children, is available online at http://www.toronto.ca/doorsopen/kids.htm and at select Doors Open Toronto locations.
Official Launch: Doors Open Toronto launches at the Royal Ontario Museum (ROM) on Friday, May 28, 4:30 to 9:30 p.m. Admission to the ROM is free and includes comedy by Second City and Afro-Latin music by Santerias. CityNews anchor and reporter Roger Petersen will emcee. Discussions include the launch of A Guidebook to Contemporary Architecture in Toronto with panelists Bruce Kuwabara, Larry Wayne Richards, William Thorsell and authors Margaret and Phil Goodfellow - moderated by Christopher Hume, Toronto Star. Author Shawn Micallef and illustrator Marlena Zuber discuss psychogeography and Toronto's neighbourhoods. All museum galleries will be open.
Doors Open Toronto has attracted more than 1.5 million visitors since it began, with more than 250,000 attendees in 2009. Toronto was the first North American city to launch a Doors Open event and has advised programs like Doors Open Ontario and Open House New York. In 2009/2010 Doors Open Toronto received two national awards: the City Soul Award from the Canadian Urban Institute's Urban Leadership Awards and an Award of Outstanding Achievement in Marketing from the Canadian Museums Association. In April 2010 Doors Open Toronto received the first-ever City Manager's Award for Toronto Public Service Excellence from the City of Toronto.
The public can now connect and interact with Doors Open Toronto through social media: Facebook, Twitter and Youtube. Visit the Doors Open Toronto website for links to its social media.
Doors Open Toronto is produced by the City of Toronto and sponsored by the Toronto Star. Media sponsor: Citytv. Program Sponsor: Woodcliffe. Program Partners: Indigo Books and Music Inc. and Toronto Society of Architects. Media can download high resolution images at http://www.toronto.ca/doorsopen/gallery.htm.
Toronto is Canada's largest city and sixth largest government, and home to a diverse population of about 2.6 million people. It is the economic engine of Canada and one of the greenest and most creative cities in North America. Toronto has won numerous awards for quality, innovation and efficiency in delivering public services. Toronto's government is dedicated to prosperity, opportunity and liveability for all its residents. For information about non-emergency City services and programs, Toronto residents, businesses and visitors can dial 311, 24 hours a day, 7 days a week.

- 30 -
Media contacts:

Shane Gerard, Senior Promotions & Communications Coordinator,
Cluster A Communications Unit, 416-397-5711, sgerard@toronto.ca

Jane French, Project Manager, Doors Open Toronto,
Museum Services, Cultural Services, 416-338-0496, jfrench@toronto.ca


Shane Gerard
Senior Coordinator, Promotions & Communications
City of Toronto
Cluster A Communications Unit
Metro Hall, 9th Floor
55 John Street
Toronto, ON M5V 3C6
Phone 416-397-5711
Cel: 647-881-9854
Fax: 416-392-5859
Email: sgerard@toronto.ca
---
2. Subscribe to Acorn in a Nutshell
Catherine Nasmith
ACO president Lloyd Alter has started publishing an e newsletter, Acorn in a Nutshell which is a witty upbeat and mercifully short bulletin that describes the activities and perspective of heritage preservation in Ontario, from the ACO President's perspective.
As past president, I know the view from that chair. It is not always easy to be positive. Even when sending out darts Lloyd is fun to read. You can also catch Lloyd's writing on TreeHugger http://www.treehugger.com
To subscribe click on this link and type in your email address.
http://visitor.constantcontact.com/manage/optin/eav=001QKOUjm76P7atNhc9cspLoQ%3D%3D
---
3. ACO Brighton hits a bureaucratic snag
Ray Yurkowski
ACO Brighton hits a bureaucratic snag

By Ray Yurkowski
EMC News - Brighton As residents left the council meeting on Monday night, they were scratching their heads. Many were wondering if this council cared at all about heritage.
"It's ridiculous," said Architectural Conservancy Ontario (ACO) Brighton
president, Ian Kennedy. "(Council) obviously didn't read the architect's report
because he said 'nearly a hundred years old and its been well maintained.' And as Gord (Tobey) mentioned, he had a look at it as well; the brickwork is in perfect condition.
"It's very irritating that we have to keep on reiterating that it's a soundly
built building and that it's still in good shape."
Award winning builder/developer Gordon Tobey presented the
Preservation Works! report to Brighton council. The report was commissioned
by the local ACO on the state of Brighton Public School.
"The building is the municipality's only large significant public heritage
structure," said Tobey. "It was built in 1915 at a cost of $52,634. Mr. Sam
Nesbitt, a prominent Brightonian and member of the provincial legislature,
donated $10,000 toward the school. Apparently, the site was also donated."
Just four nights before, Tobey was in Peterborough, making the same presentation to the Kawartha Pine Ridge (KPR) District School Board.
"The reaction by the Board was positive," Tobey told councillors on Monday
night.
"(Heritage architect Phil) Carter, in his report & outlines possible re-use
scenarios which would be complementary to the school and should be explored. Such uses might be a conversion to a condominium, assisted living housing or homes for Habitat for Humanity.
"In addition, conversion to use such as a condominium might contribute to
property taxes, as much as $30-40,000 per year. It would be very beneficial not to have to cart a lot of this structure offto the Brighton landfill site."
When it came time for council to ask questions, Councillor Chuck Ward was
first.
While he appreciated the sentiment of the ACO report, he said, "I'd appreciate
it even more if you'd brought some consent from the Board of Education."
"This is a tough one," added Ward. "Because we made our decision based on
the school not being built if this took place. That's my only concern."
"The new school is going ahead," said Tobey. "So, there's no concern about
that."
Maybe its time a developer stepped up and contacted the school board said
Mayor Chris Herrington. She confirmed there has been some interest in the heritage building and has had recent talks with an interested party.
"But they should be going to the owner of the building," she said.
The thing is, KPR board chair Diane Lloyd says development groups should
go to the municipality.
"If these people feel that there's a viable use and they want to do all the
groundwork and talk to council, they can certainly come back and talk to us
again," she said in an interview last week. "But right now, we need to get a
school built (and) ready for the students of Brighton & the bottom line is our
business is education and that's what we have to be concerned about."
When council wrestled with the issue back in November, they decided "the
municipality take no further action with regard to the use of Brighton Public
School." The vote was 6-1, with only Councillor Dave Cutler opposed.
On Monday night, he made an impassioned plea to his fellow legislators.
"You need to move from thinking and talking to doing," he said. "Do we have
the political will to make that vision a reality? Do we have the guts to try and
protect this building?
"Because this for me is a crossroads for Brighton. This is the most important
heritage building we have at the moment. If this thing goes down because
council is not prepared to take the lead & just to sit down with some folks and
see if we can broker a deal."
When a motion was introduced receive the report with no action, Cutler
tried to amend by deferring the issue to next week's Committee of Whole meeting for further discussion. The vote: five against with only Cutler and Councillor Ostrander voting yea.
In the end, "that council receive the information provided by the Brighton
branch of the ACO regarding Brighton Public School," was voted in.
"What that means to the ACO is that council came to a decision tonight to
receive the information and it will not be forward for any further discussion
at this point in time," explained the Mayor.
Ostrander then asked Herrington "if that would preclude the mayor making a
phone call to the chair of the Board of Education and have a chat."
"I will do that if council provides that direction," she said.
"There's no obligation on (council's) part to set up a committee to try a broker
a deal to make heritage work," said a disappointed Tobey after the meeting. "I
think it's going to be a traumatic event if that school is put to the hammer."
ACO Brighton will regroup, take a look at their options and "decide what
approach we can take now," he said. "We're certainly not going to let this
issue drop."
ACO Brighton will be holding their annual general meeting on May 8 at
Proctor House. The meeting starts at 6:30 p.m. and will feature guest speaker,
provincial ACO president Lloyd Alter.
His topic, 'Heritage is Green', is a very timely subject and will show how heritage buildings were built to handle Canadian weather and are so much more worthy of preservation and refurbishing any modern structure which might
be built to replace them.

---
4. Studio Building: National Historic Site
Group of Seven Studio Celebrated as a National Historic Site of Canada
Toronto, Ontario, May 15, 2010--Today, the Honourable Jim Prentice, Canada's Environment Minister and Minister responsible for Parks Canada, celebrated the national historic significance of the Studio Building, and how this studio closely bonded with the Group of Seven artists helped revolutionize Canadian art.
"Before the Group of Seven were able to gather and share their inspiration and creativity here in the Studio Building, the beauty of the Canadian landscape was not recognized. The artists who gathered here presented the magnificence of Canada to us and changed a vast empty wilderness into a stunning home – our home – that has foundations formed by the incredible and distinctly Canadian art created at this site, a home that is now the envy of the world," said Minister Prentice when he unveiled a Historic Sites and Monuments Board of Canada plaque.
The Studio Building, designed to be a workplace for artists, is an example of early 20th century modern architecture in Canada that rejected ornamentation and drew on industrial design. Its studios were specifically designed to let in the indirect northern sunlight - natural light sought out by artists for its clearness. The first six artists to use the Studio Building were Lawren Harris, Tom Thomson (who shared a studio with Jackson J. Beaty), A.Y. Jackson, J.E.H. MacDonald, Arthur Heming, and Albert Curtis Williamson.
Hosting several generations of artists, including the Group of Seven painters, the Studio Building is of enormous significance in the history of Canadian art. The building represents the contributions of generations of Canadian artists who produced the world-renowned paintings that are now prized possessions in museums across Canada and around the world. These artists shared a common interest in Canadian themes – together they radically changed and redefined the way Canadian art and artists were depicted.
---
5. Heritage Toronto launches two new iTours of Don Mills and Toronto Island
Heritage Toronto

Just in time for the good weather - Heritage Toronto launches two new iTours of Don Mills and the Toronto Island.

Supported by the RBC Foundation, iTours are visual and audio tours that are a convenient way to explore Torontos heritage, and visit areas of the city that are difficult to navigate with larger groups of people. iTours feature archival photographs, taking viewers on a photographic journey of the people, places and events that have shaped Toronto, and commentary from those who have shaped the neighbourhoods profiled.

The first iTour visits one of Canada's most renowned post-war suburban communities, Don Mills. Dave LeBlanc, the Architourist for the Globe & Mail guides us through the development of this unique modernist community, with contributions from those who designed it including Macklin Hancock, Douglas Lee and Henry Fliess.

The second iTour travels to the Toronto Island, recounting the history of our historic natural retreat. This iTour has been designed as a bicycle tour that travels from Hanlan's Point to Ward's Island. Residents and actor Mathew Ferguson and writer Alison Gzowski also provide their thoughts on the culture and history of the Island.

iTours are available for viewing and downloading to MP3 devices on Heritage Torontos website (http://www.heritagetoronto.org/discover-toronto/itours).

The iTours program has been generously supported by the RBC Foundation through a gift of $20,000.

For more information about Heritage Toronto iTours, please visit www.heritagetoronto.org.
---
6. Queens Park Views: Post Mortem
Catherine Nasmith
Toronto Star Cartoon, Corrigan
Last week's OMB decision was a disappointment but not a surprise. The decision reads like a laundry list of what should have been in place to protect these views.

For over two years BHN has been aware of this slow moving train. But like the expected death of a friend or family member, when it happens it is nonetheless difficult. Watching this unravel, losing one bit of hope at a time has been like watching a disaster in slow motion. The Architectural Conservancy of Ontario did everything possible to alert those with the power to actually do something about it, in vain.

At the end of the day, protection for these views requires the concerted effort of two levels of government, the province and the City of Toronto. And that is what did not happen….the mutual deference to the other level of government would be laughable if the consequences weren't so absurd. The Ministers say it is up to the City of Toronto, that the views of the Ontario Legislative Assembly is a local heritage matter. The City of Toronto says, if the province doesn't care why should we. It is as if the City is paying the province back for amalgamation; letting big fingers stick up in the air undermining the symbol of the province's power. Certainly post amalgamation planning led directly to the removal of the protection for this view.

The hero in the piece is the Speaker of the Legislative Assembly, Steve Peters who even when the government refused to declare a provincial interest in the matter took out party status at the OMB and put the Legislative Assembly case forward. But the OMB simply could not find sufficient policy in place at either level of government to warrant overturning the local Council decision. The local decision would have been different if the province had been on board. Round and round we go.

So unless the City and the Province find a way to work together to prevent further encroachment into this viewshed, the not so funny editorial cartoon from the Sunday Toronto Star will become reality.
---
7. Hansard: Question from Andrea Horvath, Queen's Park Views
Ms. Andrea Horwath: My question is to the Acting Premier. Ontarians feel a very strong connection to Queen's Park and this Legislative Building. They see this place as a reflection of democracy and a place that belongs to all of them. So why has the McGuinty government stood quietly by while the OMB approved a super high-rise condo development on Bloor Street, which will cast an ugly blight over the view of this historic Legislature?
Hon. Leona Dombrowsky: Yes, that will go to the Minister of Tourism and Culture.
Hon. Michael Chan: Thank you very much for the question. Our government is committed to protect heritage and heritage sites across the province. Speaker, let me read a statement here, through you, to the honourable member: "The primary Legislative Building is a listed property and is not an Ontario Heritage Act-designated property. It is listed on the register of properties of cultural heritage value or interest maintained by Toronto, pursuant to section 27 of the Ontario Heritage Act...."Since 2005 we have strengthened the Ontario Heritage Act and we believe the best decision will be local government's, which is the municipal government.
The Speaker (Hon. Steve Peters): Supplementary?
Ms. Andrea Horwath: Last fall, the NDP urged the Ministers of Culture and of Municipal Affairs to take some action on this very serious issue. While the Speaker's office and individual members spoke out against the development, the McGuinty government refused-refused-to even participate in the Ontario Municipal Board hearing. New Democrats are prepared, at this moment, to support legislation to protect the view and heritage of Ontario's Legislature. We all know that a heritage building includes the views and the vistas of any said property. What we're prepared to do includes supporting legislation, consenting to legislation that would have swift passage in this Legislature, if the government is prepared to bring such a bill forward.My question is simple: Is the McGuinty government prepared, finally, to do the right thing and-
The Speaker (Hon. Steve Peters): Thank you. Minister?
Hon. Michael Chan: Thank you again for the question. We believe the municipality is in the best position to make decisions about local heritage sites. Let me repeat: This is why in 2005 we strengthened the Ontario Heritage Act, to hand these municipalities the tools they need to protect heritage sites in their community. We believe this is the best decision and this is why we strengthened the act in 2005.
Editor's Note:
When the Act was strengthened it also gave significant new powers to the Minister of Culture, which should have been used here.
---
8. Globe and Mail: Queen's Park Views
John Lorinc
Controversial condo towers visible above Queens Park approved Planning policies dont protect historic vista from proposed Avenue Road high-rises
The Ontario Municipal Board approved a controversial plan Wednesday to build a pair of condo towers that will be visible above the Ontario Legislative Assembly when seen from University Avenue south of College Street.
Board member S. J. Stefanko ruled that high-rises proposed for the Four Seasons Hotel property at 21 Avenue Road are "consistent" with provincial and city planning policies, and rejected arguments that the project will undermine the "postcard" views of the legislature.
The application, from Menkes Developments, had been opposed by the Office of the Speaker of the House, representing the Ontario Legislative Assembly.
Characterizing the decision as "unbelievably disappointing," heritage expert Catherine Nasmith, former president of the Architectural Conservancy of Ontario, predicts the project will set a precedent for other properties on Avenue Road just north of Bloor. "We're gradually going to have no sky behind Queen's Park," she said.
During the lengthy approvals process, it became apparent to Toronto's heritage community that an earlier generation of planning policies designed to protect historic "view corridors" had been purged from the city's new official plan.
Earlier this year, Menkes proposed slightly lower towers, but city planning staff continued to oppose the plan. Council, however, approved the modified version, which will be visible over the Queen's Park roofline south of College Street.
---
9. Toronto Star: Editorial Queen's Park Views
Don't Blame the OMB
What's left of the postcard view of the Legislative Building at Queen's Park — or the "pink palace," as it is known — is set to be erased by condominiums. Who is to blame?
When two high-rise towers were proposed to replace the Four Seasons Hotel on the corner of Avenue Rd. and Yorkville Ave., concerns were raised that that they would loom in the background of the 117-year-old Legislative Building. But the culture minister of the day, Aileen Carroll, refused to intervene and declare a "provincial interest" in the site, which could have forced a scaling down of the development. "The silhouette is not pristine nor is it imperative to the heritage preservation of the Legislative Building that it be so," Carroll wrote to the Star earlier this year.
The proposed development was subsequently approved by Toronto City Council, but the Speaker of the Legislature, Steve Peters, fought it at the Ontario Municipal Board. The OMB ruled last week in favour of the development. "The skyline of this building is going to be permanently destroyed," lamented Peters.
Some are blaming the OMB, a quasi-judicial body, for this outcome. But the fingers ought to be pointed at the politicians. With city council in support of the development and the provincial government indifferent, defenders of the Queen's Park vista had no chance.
---
10. Toronto Star: Letter to the Editor
Mark Dowling
Different take on OMB
Re: OMB and Queen's Park view, Letter May 22
Readers of your letters page might draw the conclusion that "once again" the OMB had overridden democracy by denying the appeal against the Four Seasons development in the Queen's Park view corridor. A perusal of the decision (available on the Web) would invite a different conclusion.
The decision notes that not only did city council approve this development, doing so against the objection of council's own staff, but it dispatched its representative to the OMB in support of the developer, not the legislature.
The OMB decision notes that council made a planning approval for a different site in December 2009 conditional on protecting the view corridor and that therefore it could have done so in the Four Seasons matter. Were OMB member Stefanko to have allowed the legislature's appeal, this would have confirmed Councillor Vaughan's assertion of insufficient deference to the will of elected officials (May 20) rather than rebut it, as the denial did.
We have been led to believe that the OMB is our problem and council having ultimate control represents the solution. Between this case, the Corus building on the waterfront and the unfolding hockey rink fiasco in the Portlands, it is clear that council is not the final word on good planning either.
Mark Dowling, Toronto
---
11. Toronto Sun: Queen's Park Views
Antonella Artuso
Ontario Speaker Steve Peters made a rare and impassioned plea Thursday to protect the skyline above Queen's Park from looming condo towers."What we're about to see if this development proceeds is a building that isas high as the Four Seasons (Hotel) and and one-third to the top of that," he said. "The skyline of this building is going to be permanentlydestroyed."
In a rare plea to the Ontario government, Peters asked the Minister of Municipal Affairs to directly intervene to protect the vista.The Ontario Municipal Board (OMB) approved the buildings Wednesday over the objection of Peters and heritage activists."I am so disappointed in the decision of the OMB," Peters said. "I appeared as Speaker on behalf of the Legislative Assembly, I actually appeared before the OMB, to lay out the case."Peters said the approval of this building potentially opens the door for more development futher ruining the view of Queen's Park.The buildings will be clearly visible behind Queen's Park when travelling north on University Avenue, one of the city's most impressive views.
Ontario Culture Minister Michael Chan said the government has faith in the municipal heritage process, apparently refusing to intervene.Queen's Park, nicknamed the pink palace, is home to the Ontario Legislature.

---
12. Toronto Star: Joy Oil Station
Jack Lakey
The Fixer: Tiny castle awaits a king
There's not much joy in watching the old Joy Oil gas station languish without purpose, 18 months after it was renovated.
For four years we've followed the evolution of the building, which is designated historic, from a derelict eyesore to a lovingly restored example of an antique filling station whose gaudy, faux-chateau design helped it stand out from the competition.
Dozens of the stations could be found across southern Ontario from the 1940s through the '70s, until the only one left was at Lake Shore Blvd. and Windermere Ave. It was still a gas station until the mid-'90s. The city ended up owning it and refurbished the structure because of its historic designation.
The tiny Joy castles were actually two buildings: an office with a small turret similar to those that adorned European castles, connected to a second structure containing auto service bays.
Emails and calls poured in after we began writing about it, mostly from older readers with memories of how enthralled they were by the little dollhouse stations. One woman wrote to say she'd pester her father to stop the car whenever they passed one.
---
13. Toronto Star: Plans for Camp 30
Carola Vyhnak
Historic Camp 30 saved from wrecker's ball Developer learns about Bowmanville site's past in nick of time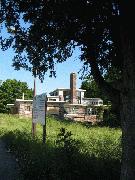 photo, Catherine Nasmith
A history lesson saved Camp 30 from the wrecker's ball.
"We really don't think there's merit in preserving them," developer Kelvin Whalen said last year about a cluster of 18 buildings in rural Bowmanville that were used to house high-ranking German prisoners during World War II.
But a public outcry and reading of a local history book about what's said to be the only intact camp of its kind left in the world caused the Kaitlin Group to call off the demolition just weeks before wrecking crews were set to start work last spring.
"We heard what people were saying about the heritage and history of the site. That doesn't happen very often where you have a property with national, provincial and local significance," says Whalen, vice-president of land development.
The company plans to build 300 homes on the 48-hectare property about 45 minutes east of Toronto that it bought three years ago. But last fall, after redrawing their plans, they offered to give Clarington the 10-hectare Camp 30 site, plus another 14 hectares of parkland.
Now the future of the historic landmark is up in the air as the municipality wrestles with costs and what might be viable uses for the buildings, which need repairs or renovations.
"I certainly want to see the facility saved, but where's the money going to come from and who's going to pay it," asks Mayor Jim Abernethy, who received emails about saving it from around the world.
Editor's Note:Part of the public outcry was a founding of a new branch of the ACO to save these buildings. Contrary to the general sense that only the post-40 crowd care about such things, the new branch president is Clark Morawetz, who was just finishing high school when he got involved. Congrats to all in Clarington who worked so hard to preserve this very interesting piece of Ontario history.
---
14. Waterloo Record: Kitchener faces showdown over Lang tannery buildings scheduled to be demolished to put up a parking lot
Terry Pender
KITCHENER — Heritage experts say city councillors can move immediately to protect four historic buildings on Joseph Street to prevent a developer from demolishing the old structures to make room for a parking lot.
When more than 75 people attended a city council meeting on Monday to protest against the proposed demolition of the buildings at 189-205 Joseph St. and 14 Linden Ave., they were repeatedly told there is nothing city councillors can do at this point to save the one-storey brick structures that are part of the Lang Tannery.
"I don't think that's true, council can do whatever it likes, it can overrule anybody," Rollo Myers, general manager of the Architectural Conservancy of Ontario, said in an interview Tuesday.
The buildings can be protected from demolition if city council votes to designate the brick sheds and warehouses under the Ontario Heritage Act.
"What you want is a pro-heritage council member to lead the rush," Myers said. "Now if a building is designated you can't tear it down — simple as that."

Editor's Note:See also then SITE B Heritage Impact Assessment prepared by ERA ARCHITECTS. In particular pages 38 AND 39 http://www.kitchener.ca/Files/Item/item18073_hia_lang_site_b_-__addendum_.pdf This report was found along with other project related material at, http://www.wonderfulwaterloo.com/showthread.php/30-Lang-Tannery-Redevelopment-%7C-20-m-%7C-5-fl-%7C-U-C
---
15. Waterloo Record: Tannery developer confident community will get on side
Terry Pender
KITCHENER After people see the extent of the restoration and renovations inside the former Lang Tannery, the developer says they will drop their opposition to the planned demolition of four old buildings nearby. Lana Sherman, the managing director of Cadan Inc., is preparing for Thursday when she meets with community representatives who want the four buildings on Joseph Street saved and reused. Sherman plans to show them the work inside the main tannery building that has attracted tenants such as the digital media centre, Desire2Learn, Balzacs Coffee, a pizzeria and a medical health clinic. I think people dont appreciate the extent of the work we have done here, Sherman said during a tour of the Tannery building that is quickly being transformed into a 21st century workplace. This place wont be recognizable in two months, Sherman said.
---
16. Kitchener-Waterloo Record: Editorial- Lang Tannery
Core revival is the real issue
Too much of Kitchener's history, too much of its architectural heritage, too much of what made it Kitchener, has been sacrificed to the wrecking ball in the name of progress and profit.
Vanished is the community's imposing main post office, long gone are the venerable Waterloo County courthouse and Carnegie library, disappeared, too, is the regal, old city hall, except for the decapitated clock tower which survives in Victoria Park. This sorry record remains a source of regret, even shame for many citizens decades after the buildings in question collapsed into rubble.
But just because decision-makers in this city made huge mistakes in cavalierly knocking down old buildings that should have been preserved does not mean every building must now stay up.
The city's leaders need to consider this as they balance the cries from conservationists who want to save four elderly industrial buildings on Joseph Street with the plans of a developer equally determined to demolish them.
Toronto-based Cadan Inc., intends to take down the four buildings that were once part of the historic Lang Tannery, in part, to provide parking for tenants moving into the main tannery building which Cadan is redeveloping.
In the eyes of many neighbours, heritage advocates and architects, this is sacrilege. They're demanding that the buildings be saved. And they're calling on Kitchener council to protect them from demolition by designating them under the Ontario Heritage Act.
The city should not rush to do this. The developer has agreed to sit down with the conservationists and city officials to explore possible compromises. That is a positive step, and if the buildings, or even some of them, could be saved and incorporated into the redevelopment plans, everyone would win.
---
17. Brighton Indepndent: Council refuses to discuss saving Brighton Public School
Bill Tremblay
If Brighton Public School's fate is demolition, it's not going down without a fight.
BRIGHTON -- Gordon Tobey, a director with the Brighton branch of the Architectural Conservancy of Ontario, says the group plans to make saving Brighton Public School a "major issue" in the municipality. Developers interested in heritage building

BRIGHTON -- If Brighton Public School's fate is demolition, it's not going down without a fight.

Gordon Tobey, a director with the Brighton branch of the Architectural Conservancy of Ontario (ACO), asked council to consider forming a committee to examine finding possible alternative uses for the 1915 historic school.

Last July, the provincial government announced funds to construct a new school beside the existing one, which was slated for demolition.

Mr. Tobey told council two developers are interested in renovating the old school. If the school was rehabilitated for condominium use, the building would generate upwards of $40,000 in tax revenue for the municipality, he said.

A well-known housing developer in Brighton, Mr. Tobey assured council its involvement would require minimal financial commitment, during a delegation made at council's May 3 meeting. Before making his delegation, Mr. Tobey presented council with a declaration showing he is not one of the developers interested in renovating the school.

Council declined to discuss the idea of forming a committee to examine the school.

"I feel really disappointed. This is no obligation on their part whatsoever to set up a committee to try and broker a deal to make heritage work," Mr. Tobey said. "I think it's going to be a traumatic event if that school is put to the hammer. It's not going to be a happy day for the residents on Brighton."

Mr. Tobey said the Brighton ACO will continue to find a way to save the school. The ACO board will meet to discuss possible options.

"We're going to look at our options. We're certainly not going to let this issue drop," Mr. Tobey said. "We're going to make it a major issue in this municipality."

Council previously agreed to take no further action to find alternatives uses for the school last November.

This week, Councillor Dave Cutler pleaded with his fellow councillors to discuss the possibility of managing a deal between the developer and the Kawartha Pine Ridge District School Board (KPR). He said the school is the most important heritage building within the municipality.

"Do we have the guts to save this building?" Coun. Cutler.

Coun. Chuck Ward said he recalls KPR saying the school may not be located in Brighton if the current building is retained.

"It's tough one," Coun. Ward said. "We made our decision on the school not being built here if this happened."

Councillor Brian Ostrander said he was uncomfortable interfering with the new school construction.

"I'm not willing to go down a road that prevents or postpones a school being built," Coun. Ostrander said.

Councillor Mike Vandertoorn questioned how the municipality could assist in finding an alternative use for the school without significant cost.

"Once the municipality is in, I think we are in," Coun. Vandertoorn said. "I guess the unknown is what concerns me. How much will we be in for?"

The Brighton ACO met with the KPR board to discuss alternatives use for the building on Thursday, April 29. During the KPR meeting and the Brighton council meeting, the Brighton ACO presented the findings of a privately hired architect. The architect found the building was structurally sound and listed several uses for the school that would not require significant financial commitment from the municipality.

"There were no promises from the board, but we certainly didn't get refused," Mr. Tobey said. "They seemed open to discussion so there is hope."

KPR board chair Diane Lloyd the future of the heritage build was previously discussed by the board.

"We actually offered the school to Brighton if they wanted to purchase it. They basically said thanks, but no thanks," Ms. Lloyd said.

KPR also planned on working around the existing building if the municipality showed an interest in preserving the structure.

"There were plans on how we would build on the adjoining property," she said.

Ms. Lloyd said she wasn't sure if preserving the building would delay construction of the new building. She added the board doesn't have as position on the preservation of the school as its focus is education, not heritage.

"We weren't encouraging (the ACO) to do it, we've already been down that path," she said.

Ms. Lloyd said the board would be open to further discussion if the Brighton ACO found a way to preserve the school.

"They would have to go about doing what they are doing on their own and get whoever to rally behind buying that part of the school," Ms. Lloyd said. "They will have to move quickly because it's in our plan to demolish it."
---
18. Hamilton Spectator: Connaught project gets bankruptcy order
Meredith Macleod
Two partners in the development company behind a six-year odyssey to revive the Royal Connaught have pulled the plug. A bankruptcy order was issued May 17 against Grand Connaught Development Group, which bought the bankrupt hotel for $4.5 million in 2004. A creditors meeting has been scheduled for June 7. Developers Ted Valeri and Rudi Spallacci are the only listed executives in a numbered company cited on the bankruptcy order. Valeri has been part of Grand Connaught since it bought the hotel. Spallacci joined the consortium sometime since. The numbered company bought a second mortgage on the property in January.
---
19. R.C. Harris research,
John Lorinc Blog
John Lorinc has been pursuing research into R.C. Harris for several years now. He has posted some of his research at this blog, if you have things to add or ask this is the place.
---
20. The Kingston Whig-Standard: City to unveil proposal to have Sydenham Ward protected
PETER HENDRA
The city will soon unveil its proposal for designating Sydenham Ward an official heritage district.
The city is applying to have the area bounded by Barrie, Johnson and Ontario streets certified a heritage conservation district under the Ontario Heritage Act.
The city will be holding a public open house May 19 about the proposed Old Sydenham Heritage Conservation District in City Hall's Memorial Hall, starting at 6:30 p.m., when residents will have the chance to ask questions and offer their thoughts on the proposal.

The quest for the designation was initiated by the Sydenham Ward Tenants and Ratepayers Association in 2006.
Bill Glover, now city councillor for the district, drafted the letter to the city requesting the designation while he was the association's president.
"The district designation pro-v ides a degree of protection which is not otherwise there for what is otherwise thought of as a heritage area," Glover said.
---
21. Quinte West EMC: The fight isn't over for the ACO Brighton
Ray Yurkowski
A last ditch effort to save Brighton Public School
EMC News - Brighton - The local Architectural Conservancy of Ontario (ACO) branch is presenting a new report to the Kawartha Pine Ridge (KPR) District School Board in a last-ditch effort to save Brighton Public School.

The report was produced through "Preservation Works!" an ACO program that provides preliminary expert advice on a wide range of built heritage and conservation projects in communities across Ontario.

"The study was done on March 19 and the report is in," says ACO Brighton past-president Nanci Anderson. "And we are on the KPR (board meeting) agenda on April 29."

A heritage architect, structural engineer and two members of the local ACO branch toured the building led by school custodian Jim Reynolds.

"(Reynolds) was really helpful because he was able to point out any perceived deficiencies that are definitely rumour," said Anderson. "There were a couple of issues that came up in the past year from members of the publicthere's mould contaminating the building, there's asbestosthese are all unfounded."

With the report, the local ACO branch hopes to find some support for their pitch to save the school and to give the green light to a larger, more extensive assessment of the building.

"Like any building, if there's no use for it, it has no value," said Anderson. "But this building has a wonderful use potential. Developers that are interested in this building have been in touch with me, so there's interest."

She adds the report confirms everything ACO Brighton has been saying from the beginning. "This building is in very good shape and would adapt itself very nicely to a new life."

In the report, architect Phil Carter advised what uses would be compatible with the building, which includes condominium-style living spaces.

"Rather than getting no revenue by knocking this building down, you could put in living spaces, it's a win for the community," said Anderson. "There are options there we are quite excited about where everybody would win and, most of all, we would get to keep this great piece of heritage."

Another idea, she adds, is to sever the school property into two parcels. With BPS sitting on almost ten acres of land in the centre of town, the heritage building could be saved and a new school built with lots of room for student activities.

Just this month, the Toronto District School Board started wrestling with the idea of selling off parcels of its land and use the money to catch up on a backlog of repairs to the schools on those sites. Everyone would win: developers would have land on which to build and students get better facilities.

"If the land was severed, it would leave the children of Brighton ample space," said Anderson. "The way the architect presents it, it still leaves them with approximately six acres which is lots of room to play."

"KPR is in a bit of a dilemma too," she explains. "They don't have the funds to get this new school built. There's still a shortfall. So, if the existing building were sold, they would save the demolition costs.

"As well, it would show history is important, particularly local history. That's what they're supposed to be learning in our schools."

When Brighton Council agreed to take no further action to find alternative uses for the building in November 2009, the obituary for the building included the estimated $8 million needed to upgrade the school to the required building standards.

"I don't know what the basis is for the estimate to repair," noted ACO past-president Catherine Nasmith in her e-mail newsletter, Built Heritage News. "I wonder if it was done by a member of the Canadian Association of Heritage Professionals?"

"It was pretty discouraging after council decided they were going to let this building go," said Anderson. "If we could get that off the table for now and have an intelligent discussion at least we feel we might have honoured this building."

After the presentation to KPR, ACO Brighton will deliver the report to municipal council in May.

"The idea is to get all of the parties together and open up a dialogue about this building," said Anderson. "KPR has, in the past, allowed surplus buildings to be put on the market."

She points to three school buildings in the Port Hope area that were sold and converted into housing units.

ACO Brighton will be holding their annual general meeting on May 8 at Proctor House. The meeting starts at 6:30 p.m. and will feature guest speaker, provincial ACO president Lloyd Alter. His topic, Heritage is Green, is a very timely subject and will show how heritage buildings were built to handle Canadian weather and are so much more worthy of preservation and refurbishing than any modern structure which might be built to replace them.

Alter says his interest in heritage architecture comes from a conviction that "the greenest brick is the one already in the wall."

"Our whole society these days is built on these very complex systems that require a lot of energy to work," says Alter. "And when something goes wrong, they fall apart ... they're not resilient, they don't adapt.

"The thing about old buildings is these were all designed in times where resources were much more expensive and much sketchier. People didn't have air conditioning so they had to design windows that worked. They built buildings that were much more flexible and adaptable and resilient when things went wrong.

"What I'm trying to stress is we have to save our old buildings, not just because they are old and they're cute and they make our neighbourhoods nice, but that they actually really worked better."

The Toronto architect and developer has worked to convert two schools into condominiums. Alter is an associate professor at Ryerson University teaching sustainable design and writes for TreeHugger as well as Azure and Ontario Nature magazines.

"Schools are incredibly adaptable because they have these big rooms you can use for anything."

Also at the meeting, ACO Brighton will be presenting two awards, the first-ever at the local branch to recognize those who have done exemplary work for heritage or culture in the community.
---
22. New York Times: Brooklyn Navy Yard
Hiroko Masuike
Demolition by Neglect
A $60 million project at the Brooklyn Navy Yard will include a supermarket, along with plans to salvage architectural treasures.
Last month, the parties finally arrived at a compromise that seemed to strike a balance between preservation and development, in a $60 million project that would add a large supermarket to an underserved neighborhood, while also salvaging some buildings of deep architectural and cultural significance.
But it now appears that those historic buildings may be in such precarious condition that they cannot be saved.
"This is one of the worst cases I have ever seen in terms of neglect," said Alex Herrera, the director of the technical services center at the New York Landmarks Conservancy. "It is a disgrace."
---
23. Art Daily: Robie House Project.
Digital Restoration to Encourage Donations
The digital restoration of Wright's Robie House, created by zünpartners, received the Webby Award for Cultural Institutions. The recreation of Robie House's interior spaces allows visitors to explore the home as envisioned by Frank Lloyd Wright in 1910, the year construction was completed. The Web site is designed to engage visitors in the restoration process help encourage donations required for its completion and provide an interactive educational demonstrations.
The Frank Lloyd Wright Preservation Trust, the organization that operates the Robie House, zün collaborated and James Eaton Design created an immersive virtual tour of the Robie House main floor, as Wright originally designed it. Visitors will view the original images and explore how the Living room and Dining room have evolved during Preservation Trust's restoration. The color schemes for the carpet were sampled from original yarn threads archived at the Milwaukee Art Museum. The dining room table was recreated by a composite of photographs taken of the original, and the last remaining original table lantern served as a guide to rebuilding the missing four. The use of historical images and vintage fabric lead to the digital recreation of the table runners.
The most dramatic effect is the restoration of Wright's lighting scheme. Reproduction period light bulbs were sampled for an accurate color and glow. Special attention was given to recreate the pattern of the grill which serves as a light screen on top of the sconces which, when lit, illuminate the adjacent wall. The composition of different fixtures and lights is a wholly unique Robie House experience.
The Robie House sparked a revolution in residential architecture whose influence still reverberates today. Designated by the American Institute of Architects as one of the 10 most significant structures of the 20th century, this American treasure is celebrated as one of Chicago's most important works of art. Robie House, more than any other structure, demonstrated Wright's genius and brought him acclaim from both the United States and abroad. In its precision-like arrangement, the home continues to be recognized as one of the most important buildings of the 20th century, a building that propelled the modernist movement in architecture.
View the award-winning digital restoration at: http://www.gowright.org/robie/
---
24. Lang Tannery: What's wrong with this picture?
John MacDonald, OAA, MRAIC

Lang Tannery Building
I'm writing to BHN readers to request some assistance in understanding a situation, and a process, that continues to baffle me. Assistance in effectively advocating for heritage-not-parking in my community of Kitchener, where it seems the very staff and heritage committee charged with heritage duties will not act to disrupt a quick march to demolition. Help me please to understand why the process is failing so miserably in Kitchener, and how to put it on a better course.
The Lang Tannery complex in Kitchener's Downtown Warehouse District is identified in Kitchener's Official Plan (OP) as a significant heritage entity, and worthy of our respect. A study by Region of Waterloo Planning identifies the Tannery and the Warehouse District of which it forms part as a potential Cultural Heritage Landscape. Both blocks of the complex have been on Kitchener's Heritage Inventory for years (an Inventory neatly neutered by our community's decision not to grandfather its contents to the new Non-Designated List). This tannery complex, at one time the largest in the British Empire and a chief source of saddlery and leather through the Boer War and First World War, is one of the last remaining industrial complexes in our community.
So, here's the dilemma. How then, given this initial weight of evidence regarding the significance and importance of this complex, can not only a developer's Heritage Impact Assessment fail to mention such information, and instead put forward the view that the significance of built heritage must be seen "relative" to the developer's need for surface parking, but more importantly that heritage staff accept such an oversight? Surely if a community has taken the trouble to actually name the Lang Tannery in its Official Plan, and prescribe what is to be done with it, such instructions should be followed. I quote from the OP as follows: ""Former industrial buildings, such as The Lang Tannery … , should be adaptively re-used while conserving historic elements of the building architecture. New additions should accent, rather than replicate, the existing architecture, by using contemporary design styles."
How could a city's heritage staff forget until the last minute to broach the subject of Cultural Heritage Landscape, when its own Heritage Resource Evaluation Form requires that the question be considered?
How could the City's heritage advisory committee, Heritage Kitchener, not be given any formal role in discussing and debating whether a complex mentioned in the Official Plan of the community should be demolished? Indeed, how could such a committee end up with statements regarding the proposed demolition in its February meeting minutes as follows: "members generally expressed support for the proposal presented?"
I had always thought it the mandated role of a LACAC under provincial legislation to advocate for heritage. It's expected by the public. Is it not required? I have found through this Lang Tannery debacle that Heritage Kitchener cannot discuss formally what City staff does not place on their agenda, that Region staff will not tread on City toes even where it considers a property of potential regional significance, and that the reputation of a heritage planning firm trumps all content of its reports. Is this the world of heritage advocacy that I have been so blissfully unaware? To whom do we turn?
Yours in confusion. John MacDonald, OAA, MRAIC May 25, 2010
Editor's Note:
I am reminded of the loss of the John Abel factory in Toronto, a place that was full, had cultural value as much for its use as for its architecture, but was not a capital H. heritage building. It is more in the realm of Jane Jacobs, "new ideas need old buildings". More and more I am convinced that we will never win these until society sees demolition as the environmentally and culturally destructive phenomena that it is. Buildings are not garbage. We can't fight an enviromental issue with cultural heritage protection laws.
---
25. Request for Information: Protecting Cultural Resources in the Gulf Oil Spill
Ed FitzGerald
Research Assistant, Architecture & Engineering at the National Center for Preservation Technology and Training
The U.S. National Park Service's National Center for Preservation Technology and Training (NCPTT) is seeking information regarding preventive measures that can be taken to protect cultural resources (e.g. coastal forts, shipwrecks, etc.) in the area impacted by the Gulf Oil Spill from damage by water borne crude oil.
Please send comments, case studies, product recommendations, etc. to Andy Ferrell, Chief of Architecture and Engineering, NCPTT (andrew_ferrell@nps.gov ).
Any assistance from the ISCs will be most welcome.
---