Issue No. 181 | October 1, 2011
Feature Stories
Goderich, 5 Weeks Later SEND MONEY
Guelph Mercury: U of Guelph to the Aid of Goderich
Waterloo Record: Goderich Aftermath
Toronto Star: Toronto museums dodge bullet in short term
RaiseTheHammer: City of Hamilton 2011 Urban Design and Architecture Awards
Events
OHNY Weekend Launch Party
Friday, October 14, 2011
+ read
---
Chicago Architecture Foundation
October 15/16
+ read
---
Parler Fort: Exploring Toronto's Past, Present, and Future
October 24
+ read
---
Advertisements
Built Heritage News Sponsors
1. 2011 Heritage Toronto Special Achievement Award - Paul Oberman
Heritage Toronto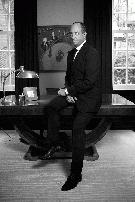 Heritage Toronto is pleased to announce the 2011 Heritage Toronto Special Achievement Award Recipient, which will be presented Tuesday, October 4th at the Royal Conservatory of Music's Koerner Hall. The Award will be given to the late Paul Oberman, a developer and friend to the heritage community who had a passion for restoring and managing heritage properties.

Mr. Oberman was active in Canada's real estate industry for almost three decades. A visionary with a passion for architecture, urban design and business, he owned and operated Equifund Corporation from 1983 to 1996, and subsequently was the President and Chief Executive Officer of Woodcliffe Landmark Properties until his passing in March of 2011. Under his direction and commitment, these companies became recognized as industry leaders in the areas of architectural merit and heritage preservation.

Paul Oberman believed that neighbourhoods thrive when architectural heritage is preserved and re-purposed as a backdrop for healthy community interaction. Heritage properties, he advocated, could be developed in harmony with cutting edge modern design to yield financial prosperity while contributing to the vibrancy of the city. This led him to focus on the adaptive reuse of many historically significant buildings, repurposing these structures and incorporating them into the fabric of 21st century Toronto.

His many successful projects include the North Toronto Station, King James Place, and most recently the Shops of Summerhill and the ongoing redevelopment on Market Street. Mr. Oberman also acquired the Gooderham Flatiron Building in 2005 and, through his passion and expertise, this iconic landmark building has been preserved for generations to enjoy.

His projects have been widely published and have received numerous awards, including Canada's highest architectural honour, the Governor General's Award for Architecture, and recognition by Heritage Canada for outstanding stewardship of Canada's architectural heritage.

Mr. Oberman was also a generous supporter of many heritage organizations and a vocal supporter and ally when heritage buildings were threatened. He attempted to save the Downsview Hangars, which were demolished in 2010, and continued to work closely with the heritage community to help preserve our architectural record.

"Thank you, Heritage Toronto, for recognizing the lifetime of contributions that Paul made to Toronto through his dedication to heritage preservation and community building. It is an honour for me and our family to receive this award on Paul's behalf," says Eve Lewis, Mr. Oberman's wife and President and CEO of Woodcliffe.

The 2011 Heritage Toronto Awards celebrate outstanding contributions - by professionals and volunteers - in the promotion and conservation of Toronto's history and heritage landmarks. Nominations for the full list of Awards will be announced on September 22nd.

The Special Achievement Award will be presented in conjunction with the William Kilbourn Memorial Lecture and Awards. Cameron Bailey, Co-Director of the Toronto International Film Festival (©TIFF) will deliver this year's Lecture, "Toronto in Focus: A City of Festivals". The Lecture will discuss how the "Festival of Festivals" - the Toronto International Film Festival - has paved the way for a cultural boom of film and other festivals in this city over the past 30 years.

To purchase tickets ($30/40 for the Awards and Lecture, or $110 for admittance to the exclusive pre-event Nominees' Reception and the Awards and Lecture), please contact the Royal Conservatory of Music box office at www.rcmusic.ca, 416-408-0208, or visit the box office at 273 Bloor Street West.
---
2. Heritage Toronto announces 2011 Heritage Toronto Awards Nominees
Heritage Toronto

Heritage Toronto is pleased to announce the nominees for the 37th Annual Heritage Toronto Awards. The Awards celebrate outstanding contributions by individuals and community organizations, as well as industry professionals and associations, in promoting and conserving Torontos history and heritage landmarks. Award recipients will be announced at a ceremony on Tuesday, October 4th at Koerner Hall, the Royal Conservatory of Music.

This year, nominations were solicited from the public in four categories: the William Greer Architectural Conservation and Craftsmanship Award; Book; Media; and Community Heritage. Independent juries reviewed the nominations and recommended the award recipients.

Heritage Toronto will also be presenting its Special Achievement Award to the late heritage developer Paul Oberman.

The William Kilbourn Memorial Lecture is held in conjunction with the Awards presentation. The lecture was introduced in 1996 to honour William Kilbourn's legacy and his commitment to Toronto as a viable, liveable city that honours its past and plans for its future. The speaker for this year's Lecture is Cameron Bailey, Co-Director of the Toronto International Film Festival (©TIFF). The Lecture, which is held as part of the Heritage Toronto Awards, will discuss how the "Festival of Festivals" - the Toronto International Film Festival - has paved the way for a cultural boom of film and other festivals in this city over the past 30 years.

To purchase tickets ($30 Heritage Toronto members/$40 general admission) for the Awards and Lecture, or $110 for admittance to the exclusive pre-event Nominees' Reception and the Awards and Lecture), please contact the Royal Conservatory of Music box office at www.rcmusic.ca, 416-408-0208, or visit the box office at 273 Bloor Street West.

Nominees for the 2011 Heritage Toronto Awards

WILLIAM GREER ARCHITECTURAL CONSERVATION AND CRAFTSMANSHIP CATEGORY

This category honours owners who have undertaken projects to restore or adapt buildings or structures that have been in existence for forty years or more. In addition to the quality of craftsmanship, appropriateness of materials, and the use of sound conservation principles, the jury considers how well the project meets current needs while maintaining the integrity of the original design vision.

461 King Street East
Commissioned by: Victor & Coralina Lemos
Architect: bbuzz Concepts & Canadian Engineer

Continental Can Building, 790 Bay St. - Lobby Restoration
Commissioned by: Women's College Health Research
Architect: Sievenpiper Associates
Crafts Persons/Contractors: Pantar Developments

John Street Roundhouse, 255 Bremner Blvd.
Commissioned by: City of Toronto
Architect: IBI Group
Crafts Persons/Contractors: John Street Roundhouse Development Corp. and others

Seventh Post Office, No. 10 Toronto Street
Commissioned by: Karmic Holdings Inc.
Architects: Goldsmith, Borgal & Company; Roth Knibbs Architects Crafts Persons/Contractors: Carillion Canada; Clifford Restoration

Pease Foundry Building, 211 Laird Dr.
Commissioned by: Fieldgate Developments
Architects: PDA Architects; Goldsmith, Borgal & Company
Crafts Person/Contractor: Fieldgate Construction Management

16 Glen Edyth Place
Commissioned by: David Daniels
Architect: Scott Morris Architects Inc.
Crafts Persons/Contractors: Coheze Development Limited, Tollefson Studio and others

Robert Watson Lofts, 363/369 Sorauren Ave.
Commissioned by: Sorauren Lofts Corp.
Architect: Kohn Partnership Architects
Crafts Persons/Contractors: 59 Developments Inc.

Shops of Summerhill, 1095 1103 Yonge St.
Commissioned by: Woodcliffe Landmark Properties
Architects: AUDAXarchitecture; Goldsmith, Borgal & Company
Craft Person/Contractor: Den Bosch + Finchley

Whitney Block, 99 Wellesley St. W. - Accessibility Upgrade
Commissioned by: Province of Ontario/ CB Richard Ellis Global Corporate Services
Architect: L.E. Glazer Architect
Craft Person/Contractor: Ross Clair Contractors

BOOK CATEGORY

This category recognizes well-written non-fiction books published in 2010 that explore Torontos archaeological, built, cultural and/or natural heritage and history.

Breadwinning Daughters: Young Working Women in a Depression-Era City, 1929-1939
Author: Katrina Srigley
Publisher: University of Toronto Press

Creating Memory: A Guide to Outdoor Public Sculpture in Toronto
Author: John Warkentin
Publisher: Becker and Associates and the City Institute at York University

Defiant Spirits: The Modernist Revolution of the Group of Seven
Author: Ross King
Publisher: Douglas & McIntyre Publishers Inc. and the McMichael Canadian Art Collection, Kleinberg

A Guidebook to Contemporary Architecture in Toronto
Author: Margaret Goodfellow & Phil Goodfellow
Publisher: Douglas & McIntyre Publishers

Imagining Toronto
Author: Amy Lavender Harris
Publisher: Mansfield Press

Rose Henderson: A Woman for the People
Author: Peter Campbell
Publisher: McGill-Queen's University Press

Stroll: Psychogeographic Walking Tours of Toronto
Author: Shawn Micallef
Publisher: Coach House Books and Eye Weekly

Therafields: The Rise and Fall of Lea Hindley-Smith's Psychoanalytic Commune
Author: Grant Goodbrand
Publisher: ECW Press

The Villages Within: An Irreverent History of Toronto and a Respectful Guide to the St. Andrew's Market, the Kings West District, the Kensington Market and Queen Street West
Author: Doug Taylor
Publisher: iUniverse

The Well-Tempered Listener: Growing Up with Musical Parents
Author: Mary Willan Mason
Publisher: Words Indeed Publishing

Witness to a City: David Miller's Toronto
Authors: David Miller and Douglas Arrowsmith
Publisher: Cormorant Books

MEDIA CATEGORY

This category salutes projects such as films, videos, websites, and newspaper and magazine articles that educate the public about aspects of Torontos archaeological, built, cultural and natural heritage and history.

The video - Architectural Dialogues&Moriyama & Teshima
Author/Director: Glenn McArthur
Producer: Gord Adams

The video - Brick by Brick: The Story of the Evergreen Brick Works
Author/Director: Catherine Annuau
Producer/Distributor: Jennifer Holness, Hungry Eyes Film & Television

The website - Jane-Finch.com
Author/Director: Paul Nguyen
Producer: Sue Chun

The website - Torontohistory.org
Producer: Alan Brown

COMMUNITY HERITAGE AWARD

This award is open to one volunteer community-based organization in each of the four Community Council areas as defined by Toronto City Council. The organization must be currently active, and have either initiated or completed a significant activity that promotes, protects or preserves cultural or natural heritage in its specific Community Council area. This is a cash award and no organization is eligible to receive it more than once every five years.

From the Toronto and East York Community Council Area, our nominees are:
o Herstories Café
o The Psychiatric Survivor Archives of Toronto
o The Toronto Railway Historical Association
o The Wellington Place Neighbourhood Association

From the North York Community Council Area, our nominees are:
o The Bedford Park Centennial Committee
o Jane-Finch.com
o The York Pioneer and Historical Society

There were no community groups nominated from the Etobicoke/York or the Scarborough Community Council Areas this year.

For a complete list of nominees, descriptions and photos, and how to order tickets, please visit www.heritagetoronto.org.
---
3. Future of Pinkney House, Caledon
Councillor Richard Paterak
In recent weeks Councillor Beffort, Mayor Morrison and I have received a number of emails expressing concern for the fate of the Pinkney house. For those unfamiliar with this issue, the Pinkney house is historic stone house located immediately south of the Elora Cataract Trail on Shaws Creek Road. The house is owned by Lafarge, operators of a number of gravel pits in Caledon.Following a fire a few years ago the house has been unoccupied and boarded up.
The Heritage Caledon has listed the Pinkney house as a candidate for a heritage designation after Lafarge enquired about a demolition permit. Concern has been expressed by residents that the house not be demolished, but rather rehabilitated into designated heritage home.
Over the last while the Town has had many meetings with representatives of Lafarge to explore ways that the house can be saved. Suggestions have been made that were explored and found to be not viable. Most recently on September 23 Councillor Beffort, members of the Planning Department staff, representatives of Lafarge and I met to further efforts to save the house.
The aim at the present time is to try to secure a severance of approximately 1 acre including the Pinkney house and then for Lafarge to either donate the house to a charitable organization for rehabilitation and sale or to sell the house to a buyer committed to its restoration. The house will be designated as a heritage structure in the interim.
These options seem straight forward but the possibility of achieving a severance with the house is caught in a myriad of Town of Caledon Official Plan policies and Provincial policies. Firstly, there is no severance available under the current Official Plan (OP). Secondly, the OP aggregate policies prohibit the severance of lots that may "hinder or preclude" the extraction of aggregate from identified deposits. I
n the case of the Pinkney house, although there is no aggregate license, the land is designated and zoned under our OP as a gravel pit. (The Pinkney land on Shaws Creek does not have an aggregate license, although the Pinkney land on Mississauga Road does have a license.) These policies must be overcome by planning justification reports, receive the support of the Caledon Council, the the support of the Town of Caledon Land Division Committee to which Caledon Council has delegated the responsibility for approving severances and ultimately prevail over any potential OMB challenges.
On the Lafarge side the situation is complicated by the fact that Lafarge agreed to a "first right of refusal" clause when it purchased the land and other lands from the previous owner, Franceschini Bros, which was owned by Warren Bithulic. The clause requires Lafarge to consult with Warren Bithulic before selling any or all of any of their previous holdings in Caledon.
On a positive note there appears to be a will to try to achieve a severance and the preservation of house. Town planners are going to supply Lafarge with a complete list of of all the requirements to achieve a severance---- studies etc. Lafarge will be engaging a planning firm to shepherd the process along.
With good will on all fronts we certainly hope this significant heritage resource can be preserved. In the interim, which may involve a year's time, I ask for patience from members of the public. There is no lack of support from Town Council and staff on the merits of preserving the Pinkney house. Lafarge staff are aware of this support and the upwelling of support from the community.
We will keep cool and stay focussed on achieving the goal of preserving the Pinkney house.
In closing, there must be a great quote out there in the universe that expresses how humans have managed to weave webs of regulation and complication that do not allow for exception and thereby dissallow or make difficult the the easy achievement of rational actions. If anyone knows of such a quote from an esteemed historical personage I would love to have it as ammunition in times of contention. (Can political life be frustrating? You bet it can be!)
Editor's Note:
It is encouraging to see a town council so intent on finding ways to make something work, and an owner willing to co-operate in the face of complications created by the town and others. Might be a very interesting house coming on the market.
---
4. Goderich, 5 Weeks Later SEND MONEY
Catherine Nasmith, contributions from George Rust-D'Eye
Flag still flying, photo George Rust-D'Eye

Can this front wall be saved
I consider Goderich to be my "home town". My strongest childhood memories are there--going to school in a gorgeous wood paneled red brick Victorian school building, afternoons spent at the local museum, walking with my mother to shop for groceries at the local butcher on the square, learning to skate and swim, walking over the railway bridge, fishing underneath it, riding my first bike down the very big hill over the Maitland River, climbing up to Tiger Dunlop's tomb to eat a picnic of peanut butter sandwiches, Saturday afternoon movies at the local library, Sunday morning church services at the Baptist church,tree lined streets, burning leaves in the fall, climbing cherry trees, and a Mom and Dad who were still happily married. Two of my four brothers were born in the local hospital. I go back to Goderich regularly….last year to scatter our father's ashes. Last weekend it was to visit post tornado.
It could have been worse. It was very hard to see what has happened, and just how much more may be lost as people make the tough decisions about whether the remaining fragments of buildings can stay or go.
Media reports have not fully explained the extent of the damage….nearly 25% of buildings downtown have suffered significant damage, and several are slated for demolition. An entire street of houses was wiped out. In other cases the roof is off, but lower floors are standing. Many, many buildings have windows missing, cornices pulled off.
George Rust-D'Eye took the photo accompanying this article Saturday morning from his hotel room in the mercifully undamaged Bedford Hotel. He wrote the following
"The flag is still flying! The Town Hall of the Town of Goderich, Ontario, September 25, 2011, 5 weeks after the Town, population 8,000, was hit by a 300 km. per hour tornado, which devastated the municipality, killing one person, and demolishing or fatally damaging scores of century-old commercial buildings, homes, several churches and countless trees…Building roofs and cars flew through the air, tiles and branches ripped through walls like bullets, and entire buildings were reduced to rubble.… Preliminary estimate of the cost of damage, just to repair, not to restore, the historic architecture, has been estimated at over $75 million. All of this catastrophic damage was done in the space of about 12 seconds. But the Town survived, and is recovering, and in the eyes of this writer, at least, IS STILL THE PRETTIEST TOWN IN CANADA! "
And the downtown is a Heritage Conservation District. The local Municipal Heritage Committee is faced with many applications for demolition. They are asking for an engineer and architect's report from property owners to assist them in difficult deliberations.
The former Opera House building, a fine 3 storey Italianate yellow brick commercial building hangs on by a thread. Its front elevation is precarious, with most of the rest of the building reduced to rubble. The situation was reviewed by architect, Chris Borgal who advised that it would be possible to shore up and repair the surviving façade and build a new building behind, but it is not clear whether the owner has the resources to contemplate this type of reconstruction. Prior to the tornado, only the ground floor had been occupied. There are other buildings in this condition. Local heritage architect John Rutledge has been arguing for solutions that keep more of the historic fabric. In a time of crisis it is expedient to just demolish and that may be exactly what will happen.
Property owners and businesses had varying levels of insurance coverage. In some cases it was several days after the disaster before owners and consultants could gain access to their buildings, time in which rain damage occurred. In one case, an art gallery owner has been barred from her undamaged property because the building next door poses a danger.
The Architectural Conservancy of Ontario (ACO) Council met there last weekend as a show of solidarity for Goderich. ACO has set up a fund to assist, if you haven't already done so please make a donation. ACO is committed to making sure that funds collected will go towards heritage conservation, and so far the ACO/Heritage Canada fund have the only such dedicated fund.
http://control.arconserv.ca/donate.cfm
The town's focus is rightly on getting businesses re-opened, in meeting with ACO reps town officials made it clear that heritage sacrifices may have to be made to get the town up and running again. http://www.vimeo.com/29564103

That was a tough message to hear….but as Lloyd Alter put it so well in the ACO newsletter, "I was wrong in getting so angry about his comments. Heritage restoration can be expensive and time consuming, and they have businesses to run. There used to be grants and incentives, but they are all gone now. One could try and make the case that it was the historic character of Goderich that made it so attractive, and that you have to spend a bit more time and a bit more money."
ACO will be working on making that case, but moral suasion will only be effective if it comes with a large helping of cash. The last words from municipal officials were "send money".
The town understands that its success depends on it preserving its claim to fame as Canada's prettiest town, but without assistance it is unlikely that individual property owners will be able shoulder full restoration costs. Local architect John Rutledge described the state of mind of the community as still shocked and numb.
The provincial government sent emergency funds, but these were largely used for clean up, barricades, security and soft emergency services. Surrounding communities sent personnel and equipment to assist with clearing up. There have been enough trees offered to replant the entire town.
Offering help is a somewhat delicate process—some who have offered have been held at bay by this fiercely self-sufficient community. The town is just now turning its mind to reconstruction opportunities, and seems to need more time to formulate its "ask" of others. What I came away with is that Goderich will retain control of its own destiny and will look within before it seeks advice from "away".
I hope the first stop for the next Minister of Culture will be Goderich. And the Federal government has been absent on the cultural issues at stake here.
SEND MONEY!
---
5. National Post: For Vancouver art gallery, home is where the hubris is
Brian Hutchinson

Brian Hutchinson, National Post - Canada Post Vancouver Mail Processing Plant
It's hard not to notice the Vancouver Art Gallery, easily this city's most visible cultural institution. It more than holds its own as a regional gallery, offering the public interesting, well-planned exhibitions from international collections and work by acclaimed B.C. artists such as Emily Carr. It has also shown steadfast and shrewd support for Vancouver's own roster of renowned contemporary artists, including Jeff Wall, Stan Douglas, Rodney Graham and Brian Jungen.
But most visitors know the VAG for its heritage location, which is prime. For almost 30 years the gallery has been housed inside a former provincial courthouse, a gorgeous, neoclassical pile designed more than a century ago by Francis Rattenbury, the British-born architect who also designed Victoria's iconic legislative buildings and the adjacent Empress Hotel. The VAG occupies the centre of Vancouver's downtown core at Robson Square, a civic plaza that became familiar to millions during the 2010 Olympic Winter Games
Editor's Note:

After the years of controversy concerning a new building for the VAG, the opportunity to Adaptively Re-use the soon to be redundant Canada Post Vancouver Mail Processing Plant is a win-win scenario. Prime location needing only a re-fit, and not years of demolition and new construction, and space to actually stretch into as the author points out, "At 700,000 square feet, the post office is about five times larger than VAG's current location". The McCarter Nairne designed Vancouver Mail Processing Plant (formerly the General Post Office) constructed between 1952-1958, was built at a cost of $13-million, and is a robust five- storey welded steel structure, capable of handling a diverse range of art installations as does the Tate Modern in London.
---
6. Globe and Mail: Mount Allison War Memorial
Michael Posner
Mount Allisons move to destroy war memorial sparks alumni uproar
An unholy row has broken out on the campus of bucolic Mount Allison University in Sackville, N.B.
Contemplating the needs of future arts and science undergraduates, the university's board of regents last week approved plans for a new fine and performing arts centre of 50,000-square-feet at a cost of $30-million.

To build it, the school will have to destroy an 84-year-old memorial to Mount Allison alumni killed in the First and Second World Wars and other conflicts. The demolition tender has already been awarded.
The decision has incensed a group of alumni, architects and heritage society activists, who hope to get an injunction to block construction.
The new centre is projected to open in the fall of 2014 – almost coincident with ceremonies to mark the centenary of the First World War.
"As trustees, we have to not only honour the past, but meet the needs of the future," said Gloria Jollymore, vice-president of university advancement. "We regret that not everyone agrees, but we are making this decision in the best interests of the university."
---
7. Guelph Mercury: U of Guelph to the Aid of Goderich
forwarded by Susan Ratcliffe
University of Guelph students assist Goderich residents in wake of summer tornado
GUELPH — Students with the University of Guelph's School of Environmental Design and Rural Development are helping Goderich recover from damage caused by a powerful tornado last month.
On Sept. 24, fourth-year students led the town's first public meeting and community workshop on parks and public spaces affected by the Aug. 21 twister.
Guelph students are designing concepts and plans for public spaces devastated by the tornado, such as the historic Courthouse Square and Park. Students are also writing a manual outlining best practices for community engagement after a natural disaster.
"The tornado in Goderich demonstrates how vulnerable we all are to the effects of man-made and natural disasters. Not only did the tornado destroy many businesses and homes – it impacted services and service delivery," said Prof. Wayne Caldwell, in a release issued by U of G. "I quickly realized that our SEDRD students could help the community in a number of ways to get back on its feet."
---
8. Waterloo Record: Goderich Aftermath
Robert Wilson, forwarded by Brian Dietrich
A shattered town looks to the future
With mixed emotions, I stood in front of the Goderich house I used to call home more than 30 years ago.

GODERICH — As Stephanie Ormeno locked up her Shoe Barn store on Goderich's central courthouse square, the storm was already barrelling across the big lake toward her.
She had spent three years building her business, the last 10 months of that out of a storefront in a downtown hub so pretty it looked torn from a postcard. On a Sunday afternoon, a tornado needed only seconds to change all that.
As Ormeno drove away, the twister descended on the waterfront salt mines, killing a man, then roared up the bluffs to smash the town's historic business district.
It left the place looking like a "a car bomb went off," the mayor would later say — massive trees were uprooted and snapped like twigs, walls and roofs were torn away and cars were flipped like toys. Legal papers from the courthouse were vacuumed out of filing cabinets and deposited kilometres away.
The roof above the Shoe Barn was stripped away, pouring over a foot of rain down into Ormeno's store, destroying her inventory.
Dozens of other business in the core were left soaked, in pieces, or buried under rubble. Now, a month since the tornado, many are wondering what will happen to those businesses that made Goderich's picturesque town square a magnet for the county's shoppers.
"In 12 seconds, your entire life is changed," Ormeno said. "My entire savings were in that store … I have no idea what I'll do."
It will take years for Goderich's square to get back to what it used to be. Some business owners will simply pack up and leave, while others are vowing to rebuild — but are left wondering what the square's future holds.
Editor's Note:Excellent photo gallery and video with local comment accompanies this article
---
9. Toronto Star: Toronto museums dodge bullet in short term
Council approves some cuts, rejects others
Council endorsed some of Mayor Rob Ford's preferred budget cuts on Tuesday but rejected others.
Ford said the day was "a huge victory for the taxpayers." For the mayor, left-leaning Councillor Joe Mihevc countered, "It was, at best, a draw."
Ford had already dismissed or deferred numerous unpopular cuts in an attempt to appease squeamish councillors. But councillors were not willing to approve even his shortened list, voting to protect poorly attended city museums, Community Environment Days, a program to improve neglected public spaces, and the small zoos at High Park and Centre Island.
Council also voted to prevent privatizing the profitable Toronto Parking Authority. Privatization was not imminent, but Ford wanted to allow city officials to consider it.
Ford won several victories. Council voted to seek buyers for the Toronto Zoo and the city's three government-owned theatres, to eliminate the Christmas Bureau that helps charities distribute gifts to needy children, to stop giving out four free garbage tags to homeowners, and, by a 44-1 vote, to end police paid-duty at construction sites.
Council also voted to allow city staff to study privatizing daycares and nursing homes. And it voted to allow staff to include several possible cuts in the 2012 budget, such as reducing library hours and eliminating the Hardship Fund that helps the poor pay for essential medical items such as wheelchairs and casts.
Last week, Ford's executive committee rejected closing libraries, cutting community grants and eliminating city-only child-care subsidies or the windrow-clearing service. It also rejected the idea of reducing grass-cutting in parks and transferring or closing Riverdale Farm. Council affirmed those decisions on Tuesday.
The heated "core service review" debate over the past two months may be seen as a mere prelude to a 2012 budget debate that is sure to be tumultuous. Council was discussing only $28 million in cuts to programs and services on Tuesday. Ford has asked every city department to cut its 2012 budget by 10 per cent, or about $360 million in total.
"It's great that council could come together and protect some of the city's critical services, but it's bittersweet — all we do is protect them for now," said left-leaning Councillor Adam Vaughan. "The budget process could visit more cuts to things like the library system and other programs."
Ford says the budget shortfall is $774 million. The city's top bureaucrat, city manager Joe Pennachetti, said last week that it was actually between $500 million and $600 million, then reverted this week to the $774 million figure.
Regardless, council will probably need to fill a large portion of the gap that remains using the savings from staff buyouts and layoffs, the proceeds of hikes to user fees and property taxes, and, as in years past, one-time revenue windfalls. Ford argues the use of one-time windfalls is unsustainable.
According to Pennachetti, council's votes against cuts on Tuesday reduced the $28 million in possible savings by less than $1 million. He noted that council also voted to authorize him to pursue dozens of possible internal efficiencies that he estimated would save $65 million if approved.
Ford, like Pennachetti, said Tuesday's votes had produced $93 million in total savings — the $28 million in cuts plus $65 million in efficiencies — and had also protected services Torontonians hold dear.
"Child care is saved, libraries are saved, we don't reduce grass-cutting in the parks. It's a win-win for everyone," Ford said.
But Tuesday's outcome again demonstrated that Ford would have difficulty convincing a majority of councillors to vote for major cuts. Some of his regular allies, including executive committee member Jaye Robinson and right-leaning Gloria Lindsay Luby and James Pasternak, provided key swing votes in his defeats.
City museums are not yet certain to be saved. Robinson's motion, which passed 40-5 with Ford's support, asks the city to see if Heritage Toronto can operate the museums on a non-profit basis.
"I think ultimately it will save the museums by creating a model independent of the city to manage them," Robinson said.
Councillor Mike Del Grande, the conservative budget chief, again criticized Ford's council foes. He argued that they are jeopardizing the city's future by opposing every proposed cut without offering other ways to close the budget shortfall.
"No solutions, no alternatives — it's 'no,'" Del Grande said.
HOW THE VOTES WERE WON OR LOST
Proposal: Save Community Environment Days
Outcome: Approved, 24-21
Ford's Vote: Against
Key swing votes: Executive committee member David Shiner; right-leaning James Pasternak, Gloria Lindsay Luby
-
Proposal: Save the Public Realm Neighbourhood Improvement Program
Outcome: Approved, 23-22
Ford's Vote: Against
Key swing votes: Right-leaning Frank Di Giorgio, James Pasternak, Gloria Lindsay Luby
-
Proposal: Assess whether Heritage Toronto is a viable operator for city museums
Outcome: Approved, 40-5
Ford's vote: For
Key swing votes: None
-
Proposal: Assess whether the High Park Zoo and Toronto Island Park can be turned into conservancies
Outcome: Approved, 23-22
Ford's vote: Against
Key swing vote: Executive committee member Michelle Berardinetti
-
Proposal: Save the Christmas Bureau
Outcome: Rejected, 25-20
Ford's vote: Against
Key swing votes: Centrists Ana Bailao and Chin Lee, right-leaning Gloria Lindsay Luby, executive committee member Jaye Robinson

Email PrintRepublish
Add to Favourites
Report an error
Rss
Top Stories:
Second typhoon in a week hits Philippines, thousands evacuated
Get ready for a minority provincial government, poll says
The Star's view: McGuinty the best choice
Predator teachers: Students ruined by teacher sex assaults
Libyan revolutionaries encircle Sirte
Comment on this story »
Top Comments
It's interesting they're talking about discontinuing the paid duty for cops on construction sites. I...… Old Timer
What a joke: Ford wants to cut $500M to $750 M and then says today was a victory for the taxpayer? At this rate...… Saigon
Ford: The Grinch who Stole Christmas.: Instead of doing away with the Christmas Bureau and a fund that helps the neediest obtain...… spiritofwicca
Ford is not "doing what he said he would do" He said he would find savings without cutting services...… ChrisDow
- Advertisement -

Facebook ActivityFacebook Activity
Must ReadsMust Reads
Road closures this weekend
Would you vote for George Clooney?
Bay St. awakens with street-level sizzle
THE KIT: No Longer The Other Olsen
THE GRID: Condo maintenance fees—how much is too much?
Follow The Toronto StarFollow The Toronto Star
Facebook
Twitter
RSS
News Alerts
Mobile
Subscribe
Making NewsMaking News

Ultralight plane hits ferris wheel
Four trapped in wreckage in Australian accident...

Libyan revolutionaries encircle Sirte
There's heavy fighting in the Gadhafi stronghold...

U.S. –born 'Terrorist No. 1' Anwar al Awlaki killed in Yemen in major blow to Al Qaeda
U.S. involvement in attack that also killed the...
See for Yourself »See for Yourself »


The Cutting Room Floor

Inside a Vancouver safe-injection site

2011 Deaths - News (A to M)
More Photos and Videos »
Ads by Google
Diploma in Graphic Design
Graphic Design & Interactive Media,
1 Year Intensive Program. Apply Now
aodt.ca/Graphic-Design
Disability Tax Credit
Receive up to $15 000 or more
Get Your Refound Now
www.disabilitycreditconsultants.ca
Fiberglass Column Sale
Beautify your home with columns.
Design a Column Today. Free Quotes.
www.PacificColumns.com
1036 Campbell Run Rd
Beautiful house with 30+ acres
North East Pittsburgh $445K
1036CampbellRun.wordpress.com
---
10. Etobicoke Guardian
Tamara Shephard, Michael Harrison
Century-old cottage saved
At the Etobicoke York Community Council meeting of September 12, 2011 the designation of the Fetherstonhaugh Gardener's Cottage was taken up once again for consideration.

Etobicoke York Community Council adopted the staff recommendation to designate the Fetherstonhaugh Gardener's Cottage under the Ontario Heritage Act. The only known solo project of the prominent architect Henry Sproatt, it was built in 1899 as part of the Lynne Lodge Estate of Frederick Barnard Fetherstonhaugh in Mimico Beach.

The recommendation was confirmed by Toronto City Council on September 21, 2011.
---
11. blogTO: Exploring the end of Modernism
Jonathan Castellino
Exploring the end of modernism
---
12. Globe and Mail: 61 Brunswick Avenue..HCD Success Story
Dave LeBlanc
An old Toronto home goes from neglect to respect
Demolition by neglect can still happen in a Heritage Conservation District.
As good as HCDs are, they're not powerful enough to force homeowners into brickwork maintenance, decorative woodwork restoration or the application of a lick of paint to a tired front porch. In other words, there are as many leaky roofs and basements, as many paint-peelers and non-mowed lawns in HCDs as anywhere else.
Give it a decade or two, and this deferred maintenance can turn into a demolition.
For many years, the residents of the small Harbord Village Heritage Conservation District – which runs along Brunswick Avenue from College to Ulster streets and Willcocks Street west of Spadina Avenue – watched as the once-proud shoulders of 61 Brunswick Ave. drooped, peeled, cracked, crumbled and rotted. Many feared it was too far gone to be saved. Worse, the home had a proud history that might also be lost: The big 1895 Queen Ann "Bay-n-Gable" had been home to Rabbi Solomon Langner of Kensington's The Kiever Shul (synagogue) from 1929 until his death in 1973; a weather-beaten brass plaque beside the front door still whispered this fact to passersby as recently as 2010.

---
13. Globe and Mail: Interesting Times in Toronto
Lisa Rochon
Dear Diary: This is how a city like Toronto is built
4:42 a.m., one recent day in Toronto: Philipp Rode, executive director of the Cities Project at the London School of Economics, e-mails me to say, yes, he'd be happy to discuss the current budget crisis in Toronto and how other global cities are grappling with their own shortfalls but managing to stand by the need for better public transit and more public amenities. Turns out, his missive is the prelude to a day composed of a series of artful and crucial examples of what it takes to build a city like this one.

10:03 a.m.: Another e-mail arrives, from Stephen Teeple, architect of the nearly completed, amphibian-like pedestrian bridge in Pickering, a community severed by eight lanes of Highway 401 and GO train tracks. Teeple has shrouded what might have been a rude crossing of steel trusses with a cool double skin of perforated aluminum and big, elliptical eyes of glass. Because he creates edgy, exhilarating forms, Teeple had been selected for the project by Robert Prichard, then chairman of regional transportation authority Metrolinx; Leslie Woo, the organization's vice-president of planning; and Larry Richards, a distinguished architecture professor. Together, they intervened like urban warriors to insist that the $22.5-million bridge be powerfully designed.

It might have been another piece of roadway dreariness. Instead, as a consultant to Aecon bridge engineers, Teeple has delivered what will become a highway design sensation – for people who are walking or cycling to public transit. At a time when Toronto Mayor Rob Ford has just initiated deep cuts to Toronto's Transit Commission – a system already lagging seriously behind the service levels and sophistication of most other major metropolises – the pedestrian bridge on the eastern fringes of Toronto is an admirable act of architectural resistance. I say, bring it on. After all, cities around the world are pinning their prosperity on highly efficient, lyrical ways to move through urbanity. While Ford is hypnotized by the headlights of cars, gas-guzzling vehicles are being pushed off streets from Bogota and New York to London, Copenhagen, Seoul and Singapore, to make room for the eco-light movement of pedestrians and cyclists.
---
14. insidetoronto.com: Century-old cottage saved
TAMARA SHEPHARD
Councillors refuse demolition application, move to designate under Ontario Heritage Act

Century-old cottage saved. The Gardener's Cottage, built in 1899, and was saved from demolition at a recent community council meeting. (Sept. 14, 2011) Staff photo/MARY GAUDET
The Gardener's Cottage will be preserved in a surprise twist ending to a Lakeshore heritage debate.
The Ontario numbered company that owns the property withdrew its application to demolish the single-storey detached house and instead agreed to work with the city to preserve it following discussions with city planners.
Hidden behind 10-storey apartment buildings at 2669-2773 Lake Shore Blvd. W., the late 19th century waterfront estate represents the only solo work of Henry Sproatt, a prominent Toronto architect, said Toronto Heritage Preservation Services.
"This is a good news story for the community. I know the concerns of the community to get the cottage designated and the demolition stopped," Etobicoke-Lakeshore Councillor Mark Grimes said Monday morning at Etobicoke York Community Council.
---
15. National Post: Subdivision spurs clash over observatorys fate
Megan O'Toole
The fate of a historic Richmond Hill observatory will be at the forefront this week as the town, which hopes to preserve the site's key features, squares off with developers planning a new subdivision.
The two sides are slated to meet Wednesday through Friday at the Ontario Municipal Board, where a mediator will attempt to settle, or at least narrow, their ongoing dispute. While the landmark white-domed buildings of the David Dunlap Observatory are not in jeopardy, the question is how much of the surrounding greenspace may be turned over for development.
"The natural heritage elements have to be protected if there is going to be some level of development approved," said Bruce Ketcheson, a lawyer representing the town of Richmond Hill.
---
16. Toronto Star: Condo Conversion of Four Seasons Hotel, 21 Avenue Road
Tracy Hanes
A building for four seasons in Yorkville
As David Feldman strode along Yorkville Ave. last month, two designers and a public relations person in tow, a videographer waiting across the street came to full alert.
The Toronto International Film Festival had just opened and Yorkville is popular stomping grounds for the Hollywood glitterati. Feldman, sporting jeans, suit jacket and tie and sunglasses, could easily have passed as a big-name director.
He may not be a Hollywood mogul, but Feldman, president and CEO of Camrost-Felcorp, is a celebrity on the Toronto development scene as a pioneer who has brought new life to several historic Toronto buildings. His company is converting the former Imperial Oil headquarters at St. Clair and Yonge into a prestigious residential address; it restored the heritage facade of a bank building at King and Sherbourne for Kings Court condominiums and restored the two Bishop townhomes built in the late 1700s just north of Kings Court.
Editor's Note:This article doesn't mention a proposed second tower to the south which has been under discussion. There is an upcoming meeting with area stakeholders including the Ontario Capital Precinct Working Group to discuss the project....more on that as we get news. Definitely good news that all that concrete is not going into landfill.
---
17. Owen Sound Sun Times: St. Mary's Catholic High School Demolition Begins
Bill Henry
Brick by brick, school wing comes down
Brick by old red brick, workers are pulling down the long-vacant 1891 wing at St. Mary's Catholic High School.

Provincial education officials deemed the Owen Sound building on shifting, unstable hillside property prohibitive to repair in 2007, cutting funding for any future maintenance and sealing the old school's fate.

But it's been a long four years since then to reach a demolition agreement with city officials and finally starting to pull it down, said Bruce McPherson, education director with the Bruce-Grey Catholic District School Board.

That's in part why the demolition is taking so long, at least initially.

The first 5,000 bricks and as much limestone base as can be saved will go into a new entrance facade at that end of the school. That was a condition of the site plan with the city.

It will look much like the front of the original St. Mary's High School; a brick, stone and glass monument to the historical wing now coming down, McPherson said Tuesday.

At first Owen Sound council objected to the demolition and voted in July 2008 to protect the original wing under the Ontario Heritage Act.

Eventually the city withdrew its objection and ended any plans to protect the building through historical designation, agreeing instead to work with the board on a plan that would suitably commemorate the building.

In addition to the planned monumental facade, council required the board to document the building's interior using 3-D electronic survey equipment and file a salvage plan with city officials.

It will likely take another week to 10 days to reclaim the required 5,000 bricks and seal them in plastic for protection. The rest of the building will go to a salvage yard, McPherson said.

"Then it should be a much quicker process," McPherson said.


In the four years since the old wing was declared prohibitive to repair and eventually boarded up, the Catholic board has built a two-storey, 10-classroom addition to the school, funded through a $3.7-million provincial grant from the provincial government.

That replaced the old wing and expanded the school, which has about 625 students this year.

McPherson said work will begin on the monument and entranceway for the school as soon as possible after demolition.
---
18. RaiseTheHammer: City of Hamilton 2011 Urban Design and Architecture Awards
Martin Hering
Vote for the Urban Design and Architecture People's Choice Award
This fall, the City of Hamilton will be awarding its 2011 Urban Design and Architecture Awards for the fourth time - and you are invited to vote for one of these awards, the People's Choice Award.

If you want to participate, you need to cast your vote for your favourite urban design project. Please vote soon: voting closes on October 10.

The city created the biennial Urban Design competition in 2005 "to recognize and celebrate excellence in the design of our urban environment". Since the awards' emphasis is on exterior design, the nominees include not only buildings - both new structures and heritage buildings - but also a variety of other works that improve urban design, such as streetscapes, parks, and planning studies.

In past competitions, the jury gave out awards of excellence and merit in many different categories: urban design, architectural design, heritage restoration, community design, adaptive reuse, sustainable design, and a few others.

This year, there are 36 nominees for the Design Awards. All were completed between 2009 and 2011.

A few nominees are big and well known: the Lister Block, City Hall, the Public Library and Farmers' Market, the MacNab Transit Terminal, and CANMET. But there are many other nominees that are less known - or pretty much unknown - and thus worth a closer look.

Have you heard of the "Hamilton Laneway Housing Study"? Are you familiar with the "Gore Master Plan"? Have you walked across the "East Hamilton Waterfront Link"?

This year, the jury who will decide on the Design Awards includes five architects, urban designers, and urban planners: Bruce Cudmore (EDA Collaborative), Jennifer Keesmaat (DIALOG), and Stasia Bogdan (Ministry of Health and Long-term Care), as well as two representatives from the city: Paul Mallard (Director of Planning) and Tim McCabe (General Manager, Planning and Economic Development).

The judges will study presentations and photos of each project and carefully evaluate them, looking at appropriateness, building and landscape design, sustainability, quality, and innovation.

The criterion for the People's Choice Award is simple: which nominee do citizens like best? Use the opportunity to participate in the 2011 Urban Design Awards and choose your favourite project!

Full disclosure: our house - Hambly House - is one of the nominees. I'm not asking you to vote for us, I'm just asking you to get involved and vote for the nominee you like best.
---
19. St. Thomas Times: New Use for Historic School?
Nick Lypaczewski
Algoma University eyes city campus Would locate BA program at now-closed Wellington Street Public School
Shortly before Monday's St. Thomas city council meeting, Mayor Heather Jackson-Chapman promised on Twitter some big news.
She did not disappoint.
"It gives me great pleasure to announce that we have Algoma University becoming part of our Wellington Street school project," she announced last night at council.
"Algoma University from Sault Ste. Marie has expressed an interest in offering the first two years of its bachelor of arts program in St. Thomas at the former Wellington Street school site."
University staff approached city officials about the plan a few months ago. Since that time, there have been numerous meetings with Algoma including a visit from university president Richard Myers during which he toured the site.
"This proposed use of the actual heritage building will be a benefit to the entire community and an excellent use of the former school property and to see it remain as an education facility is certainly very exciting," Jackson-Champan added.
Editor's Note:This is a great news story for St. Thomas
---
20. Ottawa Citizen: Liberal Candidate vows OMB Reform
Don Butler
Naqvi vows to curb OMB power if elected
OTTAWA — Facing a rising tide of concern about redevelopment, Ottawa-Centre Liberal Yasir Naqvi promised Tuesday to push for changes to curb the power of the Ontario Municipal Board if he's re-elected in the Oct. 6 provincial election.
Discontent over the power of the OMB, the quasi-judicial body that adjudicates planning disputes, has improbably emerged as a top issue in Ottawa-Centre. It's driven by community opposition to projects such as the Lansdowne Park and Soeurs de la Visitation Monastery redevelopments as well as alarm over the sheer number of condominium projects currently rising in central Ottawa.
All party candidates in Ottawa-Centre have called for reform or review of the OMB. But the proposals presented by Naqvi Tuesday are the most specific to date.
At a sidewalk press conference, Naqvi outlined four "concrete, practical steps" that he said would ensure that the community's viewpoint would remain "front and centre" during the OMB process.
He said he would work to ensure that community design plans, such as the one recently completed in Old Ottawa East, would become an enforceable part of the city's official plan.
As well, city council decisions on the official plan should be given "significant deference, significant weight" by the OMB, said Naqvi, promising to push for changes to ensure that the OMB upholds council decisions unless there is substantial evidence to prove mistakes of fact or law.
The Liberal candidate also pledged to work for two other changes that would "level the playing field" when it comes to litigation before the OMB. "There's a huge sense of frustration within the community in that process," he said.
To address this, he's advocating mandatory mediation between all parties before litigation would proceed before the OMB.
"That type of process is cheaper, and it also results in better decision-making," Naqvi said.
He also said he'd push for a law to prevent developers and other powerful interests from launching "strategic litigation against public participation," known by the acronym SLAPP, to discourage opposition from community groups.
Quebec and about half of the states in the U.S. already have so-called anti-SLAPP laws, which allow judges to dismiss defamation suits and other lawsuits primarily designed to muzzle critics.
Editor's Note:the Liberals have had eight years to reform the OMB...some was done, but more is needed.
---
21. Virtual Museum to Showcase Rideau Canal
forwarded by ICOMOS Canada
---
22. Wall Street Journal: Post Office History for Sale
JENNIFER LEVITZ
Offerings to Include Widely Admired Buildings Erected During the Depression
The U.S. Postal Service's proposed sale of property, beyond a potential inconvenience for those buying stamps and sending packages, would transfer to private hands some historic public buildings filled with art that was intended to lift the spirits of Americans during the Depression.
The postmaster general plans to announce Thursday that the agency will study selling 252 of its 487 mail-processing centers as part of a plan to save as much as $3 billion annually. Also to be sold are many post offices, including some listed on the National Register of Historic Places.
The new strategy also includes relaxing delivery standards, to eliminate the expectation of overnight service on first class-mail, said spokeswoman Sue Brennan
"For decades, the postal service expanded to serve a growing nation and to process ever-increasing volumes of mail...we built processing centers, bought vehicles, developed and purchased new state of the art processing equipment and increased the workforce" she said. "However, the period of growth is over."
The postal service has said it may run out of cash next year, as first-class mail has dropped some 25% in the past five years and as the agency labors under costly retiree-health programs.
The sales have already begun. The postal service has sold $140 million in post offices and other property so far in fiscal year 2011, she said. The postal service has already announced plans to possibly close one in 10 of its 32,000 post offices to save money, and is now starting to sell some of the buildings, too.
While the agency leases most of its space, it owns 8,989 post-office properties, which includes post office buildings, vacant land for post-office development or modular post offices. Some 28% of those buildings are either on the National Register of Historic Places or eligible to be listed due to their historical significance, said David Partenheimer, a postal service spokesman.
In addition, about 800 post offices are decorated with murals or sculptures done in the New Deal era. said Dallan Wordekemper, the agency's historian.
---
23. What Happened to Toronto Heritage Tax and Heritage Grant Programs in Monday's Vote
Catherine Nasmith
Were the Heritage Grant programs and Heritage Tax Rebate programs cut? I haven't been able to find much about that in media reports?
I wonder if they were referred along with the museums to discussions about the future of Heritage Toronto.
I understand that the Friends of Fort York are asking that at least Fort York be kept under City operation until such time as current projects such as the visitor centre are complete to avoid disruption to a complex process.
I have not been able to confirm, but understand that the first part of the Heritage Grant program came to Toronto from the provincial government for that purpose and since then funds have been matched, as well as donations made to the grant program. It may be seen as an act of bad faith for the City to move those funds into general revenue, but it would be possible to move the operation of the fund to Heritage Toronto.
Can anyone update subscribers on the status of these discussions?
---