Issue No. 182 | October 25, 2011
1. Heritage Canada Foundation calls on the Minister of Culture to intervene in Goderich, Ontario
Press Release
Ottawa, Ontario, October 4, 2011 – The Heritage Canada Foundation (HCF) has shared with the Ontario Minister of Culture its concerns about the uncertain future of tornado-ravaged heritage conservation districts in the Town of Goderich, where designated heritage buildings with the potential to be stabilized and repaired may be demolished without due consideration.

Goderich has two heritage conservation districts—West Street and Main Square—both of which sustained damage from a powerful tornado that wreaked havoc in the historic downtown on August 21.

A month ago, HCF joined the Architectural Conservancy of Ontario (ACO) in offering technical advice to the town of Goderich in assessing heritage conservation options. Since that time, leading experts in heritage building stabilization and conservation have made efforts to provide pro bono advice and assistance to the town.

However, it has been reported that expert advice and offers of assistance are being rejected, and there are concerns about the fate of designated heritage resources.

On September 26, 201l, Goderich Town Council approved demolition permits for two significant 19th century heritage structures in the Courthouse Square: the studio of the famous historic Canadian photographer, Reuben R. Sallows at the corner of Montreal Street, and the former Opera House at the corner of Kingston Street.

While HCF fully respects the need for local autonomy and decision-making, we believe that intervention by the Ministry to support local efforts and also ensure appropriate decision-making is now essential.

Please join HCF in encouraging the Ontario Minister of Culture to ensure Goderich's designated heritage buildings are given appropriate consideration.

The Heritage Canada Foundation is a national registered charity dedicated to the preservation of Canada's historic places. Your support is vital to our work. Please join or make a tax-deductible donation today.

Contact:
Carolyn Quinn
Director, Communications
cquinn@heritagecanada.org
1-866-964-1066; 613-237-1066 ext 229

To be removed from the mailing list, send us an email with the word "unsubscribe" in the subject box.
---
2. Own a Piece of History Sale of Heritage Buildings
Ontario: Ministry of Transportation
Commercial Focus Advisory Services CFAS), on behalf of the Ministry y ( ) y of Transportation (MTO), is pleased to offer a limited number of heritage buildings for sale.

No specified asking price.

Relocations must be completed by June 20, 2012 by a qualified moving
firm.

Proposals must be submitted by 12:00 pm on January 20, 2012.
contractor. The buyer will be responsible for all financial aspects of the
bid and relocation.

Book your appointment today.
Contact:

Stephen Fagyas, MA, MCIP (President)
Commercial Focus Advisory Services Inc.
Tel: (416) 907-8109
Fax: (416) 972-9588

Email: stephen@commercialfocusadvisoryservices.ca
Editor's Note:
According to a report in the Toronto Star on October 25, there is great interest in these properties. Viewings Nov 3,4,5, Jan 20 deadline for bids.
---
3. Nasmith: New President of Toronto Architectural Conservancy
Catherine Nasmith
At the AGM at the end of September, I was elected the President of the Toronto Architectural Conservancy, replacing long serving Acting President Alec Keefer. Alec will continue to serve on the executive as Past President and will continue his research projects, most notably he is working on an exhibition on Yonge Street.
Other executive members are Steve Russell, Vice President, Peter Rezgatis, Treasurer, Adam Sobolak Secretary, and several other members at large.
We held our first executive meeting in early October. We hope to at long last push ahead the long awaited history of Rosedale, to publish a book on Toronto Art Deco.
We started discussions of setting up an online data base where all Toronto researchers could store information on Toronto's buildings, which we hope would become a useful tool to find out what is out there, but also to bridge the gap between the lack of research staff at the City of Toronto and the need to expand Toronto's inventory of heritage property.
If you are interested in getting more involved please get in touch.
More on that as things evolve.
---
4. Improvements Planned for Built Heritage News
Catherine Nasmith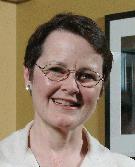 Catherine Nasmith, editor
You will notice if you go to the website for Built Heritage News http://www.builtheritagenews.ca that there is now a donate button allowing you to make online donations.
Please note that BHN is not a charity. You will get a receipt through PayPal, but no tax receipt.
BHN is heavily subsidized by Catherine Nasmith Architect and some generous friends. All monies received go to pay for improvements to our technical facilities online. To date the editor does not receive remuneration, nor those who generously contribute articles.
Please note, you can post notices to your heritage events, links to stories in your local press, and articles on what is going on in your area by going to http://www.builtheritagenews.ca and clicking on the post keys at the lower left side of the page. You can also go directly from the same links in the e-newsletter.
Over the past several years BHN has accumulated sufficient funds to enable some modest improvements, to make the site work more like a Blog. Over the next couple of months you will see a shift in the graphics of the website, an ability to include more photos of different sizes, an improved search function to allow you to find past articles much more easily, a twitter feed and facebook pages, ad space for people offering services in the sector, a sponsors page, as well as more frequent posting of articles to the website between e-newsletters.
Built Heritage News is free to subscribers but if you are able to support these improvements all donations are most welcome. Just click on the donate key or send cheques as you prefer. A suggested minimum donation is $25.00 a year, more would put us in a position to compensate writers and editors.
Thanks for subscribing.
---
5. Heritage in the Core Service Review
Mary MacDonald
Response to Built Heritage News, Issue No. 181, October 1, 2011
Regarding your query about whether or not the Toronto Heritage Property
Tax Rebate Program and Toronto Heritage Grant Program were cut during
the Core Service Review:
As part of the outcome of the Core Service Review, at their meeting of
September 19, 2011 the Executive Committee referred the following
recommendation in the report (September 9, 2011) from the City Manager,
back to the City Manager as part of the 2012 and 2013 budget process:
"Consider reducing the Toronto Heritage Grant Program and the Toronto
Heritage Property Tax Rebate Program. "

http://app.toronto.ca/tmmis/viewAgendaItemHistory.do?item=2011.EX10.1
This motion was adopted by City Council.
Regarding the sources of funding for the Toronto Heritage Grant
Program, please relate the following to your readers:
The former City of Toronto established the Toronto Heritage Grant
Program with the financial assistance of the Province under the
Municipal Heritage Fund grant segment of the Province's Buildings
Rehabilitation and Improvement Campaign (BRIC). The Province awarded the
maximum contribution of $250,000.00 to the former City of Toronto. In
addition, the former City was required to contribute $191,666.67.

Together, these monies were used to establish a separate Community
Heritage Reserve Fund. The Toronto Heritage Grant Program operated from
1986-1989 with the support of additional capital budget allocations from
City Council to this Reserve Fund. With budget cutbacks beginning in
1990, staff began limiting total annual grant awards to only the
interest generated from the Reserve Fund to ensure the continuation of
the Program.
When the former City of Toronto amalgamated in 1998, Council expanded
the Toronto Heritage Grant Program to provide service City-wide and
allocated an additional $100,000.00 to the Community Heritage Reserve
Fund. Subsequent funding was achieved through a one-time Section 37
contribution to the Reserve Fund. In 2010 the Community Heritage Reserve
Fund was fully expended in accordance with City Council direction.
Currently, $260,000 is allocated to the program through the Community
Partnership and Investment Program (CPIP). Since the initial
contribution of $250,000 the Province has not contributed any further
funds to the Toronto Heritage Grant Program. There have not been any
private donations to the program. In its current iteration, the program
is entirely funded by the City of Toronto through CPIP.
On another note, you made reference to the motion about "museums" and
Heritage Toronto. Could you please advise your readers that the motion
to which you refer was not only about museums and HT. To be clear, the
City Manager was directed by City Council to review the option of
consolidating Museum Services (Culture) and Heritage Preservation
Services (City Planning) with an independent Heritage Toronto and report
its feasibility to the Executive Committee on November 1. A further
motion was made, and adopted, that added investigation into the
feasibility of making Heritage Toronto a non-profit organization.
Editor's Note:
Response gratefully received.
---
6. Buffalo a Knock Out and Knocks Itself Out
Catherine Nasmith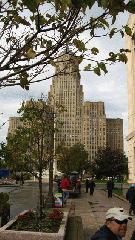 Buffalo's Art Deco City Hall
Interior Ellicott Hall, Daniel Burnham, site of one of the closing parties
Name me a City of 300,000 with buildings by Wright (6), Richardson, Burnham, Saarinen (father and son), Sullivan, Gordon Bundschaft all in a park setting designed by Olmsted. That's right, Buffalo.
And such a rich history. We heard several times that it was once the eighth largest City in the U.S. with more percapita millionaires than anywhere else. Riches from being the biggest grain handling centre at the head of the lakes.
And those millionaires built well and often.
Our host city for the National Trust for Preservation conference could not have been more welcoming. Almost too eager for the 2600 delegates to discover the city's considerable charms. From our hotel manager who brought breakfast up personally after an internal snaffoo, to the thousand volunteers who did just about anything you can imagine to make sure all visitors were welcomed. At the Albright Knox gallery the person on the desk gave us a ten minute run down on gallery history and collections. Thanks for coming was on the lips of every person. Every person in town was on best behavior, the city was scrubbed as if they were expecting the Olympics.
Buffalo has had some hard times, but in no small way thanks to preservation activists, Buffalo is welcoming the world back. Go...you won't be sorry.
Buffalo will not be talking about itself in the past tense for much longer.
---
7. Buffalo News: Buffalo puffs its chest and deserves to
Donn Esmonde
Conference is start of something big

Guaranty Building by Louis Sullivan, preservation battle hard won, Buffalo News shot
She wore an expensive suit and a gold necklace, a stately woman whose carriage and dress suggested both "feminine" and "formidable." She came here from Austin, a long-stemmed Texas rose set loose in downtown's concrete canyon.
Yet my first impression of a stranger in a strange land proved to be anything but. Instead, Gay Ratliff forged a cultural connection to our northern burg and expressed an appreciation for its attributes that transcended boundaries. Never has the distance between Texas and the H. H. Richardson Towers seemed so insignificant –and that is a testament to the power of our product.
"This is an exquisite city," she told me. "You have so much to be proud of. This has been an amazing [experience] for me."
We stood Friday in the downtown Convention Center, surrounded by folks for whom Darwin Martin is a household name. The National Trust for Historic Preservation, the All-Star Game of heritage, is here. All of the mohammads finally came to Buffalo's mountain. They were awed.
Ratliff saw Thursday the places she had previously only heard about:A Wright site, the Albright- Knox Art Gallery, Olmsted's Delaware Park. A longtime Trust board member, she hosted the conference in Austin last year. She knows an upstaging when she sees it.
"You have many breathtaking buildings, much more of a beautiful fabric than Austin has," she told me. "I knew about the buildings and [Frederick Law] Olmsted and [Louis] Sullivan and Wright. But it is just fabulous to actually see it."
Editor's Note:Buffalo is recognizing just how important preservation is to its future as a high quality place to live and visit. Each preservation battle has been challenging, but the strong fabric is the framework for a municipal rebirth as a creative city.
---
8. Buffalo News: Importance of National Trust Conference to Buffalo Preservation
Buffalo's heritage takes center stage

Darwin Martin House by FLW gets finishing touches for conference goers
Buffalo is accustomed to hosting large conferences, but there's something special about the one that begins Wednesday and runs for four days.
For the first time, the annual conference put on by the Washington, D.C.-based National Trust for Historic Preservation, the nation's pre-eminent preservation organization, is coming to Buffalo.
Hosting the National Preservation Conference -- and the recognition that comes with it -- is seen as a sign that Buffalo has arrived as a leading destination for late 19th and early 20th century architecture.
"Every city is looking for an edge, for its story to tell, and this is Buffalo's," said Ed Healy, vice president of marketing for Visit Buffalo Niagara. "This amazing collection of American architecture is our point of difference.
"All of this has, in a sense, been given the Good Housekeeping Seal of Approval by the National Trust."
Buffalo's chance to bask in the spotlight is also seen as a validation of preservationists who over the decades -- from the suites to the streets -- have acted to preserve Buffalo's historic legacy for future generations.
That includes protecting a number of the city's most celebrated buildings from the wrecking ball, including the Guaranty Building and Shea's Performing Arts Center, which will be featured attractions at the conference.
Editor's Note:We are so glad we came, Buffalo deserves its moniker as the City of Good Neighbours If you haven't been to see the Darwin Martin house in recent years, make a plan to get there. Recent restorations of the reception area, the connecting wings, removal of buildings and inclusion of the Gardener's Cottage make this one of the most important sites for FLW tourism.
---
9. Buffalo News: Inside the Grain Elevators!
Mark Sommer
Revelations of the grain elevators

National Preservation Conference attendees get a rare look inside 3 of the city's most mysterious, influential and iconic structures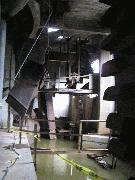 photo, Catherine Nasmith
The 14 hulking grain elevators along the Buffalo River are the largest concentration of such structures in one place in the world, but they're normally off limits to the public.
That changed for several hours Friday, when visitors were allowed into three of the colossal fortresses -- the Marine A, American and Perot elevators and the connecting Perot Malt House, once used to manufacture Genesee beer.
The visitors looked up at the 120-foot-high silos, stood around cone-shaped hoppers and former malting kilns, and contemplated Buffalo's industrial past.
For Margaret Raab of Williamsville, just going inside was a revelation.
"You drive by these massive structures all your life, and you just have no idea what's inside," she said while standing in the Marine A silo. "It's beautiful and it's massive, it's just unbelievable, the size of it."
Grain elevators, which were invented in Buffalo by Joseph Dart in 1943, are seen by some as dilapidated ruins from the city's faded industrial past that are large blights on the landscape.
Those views were not evident among the National Preservation Conference attendees, or those affiliated with the University at Buffalo's School of Architecture and Planning, the host of the event.
Editor's Note:Bob and I made the cover of the Buffalo News this morning....what a stunning experience......and an unbelievable amount of trouble to arrange for delegates, lighting, insurance, party and the most sublime--musicians who wrote pieces specifically for the acoustic....UNBELIEVABLE. p.s. that's me in the centre of the pic
---
10. Buffalo News: Quick Summary of Buffalo's most important Landmarks
Mark Sommer
Masters of our Cityscape

Darwin Martin House, Frank Lloyd Wright, photo Catherine Nasmith

Guaranty Building, Louis Sullivan, photo Catherine Nasmith
Buffalo is a city of architectual masterpieces. The three seminal giants of American architecture –Frank Lloyd Wright, Louis Sullivan and Henry Hobson Richardson –are represented by the Martin House Complex, Guaranty Building and Richardson Olmsted Complex, respectively.
Buffalo boasts the first parks and parkway system by Frederick Law Olmsted, the country's foremost landscape designer. Eliel and Eero Saarinen designed the city's masterful Kleinhans Music Hall.
This is where renowned church designer Richard Upjohn created St. Paul's Cathedral; leading railroad architects Alfred Fellheimer and Steward Wagner drew up plans for Buffalo Central Terminal; Rapp & Rapp, the great movie palace designers, realized Shea's Performing Arts Center, and acclaimed Buffalo architects like E. B. Green and Esenwein & Johnson flourished.
The list of contributions merges with the city's historic neighborhoods, waterfront and museums. Here's a snapshot of Buffalo's greatest structures, and the architects who designed them:
Editor's Note:Fantastic photo gallery of Buffalo's many architectural charms
---
11. Daily Gleaner: Art meets history on stained-glass tour
TARA CHISLETT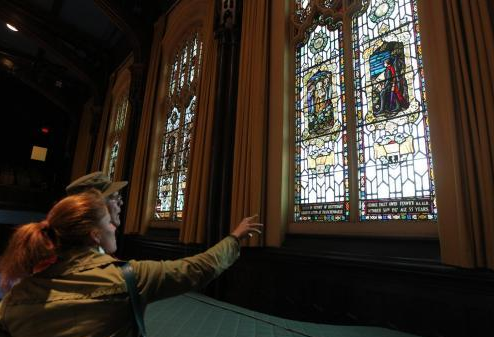 Cole Burston, The Daily Gleaner - Peter Pacey and Meghan Leroux admire the stained-glass windows in Memorial Hall on the University of New Brunswick campus during the first stop of the Stained Glass Bus Tour over the weekend.
He didn't get to hear most of the comments from those who took part in his Stained Glass Bus Tour on Saturday afternoon, but John Leroux said he overheard one remark in St. Dunstan's Parish that caught his attention.
"Many people on the tour ... were saying they had never seen some of the glass there," he said.
"But one of the realities of churches is quite often you don't go into a church if it's not your own church. You mainly go in for a wedding or a funeral, and those times you're not necessarily looking around ... You're focused on one thing. So people were pretty amazed."
Leroux, an architect and historian, said Saturday's overcast skies were perfect for guiding a group of 50-plus people on a tour highlighting some of the city's finest stained-glass windows.
The event was part of Culture Days Fredericton 2011.
Although he's been studying stained glass for years, Leroux said this is the first time he's given a guided tour around the city.
In addition to the stained-glass tour, Leroux also opened his exhibit Glorious Light: The Stained Glass of Fredericton on Saturday at the Beaverbrook Art Gallery.
---
12. Globe and Mail: Flatiron for Sale
Kim Mackrael
Toronto Iconic Flatiron Building for Sale
One of Toronto's most iconic buildings is up for sale.
The Flatiron Building, a triangular red-brick office building at the corner of Front, Wellington and Church Streets, went on the market last week.
Eve Lewis, president and CEO of Woodcliffe Landmark Properties, said her company is selling the building now because it's the first time in about a century that the entire office component is available at once.

The pub Flatiron and Firkin, located at the building's base, has a lease that will keep it in the location until the end of 2015, but the law firm that has occupied the Flatiron's office space for the last 15 years is leaving, she said.
"It's probably a once in a lifetime opportunity," Ms. Lewis said. "We've restored the building and created as much value as we can."
The building, also known as the Gooderham Building, was constructed in 1892 for George Gooderham, former president of the Bank of Toronto and owner of Gooderham and Worts distillery. It's five storeys tall and nearly 20,000 square feet, and is designed in Romanesque and Gothic revival style.
A giant trompe l'oeil mural on the back wall of the building, facing Berczy Park, mixes painted windows with the building's real office panes, and is one of the city's most unique and flamboyant outdoor works of art.
---
13. Globe and Mail: Lloyd Alter's Mini Home Available for Rent
Dave LeBlanc
A wandering house finds a place to call home
This is going to be two stories in one, a little one and a big one, because I went to see one thing, which I did, but got an earful about another fascinating thing, which is still to be done.
The little thing is exactly 375 square feet: Treehugger.com writer and architect Lloyd Alter, whom I know a little, bought a prefabricated "miniHome" from Toronto company Sustain Design Studio six years ago. He "fell in love" with the eco-conscious design by Andy Thomson and believed he could help the company sell a bunch. The short version of the story, which he recounted in full on Treehugger in August, is that things didn't go as planned, since the off-grid miniHome is technically classified as a trailer, and, he wrote, "people who admire green modern prefab don't get trailer parks, and the people who live in trailer parks laugh at the $125,000 price tag."
To skip ahead, Mr. Alter had to mothball his trailer until this past June, when it was finally set down and made available for use in Brighton, Ontario at Timber House Country Inn Resort.
I recently visited this wonderful tucked-away inn—lovingly created from scratch over a dozen years ago by David Dingle and Michele Walkau—to experience the miniHome for myself. From first glance, it's a lovely little thing—a bright red caboose with a row of windows and a raised entrance sheltered by a solar-paneled canopy—and inside is lovely, too, with great gobs of plywood, built-in bookshelves, a tidy two-toned kitchen with gas stove, and, because sleeping quarters are in a loft over the kitchen, generous living and dining areas. Even the cedar-lined bathroom is big enough for two.
---
14. Globe and Mail: Photo Gallery Lloyd Alter's Mini-Home
375 Gorgeous square feet...an amazing portable home. Congrats Lloyd!
---
15. Globe and Mail: Touring with Robert Moffat
Dave LeBlanc
Reading the narrative of Torontos mid-century architecture
Mid-century modern architecture, whether private homes or public buildings, is well represented in Toronto, but save for Don Mills or the financial district, much of it is isolated and difficult to find.
Those of us who love this period, which spans 1945 to 1975, have become less and less shy in shouting from the rooftops (with every television commercial that uses the era as backdrop and with Mad Men constantly winning Emmys, our courage is bolstered). The problem is, some of us are isolated and hard to find.
Luckily, Robert Moffatt decided to create a blog.
On offer at robertmoffatt115.wordpress.com is Toronto Modern, a treasure-trove of over 50 entries covering everything from public buildings, such as the crown-shaped 1961 Lord Lansdowne Public School on Robert Street or the demolished 1957 Lord Simcoe Hotel at King and University (which lasted a mere 22 years) to private homes such as Ron Thom's well known Fraser residence on Old George Place or the little known George Eber gem on Eastview Crescent designed for Angus Critchley-Waring in 1961.
---
16. Globe and Mail: One Building Campaign
The loss of Canadas heritage buildings demands community action

from Globe and Mail
Canada's heritage buildings are disappearing. In the past 30 years, more than one in every five pre-1920 heritage buildings have had a date with the wrecker's ball. Even as this nation embarks on a massive program to commemorate the 200th anniversary of the War of 1812, our history is being dismantled, brick by brick.
Rather than wring hands or wait for the federal government to leap to the rescue, why don't communities launch One Building programs, along the lines of the One City, One Book programs of hundreds of cities in North America? Those programs have taken the warmth and intimacy of book clubs and turned them into a city-wide happening. If Chicago can ask its residents to read Saul Bellow's The Adventures of Augie March, a wonderful but arduous read, why can't cities, towns or regions (if the municipalities are too small), do the same for a building, or an attempt to preserve a historical record, as in Windsor, N.S.'s hard-pressed hockey museum?
Communities have it within their power to preserve an endangered building by mobilizing around it, adopting it and fundraising for it. Thus mobilized, they could leverage additional funds from a small pot of money from senior levels of government.
---
17. Toronto Star: Aboriginal Remains/Aboriginal Rights
Mary Ormsby
Studying old bones preservation or perversion?
A cross-border battle is brewing over 500-year-old bones belonging to some of Ontario's original inhabitants — a case descendents describe as academic grave robbing.
The Huron-Wendat Nation is demanding that Louisiana State University return the "stolen" remains of about 200 people. They say researchers improperly gathered the bones from an Ontario ossuary to use for unauthorized student research.
"It's a feeling of loss — and I get angry a little bit too because (remains) have no business being in universities or museums," says retired translator Heather Bastien of Wendake, Que., whose prehistoric ancestors first hunted, fished and farmed in southern Ontario 15,000 years ago.
---
18. Toronto Star: George St. Fire
Theresa Boyle and Alexandra Posadzki
People seen fleeing three-alarm fire at downtown heritage property
A vacant heritage home on George St. that was ablaze Wednesday night was built in the 1850s and once belonged to a wealthy entrepreneur who started Toronto's Distillery District.
Councillor Kristyn Wong-Tam said the house was once under the care of the William Gooderham family and was used as a rental property for several years, including as a home for young boys.
Wong-Tam said she was in a meeting with the house's current owner when she learned about the three-alarm fire.
She announced the blaze to everyone at the community planning meeting, which she said included property owners and residents from George St. who had gathered to discuss how to better preserve the heritage-rich area.
"I think everyone in the room felt quite sad, because in so many ways George St. has not received a lot of positive attention." Wong-Tam told the Star. "Those who live on George St. have been asking the city for assistance to help improve their neighbourhood."
The 2-1/2-storey home was not properly sealed and could have been exposed to the elements, said Wong-Tam.
"It has this beautiful quality brick that you just don't see anymore," she added.
---
19. Toronto Star: History of 225 George Street, Toronto
Chantaie Allick
History deserted and left to rot
A property once owned by one of the richest families in the city has gradually been abandoned, left to rot, and now burned.
In the middle of the 19th century, the area bounded by Queen, Bloor, Jarvis and Sherbourne Sts. was a prime piece of real estate owned by the Allan family, which donated the horticultural park now known as Allan Gardens.
In 1853, George Allan began subdividing the area for residential uses after his father's death. Pembroke St., one block west of George, became one of the city's finest residential streets.
The house that caught fire Wednesday night at 295 George St. was among those built at that time and is one of the oldest remaining in the city. But the house's fortunes faded as the area became less fashionable in the late 19th and early 20th centuries, when wealthy Torontonians flocked to Rosedale and other new neighbourhoods.
295 George St. switched hands often before being bought in 1884 by William Gooderham Jr., a philanthropist and son of the family that established the distilling complex now known as the Distillery District. He purchased it for J.W.C. Fegan, an Englishman who established the Fegan Boys Distributing Home to bring destitute young boys over from Britain and set them up to work in homes out west.
Editor's Note:It is unbelievable that this house has been left to languish for so long in a city with such high demand for heritage property. The presence of Seaton House is no different than the presence of the St. Christopher's in Kensington Market or Scott Mission next to the Annex. I am sure that a brilliant councillor like Wong Tam will be able to find a way to make a positive intervention so that these houses can be bought by people like the family that restored 61 Brunswick Avenue.
---
20. Toronto Star: Toronto the Beautiful: NOT
Raveena Aulakh
Will Toronto ever be the belle of the ball?
What happens when you put four sassy debaters on stage to discuss Toronto and its beauty quotient?
Mayor Rob Ford becomes the butt of some jokes. Not all, some.
That's what happened at the highly anticipated The Walrus Toronto Project debate at which four dapper men argued for and against the tantalizing topic: Be it resolved that Toronto will never be beautiful.
The Art Gallery of Ontario's third-floor Baillie Court was packed on Wednesday night as architect Jack Diamond and Globe and Mail columnist John Barber argued that Toronto will, in fact, never be beautiful, while University of Toronto professor Nick Mount and writer Stephen Marche and argued the other side.
CBC's Amanda Lang was the moderator for the evening.
(Despite its provocative title, the debate was about city-building and culture in Toronto, what it takes to make the city beautiful, and whether we have ideas, infrastructure and resources for it.)
In his opening arguments, Diamond said Toronto, with its architectural failings, could never be match for Venice or Paris, "the most beautiful cities in the world."
Diamond called the city awkward and gangly, to which Mount replied that Toronto is an ever-changing beauty. "It is already more beautiful than it was five years ago."
---
21. Toronto Star: Toronto's Streets
Christopher Hume
Toronto lives by its streets
Toronto may be the City of Neighbourhoods, but City of Streets might be more to the point.
Queen, College, Bloor, King, Yonge, Roncesvalles, these (and others) are the great destinations in 21st-century Toronto for locals and tourists alike. They are the glue that holds Toronto together and binds the urban fabric. They are the armature on which the livable city is built.
Little wonder, then, that the streets of Toronto have been a battleground ever since Rob Ford was voted mayor a year ago. Indeed, the first utterance from His Worship upon election was to declare an end to the War on the Car. In other words, he announced his intention to retake the streets from encroaching pedestrians, cyclists and even streetcars to return them to their intended users, drivers.
To that end, the city's agreed-to transit plan was bowdlerized and the Jarvis St. bike lanes and the Yonge/Dundas pedestrian scramble have been threatened with closure.
City Hall's reluctance to share the streets runs contrary to everything we know now about how cities work and, indeed, about how people live. At a time when cities are once again attracting new residents — witness the three-decade-old condo boom — the need to share the roads has never been more urgent.
Using little more than a few cans of paint, New York, for example, has reclaimed for pedestrians long held vehicular territory. Toronto, another eminently walkable city, has never summoned the courage to be so bold. In fact, we have remained rooted in ways of doing things that are decades old and badly out of date.
Unlike some urban centres, Toronto does not overflow with great architecture or exquisite enclaves. Instead, its finest feature is the grid of mostly four-lane roads lined with generic two- to four-storey buildings that have the virtue of being endlessly flexible. Constructed between the late 19th century and sometime before World War II — when we forgot how to build cities — these are what enables Toronto's urban vitality.
Those structures have been reinvented over and over again, each generation remaking them in its own image. The most famous example, of course, is Queen St. W. In less than 30 years, it has gone from a grimy artery clogged with remnant stores and greasy spoons to one of the great streets in the world. Though big changes have occurred along Queen, most of it remains untouched.
College St., with its outdoor cafes and restaurants, was one of the main routes along which civilization arrived in Toronto. If street life didn't appear here first, it was pretty close. Though we're all familiar with Little Italy, College functions as its public face. It's what non-residents think of when that name is invoked.
And despite what merchants say, pedestrian precincts are good for business. That has been proven again and again in cities as diverse as Copenhagen, Sydney and Tokyo.
So far, this city hasn't had the nerve, let alone the intelligence, to designate obvious pedestrian zones such as Kensington and Yorkville.
And yet streets such as Toronto's are among the chief glories of a city. By contrast, in suburbs the streets really do belong to cars and trucks. The only places for pedestrians are parks and malls. Many suburban streets don't have sidewalks. Even in those parts of suburbia where the critical mass of people and money do exist, the built form does not allow for any variation on the car-dependent sprawl offered by the development industry and their tame councillors.
Yet urbanity has never been more necessary, not just to allow for conventional middle-class lifestyles to continue, but also to give the planet a chance. City council's inability to grasp this, and the enormous asset the streets represent, does not bode well for Toronto.
Queen St.'s value to this city goes far beyond its role as an east/west thoroughfare. To alter it for the purpose of improving traffic flow would be misguided, especially as that would most likely be accomplished at the cost of pedestrian activity. If streets like Queen are the arteries that keep the city healthy, pedestrians — not cars — are the lifeblood.
Hence the desperate need for public transit; before GTA residents are willing to leave their cars at home, they must have genuine alternatives, not anemic half-measures.
Torontonians realize the significance of streets such as Queen, but that can't be assumed of civic decision-makers. The backlash forces in control of the city dream of a retro future from 40 or 50 years ago.
Although that won't unfold any time soon, it reveals the need for a new way of seeing; in the modern city, congestion is good.
---
22. Walrus Magazine: Toronto the Struggling
John Lorinc
How Toronto Lost Its Groove
And why the rest of Canada should resist the temptation to cheer
THE CITY OF TORONTO is stumbling toward the end of 2011 mired in a deep civic funk.
Mayor Rob Ford, a renegade small-c conservative from the suburban ward of Etobicoke North, bulldozed his way to victory a year ago on a simplistic pledge to slash municipal waste. His mantra: "Stop the gravy train." While he has yet to identify instances of reckless spending, he has ordered city officials to extract almost $800 million from Toronto's $9-billion operating budget, the sixth-largest public purse in Canada. This punishing and potentially ruinous process may entail shuttering libraries, firing police officers, and scaling back everything from snow removal to grass cutting to transit. Municipal services — such as public housing, environmental advocacy, and even zoos — that don't conform to the mayor's narrow vision of local government may be eliminated, privatized, or significantly reduced.
Toronto's woes, however, go well beyond the mayor's fiscal populism. The Greater Toronto Area — a 7,100-square-kilometre expanse of 5.5 million residents who live in a band of municipalities extending from Burlington to Oshawa to Newmarket — finds itself increasingly crippled by some of North America's nastiest gridlock, congestion so bad it costs the region at least $6 billion a year in lost productivity. Sprawl, gridlock's malign twin, continues virtually unchecked, consuming farmland, stressing commuters, and ratcheting up the cost of municipal services. Without reliable funding, transit agencies can barely afford to modernize, much less expand, straining the GTA's roads and highways to the bursting point.
The GTA's problems have a social dimension as well. With some of the country's highest real estate prices — now more than $450,000 for an average single-family dwelling — affordable rentals remain scarce, while tens of thousands of families who earn as little as $20,000 a year languish on waiting lists for often-substandard subsidized housing. In Toronto's so-called "inner suburbs" (the city proper consists of an older core dating to the late nineteenth and early twentieth centuries, surrounded by a ring of "outer suburbs" built between 1945 and the early 1970s), poverty has become more prevalent and concentrated. And ethnic: while Toronto has more foreign-born residents than any metropolitan region in the world, many newcomers struggle to find decent work, even if they arrive bearing university degrees.
Editor's Note:An interesting piece, particularly for those who may not have long memories of the history of T.O.....3 right turns can make a left though....it is time for us to get back on track
---
23. nomeancity: Importing Great Architects
Alex Bozikovic
An idea we can (and should) steal from New York
The new architecture critic of the New York Times, Michael Kimmelman, recently focused his attention on a brilliant New York city idea: a program that brings top-quality architects from around the world to work on low-key projects like police stations, firehouses and water treatment plants.
Run by the city's Department of Design and Construction (yes, they've centralized the work of developing city sites), it's the Design and Construction Excellence Initiative Initiative. It was introduced by mayor Michael Bloomberg in 2004, and the idea is simple: the city has established a shortlist of architects who deliver high-quality work, pre-qualified them, and decided to go to them first when the city needs design work. Project managers make sure the integrity of the design is preserved. And small projects are kept for small firms, which need the work (and who, in this line of business, are likely to work very hard to create a showpiece).

The shortlist of architects is amazing, including international lights like Snohetta (who are designing Ryerson's new student learning centre), strong local firms like Della Valle Bernheimer, and locals with an international reputation, like WORKAC – who I've written about, and who are working on a reno of the Kew Gardens Hills Library in Queens, seen in the image at the top of this post.
If you want to design a stimulus program that benefits creative industries and small businesses, you couldn't do better.
---
24. National Post: Relics of the past? The citys low-attendance museums serve a unique purpose, but can they survive city hall-mandated restructuring?
Alison Broverman
I guess the councillors assumed it was a logical fit. But wed really need to rejig our structure, and it will take some time and research to see if we can come up with a feasible business model Karen Carter, executive director of Heritage Toronto, on

Brett Gundlock, National Post - Despite an impressive recent renovation, Spadina Museum has an uncertain future.
It was just less than a year ago that Spadina Museum was getting new wallpaper - literally. The museum was gearing up to reopen after a year-long, $600,000 restoration that returned the house's interior to one that reflects life in the 1920s and '30s.

Just a few months later, the entire city was under threat of metaphorical re-wallpapering, as Mayor Rob Ford scoured the city budget looking for things to cut - including Spadina and several of the city's other so-called "lowattendance" museums (specific attendance figures are currently "unavailable" from the city, according to Leisa Odlum, a communications advisor with the City).

In the year since its reopening, Spadina museum has thrived. Tons of new programming has been introduced to go along with the museum's new theme, and the site has attracted attention from outside groups keen to make use of the unique space - including a few theatre companies looking for an alternative venue in which to stage their work.
---
25. The Record: Goderich Aftermath
The Record is doing an excellent job of tracking the situation in Goderich. Keep an eye on this site for updates.
---
26. London Free Press: Letter to Editor re: Goderich
Paul Carroll
A heritage tornado is about to strike Goderich
It is with considerable pain, following the deepest personal reflection in my life, that I have completed the official termination of every formal and informal connection I have with the Huron County local governments and their committees and agencies as a volunteer or an appointed representative.

I have been a volunteer, a former councillor and reeve for the Town of Goderich, beginning in 1969. I have offered my services and support with enthusiasm and commitment, free, for 42 official years, preceded by 10 years of earlier volunteer connections that began in my teenage years.
I was born in that town.

The precipitating factor for my action is the repugnant disregard for the protection of the built heritage treasures of the "Prettiest Town in Canada".

The Sept. 26 motions by Goderich town council, supported by the Heritage Goderich Committee, approving demolition permits for the two most significant heritage treasures in the Courthouse Square, are incomprehensible.

These properties, among others, were protected by the Ontario Heritage Act and were savagely beaten down in the F3 tornado of Aug. 21. The studio of the internationally famous Canadian photographer Reuben R. Sallows at the corner of Montreal St. and the second-storey Opera House at the corner of Kingston St. are the two most historically significant examples of 19th-century built architecture on the Square.

These structures were examined in detail voluntarily by two specialists, one of whom is one of Canada's mostly highly respected heritage architects, in Goderich by invitation and with the full support of Natalie Bull, executive director of Heritage Canada Foundation. Their knowledgeable opinions were disregarded in the decisions made by council.

These demolition decisions also ignored significant efforts to provide cash grants from provincial, federal and international private-sector fundraising efforts to owners to guarantee cost-neutral heritage re-construction.

Secondary factors for my complete dissociation are the continuing discourtesy of never replying to any of my queries about various ongoing municipal issues, (of which heritage is just one). Officials have also refused, for generations, to collaborate each blaming the other to resolve the larger issues affecting residents who live in these overlapping jurisdictions.

I will no longer serve in any heritage-advisory capacity, nor will I continue to volunteer for any other matters, including environmental and marine.

I am further appalled by the discourtesy that greeted the board members for the Architectural Conservancy of Ontario, the members of which were present for a board meeting they might be of assistance and financial support. They were summarily "disinvited," because the disaster management was considered a purely local matter.
---
27. Kingsville Reporter Council votes against Heritage Committee advice and removes house from inventory
L.G. Kerry; Janet Cobban
Shore House Taken Off List of Historic Homes
Kingsville Ontario Council voted against the advice of its own Heritage Committee and removed a heritage property from the municipal inventory. Council was told that a potential purchaser of the Shore House wants the property off the list.
---
28. Hamilton Spectator: Urban Design Awards 2011
Mark McNeil
Urban Design award give you a chance to vote
Its just one street in the west end of Hamilton, but over the past couple of years some very interesting construction projects have been happening at both ends of it.

At 183 Longwood Rd. S., the $100 million CANMET Materials Technology Laboratory officially opened in February to great fanfare. The building with its 157 rooms and 145,000 square feet of space is an important part of the McMaster Innovation Park, located on former Camco property.

Drive down the road to 170 Longwood Rd. N. and youll find the oddest little house in the village. Its called Hambly House, and in a sea of Tudor-style homes, Hambly looks more like a ship. Its a full-fledged Art Deco, Bauhaus voyage into eccentricity. It was built in 1939 and its current owner spent more than $100,000 to bring it back to former glory.

CanMet and Hambly are just two of 36 entries in this years Urban Design and Architecture Awards in a year that has seen a lot of interesting construction projects. And people in Hamilton have the chance to vote for their favourite projects in the Peoples Choice category.

Among the entries this year, is the $72 million renovation of Hamilton City Hall that officially reopened in June.

Another entry nearby didnt involve construction at all. Its called Urban Sustainability The Edible Landscape, a project that transformed City Hall gardens into vegetables instead of flowers. The harvest is going to city food banks.

Michelle Sergi, manager of community planning and design for the city, says entries come in many forms in the biennial contest. We get a variety of submissions and they cross a variety of issues. They go from residential to commercial to industrial. There are new buildings, adaptive reuse of buildings. We also get landscapes submitted.

Its about recognizing excellence in design in Hamilton. The goal is to create great places or great spaces for people. Part of that is recognizing the architecture, the landscape, the urban design that goes into the spaces.
---
29. Peterborough Examiner: Peterborough Awarded Prince of Wales Prize
Brendan Wedley
City honoured for heritage leadership
When the city went ahead with the refurbishment of the Hunter Street Bridge, it didn't just fix the cracking concrete, it spent more money to preserve and restore heritage features.
Over the last several years the city has restored the exterior of Market Hall at George and Charlotte streets and completely renovated the interior of the theatre on the second floor of the building.
The city has offered property tax breaks to owners of historical buildings on the condition that they preserve certain features of the structures.
The Heritage Canada Foundation is recognizing Peterborough's efforts with the Prince of Wales Prize for Municipal Heritage Leadership, which will be presented to the city Thursday at the organization's annual conference in Victoria, B.
"A city that does not respect its heritage will not for long respect itself."
Mayor Daryl Bennett
C.
"A city that does not respect its heritage will not for long respect itself," Mayor Daryl Bennett said, adapting a quote from Tom Symons, the founding president of Trent University.
It's the second heritage award in as many years for the city.
---
30. National Post: Tremont Restoration Success Story
Rick Spence
If you redevelop it, they will come

Across Canada, cashstrapped communities are struggling to redevelop old, worn-out commercial and industrial space. These "brownfield" sites are often ugly, dangerous eyesores that occupy valuable land that could be put to better use.

This is the story of how sensitive redevelopment of a run-down heritage building has revitalized an entire community. You may wonder why this doesn't happen more often. Act 1 The setting is Collingwood, Ont., a waterfront community that once promised to become a transportation and industrial powerhouse, situated on Georgian Bay, close to skiing and beaches. Beyond its thriving main street retail district, however, much of Collingwood's aging core has been neglected.

Our drama begins in 2004. The town council says it intends to tear down some of its oldest buildings, including a stately high school and a three-story hotel known as the Tremont, which is to become a parking lot. Local heritage groups spring to the buildings' defence, but council remains insistent. (In 2005, the high school is demolished.)
To link to the Tremont Website: http://www.thetremont.ca/
Editor's Note:Congrats once again to Rick and Anke Lex!
---
31. New York Times: Demolition: I M Pei's Kennedy Terminal
David W. Dunlap
A Modern Masterpiece, No Longer Used, Will Soon Disappear at Kennedy Airport

Great photo gallery on the site
Terminal 6 at Kennedy International Airport — a crisp island of aesthetic tranquillity by the master architect I. M. Pei — is being demolished. The boarding gates are already piles of rubble. The main pavilion, whose white steel roof seems to float ethereally over cascades of diaphanous green glass, is expected to come down by the end of October.

George Cserna/Avery Architectural and Fine Arts Library, Columbia University
Terminal 6, as it originally appeared.
Though the demolition has long been planned, the timing now is unintentionally paradoxical. With the recent debut of the ABC drama "Pan Am," it seems safe to say there has never been so much popular interest in the jet-set era of the 1960s and early '70s. National Airlines, perhaps best remembered for christening its jetliners with women's names and inviting the public to "fly me," opened Terminal 6 in 1969 as the Sundrome.
Within it, Mr. Pei tried to create an environment for travelers that was serene, generous, clear, spacious, simple and dignified, said Henry N. Cobb, a colleague at Pei Cobb Freed & Partners in New York. To an extent that remains discernible today, he succeeded. And by its horizontality, Terminal 6 still keeps open a welcome segment of sky in the ever-more-congested central terminal area at Kennedy.
"It's very sad," Mr. Cobb said on Tuesday about the demolition. "The whole thing is very sad."
Many architects speak of creating transparent spaces. Mr. Pei pulled it off.
---
32. New YorK Times: Design Helps in Third World
Rescued by Design
I JOINED the line to get into the United Nations the other day, fiddling with my iPhone before shuffling through security. The couple in back (he was toting an iPad) mused about what a design guru Steve Jobs had been. They headed toward the information desk and I toward "Design With the Other 90 Percent: Cities," an infelicitously titled but inspired show organized by the Cooper-Hewitt National Design Museum and now installed (since the museum is closed for renovations) in the United Nations visitors' lobby.
Design shows may conjure up fizzy displays of Van Cleef & Arpels or stylish tributes to Helvetica and classic automobiles. Design implies for most people the beautiful things an affluent society makes for itself.
This show is not about that kind of design. The objects here tend to look rugged and sometimes embarrassingly simple, as in "Why hadn't anyone come up with that idea before?" Their beauty lies elsewhere: in providing economical, smart solutions to address the problems of millions of the world's poorest people.
If the genius of Mr. Jobs was giving us sleek and effortless products that answered questions consumers hadn't thought to ask yet (can my mobile phone feature a speech-recognition system that reminds me to pick up my dry cleaning?), the designs in this case wrestle with what have long seemed intractable crises. I left stirred by how designers have tackled global pandemics like the proliferation of slums and the spread of infectious disease.
---
33. New York Times: Steve Jobs and Apple Buildings
James B. Stewart
A Genius of the Storefront, Too
WHEN the architect Peter Bohlin arrived for his first meeting with Steve Jobs, he wore a tie. "Steve laughed, and I never wore a tie again," Mr. Bohlin recalled.
Related
"The best clients, to my mind, don't say that whatever you do is fine," Mr. Bohlin said last week, a few days after Mr. Jobs's death. "They're intertwined in the process. When I look back, it's hard to remember who had what thought when. That's the best, most satisfying work, whether a large building or a house."
Just as Mr. Jobs transformed the notion of the personal computer and the cellphone, he left an indelible stamp on architecture, especially the retail kind, traditionally a backwater of the profession.
"No one in commercial architecture has ever channeled a product into architecture for a client the way Peter did for Apple," said James Timberlake, a founding partner of KieranTimberlake, who is now designing the new American embassy in London. "Most commercial architecture is under-detailed, under-edited and under-budgeted. It's gross and ugly, and most of it is an eyesore on the American landscape."
Editor's Note:Amen from an committed Apple user
---
34. WBEZ: Chicago Doors Open
Lynette Kalsnes
Architecture tour offers sneak peek into hidden Chicago
Architecturally savvy people — or those of us who are just a little nosey — can tour sites that are usually off-limits to the public this Saturday and Sunday.
Open House Chicago lets visitors get into more than 130 secret nooks and crannies throughout the city. Organizers tout that participants will be able to stand onstage at Millennium Park's Pritzker Pavilion, or explore the rooftop garden at Lake Point Tower, a high-rise that looms just off of Lake Shore Drive.
"There's no standard experience here," said Bastiaan Bouma, the managing director of Open House Chicago. "Every one is unique. Every site is unique."
Bouma says the tours go far beyond Chicago's downtown by showcasing changing demographics and points of interest in its far-flung neighborhoods.
In the North Lawndale area, people can go into the former Sears, Roebuck & Co. tower where WLS-AM (World's Largest Store) used to broadcast. They also can walk by the old Sears Administration Building. In its heyday, it sent out about 35,000 mail-orders a day.
---