Issue No. 191 | February 2, 2012
Feature Stories
Building Stories: The Beginning of a Canadian Heritage Spring
Moriyama Teshima Office Going Down
Globe and Mail: Ryerson Architecture App for Toronto???
Events
Jane Jacobs, Undone
Feb 9, 2012
+ read
---
Meanings in Architecture: The Early Works of George Baird 1957-1993
Feb 2, 2012
+ read
---
Toronto Tall Buildings Report moving Forward
February 14, 2012, at noon
+ read
---
Advertisements
Built Heritage News Sponsors
1. Building Stories: The Beginning of a Canadian Heritage Spring
Catherine Nasmith
Robert Shipley described the latest collaboration from the University of Waterloo's Heritage Resource Centre as the beginning of heritage spring for Canada, and he may well be right.

What is being developed, and will be formally unveiled in March 2012, is a property database called Building Stories, geared to recording the important building stock of Canada.
The intended goal is to identify and record heritage buildings. The fields reflect that focus, but a building does not have to have formal heritage status to be added. Data can be added by anyone. The minimum entry is an address and a photograph, but there are also ways to add reports, heritage statements, to group and search properties by any of the fields in the database.
It is also possible for organizations to control a slice of data that is theirs, that only the organization can edit, but which others can comment on. The different slices could be entered and displayed through separate portals, but will agglomerate into a nationwide database. The Toronto Architectural Conservancy will likely be moving ahead with developing a Toronto portal.

For the moment Building Stories is web based, but the next phase is to develop a smart phone app that will allow people to search for or add data on the buildings in their areas directly from their smart phones, get directions to the nearest Doors Open site, or connect to any number of possible tours offered through the system.

It is a wildly ambitious project, ably co-ordinated by Kayla Jonas. Robert Shipley emphasized how important it is for people to get behind it and collaborate to bring scattered information together.

I suggested that every architect in the country might want to post their built projects. Anyone who has some files under the desk they can't bear to part with might post that information here. The data belongs to those who post it.

Several smaller municipalities are already on board to use this database as a place to host their municipal heritage inventories. Organizers of Doors Open programs are also excited about the prospects.

Last night, at the invitation of the Toronto Architectural Conservancy, a representative sample of people involved in various aspects of heritage preservation met in Toronto to get a preview of Building Stories, to think about its potential utility for Toronto, and how it might be funded over the long term. Attending were heritage professionals and volunteer enthusiasts, several who are already involved in promoting Toronto's architectural patrimony online, such as Robert Moffat (Toronto Modern), myself (BHN), Michael McLelland of ERA architects, volunteers Alex Grenzebach from the North York Community Panel, Ian Ainsworth from the Annex residents association, Scott Barrett from Heritage Preservation Services, internet experts Liz Rykert and Barry Veerkamp of Meta Strategies, historian Stephen Otto, three representatives of the Toronto Architectural Conservancy, and Susan Ratcliffe, President of the Architectural Conservancy of Ontario.

Everyone agreed this is a very exciting initiative, but there is concern that it may be under-resourced and could be overwhelmed if all of Toronto's data were suddenly dumped into it. Strategies need to be developed to manage content and govern the project. The HRC has organized the initial funding and is committed to keeping it online for five years. The hope is that if enough people are engaged in using it, it will be possible to find a way to make it financially sustainable. It has the potential to reduce the development and maintenance costs for participating organizations, thus creating a potential revenue stream.
One of the biggest challenges to be overcome is the current look of the website. It was explained the rather pedestrian graphics are limited to some extent by the standards of the granting organizations. For example making it accessible to the blind eliminates being able to use java script. As well, the logo for Building Stories is made up of sketches of 19th century buildings, none bigger than two stories. For those from Toronto it would be necessary to create an access portal that reflects a much more varied building stock, as well as an additional century of construction. Nonetheless, the biggest part of the work has been developed in the site's backend, and it is very attractive to partner with the Building Stories to capitalize on that.

There were so many questions and comments we ran out of time. A second meeting will be called to figure out next steps for Toronto. Kayla will be setting up a Facebook page for the site where we can share ideas to advance the project.

Watch this space.

Building Stories is a joint venture of the Heritage Resources Centre (http://www.env.uwaterloo.ca/research/hrc) and the Computer Systems Group (http://csg.uwaterloo.ca) at the University of Waterloo, and the Centre for Community Mapping (www.comap.ca).
Questions?
Please contact Project Coordinator, Kayla Jonas at kajonas@uwaterloo.ca.
---
2. 100 Main Street West: We deserve a better solution
Matt Jelly
blogpost on potential demolition of Hamilton Board of Education building

http://mattjelly.wordpress.com/2012/01/28/100-main-street-west-we-deserve-a-better-solution-hamont/
---
3. Town's Heritage Consultant Validates ACO Collingwood's Position on Admiral Colllingwood Development
ACO Collingwood
Media Release January 30, 2012

Collingwood - The Town of Collingwood has released the peer review of the proposed developments at the site of the former Admiral Collingwood School. The peer review was contracted by the Town to review the heritage implications of the proposed developments, as part of the approval process. The report was undertaken by Wayne Morgan, a respected, independent, Heritage Planner.

The comprehensive report identifies numerous areas in which the proposed development is inconsistent with the heritage character of the district, including; height; mass; scale; window proportions, store fronts and building materials. Most notably, Mr. Morgan concludes, that, in my opinion, the proposed amendments to the HCD Plan objectives are not appropriate given the Provincial, County and Municipal Policy framework. This is very significant as Mr. Morgan reviewed all the policies that pertain to the site, including:
The Planning Act
The Ontario Heritage Act
Simcoe County Official Plan
Town of Collingwood Official Plan
Growth Plan for the Greater Golden Horseshoe
The Heritage District Plan
In each and every one of these planning tools, the proposed development is deemed contrary to, or inconsistent with the policy. Remarkably, even the Growth Plan, often cited by the proponents of the development, does not support the project as proposed. Wayne Morgan notes;

The Growth Plan for the Greater Golden Horseshoe promotes growth within existing built areas, which would include the proposed development, but in a way which respects the conservation of the cultural heritage of the community as set out in the municipal official plan and other strategies. The Collingwood Downtown HCD is such a strategy. The proposed development does not conserve the cultural heritage consistent with that strategy. Therefore, it is my opinion that the proposed development is contrary to the Growth Plan for the Greater Golden Horseshoe.

The Collingwood Branch of the Architectural Conservancy of Ontario has long held a similar view. The development at five or more storeys in height is inappropriate to the Heritage District and will negatively affect its cultural heritage landscape.

Margaret Mooy, president of ACO Collingwood said, We are pleased with this report as it validates our long held position of supporting the built and cultural heritage of the town. We trust that Council will respect the professional opinion of Mr. Morgan, their own contracted heritage planner. Heritage supporters do want a development to move forward; however, we also want the development to be consistent with our cultural heritage landscape and to comply with all the legal planning tools of the town, the county and the province.

The full report is available on the Town of Collingwood website at
http://www.collingwood.ca/devcomattachments/AdmiralCollingwoodSept2011/WayneMorganPeerReview
For more information please contact Margaret Mooy at 705-445-3321
http://heritagecollingwood.ca/
---
4. HCF Launches New Website www.heritagecanada.org
Heritage Canada Foundation
Ottawa, Ontario, January 31, 2012 — Heritage Canada Foundation (HCF), with the support of the Canadian Forum for Public Research on Heritage, is pleased to announce the launch of a new and improved website, www.heritagecanada.org, a rich resource for members, advocates, news media, decision makers and individual Canadians.
---
5. Moriyama Teshima Office Going Down
Catherine Nasmith
Take a last look at Raymond Moriyama's office building on Davenport before it is torn down for.
I had a call from Mr. Nugent, a neighbour that the demolition hoardings are going up. Mr. Nugent feels strongly that this building should have been protected for posterity, and he is right in recognizing its significance. The situation is not dissimilar to the case that was made for the Lyle office at 1 Bedford. Another important, yet unprotected important building is disappearring from the Toronto landscape. Mr Nugent is disappointed that others did not step forward to list or designate the property.
On the other hand, one has to respect the decision of the Moriyama family to sell the property for redevelopment, in so doing the architect who designed it is saying he does not wish this work preserved, that the building has served its purpose.
The Moriyama family have opened the building to the public nearly every year since Doors Open began, allowing all those who did visit to remember it.
I would be interested to get feedback from readers.
---
6. BlogTO: Fire losses in Toronto
Chris Bateman
Top 10 buildings lost to fire in Toronto
Looking back at the irreplaceable buildings we've lost in Toronto — Trinity College, Chorley Park, The Grand Opera House, to name a few — it's clear we only have ourselves to blame. A lack of conservation policy, a misguided attempt at improvement or simple neglect has sent many a worthy building the way of the wrecking ball.
Occasionally, though, disaster intervenes and buildings are taken from us against our will. As a sort of depressing companion to last year's top 10 buildings lost to demolition in Toronto, here's a look at the best buildings, in no particular order, snatched away by fire.
---
7. BlogTO: History of the Dufferin Gates Toronto
Chris Bateman
A brief history of the Dufferin Gate at the CNE grounds
Over the last 133 years the Canadian National Exhibition has evolved from a travelling agricultural show into Canada's largest fair, the one and only "Ex." Once the main entrance to the exhibition grounds, the Dufferin Gate at the foot of Dufferin Street has welcomed excited visitors to a world of innovative, thrilling, ingenious and bizarre exhibits for over well over a century.
The original Dufferin Gate was built in 1895, seventeen years after the first permanent exhibition was held on the site, to serve as the principal route into the exhibition grounds. The area in front of the small wooden structure served as a natural meeting place for groups preparing the enter the Ex.
In the first years of the 20th century major renovations at the exhibition grounds added several new structures — including Manufacturers' Building in 1902, Art Gallery and Administration Building in 1905, Horticultural Building in 1907, Railways Building in 1908 and Government Building in 1911 - reflecting the increasing popularity of the annual show.
---
8. Globe and Mail: European Meats in Kensington Market
Adrian Morrow
Kensington Market stalwart is on the block
For more than five decades, European Quality Meats and Sausages has been a Kensington Market mainstay, drawing customers from across the city with hearty steaks, spicy kielbasa and tangy cured ham.
But now, septuagenarian founder Morris Leider is contemplating closing the business, the latest sign of a slow shift in the retail makeup of the colourful enclave.
Editor's Note:The Market is a National Historic Site. This building is not culturally significant in the conventional sense, but its use is such a strong part of Kensington traditions of unique independent businesses.
---
9. Globe and Mail: Ryerson Architecture App for Toronto???
Dave LeBlanc
Phone app brings Toronto architecture to life
It is, perhaps, the most memorable scene from the 2002 sci-fi flick Minority Report: performing a sort of upper-body ballet, Tom Cruise whips through pages of information, fast-forwards through video and enlarges stills on transparent computer screens using two-fingered, light-tipped gloves.
Less than a decade later, some of that fiction would become reality when Apple's finger-flicking-good iPhone was launched and, a few years after that, a popular video game system would do away with joysticks to transform player into controller.
But for Luddites, or those not inclined to pantomime skiing or auto racing in their living rooms, there has been little incentive to embrace this somewhat intimidating new technology.
Until now: Recently released by Ryerson University, a free app for iPhones and Android phones uses geo-positioning for an interactive downtown architectural experience like no other.
Hold the phone in front of you, and the phone's camera shows the view in real time; "floating" on top of that view are photographs of architectural landmarks in close proximity. Walk towards a landmark and its photo grows larger in a modern-day version of the "You're getting warmer" game; tap that photo and layers of information appear. In some cases, it's an archival photograph of what occupied the site a century ago; or floor plans and concept sketches; in all cases, the Ryerson app will deliver text information on the building explaining why it's significant.
Editor's Note: Here's the link to get the App-kindly sent by Joel Ceresne, from sunny Savannah. Thanks Joey!
http://itunes.apple.com/ca/app/ryerson-university-datamob/id463830694?mt=8&ls=1
---
10. Toronto Blog: Mapping Toronto at Koffler Gallery
Derek Flack
Mapping the unmappable history of Toronto
"This river I step in is not the river I stand in." That line will likely ring familiar to most Toronto folk who've crossed the Queen Street Viaduct heading east across the Don River. Added to the structure by Eldon Garnet during a renovation effort in the mid-1990s, its thoroughly Heraclitean sentiment is a little reminder of the flux that surrounds us regardless of whatever efforts we might make to suppress the passage of time. It also happens to sum up one of the dominant ideas that Toronto artist Flavio Trevisan explores in his latest show, "Museum of the Represented City."
http://www.kofflerarts.org/Programs/Event-Detail/?recordid=172
---
11. Toronto Star: Faking Destruction of Heritage Buildings
Alexandra Posadzki
Booming house explosion in Clarington part of video shoot
A half-dozen firefighters, a pumper truck, a fire chief, and an officer from the Durham police explosives unit were the scene of a massive house explosion in Clarington on Sunday.
No one was injured. In fact, despite the thundering boom and the cloud of thick, black smoke, the dilapidated two-storey house didn't fall down, or even catch fire.
That's because the special effects technicians that staged the blast used more explosives than fuel.
"It packed the same punch, just less of a fireball," said James Sled, a special effects coordinator for NEXUS Canada.
The spectacle was rumoured to be part of an Our Lady Peace video shoot. High winds forced technicians to scale back the blast at the Holt Rd. home, but the movie stunt could still be seen from more than two-and-a-half kilometres away.
The abandoned house, which was scheduled for demolition Tuesday, was loaded with seven explosive devices on the main floor and five on the top floor, said Sled.
Editor's Note:Not sure I see much fun in this video, but interesting nonetheless. House escapes the blast, but will be destroyed very soon. Can readers fill in on why this lovely building is going down?
---
12. Toronto Star: Odette House - Demolition of historic Toronto house has locals fuming
Donovan Vincent

Demolition commenced last week on Odette House, a 3-storey Victorian-era mansion at 81 Wellesley St. E. The surprise demolition of the 1800s-era building has upset nearby residents and businesses.
The "hurried'' demolition of a 1800s-era downtown house that a Toronto councillor asked to have designated a heritage building, has angry local residents and businesses wondering who would want it torn down.
"At least they could have saved the architectural details and donated them instead of throwing them in a dumpster,'' says a frustrated Sonja Scharf, who operates a business near 81 Wellesley St. E., which was the site of Odette House, an old two-storey home with a coach house in the back.
The property, near Church St., used to be owned by the Toronto office of Wellspring, a charitable organization that provides support to people with cancer. Wellspring sold the building in September for $4.5 million because the organization lacked the funds to do upkeep on the building, needed more space, and because the house presented accessibility issues.
Wellspring has moved some of its programming to Women's College Hospital, and is looking for a new home.
After the building was sold local city councillor Kristyn Wong-Tam wrote a letter to city staff in November asking that Odette House be designated a heritage property. But unbeknownst to her a demolition permit was issued Dec. 14. A demolition crew – Lions Demolition—went in last week Wednesday and began tearing down the rear of the property.
---
13. Toronto Star: Real Jerk fights back
Stephanie Findlay
The Real Jerk plans to fight its eviction
The owners of the Real Jerk restaurant have hired a lawyer to fight their Jan. 31 eviction date.
Co-owner Ed Pottinger says lawyer Albert Formosa is planning to apply for an injunction to delay the eviction from their Queen and Broadview location.
"I'd prefer to sit back and relax and run my restaurant," said 55-year-old Pottinger, "but if it means it may be taken away from me, you've got to get savvy quick and come out swinging."
Since Pottinger received the eviction notice from Bill Mandelbaum, president of Buckingham Properties and owner of the property, on Dec. 30, he has orchestrated an aggressive campaign to stay in the location that has galvanized his patrons and the community.
Editor's Note:Interesting situation.....commercial tenants have few rights once a lease expires
---
14. Urban Toronto: Rezoning application - 60 Mill Street
Gansevoort Hotel and Condos over Rack House at Distillery District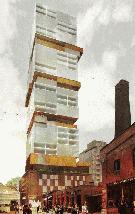 Editor's Note:You be the judge, but this seems a pretty crazy scheme to me. Many in Toronto are excited about Montreal firm Saucier and Perotte designing in Toronto. Interesting new building, but not much left of the historic Rack House. Perhaps we are so numbed to seeing such disjunctures in Toronto's urban fabric we are willing to tolerate it in a National Historic Site. It has definitely become the dominant urban form in T.O. There was a public meeting on this last week. Attendee Cory Lemos reports a general concern about the approach, varying from "wrong building, wrong place", issues about lack of parking (yawn) to suggestions for a follow up public meeting for suggestions about how to be more respectful to the original building. A declaration of interest here, my husband's firm DTAH did the planning for the Distillery District in the 90's. That planning called for infill scaled to the historic buildings, preserving views from the main square. That plan has been largely ignored since then, but it is not clear if there are any ground rules in place now.
---
15. e-architect: Adaptive Re-use Montreal
Stewart Museum
Montreal, January 27, 2012 - The Arsenal at the Fort on Île Sainte-Hélène, a warehouse for training ammunition and guns, built Between 1820 and WAS 1824 and WAS Converted Into a military museum in 1956. The Stewart Museum HAS large collection of over 30.000 objects and artifacts of New France and the European influence in North America.
---
16. Atlantic Weekly: The Greenest Building is.....
Emily Badgerjan
Why the Most Environmental Building is the Building We've Already Built
Reusing an old building pretty much always has less of an impact on the environment than tearing it down, trashing the debris, clearing the site, crafting new materials and putting up a replacement from scratch. This makes some basic sense, even without looking at the numbers.
But what if the new building is super energy-efficient? How do the two alternatives compare over a lifetime, across generations of use?
"We often come up against this argument that, 'Oh well, the existing building could never compete with the new building in terms of energy efficiency,'" says Patrice Frey, the director of sustainability for the National Trust for Historic Preservation. "We wanted to model that."
Preservation Green Lab, the Trust's sustainability think tank, has published a new study today examining this that puts big numbers behind the finding that the greenest buildings aren't in fact state-of-the-art ones; they're the ones we already have.
---
17. Guardian: Threat to 5Pointz
Karen McVeigh in New York
5Pointz: New Yorkers prepare to say goodbye to a slice of hip-hop history
A group of rappers in puffy jackets and hoodies are being filmed jumping around in unison against a brick canvas of eye-popping red and yellow street art: a giant, leering Jim Carrey as Firemaster Bill winks out at them.
A short distance away, two men admire a portrait of Jam Master Jay – the Run-DMC deejay who was murdered in his studio in 2002 – spray-painted on to the same giant warehouse of a building.
This is 5Pointz.
Even when closed for the winter, this rambling building in Queens – which covers almost an entire city block – attracts scores of graffiti artists, hip-hop stars and tourists. Guide books advise tourists to take the elevated 7 train, which loops around the outdoor exhibition space, bagging them two New York landmarks in one go. Three, if you count the neighbouring contemporary arts centre MoMA PS1.
But this sprawling public graffiti mecca is living on borrowed time. Last March, its owner, Jerry Wolkoff, announced plans to demolish the building to make way for high-rise condos. 5Pointz, which celebrates its 10th anniversary this year, is unlikely to continue far beyond 2013.
But Wolkoff's plan, say artists and community activists, will not only destroy an important hip-hop landmark, but the vibrant artistic community of Long Island City – one of the largest in New York – along with it.
Editor's Note:Here is where the heritage systems fail. We have a hard time dealing with places that even though they are important to people, memory, sense of place, culture of a people, they don't fit the prevailing focus on architectural landmarks. Ned Kaufman makes the case for change in his book Place, Race and Story, a must read on the subject.
---
18. Scotsman: New Entrance to Edinburgh's Waverly Station
Alastair Dalton
Waverley Steps: Walk this way for Edinburghs new rail gateway
THE train may take the strain, but getting to the station has been a daunting struggle for generations of Edinburgh passengers.
The Waverley Steps, the notorious principal entrance to the capital's railway hub, provided a 72-step nightmare – especially in the wind and rain.
However, weary travellers will heave a sigh of relief on Monday when they are able to glide up to Princes Street on escalators under a glass roof for the first time in 145 years.
The year-long construction is being completed on time, albeit five years after it should have originally been finished because of delays caused by objections to the scheme.
However, station owner Network Rail also warned that the new roof, which is supported by six tree-like pillars, would not remove the steps' wind-tunnel effect completely.
Editor's Note:I studied for a year in Edinburgh, one of the most interesting years of my life. The way the train integrates into the city is really quite wonderful. If you ever get the chance to visit, don't miss it, and do think of taking the train in and out of the city, it is one of the most spectacular arrivals in any city.
---
19. The Atlantic Cities: Ontario's Places to Grow Plan
Kaid Benfield
Can Ontario Really Deliver North America's Best Smart Growth Plan?
Kaid Benfield is the director of the Sustainable Communities and Smart Growth program at the Natural Resources Defense Council, co-founder of the LEED for Neighborhood Development rating system, and co-founder of Smart Growth America.

Interesting, considering the dual potential of "Places To Grow" to either protect or threaten built heritage.

---
20. The Times: Wonder of ancient city reduced to rubble
Hannah Gardner

A worker mines the remains of a bulldozed courtyard house for bricks Jason Lee / Reuters
Under cover of the Chinese new year holiday and armed only with hand tools, a demolition team moved quietly into a narrow Beijing alley and razed one of the capital's few remaining ancient courtyards.
Only a pair of lonely red-lacquered gate columns and a corner room with sweeping green-tiled roofs remain of the courtyard house — or siheyuan — that was once home to the man known as the father of modern Chinese architecture and who fought to save old Beijing from Chairman Mao's modernising zeal.
Liang Sicheng's home at No 24 Bei Zong Bu Alley once marked the far eastern quarter of imperial Beijing but is now in the very heart of China's shiny modern capital, where land sells for thousands of pounds a square metre.
The demolition of the courtyard, which sprawled over 400 square metres of Beijing in its heyday, began in 2009 until a campaign by architectural conservationists halted work and the site was recognised as a "cultural relic" by the municipal authorities.
But failure to win recognition at a higher level meant that the vestiges of the courtyard had little legal protection. Residents said that a demolition team armed with sledgehammers and spades reappeared on the site of the aristocratic mansion built during the Qing dynasty (1644-1911) just as the ten-day new year holiday began earlier this month.
---
21. Wall Street Journal: Recalling Art Deco Stylist Who Defined City

Andrew Hinderaker, WSJ - Hildreth Meière's Art Deco decorations can be found throughout New York, including Radio City Music Hall's façadeHer work appeared in churches, office buildings and cocktail lounges across the U.S. and even on ocean liners.
The spectacular architectural decorations of Hildreth Meière live on in landmarks across the country—from the medallions on the façade of Radio City Music Hall to the floors and ceilings of the Nebraska State Capitol.
But even in New York, where she based her career and her Art Deco style became one of the city's signature visual motifs, Ms. Meière's name has faded into obscurity since her death in 1961.
Now, Ms. Meière's work is being celebrated with an exhibit opening Friday at the Museum of Biblical Art, called "Walls Speak: The Narrative Art of Hildreth Meière."
The show, which opened in St. Bonaventure, N.Y., in 2009 and went to the National Building Museum in Washington D.C., last year, displays the pioneering work of a woman who, beginning in the 1920s, completed more than 100 architectural commissions.
---