Issue No. 202 | October 22, 2012
1. No, You Don't Need New Glasses
Catherine Nasmith
My apologies to BHN readers for the grainy photos, there is a technical glitch in the back end of the site that is being fixed, however wanted to get the "News" out to you today. The images will be better next issue. Promise.
---
2. Congrats to Steve and Rollo!
Catherine Nasmith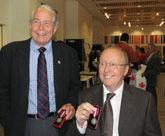 Steve and Rollo
Congrats to Stephen Otto and Rollo Myers, on well deserved Queen's Diamond Jubillee medals.
Steve and Rollo are joined at the hip in matters of heritage conservation. Since their days at the Toronto Historical Board they are never far apart. Common causes include Ontario's First Parliament Site, founding the Friends of Fort York, founding Citizens for the Old Town. Rollo Myers is the Manager for the Architectural Conservancy of Ontario, and Stephen Otto co-chairs the Friends of Fort York. Lovely to see them recognized at the same time.
]
---
3. Conservation vs. Destruction - Abolish the RIGHT to Demolish
Catherine Nasmith

Demolition

Alton Mill, reborn as Arts Complex.....(forgive the plug - one of my projects)
Heritage Summit- Montreal October 2012
Last weekend delegates from across Canada gathered to think about the big picture in heritage conservation, and concluded that the emphasis needs to shift from "Heritage" to a broader approach to conservation. This involves two key ideas, retaining resources for re-use, and understanding that re-use also fuels other social objectives, such as sustainability, as well as economic and community regeneration. Preserving cultural value is an important objective, but spending our time protecting only a small percentage of the world's places is a mugs game in the end.
Keeping our Resources:
Even in provinces where the preservation laws are strong, much mitigates against conservation. Traditional heritage protection revolves around a three pillar approach, identification, protection, and financial support. The movement has dreamt of more resources to do the work needed, but it is clearly impossible to preserve all of value bit by bit. With so many needs to meet and governments who equate the public good with the protection of private pocketbooks there is just no appetite for directing budgets towards heritage conservation, in fact the recent massive cuts to Parks Canada can only be seen as an aggressive attack.
Heritage Conservation Districts are a help, but municipalities are overwhelmed trying to meet demand from people wanting stability and predictability in their communities. Should they have to prove cultural value to achieve that? Our laws are geared for the "special" but are of little use in conserving everyday places, our main streets, our neighbourhoods, our rural environment from intrusion or destruction.
Contemporary thinkers such as Edward Glaezar casting heritage preservation as an elitist pursuit and in the way of the 21st century city anger preservationists, but it is hard to argue that perception based on the numbers alone. Some in the heritage movement argue that preservation laws are actually counterproductive. I'm not there yet. Until we have a better system we must continue doing what we can with the tools we have.
Trying to save all the places that matter to us using traditional heritage conservation laws is clearly never going to be enough in the face of the juggernaut of destruction out there. Wait a minute…..what kind of a crazy world is it where we preserve a few lovely spots, but don't do anything about the rest? Will the earth's natural and manmade beauty be reduced to just a Noah's Ark of preserved places?
One thing that would be a complete game changer would be for society to more clearly recognize that dumping buildings in the garbage is just plain crazy. Its not a hard case to make if we just pose the question. What if the shoe were on the other foot, and granting of a demolition permit was not "as of right". I have phrased this as "Abolish the RIGHT to Demolish". The phrase always gets a smile, but when you think about it, how did we get ourselves in a position that anyone can just destroy something as substantial as a building, or a block or more, no questions asked. In most Canadian cities it is much harder to cut down a tree. What if we didn't have to prove cultural value to prevent destruction? Legislatively it would be a simple revision to our building codes, probably not much more than two or three clauses, but a paradigm shift in thinking is needed.
Benefits of Conservation and Re-use - Regeneration:
Much of the discussion brought to mind Anthony Tung's polarity of the Culture of Conservation standing against the Culture of Destruction.
Much was said about the sustainability of traditional construction and communities. Buildings were once the legacy of a society, building well brought a kind of immortality. The emphasis has shifted, even the most "green" of modern buildings will disappear in the lifetime of the architect who designed them. Green, perhaps, but not sustainable.
Heritage conservation has common cause with other cultural movements such as the environmental and slow food movements. Shared values are favouring the local over the global, conservation over consumption, small business over large corporations. Cultural value is clearly part of these bigger movements. Dinu Bumbaro quipped "it takes two to tango, the tangible and intangible". Julian Smith noted the urgency felt by a younger generation who clearly see the conservation of building stock as one of the means of protecting the earth's resources. In the keynote address, Mark Kingwell, talked about the relationship between citizen vs taxpaper, public and private good, time both linear and transcendent. He talked about places that transcend the everyday, and his words about the "common", echoed Ned Kaufman two years ago in St. John's - that sense of ownership we all have for the places we live in, visit, enjoy even though we are not the owners.
One of the most interesting examples of the way forward came from "The Prince's Regeneration Trust", where their intervention to preserve Middleport Pottery in Stoke on Trent had revived not just the buildings but a local pottery craft tradition. Regeneration has become the thrust of their work in Britain, focusing on much more than building conservation, yielding social and economic wins at the same time. http://www.princes-regeneration.org/projects/middleport-pottery-stoke-trent
Heritage Canada Foundation has been moving ahead with a regeneration program of their own, with two test projects in Saskatchewan at Wolesley and Indian Head, where community cultural planning techniques have been added to the Main Streets tool kit.
At the end it is about society's values. It is time to start applying the values of the heritage conservation movement to everything we do as a society.
---
4. City of Kelowna, British Columbia receives Heritage Canada Foundation Achievement Award
HCF release
Ottawa, ON October 19, 2012 – The Heritage Canada Foundation (HCF) and the Kelowna Museums Society (KMS) are pleased to announce the presentation today of a national Achievement Award to the City of Kelowna, B.C., for the Laurel Packinghouse Rehabilitation Project.
The Achievement Award recognizes the extensive structural work undertaken by the City to stabilize and upgrade the historic Laurel Packinghouse, the first designated heritage building in Kelowna and the oldest remaining packinghouse in the province. Located in the heart of the city's cultural district, it is home to the B.C. Orchard Industry Museum, the B.C. Wine Museum and VQA Wine Shop.
As well as critical work to improve the seismic, electrical and mechanical performance of the building, the $2.5-million rehabilitation project (partially funded through the federal stimulus fund) involved repairing exterior brick walls and timber roof framing that saw the restoration of the original roof configuration. Later interior alterations were removed, reopening the space to better meet exhibition requirements. All major structural changes were implemented with minimal impact on the historic integrity of the building.
The Laurel Packinghouse Rehabilitation Project communicates the landmark's continued connection to the fertile Okanagan Valley and ensures its ongoing public use for arts, heritage and cultural events in Kelowna.
Joel Shaw, the project manager, will be accepting the award on behalf of the City of Kelowna to be presented jointly by HCF and KMS at the Heritage BC awards ceremony in Burnaby this evening.
For more background on the Laurel Packinghouse project, click here.
The HCF Achievement Award honours individuals or groups for their achievement in heritage advocacy and volunteerism, and for projects that demonstrate a commitment to heritage conservation. Nominations are encouraged throughout the year.
The Heritage Canada Foundation is a national registered charity dedicated to the preservation of Canada's historic places. Your support is vital to our work. Please join or make a tax-deductible donation today.



---
5. Thank you, Lincoln Alexander
Catherine Nasmith
We will miss Lincoln Alexander's sense of humour and ability to light up a room. He conducted his life with a dignity and joie de vivre which is not often found together. Much will be said about him and his many accomplishments in the next few days. I want to recount my favorite memory of him.
Ontario's heritage activists were well represented in the Legislature in April 2005 waiting for the hard won and long awaited changes to the Ontario Heritage Act to pass. The gallery was packed. We were expecting the Conservatives, led by John Tory, to try to stall the bill. Lincoln Alexander, then chair of the Ontario Heritage Trust was sitting in the gallery on the Legislative floor. One by one MPP's rose to shake his hand and pay homage to one of their most respected and loved alumni.
John Tory walked in. Sat down at this desk and began to prepare to speak. He looked up at the spectators gallery. He watched the parade to speak to Lincoln Alexander. He gathered up his papers and walked out with a nod to Lincoln Alexander. The bill passed.
Canada has lost a great man. The heritage movement has lost a great friend.
---
6. Prix du XXE Siecle- Heritage Canada and RAIC join to Recognize 20th century projects
HC release
Heritage Canada Foundation /
La fondation Héritage Canada
Communiqué
Heritage Canada Foundation joins Royal Architectural Institute of Canada in calling for submissions to the
PRIX DU XXE SIÈCLE
OTTAWA, ON – October 17, 2012 – With this award, the Heritage Canada Foundation and Architecture Canada l RAIC have joined forces to promote public awareness about nationally significant architecture of the 20th century in Canada.
The Prix du XXe siècle recognizes and celebrates the enduring excellence of nationally significant architecture that is either in Canada and designed by an architect from any country, or is a building anywhere that is designed by a Canadian architect. Only existing buildings that were completed after 1950 and before 1987 are eligible for nomination.
The full Terms of Reference, complete with eligibility, submission procedures and forms, are available online. Deadline for submissions is January 10, 2013, so don't delay!
The Heritage Canada Foundation is a national registered charity dedicated to the preservation of Canada's historic places. Your support is vital to our work. Please join or make a tax-deductible donation today.
-30-
For further information:
Carolyn Quinn, Director of Communications
Telephone: (613) 237-1066 ext. 229; Cell (613) 797-7206
cquinn@heritagecanada.org
www.heritagecanada.org
---
7. Future of Village Square uncertain
Tina Depko-Denver, Burlington Post

Village Square in downtown Burlington is for sale. Post file photo
Site up for sale


Future of Village Square uncertain. Village Square in downtown Burlington is for sale. Post file photo The future of Village Square is uncertain as the assortment of commercial and historic buildings is up for sale.

Realtor Cushman & Wakefield is advertising the site, located two blocks east of Brant Street and one block north of Lakeshore Road, as a Greater Toronto Area Retail Opportunity with Significant Development Potential.

The brochure goes on to read, An excellent opportunity to acquire a unique downtown retail complex with significant development potential. The site offers investors a number of repositioning opportunities, as well as the ability to develop all or a portion of the site for residential purposes.

The property is offered for sale on an unpriced basis. Offers will be received on behalf of the seller on or after Oct. 11. The brochure advertises Village Square as being sold free and clear of debt.

The possibility of a residential building going on part or the entire site has upset many area residents, according to Ward 2 Councillor Marianne Meed Ward.

Im getting a huge response to this, more than other projects, because people feel passionately about this, she told the Post.

People are saying that they would love to see it revitalized and not bulldozed. People recognize there may be some opportunity to do some small-scale redevelopment in a parcel or two of the square, but I think mostly, people are wanting to see the substance of it, the quaintness of it and some of the historic buildings preserved.

Meed Ward said she also personally feels strongly Village Square should be preserved.

I think this is an incredible asset in the downtown and Im hoping for a buyer that has the vision to realize the potential of the unique nature of the Village Square, she said.

There were times not that long ago when it was a bustling space and Id love to see a buyer who has a vision to return it to that. There is nothing else like it downtown.

The Official Plan places a four-storey height restriction on buildings on the site, however, with provision of community benefits, buildings can be up to eight storeys high.

Meed Ward said that considering the price of the land which she said Realtors not involved in the sale she has spoken with have pegged at between $10-$15 million the presence of paying tenants and the unique mix of buildings, the property may not be ideal for a developer looking to construct a residential building.

It is not vacant land, which is a little cheaper and you can afford to build (a residential building) on, she said. To acquire Village Square at a reasonable price and then make it vacant, I dont know if the price would justify it, which I think is a good thing.

There are approximately 16 tenants at Village Square. Some examples of businesses onsite are restaurants and pubs, salons, the LCBO and specialty stores.

Current occupied space, according to a layout diagram of the site on the brochure, is approximately 29,000 sq. ft. A number of the units are unoccupied, with approximately 20,000 sq. ft. of empty space.

Meed Ward acknowledges Village Square isnt the easiest location to run a business due to its location and the number of storefronts in the interior courtyard.

A common theme Ive heard from the businesses that have relocated is a lack of foot traffic through the area, he said.

We hear from businesses in Village Square, as well as those on Pine, Martha and Pearl streets, that people dont make their way over from Brant Street. Part of the challenge is that we dont have a pedestrian friendly environment off of Brant. If you walk east from Brant (from the corner of Brant and Elgin streets), you head through a parking lot, a bus terminal and another parking lot before you hit the edge of Village Square.

There are several heritage properties at Village Square, such as the Stinson-Morrine House at 415 Elizabeth St. built in 1850, which are listed on the municipal register. However, they are not designated. This means the owner does not need council approval to alter or demolish the properties.

A listing on the municipal register does provide interim protection, as owners must provide the city with at least 60 days notice of their intention to demolish or remove a building or structure on the property.

This notice period allows the city to make a decision whether long-term protection of the property should be sought through the formal designation process.

The Post is awaiting comment from the Burlington Downtown Business Association, the owner of Village Square, the citys planning and building department and Heritage Burlington.

---
8. Mirvish Gehry Project Poses Hobson's Choice
Catherine Nasmith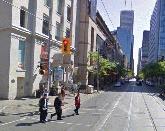 Frank Gehry building a new project in Toronto for a cultural entrepreneur like David Mirvish should be great news, but is bittersweet as it comes at the expense of a handsome Victorian streetscape. The former industrial buildings were built to last and the building at the corner of King and John, the current home of Kuwabara Payne McKenna Blumberg architects was the first adaptive reuse of an industrial building in Toronto, an early project of the vanguard firm of Diamond and Myers. The Princess of Wales theatre is only twenty years old and was lauded at the time of its construction for its brilliant contextual design. The ethics of such construction and destruction cycles and their impact on the environment are worth discussing in this scenario, and should not be lost on Councillor Adam Vaughan.

Toronto has many places that could use the injection of a great cultural project with all the arts facilities this project would be a great addition to emerging neighbourhoods such as the West Don Lands, or the Port Lands and provide much needed energy. Who knows whether any city needs condo towers at 80 stories.but that is not my point. We should not be destroying the good for the good. Keep the good, build new buildings in places where they are needed. Time for the city to channel this energy into an all round win for the city, instead of the present Hobsons Choice.
---
9. Huffington Post: Fantastic Wall-Garden from Barcelona
forwarded by Robert Allsopp
A video and article of an interesting series of projects in Barcelona, shows a 6-7 foot wide fireescape type structure which accesses planters which screen the full height of various blank walls. Sure beats murals!
---
10. Spacing: Headspace Interview re: Mirvish Gehry and Heritage
Luca de Franco
Catherine Nasmith discusses heritage preservation and the Mirvish-Gehry proposal

King and John Street
Catherine Nasmith is former president of the Architectural Conservancy of Ontario and a founder of Doors Open Toronto. She has been active in heritage preservation for decades including campaigns to save the Don Jail and Fort York. Recently, a proposal has been put forward to demolish designated heritage properties at 274, 276, 284, and 322 King Street West in favour of a new Frank Gehry-designed development containing residences, an art gallery, and a new campus for OCAD University. Spacing sat down with Catherine to get a heritage preservationist's perspective on the proposed plan and to discuss heritage preservation more generally.
Spacing: How would you rank Ontario's present heritage preservation legislation, The Ontario Heritage Act, in terms of its comprehensiveness and effectiveness?
Nasmith: The legislation is actually pretty good. It could use improvement in small ways but essentially Ontario municipalities have the necessary tools to protect heritage. We're not seeing strong protection because municipalities aren't applying the resources to do the job properly. The municipal body responsible for heritage conservation in Toronto, Heritage Preservation Services, for instance, is just hopelessly under-resourced and the pace of development in this city is overwhelming them.
Spacing: How would you improve the act or enhance its enforcement?
Nasmith: I think it would be great if citizens could launch appeals when municipal councils make bad decisions. Using David Mirvish's proposal for King and John as a case study, a number of buildings on that block are designated heritage properties. These are designations Mirvish agreed to and City Council has passed resolutions confirming their protection. Mirvish now has to apply to City Council to demolish these buildings. If City Council refuses, he can apply to the Ontario Municipal Board (OMB) to have the decision overturned.
---
11. Globe and Mail: Ken Greenberg on Mirvish/Gehry
Ken Greenberg
Extreme makeover: Torontos density challenges

David Mirvish's proposal for a massive new project by architect Frank Gehry in the heart of Toronto's theatre district seems to have caught the city off guard. But should it have?
Downtown Toronto (indeed, much of the city) is going through a metamorphosis of extraordinary proportions, both in the number of projects now eclipsing other North American cities and in the move to buildings of a scale we haven't seen before. A flight into the island airport reveals a burgeoning forest of towers bringing huge infusions of new condos as well as new office buildings and new institutions growing and reshaping themselves.
New hybrid combinations are appearing as we move to greater intensity and overlap. Mr. Mirvish's proposal, for example, includes lower levels combing a new public gallery for his extraordinary private art collection, as well as exhibition and classroom space for nearby OCAD University. It will add 2,600 condo units in towers rising as high as 85 storeys, pushing the upper limit for the city and for North America.
The proposal also calls for the demolition of the Princess of Wales Theatre, which opened in 1993, to make way for this scheme. Some are exhilarated by this announcement, while others are horrified. Change at this scale and rate can be terrifying.
But, for better or worse, it's happening. Like it or not, Toronto is becoming a different city. It's now clear that we're transitioning to a city with a vastly different level of intensity. There's an echo of Manhattan in the mid-20th century, when wave after wave of building radically altered the form of New York and produced the kind of hyper-dense, hyper-animated environment that makes that city unique.
We admire the result but, if Toronto is going to become such a city, there are major obligations. People by and large don't drive in Manhattan, which is criss-crossed by a dense network of subways, not to mention buses and fleets of taxis. And new areas are now being carved out for pedestrians and cyclists.
So how are we preparing for this scale of development and the services required to sustain it?
We have accumulated a serious infrastructure deficit. We have failed to make the investments in public transit that are urgently needed. Our narrow sidewalks and poorly designed streets are already jammed. We will need to invest in public services to accommodate the major increases in population. Our public spaces are meagre and poorly equipped and maintained. These are roles for the public sector, because the private sector can't be relied on to solve these deficiencies alone.
And where exactly do we want this extreme intensification to occur?
Clearly not everywhere and not indiscriminately. Yet, our planning regime seems to lack the ability to make distinctions. One tower leads to another. No one wants to see this phenomenon marching up and down all the nearby streets in the neighbourhoods surrounding downtown. What about the heritage legacy? What are we going to protect? Can we protect areas where this isn't appropriate and direct this growth to the right places?
---
12. Citywire: Gehry sugar coats a pill in Brooklyn's Atlantic Yards
Roberta Brandes Gratz
The Great Brooklyn Bait-and-Switch

Google photo
In the city that created the expression, "If you believe that, I have a bridge to sell you," no one should be surprised that at Brooklyn's Atlantic Yards site, nothing is, or ever will be, as promised.
The Barclays Center piece of the project opened Sept. 28 with a celebrity-studded gala and extensive publicity. But the larger Atlantic Yards project has not only failed to deliver on its over-the-top promises, it exemplifies the worst in city-building.
The developer dangled some tasty bait to get public officials salivating: What was promised were 16 Frank Gehry-designed, mostly residential towers surrounding an arena and parks; 10,000 jobs; and 2,250 units of affordable housing in 10 years. With their eyes on that bait, public officials could be expected to ignore any reasonable alternative plans and stay committed, even when the switch emerged.
Developer Bruce Ratner, CEO of developer Forest City Ratner, and his supporters now say it was protracted lawsuits and the collapsed economy that have delayed the delayed promises. That's disingenuous. Neither the lawsuits nor the economic climate can account for knowingly exaggerated job and housing promises – which were key to winning support from low-income groups.
Editor's Note:

Hmmm, Gehry seems to be busy doing improbable projects in other places.
---
13. Globe and Mail: King Street Redevelopment
Steve Ladurantaye
Mirvish, Gehry hope to build legacy on Toronto's King Street West


Existing streetscape, Google
Impresario David Mirvish is about to launch one of the largest productions Canada has ever seen, but rather than outfitting a theatre with fresh sets in anticipation of a new show he'll be tearing down one of country's most iconic playhouses to make way for three of the largest condo buildings in North America.
Editor's Note:

I am astounded at how Councillor Vaughan's support for both the removal of heritage fabric along King Street, both here and at the nearby restaurant row. See editorial in News
---
14. CBC Metro Morning: Interview on George Street Fire
Matt Gallagher, Catherine Nasmith, Councillor Wong-Tam
Demolition by Neglect
Interview with Catherine Nasmith and Kristen Wong Tam regarding Demolition by Neglect, leading to the recent George Street fire, one of a series on this street, in some of the oldest houses in Toronto.
---
15. Globe and Mail: Barton Myers' Wolf House for Sale
Carolyn Ireland
Home of the Week: Groundbreaking design stands the test of time
Lawrence and Mary Wolf knew they were challenging convention when they commissioned a house of glass and steel. They didn't know they would be living in an architectural landmark.
Mr. Wolf pulls out a copy of House & Garden from 1975 and points to the weeping fig tree, which has grown several feet taller, in the same spot in the living room – facing the exterior courtyard.
The Wolf House, built on stilts facing a Rosedale ravine in 1974, has won many awards and international acclaim for architect Barton Myers.
The Wolfs hired Mr. Myers after they visited another famous house of his design – his own residence on Berryman Street in Yorkville. "We saw what he did with his house and we were blown away," Ms. Wolf says.
---
16. Globe and Mail: Introducing Building Stories
Dave Leblanc
Site aims to be online storehouse of architectural heritage
Ever since coming late to the smartphone party in early 2012, I've been amazed at the number of good heritage architecture apps out there, and that's to say nothing of all the great websites that haven't yet found the time to turn themselves into an app.
The problem is, the more sites or apps about a particular subject, the less I'm inclined to use any of them; it's tough finding a good restaurant when you've got to first decide which of a dozen review sites to consult.
When it comes to architecture, however, the good folks at the University of Waterloo's Heritage Resources Centre (HRC) may have come up with a way to combat the web-clutter.
"It's kind of hard for the general public to find information," agrees Kayla Jonas Galvin, 27, project manager of a "comprehensive" and cross-Canada website, Building Stories, which launched quietly in April. "If you want to find information about a building in Toronto, there are a number of places you could go, but you have to know about them."
---
17. Andrew Thomsen House in Scarborough Rehabilitated and on the Market
Dave LeBlanc
Restoration saves a bit of old Scarborough
Built in 1839, the Springfield estate was originally home to James A. Thomson, one of the area's first European settlers. A painstaking restoration is now complete. Symmetrical window and door placements are somewhat Georgian, a wide, wraparound porch features decorative "trelliages," and the original, freestanding root house remains.
The back story -- Actually, this heritage home has two back stories. In 1802, Andrew Thomson, brother of Scarborough's first European settler, David Thomson (after which Thomson Park is named), purchased a huge parcel of land. In 1839, his son, James A., acquired it and tucked this two-and-a-half-storey "Romantic style" farmhouse, known as Springfield, into a natural slope for heating and cooling purposes; because of this, the rear elevation reads as one-and-a-half storeys. According to the historical plaque outside, (placed by the Scarborough Historical Society in 1979) Springfield is the "oldest brick dwelling in Scarborough," although the first storey/basement was built with local stone. Symmetrical window and door placements are somewhat Georgian, a wide, wraparound porch features decorative "trelliages," and the original, freestanding root house remains.
---
18. Real Estate Listing: Great Heritage House for sale in Scarborough
forwarded by Michael Vaughan
Link to Real Estate Listing
Great House. Great Street. Hugh bargain. It is a heritage house.
Michael Vaughan
---
19. Toronto Star: Jane Jacobs Park - City Initiative
David Rider
City of Toronto may bid on Wellesley St. W. lot in hopes of creating Jane Jacobs Park
The City of Toronto is poised to bid on a derelict downtown lot in hopes it can be transformed into a park instead of yet another thicket of condominiums.
Councillor Kristyn Wong-Tam is leading the charge to buy 11 Wellesley St. W., east of Queen's Park, and turn it into a park named for Jane Jacobs, the celebrated Toronto-based urbanist who died in 2006.
The Ontario government owns the 2.1-acre lot, between Wellesley and Breadalbane Sts. and Yonge and Bay Sts., which has languished since the 1980s when it was to be donated for a now-shelved ballet and opera house.
The province started taking bids Aug. 15 and says the city is welcome to make an offer. Government management committee voted to authorize use of an undisclosed sum from a parkland acquisition fund that is replenished by developers' contributions.
---
20. Toronto Star: Loss of 72 Wells Hill Avenue
David Rider
Old Neilson mansion approved for demolition
Some Toronto councillors have reluctantly approved the demolition of a stately 103-year-old home near Casa Loma despite neighbours' fears for massive "old growth" trees on the property.
After the unanimous vote Wednesday, local councillor Joe Mihevc said the hands of Toronto and East York community council members were tied by provincial legislation. However, he noted that ongoing city reviews of the trees' welfare and a potential historic designation of the house offer the neighbours some hope.
An agent for the prospective purchaser of 72 Wells Hill Ave. applied in August to replace the century-old home, once owned by a prominent member of the Nielson ice cream and chocolate family, with a new three-storey single-family home.
City staff told councillors the application fit zoning and other requirements, so, under provincial planning law, the chief building official had to approve it. The only conditions under which councillors could deny the attendant demolition permit involve the timing of teardown and rebuilding.
Editor's Note:

Lloyd Alter quipped that under current laws this house has less protection than the trees around it. This is a situation illustrating the damage of Ontario's unfettered "right to demolish".
---
21. Sherbourne condo proposal threatens heritage property
Robyn Urback
Sherbourne Street, apparently, is where all the action is. Recently speaking, at least. Beyond the new separated bike lanes, the brand spankin' new park, the massive project proposed for its south end, and a speckling of new condos, the street hosted quite an engineering feat a couple years back. That (albeit, quite slow-moving spectacle) involved moving the historic 800-ton James Cooper Mansion 100 feet closer to the street to make way for a new Tridel Tower.
And now, developers are hoping for a repeat performance. The City of Toronto has received a proposal to build a 52-storey residential tower at Sherbourne and Selby streets, a project that will require the relocation of another heritage property. That property is currently operating as the Clarion Hotel & Suites, though the structure itself touts a history dating back to 1882 when it was a private family home.
---
22. Toronto Preservation Board Agenda
---
23. Save our Rideau: Parks Canada Cuts Impact on Rideau Canal
Ken Watson
Just saw your note about looking for the impact of Parks Canada cuts. I don't work for Parks Canada so cannot provide a personal experience, but my "hobby" is the history and heritage of the Rideau Canal
(the only World Heritage Site in Ontario) and the Parks Canada cuts are going to have a dramatic impact on it.
I could go on at length, but this spring I created a website called Save Our Rideau which details the issues, especially the impact on the heritage of the canal (both built and interpreted).
You can see the site at http://www.SaveOurRideau.ca
(it's part of a large non-commercial website I run on a volunteer basis all
about the Rideau Canal).
Ken Watson
---
24. Owen Sound Sun Times: Old Markdale Fire Hall gets a two month stay from demolition
Don Crosby
The historic Markdale fire hall has a two month reprieve from the wrecking ball.

This recommendation to demolish the Markdale fire hall brought me to tears. I was devastated. When I read that on Friday night I was saddened. It ruined my whole weekend, Coun. Stewart Halliday said during the lunch break at Mondays Grey Highlands council meeting.

The call by a subcommittee of council to demolish the building followed indifference to a recent request for suggestions on how to save the building.

Earlier this year Grey Highlands put out a call for expressions of interest to the private sector regarding the future of the historic building. The only proposal received was to relocate the municipal administration offices to the old fire hall, a suggestion rejected by the three member council committee asked to handle the requests.

It would cost an estimated $300,000 and $500,000 to bring the structure up to current building code standards.
The committee recommended municipal staff come up with a plan to tear down the building, which would include the estimated cost of demolition, and report back to council.

Halliday stressed the iconic nature of the 99-year-old structure, a landmark in downtown Markdale. He noted there were grants available to renovate such buildings.

He said one man had offered $1,000 toward saving the building. We cant just eliminate our past, he said.
Mayor Wayne Fitzgerald, one of three members of the subcommittee along with councillors Dave Kell and Lynne Silverton, pointed out the lack of interest from the community to save the building. He also noted the subfoundation needed work, the north wall of the building was cracked and bricks were falling off and that the bricks were badly in need of repointing.

Council earlier this year approved installation of a net part way up the building to catch any falling bricks, something thats costing about $3,000 a month. Last year the municipality spent $30,000 on a new roof.
Council ended up voting 6-1 to give the heritage committee 60 days to look into other options that might be considered to save the building.

Fitzgerald said later he voted against the committee looking for other options because he wanted to ensure staff determined the cost of demolition so the heritage committee could compare that with the cost of renovations to save the building. Halliday, a member of the heritage committee along with Deputy-mayor Paul McQueen, said the committee is supposed to be consulted about heritage issues in the municipality.

I care about heritage, I care about the roots of a society such as Grey Highlands. This is an iconic building. Its been allowed unfortunately over the years to fall apart. Council has voted to spend money in other ways. Now were at the point that we really have to dig our heals in . . . this is a cultural asset, said Halliday.Local historian and heritage advocate Paula Niall of Owen Sound attended Mondays meeting at the invitation of the chair of the heritage committee.

She didnt speak at the meeting but in a later interview said I think that its sad in this day and age there is so little interest in our heritage and our culture.

If the community and council have no interest in culture, then that building is going to go down. In days to come our citizens are going to regret this.

She urged the community and council to celebrate the buildings 100th anniversary in 2013 with plans to save, rather than demolish, it.

Lets work toward the successful saving of the last heritage building in the downtown core of Markdale and be able celebrate the 100th birthday of the Markdale fire hall next year, Niall said.
---
25. Atlantic Monthly: Heritage Regeneration in Denver
Edward T. McMahon
How Historic Preservation Helped Save Denver's Downtown
What Draws Creative People? Quality of Place
Historic preservation creates new jobs, provides affordable housing, brings diversified economic development, and efficiently maximizes private and public investment. Today, most elected officials and real estate professionals understand the benefits of historic district designation. However, this was not always the case, especially in Denver in the 1980s.
The oil boom of that decade heralded a huge construction boom in downtown office buildings and property values skyrocketed—only to crash with the subsequent oil bust. In the late 1980s, Denver's Lower Downtown was boarded up and blighted, largely bypassed by the downtown construction boom; it was the city's skid row. Despite the presence of the Rocky Mountain region's largest collection of urban historic buildings, between 1981 and 1988 about 20 percent of the buildings in Lower Downtown were demolished, mostly to provide parking for office workers.
---
26. New York Times: Wright Masterwork Is Seen in a New Light: A Fight for Its Life
MICHAEL KIMMELMAN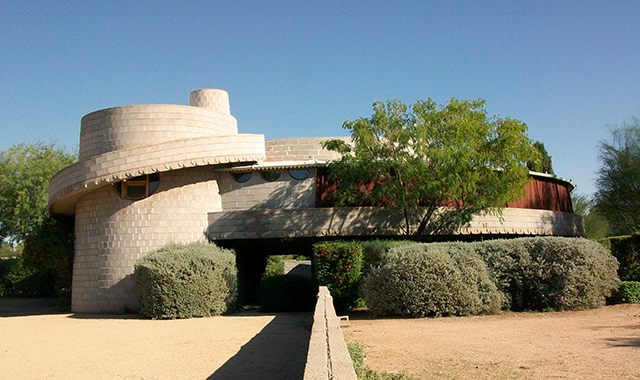 Courtesy Neslie Cook via Flickr. The David and Gladys Wright House - Phoenix developers want to raze the 1952 house Frank Lloyd Wright designed for his son David.
It's hard to say which is more startling. That a developer in Phoenix could threaten — by Thursday, no less — to knock down a 1952 house designed by Frank Lloyd Wright. Or that the house has until now slipped under the radar, escaping the attention of most architectural historians, even though it is one of Wright's great works, a spiral home for his son David.
The prospect of its demolition has suddenly galvanized preservationists, as these crises often belatedly do. They are pursuing a two-pronged attack, trying to have the building designated a landmark, although in Arizona, where private property rights are strong, landmark status is really just a stay of execution, limited to three years. After that the owner is free to tear down the place. So the other prong of attack is to find some preservation-minded angel with deep pockets who will buy it from the developer. Preferably today.
Wright designed this 2,500-square-foot concrete home for David and his wife, Gladys, on a desert site facing north toward Camelback Mountain in a neighborhood called Arcadia. The area, known since the 1920s for its citrus groves and romantic getaway resorts among old Spanish colonial and adobe revival homes, was increasingly subdivided after the war and filled with new, custom-designed ranch houses.
But the Wright lot still had its orange trees. The architect took advantage of them by raising his son's house on columns, to provide views over the orchard. It was a touch that partly echoed Le Corbusier's famous Villa Savoye in France; at the same time Wright chose a spiral design akin to the Guggenheim Museum's. He had drawn plans for the Guggenheim by then, but it was still some years away from construction.
The David Wright house is the Guggenheim's prodigal son, except that unlike the museum, whose interior creates a vertical streetscape while turning its back on the city, David's house was configured by Wright to look both inward and out. It twists around a central courtyard, a Pompeian oasis to which he gave a plunge pool and shade garden, but also faces onto the surrounding desert, with sweeping views of the mountain.
---
27. The Arizona Republic: Frank Lloyd Wright home debate pits preservation vs. property rights
Philip Haldiman
Voices fighting to preserve a famous Frank Lloyd Wright home in east Phoenix have been loud and resolute ever since its new owners indicated earlier this year they would demolish it to make way for redevelopment.
But when the owners of the David and Gladys Wright House publicly threatened a lawsuit against the city last Tuesday, the controversy reached a new level, centered squarely on the fundamental issue of historic preservation vs. private-property rights.
The property owners contend that the city's effort to designate the residence a historic property is illegal based on several factors. Preservationists argue that the property's historic value is immeasurable because of its architectural innovations and ties to Wright, perhaps the most well-known architect in American history.
The battle lines are being drawn as preservationists around the Valley argue that the Phoenix area in general is too quick to pave over its past and that historic structures are useful in promoting everything from economic development to civic engagement.
---
28. The Arizona Republic: Historic Wright home owners shock at meeting with lawsuit threat
Philip Haldiman
Owners of an iconic east Phoenix house designed by famed architect Frank Lloyd Wright are threatening to sue the city, claiming its effort to designate the property as historic is illegal.
The city's process was prompted by Wright advocates seeking to prevent the house from being demolished.
Chris Kramer, an attorney representing the owners, told the Camelback East Village Planning Committee that, among other things, the city requires that an owner give consent for a property to be considered for historical designation by the city.
He said the co-principals of 8081 Meridian, which owns the David and Gladys Wright House, were never given that opportunity.
He urged the committee not to recommend the historical designation to the city's Planning Commission.
"Because the owners did not consent, it is illegal," Kramer said during Tuesday's committee meeting. "Don't send this to City Council. Because if you do, you're going to get sued and we're going to win, and the house is going to come down anyway."
The committee ended up making the recommendation after a vote to delay a decision failed.
---
29. The Times: Lead thieves may bring £200,000 penalty down on church roof after wrong repair
Ruth Gledhill

St Mary the Virgin church at Eastry has been plagued by metal thefts Times photographer, Matt Lloyd
Parishioners at an exquisite Norman church in the diocese of the Archbishop of Canterbury could face a bill of £200,000 to restore the roof after they used a non-approved material for repairs because the lead had been stolen four times.
A "commissary" — church court — at Eastry, near Sandwich in Kent, heard yesterday that not only did thieves return repeatedly to the roof of St Mary the Virgin to tear off the lead, but they also stole a cable that supplied light to a security camera, thus evading detection. They also stole the copper from the lightning rod.
The court has been convened because, in desperation, the parochial church council decided to use a material other than lead after the most recent theft, in July last year. But this was in breach of diocesan regulations, because the proper permissions were not obtained first. The parishioners could now be forced to remove the new material and replace it with lead.
---
30. You Tube: Paul Baldwin talk on St. Thomas Architect, John T. Findlay
forwarded by Steve Otto
---
31. Impacts of Parks Canada Cuts?
Catherine Nasmith
From attending the Heritage Canada Conference activists are starting to pick up some astounding impacts on museum sites, archaeological deposits, records, personnel coming from the Parks Canada budget cuts. Built Heritage News would like to collect stories and share them so that we can better make the case for restoration of funding. Did you lose your job? Have you had to close a museum? What happened to your collections? Revenue, opening hours? Please post your stories to our Our Facebook Page
---