Issue No. 207 | February 18, 2013
1. Ontario's Changing of the Guard: Another Chance for Queen's Park Views?
Catherine Nasmith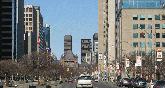 What could happen without views protection from Queen Street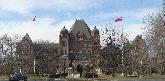 View from North of College St.
Even though Premier Wynn did not change the MInister of Culture in this cabinet shuffle, if we were to judge by the fine remarks made by the Hon. Glen Murray, Minister of Infrastructure and Transportation at the launch of Heritage Week it would seem a new day has dawned for Ontario's built culture. Murray is in a position to make a real difference, as the Minister of Infrastructure sets the tone for so many projects.
Murray referred to the words of the national anthem, reminding us it asks Canadians to be "glorious and free". He takes that as a call to excellence and tied it to making sure that when we build we need to think about the value of what we build. He referred to the glory of the building we were in, the beautifully restored Elgin Wintergarden theatre as a standard to strive for. He made it clear he intends to make a break with the current practice of equating price with value, and bring an end to public buildings that look like little more than the meanest of factories. Will that translate into saving the great Edwardian schools that we have been losing all over Ontario? Would that mean a Heritage First policy for public spending?
Glen Murray is also the MPP for Toronto Centre Rosedale, and has been closely involved in the Ontario Capital Precinct Working Group (OCPWG). I represent the Architectural Conservancy of Ontario (ACO) on that citizens group. In the last cabinet his pleas for intervention by the province to protect the most important cultural landscape view in the province, that of the seat of our democracy got the same dead, obfuscating response as the former Speaker Steve Peters, who was left to face the OMB without the government behind him.
ACO and OCPWG have written last week to Premier Kathleen Wynne asking the province to both declare a provincial interest in the Ontario Municipal Board appeal of the modest protection being introduced by the City of Toronto, and to also legislate to protect the views of Queen's Park from the ceremonial route, northbound on University Avenue from Queen Street. Anything the City of Toronto might do to protect that view can and will be challenged by Toronto's wealthy development community. For the City to try to protect it alone will guarantee an ongoing drain on scarce municipal resources. The province could, and should, take steps.
As Premier Wynne strives to restore civility and co-operation to proceedings in the Legislative Assembly, it would be a perfect symbolic step to also protect the dignity of the seat of Ontario's government.
This tired heritage soldier is hoping the cavalry has finally arrived.
---
2. Text of Letter to Premier Wynne re: Queen's Park Views
Architectural Conservancy of Ontario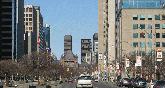 The province must step in to stop encroachment of the silhouette
Dear Honourable Premier Kathleen Wynne
Preserving the Dignity of the Ontario Capital Precinct,Protecting Heritage Views of the Legislative Assembly of Ontario
Declaring a Provincial Interest in OMB Hearing, OPA Views Protection for the Legislative Assembly of Ontario
First, our most sincere congratulations on your recent election as leader of the Ontario Liberal Party. Over the years you have always been a strong friend to Ontario's heritage and we hope this will continue in your new role as Premier.
As you are aware, for several years the ACO and the Ontario Capital Precinct Working Group have been pressing for a plan for the Ontario Capital Precinct. The key short-term objective of that work is to achieve protection for the silhouette of the Ontario Legislative Assembly Buildings. As you know, Ottawa has such protection for our National Symbols.
We can no longer take for granted the commanding view from University Avenue of the OLA Buildings with sky behind it. The OMB decision regarding 21 Avenue Road pointed out tragic policy gaps in the City of Toronto's Official Plan as well as serious gaps in heritage protection for this view at the province. This policy gap was re-iterated by OMB member, S. J. Stefanko, in his written decision "My role in this process is to implement policy, not create it."
That OMB decision has opened the doors to applications for additional tall developments north of the Legislative Assembly, and there are several moving ahead now. However even with this encroachment, there is still plenty of open sky behind the OLA that could and should be protected. The horse is not entirely out of the barn yet.
In 2012 the City of Toronto passed a welcome, but limited Official Plan Amendment to protect the full silhouette from the north side of College Street, and the area behind the central pavilion from Queen Street. ACO and OCPWG are concerned that this leaves significant areas behind the silhouette unprotected from the ceremonial route, in particular the area above the west wing.
Regrettably, members of the development community who own property north of the OLA on sites along Avenue Road have appealed even this modest proposed level of protection to the Ontario Municipal Board. A pre-hearing date has not been set.
We support the proposed protection, and hope for more. The municipal effort is welcome, but more is needed.
What these current appeals demonstrate is that the City of Toronto will be challenged at every turn in attempts to protect this most important of views, arguably the most significant in the province, celebrating the symbols of our democratic process. Even with Official Plan policies in place, the City will be forced to defend such policies on a continual basis. Not only is this likely to fail at some point, it requires significant and scarce municipal resources.
We have been given a second chance for the province to formally declare this view to be provincially significant, and to do two things to ensure its protection. First to declare a provincial interest in the OMB hearing regarding the proposed Official Plan Amendments, and to introduce legislation that will protect this view for all time from all points along the ceremonial route, starting at Queen Street.
Yours sincerely,
Susan Ratcliffe President
c.c. The Honourable Dave Levac, Speaker of the Legislative Assembly of Ontario
The Honourable Robert Chiarelli, Minister of Municipal Affairs and Housing
The Honourable Michael Chan, Minister of Culture
Glen Murray MPP
Rosario Marchese MPP
Mayor Rob Ford
Councillor Kristyn Wong-Tam
Councillor Adam Vaughan
Tom Symons, Chair Ontario Heritage Trust
---
3. Morris House on the Move
Heritage Trust of Nova Scotia

With deadlines fast approaching, the Heritage Trust of Nova Scotia will soon be moving the 249-year-old Morris House to a lot on Creighton Street in north-end Halifax. Once there, the heritage building will finally come to rest on a solid foundation and, along with an extension, will create an attractive, permanent and affordable home for nine contributing young adults.

The Trust and others led the way in saving the building from the landfill in 2009, when developers were making way for a larger building on Hollis Street. Nova Scotia Power provided the temporary lot while Trust volunteers and partners searched for an alternative site and provided daily security surveillance. The project has brought together a vibrant group of community organizations committed to seeing the historic Morris House restored to a new life for the community.

Heritage Trust President Linda Forbes says the "unique and innovative" partnership for the Morris project brings new resources to the housing sector. Apart from the Trust, the Joint Action Committee for the Morris Building includes Metro Non-Profit Housing Association, the Ecology Action Centre and the ARK. All four groups provide the expertise and contacts needed to deliver the units proposed.

The Morris House will provide affordable housing that will be "indistinguishable" from the existing neighbourhood, in line with the Province of Nova Scotia's objective of invisible housing support, says Forbes.

For more than 20 years the Metro Non-Profit Housing Association has delivered community-based housing units which have been successfully integrated with their neighbourhoods. A key element in the success of these projects has been the development of a peer network among the tenants in a given building so residents develop a sense of ownership and responsibility for their home. A lead tenant in each building helps to foster this sense of community, says Forbes.

The ARK provides supportive activities for young adults or youth who may be experiencing difficulties with the housing market.

The Heritage Trust, the owner of the Morris House, plans to donate it to Metro Non-Profit Housing Association once the building is at its new site and the conservation/new construction work is ready to begin.

The Ecology Action Centre, with its wide ranging energy efficient construction network, is contributing the knowledge and resources necessary for the long-term energy and operating efficiencies that will contribute to the on-going viability of the building.

Construction costs for the conservation and reuse of the Morris House have been estimated at 2/3 of the cost of new construction, making the heritage part of the project an economical alterative. The Trust and its partners are raising money for the move, the conservation and construction. Receiptable donations may be made on-line at www.morrishouse.ca.

Depending on the weather, the move is tentatively scheduled to begin early in the morning on Friday, January 25 or Saturday, January 26.

For further information, please contact Beverly Miller (429-9540) or Linda Forbes(469-3695) of Heritage Trust or see the attached background material. forbes@ns.sympatico.ca, beverlyandbobmiller@ns.sympatico.ca.

-30-
---
4. Michael Hough Dies
Catherine Nasmith
A key member of the Landscape Architecture profession in Canada has died at the age of 85.
Michael Hough was the founder of the Landscape Architecture faculty at University of Toronto, and an important figure at University of Manitoba. He later taught at the Faculty of Environmental Studies at York University. He was the author of two important books, Cities and Natural Process and Out of Place: Restoring Identity to the Regional Landscape. A pioneer in urban ecology,he was key in arguing for the re-naturalization of the Don River and the mouth of the Don.
He is best remembered for the landscape at Ontario Place, where architect Eb Zeidler asked him to make man made islands look "like God did it". My favourite of his early landscapes is the plaza between University Avenue and Nathan Phillips Square, Osgoode Hall and the modern provincial court house to the north.He also designed the grounds of Scarborough College, the University College Quad and Earth Sciences Courtyards at University of Toronto and numerous pioneering applications of ecologically based landscape design.
Winner of the 1991 City of Toronto Arts Award for Architecture and Design and 2009 Lifetime Achievement Award from the CSLA.
On the morning of January 25, 2013 he passed away peacefully in the company of his wife, his son and granddaughter. He was the much loved husband to Bridget, father to Timothy, Adrian and Fiona, grandfather to Sophie, Emily Rose and Will, brother to Anne and best friend to her husband Michael Langlay-Smith of the UK.
In lieu of flowers, please give generously to an environmental charity of your choice.
A Celebration of Michael's life will take place at Bloor Street United Church, 300 Bloor Street West, at 1 p.m. on Saturday, February 2nd.
For more information about Michael Hough
http://www.youtube.com/watch?v=QuZwUg1njHU
http://www.csla-aapc.ca/webfm_send/814
---
5. Following in the Footsteps of the Group of Seven
Catherine Nasmith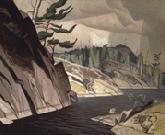 A.J. Casson, (18981992) A Little Bay in La Cloche Channel, c.1958 oil on canvas 68.6 x 83.8 cm Gift of Mr. and Mrs. W.E. McGillivray McMichael Canadian Art Collection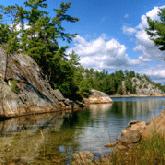 View taken by Sue and Jim Waddington
People do the most interesting things. Yesterday at the Ontario Heritage Trust launch of Heritage Week, Sue and Jim Waddington showed slides taken over 35 years of tracking down the vantage points for famous and sometimes not so famous paintings by the Group of Seven.
The pursuit is often on foot or canoe, but many of the sites are also in towns or cities. Many of the sites are in the La Cloche Hills in Killarney Park. The slides showed the contemporary views followed by the paintings. Immediately evident is the healing of the land that has occurred since many were painted. The painters were often painting a landscape stripped of trees by logging.
There was an exhibit at McMichael Gallery in 2010 which has generated a lot of interest in their work. http://www.mcmichael.com/exhibitions/footsteps/upcoming.cfm
There will soon be a book by the same title from Goose Lane Editions, watch for it.
In the meantime I am hoping they will consider posting the public locations on Building Stories as a tour to help others follow them.
Perhaps someone of the next generation of art loving canoist might step forward to assist the Waddingtons with posting this data.
---
6. Abolish the Right to Demolish: Does This Look like a Tear Down to You?
Catherine Nasmith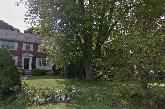 Does this look like a tear down to you?
Built in 1948, this solid well maintained Kingsway Crescent house is proposed to be demolished to make way for a new house. If this were in a Heritage District there might be less disposal of perfectly sound houses. But it isn't, and on Thursday the Etobicoke Committee of Adjustment approved the replacement house, even though it is 40% over coverage, and includes a below grade garage. Still legal in Etobicoke, such garages are soon to be banned City wide because of their potential for flooding and the damage to mature landscapes caused by their construction. The tree on the property is well protected.
This house may not be worthy of designation under Part IV of the Ontario Heritage Act, but there is something wrong with a system that has no regard for the environmental impact of demolition. You can bet the new owners are religious about recycling, paper pop cans and the other bric a brac of life.....but why is it that we are blind to throwing buildings in the garbage? Disposing of a building like this is equivalent to dumping 3-4 million pop cans in the garbage.
The conspicuous consumption involved in demolishing a perfectly sound house to build a new one more than twice the size is an unrecognized environmental issue. But right now its not a planning matter. Over the afternoon I sat at The Etobicoke Committee of Adjustment, all of the projects were approved. One member continued to talk about such projects "as the neighbourhood renewing itself". Last time I looked Kingsway Park didn't look like a neighbourhood in need of "renewal",
It may be legal, but its wrong.
---
7. raisethehammer.org: Bold Plans for James Street Baptist Church
Ryan McGreal
The Toronto-based buyer is committed to preserving the building's heritage and marrying it with high quality modern design to create a valuable space that enriches the community

James Street Baptist Church (RTH file photo)
Last summer, James Street Baptist Church on James Street South went for sale, listed for $1.1 million. Now the building is sold and the new owner is partnering with Hamilton firm McCallum Sather Architects to redevelop the property.
The redevelopment plan is in the earliest stages and few details are available, but MSA principal Drew Hauser agreed to an interview with RTH to discuss the project.
The good news is that the buyer, a Toronto-based developer, is passionate about architecture and specifically bought the building to leverage its heritage value.
The Gothic Revival-style church was designed by Joseph Connolly and built in 1882, and it has a heritage designation under the Ontario Heritage Act for its gorgeous rough hammer-dressed stone exterior, stained glass, pink granite arcade columns and other architectural features.
Unlike some developers, the buyer regards the building's heritage as a source of value rather than a burden.
---
8. Toronto Star: Dying for her House?
Peter Edwards, forwarded by Richard Longley
Missing senior, 87, found dead outside her former Scarborough mansion

Soon to be demolished Pollock Mansion
Kathleen Pollock's son doesn't know if it was confusion or "a last wish" that led her to perish at her former home.
The body of Kathleen Pollock, 87, was found outside her former home on Pine Ridge Dr. in Scarborough on Friday.
By all accounts, 87-year-old Kathleen Pollock loved her old home at 13 Pine Ridge Dr. in Scarborough, overlooking Lake Ontario.

It was at the property known as the Pollock Estate where she lived for a half century, where she raised her family before the children grew up and she and her husband went to nursing homes. And it was there where she was found dead around 4:30 a.m. Friday, hours after taking a cab from her retirement home to pay one last visit to the abandoned and once grand mansion.

Greg Pollock, Kathleen's son, said he thinks his mother was going for one last visit to the home she loved.
"There was no indication of trauma, she seemed to just lay down peacefully by the front door and pass away," he said, his voice wavering. "I think this was her last wish."
Pollock said his mother was independent and would often do errands on her own, but she had never gone missing.

"She doesn't venture far. That was quite a journey. It was like almost a mission," Pollock said. "She hadn't visited the house in a while. Destiny was calling her and she was going home."
Neighbour Risalina Rousell, who lives next door to the Pollock Estate, saw her climb out of a cab alone on Thursday and take uncertain steps across the snow towards the now-empty mansion, which had been sold to developers for more than $2 million in 2011. The property is slated to be subdivided into three lots for grand homes on one-acre lots.

"She passed by," Rousell said. "The gate was closed. I said, 'She shouldn't be going there by herself.' She could hardly walk. She was limping. I was monitoring her."

Plumber Loris Vits, who was working at Rousell's home, went out to try to help the elderly woman as she walked across the snow.

Pollock, whose family owned Pollock's Shoes retail chain in Ontario, was a little bent over and her steps were uncertain but she was insistent that she walk across the snow to the boarded-up mansion.
She was wearing a winter coat and carrying a plastic bag and was clearly determined to get to the house under the grand pines when Vits approached her.

"She was well dressed," Vits said. "She had makeup on. You could tell she was a woman of stature."
Pollock made it immediately clear to Vits that she didn't want help as she walked towards her old home.
Editor's Note:

Such attachment to place goes through generations, touch stones. Since I sent this out with BHN I have had lots of people comment how touching this story is.....buildings are more than brick and mortar to people.
---
9. Globe and Mail: Don Jail Reopens as Part of Bridgeport Hospital
ANGELA KRYHUL
Historic Don Jail buffed up, refitted for a new purpose
Paul Sapounzi grew up in Toronto's Riverdale neighbourhood just down the street from the old Don Jail, a brooding pre-Confederation correctional facility that he always found quite frightening. And for good reason: "My father used to tell me that if I didn't behave, I would end up at the Don Jail."
Mr. Sapounzi did, in fact, land in the Don Jail, but not in the way his father imagined. A partner with +VG Architects of Cambridge, Ont., Mr. Sapounzi is working to transform the historic Renaissance Revival-style structure into Bridgepoint Health's new administrative headquarters. When it opens in April it will, for the first time in its 148-year history, be a positive and light-filled space that welcomes educators, students, history buffs, community members and curiosity seekers alike.
Designed as a reform prison by William Thomas and opened in 1864, the Don Jail was dubbed the "Palace for Prisoners" because of its progressive ideas for the physical and mental wellness of inmates and its improved living conditions. Over time, overcrowding and other factors earned the jail a reputation as a hellhole of misery and despair until it was eventually shuttered in 1977.
"In Toronto, the Don Jail is the equivalent of Alcatraz," says Gary Miedema, chief historian and associate director of Heritage Toronto. "I've always been fascinated by a photograph taken after it was closed showing dignitaries taking a whack at the jail with a sledgehammer. It was a place of fear and perhaps cruelty in the popular imagination, and I think its closure was considered a victory for humanity."
Editor's Note:

This is a good news story for sure, but not without losses. The lovely former Riverdale Hospital will soon be a pile of dust, a building that could and should have been recycled. Too much money in the Health Care system creates little incentive to re-purpose buildings.
---
10. Globe and Mail: Infill in Harbord Village Toronto
John Bentley Mays
A modernist Toronto home that makes no apologies
Last week, I was surprised to learn that the district west of the University of Toronto's St. George campus had acquired a name: Harbord Village. (I had always thought of it as "the student quarter," when I thought of it at all.)
Outside the imaginings of the residents' association – a vividly heritage-minded group, I gather – the area has never been a village. It was just a spot in the residential sprawl that swept westward from Spadina Avenue in late Victorian times, burying truck farms and livestock lots under new avenues and middle-class housing.As a visit to any part of this zone suggests, the homebuilders active in this 19th-century surge drew on picturesque, high-style models for their mid-market productions – among other sources, the steeply vertical Gothic family house and the deluxe Second Empire cottage.
The result of this borrowing, as we have it today in Harbord Village, is street after attractive street of modest houses that translate upscale architectural lingo into a popular, marketable vernacular. It was a hit with consumers 120 years ago, and (after a long slump) it's a hit again today.
Editor's Note:

This is just the kind of project for infill in an HCD, of its time but respectful of the neighbourhood.
---
11. Globe and Mail: Toronto's St. Lawrence Neighbourhood
Dave Leblanc
35 years on, St. Lawrence a template for urban housing
If they could talk, downtown dogs would thank David Crombie. In addition to living as urban sophisticates, our furry friends can romp all the way from Parliament to George Streets on the linear park that bears his name.
"I usually get a nice welcome from woofs and stuff when I'm down there," laughs Toronto's former "tiny, perfect" mayor, who wore the Chain of Office from 1972 to 1978.
Those of us on two legs should tip our hats to Mr. Crombie also. While it's not quite perfect and bigger than tiny, the neighbourhood that surrounds the park, St. Lawrence (also incorrectly referred to as "The Esplanade"), which extends in places from Front Street to the Gardiner Expressway and from Yonge to Parliament Streets is, more than 35 years later, the best example of a mixed-income, mixed-use, pedestrian-friendly, sensitively scaled, densely populated community ever built in the province. It's New Urbanism before the term was invented in 1980 to describe Andrés Duany's Seaside, Florida.
It works so well, in fact, it can be overlooked: "All you really see when you drive through there are the faces of the taller buildings," says 83-year-old architect Jerome Markson, who designed one of the first buildings, the David B. Archer Co-op, "but you don't see what's in behind each block – you have to explore."
Editor's Note:

How soon the revolution becomes the norm.....and then "out of fashion". Toronto seems to have forgotten we ever did this....only towers on podiums need apply.
---
12. CBC Hamilton: Local developer purchases Tivoli Theatre
Julia Chapman

The Tivoli Theatre was once a vibrant spot on James Street North. (Julia Chapman/CBC)
Local developer Diamante Holdings has purchased the Tivoli Theatre, a heritage building in downtown Hamilton.
Dominic Diamante, the company's owner, is traveling in Italy and not available for comment, but the company's secretary confirmed the deal has gone through.
Dominic is the husband of Belma Diamante, CEO of the Canadian Ballet Youth Ensemble (CBYE), the company selling the 138-year-old theatre to Diamante Holdings.
'I'm interested to see what the future holds for the development. I wish them the best of luck.'—Tim Potocic, Sonic Unyon
In October, Belma Diamante said a serious offer was on the table, but would not reveal the prospective buyer's identity. "I can't go public right now with specifics," she told CBC Hamilton. "We're seriously considering an interested party. A number of details have to be worked out."
CBC News had learned at the time that two local community members had put bids on the table to develop the property. One of them was Tim Potocic, owner of Sonic Unyon records.
---
13. Guelph Mercury: Historic Guelph tavern, Kelly's Inn, and its saviour should be celebrated
D

CITY OF GUELPH A City of Guelph photo from 1995 shows the dilapidated state of the Kelly

D'ARCY MCGEE, SPECIAL TO THE MERCURY A Cardigan Street building stands today as an attractive limestone residential site, in large part because of the vision and efforts of late Guelph businessman Chandrakant Kothari
News of the sudden death of my landlord, Chandrakant Kothari, in early December came as a shock.
Coming to Canada as an immigrant from India in 1969, Chandra believed he had an obligation to give back to the community that had given him new opportunities. And he did! An active Rotarian, he initiated the Canada Day celebrations in Riverside Park. He was a former Lions Club president and founder of the Shoeper store chain.
I remember Chandra most for his contribution to the preservation of Guelph's historical and architectural heritage through his restoration of the mid-19th century Kelly's Inn on Cardigan Street.
When Chandra acquired it in1996, the building was in horrible condition. His daughters recall the day when he took them to see the building he had just bought. They described the site as a disaster and a ruin and believed him crazy to have purchased it. Photographs taken by the late Nicholas Hill, prominent Guelph heritage architect and Chandra's adviser, confirm the daughters' description.
But in the rubble, Chandra could envision the beauty of the building as part of Guelph's heritage. He restored the limestone building, creating four very pleasant residential units. In 2002, the Guelph Arts Council honoured him with an Award of Merit for his work in saving the building "from certain demise."
---
14. Hamilton Spectator: Prayers for redevelopment
Meredith MacLeod

Hamilton Spectator - The James Street Baptist Church, which was built between 1878 and 1882, was listed last summer at $1.1 million.
A Toronto developer who bought the historic but ailing James Street Baptist Church will reveal "dramatic" preliminary plans for the property in a few weeks, according to the Hamilton architect working on the project.
"The intention is to take some bold steps," said Drew Hauser of McCallum Sather Architects.
"To make a redevelopment like that possible we will for sure be asking for more density on the site. We would like to build out to the lot lines."
Preliminary plans include multi-unit residential, some commercial and potentially a boutique hotel, says Hauser. City officials have been "very receptive" during early talks, he says.
The developer isn't ready to go public yet, but Hauser says he has completed heritage conversions in Toronto. It's the developer's first project in Hamilton.
Editor's Note:

For for more on the Chucrh's architect Joseph Connolly see the following:

http://www.raisethehammer.org/article/306

http://en.wikipedia.org/wiki/Joseph_Connolly_(architect)
---
15. Kingston Whig-Standard: When heritage meets development
Paul Schliesmann
How do six 20-storey buildings impact that picturesque setting? Does it stop at a defined property line or does setting go beyond?
Heritage and development are clashing at one of Kingston's most cherished historic sites.
The view from Cataraqui Cemetery, the burial place of Sir John A. Macdonald and dozens of other notable Canadians, could soon include six 18- to 20-storey apartment buildings.
The apartment complex is proposed by one of the city's foremost development companies, Homestead Land Holdings, even though the property is zoned for buildings no taller than six storeys.
Homestead sees a threat to its project in a city bylaw, recently passed by council but subject to an appeal period, that would register the cemetery as a provincial site of cultural heritage value.
Part of the bylaw mentions the unique hilltop setting and its vista as being integral to the 47-hectare cemetery's historic value.
"To go up 18 to 20 storeys, there's a lot of issues there," said cemetery general manager Bob Lemmon. "Imagine you're having a funeral and someone having a beer on his balcony."
---
16. Two groups vie for claims to historic church
Saskatoon Star Phoenix
Two groups vie for claims to historic church
"Saskatoon's Carnegie Hall" might get its start this spring. Or it might stay frozen in time.

The congregation of Third Avenue United Church will choose between two proposals for the historic downtown building on Feb. 27 and forward that choice to provincial church officials by March 12.

The non-profit group Third Avenue Centre is behind the Carnegie Hall concept, a 1,000 seat theatre for acoustic music used by touring and local artists. The plan has the support of practically every music performance group in the city, said Mark Turner, Third Avenue Centre artistic director.

"I do believe this is the best way to save the building," Turner said. The University of Saskatchewan is committed to being an anchor tenant. And groups like the Amati Quartet and Saskatoon Jazz Orchestra are keen to hold their seasons there, says Turner.

He's already plotting out the next season just in case the proposal is accepted. He says there is "fairly heavy, quiet support," for his group that will become public if it gets approval. Unlike its competitor, the Centre will have to launch a major fundraising campaign to buy the church over two years. But you can't launch a campaign until you get the building.

"It's this a wonderful Catch-22 situation," said Turner.

The other proposal is from Harold Orr and Sons Engineering, which owns real estate in Regina and Saskatoon, including the Orr Centre in Regina, formerly the Western Christian College and High School. The complex features an arts centre and 1,000 seat George Reed Auditorium.

One major difference between the concepts is that the Orr group would be able to buy the building outright or sign a long-term lease, whichever the church wants, said church spokesperson Peter Barnacle.

John Orr is not divulging details of his company's proposal, although it would also involve an arts centre component and 1,000 seat auditorium.

"We're not saying anything right now," said Orr.

Third Avenue Centre, on the other hand, can't say enough about its plans - everything from top-notch stage lighting to a glassed-in addition on the side of the building for a 5,000 square foot lobby.

Both proposals satisfy the congregation's requirements, said Barnacle.

"The important thing is that the building is preserved and for the congregation we get to continue our ministry."

Third Avenue Centre puts the price of its plan at between $5 and $10 million. With the high level of interest in bookings, the business plan is viable, Turner said.

"Not only is it a great idea but it actually works on paper."

INFORMATION NIGHT AND CONCERT

Representatives of Third Avenue Centre are holding a concert and information night on Thursday at 7: 30 p.m. to show off the acoustics of the church and answer questions from the public. In part, it's a bid to dispel rumours. Turner says he's heard everything from "the building was sold to someone from down east" to "I thought they were tearing it down."

The concert will introduce Ariel Barnes (cello) and Heidi Krutzen (harp), a unique duo from Vancouver devoted to new music. Their tour features the world premiere of Another Little Land by jazz star Brad Turner.

Advance tickets: Adults $20, Seniors and Students $15. Call 652-6812. At the door: $25 and $20.

Doors open at 6: 45 p.m.
---
17. raisethehammer.org: Development and Degradation: Making Adaptive Re-Use the Default Option, Part 1 (of 3)
Shawn Selway
I am not arguing against public expenditure but against environmentally and culturally damaging expenditure which further impoverishes the lives of those who are paying for it

225 James Street South before its new 'development
St Joseph's Health Care disposes of 225 James South. This is not development. It is degradation of the built environment.
As we contemplate another downtown "development" proposal that involves first a demolition, this time on the Gore, and which will likely leave the city poorer than it was before, it may be instructive to review what development has done for us lately.
The previous John Street quarters of the North Hamilton Health Centre have been taken up by health care providers. In the mid-term, this building is likely to be demolished and replaced with new residential, as it is only half a block from the water, just south of Williams and Sarcoa.
The new centre was built on the site of the former Bennetto School, an inferior building, which was demolished to accommodate it. The auditorium of the school, to the left of the Health Centre, was retained. This is development.
Editor's Note:

The entire 3 Part series is well worth reviewing, as it asks a number of questions which we all confront in our respective communities
---
18. Canada Post sale alarms Vancouver heritage expert
CBC Vancouver
Canada Post sale alarms Vancouver heritage expert

An expert on Vancouver heritage sites says he'll be keeping a close eye on the fate of the Canada Post building in downtown Vancouver, which has just been sold to a developer.

The building, opened in 1958, has been purchased for an undisclosed amount by the B.C. Investment Management Corporation.

"It's a building that we consider to have significant heritage value, which is not officially recognized, said society president Donald Luxton. So, at this point in time, the owner could proceed with a scheme that would redevelop the site."

Luxton said alarm bells should be going off because the building has not been evaluated as a heritage site.

As things stand, the new owner could demolish the building, Luxton said.

City Councillor Geoff Meggs says the developer would have to apply to have the site re-developed and that application would include input from various parties.

In a statement, the BC Investment Management Corporation gave few details of its plans, but said the building provides a unique opportunity for a large-scale mixed-use development.

Next year, Canada Post will start moving into a new facility being built at Vancouver International Airport.
---
19. Gander Airport Photos
Catherine Nasmith
On CBC's The Vinyl Cafe this week there was a rebroadcast of an episode recorded at the Gander Airport, with a super history of the airport and the building. Next time I fly to Newfoundland I am planning to land at here, which many think is one of the best preserved modernist airport in North America.
Unfortunately I have not been able to find the text of the history...but look at the pics!
---
20. Globe and Mail: Morse Building Halifax
Jane Taber
Debate still rages over restoration of Morse
Haligonians are up in arms after a painter with a bucket of whitewash wiped out part of the city's history on a bright, sunny weekend last fall, painting over two iconic signs on a centuries-old heritage building.
Owner Louis Reznick of Starfish Properties, a Torontonian who has several heritage properties in Halifax, had ordered the paint job on the structure, which Haligonians call the Morse's Tea building.
Many had an emotional attachment to the sign – a large, white band with "Morse's Teas" painted on it across the fifth storey of the six-storey ironstone building that has stood sentinel on Halifax's waterfront since 1841.
Another band of lettering – "Home of Morse's Teas" – on the western side of the building was also painted over.
"It's a symbol of community, history," said Gregor Ash of the Nova Scotia School of Art and Design, which once had studios in the building. "Every time you come downtown, you see that sign. It's just a symbol of where we came from and who we are, and it's an easy thing to keep up there."
---
21. Historic Halifax house finishes journey to new location
CBC Halifax
Historic Halifax house finishes journey to new location

After a 30-hour journey through Halifax's downtown that included a broken utility line and steep hills a 249-year-old Halifax home arrived at its final resting place.

Slated for demolition in 2009, the Morris House was saved by the Heritage Trust of Nova Scotia which bought the structure for one dollar and partnered with housing groups and the Ecology Action Centre to find it a new lot in the city's north end.

The trip was delayed when the convoy snagged a utility line, but crews say that's a small hitch considering the more than 50 fibre wires along the route.

Nova Scotia Power utility crews were nearby to move utility lines.

The house now sits at the corner of Creighton and Charles streets.

The house was rescued from demolition in 2009 and will be revitalized and turned into affordable housing for young adults.

The grey, wood-shingled Morris House was named after the city's first surveyor and is considered to be among the earliest houses built in Halifax.
---
22. Manitoba museum on hunt for historic gargoyles
CBC Manitoba
Manitoba museum on hunt for historic gargoyles
One Manitoba museum is on the hunt for a group of gargoyles, and theyre asking Winnipeggers for help finding them.

The Manitoba Museum recently acquired two gargoyles that used to adorn the Winnipeg Tribune building on Smith Street in the city's downtown.

But there used to be more and the museum wants them in their collection.

In 1914, when Winnipeg was really booming and the paper was really booming, they built a new building on Smith Street, and they placed these 14 gargoyles on top of that building, said Roland Sawatzky, the museum's curator of history.

The gargoyles were mounted on the sixth floor of the building for five decades, until they were removed from the structure in 1969.

Some were sold and some were given to Tribune employees, and the whereabouts of the 12 remaining gargoyles is unknown.

Were wondering if people in Winnipeg, Manitoba, Canada might have one of these, said Sawatzky.

Anyone who thinks they might have one is asked to contact the museum.
---
23. Many woes at Winnipeg's historic Sherbrook Pool
Winnipeg Free Press
Many woes at Sherbrook Pool

AGE is starting to catch up with a much-beloved inner-city pool.

Documents obtained through a freedom-of-information request reveal parts of the Sherbrook Pool have deteriorated to the point where they have been deemed "antiquated" or beyond their "useful life." Facility condition index reports from 2011 and 2012 show the pool's concrete floors, exterior brick-and-stone walls and foundation are damaged and everything from the heating and cooling system, electrical service, plumbing and pipes to the water heater and washrooms are considered "aged." The roof, exterior doors, floor and wall finishes are all past their lifespan, and the reports also flagged concerns over toxic asbestos-containing materials, possible lead paint, damage to the exterior walls and non-compliant security alarms.

The condition assessments are done by a visual inspection and are a guide to improving a facility, city documents said.

City of Winnipeg officials were not available for an interview on Friday.

The issue rose to national attention when Guy Maddin, maker of the acclaimed documentary My Winnipeg that includes the Sherbrook Pool as a prominent locale, wrote Mayor Sam Katz to say he's "extremely saddened" to hear about the possible closure.

"My film, My Winnipeg, is a fanciful and affectionate look at what is really a great city, the city I love, our Winnipeg.

"In the movie, I dreamed there are actually three levels to Sherbrook Pool -- that's how deeply I felt that facility rooted itself in our city's collective memory," he wrote.

The pool closed in November after inspectors discovered 10 pillars supporting the roof had eroded. City officials said the pool's superintendent initially noticed paint peeling on the concrete tiles that encase the pillars and an engineer subsequently found corrosion hidden beneath the concrete tiles.

The city has since cancelled all swimming lessons at the pool. Officials have not said when the facility will reopen and are waiting for the findings of an external engineering report before releasing more details.

The pool's condition reports come amid a push for the city to spend money to ensure the facility reopens.

The group Friends of the Sherbrook Pool have urged council's executive policy committee to include funding for pool repairs in its 2013 budget. Former patrons said the facility is badly needed in the neighbourhood, and is one of the few city pools with warmer water and easy access for seniors.

Finance chairman Coun. Russ Wyatt (Transcona) declined to comment on whether or not Winnipeg will spend additional money on the facility, saying he will wait to see a report on the matter. However, Wyatt said the pool's closure is a symptom of the challenges facing Winnipeg's aging infrastructure. Many city facilities were built in the 1950s -- the Sherbrook Pool in the 1930s -- and are reaching a point where they are coming to the end of their lifespan, he said.

Wyatt said the Arlington Bridge is one example, as the city currently spends millions to maintain the structure that may not have that many years left. The city plans to spend $1.5 million this year to study whether the bridge should be replaced, undergo major reconstruction or be decommissioned.

"There comes a point when it's a bad investment because the amount you're spending is exceeding the ability to get any more years of productive use out of that bridge," Wyatt said.

Wyatt said the infrastructure problem is compounded by the fact other levels of government have "abandoned" the city and said no to things that would help Winnipeg raise more money to address the problem, including enacting a municipal sales tax.

The Sherbrook Pool is the latest city facility closed due to safety concerns. In August, the city announced the sudden and immediate closure of the Civic Centre Parkade after engineers declared the Princess Street facility suffers from structural-integrity issues.
---
24. New Haven Register (New Haven, CT): Preservationists work to save 'modern' buildings
Duo Dickinson
THE word modern is inherently time sensitive. When architects broke from a tradition of looking backward to create new architecture in the early 20th century they called their effort "The Modern Movement."
More than almost any city of its size in America, New Haven has one of the great collections of "Modern" architecture. Only Columbia, Ind., where a local industrialist named J. Irwin Miller offered to donate the fees for innovative building designs — including those by Eero Saarinen, Robert Venturi, Cesar Pelli and others — comes close in quantity and quality.
Yale University is New Haven's J. Irwin Miller. When its architecture school decided to leap into the brave new world of the Modern movement after World War II, it attracted "the best of the brightest," and that meant "Modern" architects flocked to New Haven.
Beyond those noted in our sister city of Modernism in Indiana, Paul Rudolph, Charles Moore, Louis Kahn, Marcel Breuer and Kevin Roche have multiple commissions here. There is an embarrassment of Modernist riches.
Since New Haven is a small traditional New England city based on a delightfully abstracted nine square plan with radial avenues projecting out from its squared center, the impact of these Modernist buildings was, and is, explosive.
This 60-year run of extraordinary modern architecture built amid a traditional context is getting recognized by another movement in a way that may seem oxymoronic on its face.
---
25. New Haven Register (New Haven, CT): Yale's beloved Beinecke library wasn't always so
Jim Shelton

Yale University's Beinecke Rare Book Library January 24, 2013. Peter Hvizdak / New Haven Regiser

The Beinecke Rare Book and Manuscript Library, with its sublime marble slabs and glass-enclosed stacks, has gone from garish to grand.

When the six-story library debuted on Wall Street in 1963, critics said its sleek, stark stylings were too severe. Today, locals can't imagine Yale University — or the city — without it.

"Since opening 50 years ago, the Beinecke has been studied and reviled and admired," said Robert A.M. Stern, dean of the Yale School of Architecture. "It has survived its critics and is a beloved monument that virtually every visitor to Yale wants to see."

Stern kicked off a year-long celebration of the Beinecke Thursday with a sweeping overview of the building's influence and importance.
It is at once open and impenetrable, Stern explained. It suggests accessibility, yet it has but one point of public entry. It has books encased in glass for all to see, yet most of its holdings are underground, away from public view.

"Its elegance and refinement have never been duplicated," Stern said.

Yet its influence reverberates around the world. Buildings such as the Lyndon B. Johnson Library in Austin, the Shrine of the Book in Jerusalem and King's Library within the British Library in London contain echoes of New Haven's Beinecke, according to Stern.

Designed by Gordon Bunshaft and paid for by brothers Edwin, Frederick and Walter Beinecke and their families, the Beinecke took nearly three years to construct. It boasts 250 slabs of translucent, Vermont marble, each one 8 feet square, 1¼ inches thick.

During the day, sunlight leaks through the marble in playful ways that Stern called the Beinecke's "daytime drama."


---
26. New York Times: 100 Years Later, a Railroad Landmark Is Revived
DAVID W. DUNLAP

David W. Dunlap/The New York Times
You already know. A notable New York City train station — ornamented with a handsome figure of the god Mercury, listed on the National Register of Historic Places, once daunted by bad fortune but handsomely renovated not long ago — has reached its centenary.
What you may not know is that the centenary was last year.
Because this isn't a post about Grand Central Terminal. It's about the New York, Westchester & Boston Railway Administration Building at East 180th Street and Morris Park Avenue in the Bronx, built in 1912. The railroad went out of business in 1937, but its distinctive home serves as the entrance to the East 180th Street station for No. 2 and No. 5 trains.
And it received a kind of 100th birthday gift last year: a $66.6 million renovation by New York City Transit.
---
27. New York Times: Capturing Modernism's Chic and Sheen
MICHAEL KIMMELMAN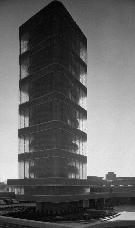 Ezra Stoller, Courtesy Yossi Milo Gallery, New York - The Johnson Wax building in Racine, Wis., designed by Frank Lloyd Wright
Ezra Stoller, the American architectural photographer, left behind a trove of modernist classics of modernist classics. Picture Eero Saarinen's TWA Terminal, or Philip Johnson's Glass House, or the Manufacturers Trust building by Gordon Bunshaft, with its bank vault by Henry Dreyfus. Chances are you've got one of Stoller's images in mind. Immaculate, self-effacing and with a mix of light and shadow revealing every angle and surface, his photographs stressed geometry, transparency, timelessness — like the buildings.
---
28. The Atlantic: America's Preservation Battles
National Trust
2012's Most Important Preservation Battles-
Send your nominations for Canada's most important Preservation battles of 2012. These would be battles won for a change.
---
29. Wall Street Journal: Bronx Apartment Building Gets New Energy
ANNE MILLER

WSJ (Daniella Zalcman) - South Bronx apartment building has gotten an energy retrofit, formerly was Morrisania Hospital
At first glance, the most notable thing about a cream-colored rooftop box at a Bronx housing project might be the incredible view it commands of Yankee Stadium. But the real significance of the metal box will be in helping to produce clean energy at significantly reduced cost.
Older, multiunit apartment buildings are among the city's worst polluters. Building administrators hope the $1.5 million energy overhaul of the Urban Horizons building on East 168th Street can be a model for other large, low-income or rent-controlled complexes, both for the energy-saving retrofit and for the project's creative financing.
"If a nonprofit in the South Bronx can do it, others can do it, too," says Rebecca Eigenbauer, the director of housing development for WHEDco, the nonprofit that owns and runs Urban Horizons.
The local ZIP Code, 10452, ranks among the city's poorest. The average tenant is a family of three with an income of $29,000 who pays $567 in monthly rent, Ms. Eigenbauer says.
Apartments range from studios to three-bedrooms. The complex houses a Head Start preschool, a health clinic and a commercial kitchen where catering entrepreneurs can rent space.
The Bronx building started as the municipal Morrisania Hospital in the 1920s, but was abandoned in 1976. WHEDco opened the 132-unit low-income apartment complex in 1998 after a $23 million overhaul.
---
30. Hamilton Gore Park crisis
D.Chambers Bond Head
Here we have another example of local elected officials, showing a fine example, by making a mockery of local heritage policies, the PPS and the Ont Heritage Act. and volunteer Heritage Committee members completely frustrated.

Why doesn't somebody do something. Why is it that everyone turns a blind eye to these blatant violations of heritage policies?

Every one of these predictable crisis brings on the same well-worn rhetoric and no one identifies the root problem or offers any solution.

Serious dialogue with Queens Park is long past due.

Is there any interest??
comments please!
---
31. Call for Expressions of Interest: Myrtleville House, 34 Myrtleville Drive, Brantford, Ontario
Heritage Canada Foundation Release
Heritage Canada Foundation (HCF) is seeking innovative partnerships and compatible new uses for the 5.36-acre Myrtleville site that will protect its heritage character and contribute to the community in a financially sustainable way. The picturesque landscape includes an 1837 historic farmhouse, a 1913 brick residential duplex and several outbuildings.
HCF will entertain expressions of interest that aim to enhance the existing use, or propose a new function(s), with the following essential characteristics:
sensitive to the heritage character of the property as described in the Statement of Cultural Heritage Value and compliant with the Standards and Guidelines for the Conservation of Historic Places in Canada;
generating income sufficient to cover costs associated with operation, maintenance and repair, and ongoing capital investment over the long term – such as through the introduction of new revenue generating activities and/or the creation of an endowment fund; and
contributing to the community, and allowing for some public access, enjoyment and education if possible.
HCF is a national non-governmental organization and registered charity working to help Canadians protect places that matter to them. HCF promotes sustainable approaches to historic buildings, including adaptive use, and recognizes that respectful contemporary design and new investment can enhance and revitalize historic communities
Contact Eliot McRae at mcrae@heritagecanada.org for a complete copy of the Call for Expressions of Interest and supporting documentation.
Some background information on the property's history
http://www.heritagecanada.org/en/visit-discover/find-historic-places/historic-sites-canada/ontario/myrtleville
---