Issue No. 210 | April 15, 2013
Feature Stories
Hamilton's Lister Block: Celebrating Working Together
Port Dalhousie - Destruction by Speculation
Open Letter from Rosario Marchese re: Ending OMB in Toronto and other Ontario Cities
Celebration of Portrait of Former Speaker-Steve Peters
Ontario Association of Architects: Vote for your favorite Project
Events
The Layers of Leaside: Archival Exhibit
Regular open times: Tuesday April 23, to Sunday April 28, 2013
+ read
---
Layers of Leaside Historical Walking Tour
Sunday April 28 at 1.30 to 3.30 pm:
+ read
---
From the Open Hearth to the Open Air
Saturday, April 20, 2013
+ read
---
Gibson House Mother's Day Tea
Saturday May 11, 2013
+ read
---
Community Quilt Group Gathering at the Museum
Thursday May 9, 2013
+ read
---
Willowbank Presents Gustavo Arroz
Wednesday, April 24
+ read
---
Heritage Fair 2013
Thursday, May 2, 2013
+ read
---
The Future of the Glass Tower?
Tuesday, April 30, 2013
+ read
---
Ontario Heritage Conference
June 7-9
+ read
---
Riverdale Historical Society April Event
Tuesday, April 30, 2013
+ read
---
EARLY SUNDAY MORNING
May 1-26, Wednesday to Sunday, 11 am
+ read
---
Torontos Heritage Streetscapes: Can They Be Saved?
Saturday, May 11, 2013, at 2:30 p.m.
+ read
---
Advertisements
Built Heritage News Sponsors
1. Hamilton's Lister Block: Celebrating Working Together
Catherine Nasmith
"I'm grateful for the army of activists. . . the activists took the responsibility to be diligent and to help me understand what the building meant to the city of Hamilton."
Caroline Di Cocco April 5, 2013,
Saving Ontario's buildings is a business full of more tears than cheers, so when something really goes right it is worth celebrating.
Tour in restored concourse led by conservation specialist, Carolyn Samko
Last week, the President's Circle of the ACO went to applaud the miraculous rehabilitation of the Lister Block in Hamilton. By far, the most celebrated person there was the gracious and very modest former Minister of Culture, Ms. Caroline Di Cocco. She claimed a small role, but everyone knew that without her courage this building would have been lost. Di Cocco's role was pivotal, set a great precedent, yet one which has not been repeated by her successors. Of course the not so hidden agenda of the event was to encourage similar successes in future. We were all there to take a moment to contemplate what can happen when everyone gets pointed in the same direction on a project. Two levels of government, activists, heritage experts, all working together - it's a simple enough idea, but not as common as it could be.
below: Diane Dent addressing group, along wall, Mayor Bob Bratina, Catherine Nasmith, and Carolyn Samko, tour guide
Mayor Bob Bratina, Councillor Brian McHattie and Heritage Hamilton hosted the tour and lunch for people who had been involved in saving the Lister. Cabinet minister Ted McMeekin also brought greetings. Diane Dent of Heritage Hamilton, Susan Ratcliffe ACO President, and Stephen Davidson the Deputy Minister of Culture all said a few words. Thanks in particular to Diane Dent and staff in the Mayor's office for making arrangements. Steve Otto also got up and made some interesting comments on Hamilton architecture, linking back to his time as Deputy Minister
Just to refresh, in 2006 the Lister Block had been written off by Hamilton Council, and probably most "sensible" people. It had been shuttered for a long time. Water had entered in through the roof and broken windows, filling up to a foot or two and freezing into skating rinks. Local public protest grew to protest across the province, but who would pay? Who would ensure protection? Hamilton Council couldn't make the numbers work and was ready to de-designate and demolish.
Then a small miracle. Having heard from all sides, (including me as incoming ACO President) Caroline Di Cocco opted to use new provincial (Ministerial)powers under the Ontario Heritage Act to protect the building. At first, former Mayor Dianni reacted angrily to the interference, but Ms. Di Cocco brought expertise and financial support to the table. Ministry staff organized a panel of experts to bring conservation expertise into the process.
Now, as they say, the rest is history. The English oak paneling had been partially submerged, but you'd never know it now. Original marble floors were removed, cleaned and polished and re-installed, along with compatible new replacement materials. Shop fronts were restored or recreated. Terra cotta was reproduced in concrete and coated. The result is at once stunning, and yet somehow unremarkable. It just looks right. You would simply go by and say what a great building, and never know that it was ever in trouble, save for the small note over a former entrance identifying its restoration date. What was gratifying for me was having the occasion to formally thank Ms. Di Cocco, who seemed genuinely touched by all the attention. That really drove home for me the importance of remembering to celebrate and thank those who help.
Another simple enough idea that isn't as common as it should be.
Below: restored terracotta at corner with dates of construction and restoration, exterior with restored terra cotta base and cornice as well as shop fronts
---
2. Port Dalhousie - Destruction by Speculation
Catherine Nasmith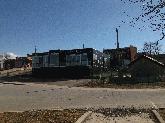 Port Place Condo sales pavillion next to historic jail
The loss at the OMB for Port Dalhousies heritage district a few years back was devastating for everyone in heritage districts across Ontario. You would think that is as bad as it gets, but you would be wrong.
Without building a thing, the core of Port Dalhousie has been destroyed by speculative forces that may never deliver any of the development that tempted the former Mayor and Council of St. Catharines in the first place.
Formerly vibrant main street, Port Dalhousie
In February 2009, OMB member Susan Campbell approved a proposal to build a 20-storey condominium tower in the heart of Port Dalhousie, a 2-3 storey commercial Heritage Conservation District. It was a bitter battle, pitting community heritage advocates and a current Council against the decisions of the previous St. Catharines Council and Port Place developments. The community, led by PROUD, had hired experts, lawyer Jane Pepino, and spent some $500,000.00 trying to defend their heritage district, protection put in place a scant 6 years earlier.
I had the occasion to visit Port Dalhousie a couple of weeks ago with an Architectural Conservancy of Ontario tour, and I can tell you that it can and has gotten worse. Where once there was a thriving commercial centre of mainly Victorian buildings, there are now open sites where buildings have been removed, empty buildings whose business owners have been evicted, yet remain standing, and no sign of any replacement buildings or businesses. Anyone hoping to make a living in that commercial area is doomed.
Before Speculation and Demolition
It is not clear if marketing is going well or not, but Port Place have announced they plan to postpone construction of the replacement development while they apply to build a second condo tower. They have assembled many of the remaining properties, and evicted well-established businesses. They have torn down what they had permission to remove. Port Place recently went back to the OMB to have the decision amended to permit demolition of all but the façade of one of the buildings they had committed to retain.
Notwithstanding the loss of heritage fabric, which is a huge problem in its own right, what I found just as disturbing was the destruction of a business community that had been a vibrant place to visit, and definitely part of the reasons that residents had chosen to live there. It is astounding that such destructive speculation is legal.
After Demolition
Gone are all the restaurants, bars, street life. No businesses, no people.
Port Place is trying to beg off building the theatre they promised as an incentive. It is entirely possible that this developer will get permission for the second tower. It is also entirely possible that there is just no market for such a condo project in Port Dalhousie, and that this developer will end up packing up his bags and leaving town. But what will be left behind? Broken businesses and business owners, dereliction which will be hard to reverse. Not only physical cultural heritage is lost, but also the way of life it supported.
I came away feeling more discouraged about Ontario's planning system than I have ever felt. It is hard enough to keep our small community downtowns vibrant. In Port Dalhousie one that was doing well has been destroyed by a planning system that has failed -- utterly and, completely.

---
3. Background and Update on Port Dalhousie
Carlos Garcia
The Port Dalhousie Conservancy Inc. ("the PD Conservancy") is a community-based, volunteer organization founded in 1999 to pursue Heritage Designation.
Since its founding, the PD Conservancy, initially known as PROUD, has incorporated as a not-for-profit and grown to over 600 members, which makes it one of the largest heritage organizations in the Province.
The PD Conservancy spearheaded the extensive community consultation process that led to historic Port Dalhousie, recognized as one of the best-preserved 19th Century canal villages in the world, being designated as a Heritage Conservation District (HCD) under the Ontario Heritage Act in December 2003. The PD Conservancy also designed heritage street and gateway signage for the new district and raised the required funds. In addition, the volunteer organization focuses on other community projects including: tree replanting; the exploration of Lock 1 of the first Welland canal and; a restoration program for the Locktender's Shanty and surrounding area.
Port Dalhousie Before Demolition
After Demolition
Beginning in 2004, the Conservancy has also played a leading role in the protracted battle against proposals to build a condo tower development in the low-rise Port Dalhousie HCD. ACO was always very supportive of the Conservancy's position and in 2006 a St. Catharines branch was founded. ACO St. Catharines worked closely with the PD Conservancy in the battle against the inappropriate development and was instrumental in raising funds for lawyers and other experts for the OMB hearing on the proposal. No help from the Province, of course.
Unfortunately, in February 2009, after a marathon 71-day hearing in 2008, the OMB approved the tower proposal. The OMB listened to arguments by developers' witnesses Michael Kirkland, Spencer Higgins and Michael McClelland and their claims the tower proposal would revitalize and protect the remaining heritage.
While strongly disagreeing with the decision, the PD Conservancy abides by the OMB ruling. Since February 2009 only the opposite of revitalization has happened. Most businesses in Port's once vibrant Commercial Core (largely owned by the developers) have been closed and the village looks derelict. The developers have made strong efforts NOT to abide by their own OMB decision. They publicly stated a desire to ditch the planned theatre –the cornerstone of their revitalization argument. Then in 2012, they argued they needed to demolish most of the historic Lakeside Hotel and the original 1860 wall of the Port Mansion –exactly opposite what Higgins argued at the OMB. With help of Mr. McClelland, they got this past Council despite unanimous rejection by the Heritage Committee. So far, they have demolished the historic Port Mansion (originally 1860) and a couple of lesser buildings.
They have built nothing but have recently announced a Phase 2 involving demolition or drastic alteration of the historic 19th century buildings along Lakeport Rd. -to be replaced by more condos and high-rises. The PD Conservancy will strongly oppose such a Phase 2 proposal and welcomes the support of ACO and other heritage organizations. We urge our City, which rejected the heritage permit for Phase 1 and opposed it at the OMB, to demand that they complete the OMB-approved Phase 1 and deliver on the promise of revitalization, before even considering another Phase that will negatively impact the remaining heritage buildings.
---
4. Coke Factory Makes the list
Catherine Nasmith
A modernist building in Thorncliffe Park was added to the Inventory of Heritage Property this week. It was not until the property was threatened by purchase by Costco that staff and Council moved this building forward. The North York preservation panel had been pushing for some time to get this recognition. I wrote in support, partly because I have long admired this building which I learn was designed by Mathers and Haldenby. It is the one of last of this rather grand type of factory that was built in the post war period.
I have long admired the Coca Cola's Toronto head office and factory for its grace and subtle presentation of a corporate identify. My mother lives in the neighbourhood, and I grew up nearby. I have watched sadly as other fine buildings on this boulevard have been replaced with more transient commercial buildings of far less architectural merit. Overlea Boulevard has a rather grand presence with bridge at one end, and gates at the other, fine buildings with a wide landscaped strip in front. Overlea Boulevard is a fine example of a modernist boulevard, but whose character has been eroded by insensitive replacement development. This factory fits the original pattern, a pattern to preserve and re-establish with any subsequent development.
I have no doubt Toronto Council has a battle on its hands to preserve more than a soupcon of the building, but it is nice to see it recognized.
---
5. Open Letter from Rosario Marchese re: Ending OMB in Toronto and other Ontario Cities
Rosario Marchese
On March 7, my private member's bill, entitled Respect for Municipalities Act (City of Toronto), passed second reading in the Legislature, with support from members of all parties in the House. Bill 20 now goes to the Finance and Economic Affairs Committee for further review.
I would like to thank the many residents from Trinity-Spadina and beyond, who came to the Legislature to support my bill. Not only did supporters fill up the entire members' gallery on the opposition side of the house, supporters also filled up thegovernment's side as well.
These supporters included representatives from the York Quay Neighbourhood Association , the Trinity-Bellwoods Community Association, the Annex Residents' Association, the Harbord Village Residents' Association, the CityPlace Residents' Association, the Fort York Residents' Association, the Toronto Architectural Conservancy, the Kensington Market Action Committee, the Kensington Market BIA, the Liberty Village BIA, and the West Queen West BIA.
With the bill's passage, the City of Toronto has taken a step towards freedom from the Ontario Municipal Board. But there is much more work to be done. My bill will not leave committee without the support of other parties. While I am grateful for the enthusiastic support of Liberal MPP Glen Murray, unfortunately other members of his party are much more ambivalent. And while many Progressive Conservatives are eager to do away with some government agencies, they do not seem quite ready to cede power and authority to the sixth-largest government in Canada.
This bill still needs support. Please urge your neighbours to tell their MPP that it is time to set Toronto free from the OMB. I am also collecting support letters at rmarchese-qp@ndp.on.ca. With enough support, we will ensure that those who shape our neighbourhoods will finally be accountable to the people who live in them.
Thanks again,
Rosario
Rosario Marchese
MPP Trinity-Spadina
Room 116, Legislative Bldg
Toronto, ON, M7A 1A5
(416) 325-9092
www.rosariomarchese.ca
---
6. Call for Heritage Toronto Award Nominations
Heritage Toronto
Call for Award Nominations Poster
The Heritage Toronto Awards celebrate outstanding contributions by individuals and community organizations, as well as industry professionals and associations, in promoting and conserving Torontos history and heritage landmarks.

Heritage Toronto invites you to nominate heritage achievements from throughout 2012 for the 39th Annual Heritage Toronto Awards!

Categories include William Greer Architectural Conservation and Craftsmanship, Book, Short Publication, Media and Community Heritage Award. The deadline for nominations is Monday, June 3, 2013 at 4.30pm.

For further information please see the pdf Call for Award Nominations poster or visit our website www.heritagetoronto.org to download nomination forms.

The Awards will be announced and presented on October 15, 2013, in conjunction with the William Kilbourn Memorial Lecture. We're very excited to have Gail Dexter Lord, co-president of world-renowned cultural capital consultancy, Lord Cultural Resources, as our lecture speaker.

We look forward to receiving your nominations and hope that you will join us at the Awards presentation evening!
---
7. Exciting season of Doors Open Ontario events ahead!
Ontario Heritage Trust
The Doors Open Ontario 2013 season officially kicks off on April 27 with events in two communities - Guelph and Prince Edward County. This year's program features hundreds of communities participating in 55 events across the province.
Every year from April to October, communities across the province open the doors to hundreds of historic buildings, places of worship, museums, private homes, industrial areas, green buildings, heritage gardens and other interesting venues, some of which are rarely accessible to the public. Many of the participating sites offer special activities, such as tours, exhibitions and demonstrations - all free of charge.
The Doors Open Ontario 2013 theme - Cultural expressions - recognizes the relationship between heritage and the arts, and encourages Ontarians to celebrate the creative culture of their communities. Venues for the arts - including theatres, opera houses, art galleries, artist studios, recital halls and recording studios - will be open for tours.
Three new events are joining the program this year. Innisfil, Northumberland and Bradford West Gwillimbury are hosting events to tell the stories of their local heritage.
Trails and natural heritage sites will also take part. Participants can explore Ontario's breathtaking natural heritage along thousands of kilometres of walking, hiking and cycling trails, many of which will feature special tours and activities.
Since its launch in 2002, Doors Open Ontario has grown from 17 to 55 annual events, representing hundreds of communities across the province. In total, nearly 5 million visits have been made to 5,150 different sites. Visitors to Doors Open Ontario events have spent an estimated $39 million in Ontario's communities.
Visit www.doorsopenontario.on.ca for detailed event information, highlights and site details. The website also offers interactive tools to help users plan their Doors Open Ontario experience - social networking tools to share information with friends and family, a "My Favourites" feature to help create a travel itinerary and keep track of favourite sites, and a quick links tool to help narrow site searches.
This year, the Ontario Heritage Trust will print and distribute 1.1 million Doors Open Ontario brochures in support of the program. Look for a copy of the brochure in newspapers across the province during the week of April 15.
Doors Open Ontario is a program of the Ontario Heritage Trust, with funding support from the Ministry of Tourism, Culture and Sport. The Trust is an agency of the Government of Ontario dedicated to identifying, preserving, protecting and promoting Ontario's heritage.
---
8. Heritage Canada Foundation National Awards -- Call for Nominations!
Carolyn Quinn

Gabrielle Léger Medal
HCF's National Leadership Awards celebrate individuals, organizations and businesses whose work gives new life to Canada's communities.

We invite submissions for our juried awards no later than APRIL 26, 2013 in the following categories:

GABRIELLE LÉGER AWARD for Lifetime Achievement in Heritage Conservation recognizes individuals for their outstanding service to the country in the cause of heritage conservation.

LIEUTENANT GOVERNOR'S AWARD for Outstanding Achievement in Heritage Conservation at the Provincial/Territorial Level recognizes significant achievements by an individual or group in the province in which HCF holds its annual conference. This year it will be in ONTARIO.

Recipients will be fêted at a gala ceremony in Ottawa this October.

HELP US CELEBRATE YOUR HERITAGE ACHIEVEMENTS! MAKE A NOMINATION TODAY. Visit www.heritagecanada.org

For further information contact:
Carolyn Quinn
Director, Communications
cquinn@heritagecanada.org
1-866-964-1066 ext. 229
---
9. University of Toronto to Astroturf what's clearly a Heritage Landscape
Kim Storey:
The University of Toronto plans to begin construction July 1st on a 9.5 million dollar project that will replace the Back Campus Common with two new astro turf field hockey pitches to be used for the Pan Am Games. The Back Campus Common is a large open green space just west of Queen's Park, bordered by Hoskins Avenue to the south, faced by Hart House, University College and several residences. Truly a 'common', this space allows for formal and informal sports, frisbee, picnics and gatherings, uses endorsed by the University's own Open Space Master Plan.
A growing number of people are expressed concerns about this project - the drastic reduction of the historic and accessible green space in the campus, the loss of a cultural heritage landscape, and the restriction of use in a 'de facto' public space. These new astro-turf fields will anesthetize the Back Campus Green by a single-use facility with controlled gated access, and will severely compromise the health of the historic line of elm trees along Hoskins Avenue. At the same time, new field hockey pitches in Brampton are available for use for the PanAm games, making the loss of the Back Campus Green unnecessary.
While the Back Campus Green has become over time somewhat neglected and run-down, the currently proposed project takes it in a completely different direction than those improvements originally set down in the Open Space Master Plan which recommends enhancement of the Common, not its destruction.
To sign the petition and for further information please visit:
http://keepbackcampusgreen.ca
https://www.facebook.com/BackCampusGreen
https://twitter.com/BackCampusGreen
This article first appeared in Acorn in a Nutshell - subscribe here
---
10. New website showcasing Winnipeg Architecture
Susan Algie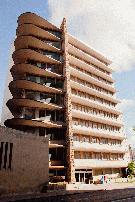 Winnipeg Clinic
The Winnipeg Architecture Foundation (WAF) is pleased to announce the launch of their new website: www.winnipegarchitecture.ca

The new website features information on Winnipeg's modernist era architecture and landscapes, as well as the architects responsible for their design. The website includes virtual exhibits, events listing for WAF programmes and a series of downloadable architectural tours. The first phase of tours include: Broadway Modern, Brutalist Architecture; Terra Cotta Architecture; University of Manitoba Modern; Monarch Life; University of Winnipeg Modern; Civic Centre; Skywalk System; Winnipeg Art Gallery; Royal Manitoba Theatre Centre; St. George's Anglican Church; North Main.

There is also a small shop featuring Winnipeg Architecture merchandise.
---
11. Lundy's Lane battleground
David Chambers
I cannot believe that my fellow human beings could possess such little sensitivity for their past, that they would agree to rezone a part of the sacred Lundy's Lane battleground for a high rise and a parking lot.

All the more shocking, since the people who have agreed are the elected leaders of Niagara Falls

I understand that this is a designated national historic site, so what crack in our revered heritage legislation allows the Niagara Falls locals to mess with it?
---
12. Superior Court upholds Kingston in Railway Property Standards Issue
Floyd Patterson, Frontenac Heritage Foundation, Kingston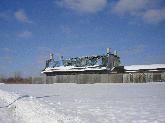 Former Grand Trunk Station, Kingston
A recent ruling by the Superior Court of Ontario states that a Justice of the Peace in Kingston acted correctly when he decided that the city's enforcement of its property standards by-law against Canadian National Railway was not disallowed by the Canadian Constitution.
On May 15, 2012 before Judge Ernest Parsons, the CNR lawyer had argued that because the judge acted outside his jurisdiction the charge of failing to comply with the city's order against CN to repair its historic Grand Trunk railway station in the city be dismissed. Judge Parsons refused, maintaining he had the authority to enforce the by-law and to conduct the trial.
During an appeal session before Judge Wolfram Tausendfreud in Ontario Superior Court, November 2, 2012, the city's lawyer Sarah Viau, pointed out that failing to comply with a municipal property standards order is a violation of Section 15-1 (3) of the Building Code Act of Ontario, and is subject to prosecution under the Provincial Offences Act. Conviction can bring heavy fines.
But a federal Act appeared to collide with the Ontario law. Railway lawyer John Mielo argued that the CNR was unable to comply with the property standards order because a federal statute, the Heritage Railway Stations Protection Act, prohibits the railway from altering the 1856 building unless an engineering survey is conducted and the repairs authorized by federal officials.
However, the Superior Court decision held that the Kingston City Council, under the Building Code Act of Ontario, has the authority "to prescribe standards for the maintenance and occupancy of property," and that "the learned Justice of the Peace did not exceed his jurisdiction by rendering a decision on the constitutional issue."
The railway station has fallen into disrepair since being taken out of service in 1974. Mayor Mark Gerretsen, at a public hearing by the Historic Sites and Monuments Board, July 21, 2011, accused the railway of "demolition by neglect," because a fire had destroyed the station roof years earlier and the railway had not repaired the building. It is designated as a heritage site under both federal and provincial laws.
The CNR, under a section of the Railway Protection Act, that permits emergency repair, removed the remains of the gambrel roof, and installed steel supports to keep the stone walls from falling down. But further annoying heritage advocates the company also defined the station's brick baggage building, and a breezeway connecting it to the main stone building, as not part of the designated historic complex and announced it was seeking permission under the Act to demolish the structures. Heritage conservationists objected to this at the Sites and Monuments Board hearing. It is up to the Minister of Environment whether the breezeway and baggage building can be removed.
The "Old Grand Grand Trunk Railway Station" at 810 Montreal Street, an administrative headquarters for the first phase of a national rail line to unify Canada, has round arched windows with tri-form transoms in an elegant Georgian architecture, earmarks of public buildings of its era.
The constitutional issue resolved, the trial on CNR's non-compliance with the property standards order at the railway station is expected to continue April 30, May 1, 2nd. Both the City and the railway company accept the view that the historic station must be restored, but CNR disagrees that it is their responsibility.
Frontenac Heritage Foundation
contact@heritagekingston.com
On Heritage Canada's Endangered Places list: http://www.heritagecanada.org/en/issues-campaigns/top-ten-endangered/explore-past-listings/ontario/old-grand-trunk-railway-station
---
13. Celebration of Portrait of Former Speaker-Steve Peters
Catherine Nasmith
Former Speaker Steve Peters was a wonderful, and high profile, advocate for Ontario's heritage among many other things. I missed the "hanging" of this portrait, but was tickled pink when I noticed it outside the door of the Speaker's office in a recent visit to Queen's Park.
It is a dignified rendering of him, but the background tells the tale of his passions while at Queen's Park and before.
The two biggest pictures behind him at the top are of the Queen's Park view with sky in the background, and Alma College, lost to fire while he was Speaker. He stopped proceedings in the Legislative Assembly to say words in mourning. In addition to these two, the grain sheaf refers to his former role as Minister of Agriculture, but is also an architectural reference, and for animals we have a small statue of an elephant, referring to his love of all things Jumbo the elephant who was killed in his hometown of St. Thomas, and to the red tailed hawk who nested, as he did, at Queen's Park.
Anyone who was ever treated to one of Steve Peters tours of the Legislative Assembly building will recognize his passion for its cultural heritage in this portrait. Salute the next time you are there.
---
14. Heritage Places Television- Featuring City of Brampton
Heritage Places Television which is currently running a feature on the City of Brampton! The video will be available until March 31, 2013 and can be accessed from either of the links below.
Brampton Guardian – Article + link to feature presentation:
http://www.bramptonguardian.com/news/article/1597035--brampton-s-heritage-stars-on-tv-all-this-week
IBITV – Feature Presentation:
---
15. Ontario Association of Architects: Vote for your favorite Project
The Ontario Association of Architects invites YOU to VOTE for your FAVOURITE Design Excellence Winner
The People's Choice Award allows you to review the winning projects for 2013 and pick your favourite.
A Jury chose 15 buildings to receive OAA Design Excellence Awards and now it's your turn.
Visit: The People's Choice Award page to vote.
Once you've placed your vote, please forward this e-mail or the attached PDF to someone you know and encourage them to take part.
Voting will be open until April 15, 2013. TODAY VOTE RIGHT NOW!
Join in on the discussion about the remarkable projects being designed in the province today!
---
16. Analysis of Federal and Provincial Cultural Spending
forwarded by Heritage Canada
Analysis of the Provincial and Territorial 2012-13 Budgets from the perspective of arts, culture and heritage published recently by the Canadian Conference of the Arts and the Centre on Governance of the University of Ottawa.
After having a look at the report, please take five minutes to answer the market survey you will find here.
This report was scheduled to be published in the fall of 2012. Further to the CCA having had to shut down its Secretariat at the beginning of November, the work has been delayed, but thanks to the partnership of the Centre on Governance, the document is now available. For the French version go here. The content page will allow you to go directly to any chapter of your choice.
---
17. CBC Calgary: Historic apartments to shelter women fleeing violence
Sherri Clark
Findlay building in southwest Calgary being refurbished as homes for single women

CBC Calgary. Historic Findlay Apartments reborn
A Calgary enterpreneur is passing up some lucrative returns to not only renovate an historic building but also help women escaping abusive relationships.
Kris Nordal, who owns the Findlay apartment building in the Beltline, says he is looking forward to seeing it turned into social housing for single women.
"There's no facilities for women fleeing domestic violence who don't have children," Nordal says. "This building is really focused on providing a community and housing for these women."
The brick and sandstone building — built by druggist James Findlay in 1909 — will be legally protected next month as a heritage structure, which means the restorations must respect its historic character.
---
18. Daily Commercial News: $250 million Edmonton tower moves ahead
RICHARD GILBERT
Due to extensive fire damage and based on market demands for modern and flexible floor space, the owner proposes to: remove the core of the building and majority of the north and west facades while keeping the original brick to reuse
City of Edmonton councillors have approved a plan to designate a fire-damaged building as a historic resource, which will facilitate the construction of a new $250 million downtown office tower.
Developer John Day was given funding from the City of Edmonton of up to $1.8 million on April 2 from the Heritage Reserve Fund, to begin the $3.5 million restoration of the historic Ramsey Building located on 101A Street NW.
The designation of the building as a Municipal Historic Resource will facilitate Day's request to begin demolition of the site, in order to construct a 29 storey office tower, with an estimated cost of $250 million.
---
19. Daily Commercial News: Goderich rebuilds from the rubble
MARY BAXTER
In total, 54 buildings were demolished, 19 of which were commercial and 14 of which were either designated or within the heritage district. The 140-year-old Opera House was among the casualties.

BOB DAVIS - The above map shows the path of an F3 tornado which tore across Goderich on Aug. 21, 2011. The red box outlines "The Square" a notable landmark in the heart of the town
GODERICH, ONT. - Just before 4 p.m. on Aug. 21, 2011, a tornado tore through the Lake Huron shoreline town of Goderich, Ont.
Two minutes later - the time it took for the tornado with 300 km/h winds to traverse the town of 7,500 people - it had caused 37 injuries, one death and millions of dollars of damage.
A state of emergency was declared. The Ontario Provincial Police closed down roads; the town's public tilities commission immediately cut off gas. The Ontario Ministry of Labour restricted access to the downtown core because of concerns about airborne particles, such as asbestos and structurally compromised buildings.
Ontario's communities are no strangers to the devastation of tornados. In 2010, the town of Leamington in Essex County suffered millions of dollars of damage after an encounter with an F1 category tornado. In 2009, a cluster of tornados in southwestern Ontario caused widespread damage. The tornado that struck
Goderich, however, not only caused damage, it put the Huron County community's economy at risk and devastated its rich heritage building stock. Coping and rebuilding has been a staged process.
Within a day, local and out-of-town building inspectors and structural engineers were called in. B.M. Ross and Associates Ltd. contributed three structural engineers.
"We developed a triage system," recalls Andrew Ross, a project engineer with the Goderich firm. Category "A" meant a building was safe; "B", that it could not be entered without an engineer and safety equipment; and "C" it was unsafe to enter. The firm used the roof of the county's courthouse in the town's centre to conduct its initial survey.
"We had a pretty good view down from there," Ross explains.
Working with police and Ministry of Labour representatives, they entered buildings that appeared to be intact to determine if they were structurally safe. Ross used concrete Jersey barriers in the street supplied by St. Marys construction firm McLean Taylor Construction Ltd. to create aisles for service and emergency vehicles to get around the square.
---
20. Daily Commercial News: Parliaments West Block restored and strengthened
PETER KENTER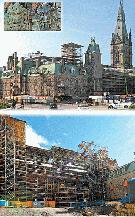 PUBLIC WORKS AND GOVERNMENT SERVICES CANADA - Work on Parliament Hills West Block will restore both historical and structural integrity to the building and upgrade its ability to withstand seismic shock.
Preservationists take heart—the demolition work taking place on Parliament Hill's West Block is part of a reconstruction project that will restore the stone building's historical and structural integrity and upgrade its ability to withstand seismic shock.
Public Works and Government Services Canada (PWGSC) awarded the first phase of a two-phase construction management contract to PCL Constructors Canada Inc. in 2011.
The first phase of construction is budgeted at $358.5 million and will complete approximately 60 per cent of the West Block restoration project.
http://www.dcnonl.com/article/id54607?search_term=heritage
PUBLIC WORKS AND GOVERNMENT SERVICES CANADA
Work on Parliament Hill's West Block will restore both historical and structural integrity to the building and upgrade its ability to withstand seismic shock.
---
21. EMC Kingston / Metroland Media Group: Heritage vs. Housing, New chapter in subdivision feud near Cataraqui Cemetery
Bill Hutchins
The past and the future are colliding at Cataraqui Cemetery.
A local housing developer has filed an objection over the City of Kingston's plan to designate the 163-year-old cemetery under the Ontario Heritage Act, claiming it could restrict future development around the scenic resting place.
Homestead Land Holdings owns about 300 acres along the cemetery's eastern boundary and plans to construct a mix of single-family homes and apartment buildings while setting land aside for park space and conservation purposes - all within site of the tombstones.
"Our client supports the principle of designating the Cataraqui Cemetery property as a property of cultural heritage value or interest," Homestead's lawyer Timothy Wilkin wrote in a recent letter to the city.
Homestead has filed an official objection over certain aspects of the heritage designation because of the impact it could have on the company's future subdivision plans.
Wilkin takes issue with some of the reasons for seeking heritage status, most notably, describing Homestead's property as "natural open spaces" that "add to the natural vegetative backdrop of the Cemetery." He says the suggestion that the undeveloped Homestead property is necessary to maintain the integrity of the cemetery's peaceful, natural setting is irrelevant to the heritage status.
"To suggest that preserving our client's property in its current undeveloped state is imperative to preserving the cultural heritage value or interest of the Cataraqui Cemetery is neither reasonable nor justifiable," Wilkin explained.
In the letter of objection, he also points out that even the cemetery's recent federal designation as a National Historic Site does not make specific reference to Homestead's land to the east, but only to the panoramic views that exist within the cemetery's borders.
---
22. Globe and Mail: UWindsor makes downtown its destination
JENNIFER LEWINGTON

This architects rendering shows the expanded former Windsor Star building, with its new roof terrace. The 64,000-square-foot building will be home to 800 students.

Craig Goodman is a principal of CS&P Architects in Toronto, whose firm has been given the job of repurposing and adding onto existing downtown heritage buildings in Windsor. A former bus depot, seen here in a historic display, will be renovated for the Un
Three kilometres is a short distance, but far enough to isolate the University of Windsor from downtown.
That's about to change. With key support from the city, the university begins construction this summer on a $70-million campus at the foot of the Ambassador Bridge.
Once strangers, Canadian postsecondary institutions and local municipalities now see themselves as intimate allies in realizing their respective ambitions. In Windsor, the collaboration features a once-dominant car town struggling to redefine itself and a below-the-radar university, turning 50 this year, seeking to raise its profile.
By September, 2014, the University of Windsor expects to offer programs in three heritage buildings being renovated and expanded to serve 2,000 students and faculty.
"We recognize the downtown is where we have the home of the symphony, the art gallery and the theatres and all the social agencies," says University of Windsor president Alan Wildeman. "It lets us fulfill what is part of our strategic plan, which is to create one of the most exciting learning environments we can."
Rebuffed by previous University of Windsor administrators, the city last year found the institution receptive to expanding downtown – historically off-limits to postsecondary institutions under past zoning rules – to complement other municipal efforts to reinvigorate a careworn core.
In 2012, the city sold two landmark properties – the former Armouries and a former bus depot (and an adjacent city parkette) – to the university for $2. The city also contributed $10-million for the project, along with $25-million from the province.
---
23. Hamilton Spectator Revival of a classic 1845 Hamilton home
Kathy Renwald
John Rennison/The Hamilton Spectator - Johnny Overbeeke and Doug Vickers work on the front of the house, hoping to have new clapboard up next month, with a fresh coat of paint.
One of the oldest houses in Hamilton is getting a new shake at life. It's on Mary Street and it's been there since 1845, before Hamilton became a city. The wooden house looks pioneer plain, until you look closely at the front entrance. The unadorned front door is framed by two columns of exquisite beauty, topped by capitals with hand turned scrolls and acanthus leaves. Classic Ionic architecture buried in Hamilton's North End. The columns hide shyly, set back from the strips of clapboard that were run through the planes of Thomas and Peter Fitzpatrick. They built the house 168 years ago. We know because their tools, engraved with their names, are still in the house, in the attic, in a dusty chest.
Yes, that's the kind of story this is, one of fortunate coincidence and miracles.
"My family is helping me to fix the house," Dolores Hastings says in her simple living room.
She grew up there. Her grandfather bought the house in 1942, from the last descendent of the Raich family. The Raiches were wagon makers in Hamilton, they bought the one-and-a-half storey Mary Street house, likely from the Fitzpatricks, around 1865.
"I'm sorry it's so noisy, "Hastings says amid the thud of hammers. It's a happy noise, though. Doug Vickers, owner of Vickers Restoration in Ancaster, is set up outside. With strips of clear white pine, his modern tools and his assistant Johnny Overbeeke, he is fixing what needs fixing on Mary Street.
"It's a miracle this house survived," Vickers says as he cuts new lengths of clapboard to replace ones too rotted to save "especially with a cook basement." The basement had a fireplace used for cooking, where it's possible the cooking was done by servants. "This was an upper-middle-class house," Vickers says. He's worked on many fine homes in Ontario and across the United States, including the restoration of the Farmers' Museum in Cooperstown, N.Y., but it's always gratifying to save a house in your own city, he says.
---
24. National Post : A storeyed history - Phyllis Lambert and The Seagram Buildings storied history
ROBERT FULFORD

Philip Johnson, Ludwig Mies van der Rohe and Phyllis Lambert in front of an image of the model for the Seagram building, New York, 1955. Fonds Phyllis Lambert, Canadian Centre for Architecture, Montreal. © United Press International
Two men, each of them an unquestioned giant in his own world, cast tall shadows over Phyllis Lambert's life when she was a young woman. One was her father, Sam Bronfman, the choleric Montreal whisky king, who wanted to build a New York headquarters for his companies. The other was Ludwig Mies van der Rohe, a stern, forbidding German-American architect, who ended up designing it.
Her handsomely illustrated book, Building Seagram (Yale University Press), chronicles a golden moment in architectural history, the creation of a masterpiece skyscraper on Park Avenue. Her role in this story has been a legend among architects and their admirers for decades: She picked Mies, she served as director of planning for the building and she chose the art collection that adorned it.
All that would seem natural for the aggressive, confident, opinionated Phyllis Lambert of today, an architect who is famous as an urban preservationist and the creator of the unique Canadian Centre for Architecture in Montreal. But when the Seagram building went up, half a century ago, she was a rookie who thrust herself into the middle of a terrifying process that could have gone all wrong.
---
25. Ottawa Citizen: Indiana or Niagara for Limestone
Maria Cook
Public Works picks cheaper U.S. limestone for heritage renovation

Indiana limestone has been chosen for the extension to the former Bank of Montreal building at 144 Wellington St., opposite West Block on Parliament Hill. Photograph by: Chris Mikula , Ottawa Citizen
The federal government plans to use cheaper American stone to clad an addition to the Sir John A. Macdonald building instead of the original Canadian stone recommended by a foremost heritage expert.
Indiana limestone has been chosen for the extension to the former Bank of Montreal building at 144 Wellington St., opposite West Block on Parliament Hill.
However, Julian Smith, a conservation architect with extensive experience in the parliamentary precinct, says Queenston limestone from Niagara-on-the-Lake is the "obvious choice" based on heritage conservation principles and Canada's tradition of showcasing its building materials.
---
26. Owen Sound Sun Times: Dunkeld Restaurant Gone
Scott Dunn
Flareup finishes off Brockton landmark
There's nothing left of the 145-year-old Dunkeld Restaurant but rubble and memories after the flames, which firefighters had put out overnight Saturday, rekindled into an inferno Sunday.
Bystander photographs show the heritage landmark, made of fieldstone and rock elm timber, completely engulfed in flames after firefighters overnight Saturday had reduced a fire to smouldering embers. A high-hoe was employed to knock down the stone walls to a pile of rubble.
---
27. Owen Sound Sun Times: The Replacement Window Debate, Paisley Town Hall
Mary Golen
Paisley town hall window decision stands
Arran-Elderslie council is standing firm on its decision to replace the 137-year-old wooden-framed windows in the Paisley Town Hall with new vinyl ones.
Council heard Monday from Ann McArthur, the parks, facitilies and recreation manager, that a $12,000 deposit has been put down for the new windows but that the order has been put on hold pending council's final decision.
McArthur said the Paisley legion, which leases the building from the municipality and received a Ontario Trillium Foundation grant of $44,700 to replace most of the building's windows and install a new furnace, was responsible for getting quotes and the only reason the municipality is involved is because it owns the building.
"The purchase of these windows did not deviate from the municipality's purchasing policy," Mayor Paul Eagleson said, adding the only way the issue will come before council again is if the councillors who originally put the motion on the table wish to bring it forward again.
Coun. Steve Hammell made the original motion, seconded by Coun. Dan Kerr. Kerr was not at Monday's meeting, but Hammell was and he says he has no intention of bringing the issue back to the table.
"The decision has been made. Let's move on," Hammell said.
Editor's Note:

You can vote to save the windows on the same page, interestingly saving the wood windows is leading by about 2-1 in the newspaper poll.

This project high lights that ineffectual oversight by the Province of designated properties can lead to instances such as this one whereby provincial monies are used in a manner not conducive to heritage conservation - the window replacements are to be covered in part by a grant from the Ontario Trillium Foundation.
---
28. San Antonio Express-News: Geekdom moving to historic site
Valentino Lucio

Real estate investment firm Weston Urban has purchased the 100-year-old Rand Building from Frost Bank. Collaborative workspace Geekdom has plans to move into the eight-story building by year's end. Courtesy of Mike Farquhar. Photo: Mike Farquhar
The 100-year-old Rand Building downtown has a new owner and soon will be filled with geeks.
Weston Urban, headed by billionaire entrepreneur and Rackspace Hosting Inc. Chairman Graham Weston, said Monday it has purchased the historic building at 100 E. Houston St. The real estate investment and development firm bought the eight-story building and a 450-space parking garage from Frost Bank, which will lease back most of the building for two years, said Dick Evans, chairman and CEO of Cullen/Frost Bankers, the holding company for Frost Bank.
Frost plans to completely turn over the building to Weston Urban by spring 2015.
The bank will vacate two floors of the building before year's end, making space for Geekdom, a collaborative workspace and technology incubator currently housed in the nearby Weston Centre high-rise and backed by Rackspace.
Terms of the deal were not disclosed. The building and the parking garage are valued at a combined $6 million, according to the Bexar Appraisal District.
Weston Urban approached the bank about the deal late last year, with the aim of finding a new home for Geekdom, said Randy Smith, the real estate firm's president.
But he didn't rule out the possibility of other tenants moving into the 109,000-square-foot historic space, which Weston Urban will renovate to accommodate Geekdom.
The Rand Building is in a part of downtown that Geekdom officials have talked about as a potential site for a tech campus. While plans are preliminary, they want to have space for local tech companies, education programs such as the Cloud Academy, living quarters for visiting tech startups and other retail amenities.
---
29. South China Morning Post: Hong Kong needs review of historic building heritage policy
Editorial

The city's lack of space and strong appetite for development means old buildings are constantly under the threat of demolition. Photo: David Wong
What is more sad than for a great city to lose its heritage bit by bit? Historic buildings and monuments, once demolished, are gone forever. That is why world cities steeped in history and culture have long embraced heritage conservation. A city that turns its back on its past loses its soul and character.
Thankfully, Hong Kong joined the heritage conservation movement following a belated wake-up call a few years ago. Although most of the majestic colonial buildings that once lined the shore of Victoria Harbour have long gone, experts say some 1,444 buildings are still worthy of protection to some extent. The figures may sound impressive for a tiny city with just a brief colonial history. But against a backdrop of tens of thousands of buildings around the city, the numbers are indeed woefully small. They warrant better efforts at preservation for our future generations.
---
30. Waterloo Record: Heritage Kitchener to debate Rumpel Felt property
The region started demolishing properties to make room for the widening of Weber Street to four lanes between Water and Guelph streets. In total, about 34 buildings will be destroyed, including 14 properties considered to have significant historic value.

Heritage Kitchener will consider a heritage designation for the Rumpel Felt building at the corner of Duke and Victoria streets, Kitchener. David Bebee/Record staff

A 100-year-old factory that sits on the site of the region's future central transit station could be listed as a property of cultural heritage value or interest — a major step toward full protection under the Ontario Heritage Act.
Heritage Kitchener, the group that advises city council on cultural heritage issues, will debate a report today that calls for listing the Rumpel Felt Co. building at 60 Victoria St. North on the register of non-designated properties.
Once a property is on the register, it can be quickly designated under the Ontario Heritage Act to prevent its demolition or changes to its unique or significant features. The Region of Waterloo owns the building at the corner of Victoria Street North and Duke Street.
A central transit station for light-rail trains and buses will be built on the land from King Street to Duke Street. It is slated to open there in 2017. The Rumpel Felt building is at the corner on Victoria and Duke streets on the northeast corner of the station site.
Regional Coun. Jean Haalboom hopes Heritage Kitchener moves to protect the old factory.
---