Issue No. 212 | June 6, 2013
1. The Back Campus and U of T's Military History
Eric McGeer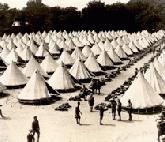 Royal Flying Corp Encampment, WWI
The proposal to convert the Back Campus into two artificial field hockey surfaces threatens to change, drastically and irrevocably, one of the few remaining parts of the universitys original landscape -- and in so doing will obliterate a site rich in historical associations.
Few staff and students today have reason to know very much about the University of Torontos military history.
It lingers in the memorials to the fallen in the older colleges and briefly occupies our thoughts once a year during the Remembrance Day services at the Soldiers Tower. Yet the once common sound of students at drill still echo faintly on the Back Campus, where the universitys first military unit, the famous K Company raised at University College in 1861, drilled and paraded
.
1939 Ceremony, Back Campus U of T
In 1900, the university created a battalion of student engineers who kept their equipment in the Old Gymnasium (which stood immediately south of Wycliffe) and used the Back Campus as a staging area for their bridging exercises in the rumpled terrain of what is now Philosophers Walk. During the First World War, the Back Campus teemed with city regiments, cadet corps, and the 1,800 strong University of Toronto Contingent of the Canadian Officers Training Corps (COTC) -- the pride of the university in both world wars and an organisation that from 1914 to 1968 upheld the ideals of loyalty and service to Canada in peace and in war.
Queen Elizabeth inspecting troops in 1939
Perhaps the most momentous occasion in the history of the university and the COTC took place on the Back Campus. In May of 1939, with war looming, King George VI and Queen Elizabeth made the first visit by reigning monarchs to Canada to affirm the ties between Britain and the senior dominion. The university held centre stage during the day spent in Toronto. Temporary bleachers along the edges of the Back Campus allowed thousands of spectators to see the chief event of the Toronto tour, the Queens presentation of colours to the Toronto Scottish Regiment. The COTC formed the honour guard along the route that led past the Soldiers Tower into the Back Campus. The Queen was accompanied by the President of the University, the Reverend Henry John Cody, who also served as Honorary Colonel of the Toronto Contingent. No one was under any illusion about what a second great war would involve; but the ceremony on the Back Campus and the presence of the COTC testified to the general resolve to face what must be faced.
Losing the Back Campus will corrode the connection with a deeply significant place in the universitys past and with the proud tradition symbolised by the Soldiers Tower. The memorial to the young men and women who died in the service of their country was meant to be the universitys Campo Santo; it stands beside the grounds where many of them trained at the end of the academic day so as to be ready when the call came. The generations of students who have used the Back Campus must be grateful to the committee which saved the field from the first attempt to build it over in 1892. What will the generations to come make of a decision that deprived them of one of the last open, accessible spaces on campus and ruined the most solemn and meaningful testament to those to whom we owe so much?
---
2. Toronto Preservation Board endorses Motion to Designate U of T Back Campus
Catherine Nasmith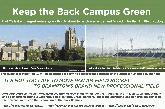 Post Card
Keep Back Campus Green is a rapidly growing movement, and overjoyed at yesterday's Toronto Preservation Board decision.
In spite of a fancy report in favour of installing two new artificial turf over asphalt field hockey pitches on U of T's Back Campus and deputations from U of T lawyers, reps from Infrastructure Ontario, Bruce Kidd and a couple of student athletes, the Toronto Preservation Board endorsed Councillor Adam Vaughan's motions to designate the U of T's Back Campus as a Cultural Heritage Landscape.
U of T's position is that the opposition is just not well informed and spreading misinformation.
A dossier of opinions from a wide range of citizens, university professors, design professionals was presented, against the proposal to redevelop the Back Campus with artificial turf topped asphalt. To read go to:http://www.keepbackcampusgreen.ca/large%20brochue.pdf to see what all those "misinformed" people are saying.
Next Steps: If Council adopts the unanimous recommendations of TEYCC and the Toronto Preservation Board, it may force U of T and the Pan Am games to look for another venue. Luckily Brampton already has a brand new pitch, which puts them halfway to being able to host Pan Am Field Hockey.
The message from so many who wrote and spoke at the meeting, was the traditons at U of T are on natural turf, and that should continue, for environmental, cultural, historic and aesthetic reasons.
Councillor Vaughan's motion http://app.toronto.ca/tmmis/viewAgendaItemHistory.do?item=2013.TE24.83
---
3. Press release on the purchase of the St. Thomas Railway bridge
Nancy Mayberry



April 29, 2013

FOR IMMEDIATE RELEASE

On Track St. Thomas concludes agreement to purchase MCR Bridge

The vision of an elevated park over Kettle Creek is one step closer with conclusion of negotiations to purchase the Michigan Central Railroad Bridge in St. Thomas. A firm, unconditional offer has been accepted and closing date is set for mid-June.

In addition to the purchase of the bridge and associated lands, running from Pleasant Street to Munro Avenue in St. Thomas, On Track has secured the rail corridor running west from Munro to Lyle Road, in Southwold Township.

Were really excited that weve been able to buy the bridge plus an important part of the rail corridor after eight months of negotiations and fundraising, states Matt Janes, president of On Track. This is a remarkable opportunity for St. Thomas and Elgin County. Were confident it will lead to increased tourism and community development once the elevated bridge park is created.

On Track St. Thomas first unveiled its vision for an elevated park on the abandoned rail bridge during a town hall meeting in September 2012. At the time, the City of St. Thomas held an option on the structure. That option lapsed in December. The bridge and lands are being purchased solely by On Track St. Thomas using funds raised locally from individuals and families.

Buying the bridge and land without government funds was an important part of our overall plan, according to Janes. We wanted to demonstrate that the community could get behind this idea by investing private funds and showing leadership. This is the same approach On Track used when it purchased the CASO Station and produced the series of railway murals throughout the downtown core


When first announced, On Track set a fundraising target of $250,000 to purchase the bridge plus its associated lands and to stabilize the structure for future development as an elevated park. Enough of that goal has been raised to allow for the purchase of the bridge. Fundraising efforts will continue over the coming weeks to achieve the full amount.

As part of its fundraising program, On Track has partnered with the Elgin-St. Thomas Community Foundation which has created a special fund for the St. Thomas Elevated Park Project. All donations will be eligible for a charitable tax receipt. All funds will be used exclusively for the purchase and development of the bridge and associated lands. No funds will be used for the operating expenses of On Track St. Thomas.

The second phase of the project involves developing the plans for what will be Canadas first elevated park, following on successful models in New York, Paris and Chicago. The intent is to organize an international design competition in order to bring truly world class features to the project.

In addition, with the purchase of the rail corridor extending to Lyle Road, there is a longer term possibility of developing a walking and biking trail westward through Elgin County and Chatham-Kent. The corridor extending through those municipalities is owned and under the control of Chatham-Kent. On Track will be seeking partners to develop the vision of a trail through a core part of Southwestern Ontario.

Matt Janes adds, Obviously, the purchase is just the beginning of the process. We now have the time to plan, find partners and raise funds without worrying that the bridge could be demolished. Hopefully weve demonstrated to St. Thomas that by working together we can achieve this vision.





For additional information contact:

Matt Janes, On Track president , 519-636-9328, mkrjanes@yahoo.com

Serge Lavoie, On Track secretary, 519-859-7763

Full details and background available at www.ontrackStThomas.ca.



BACKGROUND


A LEGACY FOR ST. THOMAS, ELGIN COUNTY & SOUTHWESTERN ONTARIO
§ Preserves an important rail asset for the Railway Capital of Canada.
§ A new and unique park for St. Thomas, providing fitness and recreation opportunities.
§ A dramatic gateway entrance to the western approach to the city.
§ Joins a small handful of elevated parks around the world; a first for Canada.
§ A signature tourist attraction for the city and the entire region.
§ An outstanding potential addition to the Trans Canada Trail project.
§ A potent symbol of the transformation of the citys economy

QUICK FACTS ABOUT THE MCR BRIDGE

" Current bridge was built in 1929 over eight months at a cost of $689,000.
" Total length is 855 feet long over 13 concrete piers.
" Tallest piers rise 90 feet from the valley floor.
" As many as 47 trains daily crossed the bridge at completion. Volumes dropped during the depression and increased again during the Second World War.
" This is the third bridge structure on this site: a single track wooden trestle was built in 1872, replaced by a double track metal structure in 1883.
" Recognized in 2000 as a National Historic Civil Engineering Site by the Canadian Society for Civil Engineering.


The full engineering report and Heritage Impact Assessment for the MCR bridge are available on our web site: http://www.ontrackstthomas.ca/news.html
---
4. The Varsity: Adrienne Clarkson and Margaret MacMillan on U of T Back Campus
Hope Caldi and Carolyn Levett
Adrienne Clarkson and Margaret MacMillan urge U of T to halt construction on Back Campus Toronto Preservation Board recommends heritage site designation
Adrienne Clarkson and Margaret MacMillan urge U of T to halt construction on Back Campus
Toronto Preservation Board recommends heritage site designation
The University of Toronto's plans to install artificial turf on Back Campus faced increased criticism this week, as the Toronto Preservation Board voted overwhelmingly to designate Back Campus as a heritage site. The designation, if approved by City Council, would delay and possibly stop plans to to build two field hockey fields for the 2015 Pan Am games by convertng the grass on back campus into artificial turf.
High profile support
The movement to stop construction on Back Campus received some high profile support this week, with former Governor General Adrienne Clarkson, and celebrated Canadian historian Margaret MacMillan both writing to U of T president David Naylor requesting a halt to construction.
"I wanted to signal to you my dismay and disapproval of this project even though I understand that the bulldozers are on their way," wrote Clarkson. "I do not understand how we can take a part of the heritage-designated portion of our campus and use it in a way which will mean we lost precious trees and growing space."
MacMillan was equally concerned: "The centre of Toronto is poor….in comparison to other great cities in its parks and green spaces," she wrote. "And it would be wonderful if the University of Toronto could show its willingness and determination to take the lead in preserving what we have left."
---
5. National Post: Back Campus-John Fraser at Massey College Opposes Paving
Peter Kuitenbrouwer
City council to debate whether Astroturf should replace historic U of T grass

Pan Am image with Field Hockey Pitches replacing Field

Illustration prepared by architect, Anthony Belcher
Simply put, the U of T wants our support for a plan to convert its historic Back Campus, a huge field just south of Hoskin Avenue and a bit east of St. George Street, to artificial turf. With funding from the Province of Ontario, the university has signed an agreement to host women's field hockey on this field during the 2015 Pan Am Games.
The University of Toronto sent an email, a breathless missive with a salutation of questionable grammatical merit, to our home Monday night.
"Last-Minute City Hall Motion Threatens U of T Sports and Camp Programs," reads the subject line. "Dear Children and Youth Families," begins the note. "Last week, a city committee passed a motion that could halt a plan to improve and expand youth sports and camp programs like those that are used by your family."
Ira Jacobs, dean of the faculty of kinesiology & physical education at U of T, sent us this letter because our son is registered for a track & field camp at the university this summer. Simply put, the U of T wants our support for a plan to convert its historic Back Campus, a huge field just south of Hoskin Avenue and a bit east of St. George Street, to artificial turf.
With funding from the Province of Ontario, the university has signed an agreement to host women's field hockey on this field during the 2015 Pan Am Games.
---
6. Globe and Mail: Bruce Kidd-No heritage on Back Campus
Bruce Kidd
U of T
With everything else going on in Toronto city politics these days, an attempt to designate the grass and mud on the Back Campus Playing Fields at the University of Toronto as "a cultural heritage landscape" to prevent their improvement with artificial grass may not have grabbed the headlines.
It should.
On June 11, Toronto's 44 councillors will vote on such motion. If passed, it will prevent the University from hosting the 2015 Pan Am field hockey and Parapan Am soccer tournaments on the Back Campus Playing Fields and creating a lasting legacy of much safer and accessible fields for students and members of the community.
Editor's Note:

There is some link missing in the information chain. The manual for "Care and Maintenance of Synthetic Turf Hockey Pitches" put out by the International Field Hockey Federation makes it very clear that this is a highly sensitive and tuned construction which is not safe for many sports including soccer, rugby or football. It needs to be heavily watered to be used at all, and needs chemical treatment to be sterile, and casual users and organic materials must be kept off to protect the surface. The field is essentially a thin layer of nylon turf over asphalt, and will reach very high temperatures if not water cooled. The proposed hockey pitches are not the answer to U of T's sports field woes.
---
7. Global News: Long waiting list for heritage designation in Toronto
Mark McAllister
Video Clip on the time it takes to get Toronto buildings and communities designated, and risks of premature demolition.

---
8. Toronto Sun: Back Campus- Artificial Turf for Field Hockey No Good for Rugby
Catherine Nasmith
U of T's artificial turf plans leave rugby teams homeless

U of T rugby coach Paul DiCarmine on the right and Assistant coach, Matt Hodgson on the field that there rugby teams have played for years at the University of Toronto in Toronto on May 15. They are losing the field to field hockey.
TORONTO - The University of Toronto's $9.2-million plan to put in two synthetic turf fields to replace its out-of-sorts back campus field has left the school's rugby teams in a tough spot.
The project would be ideal for field hockey and see the two fields installed between University College and Hoskin Ave. well in time for the Pan Am and Parapan Am Games in 2015.
Field Hockey Canada would help with the funding.
The plan spells problems for the men's and women's rugby squads because artificial turf is not suitable for contact sports. The teams, which practise three to four times each a week at the current location, would be forced to find a new home.
---
9. Toronto Sun:Vaughan Move to Designate Back Campus
Don Peat
aughan spearheads push to designate University of Toronto grass heritage landscape

Councillor Adam Vaughan
Councillor Adam Vaughan got the Toronto and East York community council to vote Tuesday to try to designate the grass on the University of Toronto's back campus as a cultural heritage landscape.
The move could end up blocking U of T's $9.5-million plan for two artificial turf field hockey pitches set to be built on the back campus as part of the 2015 Pan Am Games.
But a U of T official said the school still intends to move ahead with the project despite the surprise vote Tuesday.
City council will now have to weigh in on granting the heritage designation under the Ontario Heritage Act at next month's council meeting.
Vaughan said he's responding to the community's concern over natural open space not being protected.
"Residents of the community have asked for this to be assessed as a cultural heritage landscape," he said.
The Trinity-Spadina (Ward 20) councillor said possible solutions include creating a temporary field hockey pitch.
"Replacing this natural turf with effectively a large stadium ... and the concrete infrastructure and the herbicides required to keep it clean — all these issues have raised significant concerns with the residents and members of the U of T academy," he said, adding there are also concerns around the heat island effect of artificial turf fields.
Editor's Note:

Heritage grass?

Councillor Adam Vaughan got the Toronto and East York community council to vote Tuesday to try to designate the grass on the University of Toronto's back campus as a cultural heritage landscape.

The move could end up blocking U of T's $9.5-million plan for two artificial turf field hockey pitches set to be built on the back campus as part of the 2015 Pan Am Games.

But a U of T official said the school still intends to move ahead with the project despite the surprise vote Tuesday.

City council will now have to weigh in on granting the heritage designation under the Ontario Heritage Act at next month's council meeting.

Vaughan said he's responding to the community's concern over natural open space not being protected.

"Residents of the community have asked for this to be assessed as a cultural heritage landscape," he said.
---
10. CBC: Hamilton Gore
Paul Wilson
Wreckers at the ready on the Gore
:
Before this week is out, five storefronts on Gore Park will be empty. Two shut the door some time ago, and a restaurant, a convenience store and a payday-loan shop will close Friday.
They're leaving because they have to. The development company that owns these 1800s buildings has other plans.
The original scheme was to knock down all five to make way for a big retail/ condo project. Now the developers say they might be able to save three of the buildings.
Developer David Blanchard says his buildings on Gore Park are in bad shape and he wants to knock down the white ones on the left. (Paul Wilson/ CBC)
As for the other two, the goal is still to tear them down. David Blanchard makes that very clear. He expects that to happen within six months.
He and his partners have the finest heritage holdings in downtown Hamilton. There's the Bank of Montreal, the Landed Banking and Loan, and the SunLife/Pigott complex, all at Main and James.
But their passion for historic architecture does not extend to those buildings on Gore Park, none of which is protected by designation under the Ontario Heritage Act. (Hamilton council has shown great reluctance to designate a property against the owner's wishes.)
---
11. Toronto Star: Walmart threatens Kensington Market
Paul Moloney
City rejects large retail development on Kromer Radio site
A large retail development near Kensington Market has been rejected by Toronto's committee of adjustment.
A large retail development seen as a threat to Kensington Market shops has been turned down by Toronto's committee of adjustment.
Developer RioCan had applied for eight zoning variances to put up a 20-metre-high building with small shops on the main floor and enough space on the upper two floors to house "large format" retail.
The development would go up on the site of Kromer Radio on Bathurst St., just south of College St. Kromer has announced it is closing this summer after 55 years.
However, the committee of adjustment on Wednesday rejected RioCan's request, calling the proposal excessive and one that should undergo greater scrutiny before anything's approved.
Councillor Mike Layton, who represents the area, now expects the developer to appeal to the Ontario Municipal Board.
Editor's Note:

Good Grief, how many ways are there to threaten Kensington Market.....its such a tiny patch, yet such an important place for independent businsess and experimentation. It is such a challenge to protect it.
---
12. Toronto Star: Wreckers of heritage building under fire at last: Hume
Christopher Hume, Urban Issues
The city might actually punish the demolishers of a building on Queen St. E., and that's a welcome change.

Google - Maps. heritage building at 267 Queen St. E. was protected under the Ontario Heritage Act. It was demolished earlier this year. The owner and the contractor who knocked it down have been served with a summons that could see them fined $1 million
While all eyes were focused on the Ford Farce last Friday, the city quietly lobbed a bombshell that could change the face of Toronto. The owner of a heritage building at 267 Queen St. E. and the contractor who demolished it earlier this year have been served with a summons that could see them fined $1 million and spend a year behind bars.
That's a long way from happening, of course, but the mere fact the city building division has taken such a step is hugely significant; it means that this sort of casual vandalism will no longer be tolerated. Historically, such acts have gone largely unpunished.
There have been exceptions, but in many cases owners of designated heritage sites have felt free to tear them down at will. And all too often, the city has been party to their mutilation, allowing buildings to be destroyed except for a facade or two. There's even a name for it: "facadomy."
But now the city is signalling that enough is enough. The wanton destruction of the three-storey brick storefront dating from the 1880s is not just a painful loss to the city, it was a display of civic contempt. It also happens to be illegal.
Designated in 1989, the Queen St. building — actually two buildings, 267 and 269 — was protected under the Ontario Heritage Act. Perhaps because they knew this, the owner didn't even bother to apply for a demolition permit.
"It's a pretty significant move," says Rollo Myers of the Ontario Heritage Trust. "It's always been something that can be done, but I don't recall this happening before."
http://www.thestar.com/news/gta/2013/05/27/wreckers_of_heritage_building_under_fire_at_last_hume.html
---
13. Globe and Mail: New Life for Lorretto Convent, Guelph
Angela Kryhul
Leap of faith gives convent new life in Guelph
The Sisters of Loretto Convent was never the architectural superstar of Catholic Hill, a collection of 19th century limestone religious and educational buildings perched high above the city of Guelph, Ont. Always a modest contrast to the ornate Church of Our Lady Immaculate, the former convent is now basking in the spotlight as the new home of the Guelph Civic Museum.
---
14. Toronto Star: Owner of demolished Queen St. E. heritage building insists he had proper permits
Valerie Hauch
The City of Toronto says a heritage building at 267 Queen St. E. was demolished without the proper permits. The corporation spokesman says it did have the proper permits.
Was a three-storey, red brick 1886 heritage building at 267 Queen St. E. demolished without the proper permits?
The City of Toronto says so and it has served property owner, 2235434 Ontario Ltd., and demolition contractor, Stonehaven Specialty Contracting Corp., with a summons to appear in court to face charges under the Ontario Heritage Act. The city says the demolition was done without the consent in writing of the municipality and it claims that a demolition permit under the Building Code Act was not even applied for.
"The city is confused,'' says Rick Kojfman, director of the numbered corporation that owns the site. "We have copies of permits and the judge will ultimately decide.... we hired a contractor, a legitimate demolition contractor to obtain permits and do everything 100 per cent legal. So as far as we're concerned it was all done properly.''
The demolition of the three-storey property – built for grocer Robert V. Lauder – took place last November. Not long before it was destroyed, the vintage shop and florist business on the ground floor of the building closed its doors.
A City of Toronto news release noted that 267 Queen St. E. was "designed in a simple Renaissance Revival style. Important features included the brickwork, the moulded-brick window heads, the wood storefront with decorated pilasters, and the ornate roof cornice." It had been designated in 1989 under the Ontario Heritage Act, on architectural grounds.
---
15. CNN: Ancient Mayan pyramid destroyed for road fill
Brad Lendon

A Mayan pyramid that has stood for 2,300 years in Belize has been reduced to rubble, apparently to make fill for roads.
Local media in the Central American country of 334,000 people report the temple at the Noh Mul site in northern Belize was largely torn down by backhoes and bulldozers last week.
"This is one of the worst that I have seen in my entire 25 years of archaeology in Belize," John Morris, an archaeologist with the country's Institute of Archaeology, told local channel 7NewsBelize. "We can't salvage what has happened out here -- it is an incredible display of ignorance."
The institute's director, Jaime Awe, called the destruction "one of the worse set of blows I have felt philosophically and professionally."
---
16. Globe and Mail: An unlikely hero fights urban sprawl in St. Petersburg
PAUL WALDIE

St. Petersburg has shrunk the size of heritage zones, leaving historic buildings unprotected. Alexander Demianchuk / Reuters
St. Petersburg is a European treasure resplendent with winding canals, towering cathedrals and 18th-century landmarks. But the city, which was founded by Peter the Great and marks its 310th anniversary Monday, is also facing a most modern dilemma: sprawl.
Developers are putting much of its historic district, designated a UNESCO World Heritage Site, under pressure. Last month, construction crews demolished a collection of 150-year-old railway warehouses that were made famous in works by Anton Chekhov and Fyodor Dostoyevsky, and there are fears more buildings will be flattened to make way for apartments, business centres and shopping malls. It's hard to go almost anywhere in St. Petersburg without running into a construction site as the city makes way for a new airport, subway lines, a soccer stadium, a toll road and any number of apartment towers.
The city's residents have started to fight back, thanks largely to the efforts of an unlikely, but very Russian, kind of hero: the bookish historian Alexander Kononov.
The unassuming Mr. Kononov, 43, never intended to become a champion of heritage protection, and for years he was content to work in the city's public library and take pictures of monuments in his spare time. But when energy giant Gazprom announced plans in 2005 to build an 86-storey skyscraper and entertainment complex just 500 metres from St. Petersburg's landmark Smolny Cathedral, Mr. Kononov became enraged. The office complex would have towered over the cathedral and been an eyesore that would be visible from just about every other historic site, including the Winter Palace and St. Isaac's Cathedral.
---
17. New York Times: Historic Doesnt Rule Out New
JULIE SATOW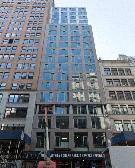 Michael Kirby Smith for The New York Times - The glass tower at 241 Fifth Avenue, which is to be completed by midsummer or early fall, will have 46 condominiums
Since it was designated a historic district in 2001, the Madison Square North neighborhood, with its row houses and Art Deco-style towers, has undergone a striking transformation. Hotels and offices have replaced many of the warehouses and garment showrooms that once populated the 10 blocks around the northern end of Madison Square Park.
But although the character of the tenants has shifted, the historic neighborhood, which some call NoMad (for North of Madison Square Park) and which is bounded by 25th and 29th Streets, between Madison Avenue and Avenue of the Americas, has seen very little new construction since the Great Depression.
---
18. The Independent: The biggest wonder about the Hanging Gardens of Babylon? They werent in Babylon
David Keys
Oxford historian gathers evidence that proves ancient marvel was located 300 miles away
The Hanging Gardens of Babylon, one of the Seven Wonders of the Ancient World, weren't in Babylon at all – but were instead located 300 miles to the north in Babylon's greatest rival Nineveh, according to a leading Oxford-based historian.
After more than 20 years of research, Dr. Stephanie Dalley, of Oxford University's Oriental Institute, has finally pieced together enough evidence to prove beyond reasonable doubt that the famed gardens were built in Nineveh by the great Assyrian ruler Sennacherib - and not, as historians have always thought, by King Nebuchadnezzar of Babylon.
Dr. Dalley first publicly proposed her idea that Nineveh, not Babylon, was the site of the gardens back in 1992, when her claim was reported in The Independent – but it's taken a further two decades to find enough evidence to prove it.
---