Issue No. 218 | October 23, 2013
Feature Stories
A Fantastic Time in Detroit
Proposed Heritage Protection for Ontario Place
Saving Canadas Urban Forests: Help Protect A Landmark Legal Victory for Mature, Healthy Trees
Toronto Star: Save the Bala Falls - Oakville to invest in Unwanted Hydro Plant
Toronto Star: Mirvish Gehry to OMB
Historicist: Beaux Arts Eclecticism - Chapman and Oxley's architectural impact on Toronto
The New Republic: Detroit Coming Back-One Building at a Time
Tree Hugger: Stirling Prize goes to
Events
Smart Address Exhibiition
October 26 to January 25
+ read
---
Reminder- Detroit Toronto Event
This Friday, October 25
+ read
---
Toronto Urban Tree Tour with OUFC expert Arborists and Foresters
Saturday November 16, 2013
+ read
---
Riverdale Historical Society October Event
Tuesday, October 29, 2013
+ read
---
Advertisements
Built Heritage News Sponsors
1. A Fantastic Time in Detroit
Catherine Nasmith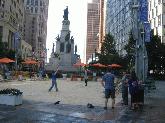 Downtown Detroit - Looking Great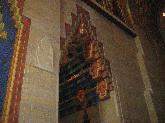 Tile work in the Guardian Building Lobby
Ever since I had a taste of the beauty of downtown Detroit during the Windsor ACO conference I have been hoping to go back and explore. The Michigan Modern Show at Cranbrook Academy this year provided the occasion. Even so, given all the negative publicity about "bankrupt" "dangerous" Detroit, going there takes more than a little urban curiosity.
We were more than pleasantly surprised. Yes there are plenty of empty buildings and vacant lots. And huge boulevards with few cars on them. Hmmm, now that is a pleasant change from Toronto's congestion. Interestingly, that emptiness suggests untold opportunity for heritage and arts based regeneration which is already in progress. The article in the New Republic in this issue discusses that in more detail, but property investors large and small are starting to rebuild the city economy, one building at a time.
Must sees for any visit are the Cranbrook Academy in nearby Bloomfield and the Detroit Institute of Art. Hills, about a 40 minute drive from the downtown, with campus designed by Eliel Saarinen along with several wonderful buildings is enough of a draw to occupy a full day or more. The Detroit Institute of Art houses the great mural by Diego Rivera along with a huge art collection. And then there are several other major museums we're going to have to go back for.
In spite of its economic challenges Detroit retains a fantastic collection of great architecture. Albert Kahn is an architect whose name seems to be on every corner, and was hugely prolific in Detroit and also in Windsor. Preservation Detroit offers a tour of Downtown Detroit, the highlight is the astounding Guardian Building, an Art Deco masterpiece by architect Wirt Rowland. Alas there is not a collection of his buildings, but a portfolio of just one building like this constitutes a great career.
Major investments have been made in the downtown public spaces and many are animated with cultural programming.
Detroit is regenerating in small patches. Arts generated, and there are examples of artists using whole houses as canvases. We had the good fortune to find a micro hotel on Michigan Avenue, called Honor and Folly in Corktown, the oldest part of Detroit. Our front window looked out over Roosevelt Park, the community space in front of the former Central Train Station. This tiny patch contains a fantastic BBQ restaurant called Slow's, a coffee bar, and a super cocktail bar called Sugar. These three businesses were started by small intrepid entrepreneurs who took a chance on three crumbling buildings. This patch is very busy at night, with line-ups to get in.
Daytime is eerily quiet. You can make U turns pretty much anytime in the six lane thorogufare. Nearby are many restored houses. If you drive to the restaurants here, there is a community-watched parking lot across the street where your car is safe. Such inventive community safety measures are bringing people back to live in a downtown. At the Eastern Market, the farmers market there were stalls selling produce grown in Detroit. There is a cheap historic building for sale lots of corners and lots of opportunity. In some ways it feels like the wild west where anything is possible.
I believe Detroit is going to emerge in new and interesting ways and become a completely different kind of city. I am looking forward to the Toronto Detroit sessions on Friday at the Carlu to see what kind of discussion might occur between these two great cities, with opposite urban problems.
---
2. Proposed Heritage Protection for Ontario Place
William Gerrard
Th Ministry of Tourism, Culture and Sport has posted a Regulation Proposal Notice on Ontario's Environmental Registry (ER) for a 45 day public review and comment period starting October 11, 2013 and ending on November 25, 2013. We are proposing to make two amendments to Ontario Regulation 157/10 Public Bodies – Part III.1 of the Ontario Heritage Act:
1. Adding Ontario Place Corporation (OPC) to the list of public bodies, and
2. Removing the Toronto Area Transit Operating Authority (TATOA) from the list of public bodies.
The amendments, if approved, would add Ontario Place Corporation to the list of prescribed public bodies that are subject to the Standards and Guidelines for Conservation of Provincial Heritage Properties. This regulatory change will make it clear that the province is responsible for heritage protection on the property. The Standards and Guidelines will help the government to identify and protect any attributes of Ontario Place that are identified as having cultural heritage value or interest.
Removing the Toronto Area Transit Operating Authority (TATOA) from the list of prescribed public bodies is necessary because its enabling legislation was repealed in 2011 and TATOA no longer exists. Its former responsibilities have been given to Metrolinx, which is already subject to the Standards and Guidelines.
The proposal notice can be found on the Environmental Registry under Registry Number 012-0171 or you may access it by clicking on this link.
http://www.ebr.gov.on.ca/ERS-WEB-External/displaynoticecontent.do?noticeId=MTIwNjk3&statusId=MTgwNjkx&language=en
In accordance with Ontario's Regulatory Policy, the ministry has also posted a notice of proposed regulatory amendment on the Regulatory Registry. http://www.ontariocanada.com/registry/view.do?postingId=14303&language=en
The ministry appreciates when interested persons take the time to review and comment on its proposal postings.
Editor's Note:
A very good step forward. This would put Ontario Place under Part III of the Ontario Heritage Act. At the moment, for reasons that are a bit complicated to explain and understand, Ontario Place is not eligible for heritage designation by either the Minister of Culture or the municipality.
---
3. Saving Canadas Urban Forests: Help Protect A Landmark Legal Victory for Mature, Healthy Trees
Hilary Scharper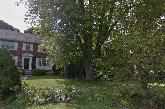 A boundary tree in the Kingsway Area, they are everywhere, and important to defend
Last summer, a Toronto resident sued her neighbors because they objected to her cutting down a beautiful, healthy, shared maple tree growing on the property line. Hilary and Stephen Scharper, both professors at the University of Toronto, were not consulted by their neighbor and expressed concern about the ecological impacts of felling healthy trees. They were shocked to learn that their situation was not unusual: every year in cities across Ontario, thousands of healthy, mature trees growing on property lines are arbitrarily cut down—often while neighbors are away on vacation or against their objections.
Despite their efforts to avoid an expensive court case, the neighbor took them to court. The Scharpers retained Clayton Ruby and saved their maple tree. Their case also achieved a strong, unprecedented protection for ALL shared trees in Ontario. According to the landmark ruling by the Ontario Superior Court, it is now a criminal act to destroy a shared tree without the consent of a co-owner. Prior to this ruling, thousands of mature trees were arbitrarily cut down by one owner, leaving the other owner with little recourse and generating very harmful impacts on the shrinking urban canopies of many cities.
The Scharpers's neighbor has recently filed an Appeal to overturn the Ruling. A reversal of the Ruling would be devastating for mature, healthy trees, but support of the Ruling at the Appeal level would create an even stronger legal precedent for trees not only in Ontario, but also Canada as a whole. The Scharpers have spent tens of thousands of dollars of their own money in court fees. They are flat out of money and are asking for help to defend this unprecedented Pro-Tree Ruling.
Please help them raise $35,000 to pay for the legal costs of fighting the Appeal. The Ruling is so important for trees in Ontario and Canada, and will impact the future and health of Canadians for generations to come.
$35,000 is:
350 tree supporters giving $100. . .700 tree supporters $50. . .1400 tree supporters giving $25. . .
Donations can be made at:
http://www.indiegogo.com/projects/help-protect-a-landmark-legal-victory-for-trees-in-canada/x/3738849
or by contacting Hilary Scharper: hilary.scharper@gmail.com
Thank you for your help! Please share this link with your networks.
For more information on the Scharpers's case see the Globe and Mail article: http://www.theglobeandmail.com/news/national/one-tree-two-neighbours-and-a-changed-legal-landscape/article12698935/
---
4. Carlos Ventin Obituary
from Toronto Star
CARLOS ALBERTO VENTIN Passed away quietly on September 25, 2013. Lovingly remembered by his wife Helen (Nagy) Ventin; son Peter (Sandie); daughters Arima Kitagawa (Ben) and Carla Shotton (Robert). Dear brother to Guillermo (Elbia) and sister Adriana (Jose Luis Sole). Grandfather of Alexander and Sarah Ventin, George and Lucy Kitagawa, Isabel and Lucio Shotton. A private family funeral was held on Saturday, September 28, 2013 at St. Cecilia's Catholic Church. Father Steve Savel was the celebrant. Interment followed at Normandale Cemetery.
Arrangements entrusted to the FERRIS FUNERAL HOME, 214 Norfolk St. S., Simcoe (519-426-1314) If so desired, donations in memory of Carlos may be made to the Willowbank Institute (Niagara) through their website at www.willowbank.ca or the Port Dover Lighthouse Festival Theatre through their website at www.lighthousetheatre.com and would be greatly appreciated. Online condolences may be made at www.ferrisfuneral.com - See more at: http://www.legacy.com/obituaries/thestar/obituary.aspx?n=carlos-alberto-ventin&pid=167260295&fhid=18368#fbLoggedOut
Editor's Note:
Another of the masters of the art gone. His obituary has been in newspapers all across Ontario, he worked in so many places.
---
5. Restoration of arched bridge almost finished
Denis Langlois, Sun Times, Owen Sound

The County of Grey wants to demolish and replace the 140-year-old stone arch bridge over the Spey River just south of Chatsworth on the CP rail trail with a prefabricated straight bridge. Repairs to the stone bridge would be in the area of $300,000.
Grey County has created a slideshow that documents the restoration of the historic 140-year-old arched bridge near Chatsworth in hopes of drumming up more money in community donations.

Owen Sound city/county Coun. Arlene Wright said it will soon be posted to the countys website and she encouraged county councillors Tuesday to bring it to the attention of heritage committees and groups in their respective communities.

It might encourage them to get involved with it, she said in an interview after a county council meeting in Owen Sound.

Its been a lot of work and it has been expensive but I think in the long run it seems to be what people wanted so were hoping (the slideshow) will bring in more in the line of donations.

Less than $8,000 in pledges have come in so far. The final cost of the restoration is expected to be about $580,000. About $166,500 will be covered by a FedDev Ontario Community Infrastructure Improvement Fund grant, while another $124,000 is required from community donations and the countys trails reserve.

Grey councillors learned Tuesday that the restoration should be finished by the end of this month.
---
6. Toronto Star: Save the Bala Falls - Oakville to invest in Unwanted Hydro Plant
John Spears
Bala hydro project roils Muskoka and Oakville mayors
Two mayors, one waterfall and a hydro power project: The future of picturesque Bala Falls has led to some hard words between municipal leaders.
It has also highlighted the town of Oakville's push to become a player in Ontario's green energy sector.
Depending on who's doing the talking, it's a story of the continuing struggle to develop cleaner, green power.
Or, it's the story of the town of Oakville trying to manoeuvre a rural community into a controversial power development -- after successfully pushing a gas plant out of its own backyard.
At the root of the saga is Bala Falls, which is both a scenic Muskoka landmark and the site of a small, disused power station.
---
7. Historicist: What To Do With the Don Jail
Jamie Bradburn
Had a provincial minister had his way in the 1970s, the historic prison would have been wiped from the landscape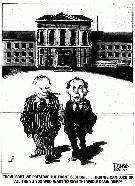 Cartoon of Ontario Premier William Davis and Frank Drea by Andy Donato. The Toronto Sun (November 13, 1977).
Should a building's past condemn its future regardless of the historic worth of its architecture? This was a question which faced Torontonians during the mid-1970s, when two notorious 19th century provincial institutions faced the wrecking ball in attempts to wipe their sordid pasts from the landscape. The demolition of the old Provincial Lunatic Asylum building at 999 Queen Street West in 1975 demonstrated that the pain of past mental health treatment methods outweighed the possibilities of reusing John Howard's 1850-era structure.
As the old asylum came down, calls grew louder to do something about an institution of a similar vintage across the Don River. From the time construction began in 1859, the old Don Jail seemed like it hovered under a curse. Its initial contractors were fired for incompetency. Architect William Thomas died a year into construction. A fire delayed its completion. The end result fit into an era of penal buildings where the architecture was intended to reflect both the punishment prisoners faced and the redemption they hoped to achieve. For years, the jail was criticized for barbaric conditions such as tiny overcrowded cells and open buckets of human excrement. An addition that was made in the 1950s did not alleviate most of the issues, prompting frequent excuses to keep the old section open. The fire department tallied a long list of safety issues. A royal commission launched in 1974 investigated brutality claims against the guards. Grand juries had declared it unsanitary—as one put in May 1977, "surely there is some authority in this community that has the power to demolish this archaic building."
---
8. CBC Hamilton: Application for partial demoliton James Street Baptist Church
Paul Wilson
Demolition looms on Hamilton's History Row

James Street Baptist Church, photo CBC
Imagine you're new in town, seeing this place for the first time. You step off the train at the old TH&B, stroll along Hunter, turn right onto James.
Talk about powerful first impressions. There, spread out before you, Hamilton's Famous Five. James Street Baptist, 1878. St. Paul's Presbyterian, 1854. Bank of Montreal, 1928. Sun Life, 1905. Pigott Building, 1928.
Religion and commerce. All that stone. All that history.
In a city where the past hasn't always mattered, we knew these structures actually do. Council made sure all of them are designated and protected under the Ontario Heritage Act.
The developer's plan is to knock down most of James Street Baptist Church and erect some kind of residential structure behind the facade. (McCallum Sather Architects)
But now, a hard decision. Do we let the developer who bought James Street Baptist this year tear down most of it?
Stanton Renaissance of Toronto, and McCallum Sather Architects of Hamilton, brought a 129-page Heritage Impact Assessment with them to City Hall two weeks ago. The bottom line was a shock.
The report says the church can't be saved, not economically anyway. The walls are crumbling, the foundations unstable. The developer wants to prop up the front facade, knock the rest of the church down and build something new in behind.
Meeting on Wednesday
Michael Adkins, who leads the city's heritage permit review subcommittee, said this item was a big one – there would need to be another meeting. It's tomorrow, Wed. Oct. 9. Normally such sessions are held in a compact committee room. Jason Farr, councillor for the downtown ward, saw to it that this one was moved to the council chambers.
Is it enough to just save that facade?
Downtown lawyer D. Robert Findlay doesn't think so. He wrote a letter to The Spectator last week saying the owner knew he was buying a protected asset that would need repairs. "The list price of this property was drastically discounted to recognize there would be costs related to maintaining the building's integrity," he wrote.
Louie Santaguida is president of Stanton Renaissance, the Toronto-based development company that bought James Street Baptist Church. (Ryerson University)
James Street Baptist was on the city rolls with an assessment of nearly $1.5 million. It went on the market in August of last year at $1.1 million. It was reduced to $850,000, and sold in February for $610,000. The deal closed in June.
Developer Stanton Renaissance has been quiet here. It's a new outfit and has not built anything yet. It does have plans for a 27-storey condo in the GTA called On The GO Mimico.
The firm's president is Louie Santaguida. He was also president of an outfit called Terrasan Corp. A couple of years ago, two of its divisions filed for bankruptcy. Terrasan Environmental Solutions told creditors it owed $9.5 million and had assets of $27. Terrasan Metal Fabricators said it owed $5.5 million, with assets of $12.
---
9. The Torontoist: El Mocambo Renovation
Audrey Jax
What's happening with the El Mocambo renovations?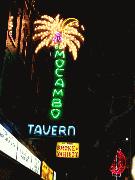 El Mocambo Sign, photo Catherine Nasmith

El Mocambo Streetscape, photo Blog T.O.
The El Mocambo is the institution of Toronto music institutions: our own little CBGBs-like hole on Spadina which in the 1970s and 1980s hosted The Ramones, The Rolling Stones, U2, and Blondie. In May of this year, word spread that the famous venue "under the palms" would be closing its doors for summer renovations, as the work required was apparently impossible to complete while open to the public. So, hey, who went to a show at the El Mo this summer? Apparently a fair number of music fans.
Speaking over the phone with co-owner Sam Grosso, also of the Cadillac Lounge, not much has changed at the El Mo, contrary to the somewhat headline grabbing news this spring. Grosso did leave the club to Marco Petrucci, the owner of 99 Sudbury, for the summer, but was never bought out and has been back at the venue as co-owner since September. He now books bands regularly, and tells me he's always on the look out for new local talent who want to play at the El Mo. "We'll book any kind of event!" he stresses, "we need the money."
The Toronto landmark has changed hands well over half a dozen times now by our estimates, and while it looks like Petrucci and Grosso are holding on and keeping their hopes up, the current state of affairs is a stark contrast to the enthusiasm displayed in summer 2012 when they took the club under their wing. Ambitious plans included a rooftop patio and a totally restored (to its 1977 appearance) upstairs stage area; you can sense the excitement in this mini documentary from late last year, highlighting the struggle to get the place back on its leather clad feet:
Editor's Note:With all the concern about losing the Sam the Record Man sign it strikes me as worth celebrating that the Elmo sign is back!
---
10. Toronto Star: Mirvish Gehry to OMB
Susan Pigg
Mirvish heading to OMB in bid to save Gehry condo project
City planners remain opposed to trio of towers after year of negotiations
Toronto impresario David Mirvish is heading to the Ontario Municipal Board in January to try to save superstar architect Frank Gehry's ambitious plans for three condo towers next to the Royal Alexandra Theatre.
Despite a virtual redrawing of the original plans, to create a softer look and incorporate design elements that speak to the King St. W. warehouse area's history, opposition from city planners remains unrelenting, Mirvish said during an impassioned defence of the controversial project to Canada's business elite at an Empire Club of Canada lunch Thursday.
Mirvish said asking the OMB to intervene appears to be the only way to save a project that could put Toronto on the architectural map and fulfil the ambitions of the world-renowned Gehry, 84, to build his first from-the-ground-up landmark in the city where he was born and raised.
Editor's Note:Such self serving pap from David Mirvish, "the great Gehry patron". He stands to make his grandchildren's fortune, but in the process will endanger any existing warehouse building in the downtown. Margie Zeidler, Urban Space Properties, and operator of 401 Richmond St. has said that such speculative ventures push her property taxes beyond what her artist tenants can support. I am very pleased that City planning is sticking to its guns and working to protect one of the most successful, and last remaining such streetscape in the business district. One wonders why the site of Honest Eds wouldn't be a better site for a landmark gallery and condo development, its on the subway, and aside from the amazing signs, there is little worth preserving.
---
11. Torontoist: A Century of Homes for the People at Bain Co-Op and Spruce Court
Jamie Bradburn
How two landmark apartment complexes helped Toronto face one of its earliest housing crises.

Spruce Court, circa 1920. City of Toronto Archives, Fonds 1244, Item 3106
"This is not a company; it is a cause."
When the Toronto Housing Company issued its first annual report (quoted above) in 1913, its directors saw themselves as more than a private-public partnership dedicated to building affordable worker housing. They adopted a crusading tone in order to help spread across the country the gospel of planning quality home developments for low-wage earners. Though their efforts fizzled, the two projects THC built proved sturdy enough to be in a position to celebrate their centennials this week: Spruce Court [PDF] and the Bain Co-op.
The two complexes were built in response to a housing crunch that hit Toronto during the early 20th century. The city's infrastructure, especially its transportation infrastructure, couldn't keep up with the city's physical expansion and population growth. Land prices in the core rose so much that a 1907 survey of 43 families showed that their rents had risen by 95 percent over the previous decade. Low-income families were crammed into inadequately sized dwellings where sanitation often consisted of a single outhouse for dozens of residents. Fears about the spread of slums were heightened when Chief Medical Officer Dr. Charles Hastings issued a report in 1911 that declared the following:
---
12. Historicist: Beaux Arts Eclecticism - Chapman and Oxley's architectural impact on Toronto
Kevin Plummer
Every job was accepted as a challenge to accomplish something better

Architectural drawing of Dovercourt Library Branch
Alfred Chapman was among the dominant figures in Toronto architecture in the first half of the 20th century, designing buildings as diverse as libraries, the Old Mill Tea Room, Sterling Tower, Maple Leaf Stadium, the Princes' Gates, and Holy Blossom Temple. Although guided by underlying principles learned at the École des Beaux Arts, Chapman's prolific output was eclectic, ranging from the classical to the Gothic, Romanesque Revival, pre-Renaissance English, and Art Deco in decorative treatment. His work was warmly embraced by the public and press for much of his career, earning him major institutional commissions from the Toronto Hydro Electric Commission, the Royal Ontario Museum, Sunnyside Amusement Park, and the Bank of Montreal. In his later years, the critical acclaim cooled as younger architects spurned his influence to pursue contemporary designs. Although he and his partner, structural engineer J. Morrow Oxley, built dozens of buildings across the city in the first half of the 20th century, a mere handful remain today.
Born in Toronto on December 8, 1879, Alfred Hirschfelder Chapman was the son of an English-born father and a Canadian-born mother. With his father and uncle operating a prosperous business, the Belle Ewart Ice and Fuel Company—later renamed Chapmans Limited after Chapman inherited the business in 1920—Chapman's childhood was comfortable, with croquet and sailing and summers spent at Lake Simcoe.
As a youth, educated at Harbord Collegiate Institute, Chapman first dreamed of a career in art before opting for architecture. When he inquired at the University of Toronto's School of Architecture, its director dissuaded Chapman by questioning his math skills. He learned the trade, therefore, by articling with architect Beaumont Jarvis, and completing a stint at the firm of Burke and Horwood. Travelling to Europe, Chapman then studied at the prestigious École des Beaux Arts in Paris from 1901 to 1903.
---
13. Toronto Star: Death of Carlos Ventin
Christopher Hume
Heritage architect Carlos Ventin helped Ontarians value their past
Carlos Ventin didn't just help save Ontario's past; he helped give it a future.
A respected restoration architect, he rescued dozens and dozens of heritage buildings across the province. But more important, he enabled Ontarians to see their history with fresh eyes.
The Argentinean-born Ventin, who died last week at the age of 74, wasn't simply an accomplished architectural practitioner and master of the art and science of restoring old buildings; he understood why they mattered even when the communities in which they were located did not.
From Toronto to St. Thomas, Kitchener to Kilbride, Ventin saved any number of old city halls, courthouses, schools and libraries destined for demolition. Through his work, and remarkable ability to impart his sense of enthusiasm, he brought new life to big cities and small towns.
His projects, which included Toronto's Old City Hall, the Ontario Legislature Building at Queen's Park and projects in Lennox and Addington, Guelph, Simcoe and Milton, were characterized by simplicity, practicality and innovation, not to mention enormous common sense.
---
14. The New Republic: Detroit Coming Back-One Building at a Time
Jennifer Bradley and Bruce Katz
The One Building that Explains How Detroit Could Come Back

Argonaut Building, image Wikipedia
The old Argonaut Building has a big place in Detroit's history. From 1936 to 1956, it was the home of the General Motors Research Laboratory, the first in-house research & design studio in the automotive industry. The mass-produced automatic transmission was developed there, and over three decades every GM car was designed and styled in the Argonaut building. From 1956 to 1999, the building housed Argonaut Realty, GM's real estate arm. But for the next decade, the somber 11-story structure, designed by famed architect Albert Kahn and built to support the weight of new cars on upper floors, was empty. So were many of the other buildings where people made, designed, or sold cars, or prepared legal documents, or saw patients, or did much of the everyday work of Detroit.
For most observers of the city, where an emergency financial manager, Kevyn Orr, filed for bankruptcy on July 18, that's where the story ends—empty buildings, lost jobs, and a pervasive sense of decay and defeat.
But in reality, the Argonaut building has come back to life, re-imagined and re-named the Taubman Center for Design Education. Today, a small company called Shinola produces watches and bicycles, curiously old-fashioned yet hipster-ready objects, in a 30,000 square foot watch factory and smaller custom bike workshop. The highly regarded College for Creative Studies also uses the building for its graduate and undergraduate programs in advertising and various aspects of design. There is also a charter school on site, promoting arts and design education for 6th through 12th graders.
---
15. Daily Telegraph: Historic buildings under threat
Hannah Furness
Britain's historic buildings are being put under threat by outdated legislation which fails to take into account the impact of wind farms and bypasses on their aesthetics, the chief executive of English Heritage has said.
Simon Thurley Photo - JAY WILLIAMS
Simon Thurley, who has written two books about the heritage industry, said "old" legislation was a "real problem", classing it as the biggest threat to the buildings in the 21st century.
Saying current laws were not designed to protect aesthetics, he added the focus of English Heritage now was to find ways of taking into account the impact of new-build structures on the views of historic buildings.
Speaking at the Cheltenham Literature Festival, he said the problems faced by previous generations, of saving physical buildings, had now moved on.
During the 1970s of course there was a real and palpable threat to things I think everybody would acknowledge now are really beautiful and important, he said.
Towns like Cheltenham were threatened by developers that just didn't think Georgian terraces were important.
---
16. Mod Betty and Retro Roadmaps document Historic Diners in U.S.
Eisenbergs Sandwich Shop in NYC: The Flatiron Districts Lunch Tradition Since 1929
What a fantastic project....have to say I know a few of these in Toronto, and around Ontario, but not many. Three is a great one in North Bay a couple of blocks from the Cathedral. Perhaps you can send me pics of your faves and we can share. Or maybe one of you wants to start a blog to record where they all are.
C.
---
17. New York Times: Renovate = Obliterate
Harry Mount
When Renovation Means Erasing the Past

From this to this to this...
The fetish for destroying historic houses to feed the hunger for infinite white space has led to a global style of architectural homogeneity.
For the first time in history, the more money you've got, the emptier your home is. The Victorians were criticized for their "horror vacui," the fear of empty space that led to rooms cluttered with bookcases, pictures and bric-a-brac. The new rich suffer from the opposite condition: "amor vacui," or the love of empty space. Across the world — from London to New York, from Paris to Florence — the new tycoons' houses have become vacuums.
To get the nihilist look, historic architecture is being destroyed by radical alteration or demolition. One beachside home in the Hamptons makes an instructive example. The site began life with a Henry F. du Pont mansion, an elegant exercise in Georgian proportion. In the 1980s, it was given a makeover from hell by Barry Trupin, a financier later convicted of tax evasion. Trupin added a 20-foot waterfall to the back of the house and installed an indoor shark tank and private burro zoo. With its jumble of witch's-hat towers and mansard roofs, the house would have made a fine home away from home for the Addams Family or Norman Bates's mother.
Calvin Klein came along in 2003, and eventually went through a reported $75 million on the property, and no fewer than three architects. First he tried to remodel the Trupin monstrosity, before giving up and razing it four years ago to build the ultimate glass box. It took a $350,000 life-size mock-up of the house for him to realize that people could peer into his shower from the beach. So he ordered some bushes.
---
18. The Sackville Tribune Post: Citizens explore heritage restoration prospects for former church
Sandy Burnett
"You cant afford not to save this building"

former Sackville United Church
"You have an in'SPIRE'ing opportunity before you," heritage architect Chris Borgal told a group of interested Sackville citizens who met following his presentation to the Sackville Town Council on Monday, Oct. 7. "The spire of the former United Church building has been a beacon and a landmark of this community for well over one hundred years. Lose it now and you lose an essential part of the town's identity."
Recent days have seen a remarkable turnaround in conversations about the future of the vacant building, which faces urgent maintenance issues if it is to be saved. Two weeks ago, a report commissioned by Renaissance Sackville painted a bleak picture, suggesting that while restoration and re-purposing are possible, repairs and ongoing operational costs could be high.
Chris Borgal turned this argument around, stating bluntly,"You can't afford not to save this building. It is critical to the future of the core area of Sackville.
---
19. ACO London on Facebook
ACO London has started a Facebook Page, a great way to connect with local news.
---
20. Capitol Hill Seattle blog / capitolhillseattle.com: Historic Davis Hoffman building demolished!
Susan Zoccola
Historic Davis Hoffman building
I am writing to bring attention to a new twist in a development on Capitol Hill that I am not seeing anyone else address: the historic Davis Hoffman building on the corner of 10th and Union was demolished a few weeks ago. The developers of the giant "Broadstone Capitol Hill" project (between 10th and 11th on Union) "sold" the neighborhood and the City on this project by promising to keep the Davis Hoffman building as part of their street front design (see attached image). This building "preservation" was also designed to enable them to build a higher, bigger building. The bulk of this development has long been controversial
Long story short – they've torn down the entire building, and claim to have held onto some of the facade bricks somewhere. Am attaching a historic photo and a picture I took yesterday of the hole that once was the Davis Hoffman Building.
I am concerned that the City is showing a lack of oversight and enforcement, as the building of this project seems to be flying right along despite the destruction of the Davis Hoffman. As a citizen and neighborhood resident, I hope the press might be the one's (again) to hold public officials accountable for making sure the development that gets thru the permitting process actually gets built as promised. This Broadstone project appears to have a brazen disregard for the City and the neighborhood.
---
21. Tree Hugger: Stirling Prize goes to
Lloyd Alter
Restored 12th century manor wins Stirling Prize

Astley Castle, a ruin with a new building sensitively inserted
Two years ago, Bonnie [Alter] called the Stirling Prize "the architecture olympics." It is less than that, being restricted to members of the Royal Institute of British Architects, and this year they couldn't even find a sponsor to come up with the prize money. Once again the winner is controversial.
Some have called the winner a restoration of a 12th century fortified manor house, but it it is something completely different, inserting a new building into the old. It could have easily been a complete botch, a few pieces of old stone stuck on the new; instead it is a blend of the two that works. Architects Witherford Watson Mann did it for the Landmark Trust, who take "historic places in danger" and turn them into holiday homes that are rented at comparatively affordable prices.
Editor's Note:A rather fantastic project, no doubt it had many technical challenges.
---