Issue No. 221 | December 23, 2013
1. Happy Holidays from BHN
Catherine Nasmith Editor
Santa in search of Haggis,

Findhorn, Scotland 2013

Happy Holidays from BHN.

The year ends with two good news stories, so time to put your feet up and regroup with friends and family til 2014.


If you haven't already written to thank Hamilton (the Gore) and Toronto City Councils (King Street West warehouses) for their recent decisions to defend their heritage on our behalf, its a nice way to end the year.


P.S. The drawing was done by Robert Allsopp, on a recent visit to Scotland to visit family, James Dunbar-Nasmith.
---
2. Dont Miss Artists, Architects and Artisans at Ottawas National Gallery
Review: Catherine Nasmith
For anyone who is interested in Canadian art and architecture of the early last century (I would guess that would be all BHN subscribers) Artists, Architects and Artisans curated by Charles Hill is a must see. The current show at the National Gallery in Ottawa runs to the end of January.
It is a huge, varied show, equivalent to a course or two in Canadian material culture. Allow two to three hours to take it all in. For me it was particularly relevant in covering the period of development of much of downtown Toronto, it shed light on many of the cultural currents afoot here, and across Canada.
The exhibition contains some 340 artifacts, from paintings, to sculpture, to furniture, and architects drawings, items as small as exquisite jewelry to large pieces of furniture, to vast City Beautiful drawings for Calgary. It focuses on the period from 1890-1920 or so, a time in Canada of a gradually rising sense of ourselves as a separate culture, yet with the strong links to Britain and France.
Two weeks ago I had been in Glasgow looking at artifacts designed by Charles Rennie Mackintosh, and others of the same circle. His influence, and that of William Morris are evident in many of my favourite pieces in this show, yet there is a distinct coming to terms with Canadian symbols, our geography, transplanting and then hybridizing ideas for another place.
Work done for the Montreal based Canadian Pacific Railway best illustrates the importation by Scots entrepreneurs of the best of Scottish design trends, spread by rail out across Canada. Early sketches for the CP station in Winnipeg, a lost building, are in the show. As well lamps from the interior of the former Hotel in Winnipeg, as well as a small postcard showing the view of the dining room….as designed an interior as I've ever seen, contemporary with the beautiful tea rooms of Glasgow and other cities.
Montreal architects Edward and William Maxwell figure prominently, their drawings for houses, gates, landscapes and interior details are different stylistically from William Morris, Mackintosh or Frank Lloyd Wright yet are every bit as obsessive about designing all details of an environment. There are many other architects represented including Eden Smith, John Lyle, Frank Darling, George Twizzell, T.G. Greene, and Ross and MacDonald.
Looking at the grand beaux arts City Beautiful plans for Calgary, and Wascana Centre in Regina I was a bit relieved that these monumental plans by Thomas Mawson were never fully realized, and that the more naturalized landscapes advocated by Olmsted trained Frederick Todd came to dominate Canadian sensibilities.
What was also fascinating were the parallels drawn between emerging similar yet separate cultural institutions in different cities. The Arts Club in Montreal, and the Arts and Letters Club in Toronto. The Women's Art Association, with branches in Toronto, Ottawa and Montreal. The Toronto Civic League advocated for integration of art into pubic buildings and spaces. George Reid's never realized scheme for the murals for the interior of Toronto City Hall is in the show, along with the original rendering for Old City Hall. There so many groups, too numerous to list here, but this show and its extensive catalogue track many of the links between emerging cultural organizations, the various arts, artists in cities across Canada. The networks and links are so vast it becomes somewhat of a challenge for both the curator and the viewer, and no matter what groupings things are put in, others are possible in a show of this size.
If you haven't already planned all of your holiday time, try to spend a day or two in Ottawa to catch this show. To my knowledge there are no plans for it to tour Canada, which is a real shame. One tip is the gallery is open late for free on Thursday nights, and it is quite a lovely experience to be there at night.
A trip up to Ottawa train, a night at the Chateau Laurier, a skate on the canal, maybe dinner at Domus to enjoy local Canadian cooking and this show add up to a lovely winter break. What could make you more proud to be Canadian!
You tube Introduction by Charles Hill:
---
3. Merry Christmas from Hamilton Council
Catherine Nasmith President, Toronto Architectural Conservancy
Congratulations to heritage activists in Hamilton. Last night in a surprise vote, Hamilton Council voted to save the Gore Buildings.
That is a glorious culmination to months of really concerted effort from Hamilton residents, and the broader Ontario heritage community. Please send congrats to Mayor Bob Bratina.
The Hamilton Spectator story is http://www.thespec.com/news-story/4266467-update-city-slams-door-on-gore-park-building-demolition
---
4. Death of George Waters
Catherine Nasmith President, Toronto Architectural Conservancy
I knew George Waters for many years, first as a staff member of Heritage Toronto, and later as an early, and dedicated fellow board member of the Friends of Fort York. His was a gentle presence, guiding by leadership and kindness. He was for many years the manager of Fort York. A man who dedicated his career to Toronto's history, and led a full life as a husband, father and member of his church. He will be missed by many.
Below is the published obituary.
WATERS, George - It is with great sadness that the family of Mr. George Waters announces his passing on December 3, 2013 at the Brampton Civic Hospital. Beloved husband of Ella Waters (nee Fountain). Cherished Father to David (Bekky) and Steven. Proud Grandfather of Lauren, Ben, Lukas and Evelyn. He will remain in the hearts of many family and friends. George will be remembered as a leader of the Beaver Bible Class of the Westway United Church for 21 years. He was an active member of the Friends of Fort York. Visitation will take place at the Brampton Memorial Chapel & Visitation Centre, 10061 Chinguacousy Road (at Bovaird), 905-460-9155 on Friday, December 6, 2013 from 4 - 8 p.m. A Celebration of Life will follow on Saturday, December 7, 2013 at 1 p.m. in the Chapel. In lieu of flowers, donations to the Westway United Church Beaver Bible Class, The Fort York Foundation or the Canadian Cancer Society would be appreciated by the family. Online condolences can be made at www.bramptonmemorial.com - See more at: http://www.legacy.com/obituaries/thestar/obituary.aspx?pid=168363380#sthash.bkE9uXPK.dpuf
---
5. Globe and Mail: Gehry Compromise???
Elizabeth Church
Toronto councillor crafting new deal for Gehry, Mirvish condo project
A compromise is in the works for the controversial three-tower condo development on King Street West designed by world-renown architect Frank Gehry.
Toronto Councillor Adam Vaughan, who represents the ward that includes the site in the Entertainment District owned by David Mirvish, is recommending the creation of a 10-person panel that will seek a consensus on the plans and avoid a faceoff before the Ontario Municipal Board.
Mr. Vaughan plans to present a motion to create a panel of "prominent Torontonians" – selected jointly by city planning staff, the developer and the local community – at some point during this week's meeting of city council, he told The Globe and Mail Wednesday.
"The two sides have dug in and it's led to a stalemate. We are trying to reconcile the opportunity with the challenges," Mr. Vaughan said.
Under the proposal, which requires council approval, the panel will report back to the city by March 20 of next year.
The condo proposal calls for three towers of 82, 84 and 86 storeys, with a total of 2,709 units. City planners and local residents have voiced opposition to the development. Planning staff take issue with the height and density of the project, as well as the potential demolition of four heritage properties that stand where the project would go.
Mr. Mirvish wants to see the project completed quickly in part because Mr. Gehry is now 84 and decided last month he would appeal to the OMB because of the difficulty he was having winning over city staff. The board has scheduled a pre-hearing conference for January.
At a committee meeting last month, Mr. Mirvish indicated that his group has spent $1-million on studies that say the project would not overtax the area when it comes to infrastructure such as sewers and transportation. He estimates that 60 per cent of the residents will walk to work in the neighbourhood.
Toronto Staff Compromise Proposal:
City Council Decision on Rezoning:
Council Decision on 4 Designated Buildings:
Editor's Note:This is in fact what happened. The City will oppose this project in its present form at OMB, and also organize a steering committee to find a compromise. The applicants have agreed not to apply for a demolition permit until all appeals to the rezoning have been exhausted. Its been a cliff hanger, with reports from staff received but no action at both the Toronto Preservation Board and Toronto East York Community Council.
---
6. Hamilton Spectator: Gore Saved by Designation
Mathew Von Dongen
City slams door on Gore-Park building demolition
City council has abruptly reversed gears to give 11th-hour heritage protection to five Gore Park buildings that appeared destined for demolition.

City council has abruptly reversed gears to give 11th-hour heritage protection to five Gore Park buildings that appeared destined for demolition.
The dramatic vote came after downtown Ward Councillor Jason Farr warned councillors there could be a "gaping hole" in the historic strip of buildings along 18-28 King St. E. within a month.
The decision prompted the would-be developers of the site to consult their lawyers Thursday morning, said partner Robert Miles. "I'm not happy," said Miles, who added he would wait for legal advice before issuing a statement. "It's ridiculous how the city has treated us on this issue."
City officials had been negotiating with developer David Blanchard and his partners over the fate of the crumbling structures since council learned the city issued demolition permits despite the lack of a development application for the site. Blanchard had previously announced hopes for a $120 million, commercial, retail and residential project that includes the Gore Park space.
Wednesday night, a deflated Farr told councillors that the initially promising negotiations had broken down, despite a council promise — approved earlier in the evening — to provide up to $1.1 million in heritage grants to save the buildings.
"We're looking at a clock that is ticking" on demolition, said Farr, who pointed out the developer's demolition permits for some of the buildings expire in January.
Blanchard told The Spectator in late November the remaining demolition permits expire in the spring. He also said the promised heritage cash wouldn't offset the estimated $2-million cost of preserving the front portion of all of the buildings — the city's goal.
Council barely voted to allow Farr to introduce a motion to pursue an immediate heritage designation for the buildings, with all suburban councillors voting against debating the idea. Mayor Bob Bratina sided with the inner city councillors, allowing the heated debate to go head.
Editor's Note:Fantastic, Really fantastic, people worked so hard and when it looked like it would be impossible&Congrats. Now send your notes of thanks to Mayor Brattina and Council!
---
7. Hamilton Spectator: Recycle, reuse - We must consider our built heritage from a different perspective
Sean Burak and Ned Nolan

Heritage Vintage Hamilton/Getty Images - The Facebook page Vintage Hamilton features pictures of a bygone era. Not a single building in this photograph remains at the intersection of King and James.
Hamilton City Council's unanimous decision to designate part of the historic Gore Park streetwall under the Ontario Heritage Act is an important step toward environmental sustainability, economic stability and community well-being.
Hamilton's sturdy old buildings that were constructed from local materials have an embodied energy and an importance that we can no longer afford to ignore or neglect. Demolition and disposal of functioning buildings is environmentally and economically wasteful, especially when the eventual new build consists of imported raw materials or pref abricated sections transported from elsewhere.
Even buildings that lack great craftsmanship or architectural significance are often worthy of preservation based solely on the environmental and economic benefits of recycling and reuse versus the easy road of wasteful replacement.
Published estimates indicate that landfills are made up of approximately 20 per cent building debris.
All other arguments for heritage preservation aside, we must keep in mind that demolition is wasteful, inefficient and environmentally harmful, and it flies in the face of our modern commitment to reduce, reuse, recycle.
From an economic and community standpoint, adaptive reuse of existing buildings can help create good jobs and boost the local economy.
Our economy is also strengthened by an investment in the special character, charm and craftsmanship exemplified in heritage buildings because these qualities can become an economic comparative advantage. These qualities set historic districts apart from modern (often sprawling) development and, when cherished and nurtured, become the backbone of successful and beautiful old cities around the world.
Most of Hamilton's listed properties of historical interest are in the core where solid brick and stone buildings were built by highly skilled craftsman around the turn of the 20th Century. The resulting streetwall is high density, multi-use and uniquely pedestrian and small-business friendly.
---
8. Hamilton Spectator: Gore Developer Reviewing Legal Options
Mathew Von Dongen
Gore developer mulling legal options
One of Hamilton's biggest developers is mulling legal action after council killed demolition permits for a strip of Gore Park buildings with last-minute heritage protection.
But most heritage advocates and business leaders argued Thursday the jaw-dropping move won't cause a chill between would-be developers and city hall.
Robert Miles, a member of the development partnership that owns 18-28 King St. E., said Thursday the consortium is consulting its lawyers.
"I'm not happy," he said, adding the group won't issue a statement before receiving legal advice. "It's ridiculous how the city has treated us on this issue."
Councillor Jason Farr argued the heritage hammer fell only after a year of informal negotiations — and a city offer of $1.1 million in heritage preservation cash.
Editor's Note:We all need to remember, that what Council does, can just as easily be undone. Designation puts some cards in municipal hands. Designated buildings can be altered or demolished with Council permission. We trust Hamilton Council intends to keep these buildings. The developer will now have to make intentions clearer&.taking legal action against Council probably not a great way to start, and I would think highly unlikely.
---
9. Blog TO: Past Views of Harbord Street Toronto
Derek Flack, forwarded by Richard Longley
What Harbord Street used to look like in Toronto

Harbord from Spadina
Harbord may seem like an underwhelming street to give the historical photo treatment to, but when you consider its transformation from a mostly quiet residential street into a crucial passage through U of T and a bonafide business strip west of Spadina, there's more than enough intrigue in its past to warrant a closer look. Going back a century, Harbord was a narrow thoroughfare cutting between St. George and Ossington, anchored by Harbord Collegiate Institute in the west and the burgeoning U of T campus in the east. Street widening efforts in the early 1910s brought streetcars to the area and the first wave of commercial business, which has been preserved in the bustling stretch between Spadina and Bathurst streets.
Prior to the turn of the 20th Century, the area around St. George and Harbord — now a highly trafficked intersection with U of T students coming and going from one of the city's most notorious examples of Brutalist architecture, Robarts Library — was mostly residential in nature. A second wave of street widening in the late 1940s ushered in drastic changes to this stretch of Harbord, which culminated in the construction of the library in 1973.
Looking east from Spadina in 1944, the street bears almost no resemblance to its current state. Narrow and densely packed with trees, there's a sort of lazy quality about it that has been lost to the expansion of the university and the rise of large-scale buildings in the area. U of T has always had a gorgeous downtown campus, but it was really something back then. One wouldn't even consider walking around without leather patches on his suit jacket.
But U of T isn't, of course, the only prominent educational institution that graces Harbord Street. Both Central Tech and Harbord Collegiate have been staples since the western stretch of the street was still populated with farmland. Built in 1892, Harbord Collegiate was the first major building to be constructed on this section of the street. In honour of the school's hundredth anniversary, a group of alumni put together a sprawling history of the institution, which, despite dry moments, is certainly worth a skim. Also worthy of note regarding the school is just what a glorious building it used to housed in. What a roof!
Editor's Note:Fantastic pics at Blog TO, Congrats Derek on a terrific piece of research!
---
10. CBC Hamilton: Wreckers wait for Grove Hall, 1930s palace of play
Paul Wilson
it's not in the way of the new hospital. It's just old.

Grove Hall once had bowling alleys, a billiards room and an auditorium to seat 800. The building is still used every day, but soon it will be torn down. (Paul Wilson/CBC)
It used to be that buildings the province put up were designed in house. But 1931 marked the completion of one of the first projects turned over to private architects.
The firm was Wright & Noxon of Toronto. The project was to design a recreation hall on the parklike Brow grounds of what many still know as the Hamilton Psychiatric Hospital.
Wright & Noxon really wanted to impress their new client – the province of Ontario – and they drew up a beauty. It's called Grove Hall. It's built in Colonial Revival style, four tall columns across the front, hipped roof with cupola.
There are two levels. Below grade, accessible from a door beneath the raised and curved drive, Wright & Noxon made room for bowling alleys, billiard room, library, dining room, canteen.
---
11. Toronto Star: Design Excellence and Ontario Infrastructure
Christopher Hume
Glen Murray wants a smarter Ontario
Ontario transportation minister introduces legislation to build intelligent infrastructure.
The R.C. Harris filtration plant, which marries beauty with utilitarian purposes, would be denounced today as a waste of money. But its excellence in both regards has stood the test of time.
In a country of boundless political stupidity, it's as reassuring as it is rare to hear a cabinet minister stand up and talk openly about the need for intelligent government.
At the municipal level, Rob Ford has made the argument irrelevant. In Ottawa, rabid partisanship and cynicism at the highest levels have turned even our smartest leaders into fools.
The only place to look for relief from the idiocy is Queen's Park, and with the likes of Conservative Leader Tim Hudak around, it's in short supply even there.
So when provincial Transportation Minister Glen Murray declared his intention to change the way we build the basic infrastructure that makes our lives possible, one couldn't help but be curious. In recent decades, infrastructure has been downgraded and handed over to engineers and accountants, who see no further than the bottom line. "The cheaper the better" is their credo, and cheapest is best.


Editor's Note:This is a REALLY BIG step in the right direction! Thanks Glen.
---
12. Toronto Star: The 5 most influential buildings in Toronto
Christopher Hume
From office towers to a university, these structures put the city on the architectural map

Richard Lautens, Toronto Star - Toronto-Dominion Centre: Designed and built between the late 1950s and early 60s, the T-D Centre was the architectural project that almost single-handedly brought Toronto into the Modern age.
The Toronto-Dominion Centre, designed by Ludwig Mies Van Der Rohe: Planned, designed and built between the late 1950s and early '60s, the T-D Centre was the architectural project that almost single-handedly brought Toronto into the Modern age. Though never popular with locals, it is admired around the world for its attention to detail and almost spiritual adherence to the logic of the grid. Sadly, it launched a wave of ghastly, second-rate International Style towers that blight this city and its suburbs to this day. Within a few short years, Modernism was shorthand for the cheap and the ugly. But in this case, Modernism achieved something akin to perfection. Unlike the vast majority of such towers; the T-D Centre succeeds at the level of detail as well as the big picture. Despite its Modernistist vocabulary, the towers — originally there were three — demonstrate Mies's abiding interest in the formal qualities of classical architecture. His buildings don't look like Greek temples, or even elicit the same response, but they express the same need for rationality and clarity. The one-storey banking pavilion at the southwest corner of King and Bay comes as close as anything Mies did to realizing his desire for an ideal structure, one oblivious to program, purpose and people.
---
13. Waterloo Region Record: Dozens of historic buildings up for protection
Terry Pender

Philip Walker,Record staff - Heritage Kitchener is moving to protect historic properties in the city, like these row houses on Cedar Street near the farmers' market.
KITCHENER — In a move that will protect historic buildings vulnerable to demolition, city staff want more than 60 different addresses included on the heritage register of culturally significant properties.
"I am pleased to see that," said Coun. Frank Etherington, the only elected official sitting on Heritage Kitchener.
Heritage Kitchener, the advisory group that works to protect historic buildings, will consider the additions during a meeting on Tuesday. This marks the single, largest batch of Kitchener properties to be moved under the protective umbrella of the Ontario Heritage Act in years, if not ever.
"There is a long list that needs to be addressed, so I think the faster we can move through some outstanding ones, that's great with me," Etherington said.
He ran for city council in 2010 on a platform that included better protection for historic properties.
Etherington was outraged that the previous council and city staff allowed a Toronto-based developer, Cadan Inc., to demolish buildings on Joseph Street that were part of the Lang tannery to make room for a gravel parking lot.
---
14. Vancouver Sun: Binning House Sale Controversy
Ian Mulgrew
Time for the province to step in and clean up TLC mess
A legal fight looms over the proposed sale of The Binning house in West Vancouver, which was built in the 1930s.
The court-protected insolvency of The Land Conservancy has run into another roadblock and more of the charity's properties are headed for the auction block.
In the latest report to B.C. Supreme Court, the court-appointed monitor says a $450,000 donation the major land trust has been banking on for cash flow will not materialize.
"The bequest may not be received for several months," monitor Wolrige Mahon Ltd. said in its third report.
"There are restrictions as to the use of the funds, as the terms of the bequest state that it can only be used to purchase real property for the purpose of habitat preservation …. this is a material and adverse change."
The sum amounts to about 45 per cent of what the organization was counting on for financing while protected from creditors under the Companies' Creditor Arrangement Act until Jan. 20.
Roughly another half-million has been pledged by three other supporters to fund the restructuring process, but the cost of the legal proceedings threatens to derail the effort and incinerate any cash generated.
---
15. West End Dumplings: Winnipeg's former Canada Bread plant
Christian Cassidy, Winnipeg Dowton Places blog
Fate of Burnell Street's former Canada Bread plant still up in the air
It seemed as though 2013 would be the year that the 101-year old former Canada Bread plant at 258 Burnell Street saw a revival. Perhaps not.

The building has been an ominous presence since it was vacated in 1998. Poorly shuttered and with no sprinkler system, it was the scene of a small fire created by squatters in 2011.

Later that year, the city began proceedings to seize its title under the Vacant Buildings Bylaw. The owners, Burnell Investments Ltd., managed to get a number of 90-day extensions to the order by making modest improvements and with the promise that they were "in discussions" about a redevelopment plan.


In December 2012 the owners held an open house to show off drawings for a proposal that would convert the building into 80 rental suites with some retail on the main floor. It was clear, though, that it was not a done deal as financing for the venture was not yet in place.

Still, over the summer of 2013 the site saw more action than it had in the 15 years since Canada Bread left. Crews spent months clearing out the building to ready it for its eventual conversion.

Canada Bread Plant Interior Summer 2012

The latest appeal hearing regarding the seizure was to take place on December 3, 2013. A letter written to the city by Burnell Investments' lawyers dated November 27, 2013 refers to the company as the former owners of the property and that the appeal was being withdrawn.

What happens now is unclear. The building obviously has new owners who will almost certainly be contacting the city before it ends up taking action. No doubt aware of the pending seizure, one assumes that they have their own redevelopment scheme ready to present.

Former Canada Bread Plant

Should the city end up seizing the complex, their first step would be to try and sell the property. Given its great location, just steps from a major shopping node on Portage Avenue, and the fact that it is now cleared out in preparation for a redevelopment, it's likely that there would be interest in it. If not, the city would order its demolition.
---
16. Montreal Gazette: Phyllis Lambert Steps down as chairperson of the Canadian Centre for Architecture
MARIAN SCOTT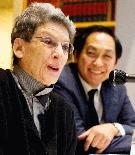 Bruce Kuwabara, right, listens as Phyllis Lambert speaks during a press conference to announce that Lambert will be stepping down as head of CCA, to be replaced by Kuwabara in Montreal on Wednesday December 4, 2013.
Joan of Architecture is stepping down as chairperson of the Canadian Centre for Architecture.
Phyllis Lambert, 86, announced Wednesday she is retiring as chair of the board of trustees of the museum and research centre she founded in 1979.
Toronto architect Bruce Kuwabara, designer of Concordia University's Quartier Concordia and the Canadian Museum of Nature in Ottawa, will step into Lambert's shoes.
A tireless defender of Montreal's built heritage, Lambert has taken an active role in every major urban planning debate in the city in the last four decades, from redeveloping the Old Port to protecting Mount Royal.
But no project has been closer to her heart than the CCA, one of the world's foremost research facilities on architecture, with more than 60,000 photographs, 100,000 prints and drawings and 215,000 volumes.
"She sponsored it, she founded it and she has always been very much present there," said Martin Bressani, a professor of architecture at McGill University.
---
17. New York Times: The Trend to Creative Destruction?
Timothy Williams, forwarded by Liz Rykert
Blighted Cities Prefer Razing to Rebuilding
BALTIMORE — Shivihah Smith's East Baltimore neighborhood, where he lives with his mother and grandmother, is disappearing. The block one over is gone. A dozen rowhouses on an adjacent block were removed one afternoon last year. And on the corner a few weeks ago, a pair of houses that were damaged by fire collapsed. The city bulldozed those and two others, leaving scavengers to pick through the debris for bits of metal and copper wire.

"The city doesn't want these old houses," lamented Mr. Smith, 36.
For the Smiths, the bulldozing of city blocks is a source of anguish. But for Baltimore, as for a number of American cities in the Northeast and Midwest that have lost big chunks of their population, it is increasingly regarded as a path to salvation. Because despite the well-publicized embrace by young professionals of once-struggling city centers in New York, Seattle and Los Angeles, for many cities urban planning has often become a form of creative destruction.
"It is not the house itself that has value, it is the land the house stands on," said Sandra Pianalto, the president and chief executive of the Federal Reserve Bank of Cleveland. "This led us to the counterintuitive concept that the best policy to stabilize neighborhoods may not always be rehabilitation. It may be demolition."
Editor's Note:Whether the market is too hot, or cold we lose perfectly usable buildings.
---
18. Open City News: Church conversion to Library
Lauren Miles
From church to bookstore in 500 years
Broerenkerk church has stood in Zwolle, a mid-sized city in the north of the Netherlands, since 1466. Shuttered in 1982, Broerenkerk, now called "Waanders in de Broeren," has reopened its doors to the community as a bright, airy and exquisitely lovely bookstore.
Opened in July 2013 by Utrecht-based BK Architecten, the new design showcases the church's original features, including its colonnade, vaulted ceiling and 1821 organ. A stained glass window by Norwegian artist Kjell Nupen is among the architect's additions. In order to increase shelving, the architects were required to build about 700 square feet of new floor space. They added three floors to the side wing, which maintains both the building's original ambience and structure, so that the new floors can be removed easily if needed.
---
19. Toledo Blade: Now-shuttered Spitzer Building marks eras end
MARK REITER
Grand dame once was hub of Toledos legal community

The Spitzer Building at 520 Madison Ave. was Toledoâ¬"s first steel-framed skyscraper. It was built in 1896. The Spitzer family sold it in 2009.
Not even cheap rents, cozy atmosphere, and personal attention to tenants' needs could keep downtown Toledo's grand dame alive.
The Spitzer Building, the one-time hub of Toledo's legal community, closed Sunday, turning the historic landmark at Madison Avenue and Huron Street into 10 stories of emptiness and ending a 12-decade relationship with the central business district.
Tenants, including some who had been there for decades, began moving to other downtown locations shortly after Patrice Spitzer tearfully announced in late September the building would soon close.
Mrs. Spitzer is the court-appointed receiver of the foreclosed building and daughter-in-law of the late John B. Spitzer, whose family had controlled the building for all but the last five years of its 117-year existence.
"I am trying not to cry," Mrs. Spitzer said as she worked in the manager's office of the silent building. "That is what I am trying to do."
Built at a cost of $500,000, the Spitzer Building is believed to be the city's first sizable structure with a metal skeleton. Its red terra cotta ornamentation, brick facade, bay windows, and arched Madison entrance mimic the style of Chicago's turn-of-the-century skyscrapers designed by famed architect Louis Sullivan.
---
20. Costa Mesa Daily Pilot: Plan bumps up against history - OCC wants to construct new buildings on campus, but that could mean tearing down the work of noted architect Richard Neutra
Hannah Fry

The business education buildings at OCC, designed by& (Don Leach - Daily Pilot)
Orange Coast College has undergone many transformations in its 65-year history — buildings have been demolished and remodeled and others have been built in their place — mostly without significant controversy.
However, as the college approaches yet another milestone in construction, rapidly moving forward with its Vision 2020 plan for campus development, some longtime faculty members are raising concerns about the removal of buildings designed by world-renowned architect Richard Neutra.
"We can always build new buildings, but to me they are proposing to tear the heart and core out of the Orange Coast College campus," said Dennis Kelly, a former marine science professor at OCC.
Neutra was an Austrian-born modern architect hired in the late 1940s to transform a former Costa Mesa military base into OCC. He previously worked for Frank Lloyd Wright.
He boasted a noteworthy resume in Orange County and Los Angeles, with homes featuring large windows and sliding glass doors based on his philosophy of dissolving the artificial barrier between the inside and the outside. It was a vision he kept in mind at OCC as well.
Editor's Note:For more on Neutra at OCC see, http://articles.latimes.com/1998/feb/18/entertainment/ca-20287
---