Issue No. 222 | January 13, 2014
Feature Stories
Toronto's First Post Office: A Historic Option with Great Service
Windsor Star: Death of Pat Malicki
Toronto Star: Dome May block View of Central Tech
Toronto Star: Review of Smart Address
Treehugger: Toronto Mirvish Gehry Project and Others Like it Around the World
Events
Heritage Ottawa Free Public Lecture
Wednesday, January 15, 2014
+ read
---
Heritage York's 20th Annual Dinner and Dance Fundraiser
Saturday, February 1, 2014
+ read
---
Smart Address Exhibition Curator's Tour
Ends January 25
+ read
---
Advertisements
Built Heritage News Sponsors
1. Toronto's First Post Office: A Historic Option with Great Service
Janet Walters/Catherine Nasmith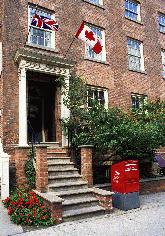 This building has been here since 1833, Post Office operations keep it open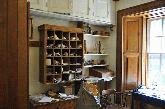 and friendly service too!
Did you know that you can support built heritage simply by sending your mail through Toronto's First Post Office? If you are too far to do business at the counter you can still buy stamps or other services by telephone.
This museum, charity and National Historic Site keeps its doors open as an authorized dealership of Canada Post. As Canada Post moves to cut services across Canada it is harder for this lovely outlet to survive. The post office offers the full range of CPC services, but here they help to finance museum programs such as education, research and collections care. In addition, your mail can be made visually arresting with commemorative stamps and one of our pictorial cancellations. For a small additional cost, we can even add a wax seal!
Dating back to British colonial times (1833), the post-office building is one of few left standing from the old town of York. Individuals and organizations can rent old-fashioned post-office boxes once used by the likes of William Lyon Mackenzie and Egerton Ryerson. Unlike the postal outlets at drugstores, TFPO will accept courier deliveries for you as well – and their boxes are the best deal going. Organizations and businesses who do bulk mailings on a regular basis can open accounts, allowing them to simply drop off their lettermail or parcels for processing and be billed at the end of each month.
For further information go to the Toronto First Post Office website, or contact Janet Walters at 416-865-1833 or tfpo@total.net
Follow us on Twitter: @TOs1stPO
Like us on Facebook: TOs1stPO
Editor's Note:
They also publish a super newsletter mailed several times a year to members, its worth joining just for that!
---
2. HCNT Welcomes Jim Mountain as Director, Regeneration Projects
Heritage Canada Release
Ottawa, ON, January 8, 2014 – Heritage Canada The National Trust (HCNT) is pleased to announce that Jim Mountain has joined the organization as Director, Regeneration Projects. Jim will increase HCNT's capacity to demonstrate that heritage-led regeneration—the renewal, repurposing and regeneration of heritage buildings, communities and regions—can enhance local identity, economic self sufficiency and cultural vitality.
Jim has over twenty-five years of experience in the fields of heritage, culture and community renewal. This includes his early career with HCNT's Main Street and Heritage Regions programs, where he helped establish Main Street projects across the West, and "Regions" projects from Newfoundland and Labrador to Vancouver Island. Most recently, Jim served as Cultural Developer at the City of Ottawa, where he assisted in developing the City's Renewed Action Plan for Arts, Heritage and Culture. Prior to the City of Ottawa, Jim worked with Commonwealth Historic Resource Management Ltd. Since 1998, he has been a Sessional Lecturer with Carleton University's Azrieli School of Architecture and Urbanism on the subjects of heritage conservation and urban and rural sustainability.
In his role at HCNT, Jim will offer services and develop partnerships to help communities implement their regeneration initiatives, and will lead demonstration projects that rehabilitate heritage properties while also meeting local needs, with the ultimate goal of providing national leadership and inspiration for the renewal of historic places in Canada.
To discuss possible projects, opportunities and partnerships, Jim can be reached at 613-237-1066 ext. 226 or jmountain@heritagecanada.org.
For further information contact:
Carolyn Quinn, Director of Communications
cquinn@heritagecanada.org
Telephone: 613-237-1066 ext. 229; Cell: 613-797-7206
www.heritagecanada.org
Editor's Note:
Congratulations Jim!
---
3. Conservation Review Board Opportunity
Catherine Nasmith Editor
The Conservation Review Board is seeking applications for one part time appointee. Knowledge of the Ontario Heritage Act and heritage planning are assets. If you know someone interested, this is the link. Deadline is January 17, 2014.
---
4. Pat Malicki In Memorium
Chris Borgal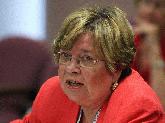 Pat Malicki in Front of Prince Edward School
This has been a difficult few months for many of us in the preservation community. The great loss of Peter Stokes and Carlos Ventin, has created a gap in the knowledge and skill base of those who provide the technical skills to restore our heritage. Now, one has passed on from another side, that of activism in the heritage community. One who was equally important and whose demise will elicit the grief of many in the heritage world, particularly in the Windsor area where she lived.
Pat Malicki succumbed to her injuries yesterday evening resulting from a tragic house fire over the weekend. She was a friend of mine for some twenty years and had preceded me in the role of President of the Architectural Conservancy of Ontario. I will miss her occasional evening chats and rants about the goings-on in Windsor, and visits to her home. But more, I will miss her deep passion and concern of the need to preserve the monuments in that community and beyond.
She was truly representative of what the ACO has been about since its inception – a group of volunteers who care about the communities in which we live. In her own community, Pat was the equal to the late A.K. Sculthorpe of Port Hope or to Dorothy Wallace of Goderich and others in their individual communities across Ontario, whose loss also occasioned great sadness in the heritage community both provincially and locally.
Pat was modest with respect to her own accomplishments but outspoken in her demands for appropriate action surrounding the magnificent buildings that, although declining in use, represent the highest form of art in the communities. She was one of those of that group of essential activists who never take no for an answer and who pester decision-makers to think outside of the box, to recognize the importance of monuments to the psychological well being of our towns and cities, and to find an appropriate means of re-purposing sites where the existing uses are unsustainable.
Richard, her husband, passed away several months ago and his loss weighed on her – I hope that she has now joined him and I trust that she has found a measure of peace. Let us all join her friends and family in grief for her loss.
Christopher Borgal OAA FRAIC CAHP President, Ontario Association of Heritage Professionals
Editor's Note:
We will post further notices as to funeral arrangements when they become available.
---
5. Pat Malicki: A Great Loss to Ontario and Windsor
Catherine Nasmith, President of Toronto Architectural Conservancy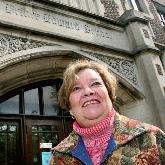 Pat Malicki in Front of Prince Edward School
I last saw Pat Malicki at her husband's funeral in March 2012. Under the most distressing of circumstances she was, as always, elegant, gracious, well dressed, and well spoken.
Her tragic death over the weekend as a result of a house fire, has robbed Ontario and Windsor of one of its most dedicated heritage advocates. She was the long serving President of the Windsor branch of the Architectural Conservancy of Ontario (AC)). She was also a past-president of the provincial organization.
During her term as ACO president she hosted the second joint conference of ACO/CHO in Windsor, a great success. At that conference we had the pleasure of unveiling the revised Ontario Heritage Act, which at long last gave municipalities full powers to protect heritage. Her presidency marked resurgence in ACO, which has gone from strength to strength since then. That conference has continued to grow as the Ontario Heritage Conference.
Pat led a movement in Windsor that saved countless buildings and over time changed the way that Windsor saw its heritage and sense of place. Windsor has a rich history dating back to early French settlement, and on through nineteenth and twentieth century industry, closely tied to the success of its neighbouring city, Detroit, yet always with a separate and unique identity.
When I first met her there were so many stories of lost battles and frustrations but gradually the stories changed to frequent successes. I admired her determination, hard work, and dedication to ACO. She gained the respect of all who worked with her.
Her Windsor included the area around it. She fought as hard for buildings in Amherstberg, and for three French Catholic churches in the surrounding area. That last battle was won at the Ontario Court of Appeal, overturning a municipal council decision on designation.
She will be fondly remembered, and very hard to replace.
---
6. Windsor Star: Death of Pat Malicki
Dalson Chen
Windsor heritage advocate Pat Malicki dead from fire injuries

Pat Malicki in Front of Prince Edward School
Pat Malicki, who worked for decades to preserve Windsor heritage buildings, has died from the injuries she suffered in a house fire last week.
Malicki passed away Sunday night at a Detroit hospital where she'd been transferred after an early morning blaze at her home at 275 Ford Blvd. on Jan. 10.
"Everybody is just horribly shocked," said Lynn Baker, who worked with Malicki for theArchitectural Conservancy of Ontario.
"There's just such a sense of loss. Pat was such a resource, and so passionate about heritage."
Baker said Malicki was badly burned in the fire.
Chief fire prevention officer Lee Tome said the Ontario Fire Marshal's investigation into the incident continues, but the fire appears to have been accidental in nature.
A woman in her 60s, Malicki was the president of the Windsor region chapter of the Architectural Conservancy of Ontario.
She was well known for her advocacy of historically significant buildings in the area.
"She was so amazing. She was such a knowledgeable person," Baker said. "She was responsible for saving a lot of buildings."
Baker said Malicki's efforts date back to the early 1980s, when she joined the Friends of the Court group to prevent the demolition of Mackenzie Hall.
"She was really determined," Baker said.
Over the years, Malicki has spoken before numerous Windsor mayors and city councils on behalf of local heritage.
She and her husband Richard came here from Toronto in 1974.
They had two children, Paul and Sonya, who now live in other cities.
Richard Malicki passed away in March 2012.
Editor's Note:see obituary
---
7. Toronto Star: Dome May block View of Central Tech
Councillor Adam Vaughan opposes Central Tech
A Toronto councillor is opposing a $6 million restoration of Central Tech's contaminated 1960s-era playing field, including the installation of a seasonal dome that would allow students to use the outside space year-round.
The temporary dome would cover the massive field, which fronts the school along Bathurst St. north of Harbord St., each year from November until April.
Vaughan says he fears the proposed dome will block views of the heritage school and wreck the character of the street.
"There's an aesthetic issue. Central Tech and Bathurst St. were part of a (city) study," says Vaughan. "And putting up a huge 16-metre bubble, even if it's there for five or six months of the year, it creates issues."

Councillor Adam Vaughan is opposing $6 million in upgrades to Central Tech's playing field because the plan includes a winterized dome that he says will block the view of the heritage school from Bathurst St.
Vaughan, councillor for Ward 20, said he also objects to privatizing a public asset.
Editor's Note:The debate is similar to the one on University of Toronto's Back Campus, loss of publicly accessible green space, privatization, replacement of grass with artificial turf. There seems to be an epidemic of these.
---
8. Toronto Star: Hume on Buffalo's Architecture
Chris Hume
One of the great cities on the continent for landmark buildings

Buffalo City Hall
If architecture is anything to go by, Buffalo ranks as one of the great cities of America.
That can be hard to grasp as the former industrial powerhouse tries desperately to extricate itself from the downward spiral of lost manufacturing might and shrinking population.
In 1900, Buffalo was among the 10 largest cities in the U.S. Not only was ideally located as the western terminus of the Erie Canal, it was a centre of the grain and steel industries, as well as a railroad hub. One by one these advantages were lost; the St. Lawrence Seaway rendered the Erie Canal obsolete, heavy industry moved abroad and trucks replaced trains.
But there was a time when some of the greatest architects in the U.S.A. came to the Queen City to practice their art.
Frank Lloyd Wright, Louis Sullivan, H.H. Richardson and Daniel Burnham were among the luminaries who helped shape the Buffalo skyline.
Each left behind buildings that even today — especially today — make a pilgrimage a must for architectural students and aficionados.
From, say, the 1880s through to the 1940s and '50s, Buffalo was as engaged as any city in architecture. Indeed, architectural history was made here as the city competed with itself and other urban centres, notably Chicago and New York, to create a distinctly American architecture.
---
9. Toronto Star: Review of Smart Address
Shawn Micallef
Smart Address highlights building boom in bittersweet exhibit
The Art Deco Symes Transfer Station on Symes Rd. is a moment of unexpected and dreamy art deco civic pride on par with the R.C. Harris filtration plant in the Beach. In another age, this might be called gravy.
Toronto lovers have long held onto the dream of a museum dedicated to the city itself. Until there is political and public will for such a place, Torontonians can remain content with the City of Toronto's Market Gallery, a gem of an exhibition space on the second floor of St. Lawrence Market that has been putting on city-centric shows since 1979.
Currently, "Smart Address: Art Deco, Style Moderne and Their Contemporaries in Toronto" looks at the building boom that occurred here between the wars. Co-curated with the Toronto Architecture Conservancy, it's both a wonderful and heartbreaking exhibit, filled with many fantastic archival photos, documents, and extensive write-ups of and on the period.
Editor's Note:Don't miss this super show! Closes Jan 25, Curator's tours at 1:00 on Saturdays
---
10. New York Times: To Cantilever or Not
Robin Finnjan, forwarded by Stephen Otto
The Hangover: Cantilevered Buildings of New York
Casting a glance skyward in Manhattan these days may include the risk of beholding not sky but horizontal appendages that curve and jut outward from the sides of residential towers and hover like geometric mutants above the roofs of vertically challenged neighbors, inhabiting space once occupied by open air.
Typically built of glass and steel and suspended in midair, they are not optical illusions. In fact, they are vista-grabbing, profit-generating cantilevers the likes of which Frank Lloyd Wright probably did not contemplate in 1935 when he designed a rural residence known as Fallingwater, which levitated, with assistance from cantilevers, above a 30-foot waterfall in Mill Run, Pa. Wright cantilevered for the aesthetic thrill of it. Piers and bridges cantilever for the sake of a design imperative. The cantilevered entrance of the former IBM building at 590 Madison Avenue, designed by Edward Larrabee Barnes & Associates, continues to be a piece of modernist eye candy that wows passers-by.
But the escalating popularity of cantilevers in luxury residential (and some commercial) developments is apparently driven by — what else? — economics. With "bigger is better" the prevailing mantra among developers, cantilevers are getting bigger, too: superior apartment layouts are the desired endgame.
---
11. Treehugger: Toronto Mirvish Gehry Project and Others Like it Around the World
Lloyd Alter
It's time to dump the tired argument that density and height are green and sustainable
Everybody says it. from David Owen the Green Metropolis to Edward Glaeser in the Triumph of the City to Matt Yglesias in The Rent is too damn high to Ryan Avent in The Gated City to Alex Steffen in Carbon Zero, all the experts say that if we want a greener, healthier city then we have to roll back the regulations, get rid of the NIMBYs and let a thousand towers bloom. And many cities, from London to New York to Toronto are listening.
But what are we getting when we throw away height limits and barriers to development, stop worrying about shadows and views, and let the developers loose? Also importantly WHO are we getting?
Editor's Note:Loss of heritage fabric, as is proposed by Gehry in Toronto, to make way for such projects compounds the failure to be green.
---
12. Washington Post: Study to increase height in Washington Results
D.C.s Height Limits: The Risk of Ending Them
A fantastic piece of work, and beautifully presented online. This is the kind of work the Ontario Capital Precinct Working Group hopes for for Toronto....
For discussion of background of study, and implications for Washington, go here
---