Issue No. 223 | February 3, 2014
Feature Stories
Toronto Star: Restaurant Row in Toronto- Stemming the Condo Tide
Toronto Star: 80 Stories the New Normal....Heritage property will survive
Toronto Star: Unbuilt Toronto Schemes
Toronto Public Library Toronto Panorama 19th century
Atlantic Cities: Preserving Post Offices
Globe and Mail: Ron Thom's Toronto
Events
CALL FOR APPLICANTS - ACO NextGen Job Shadow Program

+ read
---
evening course -- Toronto's Residential Architecture: A History
Tuesdays, Feb. 4 - Mar. 25, 2014 (8 classes)
+ read
---
The Restoration of Alderlea Heritage Estate, Brampton
Thursday 20th February 2014
+ read
---
Heritage Ottawa 9th Annual Bob and Mary Anne Phillips Memorial Lecture
Wednesday, February 19, 2014
+ read
---
Advertisements
Built Heritage News Sponsors
1. Still Standing, photo from the Toronto Star GTA section
Catherine Nasmith, President of Toronto Architectural Conservancy
Even when you save the whole building it is hard to see what has been accomplished in terms of saving a piece of Toronto's Main Street.....Toronto is CrazyTown these days for sure.
Couldn't find this posted online so here it is:
Toronto Star Caption Reads " Heritage house accommodates condo plan, Big Dig John Irwin House, a 2.5 storey building built in 1873, sits atop giant pillars as construction crews work to build a 50 storey condo near Yonge and Grenville Sts. in downtown Toronto."
---
2. 245 College Street at the Ontario Municipal Board
Ceta Ramkhalawansingh, Hon. Chair, Grange Community Association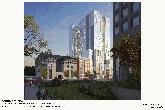 from north side of College Street, Diamond Schmitt Architects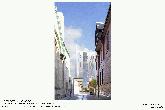 From Glasgow and Cecil, Diamond Schmitt Architects
Does College Street have heritage value?
This was a question which lawyers for Knightstone Capital Inc (KCAP) did not want to address at the recent OMB hearing for the Official Plan Amendment and Rezoning of 245-255 College Street and 39 and 40 Glasgow Street, which proposed an 80 metre private student housing project in an area where the vast majority of buildings are 3-6 stories.
In a letter (October 28, 2013) to the residents opposing the proposed development, lawyers said: "… it is our position that cultural, landscape and built heritage are not an issue at this hearing, and have no application to our client's proposed development." The area residents, and the Toronto Architectural Conservancy (TAC) strongly disagree, and are concerned that this development will set a precedent that would threaten all of the existing heritage fabric.
College Street: A Study Part One: Loft Buildings on the South Side, 1903 – 1915, a recent study co-authored by Steve Russell and Alec Keefer of TAC, set out the history and architects for several buildings, and identified the defining features of the section of College Street where the proposed development is located: "To the east of the site are nine significant brick buildings in a row, all contributors to the streetscape, averaging about 5 storeys". Earlier this fall the publication was honoured with an award by Heritage Toronto.
The project has evolved since it was first presented to the community. The proposal before the OMB was for a 25 storey, 829 bed for profit private student housing. The project introduces a new category of student housing which the community worries will not be subject to the accountability of the University as a public institution.
The proposed 829 student "rooming" house would be almost as tall as the 80 m former Ontario Hydro building at College and University. Between Spadina and McCaul, on the south side of College Street, the tallest building is 24 m. After submission in 2010, the city and the ward councillor received inquiries and applications for several other sites in the vicinity, so fears of undermining the character of College Street are real.
Philip Carter, one of Canada's foremost architects and heritage planner, gave evidence on behalf of the residents, citing the Odd Fellows Hall (229), the Gage Institute (223) and the Cawthra Mansions as having significant heritage character. Similarly, the north side of College Street is lined with university buildings including three designated buildings: the former Metro Library (Koffler), Hygiene and Mining Buildings and one listed building, Gilmour House. He noted that there was consistency in material, height and detail and that the buildings were predominantly masonry, brick and stone varying between 2 and 6 storeys. He observed that even the new Fields Institute was "an unabashedly modernist building" but its height, material palette of stone and brick, punched windows and articulated entrance details place it firmly in the College Street context". And, immediately behind the development is the "rare and precious" Glasgow Street which is lined with 22 mainly two storey homes.
Not only does the development threaten the character of College, sorely in need of becoming a Heritage Conservation District, its 80 metres would stand rudely in the face of 2 storey cottages on Glasgow Street.
There were several complicated zoning issues before the OMB which call into question whether the project would meet any tests under current zoning. The Board reserved its decision and did not give an oral decision, leaving the residents hopeful. Whether the heritage arguments were heard remains to be seen.
---
3. Call for Nominations - Prince of Wales Prize for Municipal Heritage
Carolyn Quinn
Heritage Canada The National Trust is accepting nominations for the Prince of Wales Prize for Municipal Heritage Leadership.

Under the generous patronage of His Royal Highness The Prince of Wales, this prize is awarded to a municipal government, large or small, rural or urban, which has demonstrated a strong and sustained commitment to the conservation of its historic places.

The Terms of Reference, complete with eligibility criteria, nomination procedures and forms, are available online. The deadline for submissions is March 14, 2014, so dont delay!

Visit: https://www.heritagecanada.org/en/get-involved/awards#POW

For further information:
Carolyn Quinn, Director of Communications, cquinn@heritagecanada.org
Telephone: 613-237-1066 ext. 229; Cell: 613-797-7206
---
4. Willowdale's John McKenzie House Site and Community Gardens Protected with Heritage Conservation Easement
Andrea Izzo, OHS
John McKenzie House, Willowdale, built 1913, designated under the Ontario Heritage Act
The Ontario Historical Society (OHS) is thrilled to announce that a heritage conservation easement to protect Willowdales historic John McKenzie House site and adjacent community gardens has been signed between the Ontario Heritage Trust and the property owner, the City of Toronto.

For The Ontario Historical Society, this is a victory over twenty years in the making. In 1993, the OHS stopped the proposed demolition of the historic buildings and has acted as a steward for the property since then, assuming the cost of its restoration and ongoing maintenance. The OHS was the driving force behind the heritage conservation easement agreement between the City of Toronto and the Trust.

The Ontario Heritage Trust, an agency of the Ontario Ministry of Tourism, Culture and Sport, protects places of cultural, natural and archaeological value across Ontario with easement agreements, which are essentially heritage contracts between the Trust and a property owner to conserve a provincially significant property. The easement is registered on title and protects its heritage values in perpetuity. Easements have been used by the Trust to protect a wide array of property types, ranging from mansions and bridges, to cemeteries, and even a carousel.

In the case of the John McKenzie House, the easement is an agreement to protect the Edwardian Classical style house (1913), attached coach house (1918), milk house (1907), stable (1915), a commemorative parkette to the north of the house, and a community garden (Parkview Neighbourhood Garden) to the east. Selected interiors are also included to protect the beautiful hand-crafted woodwork.

The house is located just east of Yonge Street, at 34 Parkview Avenue in the intensely developed Willowdale neighbourhood in North York.

Erin Semande, a historical researcher with the Trust, reflects on the fact that this is one of the few remaining houses in the Willowdale area from the early twentieth century that are still standing: While the setting of condominiums and modern residential infill detracts from the historic context of the John McKenzie House, the property prevails as a heritage oasis amidst a busy urban landscape.

The Ontario Historical Society, founded in 1888, is a non-profit, non-government heritage organization and registered charity.

The finalization of a heritage conservation easement for the historic John McKenzie House could not have been more timely; 2013 marks the 100th anniversary of the construction of the house and the 125th anniversary of The Ontario Historical Society, remarked OHS communications coordinator Andrea Izzo. The easement represents an important step forward for the OHS in its over twenty-year campaign to preserve this invaluable heritage asset for current and future generations.

In the early 1990s, this invaluable piece of built heritage nearly became a casualty of the rapid residential intensification occurring in the Willowdale area. It was through a lengthy advocacy and fundraising campaign that the OHS was able to negotiate a solution to circumvent the proposed demolition of the house and outbuildings. A 25-year lease was signed with the former City of North York and the OHS assumed stewardship, initiating a $500,000 restoration project.
For Ontario Historical Society executive director Rob Leverty, the announcement represents a victory for all Ontarians to cherish and celebrate.

The OHS has produced a special double issue of its OHS Bulletin to commemorate the 100th anniversary of the John McKenzie House and to celebrate this easement agreement. Learn more at www.ontariohistoricalsociety.ca.

The Ontario Historical Society
Founded in 1888, The Ontario Historical Society is a non-profit corporation, publisher, and registered charity dedicated to increasing an appreciation of Ontarios history and preserving its heritage for people of all ages and cultural backgrounds.



-30-

Media Contact:

The Ontario Historical Society (OHS)
Andrea Izzo, Communications
34 Parkview Avenue,
Willowdale, Ontario M2N 3Y2
416-226-9011
izzo@ontariohistoricalsociety.ca
www.ontariohistoricalsociety.ca
---
5. Toronto Star: Restaurant Row in Toronto- Stemming the Condo Tide
Jennifer Wells
Fighting against the condo tide along Restaurant Row
Al Carbone has leased the King St. W. building housing his popular Kit Kat restaurant since 1988. He's leading the charge against more condos on his side of the block.
It's not exactly an image of a man under siege. At least not outwardly.
Al Carbone, paying the bills, settled in the front window seat-with-a-view at his Kit Kat restaurant on an obscenely cold Thursday evening. Looking relaxed and well fed in the comfort of his domain.
A Toronto fixture — Al, that is. The restaurant too. A joint with character. Masses of quirk.
Is Toronto becoming a city of 'no'?
The crazy mini-French doors are blown open by prospective patrons who do not get the winter protocol of closing the outer door at street side first before entering the funny little place.
"Al likes a fight and he's having one."
It's 12 feet wide, tucked on the south side of King St. W., across from TIFF, that newcomer.
The kitchen is eight feet wide, max, situated dead centre of the resto, with an ailanthus tree growing right through the roof, its trunk substantially blocking the entrance end of the galley. Which is awkward. House rule: no fat chefs.
"Preserving the physical fabric isn't just a question of preserving the architect's work. It's preserving the activities that are possible because of it."
CATHERINE NASMITH
TORONTO ARCHITECT
Al's brindled dog is splayed against the far wall, deeply asleep until Al needs her to accompany him. She's a service dog. What's the service? He won't say. What's her name? He won't tell. She's a Dutch Shepherd, he'll say that much.
There used to be a cat. Kitty Kat. Sometimes Kitty Kat wore a bow tie. Customers would call to make a reservation and ask if Kitty would be on that night. He worked for the place "off and on" for 14 years, Carbone says. What? Kitty had other commitments? He was clearly not declawed, judging from the fun he had on pillar and post.
No Name is seven. She's "worked" here for six years.
This is a place that scores allegiances by Kit Kat lineage.
Joe DiSalvo, beefy and bald headed, tumbles in from the cold. Grey hoodie and toque. Always early for shift. Twenty years and always early.
What do you do Joe?
Human doorstop, for one. On subzero nights he stands interference, pressing his nose to those French doors and instructing theatre goers to pull that outside door tight. When you have only 65 seats in a restaurant, and eight of them are in the line of the gale, you pay attention to such matters.
Editor's Note:The eccentricity and character of independent businesses isnt easily equated with sky-high condo development. Catherine Nasmith is a Toronto architect and heritage rehabilitation expert. Preserving the physical fabric isnt just a question of preserving the architects work, she says. Its preserving the activities that are possible because of it. Keeping main street business intact preserves a way of life . . . As the city gives over more and more of the ground floor of our city streets to bigger scale developments we really lose the ability to have those independent businesses.
---
6. Toronto Star: 80 Stories the New Normal....Heritage property will survive
Catherine Nasmith
Toronto's mixed-use boom coming to a 'hood near you
A mixed-use development proposal for a new "neighbourhood" called The Well south of King St. W. and west of Spadina Ave. is a sign of more things to come.
Conceptual art of The Well development at Front St. W. and Spadina Ave. The development by RioCan, Allied and Diamond Corp. would create a cluster of residential, office and retail buildings spread over three hectares, typical in concept of recent mixed-use developments.
That's the message from urban planners and developers who want to transform the city into a place where residents can work, shop, eat and play — all within walking distance of their homes.
An ambitious proposal for a new neighbourhood called The Well, south of King St. W. and west of Spadina Ave., is the latest in the mixed-use revolution. The development by RioCan, Allied and Diamond Corp. would create a cluster of residential, office and retail buildings spread over three hectares.
Editor's Note:Heritage is not the issue here, but such approvals make it impossible to consider saving any building, any where the economic pressure is too great. The widespread loss of heritage fabric also destroys the economic and social patterns they support. The issue is the same, but not discussed, in many places.
---
7. Toronto Star: Unbuilt Toronto Schemes
Mathew Borrett
The five greatest ideas Toronto never built

Mathew Borrett's illustration of Vimy Circle, from Queen St. and University Ave. looking south, as it would look today.
From a 1929 scheme to give the downtown a Parisian flair to the first lieutenant governor's intention to keep the waterfront for the public, here are five ideas that would have changed Toronto.
If you're searching for a stunning view of downtown, visit the Toronto Archives and ask for Box 83705.
Within, you'll find details of a 1929 plan to transform Toronto's downtown into a slice of Paris, with grand boulevards, wide streets and an architecturally splendid traffic circle.
This plan died at the birth of the Great Depression.
"If you step back and you ask, 'How many truly beautiful, really beautiful streets does Toronto have?' there is going to be a long hesitation," says University of Toronto architecture professor Larry Richards.
Here and there, small streets are lovely for a few blocks, he says. Queen Street is incredible, University Avenue is great but doesn't last long.
"After that, you really have to scratch your head," he continues. "Toronto just has not been very good at building a system of truly beautiful, pleasant, enduring boulevards. That one moment it could have happened," he says of the 1929 plan.
---
8. Toronto Star: Waverly Hotel
Patty Winsa
Toronto rejects proposal to tear down Hotel Waverly and Silver Dollar Room for student housing

The Silver Dollar Room interior is a real gem, straight out of MadMen
Developer will appeal to the Ontario Municipal Board to build highrise private student residence on Spadina Ave.
The city has rejected a plan to tear down the historic Hotel Waverly and Silver Dollar Room.

At a meeting Wednesday, Toronto and East York Community Council turned down the proposal by the Wynn Group to replace the 113-year-old hotel and attached tavern on Spadina Ave., just north of College St., with a 22-storey mixed-use building which would include a private student residence.

The proposed height is more than four times the 16 metres allowed by zoning and the "proposal in its current form is not supportable," according to a city planning report which recommended the refusal.
The developer says he will appeal to the Ontario Municipal Board.
"It's our only avenue of aspiring to get what we want to get," said Paul Wynn, who came up with the idea to build privatized student housing near the U of T after his two daughters had trouble finding accommodation near McGill University in Montreal.
Wynn said he plans to re-create the Silver Dollar — home to classic blues and rock bands since its opening in 1958 — on the ground floor and build a fitness club, with room for a couple of thousand members, on the second. The company owns a number of Wynn Fitness Clubs around the GTA.
Editor's Note:When I was a University student, the bar was a jazz club/strip joint
---
9. Toronto Public Library Toronto Panorama 19th century
forwarded by Sue Dexter
Toronto Panorama
Sue Dexter of Harbord Village sent this link to me of the Panorama of Toronto taken in mid 1800's, about the time my ancestors came to Toronto.
It is an amazing record, and worth revisiting from time to time. There are barely a handful of buildings that survive from this period. It is also notable how private development happened in advance of public infrastructure, see the mud roads that prevailed. Toronto has always grown faster than it can be planned.
Someone must have wanted to live here! Yet it is hard to find people who really love Toronto, least of all our current Mayor.
---
10. CBC: Demolition of Historic School in Toronto
John Lancaster
Toronto bylaws ignored as developer bulldozes historic school
The city is admitting bylaws and procedures were not followed when a historic schoolhouse being considered for a possible heritage site was recently demolished by a developer.
The site near Dufferin Street and Eglinton Avenue West housed a local schoolhouse since 1863. A new school was built on the site in 1927 and recently torn down to make way for townhomes.
Mato Roncevic is one of the hundreds of people in that community who are looking for answers from the city.
"The process was not followed, and because of that, we end up with this," Roncevic said. "The neighbourhood is going to suffer because of this."
The CBC's John Lancaster reported that the city's bylaws said that before a demolition permit can be granted in this case, the issue should have gone before a community council for deputations and a full vote.
In this case, that process was skipped and instead city building officials unilaterally decided to grant that demolition permit, and within days, the historic school was gone.
"I think part of the frustration is we don't really know what was lost," Roncevic said.
Editor's Note:Snooze you lose. There is so much development pressure and nowhere near enough resources devoted to preservation to ever get ahead of the demolition game. And no city policy on throwing useable buildings into the dumpster. I'm not sure exactly where this building was in the process. If the building was not listed, or the application made before Council issued a motion of intention to designate then the Chief Building Official has to issue a demolition permit. If you are concerned about preserving buildings in your community it helps if you do the research on those buildings and share with Heritage Preservation Services. Even then it takes a long time for overworked staff to get to the needs, but it is something we can do to help.
---
11. Windsor Star: Pat Malickis legacy
Pat Malicki was a passionate and forceful advocate for local heritage. Over the past four decades, she not only played a significant role in promoting the importance of historic buildings and sites, she was front and centre ensuring the area's past would endure.
Among the buildings Malicki, 67, helped save were three old French churches in Lakeshore, the Reynolds House in Amherstburg, Mackenzie Hall and Hiram Walker's Barclay building.
Malicki's death this week sadly silences a leading voice in the heritage community, but her dedication will provide inspiration for others who believe heritage is as much a part of the future as it is of the past.
---
12. Windsor Star: Developer doesnt want Paul Martin building, just the occupants
Doug Schmidt
I dont want it it has no value, said Joe Mikhail of Mikhail Holdings Ltd. If you gave it to me for a dollar today, I wouldnt accept it.

View from Pitt Street West, the rear of Right Honourable Paul Martin Sr. Building at 185 Ouellette Avenue January 21, 2014. NICK BRANCACCIO/The Windsor Star
The downtown developer who may have caused the feds to shy away from a tentative deal with Windsor that would have seen the Paul Martin building turned into a university law school said he has no interest in the heritage structure, just the occupants.
"I don't want it — it has no value," said Joe Mikhail of Mikhail Holdings Ltd. "If you gave it to me for a dollar today, I wouldn't accept it."
The city wouldn't take it for a dollar either, said Mayor Eddie Francis, who is warning the designated heritage building could remain an empty shell after the feds abandon it in a few years.
On Monday night, Francis advised council that Public Works & Government Services Canada was walking away from a three-way tentative deal that would have seen the feds fix the building at 185 Ouellette Ave. and move close to 400 employees into leased space at a new city hall. The city would then hand the building, as well as $15 million, to the University of Windsor to have the structure turned into a law school with its heritage features preserved.
But in a letter last week from Public Works Canada, the city was informed that the fix-up cost has been deemed too pricy and that the department would seek to put it on the market for sale "as-is." It also announced it would be preparing a public tender call for leased space for a new home for its employees located at the Paul Martin and expected to leave by 2017.
Francis told reporters Monday that "someone" had bent the ear of the bureaucrats to get them to shy away from the three-way agreement involving three public bodies, and Mikhail told The Star Monday night that he was that someone.
Mikhail argues Windsor's private sector is well-suited to accommodate those federal employees seeking a new home. Despite seeing little commercial value in the current Paul Martin building, he said his company would be willing to take it over and undertake the required upgrades – but only if the feds agreed to move their displaced employees into properties owned by Mikhail Holdings, which includes the CIBC highrise at the foot of Ouellette Avenue.
---
13. National Resources Defense Council: Why historic post offices matter, and what might help save them
Kaid Benfirld

Historic 1931 Post Office in Bay City, Michigan. The building was formerly a U.S. Post Office, Court House, and Custom House - C. Hanchey

New Deal fresco murals painted by Howard Cook in 1939 run along all 4 walls in the lobby of the United States Post Office-Courthouse - Jimmy Emerson
When a city or town loses a historic building in its center, it loses a piece of its identity, part of the "there" that communities must have to distinguish themselves, to be cared for and loved. It is important, after all, that good places be not just sustainable but also sustained.
In America, nearly every city and town has, or at least used to have, at least one iconic type of building, frequently historic in character, that supports both the community's character and its downtown vitality. I'm talking about the humble post office. Unfortunately, modern communication options being what they are, the functions of the post office aren't as singular as they once were. As a result, business and revenues for the US Postal Service have dropped off, and the Service has begun to close facilities as a result. The abandonment of historic downtown facilities not only weakens downtowns, some already weakened by decades of disinvestment; it also diminishes a community's legacy, its continuity with its past.
According to multiple reports, the Postal Service is moving to shutter over 4,000 post office buildings around the country.
---
14. Atlantic Cities: Preserving Post Offices
Kaid Benfield
Why Old Post Offices Still Matter
When a city or town loses a historic building in its center, it loses a piece of its identity, part of the "there" that communities must have to distinguish themselves, to be cared for and loved. It is important, after all, that good places be not just sustainable but also sustained.
In America, nearly every city and town has, or at least used to have, at least one iconic type of building, frequently historic in character, that supports both the community's character and its downtown vitality. I'm talking about the humble post office. Unfortunately, modern communication options being what they are, the functions of the post office aren't as singular as they once were. As a result, business and revenues for the U.S. Postal Service have dropped off, and the Service has begun to close facilities as a result. The abandonment of historic downtown facilities not only weakens downtowns, some already weakened by decades of disinvestment; it also diminishes a community's legacy, its continuity with its past.
According to multiple reports, the Postal Service is moving to shutter over 4,000 post office buildings around the country.
---
15. CTV: Future of Binning House
Kevin Drews
Heritage advocate wants Vancouver's Binning House to remain open to public

Binning House, Vancouver
VANCOUVER -- It may look like a simple, single-storey, flat-roofed bungalow embedded into the hillside of West Vancouver, B.C., but the early modernist home built by Canadian artist Bertram Binning in 1941 remains culturally significant to this day, says a local heritage advocate.
Binning House is, after all, a National Historic Site.
And with its potential sale to a Vancouver businessman by the financially troubled The Land Conservancy of B.C. now adjourned by a court, Adele Weder is urging locals to get educated and involved so the house remains open to public use.

"Learn more about the house, get interested and let's look at a collaborative way that, you know, everyone can benefit from the house," said Weder, who is also an architectural writer and curator.
Seventy-three years after it was finished, the house that sits on a quiet residential street and offers ocean views is significant for several reasons, said Weder.
When it was finished, it looked like no other house in Canada, boasting a flat roof sloped at 15 degrees, large, open windows, an open floor plan and batten-board -- or vertical profile -- cedar siding, she said.
"That was part of the big revelation," she added. "You didn't have to have this house that's ... in opposition to the landscape, that tries to break free from the landscape and is raised above the landscape. It follows the landscape. So It seems like some sort of organic dwelling."
---
16. Globe and Mail: Ron Thom's Toronto
Dave LeBlanc
Walking Toronto in the footsteps of Ron Thom

Berkeley Firehall Theatre, Renovated by Ron Thom
I never met British Columbia-born architect Ron Thom (1923-1986), but his love for his adopted city comes through in Exploring Toronto, a lovely little architectural guidebook put out by the Toronto Chapter of Architects in 1972.
Twelve illustrated walks authored by a who's who of Toronto Modernists – Jack Diamond, Barton Myers, Macy DuBois, Eberhard Zeidler and Jerome Markson to name a few – now serve as my own personal time machine
Back in 2005, I retraced Irving Grossman's footsteps and reported back on what the decades had wrought in Don Vale (a.k.a. Cabbagetown). Today, with a separation of 42 years, I thought I'd let Mr. Thom walk me around a neighbourhood I've called home for only three years: St. Lawrence and Old York.
To begin, Mr. Thom deposits us in front of St. James Cathedral (1853) at King Street East and Church Street. He tells us about the 20-year lag between the construction of the building and the spire, then prompts us to enter the various "porches" to see the old headstones that have been mounted on the walls – St. James Park was once the church's graveyard – proclaiming them to be "fascinating reading." They still are.
---
17. Coventry Telegraph: City must make more of its cultural assets
Sarah Perry
Coventry and Warwickshire urged to use its rich history and heritage to attract new businesses and investment into the city
CharterHouse Coventry Presentation Trust Chairman Ian Harrabin
An ambitious plan to create a heritage trail focused on Coventry's 'hidden treasures' has been outlined at the latest Coventry and Warwickshire Champions meeting.
Charterhouse Coventry Presentation Trust chairman Ian Harrabin detailed the vision for a heritage-led campaign to transform the city in his presentation entitled Re-inventing Coventry Through Heritage.
The ambitious plans were revealed to an audience of over 100, attending the monthly Coventry and Warwickshire Champions event at the Coombe Abbey Hotel.
Ian urged Coventry and Warwickshire to use its rich history and heritage to attract new businesses and investment into the city.
His presentation highlighted how cities such as Liverpool, Sheffield and Glasgow had used their cultural assets to attract new companies and professional people into their respective regions.
---
18. Harvard Alumni Pages: Bio of Cornelia Oberlander
forwarded by Stephen Otto
Cornelia Oberlander BLA 47: Force of Nature

Cornelia Oberlander, in practice at 92
Landscape architect has spent the past six decades greening our urban spaces.
Cornelia OberlanderCornelia Hahn Oberlander BLA '47 was 11 years old when she realized—with some conviction—that she wanted to be a landscape architect. Sitting for a portrait in the Berlin studio of a prominent German artist, Oberlander observed a mural that depicted an imaginary town on the Rhine River. She asked the painter to explain the green spaces that dotted the artwork. "Parks," the artist replied. "When I came home," Oberlander recalls, "I said: 'Mother, I want to do parks.' And Mother replied: 'Then you'll have to learn how to drive a bulldozer.'"
During a career spanning 60 years (and counting), Oberlander has done her fair share of parks. A pioneer in the field of sustainable design, an early proponent of green roofs, and a champion of collaboration, Oberlander has been called the dean of postwar female landscape architects, and her extensive oeuvre shows why. She once said that her dream is "green cities with green buildings where rural and urban activities live in harmony." Often dressed in a green jacket, Oberlander is still actively fulfilling that dream at age 92.
---
19. IBTimes: Demise of Rizzoli's Book Store, 57th Street
Christoper Zara
Rizzoli Bookstore Demolition: 57th Street Building Lacks Significance For Landmark Protection, Says NYC Committee

Interior

Street View
Reportedly facing demolition, the building that houses New York's beloved Rizzoli Bookstore was deemed to lack the architectural significance for landmark protection. Rizzoliusa.com
The building that houses New York's beloved Rizzoli Bookstore does not meet the criteria for individual landmark status, according to the city's Landmarks Preservation Commission. The determination was made on Wednesday by the office of Robert B. Tierney, chairman of the commission, which found that the Midtown Manhattan property at 31 West 57th Street "lacks the architectural significance necessary to meet the criteria for designation as an individual landmark."
The determination follows reports this week that the charming 109-year-old structure is facing demolition, presumably to make way for yet another luxury condo and adding to the numerous glass towers that have sprouted up like mushrooms along the busy crosstown thoroughfare. Rizzoli is located in one of three adjacent townhouses, all of which will reportedly be demolished. The news has caused an outcry among New York City literary types and preservationists.
"The sense of what 57th Street once was is getting lost," said Peg Breen, president of the advocacy group New York Landmarks Conservancy. "I think these are the types of buildings that give you a sense of perspective. Given what's going on on the rest of the street, you want some memories."
---
20. Times of India: Contemporary iconic structures to become heritage buildings
Richi Verma
NEW DELHI: A building does not necessarily have to be over a hundred years old to be considered priceless heritage, rather it should part of the docomomo (documenting modern movement) movement, say historians.
Chankaya cinema's demolition almost a decade ago and a proposal by India Trade Promotion Organisation (ITPO) for pulling down landmark buildings in Pragati Maidan like the Hall of Nations and Nehru Pavilion to make way for a new exhibition centre, has made India National Trust for Art and Cultural Heritage (INTACH) shoot off a proposal to Delhi Urban Art Commission (DUAC) for protecting iconic contemporary structures in Delhi. INTACH has already identified about sixty such buildings in the capital which they say have significant heritage value and need to be preserved.
INTACH had sent the list of these contemporary buildings to DUAC in May, last year and the Commission in its latest meeting has decided to fast-track finalizing the list in consultation with professionals. The Commission recalled that it had at a meeting held on May 7, 2013 indicated that iconic buildings in the capital which were constructed in the post independence period need to be conserved and that the INTACH/HCC need to take up the exercise for identifying such buildings. The Commission observed that it has subsequently received a letter from the HCC wherein it has been indicated that the Heritage Conservation Committee (HCC) will also start process of finalising list of contemporary iconic buildings only after identification criteria is first established and that DUAC may also initiate process of finalising the list of such buildings, on the same basis,' said DUAC officials.
---
21. Times of India: Heritage lost and found
Ashleshaa Khurana
SURAT: In spite of having been the state's first city to have its own heritage policy in 2010 - having listed almost 3,000 structures as heritage building in town - the Surat Municipal Corporation's (SMC) vow to protect them has bitten dust. It was a project begun with much ambition by the previous municipal commissioner along with local representatives from all cultural fields. However, under present administration, not a single meeting has been held regarding the same in the past two years, and as of now, the heritage policy seems non-existent. But in the city of Surat, hope survives.

On a recommendation by artist Monika and architect Charles Correa, members of the Kilachand family took a heritage trail trip to Surat. On the wish list were the Chintamani Jain Deraser, English, Dutch and Armenian cemeteries, Mirjan Sami Dargah, Mughal Sarai, Begumwadi Palace and ancient heritage homes. "We were surprised to know about the existence of so many heritage places of interest in Surat when we saw the TOI publication on the same," said Nilima, who was eager to visit every site featured in the book.
---