Issue No. 228 | May 5, 2014
Feature Stories
Heritage in the Ontario Planning System-Freeing Toronto from the OMB
CBC: Possible Demise of Gander Airport
Chatham Daily News: First Realtor Program on Heritage held in Chatham Kent
New York Times: Demise of American Folk Art Museum
Philadelphia Inquirer: Changing Skyline - Gratifying tale of buildings preserved
Events
Riverdale Historical Society April Event
April 29, 2014
+ read
---
Community Consultation - City of Toronto
April 22, 2014
+ read
---
Architecture+Design Film Festival Winnipeg 2014
April 30 - May 4
+ read
---
Ontario Heritage Conference
May 23-25
+ read
---
Advertisements
Built Heritage News Sponsors
1. Heritage in the Ontario Planning System-Freeing Toronto from the OMB
Catherine Nasmith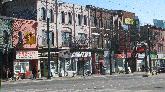 Buildings on Spadina Avenue, neglected by owner/speculators
Heritage conservation is not just of the historic fabric, but the way of life that fabric supports.
In spite of a strong Ontario Heritage Act, the Ontario planning system militates in several ways against heritage conservation. OMB decisions contribute to problems, but are not the only factor in loss of heritage property, and with it, historic living patterns.
The OMB plays a significant role in the block busting of neighbourhoods, and destruction of our traditional urban fabric. Older Toronto is eminently livable and walkable, built at the right density for streetcars. OMB approved replacement buildings at completely inappropriate densities are overwhelming Toronto transit, sidewalks, creating awful wind and shade conditions. Precedents are set for "the new normal" of forty, sixty, eighty stories, even by OMB decisions that specifically say they are in no way a precedent, such as the one permitting 36 storey towers next to Fort York.
Small entrepreneurs and businesses are being forced off main streets, replaced by endless condos and larger corporate retail. Where will small businesses start? Already Toronto is seeing mass migration of our artists and creative entrepreneurs.
OMB Distorts Toronto Planning Processes
A large proportion of the City's planning and legal resources go into OMB hearings, leaving the City with insufficient ability to actually plan its future, including its heritage buildings. That creates a vicious circle of escalating densities and decisions, leaving the City trying to catch up and make sense of the results. No wonder the City of Toronto is begging the province to get off the merry go round.
OMB members may have limited expertise in planning, let alone Toronto or heritage matters, and rarely take advantage of the ability to have representation from the Conservation Review Board when an application involves heritage. Other Factors Contribute to Heritage Losses Other factors under provincial control contribute to heritage losses, some of which are also factors in destructive OMB decisions.
The Places to Grow Act
The Places to Grow Act says heritage shall be conserved "where feasible", and should be "shall be conserved" which is the language of the PPS. That conflicting language leads to heritage being given second place in redevelopment decisions. Conflicting Policies in PPS Heritage "shall be conserved" in PPS is routinely trumped by the PPS intensification policies, which at a minimum are creating out of scale development in historic areas, and at worst obliterating huge tracts of Toronto.
OMB decisions lead to Inflation of Property Tax Inflation
MPAC makes its tax assessments based on recent planning decisions in an area, including those made at the OMB, not on the basis of existing zoning or buildings. Evaluations based on "Highest and best use" is making it impossible for long standing businesses, particularly ones renting premises, to survive. You will have read this week the story of Mom and Pop corner store at the corner of Roxborough and Yonge, forced out of business by tax hikes that are based on potential for OMB approved re-development.
Margie Zeidler, the owner of 401 Richmond, Toronto's haven for artists and incubator businesses, spoke recently against the Mirvish Gehry proposal fearing that a "new normal" of eighty stories would make it impossible for her to keep rents affordable.
Cabinet Failure to Declare a Provincial Interest
Cabinet failure to declare a provincial interest in the 21 Avenue Road case, contributed in a major way to the OMB approved development that will have major impacts on the views of Queen's Park from the ceremonial route along University Avenue. The failure to declare a provincial interest in the case left the Speaker to defend those views with no greater powers than any other citizen.
The Architectural Conservancy of Ontario is still asking this government to pass a bill protecting that clearly provincially significant view shed and cultural heritage landscape. The City of Toronto has subsequently put limited views protection into its Official Plan, but no matter what policy the City of Toronto might put in place they are open to challenge at OMB. Sooner or later the developer with the right lawyer and facing a pro-development OMB member will break that protection.
Bill 20 is not a fix for all the issues that originate in provincial policy facing Toronto heritage, but freeing Toronto from the OMB would be a step in the right direction. It would let the City of Toronto develop a complete local planning system tailored to its unique needs as Canada's largest city. To be respected locally it would have to include expertise in planning, architecture, and heritage, law and be organized to level the playing field between development and community interests. As importantly, freeing Toronto from the OMB is the overwhelming wish of the City of Toronto as expressed through the Council vote of 34-7.
Editor's Note:
Taken from the recent submission in support of Rosario Marchese's Bill 20. Bill 20 was defeated at Committee Hearings, just prior to the fall of the Wynne government. Much of what I said here, applies across Ontario.
---
2. Apologies for Late Edition
Catherine Nasmith
As many the friends and colleagues who subscribe to BHN know, it is produced on a volunteer basis. I don't always have as much time to devote to it as I would like. This is one of those times.
A close family member is seriously ill, and I have been spending a lot of time supporting him and his partner. We are hopeful he will recover, but nonetheless it is worrying, and time consuming.
I am grateful to BHN subscribers who post materials and forward material for inclusion and will do my best to get that posted in a timely fashion, but may not have time to write much myself for the next couple of months. If there is something happening in your area that you think would be of interest to others, please go to the post keys and submit. Or if there is an article you'd like to write or share, I will be grateful to receive it.
Luckily, I have a very good electronic system developed by Meta that makes it easier to produce BHN. If you are interested in helping edit or produce BHN please email to cnasmith@builtheritagenews.ca
---
3. Heritage Toronto Awards- Call for Nominations
Rachel Ostep
The Heritage Toronto Awards celebrate outstanding contributions in the promotion and conservation of Torontos history and heritage by professionals and volunteers.

You can submit a nomination for the 40th Annual Heritage Toronto Awards in the following categories:William Greer Architectural Conservation and
Craftsmanship, Book, Short Publication, Media and Community Heritage Award.

For eligibility standards and nomination forms, visit heritagetoronto.org,email awards@heritagetoronto.org or call (416) 338-2175

THE DEADLINE FOR NOMINATIONS IS MAY 16, 2014 | 4:30 PM

---
4. Leaside Life April 2014
Geoff Kettel
Builder won
The underlying pattern of Leasides unique and original street pattern is a series of curved streets, trending north east and south west, punctuated with diagonals.
At its core is Fleming Cres., the only street in Leaside that curves around a full 180 degrees, touching Donegall twice, north and south of Parkhurst.
However, today, when you approach Fleming south of Parkhurst from either direction (Parkhurst or Bayview) the eye is immediately drawn to an under-construction tower house sitting on the outer curve of the crescent. It is readily apparent that the house does not fit. It disturbs the quiet rhythm of a beautiful street in so many ways. You have to wonder -- how could this happen?
Heres how:
A building permit was issued for a renovation to a bungalow in 2012. The structure built did not comply with the permit or the zoning by-law, for which application to the committee of adjustment for approval of minor variances would have been required.
At the citys insistence the roof height was reduced, resulting in a mansard roof. The grade at the front was substantially modified by infill material being added from the rear. The builder took down one of the two standing walls, negating the work being considered as renovation. Rather it became new construction with its different requirements (and increased builder fees).
In the middle of it all the property was put up for sale (but apparently did not change hands) and the original builder has been replaced with another.
There appear to be numerous infractions on this site which demand careful examination of what was sought to be built, what was legally allowed to be built, and what was actually built.
The city normally assesses permit applications based simply on the materials submitted by the owner/builder in support of its own applications.
Based on the conduct of the owner/builders to date, plans examination cannot continue to be based on trust. The city should conduct independent due diligence on the materials submitted by the builder in support of the permit applications, or give affected property owners the right to make their own submissions before the city reaches a decision on the permit materials that have been submitted.
Despite the imposition of stop work orders, work has been proceeding at this location for many months now. There is no permit posted on site. Despite repeated requests for the city to take steps to enforce its stop work order, nothing has been done to halt construction, which continues daily.
By constructing a building having excessive height, length and substandard side-yards, the property substantially interferes with the neighbours use and enjoyment of their property. Not to mention the lack of fit with the neighbourhood architectural style.
And the nuisance of having to attend to issues that necessitated their attention.
A year ago, I wrote in Leaside Life about a tower house on Rumsey just north of McRae. In that case the owner did at least follow due process at the city. Minor variances applied for were rejected but were upheld on appeal at the Ontario Municipal Board.
In the case of 27 Fleming, the owner would be going to the committee of adjustment for forgiveness rather than permission..

From my perspective, enough of pleas for forgiveness. The house should be re-made to comply with the zoning by-laws and the building code, at the owners expense.



---
5. North York Mirror
Lisa Queen
Demo application prompts bid to save Robertson House
Faced with a demolition application from a homeowner, North York councillors want to see the century-old Alexander Robertson House designated under the Ontario Heritage Act.
Councillors approved the heritage designation, which provides safeguards, for the house at 65 Centre Ave. southwest of Steeles and Willowdale avenues at the Tuesday April 8 meeting of North York community council.
City council is expected to approve it at its May 6 meeting.
North York councillors rejected a plea from the homeowners lawyer Amber Stewart to have the matter deferred for a couple of months.
Her clients, originally from France, need more time to meet with city staff and to understand the process, Stewart said.
The Toronto Preservation Board agreed last month to defer the issue and Stewart urged community council to follow its lead.
However, Willowdale Councillor David Shiner argued the homeowners partially completed demolition application has the potential to start a ticking clock.
If the homeowners completed their application tomorrow, the city would have 60 days to approve the heritage designation or risk the house being torn down, he said.
He would be willing to defer the matter if he could be assured there wouldnt be any trickery of skullduggery but Shiner pointed to another heritage home that was demolished in the past under similar circumstances.
If a motion to defer was adopted, Shiner said he fears this will slip away from us and this will be demolished on a technicality and I dont want this to happen.
Built in 1914, Robertson House is one of only three remaining sites on the citys heritage inventory that is linked to the development of the Newtonbrook community that emerged along Yonge Street between Finch and Steeles avenues in the mid-19th century, North York Preservation Panel chair Geoff Kettel said in a letter.
It retains its cultural heritage integrity and demonstrates the evolution of Newtonbrook from a 19th century rural hamlet to a 20th century residential suburb, reflecting the growth of North York, he wrote.
Its appearance illustrates the transition from the decorated styles of the Victorian period to the more restrained classicism of the Edwardian era. The house is particularly distinguished by its dichromatic or pattern brickwork where red accents are applied to buff brick surfaces so that the familiar brick patterns of the 19th century have been reversed on all facades.
The house has been listed for several years on the citys inventory of heritage properties, something the homeowners were unaware of because the lawyer that represented them during the purchase didnt appear to check, Stewart said.
But if not for that listing, the house may have already been demolished, Kettel said.
We note that the current request for designation originated in 2012 when the property was the subject of an application for several minor variances under the zoning bylaw, which involved demolition and replacement of the original house with a new house, he said in his letter.
Fortunately, it was already a listed property and based on an HPS (the citys heritage preservation services) report at the hearing on Sept. 30, 2021, the North York committee of adjustment deferred the application. But for this intervention, the building would already have been demolished.
Since the house is 100 years old this year, Kettel suggested it receive a Heritage Toronto Century Home plaque to celebrate its expected designation under the Ontario Heritage Act.

---
6. Heritage Winnipeg hoping Dalnavert can remain a museum
CBC Manitoba
Heritage Winnipeg hoping Dalnavert can remain a museum
A Winnipeg heritage group is holding out hope that the Dalnavert Museum building can still be a museum, rather than be converted into a drop-in centre for victims of crime.

Cindy Tugwell of Heritage Winnipeg says she was surprised to learn of plans to turn the historic mansion into Candace House, the brainchild of victims' rights advocate Wilma Derksen.

Derksen made an agreement with the Manitoba Historical Society earlier this month to take over the building and name it after her daughter, Candace, who was murdered in 1984.

Situated on Carlton Street in downtown Winnipeg, the Victorian mansion housed the Dalnavert Museum until September, when the historical society closed the museum due to dwindling attendance and a lack of funding.

Tugwell said she wants Dalnavert to be kept as a museum, with some upgrades.

"Give us an opportunity to see if this museum can be sustainable," she told CBC News on Thursday.

"It can reinvent itself, it can be a museum of the 21st century, and I know there's other historic home museums across the country we can use as models."

Can it house both?

Tugwell said Heritage Winnipeg had submitted a proposal in January to save the museum, only to learn in a newspaper story that its bid wasn't accepted and Derksen's was.

Derksen has said Candace House won't be a home for victims of crime, but it will be similar to a drop-in centre, staffed with counsellors and support workers.
wilma derksen dalnavert

Historical society officials said part of the agreement with Candace House is that the grounds and the building's historic exterior will be maintained.

Tugwell said it's possible to have both a victims' centre and a museum inside the building.

"We don't really know the requirements right now of Candace House from a physical standpoint of what kind of space they need, what kind of requirements," she said.

"So we'd love to sit down with Mrs. Derksen and if that's a possibility, it certainly would be on the table."
---
7. A history of Winnipeg's Park Theatre
Christian Cassidy, West End Dumplings
A history of the Park Theatre
In the past few decades all of Winnipeg's neighbourhood theatres have been demolished or "repurposed" into bowling alleys or retail stores. The park managed to hold out for 73 years before fate caught up with it. After sitting vacant for nearly a decade it was revived into what is now one of Winnipeg's most popular live music venues.

Here is a look back at the hsitory of the Park Theatre.
---
8. CBC: Possible Demise of Gander Airport
CBC report
Gander airport to be traded-in for new terminal
The Gander Airport Authority made a tough choice in order to keep its terminal afloat, but the decision could leave the architectural gem that is the current airport at risk.
The 200,000-square-foot international airport will be left for a building a quarter of the size to keep the operation viable.
The terminal, which was built in the 1950s and has drawn continuing worldwide interest for its modernist design, was once one of the most popular hubs in the world, as it was a stopover for international flights. Some 400,000 passengers went through the airport each year during its golden age.
But times have changed, and the authority said it simply cannot afford the status quo.
---
9. Chatham Daily News: First Realtor Program on Heritage held in Chatham Kent
Heritage Primer held in Morpeth
Conservation architect Chris Borgal can see past aluminum siding, awkward additions and crumbling facades to the beauty and potential of a heritage building.
"Those who can see the potential can realize that potential," said Borgal. "And everything has a potential, it's simply a matter of finding that right fit and mix to make it work."
Borgal, a Canadian Association of Heritage Professionals member, former president and leading consultant, spoke to approximately 40 realtors, insurance agents and heritage committee members from across southwestern Ontario Wednesday in the former Morpeth United Church.
"The problems with buildings in rural areas, where we are now, or southwestern Ontario, is economics," he said. "In places like Toronto, if you have a viable building there is a market for it."
Organized and hosted by the Chatham-Kent branch of the Architectural Conservancy of Ontario, in partnership with the Ontario Heritage Trust, the Heritage Primer is a pilot project aimed at educating realtors and insurance professionals to recognize the value, find the niche market and sell heritage homes to preserve local history.
Editor's Note:Congrats to the Chatham Kent branch, educating realtors has long been a goal of ACO, but has been challenging to realize.
---
10. Day in the Life of an Architect
Business of Architecture
International Celebration of the Not so glamorous World of the Profession
A video compiled by architects all around the world, including a submission from Sheena Sharp and myself. Celebrating Architecture Week
---
11. New York Times: Demise of American Folk Art Museum
John Freeman Gill, forwarded by Margie Zeidler
The Folly of Saving What You Kill
SCAFFOLDING went up last week around the former American Folk Art Museum building on West 53rd Street. It was the first step in the Museum of Modern Art's widely reviled plan to demolish that admired work of contemporary architecture, which MoMA purchased in 2011. Although most of the building will land in a Dumpster, the saga of dismemberment will be prolonged for the Folk Art Museum's intimately monumental 82-foot-high facade. In response to protests, MoMA has said it would detach and preserve the facade's 63 textured copper-bronze panels.
One might suppose that salvage is preferable to annihilation, but before we get too comfortable with such piecemeal preservation, it is worth noting that the panel-by-panel disassembly and storage of an architectural treasure's metal facade has been tried before in New York City, with comically disastrous results.
Who around here remembers the Laing Stores? Very few, I'd wager, which is precisely why the sad and bizarre "preservation" of that historic landmark's facade in the 1970s should serve as a cautionary tale.
---
12. Philadelphia Inquirer: Changing Skyline - Gratifying tale of buildings preserved
Inga Saffron

Exterior of the renovation and reuse of the massive Nugent Baptist home in Mt. Airy April 1, 2014. ( DAVID SWANSON / Staff Photographer )
This is a column for those who believe Philadelphia's historic, but decrepit, white elephants aren't worth keeping around. It concerns two large boardinghouses on the Mount Airy-Germantown border built more than a century ago, in an era when seniors lived out their days taking in the air on Victorian porches and staging music recitals in the parlor.
A decade ago, this architectural odd couple on West Johnson Street resembled the ruins of the European countryside after World War II. At the Nugent Home for Baptist Ministers, modeled on a French château, the gracious front porch had collapsed in a heap. Plaster rained from the ceilings. Every bit of copper trim and pipe had been stripped by thieves. Next door, its younger, Italianate companion, the Presser Home for Retired Music Teachers, was in the same sad state. The once-genteel gardens that united the duo were so overgrown you could hardly make out the hand-chiseled stone frames of the ground-floor windows.
Though no one denied the pair had once been beautiful, city officials seemed intent on demolition in 2004. A deep-pocketed buyer offering to replace them with something new had retained two powerful law firms to make the case for demolition. Once the local Council representative joined the hanging party, the buildings looked like goners.
But neighbors, preservationists, and the Historical Commission fought back, and today the two former white elephants on West Johnson are gleaming palaces, playing a useful role again as housing for low-income seniors.
---