Issue No. 233 | September 26, 2014
Feature Stories
Book Review: James Fitzgerald-What Disturbs our Blood
Fort York Visitor Centre: Worth the Wait
Historic Photographs--519-23 Queen Street West
Events
Ravine Portal Exhibition
September 26- November 21
+ read
---
Recollections of a Neighbourhood
Tuesday 7 October
+ read
---
Municipal Heritage Symposium
Saturday October 18, 2014
+ read
---
Heritage Ottawa Walking Tour of Briarcliffe
Sunday, October 5
+ read
---
Heritage Ottawa Walking Tour of Lindenlea
Sun., Sept. 28, 2014
+ read
---
Architectural Conservancy of Ontario's 3rd Annual NextGen Design Charrette
Saturday, September 27, 2014
+ read
---
Heritage Ottawa Free Public Lecture
Friday, September 26, 2014.
+ read
---
Heritage Ottawa Walking Tour of Sandy Hill
Sunday, September 21, 2014
+ read
---
History of John Street Roundhouse
September 27, 2014
+ read
---
Riverdale Historical Society September Event
Tuesday, September 30,2014
+ read
---
Advertisements
Built Heritage News Sponsors
1. Book Review: James Fitzgerald-What Disturbs our Blood
Catherine Nasmith
Your will never look at College Street between Bay and University in quite the same way after you read James Fitzgerald's book, What Disturbs our Blood.
James Fitzgerald is the grandson of Gerald Fitzgerald, after whom the Fitzgerald Medical Building at 150 College Street is named. The subject of this book is a bit off my usual beat, but the history it tells is important to all Canadians, and to Toronto in particular. I found it one of the most engaging reads I have had in quite a while, so am recommending it highly to BHN readers.
The book tells the story of two generations of his family in medical research, and tracks some extraordinary Canadian discoveries, discoveries such as insulin, vaccines for smallpox, rabies and diphtheria that put Toronto at the forefront of world medicine for several decades. It also traces the Fitzgerald family history back several generations, looking for the roots of the suicidal depression that robbed both highly successful men of their careers at their peak; costing the grandfather his life and the father his quality of life in his last decades. It is written as a self-murder mystery…and weaves the family history with the history of medical and psychiatric research, a book global in scope, including great figures on both sides of the Atlantic, told with Toronto firmly at its centre.
Gerald Fitzgerald founded Connaught labs with assistance from the Gooderham family. Instead of pursuing profit from the medical discoveries, as was the world norm, Fitzgerald set out on a mission to provide medicine to as many people as possible at the lowest cost. It was the beginning of vaccination through the emerging public health system in Canadian schools, and our armies, which in turn led to a much higher survival rate for our troops in World War I than any other country and better health in the general population.
If you are interested in the history of Toronto's medical research, the history of psychiatry/psychology, or understanding the ying and yang of old Toronto family values, you will be captivated by this engaging book.
---
2. Fort York Visitor Centre: Worth the Wait
Catherine Nasmith
If you haven't been yet, run don't walk to look at the Fort York Visitor Centre.
Dreamed about for over 30 years, since it was a gleam in the eye of the late George Waters, it is finally open. All that wishing and hoping and planning and dreaming has paid off with a spectacular, elegant, understated result. One that is brilliantly of its day yet timeless. Kearns Mancini and Patkau architects are to be congratulated along with so many others for keeping the essence of the design through the inevitable compromises of budget and construction.
The design is a simple idea….the building as retaining wall, marking the edge of the former shore line, and through ramps moving the visitor from one plane to another, a time tunnel from the modern city including the Gardiner Expressway up to Toronto's founding place of over two hundred years ago. Built in core-ten steel, a material requiring little ongoing maintenance, it's crisp panels are reminiscent of the shoring of construction sites, and the earth colour of the bank. The way the panels just flip up to invite you into the bright spacious interior is also brilliantly simple.
The landscaping is missing for the moment, yet I rather enjoyed the simply raked soil bringing a brown ground surface up to the walls. To keep that effect would take a lot of weeding!
So many people are to be thanked, but I want in particular to salute our friend Stephen Otto, whose passion, persistence, diplomacy and wisdom led to the founding of both the Friends of Fort York, and the Fort York Foundation. He is a hard person to say no to, and he brings so many others into his generous and ever expanding circle of "friends", all called in to serve when it is their turn to help. As he said to me in a recent conversation, "25 years from now when we are all looking down from our clouds we can feel proud of what we have achieved"….Amen. No one should be prouder, yet is so modest about it, than Steve himself.
P.S. And don't miss Charlie Pachter's War of 1812 series, on display in the visitor centre while you are there.
---
3. Christopher Moore's History News: Fort York Visitor Centre
Christopher Moore
Fort York visitor centre: one for the good guys
Went down last night to a celebration of the new Visitors' Centre at Fort York in Toronto. In Toronto where "cut taxes/starve services/bitch about lagging infrastructure" has been the dominant voice for decades, support for history and heritage still has a guerrilla, oppositional feeling to it. Actually getting this visitor centre built felt to a lot of people there like a victory against the odds after decades of defeats and disappointments. A federal minister and various private foundation types were there, but beneath that the vibe was unmistakable: the underdogs had actually pulled one off.
Tucked between a railroad line and an elevated highway in a grim light-industrial zone, Fort York has always struggled to connect with the city. But the area has suddenly been transformed by massive condominium development, amid a lot of smart urban design. The Fort has cleverly decided to make itself the community centre. With 43 acres of green space, it had something to offer, and it has already become a venue for festivals and concerts. Now its visitor centre will double as a community gathering space. Here's Urban Toronto's take on it.
---
4. Toronto Star: Fort York Visitor Centre Opens
Christopher Hume
Fort York visitor centre a welcome addition to Torontos heritage
: Hume
New facility, which opens Sept. 20, will bring new visibility to city's most significant historical site.
Share on Facebook
What does a city do when its most important historical site is a hole in the ground?
In the case of Toronto's Fort York National Historic Site , the answer comes in the form of a new visitor centre that makes up in elegance what the place itself lacks in presence. The facility, which opens Sept. 20, will also provide a setting in which the garrison's story can be told and put in context, something that disappeared eons ago.
Designed by Vancouver's Patkau Architects and by Kearns Mancini Architects of Toronto, the visitor centre is the best thing ever to happen to this long-neglected bastion. Perhaps because so few Torontonians have a clue that American troops invaded here in 1813, the fort tends to be overlooked, as does the War of 1812, though it could have led to a U.S. takeover of Upper Canada.
Now that the dust has long settled — and the U.S. ended up taking us over anyway — Fort York has had to struggle to remain relevant. From the city's perspective, it has always been in the way. At one point, streetcar tracks were run through the ramparts. Later, in the 1950s when the Gardiner Expressway was under construction, municipal politicians talked seriously about moving the fort to Coronation Park, though how you'd schlep a giant excavation was never explained.
---
5. Toronto Star: Opening of Aga Khan Museum Toronto
Christopher Hume
Aga Khan Museum a needed dose of civic ambition for Toronto
Above all, the Ismaili Centre and Aga Khan Museum are an act of faith, not just in religion but in Toronto. Of all the cities where these facilities, especially the museum, could have been located, the Ismailis chose this one.
Not only did they construct their monuments in a forlorn site at Eglinton and Wynford Dr., they hired two of the finest architects in the world — Fumihiko Maki of Japan and Charles Correa from India — to design them.
Not only did the Ismailis see the possibility of beauty where no one here had noticed, they put their money — $300 million and a priceless collection — where their mouth is.
On top of that, they placed the complex within a fully formed landscape of exquisite reflecting pools and mature trees.
The Ismaili ideals of pluralism and inclusion are built into the very architecture and layout of the place.
Editor's Note:Amazing to have both the Aga Khan Museum and the Fort York Visitor Centre opening the same week, in new and old Toronto, and representing new and old Toronto. A time to feel pretty proud of Canada's biggest city.
---
6. Toronto Star: Donation of a Million Photos to Toronto Public Library
Katelyn Verstraten
The Star donates more than one million archive photos to Toronto Public Library
The Toronto Star is donating more than one million vintage photographs — the contents of the Star's entire photo archive — to the Toronto Public Library.
The images span the years 1900 to 1999, and offer a unique glimpse into how the city has changed and developed throughout the last century.
Toronto Star publisher John Cruickshank says the Toronto Public Library is "an extraordinary city institution," and will be a great place for the collection.
"These remarkable photos will now be easily available to students, researchers and all the people of Toronto," said Cruickshank. "We believe this collection will help all Torontonians better understand our past and appreciate our future."
---
7. Globe and Mail:Balancing Development Pressure on Yonge Street
Dave LeBlanc
Yonge Street developers are embracing time-worn storefronts
The "official" Toronto double-decker sightseeing bus trundles up Yonge Street and sprouts a dozen camera-clutching limbs as it squeaks to a semi-halt near the Toronto Reference Library. A tinny voice announces, in rote fashion, the building's function and architect, then perks up as it tells tour-goers about the quality of the Balzac's coffee inside.
As it belches a grey cloud and turns left into tony Yorkville, a much more interesting tour – a private one given by Michael McClelland to this writer – continues on the sidewalk.
C.J. Frogley Bakery, 850 Yonge St., c.1880. It was under Frogley's tutelage that George Weston apprenticed in the bakery business. Until recently, the building was home to The Cookbook Store. It stands directly across Yonge from the Toronto Reference Library. ERA Architects is using this as the key image in its restoration work for the Yonge and Yorkville project.
All photos by Dave LeBlanc for the Globe and Mail
The affable sixty-something architect points to the entire block of three-storey, mid-19th-century buildings across from the library. All will soon be absorbed into a condominium development, No. 1 Yorkville by Bazis and Plaza, and Mr. McClelland's firm, ERA Architects, is responsible for restoration of the heritage component. It's a position they often find themselves in a city waking up to the economic benefits of historic architecture.
"It's just part of doing business now," Mr. McClelland states. "Heritage is regarded as a major player … it's not like 'What percentage [of the total] cost is it?' any more; we're not building something cheap and dumb, we have to build in a quality environment, so I don't think [developers] pull heritage out as a line item."
Other cities either do straight-up demolition, or they can say 'No, we're not doing anything' because they have the 'luxury' of not having any development. In Toronto, if you said, 'Hey, let's not have any development,' who actually pays to keep [these buildings] going?"

The interesting thing here, however, is that the shiny new tower will play second fiddle to the elderly storefronts by tucking to the rear of the site. More interesting, this model is becoming a uniquely "Toronto" one: "We're doing this more than anybody else," Mr. McClelland confirms. "There're some examples of it in New York, but not a whole street. "Where it's possible to happen, it's going to happen on Yonge Street."
Editor's Note:This article is really worth a read. It deals with the forces threatening Toronto main streets, Yonge the most iconic, and various approaches to preservation. This fine grained fabric is so important as incubator space for entrepreneurs, and its redevelopment is happening apace. Keeping the physical fabric is one thing, but how to preserve the role these buildings play in Toronto is a much more perplexing problem, one that few are addressing.
---
8. Edmonton Journal (blog): Can we save McKay Avenue School? Or is our history doomed to be history?
Paula Simons
Albertas first legislature sat at McKay Avenue School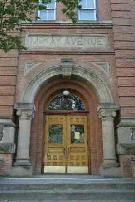 The gracious doorway of McKay Avenue School has welcomed visitors for 110 years. It still welcomes thousands every year.
On Wednesday morning, bright and early, I was a guest of the Gateway Rotary Club of south Edmonton. Although the club meets at the Delta Hotel on Calgary Trail, the group had specially requested that I speak about the McKay Avenue School at 10425 – 99 Avenue in downtown Edmonton. I was happy to do so – since the school is one for my favourite "endangered places."
Here's an adaptation of my remarks to the Gateway Rotarians. Perhaps they'll get some wheels turning for you, too!:
As City Columnist for the Edmonton Journal, I get to write about all kinds of things – politics, crime, social policy, downtown development, even hockey arenas.
But writing about history, and historic preservation, is one of my passions.
I was born and raised in Edmonton.
My father's family has lived here for more than 100 years.
I'm endlessly fascinated by the story of this place, and of the people who chose to make their homes here, who worked together to build this community.
To me, architectural preservation, heritage preservation, is part of recognizing and celebrating that history, of helping us to remember where we came from. But it's more than that. When we knock down heritage buildings, we alter our streetscape – and not often for the better. A hundred years ago, master craftsmen built buildings to last – solid buildings of brick and marble and sandstone. And they built on a human scale – buildings that welcomed people, instead of frightening them away.
---
9. Hamilton Spectator: Zeidler Family expands to Hamilton
Paul Wilson
New king at cotton castle on Sherman North
They say it took 1 ½ million bricks to build the factory that Imperial Cotton erected more than a century ago. That means the new owners of the mammoth mill on Sherman North paid about three dollars a brick.
Rob Zeidler believes they got a good deal. It closed a few months ago for $4,750,000.
Those bricks, on three acres in Hamilton's faded factory zone, are not coming down. Far from it. Zeidler is part of a Toronto family that's been proving the best thing to do with old buildings is find them a new life.
Twenty years ago, the Zeidlers went to work at 401 Richmond in Toronto, a turn-of-the-century tin factory that's now home to 130 microenterprises and artists of every stripe. Rob's sister Margie runs that.
Driving force behind the Gladstone Hotel, in Toronto's Parkdale neighbourhood, is another sister, Christina. The grand 1889 hotel was in a serious state of deterioration before the Zeidlers arrived a dozen years ago. Today it's a funky success story — 37 rooms, each as different as the artists who designed them.
Father of the family is noted architect Eb Zeidler, 88, who still goes to work every day. Some 40 years ago, he led the design of the McMaster medical centre and changed the way hospitals are built.
This spring he came back to Hamilton, son Rob at the wheel. They rolled down Main Street, took a left at Sherman.
Rob wanted him to see the cotton factory. He'd decided it was time they had a building in Hamilton. Artists, he says, already know this is the place to be. Others are finding out, too. Toronto is just too expensive.
"And these people don't want to go to the suburbs," Zeidler says. "They want a city with its own history, its own character."
Editor's Note:Congrats to Rob Zeidler and to Hamilton!!
---
10. London Free Press: Fanshawe College to Former Kingsmill Department Store
Patrick Maloney
Fanshawe gets its cash, Matt Brown gets the credit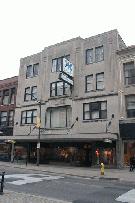 Kingsmill Department Store, photo from London Free Press
The biggest winner in Tuesday night's stunning decision by city council to help fund Fanshawe College's plan to turn an empty department store into downtown classrooms may not be the core boosters who pushed hard for the project.
It may be the tepid-until-now mayoral campaign of Matt Brown, whose last-minute compromise solved a political puzzle and derailed the opposition led by his chief rival, Joe Swan.
In a surprising move, Coun. Denise Brown — who in July helped kill the plan to give Fanshawe $10 million to buy the vacant Kingsmill's building — supported a revised plan for $9 million, her swing vote turning an expected 8-7 rejection into an 8-7 approval.
"Without them, I maybe would not have been able to support it," Denise Brown said of her namesake's amendments. "So that meant a lot, yes."
Matt Brown, 40, is pitched in a mayoral battle against two other presumed front-runners, Swan and ex-politician Roger Caranci, but it had been Swan who stole the headlines recently as he sought to block, as he did in July, the Fanshawe request.It would have been no surprise had the 8-7 bloc held up, despite near-unprecedented public pressure to OK the deal that will turn Fanshawe's downtown campus to 2,000 students, from the 1,000 originally proposed.
But Brown swayed Brown, and the deal is approved.
"This is a win for our community," Matt Brown said. "Leadership is about collaboration. Leadership is about working together to get things done."
Though Swan tried to credit his efforts with forcing his rival to find some savings — "I think Coun. (Matt) Brown smelled the coffee" — it's hard to interpret this as anything but a problem for the 58-year-old veteran. He'd been running campaign ads built on his opposition to helping Fanshawe get Kingsmill's, a push that ultimately failed.
Editor's Note:Interesting deal, downtown merchants raised cash to assist Council in bringing the College Campus into the core. A win for many, and for the heritage building.
---
11. London Free Press: McCormick Factory Redevelopment
Norman DeBono
Woodstock company buys former McCormick
A new commercial and residential development is slated for an historic former candy and cookie factory in east London, Coun. Stephen Orser said Wednesday.
The city of London sold the former McCormick's factory building on Dundas St. E. for $1 to Sierra Construction of Woodstock, approving the deal Tuesday.
"It's a home run hit," Orser said of the proposed development.
"It will be a massive investment in Ward 4 and it will change the face of east London, create jobs and get the city some good tax assessment."
Sierra plans to build "high-end" offices fronting on Dundas St., retaining the facade of the existing building to honour its heritage, he said.
The rear of the site will consist of "complementary" residential development, including townhouses and single-family homes on the more than five-hectare site, Orser said.
"This is a company with a history of doing great work with old buildings. I'm satisfied with what I've seen of the proposals."
It's early in the development process and few details of the proposal are available, Orser said.
Sierra president Cliff Zaluski couldn't be reached for comment.
Last year Sierra was in talks with the city to buy the site and was planning a $35-million to $45-million seniors' home, but that initial proposal has given way to stores and homes, Orser said.
"Their intention is to do some very positive things. This has been going on for more than three years, there have been a lot of hurdles but it has come to a great solution."
The building, formerly owned by Beta Brands, closed in 2008 and was seized by the city after the company didn't pay nearly $750,000 in taxes.
The site is zoned industrial and would have to be rezoned for housing and commercial building, said Bruce Henry, manager of development services for the city.
The city is creating a development plan for the neighbourhood that will set the tone for what will be built. Residential and commercial, along with industrial, is part of the plan, Henry said.
---
12. London Free Press: McCormick Factory Re-development
Chip Martin
City of London shopping around old McCormick factory
Sweet deal
City hall is looking for someone interested in picking up the old McCormick biscuit plant on Dundas St. and giving it a new use.
A "request for expression of interest" from potential buyers was issued by the city last Thursday that could see council approve a new owner as early as Aug. 27.
The move had Coun. Stephen Orser, who represents the area, dancing a jig about the step he hopes will lead to demolition of the vacant, burned-out factory and revitalization of the site.
"That's quick," he said. "Everybody thought it couldn't be done. We're here."
Orser said there have been "a lot a naysayers" in the last two years.
"We've got a win for Ward 4," he said, predicting a new use for the old biscuit and candy factory will produce "real jobs, real investment, because I believe in more action and less talk."
The city document lays out some environmental contamination of the site and lists a number of "brownfield incentives" that could be tapped to help redevelop it.
Closing date for parties to make their pitch is July 4, with evaluation by senior city staff late that same month.
Jim Yanchula, a senior city planner, said he's "cautiously optimistic" the city will see good response from potential buyers.
"Because of its location, in its day this property was an asset to the city," he said. "It could become an asset again. I am bullish."
The city document says it's seeking interest in purchase "and any type of adaptive reuse of the building."
"The city is seeking interest from individuals or corporations that have past experience in real estate acquisition and redevelopment of similar-sized parcels," says the document.
Editor's Note:This story got missed, about a year old, but seems to be a real win for London, now. Redevelopment to include the former McCormick biscuit factory building. A case where the City ended up owning for back taxes, and had the good sense to issue an RFP before the building derelict and difficult to repurpose.
---
13. Stratford Beacon Herald: ACO Panel on Re-use of GTR Train Sheds
Mike Beitz
Heritage panel discussion focuses on potential for Cooper site
Heritage panel discussion focuses on potential for Cooper site

3
A panel of speakers including, from left, local author Dean Robinson, heritage consultant Thor Dingman, developer Alex Speigel and architects Catherine Nasmith and Michael Wilson discuss the possible redevelopment of the former Cooper property at a meeting Monday night hosted by the local branch of Architectural Conservancy Ontario. (MIKE BEITZ/The Beacon Herald)
Where there's a will, there's a way.
And when it comes to the development of the former Cooper property in Stratford, a solid vision doesn't hurt either.
That was the consensus of the panel organized Monday night by the local branch of Architectural Conservancy Ontario (ACO).
While the will and the vision are being cultivated, the way to begin is by changing the public perception that the former locomotive repair shops are "a derelict of a bygone age and should be torn down," Stratford/Perth County ACO president Rick Huband told a crowd of more than 60 at the Queen's Inn.
The theme of that campaign, he noted, is "Be Open to the Possibilities," and each member of the panel touched on that during their presentations.
Stratford author Dean Robinson gave a historical overview of the site, starting in 1856, when the first Grand Trunk Railway train rolled into Stratford.
Over the next 100 years, the building, the company and its employees played a significant role in Stratford's economic, social and cultural vitality, he noted.
"Stratford would not be the city it is today had it not been for its connection to the GTR and the CNR," said Robinson. "It's a relationship that should be recognized. It's a relationship that should be celebrated."
Local designer and heritage consultant Thor Dingman agreed, pointing to Waterloo's Tannery District and the Seagram Distillery as just a few examples of successful revitalization projects involving heritage properties.
Stratford, by contrast, seems to be caught up in a "culture of demolition" with regard to the Cooper site, he said, tracing years of neglect, lost buildings and legal battles before the expropriation of the property for the University of Waterloo Stratford campus.
Editor's Note:This property is on Heritage Canada's Top Ten Endangered sites. It was encouraging to hear that Stratford is entertaining a proposal from a private developer....a step in the right direction for sure. Clearly a site too big for government stewardship and development alone
---
14. Historic Photographs--519-23 Queen Street West
Catherine Nasmith
I am doing some research into the history of these buildings, and have been unable to find pre-1930 photographs of the exterior. I am hoping to find information on the shop fronts and any other woodwork details. I have been through the Toronto Archives photo collection, and even though the buildings are on a streetcar-line they were not photographed by TTC photographers over the year.
These buildings are part of a long second empire row, and retain their slate roofs too. They are located in the Queen West HCD.
If you happen to have such photos, or know who does, please get in touch. cnasmith@cnarchitect.ca
---