Issue No. 237 | February 6, 2015
Feature Stories
Conservation Rights for Toronto's Buildings
Globe and Mail: Stollery's and York Square
Toronto Star: Drawings of all 99 Toronto Libraries
Toronto Star: Detroit on the Rise
Events
Riverdale Historical Society February Event
Tuesday, February 24, 2015
+ read
---
Play. Endure. Inspire. Ontario's sport heritage launch event
Tuesday, February 17, 2015
+ read
---
The Way Forward for Heritage in the Capital: Beginning a New Conversation
February 19, 2015
+ read
---
Advertisements
Built Heritage News Sponsors
1. Conservation Rights for Toronto's Buildings
Catherine Nasmith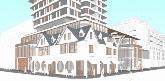 Proposal to Replace York Square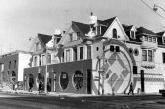 York Square when first opened in 1968, as published all around the world as a breakthrough urban project
Black History Month and Heritage Week share February. It's a good time to talk about parallels between the civil rights and heritage preservation movements. Both began to gain traction in the tumultuous 1960's with laws promising gains, but 50 years later there is still much to do.
One of the early scenes in Selma, the current film about the movement for equal voting rights in the United States, shows a black citizen trying to register to vote in Alabama. On paper she had the right to vote, but in practice the system had put so many unreasonable hurdles in her way that almost no black citizen could get on the voters list. While the stakes are clearly not the same for saving buildings in Toronto, heritage activists face many frustrations as they try to get buildings on the heritage register.
January's sudden demolition of Stollery's at Yonge and Bloor in Toronto has led to lots of navel gazing about how could that happen? It happens because the Ontario planning and building development system is stacked against keeping old buildings. Blaming the heritage system for its loss is blaming the victim.
The heritage process is too cumbersome and under-resourced to be effective, almost as if it was designed to fail. Yet in spite of all experience to the contrary, heritage advocates continue to work to register buildings and neighbourhoods for heritage protection. It is a thin hope, but nonetheless all we have to work with.
Municipal councils can say no to the demolition of old buildings, but here's the rub…. they have to be able to prove to the Ontario Municipal Board (OMB) that the building has heritage value and furthermore that its heritage value outweighs the perceived benefits of government sanctioned intensification. The tests to keep the building are complicated and any chink in the armour leads to full or partial loss.
As an activist, here's what you have to do to save just one building, never mind whole areas. Research the history; enough to prove it has heritage value and can meet the tests in the Ontario Heritage Act regulations. Failing to have "heritage value" leaves most buildings heading for the dumpster. Next you have to find a councillor who will ask Heritage Preservation staff to report on whether the building is worthy of listing or designation. Then seriously overstretched city staff need to find time to write an OMB proof designation report. In Toronto, there are hundreds of worthy properties waiting for attention. After that Council must be convinced to pass a designation bylaw, often in the face of a hostile property owner.
If all that happens, the building is still not secure. The owner can apply to Council to have a designated building demolished. If Council says no, the owner can appeal Council's decision to the OMB. If on the other hand Council agrees to de-designate and permit demolition, citizens cannot appeal that decision.
The process for listing, "designation light", is similar, owners of 'listed" properties must give 60 days notice prior to demolition to give the City time to decide whether to designate the property. Heritage Conservation District studies and plans take years to execute, but give protection to much larger heritage areas.
It's really frustrating work to save a building in the face of an overheated Toronto development industry, an industry fuelled with Ontario government policies poured like gasoline on a flame. Here are some of the ingredients in that government gasoline:
A tax system that sets property values based on the potential development value not the actual use of a property;
Intensification policies that put development ahead of heritage (The Places to Grow Act);
The Ontario Building Code that gives property owners a more or less unfettered right to demolish;
Planning laws that can't distinguish between big and small, and are impotent in controlling height or density;
The OMB which undermines municipal planning one property at a time, gradually shredding all policy; and
Environmental laws blind to the damage of wasting whole buildings.
The Toronto Branch of the Architectural Conservancy Ontario recently lobbied hard to protect York Square, including doing significant research. It took two years to get the designation report written and passed, racing against a property owner planning redevelopment. At last week's planning meeting on a ridiculous redevelopment project, the heritage of York Square was given the similar consideration as transportation, shadow studies, wind, retail, as if being designated under the Ontario Heritage Act is just one more thing to think about as we blast away at Toronto's city fabric. The current proposal would destroy about 75% of the designated heritage attributes, obliterating the physical record of York Square's significance in the history of international urbanism. How hard would it be for NO to mean NO.
What is happening in Toronto is giving me nightmares. I dreamt last week that I was on a streetcar travelling through piles of demolition rubble, through a completely unrecognizable landscape. Another night I woke up fearing the whole city was going to end up like the ludicrous development going up at Yonge and Bloor.
There is a bit of cavalry on the horizon. Next week Councillors Josh Matlow and Wong-Tam have a motion before Toronto City Council asking about the feasibility of having just a simple list of names and addresses of buildings Toronto might be interested in saving, but which have not yet been studied, and asking that 60 days notice be given before a demolition permit can be issued for buildings on that list.
I can promise you this, if that passes, I will be putting a lot of time and energy into building that list, as will residents all across Toronto who want to be able to continue to recognize the city we live in.
---
2. Globe and Mail: Stollery's and York Square
Alex Bozikovic
Stollerys is going. But Toronto should do more to save its heritage
When workers are smashing up a building on a Sunday morning, it suggests some kind of skulduggery. But last weekend at Yonge and Bloor, the rules largely weren't being broken; The crew attacking the façade of the Stollery's building at 1 Bloor West had a demolition permit.
Should we mourn the end of this building, site of a venerable and long-crumbling apparel shop? Personally, I'm not convinced. It is a mess: a modestly scaled shoebox with a 1984 gold-glass addition placed on top like a mullet. It's located at Yonge and Bloor, one of Canada's busiest corners and fertile ground for some very dense development. It is an anachronism.
But you might disagree, and say that it is a relic: a rare Toronto building with Art Deco details, home of the same family business for a century and part of a historic neighbourhood.
Now there's not much of it left to argue about. And that is why the weekend's hasty demolition is a problem. We didn't get to discuss how to reconcile history and new development, a kind of conversation that Toronto is very good at. And, with half of downtown seemingly under construction, it's a talk we need to have more often.
This was the point I heard from Mary MacDonald, who heads the city's Heritage Preservation Services department, this week. "What we would object to is the lack of an ability to have that conversation, and to find a solution that reflects a complex public interest," she said.
It can be done. Just down the street from Stollerys is 5 St. Joseph St., a 48-storey tower set behind a row of Victorian storefronts that are remaining in place. It's half a block of old Yonge Street being dolled up under the direction of ERA Architects, with a strong, contemporary building by Hariri Pontarini. In this May-December romance, both partners look fabulous.
---
3. Toronto Star: Drawings of all 99 Toronto Libraries
Tara Deschamps
Local artist Daniel Rotsztain draws all 99 Toronto libraries
While most people shuffle through a period of unemployment doling out resumes, one Toronto man decided to spend it travelling to each of the city's 99 public libraries.
From the end of August to October, 25-year-old artist and geographer Daniel Rotsztain boarded buses, trains, streetcars and his bike with an inky pen in hand and plenty of paper. His goal was to capture the city's bastions of books by drawing each one of them in a "homey, but blue print style"— a feat he sometimes conquered amidst scorching heat and drizzling rain.
The project was born out of a conversation Rotsztain had with friends about their favourite library branches.
"It's a love letter to the library," he told the Star. "It is hard to just wander randomly, but to have this quest oriented me well to explore every corner of every borough of the city."
He is releasing the images on his website and is eagerly anticipating drawing the 100th library to open in the Scarborough Centre area this spring.
After visiting each branch, it's tough for him to narrow down just one favourite.
Editor's Note:How wonderful to have the time to do such a great project. Trust such a talented guy has found work.
---
4. Toronto Star: Stollery's At Yonge and Bloor to be Redeveloped
Ashante Infantry
Mizrahi Developments buys Stollerys at Yonge and Bloor
Just two years after breaking ground on his first condo building, independent luxury developer Sam Mizrahi has vaulted in the big leagues, nabbing the Stollerys store and adjacent lands on the southwest corner of Yonge and Bloor streets.
The purchase sets the stage for a residential-retail development by Mizrahi, who is noted in Toronto for boutique developments such as the nearly completed nine-storey project at 133 Hazelton Ave. and the 12-storey building going up at 181 Davenport Rd.
"It's really a game changer in a lot of respects and I feel very blessed to be part of it," said the president of Mizrahi Developments. "This is one of most significant corners in Toronto, if not Canada, and we want to create a pedestrian experience and a destination that we can be proud of as a landmark building and for the future."
For 114 years, One Bloor St. W. has been home to Stollerys, with its memorable green awnings and now 30,000 square feet displaying "British and European inspired garments for men and women of taste" over four floors.
The establishment is the "longest surviving business that I know of in the area," said Briar de Lange, executive director of the Bloor-Yorkville BIA.

The owners selected Mizrahi from amongst many suitors, and money doesn't appear to have been the differentiator.
The deal, estimated in the hundreds of millions of dollars, includes One and 11 Bloor Sts. W., as well as properties along the southwest side of Yonge St., but the parties won't confirm price or scale until the series of closings are finalized.
"He builds a quality building and he's a gentleman and there's no fuzz on the thing," said Stollerys president and chief executive officer Ed Whaley. "It's a straight deal: cash and that's the end of it. No game playing."
---
5. Globe and Mail: Silver Dollar and Waverly Hotel
Brad Wheeler
Placing a Value on the Silver Dollar
If a penny saved is a penny earned, surely it is worth it to save a Dollar.
On Jan. 13, the modest Silver Dollar Room, a cement growth in the shadow of the Hotel Waverly, was deemed by city council as being of cultural heritage value or interest. The preservation status has to do with the musical tradition of a small, dusky room at 486 Spadina Ave. that has seen strippers strip, Bobby Bland do blues and Bob Dylan be Dylan.
The Dollar's official designation comes one year after the city turned down a developer's scheme to tear down the saloon (and the attached Hotel Waverly) to make room for a 22-storey mixed-use building, which would house a private student residence on its top 20 floors and a revamped Silver Dollar Room at ground level.
The rejection to that proposal was appealed by the buildings' owners (Wynn Group) to the Ontario Municipal Board. Final statements are to be presented at a hearing on Jan. 30.
There's nothing particularly significant about the architecture of the Dollar or the Hotel Waverly. In fact, the city only designated the Dollar – and not the attached turn-of-the-century flophouse – as a heritage site, a decision that has caused concern among the preservationist crowd.
"In my opinion, the two buildings are peas in a pod," says architect Michael McClelland, a witness for the city's side in the case currently in front of the OMB. "I don't agree with designating just one part."
---
6. CBC Radio: Nasmith Interview over Stollery's
Catherine Nasmith
Heritage Building?
Interview with Catherine Nasmith regarding the weekend demolition of Stollery's at Yonge and Bloor in Toronto
---
7. Toronto Star: Demolition of Stollery's Over the Weekend
Sadiya Ansari
Demolition work begins on Stollerys before heritage designation decided

Taken Sunday
A part of Toronto's history started to come down piece by piece this weekend, just days after Councillor Kristyn Wong-Tam took steps to have the 114-year-old Stollerys building designated a heritage site.
"I was really appalled to see such a sudden attempt by new owners to get rid of the building so quickly," said Adam Birrell, who has lived in the neighbourhood for six years.
The building with familiar green awnings sits at the corner of Yonge St. and Bloor St. W. and has been owned by the retailer of British and European apparel since 1901 — when shoppers arrived by horse and buggy and Wilfrid Laurier was prime minister.
Birrell, who has previously worked to preserve heritage properties in Thornhill, is concerned the building is being taken down before the city can determine whether it has heritage value. If the site already was listed as a heritage property, it couldn't be torn down as easily.
But developer Sam Mizrahi says he doesn't think the building deserves preservation.
"We don't feel there is any heritage value to it and neither did anyone else for the last 100 years," he said.
And Mizrahi is well within his legal rights. He bought the building in October and applied for a demolition permit earlier this month. It was approved on Friday and the work started right away.
Wong-Tam noted that the city must issue a permit when all statutory requirements are met according to provincial law.
---
8. dezeen.com: Frank Lloyd Wright buildings nominated for UNESCO World Heritage List
Staff

Marin County Civic Centre
America has nominated 10 buildings by Frank Lloyd Wright for international listed status – including the influential architect's Guggenheim Museum in New York and his only free-standing skyscraper (+ slideshow).
The nomination is the United State's first attempt to add examples of its modern architecture to the list of the world's most important structures, managed by international heritage body UNESCO.
Also included on the list of nominated buildings are Fallingwater – one of the world's best-known private houses – and Taliesin West and East, the summer and winter homes Wright designed for himself that are now occupied by the Frank Lloyd Wright Foundation and the Frank Lloyd Wright School of Architecture.
---
9. Globe and Mail: Granatstein Opinion on Kingston's Marine Museum of the Great Lakes
J. L. Granatstein
Why is Ottawa sinking Kingstons Marine Museum?
Historian J.L. Granatstein is the author of Who Killed Canadian History? and many other books on Canadian political and military history.
Kingston, Ontario, was Sir John A. Macdonald's home town, and Prime Minister Stephen Harper was there for the Grand Old Man's 200th birthday last week. The city is redolent of history: its statues; City Hall; and splendid old houses – the stuff of Canada's past.
But Kingston is also the home of the Marine Museum of the Great Lakes, and this piece of Canadian history is on the verge of sinking.
The Marine Museum, opened in 1975, is small, runs on a tiny budget, and gets no federal funding, its support coming from provincial and city grants, fund-raising, ticket sales, and gifts from donors. The Museum sits on a 3.8 acre site on the Kingston waterfront, and the land is owned by the Government of Canada. Now, as part of its program of disposing of surplus land (such as a host of lavish diplomatic residences abroad), Public Works and Government Services Canada has said it will put this site up for sale to the highest bidder on Jan. 31.
---
10. Toronto Star: Could Huronia hospital become a Banff Centre of the east?
Martin Knelman
Could Huronia hospital become a Banff Centre of the east?
Could Orillia's shuttered Huronia Regional Centre, which had a nightmare history as one of Ontario's most hellish psychiatric hospitals, be reborn as a heavenly oasis for culture, creativity and innovation?
Yes, definitely, says futuristic business guru Don Tapscott, who grew up in Orillia. So does Canada's most famous writer, Margaret Atwood.
Tapscott and Atwood are among the growing list of notables who have enthusiastically joined a campaign started by veteran Toronto artist Charles Pachter to turn the 200-acre site — which boasts meadows, forest, grassland, rolling hills, heritage buildings and 1,500 metres of waterfront on the shores of Lake Simcoe — into a kind of Banff Centre of the east. It would be known as the Huronia Cultural Campus.
---
11. Toronto Star: Roughing it in the Muskoka Bush-1870's style
Katie Daubs
Discovering Harriet King: descendants of pioneer settler find their roots
It sounds like the premise of a 19th-century reality show: a British lady accustomed to servants, tea and whiling away the hours with embroidery is plunked into the Muskoka bush in 1871, where she lives in a cabin missing a door, fights an endless plague of mosquitoes and chases cows from the cabbage plants.
She may not be suited for the bush, but our 61-year-old widowed protagonist has a dry wit. "The pleasure of a solitary walk is greatly impaired by the vague terror of a stray bear confronting you on the pathway," she writes.
In 1871, Harriet Barbara Durnford King, daughter of a prominent British military family, leaves Calais, France, a city that has been a shelter for her and her family during "fifteen years of widowhood." The Franco-Prussian War, now finished, has disrupted her life. Harriet has an adult son making a go of it in Canada and she, along with three of her other children, is convinced to join him in this magical El Dorado called Muskoka.
She is courageous, she is miserable and she nearly starves. She writes it all down in Letters from Muskoka, credited to an anonymous "emigrant lady," which is published in 1878.
Generations of the King family scatter. Then, seven years ago, a television writer and director living in Los Angeles, a man with the regal name of Durnford King, learns he is the descendant of Harriet. He also discovers cousins back in Canada he never knew existed.
Editor's Note:I have an office in Muskoka. Some of my neighbors are descendants of pioneers....amazing people to have made it in such difficult circumstances. Even today, few year round residents can survive on just one job. Many have several different businesses.
---
12. vancitybuzz.com: Origami Waterfront office tower rejected over lack of respect for historic buildings
Kenneth Chan
Image: Adrian Smith + Gordon Gill. First design of 555 West Cordova a.k.a. Waterfront Tower
The so-called 'origami' Waterfront Tower designed by internationally renowned Chicago-based Adrian Smith + Gordon Gill Architecture was rejected during its first attempt into the City of Vancouver's Urban Design Panel (UDP).
Cadillac Fairview is proposing to build a 26-storey, 127-metre tall office tower at 555 West Cordova, a ground-level Impark parking lot between Waterfront Station public transit hub and The Landing office building – both of which are heritage buildings.
The tower would be built on a small site next to Waterfront Station, with some of the tower's lower floors overhanging over the former CPR station with an origami glass facade. The overhang gap between the station and the tower also allows for an unique inner courtyard public amenity.
The building is closely situated next to Waterfront Station so that part of the site next to Steamworks can be used for a road extension for the city's future Waterfront Hub precinct.
However, the UDP members stated they had concerns with the close proximity of the proposed tower to the 1914-built station in an effort to provide sufficient clearance for the City's future road extension. In essence, they felt the tower did not "respect" the historic buildings on either side of the site and had concerns over how it would be integrated with the public realm.
This includes the public's ability to use the current parking lot site to view the mountains, although this seems to be an odd issue considering that additional urban development and road infrastructure is slated immediately north of the area over the rail yard.
---
13. Montreal Gazette: Heritage Hotel Viger jewel in a $250-million plan to revive eastern Old Montreal
Eva Friede

A long neglected and derelict part of Old Montreal could rise again as a thriving hub of the city with a $250-million development project to restore the grand château-style Gare-hôtel Viger and develop almost seven acres of the old city.
As part of the three-phase project in eastern Old Montreal, new buildings will also house condos, rental units, shops, markets and offices, covering more than 1 million square feet.
"It's a significant piece of land," said Anthony O'Brien, senior managing director for the development firm, Jesta Group, noting its size, history and location in Old Montreal on the waterfront.
"It's got tremendous potential, but also great responsibility to do the right thing," he said.
"The right thing is respecting the heritage and history of the site, through modern architecture and modern uses."
The jewel of the property, no doubt, is the hotel, built in 1898 for Canadian Pacific by Bruce Price, the architect also responsible for the imposing Château Frontenac in Quebec City, the original Banff Springs Hotel at Lake Louise and Windsor Station in Montreal.
The Gare-hôtel Viger "forms part of the Canadian identity of the time," said Edward Hercun, in-house architect for the developers, and a specialist in heritage and sustainable design.
Set within the original fortified city, the heritage building and its immediate vicinity is likely unique in all of North America, Hercun said, in that it was home to three generations of train stations.
"The city is in the process of rebuilding an urban identity that was destroyed when the train tracks were installed by Canadian Pacific," Hercun said.
Now in full reconstruction-restoration mode, the building held a train station on its ground floor, which in 1912 moved to adjacent Gare Berri, now home to Jesta offices and part of the 150,000 square feet being developed under Phase 1. The first rail station was Gare Dalhousie, just to the south, whose building still exists and is home to Cirque Éloize.
---
14. Toronto Star: Detroit on the Rise
David Olive
Surprising no, astonishing Detroit revival taking root
Returning home by helicopter one day in 1967, Bill Ford, a scion of the Ford auto dynasty, looked down and saw that huge swaths of Detroit were ablaze in one of the worst race riots in U.S. history. He turned to his father, Henry Ford II, then CEO of Ford Motor Co., and said: "My God, it's all over. We've lost our home."
Bill Ford, who was destined to run Ford Motor in the 2000s, recognized the tragedy of 1967 for what it was. "White flight" to the exurbs began immediately. Some big businesses also fled. Chrysler Corp. decamped from Highland Park to the exurb of Auburn Hills. And Motown's leading bank, Comerica Inc., founded in 1849 as the Detroit Savings Fund Institute, defected to Dallas.
But Ford Motor remains in Dearborn, where it was founded 112 years ago. That the Ford family refused to budge from Detroit during its half-century of decline speaks to the enduring civic spirit of Detroit businesses, small and large.
Bill Ford is among the Michigan champions of the twinning of the ancient Ambassador Bridge, which Ottawa, in proposing to finance a second span, is certain will bolster Detroit's economy by several billion dollars. And Ford has launched a venture capital fund to attract and finance entrepreneurial startups in Motown.
But while Bill Ford and his uncle own the Detroit Lions and their new Ford Field home, they have opted out of the Motown tradition of the Big Three automakers dominating business decision-making in the region. They prefer instead to participate in a collaborative rehabilitation effort among Detroit's many civic-minded businesspeople.

Detroit, of course, is the largest U.S. city ever to place itself in bankruptcy protection, in 2013. Emerging from that financial reorganization, its civic operating costs have dropped, freeing up capital for long overdue rebuilding of the city's infrastructure. And as with postwar Europe and Japan, Detroit is rebuilding from scratch using the latest 21st century technology.
Editor's Note:A lot is said here about big players like Ford and Dan Gilbert, but as important to the long-term resilience are the many smaller companies starting up to make the "world's best American made products". Like barrell aged gin or Shinola bikes and watches, or any number of others. Its a place where its affordable to take a risk and many are.
---