Issue No. 238 | March 17, 2015
1. SOS alarms coming thick and fast from Bala Falls
Catherine Nasmith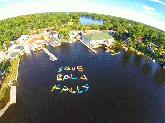 Recent Protest in Canoes on the high side of the Falls, photo John Wright, North 45 Communications
In spite of concerns expressed by Wahta First Nation to both the Premier of Ontario, and the Prime Minister of Canada, the hoped for last minute miracle that would preserve the much-loved scenic falls and historic portage route in the centre of Bala from a provincially backed hydro development remains elusive.
Bala Falls has been on Heritage Canada The National Trust's Top Ten Endangered List since 2012. Over the weekend the emails were coming thick and fast as frustrations mounted.
Last week, over the written objections of 200 constituents from a Township population of just 6500, the newly elected Council of the Township of Muskoka Lakes supported a road widening, removal of trees on the municipally owned, heritage designated portage site, construction of a retaining wall and landfill to support a construction staging area so vehicles can access the provincially owned adjacent land where the plant is planned. The motion narrowly passed four votes to three. Bala resident Allan Turnbull described the session as follows "Mayor Don Furniss and his slate seem intent on one thing and one thing only – to help their friends at Swift River Energy push through this proposal as quickly as possible, over the wishes of the community of Bala. The only person to say anything in favour of Swift River Energy was their own representative."
The extraordinary measures necessary to gain construction access give an idea of just how impractical it is to build a hydro plant on this postage sized site. Councillors Sandy Currie, Phil Harding, Donelda Kruekel and Ruth Nishikawa continue to argue for preservation of this place of community memory.
For a second election in a row, the development at Bala Falls was a defining issue, with candidates divided in their positions. Don Furniss defeated former Mayor Alice Murphy on a platform of fiscal probity. He made it clear during the election campaign that he had no intention of fighting the province or the plant developer, Swift River Energy Limited (SREL) any longer. He holds a majority of one vote in a 9 member council, which he is using to play hardball with opponents. The councillors elected to represent Bala are strongly opposed to the development, but are outvoted by councillors from other wards.
Council has struck a working committee to work with SREL on the design of the hydro plant that excludes representatives of Wahta First Nation, Save the Bala Falls and Moon River Property Owners Association, but includes two reps from SREL.
Under Mayor Murphy, Council launched several legal appeals to gain protection for the historic portage route that starts on municipal property, and crosses the adjacent provincially owned lands. Appeals of actions by the Ministry of Natural Resources in shutting off public access to a community park and the portage failed, as well as the appeal of that Court decision. The issue of the right to portage in Canada has received national press attention, and with a different election result might have reached the Supreme Court of Canada.
An appeal to Transport Canada by Save the Bala Falls also disappointed. The only win was at the Conservation Review Board who agreed to the precedent setting designation of the Portage Landing as a cultural heritage landscape. (I acted for the municipality as expert witness in that case.)
Each of these appeals has resulted in delays but opponents are running out of avenues. Fighting with the multiple provincial ministries involved is like dealing with a pillow. Somehow in spite of ten years of concerted effort, the province remains deaf to the ongoing and very loud expression of local public opinion.
Peggy, the Muskoka Lorax, has occupied the site since last summer.
Letters to the Premier from the Wahta First Nation, objecting to the failure to consult with them were referred to the Minister of Environment instead of the Minister of Aboriginal Affairs. The Honourable Glen Murray responded that his staff said that consultation had taken place, as if Chief Franks was delusional to suggest otherwise. One wonders how hard would it be for any of the Ministers involved to just pick up the phone and speak directly to Chief Franks. This situation definitely needs a "conversation".
The Green Energy Act suspends all municipal planning in cases involving green energy, with cultural heritage as one of the few items that must be considered as part of the Environmental Assessment. Because the designation of the Portage Landing occurred after the EA was finished it has had little impact.
Since then, the Township has conducted a study and plan for a larger cultural heritage landscape designation for the public areas in central Bala. Council passed a designation bylaw shortly before the end of the last term. SREL as well as several other local property owners have appealed the HCD Plan to the Ontario Municipal Board. It is not clear whether the municipality intends to defend the HCD, but the delay in re-instating the Municipal Heritage Committee does not bode well.
However, Save the Bala Falls and Wahta First Nation are not rolling over yet. Much hope is placed on the soon to be released documentary film, Fight for Bala by Rob Stewart, who directed the internationally lauded Sharkwater. Here's the trailer.
To keep abreast of what you can do to help, go to Save the Bala Falls.
---
2. Positive Outlook for Guelph
Heritage Canada
Ottawa, ON, March 10, 2015 – Heritage Canada The National Trust is pleased to announce that the Petrie Building, a unique landmark in downtown Guelph, will be acquired by Tyrcathlen Partners. One of three documented buildings in Canada erected prior to 1890 with a full sheet metal façade, the Petrie Building—a victim of years of neglect—was included on the National Trust's list of Top Ten Endangered Places in 2014.
"The National Trust is very pleased with the news of the acquisition," said Executive Director Natalie Bull. "Investment in this landmark building by a sympathetic developer was the outcome we dreamed of when inscribing the Petrie Building on our national Endangered Places list. Its rehabilitation will keep a landmark from becoming landfill, and inject new life into the city's treasured historic downtown."
Focusing exclusively on heritage restoration and adaptive reuse in Guelph, Tyrcathlen Partners' projects involve innovative partnerships and solutions to save heritage buildings and transform their use. Other projects include the Granary Building (now home to the Guelph Chamber of Commerce, Innovative Guelph and others) and Boarding House Arts (a vibrant community of artists, arts organizations and galleries in the former Guelph Civic Museum).
"We are thrilled to have the opportunity to revitalize this truly unique local landmark and national heritage treasure," said Tyrcathlen Partners Principal Kirk Roberts. "After almost 100 years, it will be especially rewarding to see the upper floors come back to life."
The historic Petrie Building is located at 15 Wyndham Street North in Guelph, Ontario. Read the full story here.
---
3. Heritage Toronto: New Executive Director Francisco Alvarez
Heritage Toronto Release
Alexandria Pike, Chair of Heritage Toronto's Board of Directors, is pleased to announce the appointment of Francisco Alvarez as the organization's new Executive Director.
Mr. Alvarez comes to Heritage Toronto from a thirteen-year career with the Royal Ontario Museum. He most recently served as Managing Director for the Museum's Institute for Contemporary Culture, and has held previous roles within the museum's Communications team. Prior to his time at the ROM, he held administrative and communications positions in several cultural organizations, as well as in the private sector (Alliance Broadcasting) and in provincial government (Ministry of Culture, Tourism & Recreation; Ministry of Treasury and Economics). He has a keen interest in all aspects of culture and has served on boards of various Toronto arts organizations. He is also currently a Principal at Mr. Pink Art Consultants.
"Mr. Alvarez brings a deep understanding of fundraising and communications to Heritage Toronto," said Ms. Pike. "His leadership will breathe new life into the organization, from bringing new sponsors onboard to spreading the word about Heritage Toronto's offerings."
Born in Bogota, Colombia and raised in Ottawa, Canada, Mr. Alvarez has lived in Toronto since 1974. He holds both Bachelor of Fine Arts and Master of Business Administration degrees from York University. Mr. Alvarez is fluent in English, French and Spanish.
---
4. Heritage Canada National Trust I Love My Main Street Photo Contest
I Love My Main Street contest is your chance to show Canadians why you love your main street, whether it is a hometown, local village or a favourite tourist destination, your chance to get out and explore your main street, share photos and stories with colleagues and friends, and fuel a national dialogue about the importance of maintaining Canada's main streets.
At the National Trust we know Canada's main streets and traditional downtowns are a heritage worth celebrating. Main Streets are at the heart of every healthy community providing a rich and textured backdrop of historic buildings that create a vibrant mix of services and uses. Through our Main Street Canada program we have inspired towns across the country to put our trademarked Main Street® Regeneration Approach to work, using heritage as the driver for economic, social and cultural change.
I Love My Main Street contest is your chance to get out and explore your main street, share photos and stories with colleagues and friends, and fuel a national dialogue about the importance of maintaining Canada's main streets.
By participating in I Love My Main Street, Canadians can share their pride in their favourite main street, and learn about other favourite main streets right across the country.
Heritage Canada The National Trust is a national charity that inspires and leads action to save historic places, and promotes the care and wise use of our historic environment.
---
5. Ont. Planners Heritage issue
David Chambers
I would like to draw your attention and that of your readers to the special heritage issue of the Ont Planners Assoc, appearing as a link in your Dec. 23 issue #235 of Built Heritage News.
In my frustrating 40 years in heritage preservation I have found this issue to be the most helpful and significant in understanding the reasons for the abysmal failure of heritage preservation in Ont.

I am referring to the courageous and insightful expose by Robert Shipley, who has publically revealed for the first time and accurately targeted some of the inherent flaws in the preservation process in Ont.
I have suggested to the editor that a copy of this heritage issue should be sent out to every heritage committee in Ont. Thanks to Shipley we now know what the problems are. The next step is up to the ACO and CHO to establish some workable solutions. Are they up to this Challenge??
Unfortunately space did not permit Shipley to dwell on the important problem solving aspects.
Shipley's revealing(shocking) flag-waving comments are there in contrast to the same old trite from M. Seaman who advises that we should be commemorating the 40th anniversary of the Ont. Heritage Act. WOW! The very Act that allowed the loss of so much heritage.
In the meantime, if you fail to inform yourself, then forever hold your tongue.
Editor's Note:
I am sure Dr. Shipley will appreciate your praise!
---
6. Prince of Wales Prize for Municipal Heritage Leadership - Call for Nominations
Carolyn Quinn, Heritage Canada The National Trust
The National Trust for Canada is accepting nominations for the PRINCE OF WALES PRIZE for Municipal Heritage Leadership. The prize is awarded to a municipal government, large or small, rural or urban, which has demonstrated a commitment to the conservation of its heritage assets.

The Terms of Reference, complete with eligibility criteria, nomination procedures and forms, are available online at www.heritagecanada.org

Submissions are due March 27, 2015.

Questions?
Contact:
Carolyn Quinn, Director of Communications
cquinn@heritagecanada.org
866-964-1066 ext 229
www.heritagecanada.org
---
7. Now Magazine: Saving Main Street Toronto
Catherine Nasmith
New Ideas need Old Buildings
I dreamt recently that I was on a streetcar travelling through piles of demolition rubble, through a completely unrecognizable landscape. Another night I woke up fearing the whole city was going to end up like the ludicrous tower going up at Yonge and Bloor. What's happening to Toronto's heritage architecture is giving me nightmares.
January's sudden demolition of Stollery's has led to lots of navel-gazing about how it happened. The simple answer is that the heritage process is too cumbersome and under-resourced.
The Toronto branch of the Architectural Conservancy Ontario (I am the branch president) recently lobbied hard to protect York Square at Avenue Road and Yorkville, including doing significant research. It took two years to get the Ontario Municipal Board proof-of-designation report written and passed, racing against a property owner who was planning redevelopment.
At the recent planning meeting on that redevelopment project, the heritage of York Square was given the same weight as transportation, shadow studies, wind and retail, as if being designated under the Ontario Heritage Act were just one more thing to think about as we blast away at Toronto's fabric. The current proposal would destroy about 75 per cent of the site's designated heritage attributes, obliterating the physical record of York Square's significance in the history of international urbanism.
How hard would it be for no to mean no?
---
8. Toronto Star: Travel Exhibit Celebrates Confederation
Nicholas Keung
Immigrants' Day 1 in Canada captured in travelling Pier 21 exhibit
A series of "firsts" has marked every newcomer's arrival in Canada, regardless of era or country of origin.
Perhaps the first plane trip, the first winter, the first sight of Canada arriving at a port in Halifax, the first encounter with a countryman from the same homeland, the first English class, the first time of realizing, 'I belong."
There are also the stories of the first job landed, the first home, the first taste of freedom, the first day of official citizenship and even the first confrontation with racism and discrimination.
These experiences and impressions, told through the recollections of immigrants, are vividly captured in a travelling exhibit, Canada: Day 1, presented by The Canadian Museum of Immigration at Pier 21, on display at the Markham Museum until June.
"Day 1 in Canada is an official and personal rite of passage for immigrants. It is something that everybody can relate to quickly and opens the doorways for different insights into all the big issues on immigration," said Dan Conlin, the exhibit's curator.
"We have the audios and videos of immigrants sharing their powerful stories. There are a lot of funny and touching moments, but they are not all happy stories. There are also many challenging aspects to their experiences."
Housed in a 15,000-square-foot exhibit area at the museum, just northwest of 16th Ave. and Markham Rd., the multimedia exhibition is divided into four sections: Arrivals, Encounters, Finding Your Way and Reflections.
With a $500,000 gift from the RBC Foundation, the national immigration museum has collected personal stories from more than 1,000 immigrants across Canada through its oral history program.
---
9. Toronto Star: Toronto School Closings
Louise Brown
Majority of schools on TDSB hit list in poorer neighbourhoods
More than two-thirds of the elementary schools the Toronto District School Board plans to consider for closure or merging over the next few years due to falling enrolment are in the city's poorer neighbourhoods — threatening upheaval for students who already face steep odds, warns a report to be released Monday by the Elementary Teachers of Toronto.
"For some of these vulnerable kids, school is the safest place they'll be all day and they often have an incredible sense of community, but if these kids are split up and sent to schools without that support, it could derail them," warned John Smith, president of the ETT, the largest local in the provincial teachers' union.
The TDSB is under enormous pressure to start closing some of its 130 schools that are less than 65 per cent full, on orders from Education Minister Liz Sandals, who has demanded a three-year plan for closing schools by Friday.
The board has approved a 10-year capital plan that identifies 60 schools for possible closure across 17 under-enrolled neighbourhoods by 2021, with 31 of those schools clustered in nine neighbourhoods to be reviewed in the first three years.
---
10. Globe and Mail:Foster and Partners, 80 Stories on Former Stollery's Site
Alex Bozikovic
First look: New Yonge and Bloor tower would be Torontos tallest
Is it The One? The new development at the southwest corner of Yonge and Bloor streets will be sold with that catchphrase, and it will in some ways earn that title. The design by global architects Foster and Partners is tall, brawny and complex.
The project, which developer Sam Mizrahi and the architects presented to a community meeting Wednesday night, would be the third tall tower to rise at the corner. However, in size and architectural character, it would stand out: The proposal places 72 levels of apartments on top of an eight-level luxury shopping mall, and wraps a grid of structural steel outside of its glass skin.
---
11. Cambridge Times: Opinion - City council needs to protect and preserve
Karen Scott Booth
Of particular concern is the risk to the architectural integrity and heritage value of the Old Galt Post Office
On Feb. 27, I was honoured to accompany Patricia Rosebrugh, founding president of Heritage Cambridge, now the Architectural Conservancy Ontario (ACO) Cambridge, when she was presented with the Lieutenant Governor's Ontario Heritage Award for Lifetime Achievement.
Along with many past and current members of ACO Cambridge, I have long admired and respected the important and selfless work that Pat has undertaken to preserve the best of our natural and built heritage.
In her remarks at the awards ceremony, the Honourable Elizabeth Dowdeswell, Lieutenant Governor of Ontario, was eloquent and heartfelt as she spoke of the importance of preserving our cultural heritage. And when she emphasized the role of each citizen, I was reminded of the important issues currently threatening the integrity of so many notable resources within the City of Cambridge and the Region of Waterloo.
---
12. Making Cities Livable
Alain De Botton
Video from Alain de Botton
Alain de Botton, philosopher and author of many wise and entertaining books including "The Architecture of Happiness", has now produced a video on "What Makes Cities Attractive". He calls on us all to express our opinions, and to make our city leaders accountable to the citizens, not just to the developers.
His six principles include scale: "Our urban skylines have become dominated by tall buildings dedicated to banking and commerce. Instead, we should be building at an ideal height of five stories, resulting in dense and medium-rise cities, like Berlin and Amsterdam. If there are tall buildings in a city they should be dedicated to something "all of humanity can love."
---
13. Toronto Star: California Craftsman bungalows
Solvej Schou Associated Press,
Love affair thats endured for a century

I grew up in Hollywood, in one of those low-slung, early 20th-century, Arts and Crafts-era homes known for their clean, horizontal lines and sturdy woodwork. It was outfitted with dark, wooden, built-in cabinets and exposed beams.

My family lives in one in South Pasadena, northeast of downtown Los Angeles we rent a small, century-old Craftsman house here in the citys landmark district, Bungalow Heaven. The 16-block neighbourhood is home to more than 1,000 historic bungalows, most of them Craftsmans.

Each traditional Craftsman house is different and unique, with its own personality in ours, the toilet is in a separate room from the bathroom sink and tub.

Theres an emphasis on natural materials and colours, from slate grey to clay brown.

Architectural twists such as sleeping porches, wide-open entrances and pillars made from stone were built as a minimalist reaction against industrial design and as an ode to warmer weather and (then) fresher air.

Decorating a Craftsman is also a labour of love. The whole Craftsman movement was about rediscovering handmade things, says Sue Mossman, executive director of the preservation non-profit Pasadena Heritage.

Theres a natural form-follows-function approach. Everything has a purpose to it, as well as a beauty.

Gustav Stickley, who started making Arts and Crafts-style furniture and accessories in the late 1800s, has long represented the pinnacle of Craftsman design. Antique Stickley hand-finished, solid-wood armchairs, tables and couches, defined by a sleek vertical-lined mission style, can run upwards of $5,500 (all prices U.S.) today.

In the 1980s an 90s, the value of these antique pieces went through the roof, says Mossman, who lives in a traditional Craftsman and owns a couple of Stickley pieces. It has dropped off since then, but the value of original pieces is still very high.

Since my family cant afford the prized brand, we searched for much less-pricey, though not necessarily handmade, furniture and decorations for our place. There are strong connections between the Craftsman and mid-century modern movements when it comes to simple functionalism, says Mossman.

We found a modestly priced, tan 1963 Lane Acclaim walnut wood coffee table with dovetail edges at an antique store to fit in with the earthy Craftsman colour scheme in our living room.

Our faux-Craftsman, geometric mica glass, wood and metal living room table lamp we snagged on sale for $150 to perch on top of a Wildon Home mission-style, espresso-hued end table for not much more.

Bought at a nearby sofa store, our couch is made from chocolate-brown wood and tweed, a mid-century modern reproduction called The Draper. Our vintage living room rug is a 1960s striped blend of warm orange, green, pink and white.

We also picked up glass vases, Arts and Crafts-style wooden frames and dinnerware from flea markets and online through Etsy and eBay. Call it Craftsman flair with a dash of Mad Men thrown in.

Even if its a reproduction, people who appreciate the character of their house will be able to pick things that suit that same personality, notes Mossman.

Inspiration especially came from a trip to the custom-furnished, three-storey Gamble House, Pasadenas premier example of California Craftsman architecture. It was designed by the architectural firm Greene & Greene in 1908 as a roomy winter home for David and Mary Gamble, of Procter & Gamble.


---
14. Apollo Magazine: Monuments Men
Peter Stone
With so many archaeological and cultural sites at risk in war zones around the world, is enough being done to protect them? And what can we learn from the mistakes that led to the looting in Iraq in 2003?

One of six vehicles destroyed by a NATO strike outside the relatively untouched Roman fort at Ras Almargeb, Libya in 2011. Photo: © Joseph Kila
Between these words being written and read, cultural property, including buildings, archaeological sites, libraries, archives, and art will have been damaged or destroyed across the world as the result of armed conflict. More will have been looted and sold illegally. The illicit trade in antiquities, much of which is looted during armed conflict, is suggested to be the third largest international crime network (after guns and drugs) and has helped to fund conflicts in Afghanistan, Iraq, and Syria.
Cultural property is destroyed or damaged in four ways: through 'traditional' looting by the military (and others associated with the victor) of the heritage of the vanquished foe; through collateral damage (e.g. the destruction of entire historic areas in the World Wars, and recently in Syria); through military negligence (e.g. the use of Babylon and Ur in Iraq as military bases by Coalition troops, and the use of the Crac des Chevaliers in Syria by forces opposing the current regime); and through the targeting of a site for the cultural affiliations it displays (e.g. in the Balkan Wars in the 1990s, and more recently in Mali and northern Iraq).
Most of us simply accept this situation as an unfortunate but inevitable consequence of war and think little more of it. However, this has not always been the reaction. Nearly every military strategist of the last 2,000 years, from Sun Tzu to Clausewitz, has argued that looting the heritage of a vanquished enemy is a poor military and political tactic as it will create lasting hatred and a simmering cause for the reignition of conflict. And at least some of the recent destruction could be avoided if the military and politicians took the protection of cultural property during conflict more seriously.
During the American Civil War the Lieber Code became the first legal instrument to protect cultural property and a number of international meetings and conventions followed that began to formulate the legal protection of cultural property during conflict. This activity was noted in the Second World War by the Allies, who set up the Monuments, Fine Art and Archives unit (the 'Monuments Men') to try to safeguard and repatriate as much of the cultural heritage of Europe and the Far East as possible. Officers commanding units in the Italian and Normandy invasions, for example, were specifically ordered not to allow cultural property to be destroyed through collateral damage unless there was no other military option.
At the end of the Second World War the international community reacted to the massive destruction of cultural property by producing the 1954 Hague Convention for the Protection of Cultural Property in the Event of Armed Conflict and an associated Protocol. The Convention adopted a blue shield as an emblem to identify cultural property to be protected. The idea of protecting cultural sites and artefacts during armed conflict slipped from the agenda during the Cold War; the issue only became international news again after the deliberate targeting of cultural sites in the former Yugoslavia in the 1990s. A second Protocol to the Convention was produced in 1999. This made it possible for the deliberate destruction of, or damage to, cultural property to become a criminal offence.
---
15. CBC Calgary: Pain Block has no heritage status despite surviving Calgary's great fire of 1886
Scott Dippel
Heritage group hopes to demystify historic designation in upcoming seminar

The Pain Block is the only wooden building to survive the massive fire that swept through downtown Calgary in 1886. The devastation sparked a spurt of sandstone construction in the area. (Scott Dippel/CBC)
As historic buildings go in Calgary, the Pain Block on Stephen Avenue Walk is one of a kind.
It's the only downtown building to have survived Calgary's "great fire of 1886" that devastated a significant portion of the young Prairie town.
It's also one of a handful of buildings left of that vintage made entirely of wood. Many older Calgary buildings were constructed of sandstone, which became the product of choice after the 1886 fire.
However, the Pain Block doesn't have protected heritage status from any level of government even though it has ties to significant political and business figures in Calgary's history.
According to Bob van Wegen with the Calgary Heritage Initiative Society, the building which now houses a souvenir shop actually has plenty of company.
"I think most people think that the buildings on Stephen Avenue — historic buildings that they are — have legal protection and can't be torn down. That's not true," said van Wegen.
---
16. Changes to Winnipeg's Heritage By-Laws: What You Need to Know
Heritage Winnipeg
Changes to Winnipeg's Heritage By-Laws: What You Need to Know
The Historical Resources By-Law No. 55-2014 The Old The former Historical Buildings By-law No. 1474/77 was adopted by City Council in 1978 (the same year Heritage Winnipeg was established), and continued to mandate heritage conservation in Winnipeg for over 35 years.

Buildings on the Conservation List were graded either a I, II, or II, according to their historical and architectural significance. Upon application for alterations to a building on the Conservation List, a Certificate of Suitability would be issued. However, as with other policies and regulations, by-laws must evolve to keep up with the changing needs of the community
---
17. Church gets new life as affordable housing, community space in Winnipeg
CTV Winnipeg
Church gets new life as affordable housing, community space in Winnipeg
The West End Commons officially opened its doors to the public Friday. The space was formally the St. Matthews Anglican Church in the citys West End neighbourhood. The new space is now home to a total of 26 one, two, three and four-bedroom affordable housing units, six of which are wheelchair accessible. Theres also a food bank, indoor childs play area, resource centre and smaller worship area.
---
18. Guelph Mercury: Announcement coming on historic Guelph building
Rob O'Flanagan

Rob O'Flanagan, Mercury staff - The Petrie Building on Wyndham Street in downtown Guelph.
GUELPH–A public announcement will come Sunday evening or Monday morning on a possible sale of the Petrie Building in downtown Guelph.
Tyrcathlen Partners of Guelph has been rumoured to be in negotiations to purchase the architecturally and historically significant structure at 15 Wyndham St. N.
Kirk Roberts and Peregrine Wood are the partners in Tyrcathlen, which acquires, restores, and repurposes heritage buildings in Guelph. Two significant projects, the Granary Building and Boarding House Arts, are examples of what they do.
On Thursday morning, Roberts said an announcement is forthcoming related to the Petrie Building. There are unconfirmed indications that the designated heritage building has been sold. The Apollo Eleven restaurant has occupied the ground floor of the building since the mid-1970s.
Last year, Heritage Canada The National Trust, an organization dedicated to the preservation of historic places in Canada put the Petrie Building on its Top Ten Endangered Places in Canada for 2014.
Efforts have been underway for years to raise awareness about the dilapidated state of the building, and in 2012 a community group renewed the call for the preservation of the building. Rumours of possible sales have come and gone over the years.
The Petrie Building is unique in Canada as one of only three pre-1890 buildings in the country with a full sheet-metal façade and stamped galvanized iron front. That unique feature has been neglected for decades, causing many to fear that the building would end up being demolished out of neglect.
---
19. Kinsmen seek assurances for Winnipeg's Sherbrook Pool
Winnipeg Free Press
Kinsmen seek assurances for city pool
The Kinsmen Club of Winnipeg wants assurances there will be no program cuts at Sherbrook Pool before it donates $1 million to help renovate the inner-city facility.

Club president Raj Phangureh said the group's concerns were revived this week when Mayor Brian Bowman confirmed sections of all civic indoor pools will be closed at times of low public usage to save staffing costs.

Phangureh said the club contacted the city in February, after the Free Press first reported several city councillors had been told of widespread pool closures and programming reductions, but were told that wasn't going to happen.

Phangureh said his concerns were raised again this week when information in the city's budget books appear to show the cuts to aquatic programming will be worse than Bowman had predicted.

"This is a very big investment for us in the community's future, and we don't want it nickled and dimed back down to lower levels where our contribution will not mean as much as we thought it would," Phangureh said. "To put it plainly -- we want the best bang for the buck for our million-dollar donation, and this doesn't sound like this will be it."

Phangureh said the contribution agreement still hasn't been finalized, adding he wants further assurances programming at the pool will be not be affected for budgetary reasons.

When the 2015 budget was tabled this week, officials acknowledged $100,000 would be trimmed from the aquatics budget this year and $300,000 in 2016. Bowman explained the reduction is to be achieved by closing sections of indoor pools that are not being regularly used on a given day and not needing to staff lifeguards at those times.

All indoor civic pools will be affected to some degree, but city officials said they had not yet determined how individual pools would be affected.

But the budget documents revealed the cuts to the aquatics program totalled $381,000 this year and $1 million in 2016.

A civic spokeswoman said Thursday the additional $281,000 in cuts attributed in the budget documents for this year is the result of "an accounting restructuring of the recreation and aquatics sub-services."

For 2016, the spokeswoman said the only reductions for aquatics is the $300,000 announced. The remaining $700,000 cut, the spokeswoman said, is the result of "lower capital-financing costs for aquatic facilities in 2016, as the capital program for 2015 is complete."

Sherbrook Pool has been closed since November 2012 because of structural concerns. Despite a groundswell of community support, the city administration opposed re-opening the pool because it was old and they did not believe it would be money well spent. However, council approved the structural repairs in the 2014 budget and that work was expanded when the Kinsmen agreed to contribute $1 million. The province later committed funding for additional interior renovations.

The cuts to the indoor pools won't affect Sherbrook Pool this year as it remains closed and is not scheduled to reopen until January 2016.
---
20. Manitou, Manitoba Opera House is crowdfunding for renovations
West End Dumplings
The Manitou Opera House is crowdfunding for renovations
The Manitou Opera House Management Committee wants to build a 2,175 square foot addition that will allow wheelchair access to the main floor and a new foyer area that will include men's and women's accessible washrooms, two accessible meeting rooms and a cloakroom.

The total price tag is $725,000, of which over $600,000 has already been raised, and they have created a crowdfunding campaign to raise a further $25,000.

Built in 1930, it is is not only an historic landmark but an important cultural institution for the region. Between September 2012 to August 2013 it was booked for 213 days for a wide range of events.

It has a great past and YOU can be part of its future !
---
21. The Guardian: Erosion of Edinburgh's World Heritage Features
David Black
Why Edinburgh should be stripped of its Unesco world heritage status

Central Edinburgh, stunningly beautiful
It's easy to see why Edinburgh, one of Britain's most beautiful cities, is a magnet to visitors from across the world. It is also a place that instils pride and affection in those, like myself, who are native to it. Yet, this is a city that consistently undervalues its best asset: its historic centre.
It seems remarkable that Edinburgh's unique architectural character should be at risk. It was the largely unspoilt juxtaposition of Old and New Towns that persuaded Unesco to grant it world heritage status in 1995. Yet the destruction during the 20 years since poses an interesting question: is Unesco world heritage status worth the paper it's printed on?
Edinburgh's role as a quality European destination underpins its economy, bringing in an annual £1.6bn to its coffers and its architectural heritage plays a huge role in this. That is why I am submitting a report to members of the UN Board of Auditors at Unesco headquarters in New York next month (assuming they're prepared to listen) in a bid to persuade them to overturn the city's world heritage status.
Editor's Note:I sympathize with Mr. Black's frustration.....he has no doubt worked tirelessly to preserve his beloved city. Both my husband and I studied there and have a life long love for the city, visiting every couple of years. It is stunningly beautiful, almost unbelievably so.
---