Issue No. 249 | March 3, 2016
Feature Stories
Architectural Conservancy of Ontario Goes to Queen's Park
Urban Toronto: Latest Design for York Square
Toronto Star: New Ideas Need Old Buildings
First Woman Graduate in Architecture 1914, Miss Alice Charlotte Malhiot
Events
Benjamin Brown Architect
til April 23, 2016
+ read
---
Scarborough's GECO Bomb Girlse of the Golden Mile
March 8, 2016
+ read
---
Toronto Modern to Post Modern: Already at Risk
April 4, 11, 18, 25
+ read
---
Advertisements
Built Heritage News Sponsors
1. Architectural Conservancy of Ontario Goes to Queen's Park
Catherine Nasmith, ACO President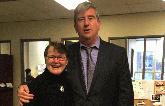 Catherine Nasmith with Hon. Glen Murray, Minister of Environment
I haven't felt this good about the future of heritage since 2005 when we changed the Ontario Heritage Act.
Heritage Day at Queen's Park simply could not have been better. In groups of threes, thirty or so delegates met with 25 MPP's, all in one day, including meetings with the Premier's staff, Minister Coteau, Minister of Environment Glen Murray, as well as the Culture critics for the opposition parties.
We went into those meetings with a strong and clearly organized
"ask"
, terrific supporting material and wonderful training from our communications coaches Diana Crosbie and Peter Feniak. I was so proud to show off Acorn, an all volunteer publication. We were welcomed to Queen's Park during Question Period. We came away with many MPP's much better informed about our challenges and our successes. We have a commitment from Minister Coteau's office to convene follow-up meetings with members of other ministries to try to fix some of the problems we identified. Glen Murray interested in drafting a bill to keep buildings out of the garbage and new construction built to endure. We came away with lots of homework and followup meetings to organize and attend. How great is that.
All MPP's meet on Fridays with consituents, so make sure they know who you are. It was rare to find an MPP who was not really interested in helping save our heritage, often eager to discuss a local challenge. It is encouraging to see just how much support we have across the political spectrum.
We will definitely be going back next year.
---
2. National Trust for Canada shares its recommendations for Budget 2016
National Trust Press Release
Ottawa, February 23 – Responding to Finance Minister Bill Morneau's pre-budget town hall, the National Trust for Canada is encouraging heritage supporters to promote its recommendations, designed to help grow the economy, protect our environment, and build a resilient and diverse society.
The National Trust's recommendations, available here, fall under three broad headings:
"Save Canada's Treasures" Matching Grant Funding to encourage citizen philanthropy for historic places as we approach 2017
An Eco-Historic Tax Credit: A tool to promote private and corporate investment in greening and renewing historic places
A "Heritage Lens" and "Do No Harm" policy for infrastructure spending
"Budget 2016 is a historic opportunity to stimulate the economy with multiple positive outcomes," says Natalie Bull, the National Trust's Executive Director. "Our recommendations, based on proven models, will help green and renew historic places, optimize the community benefit of infrastructure investments and encourage citizen philanthropy."
There is clear evidence to link heritage investment to economic growth: Studies have consistently demonstrated that rehabilitation generates upwards of 20% more jobs than the same investment in new construction. Heritage places increase tourism, with growth in US travelers seeking heritage experiences in Canada expected to reach 12.3 million by 2025.
Further, investing in the refurbishing of heritage buildings contributes to the fight against climate change: The renewal and re-use of the historic environment capitalizes on materials and energy already invested, reduces construction and demolition waste and avoids the environmental impact of new infrastructure. With climate change one of the pressing issues of our era, Canada can't claim to be a leader in sustainable development without a robust conservation strategy for historic places.
To read the National Trust's full recommendations, please click here.
Then, consider endorsing one or more of the National Trust's recommendations: comments and submissions will be accepted by Government until midnight tonight using the form available here.
---
3. Urban Toronto: Latest Design for York Square
33 Avenue Road Redesigned as Toronto's First 'Vertical Forest'
Posted February 1, 2016
Toronto's Yorkville neighbourhood could become the site of the city's first 'vertical forest.' New renderings for the long-awaited 33 Avenue Road project bring to light a new design aesthetic for the project, with plantings along the east and west elevations of the tower. The latest renderings of the Zeidler Partnership Architectsand Richmond Architects design also reveal a more sensitive treatment of the ground level, with greater nuance applied to preserving the area's intimate character.
Editor's Note:There is a pre-hearing on this property at OMB on March 8, 2016. At this stage it is not clear to BHN what the City's position is on this latest proposal.
---
4. Toronto Star: Save the Westney Farmhouse, 1892
Alex Ballingall
Is this farm the last frontier of GTA sprawl?
Residents want character of 150-year-old farm preserved in face of a development plan.
Time has chipped acres away from the old Westney family farm for more than a century, and now nearby residents in Ajax and Pickering want to halt suburban sprawl to save what's left of a piece of local history.
The two-acre plot of former farmland is subject to a development proposal that would plop 19 new houses in a cluster around the 19th century Westglen farmhouse, which was designated a heritage site in 1985. A group of neighbours and history enthusiasts has organized a "Save Westglen" campaign, worrying that the new construction, as proposed, would obscure the house and diminish a landmark that's significant to the story of communities east of Toronto.
"To reduce that family and what they've done to just the smallest fraction and this tiny footprint, that's the real injustice here," said Paul Gittens, who lives near the old farm.
"It's high time that the politicians and the developers need to recognize what is going on. We are losing historical sites to commerce and to greed."
Tribute Communities, the developer that owns the old farm property, did not respond to requests for comment from the Star.
---
5. Toronto Star: New Ideas Need Old Buildings
Christopher Hume, forwarded by Robert Allsopp
Citys vigour comes from whats old and ordinary
Even the newest city needs a supply of old buildings. In Toronto, which seems to remake itself every few years, that supply is running out.
Though few will lament the passing of the often mundane two- and three-storey brick boxes that line so many streets in this city, they play an essential role in the complex processes of civic vitality. Because they are simple structures built decades ago, their mortgages paid off long ago, they are cheap and endlessly adaptable. They change occupants and uses regularly, which allows them to keep up with the times and remain forever relevant.
This point was not lost on Jane Jacobs, pioneering urbanist and author of the seminal study, The Death and Life of Great American Cities: "Cities need old buildings so badly," she wrote in her 1961 book, "it is probably impossible for vigorous streets and districts to grow up without them."
Editor's Note:Amen
---
6. Toronto Star: Archaeological British Methodist Episcopal Church
John Lorinc
Torontos black history unearthed in excavation of landmark church
The British Methodist Episcopal church on Chestnut St. was a focal point of Toronto's black community for more than a century, its congregants offering shelter to those fleeing slavery via the Underground Railroad. Then, decades ago, it was buried under a parking lot and largely forgotten — until now.
Consulting archeologist Holly Martelle stands in the middle of the vast excavation site between Centre Ave. and Chestnut St., south of Dundas St. W. Hundreds of thousands of artifacts were found on the block where a new provincial courthouse will be built.
It has been called "one of the most important blocks of black history in Toronto," a place where African Americans, fleeing slavery, found refuge to live, work and worship.
On this tract of land, just north of Osgoode Hall, a handful of African Methodists built a small wood frame church in 1845. It served as the spiritual and political centre of the city's growing black community, which was asserting its voice in the abolitionist movement and welcoming an influx of families seeking freedom via the Underground Railroad.
---
7. Ottawa Citizen: NCC asked to add Ottawa Mayors by Melanie Joly
Editorial Board, forwarded by Barry Padolsky
Editorial: The mayors and the NCC
Transformative. The federal government sure does love that word. But in the case of changes coming to the National Capital Commission, Heritage Minister Mélanie Joly is entitled to use it.
In an exclusive interview with the Citizen's Don Butler this week, Joly said she wants the NCC to add the mayors of Ottawa and Gatineau to its 15-member board. They can't vote, and there will be certain discussions in which they can't participate, but they'll have a place at the table – both to enhance the NCC's expertise, and to defend the interests of local residents. "It's changing the culture and the approach," said Joly. "I think it's transformative."
The move (assuming the NCC approves it – and what choice does it have?) is long past due. Cobbled from its predecessors in 1959, the NCC, a level of government unique to the capital, was for decades anachronistically undemocratic: a sort of Skulls society whose members were appointed, not elected; meeting behind closed doors; setting policies without robust mechanisms to consult the citizens whose lives were most affected.
---
8. Ottawa Citizen: Pride in Lord Elgin
Kelly Egan
Egan: The straight goods on the Lord Elgin's pioneering gay bar
The Lord Elgin turns 75 this year, and doesn't the old doll hide a few polished pearls behind the ageless grey face and royal lineage?
The landmark hotel — Mackenzie King's limestone aspiration — was for many years home to a gay bar, in an era when, officially, there were no gay bars because, legally, there were no gay men.
But the nameless beer hall sure existed, so much so that historians — scholarly or first-hand — say the basement bar was part of the city's gay tapestry during a period of tectonic social change in Ottawa, if not all of Canada.
The bar, after all, was thriving in a period when admitted homosexuality could get you fired, jailed, publicly shamed and even shunned by your own family.
In fact, authors Gary Kinsman and Patrizia Gentile open their book, The Canadian War on Queers: National Security as Sexual Regulation, with a story that today sounds hard to believe.
But a gay man named David is describing being in the bar — nicknamed "the LE" — in 1964. Downtown Ottawa is full of criss-crossing military men, based a block away, and the Cold War is on, all shadows and whispers.
---
9. OHS: $25,000 Added to the Restoration Coffers for Historic Beaverdams Church 1832
Sarah King Head
Ontario Paper Thorold Foundation Supports Beaverdams Church Restoration
An announcement from the Ontario Historical Society about the $25,000 donation to the Friends of Beaverdams Church from the Ontario Paper Thorold Foundation.

The Friends of Beaverdams Church were incorporated by the OHS in 2013 and received charitable status from the CRA in 2014.

For more information about the progress of the restoration or news about upcoming fundraising activities, go to www.facebook.com/historic.Beaverdams.Church or www.friendsofbeaverdamschurch.com. We can also be reached at beaverdamschurch@gmail.com
---
10. The Record: Could the Loss of the Mayfair Been Prevented?
Catherine Thompson, forwarded by Brian Dietrich
Old Kitchener shoe factory rebooted,will be high-tech offices
KITCHENER — A century-old former shoe factory is being renewed as brick-and-beam office space aimed at the high-tech market.
The 3 ½-storey brick building, at 5 Michael St. in Kitchener's Victoria Park heritage district, was sold last May to a group of investors.
The building, with large windows and a working historic elevator was built by Charles Ahrens in 1910 to house the C.A. Ahrens and Co. Shoe and Slipper Manufactory. It retains original wood pillars, beams and floors, and even includes the original walk-in safe and a 1922 sprinkler head.
In the 1970s, the building became a Greb factory outlet shoe store; and from 1979 to 1999 it was the home of the Cline Shirt Co. It also housed the Beckett School of Music, and affiliated music store and music publishing businesses, for 15 years.
---
11. Curbed Chicago: Less is More - Mapping Mies Chicago
When Ludwig Mies van der Rohe left his native Germany for Chicago in 1938, the world of modern architecture was forever changed. Mies left the influential Bauhaus school to take a position at the then-called Armour Institute of Technology in the Bronzeville neighborhood where Mies would go on to craft many of his iconic minimalistic buildings. Mies' "less is more" gospel sought to find beauty in simplicity and rejected elaborate ornamentation. Often considered as one of the most influential American architects and one of the pioneers of Modernism, Mies' was not immune to criticism, or even disdain.
---
12. Globe and Mail: Matera, Italy, World Heritage Site
Elizabeth Warkentin
Of the earth
Once derided and a source of shame, the ancient sassi – or cave dwellings – of Matera are now a source of pride and wonder. Spend a night in an underground boutique hotel and you'll never use 'troglodyte' as an insult again.
"Look, you see that little boy there?," says our gruff guide, Francesco Festa, in his strong Basilicata dialect. Festa is about five-foot-six with a head of snow-white hair and weathered skin the shade of a basketball. He's showing two young Neapolitan women and myself a framed family portrait taken in the early fifties. "That's me," he points. "The baby in the front. The best looking, right?" he grins.
I'm in Matera, inside the grotto Festa lived above as a child. These days he uses it as a makeshift museum to give tourists an idea of what it was like to live in a sasso, a rock cave. The cool, dark, dank-smelling cave is crammed haphazardly with an old double bed, table and dresser, large keys, horseshoes, cowbells, a wine press and old photos and newspaper clippings preserved in plastic envelopes. This particular sasso was once the wine cellar, the cantina as Festa calls it, of an old rock-hewn monastery.
"Over here is the well where they drew up the water," Festa says, directing us to a deep stone hole. Since they lived above the cave, Festa's family, which included seven brothers and two sisters, also used this same cistern to collect rainwater.
---
13. New York Times: Landmark Commission - Dealing with Backlog of Nominated Properties
Michael Kimmelman, forwarded by Adam Sobolak
Big Risks as Landmarks Preservation Commission Moves to Prune Proposed Gems
What makes a landmark?
The New York City Landmarks Preservation Commission is about to decide the fate of 95 properties that have been languishing, some of them for decades, on its calendar.
Late in 2014 the commission's chairwoman, Meenakshi Srinivasan, appointed by Mayor Bill de Blasio, announced that the slate would simply be cleared. City Hall let it be known that earlier administrations had created the backlog. It was time for a fresh start.
This thrilled the Real Estate Board of New York, which the mayor was courting. Preservationists went ballistic. Behind the scenes, I heard that some staff members at the commission were also upset. They had worked long hours over many years to research which properties deserved to make the calendar in the first place.
Of course, the bigger issue was that erasing the backlog meant dozens of potential landmarks could suddenly be demolished. In calendar limbo, at least they were temporarily preserved. New York is a dynamic metropolis, propelled by change, but it isn't a giant Etch A Sketch.
So credit the commission, a typically opaque body with a history of mission creep, for backing off from the plan, instead promising hearings and an expedited review. As best as I can tell, this process has been unfolding. It culminates on Tuesday, when commissioners are to vote at a public meeting on which properties will be bumped from consideration or pushed for designation.
---
14. Architect AIA Journal:Marina City Landmarked
Edward Keegan, forwarded by Brian Dietrich
Chicago Names Marina City an Official Landmark
In Chicago, a city known as much for destroying great architecture as making it, a landmark isn't always a landmark. But, Bertrand Goldberg's extraordinary Marina City complex—long a defacto architectural landmark—passed its last legislative hurdle under the city's landmark's ordinance on Feb. 10 in a 48-0 vote by the City Council. Following Mayor Rahm Emanuel's signature, the designation will be published—and actual law—on March 16.
The four-building Marina City complex, built between 1960 and 1967, was the first planned development project in Chicago, and provided a unique combination of downtown living with residential, commercial, and entertainment uses that ultimately proved decades ahead of its time. The new designation protects each of the buildings, which include the well-known twin 65-story apartment towers, a ten-story office building (now operated as a hotel) with a two-story commercial base, and a sculptural, saddle-backed steel building designed as a theater that is now occupied by the House of Blues.
---
15. The Economist: Oscar Niemeyer Edificio Copan
forwarded by Benjamin Nasmith
Biography of a building
MASSIVE yet graceful, Edifício Copan partakes of the monstrousness of the city that surrounds it but is shaped by the sensuality of its architect, Oscar Niemeyer. Its curved form is meant to suggest the tilde above the "a" of São Paulo, Brazil's biggest city. With 5,000 residents in 32 floors of flats stacked atop 72 shops and restaurants, the building has its own postcode. Two framed certificates in the office of Affonso de Oliveira, Copan's "prefeito" (mayor), attest that in the mid-1990s the apartment block held a Guinness record as Latin America's biggest residential building. It remains the city's largest, most recognisable dwelling.
In its 50-year history (its birthday is in May, if you count from the day city hall issued the first residency permit), Edifício Copan's changing fortunes have at different times mimicked and diverged from those of São Paulo itself. These days, the building is doing better than its city. São Paulo's 11m people, who produce a tenth of Brazil's GDP, are suffering as the country enters its second year of recession, although not as badly as much of the rest of the country. Copan, along with the town's centre, is thriving.
---
16. The Telegraph: Why we Must Learn to Love Brutalist Architecture
Liz Hoggard, The Telegraph
Are you mad about concrete? Does you heart skip a beat when you walk through the foyer of the National Theatre? Do you plan day trips to Coventry Cathedral (with its hammered-concrete high altar) or Leeds University, where students look politely puzzled as you exclaim over their magnificent brutalist halls of residence?
---
17. First Woman Graduate in Architecture 1914, Miss Alice Charlotte Malhiot
Annmarie Adams
Robert Hill, editor of the extraordinary Biographical Dictionary of Architects in Canada 1800-1950, has just last week uncovered evidence of a Canadian woman graduating from architecture school in 1914. This is news because we have always thought (and I and others have much erroneously published as it turns out) that Esther Marjorie Hill was the first from U of T in 1920. The error comes from misstatements in the Toronto press at the point of EMH's graduation.
This is big news, putting us in closer timing with other countries. And wonderful to know about Miss Alice Charlotte Malhiot (1889-1968) of Edmonton.
Editor's Note:
If anyone has any information on her life, or her work please forward to Robert Hill. It is astounding that in just over 100 years, women now make up more than 1/2 of architecture students, but we are a long way from being 1/2 of the profession. I graduated in 1978 when women were very much still a minority. Its a great, if somewhat unstable vocation, always challenging, constantly interesting.
---