Issue No. 255 | December 15, 2016
Feature Stories
Top off the Petrie: Fundraising Campaign Launch
Bill for Heritage Tax Credits Introduced in Parliament
Canada 150- Getting to Know Canada's First Nations
Hamilton Spectator: Gore Park fight looms - again
Events
Continuing Education Course: Architecture of Southern Ontario
Tuesdays, Jan. 10 - Feb. 28, 2017 (8 sessions)
+ read
---
Continuing Education Course: Toronto's Neighbourhood Architecture
Wednesdays, Mar. 8 - Apr. 26, 2017 (8 sessions)
+ read
---
Heritage Ottawa Lecture: The Gréber Plan: 65 Years Later
December 13 2016
+ read
---
Advertisements
Built Heritage News Sponsors
1. Top off the Petrie: Fundraising Campaign Launch
ACO Guelph
Help Save a Downtown Guelph Architectural Icon
The Petrie Building, a 134-year old architectural icon at 15 Wyndham Street North in the heart of Downtown Guelph needs a face-lift and the community's help. The Architectural Conservancy of Ontario (ACO) is launching a $100,000 fundraising campaign to aid in reconstruction work to 'Top off the Petrie.'
In 1882, A.B. Petrie made a bold statement in capping his impressive new drug store with the big, bold mortar and pestle flanked by decorative scrolling and elaborate finials. This campaign will help restore what many agree is one of the most unique architectural features in downtown Guelph – the iconic very top section of the Petrie Building façade.
For many years, tourists and residents alike commented on the decay of the sculpture in the sky, to the extent it was included in Heritage Canada's 2014 list of The 10 Most Endangered Buildings. The building is one of only three pre-1890 stamped metal façades left in Canada.
Saving the Petrie Building became a national cause and in March 2015, Tyrcathlen Partners bought the building with the hope of restoring and repurposing it. Tyrcathlen has been working through interior and exterior restoration since 2015, finding many hidden treasures along the way. "With the support of the City of Guelph we have been able to re-activate the interior of the building and plan to restore the façade from street level to the roofline," commented Tyrcathlen principal Kirk Roberts. "However, the deterioration of the top section is severe and several pieces have fallen off over the past decades. The iconic upper section is at risk of being lost without the support of this ACO led public campaign."
President of the ACO of Guelph-Wellington, Susan Ratcliffe, is excited to see the renovations happen and is encouraging the community to consider supporting the campaign to revitalize this downtown landmark.
For More information on the Petrie Building--go to Restore the Petrie
---
2. City of Toronto Seeks Feedback on Heritage Conservation District Program Update
Heritage Preservation Services
The City is undertaking consultation with the community prior to Council considering the designation of a few HCDs.
Heritage Preservation Services (City Planning) documents are posted online on the City's HCD Blog. Here's the latest updates:
Heritage Conservation District Program Update
At the November 2, 2016 meeting of the Toronto Preservation Board, Heritage Preservation Services staff provided an update on two proposed Heritage Conservation District plans, King-Spadina and the Garden District, recently released for public review and comment. The presentation provided highlights of the draft HCD Plans including the district characteristics, geographic boundaries, statement of objectives and policies and guidelines.
The staff presentation is now available online at the link below:
---
3. Bill for Heritage Tax Credits Introduced in Parliament
National Trust for Canada Newsletter
A Private Member's Bill to create tax credits for rehabilitation of historic places was tabled in the House by Peter van Loan (Conservative critic for Canadian Heritage and National Historic Sites) this month. Bill C-323 is designed to limit the destruction of Canada's heritage buildings, and encourage rehabilitation of properties in the Canadian Register of Historic Places. For more information visit:
http://www.parl.gc.ca/HousePublications
This is an idea that has had widespread support from heritage advocates, federal, provincial, territorial and municipal governments, and the Federation of Canadian Municipalities over the years. It's exciting to see it tabled in the House and given first reading. We know that the tax system can be a powerful tool to stimulate private investment in heritage buildings. In the United States, the introduction of a 20 percent federal tax credit for rehabilitation of heritage buildings 40 years ago revolutionized the way developers think about old buildings and launched a booming and competitive preservation industry.
Stay tuned!
---
4. CTVnews.ca: Ottawa's Wellington Building officially re-opens after $425M restoration
Dario Balca
"We preserved this wonderful artistic mosaic," Lepage said, adding that the piece consists of nearly a million coloured glass tiles.
OTTAWA -- Ottawa's Wellington Building is ready to house the offices of 70 members of parliament following a $425 million overhaul aimed recapturing the iconic structure's former glory.

Journalists were given an inside look at the newly renovated building on Thursday, ahead of a mid-morning ribbon cutting ceremony that officially marked the completion of the project.

"I believe we have a responsibility to reflect on the past and to protect the future as well. We owe it to our parents, to our children and our grandchildren," said House Speaker Geoff Regan who led the ceremony along with Public Services Minister Judy Foote.

"In this building, there's a bit of magic. There's a real harmony here between tradition and innovation," he said.

The Wellington Building is located at 180 Wellington St., across from the West Block of Parliament.

It was first built in 1927, by American architect D. Everett Waid and Ottawa-based J.A. Ewart as the headquarters of the Metropolitan Life Insurance Company. A second stage of construction took place in the late 1950s, to reflect both the company's growth and the changing architectural trends of the time.

The building was bought by the federal government in 1973, to later be used as office space for MPs.
http://www.ctvnews.ca/canada/ottawa-s-wellington-building-officially-re-opens-after-425m-restoration-1.3185509?google_editors_picks=true
---
5. Globe and Mail: Baha'i Temple in Santiago, Chile
Alex Bozikovic
Spirit in the sky, Hariri Pontarini Architects
The security guard at the Yale Center for British Art in Connecticut stroked his hand along the concrete wall. Across the room, an architecture student named Siamak Hariri watched; as the sun washed down through skylights onto the pale floor of travertine marble, his eyes lingered on this gesture, a man's hand sliding across a precisely crafted, glimmering surface.
Thirty years later at his Toronto office, Hariri remembers that as a turning point. "Something twigged in me," he says with a distant smile. Yes, he was inspired by the artistry of museum's architect, the legendary Louis Kahn. But there was a deeper resonance. "I was raised believing that we have something called the spirit, and that you elevate the spirit with your work," Hariri says. "And when I saw that [reaction] from the security guard, I realized there's something in architecture that can do that."
Lifting the spirit is an aspiration rarely achieved in architecture. Hariri and the firm in which he is a partner, Hariri Pontarini, have had a project with such aspirations. The Baha'i Temple of South America in Santiago, the ninth of the faith's major houses of worship worldwide, opened in October.
In keeping with the Baha'i faith in which Hariri was raised, it is a nine-sided space for individual prayer, with no pulpit and no icons – a contemporary building that's open to everyone.
"Obviously, this is no ordinary assignment," Hariri says, seated at a table in his studio. "It had to be as perfect as is humanly possible. And it had to feel like a place of worship. But how? What is that quality?"
Editor's Note:Poetry on so many levels, a timeless building of the 21st century
---
6. CBC: Future of Old City Hall
John Rieti
Toronto Old City Hall could feature a museum, commercial space in the future
Torontonians want city to preserve iconic building's history, but are open to some businesses there
Shirley Bush joined the demonstrations against tearing down Old City Hall in the 1960s, and on Tuesday night she was back in the iconic Toronto building to help plan for its uncertain future.
The provincial courts are set to vacate the building in 2021, and city officials are already holding public meetings to plan for what could replace them. While it may be a long way off, some 50 people joined Bush at Tuesday's meeting.
Old City Hall won't become a mall, councillors say "I just think that it's a very special building," said Bush, who was born and raised in the city.
---
7. CBC: York Square Redevelopment
Mike Smee
Developer wants to build on Yorkville Heritage Site
City planners — and fans of Toronto's folk music heyday — are arguing against a condo developer's plan to erect a 30- storey tower on a designated heritage site in Yorkville.
Empire Communities applied last month for a demolition permit that would allow it to bulldoze several Victorian buildings on the northeast corner of Yorkville Avenue and Avenue Road, city planners say, including the former site of the Purple Onion, a coffee-house that in the 1960s hosted the likes of Carly Simon, Gordon Lightfoot and Buffy Sainte-Marie.
"There couldn't be anything more alarming," said Mary MacDonald, a planner and manager of heritage preservation services for the city.
On Wednesday afternoon, the Toronto Preservation Board will discuss a report from city staff that recommends council bar a demolition permit for the properties, between 33 and 45 Avenue Rd.
"What we need to do is preserve the heritage structures," said Coun. Kristyn Wong-Tam, who represents the neighbourhood and sits on the preservation board. "It's part of our history in this city and in this case the village of Yorkville doesn't need a new glass tower, especially at the detriment of losing this very valuable heritage asset."
---
8. Canada 150- Getting to Know Canada's First Nations
Catherine Nasmith
Links to Mississauga of the New Credit and the Haudenausenee First Nations
As a Canada 150 Project of BHN I will include links to First Nations' websites in each issue. Like many Euro-Canadians I received no education on First Nations in our school system. I am grateful to the National Trust for Canada for their provision of opportunities to meet First Nations at the last two conferences. As a private citizen I am working at learning more, but like many things, the more you learn the more you realize how little you know. I have found First Nations' websites fascinating reading.
On a personal note, I am finding it hard to think of celebrating Canada 150 on the heels of the Truth and Reconciliation Commission. Canada 150, as Gord Downie said as he received his eagle feather, "I will personally then celebrate the birth of our country, celebrate the next 150 years. It will take 150 years or seven generations to heal the wound of the residential school. To become a country, and truly call ourselves Canada, it means we must become one. We must walk down a path of reconciliation from now on. Together, and forever "
The Mississauga of the New Credit First Nation and the Haudenosaunee are both located in the Six Nations Reserve near Brantford, and are the closest First Nations to where BHN is published in Toronto.
There is a useful video, A Sacred Trust - An Official MNCFN Production which outlines briefly Mississauga of the New Credit history. http://www.newcreditfirstnation.com For the Haudenausenee Confederacy, http://www.haudenosauneeconfederacy.co
---
9. bloat: St. Lawrence Market Restaurants
Amy Grief
Restaurants struggle in shadow of St. Lawrence Market
Toronto's St. Lawrence Market is a popular local spot. Both tourists and locals flock to this food palace that National Geographic once rated as the best food market in the world. But the restaurant owners on the adjacent Market Street tell a different story about the neighbourhood.

A few weeks ago, Italian eatery Cresta shut down, so we decided to speak to its neighbours to see what it's like running a restaurant in the shadow of one of the most well-known foodie destinations in the city.

Aly Somani, who recently took over My Market Catch from Tom Antonosakis, has a unique perspective because he also runs Busters Sea Cove, which is inside the market.

"It's kind of like a different world even though they're right beside each other," says Somani, noting that many of the people who flock to the area want to eat inside the market; being beside it is both a blessing and a curse.

"You're kind of competing with inside," he continues. "You get a lot of spillover, which is great, but you know, it's still not considered the St. Lawrence Market, which makes things tougher." That said, by having a popular spot inside the market, Somani can send customers over to his restaurant - and he does, especially when people are looking to eat around 6 p.m., when the market closes on weekdays.

Some of the buildings on Market Street are nearly 150 years old and like the rest of the area, they're heritage designated properties. In 2010, the late Paul Oberman from Woodcliffe Landmark Properties came up with a plan to revitalize the street. After he passed away, his wife Eve Lewis took over the project. The restaurants moved in and opened in spring 2014.

Lewis continued to manage the properties along Market Street until earlier this year, when Woodcliffe sold its properties on the historic street. Now there's a new landlord in place.

Market Street served as a model for the city about how to create "flexible urban streets" that change their configuration seasonally - this means the restaurants all get big patios. When summer ends, however, it's more difficult to attract diners to the street.

"There's no foot traffic there, only in the summer there is," says Aras Azadian, who's behind the Barcelona-inspired Barsa Taberna.

restaurants market street"Our rent was just so excessive that we at times considered going out of business as well," he says. "But we continued to work on ourselves, on our brand, on our menu, on our wine list, on our management and we consistently improved our operations, and I'm happy to say we're a sustainable business."

Azadian, who has a background in marketing and management consulting, says the restaurants all work together - along with groups like the BIA - to start initiatives such as Tastes of the Market in order to raise the street's profile. But some issues persist.

At night, for instance, Market Street looks rather dark and unfriendly. Because of its heritage status, it's not always easy for the restaurants to add new types of signage or outdoor lighting to brighten it up.

"The streetscape was represented in such a way that was much more aesthetically pleasing and much more complete than what it is now," says Ian Paech who owns Evolution Food Co. But despite the challenges, he notes he has a consistent customer base looking for fresh and healthy prepared food.

My Market Catch takes a different approach and uses food delivery services to augment business. "We're trying to combat the challenge by using things like UberEATS, foodora, Grabb, Ritual, those things really help" says Somani.

"But in general when you walk down the strip on a Sunday night or a Monday night [when the market's closed], it's kind of dead."
---
10. Globe and Mail: ARCHITOURIST - The rebirth of Howard Street
Dave LeBlanc

76 Howard St. on the move. Scott Weir/ERA Architects
Toronto, it is widely known, is a movie stand-in for Chicago, New York, and even Southern California (The Bridle Path has played Beverly Hills). Until recently, a long, triangular patch of land near Bloor and Parliament was a shoo-in for Detroit: a shabby Victorian stood alone in a weedy field, and, half a block away, a dead-end street sported a row of falling-down, boarded up semi-detached homes.
The area bounded by Sherbourne, Parliament, Howard and Bloor streets had been that way for two decades, give or take. In 2006, The Globe's Alex Bozikovic wrote that the stub of Glen Rd. between the Bloor Street overpass and Howard Street was rife with hookers, drug dealers and crackheads. One home had a "large hole" in its roof; another had a tree taking root on its rotting, wet shingles. "I feel that the city has abandoned this neighbourhood," one Glen Rd. resident told Mr. Bozikovic at the time.
It was a rare spot of neglect in an otherwise prosperous city. A few years later, however, Lanterra Developments handed heritage superheroes ERA Architects an assignment: Make something out of this.
---
11. Globe and Mail: Laneway Housing
Alex Bozikovic
A case study in effective Toronto laneway housing
It was a warm day, and the burbling of a little waterfall carried on the breeze. Ivy and rhododendron rustled, and birds chittered in the trees above us. We could have been deep in the suburbs, but Brigitte Shim and I were sitting in a back laneway in Leslieville.
At her kitchen table, to be precise, in the exquisite little house that the architects, Ms. Shim and Howard Sutcliffe, built in 1993. They settled here, between neighbours' garages and a gas station, over the strenuous objections of city planners. And they still live here, in 1,350 square feet, with their two sons. "It was an experiment," Ms. Shim says. "We never thought we'd stay here this long. But it's now the perfect size for us."
This little house embodied a big idea: to take some of the scruffy territory in Toronto's 300 kilometres of laneways and put it to better use as homes. And after 20 years, the city is now ready to look at "laneway suites." A community group, Lanescape, is pursuing the effort with support from the urbanism and sustainability group Evergreen and city councilors Ana Bailao and Mary-Margaret McMahon. A public consultation will happen at the Evergreen Brick Works Dec. 5 and Ms. Shim will be speaking about her experience.
---
12. Hamilton Spectator: Gore Park fight looms - again
Matthew Van Dongen

The Gore Park frontline: 22, left, and 18 King St. E. in November 2013. John Rennison,The Hamilton Spectator
The long-running fight to save the Gore Park street wall isn't over despite a city recommendation to allow partial demolition and redevelopment of 18-28 King St. E.
The city's heritage committee will consider a recommendation Thursday to conditionally approve on-again, off-again plans to knock down two historic buildings and preserve the facades of two others as part of a contentious redevelopment.
The plan mirrors an earlier agreement that fell apart in 2012 — prompting council to vote to give last-minute protection to all the buildings via a heritage designation even as the building owners prepared for demolition.
---
13. Urban Toronto: Eglinton Theatre a National Historic Site
Jack Landau
Parks Canada Names Eglinton Theatre a National Historic Site

During the first half of the 20th century, Eglinton Avenue through Midtown Toronto was a far cry from the bustling thoroughfare we know today. In the decades before the Yonge subway first opened in 1954 with a northern terminus at Eglinton, the Forest Hill area was still a developing suburban community. Italian immigrant Agostino Arrigo Sr. was one of the first visionaries to purchase development lands along the then-bucolic Eglinton corridor, including a plot on the north side of Eglinton, just west of Avenue Road. After weathering the toughest years of the Great Depression in the late 1920s and early 1930s, Arrigo and theatre company Famous Players moved forward with plans to construct a new movie house that would become the Eglinton Theatre.

With an ambitious design by Toronto architects Harold Solomon Kaplan (1895-1973) and Abraham (Abe) Sprachman (1894-1971), styled in the then-emerging Moderne school of Art Deco architecture, the theatre opened its doors on April 15, 1936 to throngs of excited moviegoers. In the following decades, Kaplan & Sprachman's Eglinton Theatre screened hit movies ranging from The Sound Of Music to Star Wars to The Hunt for Red October before the rise of multiplex theatres led to the Eglinton's demise and subsequent April 1, 2002 closure.

Fortunately, this isn't where the story ended for the beloved cinema. Designated an historic landmark by the City of Toronto, the aging movie house would turn a new page in 2003 when hospitality and entertainment company Dynamic Hospitality & Entertainment Group announced its acquisition of the building. After restoration and renovation, the Art Deco theatre reopened that same year, now serving as a popular special events venue capable of hosting up to 1,000 guests, now known as the 'Eglinton Grand'.

Celebrating the cultural and architectural significance of the site, Parks Canada and the Historic Sites and Monuments Board of Canada unveiled two plaques yesterday respectively honouring Kaplan & Sprachman Architects and the theatre itself as a National Historic Site. To commemorate the unveiling, Dynamic hosted a ceremony attended by members of the Kaplan and Sprachman families, as well as members of the Historic Sites and Monuments Board of Canada and other guests.

Sam DUva, Managing Director of Dynamic, told the crowd, Were thrilled that The Eglinton Theatre is being recognized with this honour. We want to thank the Historic Sites and Monuments Board of Canada and Parks Canada for choosing to commemorate the property, one with such a storied history of cultural, corporate and social significance for the citizens of Toronto and the rest of the country. Were proud that the historic building is now Torontos foremost destination for special events as The Eglinton Grand, with an experienced and dedicated team of professionals operating it, to ensure its viability for the future.

With features like a sculptural ceiling, a zigzagging, stepped, and overlapping roof, and ornamental statuary to name a few, the Eglinton is considered among the best examples of Art Deco style in Canadian theatres. The installation of these two historical plaques in front of this landmark will hopefully help to draw the attention of passersby for years to come.
---
14. Urban Toronto: 4-Storey Rosedale Development in HCD
Stefan Novakovic
4-Storey Rosedale Development Presented to Community

Designed by Hariri Pontarini Architects, a 4-storey development in Toronto's exclusive Rosedale neighbourhood was presented at a community consultation on Tuesday, November 22nd. By 7 PM, Bloor Street's St. Simon the Apostle Church was a standing room at the back, with members of the community eager to share their thoughts about the proposed development planned on Dale Avenue.

Marketed as The Dale, Platinum Vista's 26-suite luxury development would replace three bungalows that currently occupy the south side of the street. With low-risealbeit statelyhomes on the north side of the street and the Rosedale Ravine to the south, the contextually scaled development attempts to provide a sensitive addition to the area.

With a trio of nearby 3- and 4-storey apartment buildings dating back to the mid-20th century, the 4-storey height is not unprecedented for the area. As architect Siamak Hariri explained, however, a fourth floor setback reduces the apparent visual bulk, making the building "read as a three-storey structure" from across the street. The three-storey height meets the general scale of the single-family homes across the street, aiming to foster a cohesive street-level experience.

Meanwhile, a series of vertical and diagonal design elements also break up the building's 91.1-metre length into a series of smaller, articulated frontages. Viewed from the street, this lends the project a sort of townhouse aesthetic, which arguably offers a better contextual fit for the area. Featuring a varied material and textural palette of stone and brick in muted earth tones, the Dale Avenue frontage aims to provide a relatively subtle addition to the neighbourhood.

As explained by both City Planning and the developer's representatives, the project would replace three existing bungalows. Built between 1945 and 1954, the three properties form part of the South Rosedale Heritage Conservation District. While the three homes are listed as contributing propertiesalbeit ones that rank on the lowest 'C' tier of heritage value the buildings can be replaced by a project of equal or greater contextual value to the neighbourhood.

Although The Dale will bring greater density to the area, the developers noted that the project will also contribute a number of public benefits. Overlooking the Rosedale Ravine, the current properties encroach upon the valley land, where development is now technically prohibited. The new development will convey that land back into public ownership.

Created by Janet Rosenberg + Studio, the landscaping plan will give the site a greater concentration of greenery, with new trees planned on either side of the building. While a number of trees will have to be removed to allow for construction, the new plantings would make for a greener site overall.

However, despite the project's contextually sensitive scale and relatively limited impacts, the development faced determined opposition from some in the room. A set of shared concerns was articulated by individual members of the community, who generally felt that the proposal constitutes an over-development of the site.

In particular, the height and density of the project was of particular concern to some in attendance. The land is currently zoned 'R1,' permitting singe-family homes up to 10 metres high, and a maximum FSI of 0.6. The proposed development features a 16-metre height, and an FSI of 2.0. In addition, the replacement of contributing heritage properties is of concern to many residents, as is the replacement of ravine trees.



---
15. Toronto Star: Heritage homes in Topham Park
Alicja Siekierska
Residents concerned development will negatively impact heritage of Sunshine Valley


The houses are a warm reminder of a postwar Toronto, but some have struggled to stand the test of time over the last 70 years.
Clevys Monasterios has lived in her war time home for 19 years.
Clevys Monasterios has lived in her war time home for 19 years. (Melissa Renwick / Toronto Star)
By

Tucked away in a corner of East York, lies a quaint neighbourhood that, with its small wooden houses and manicured lawns, seems almost frozen in time.

The houses are a warm reminder of a postwar Toronto, but some have struggled to stand the test of time over the past 70 years. Should these homes called charming by some, dilapidated by others be protected?

Many of the houses that line the streets with such names as Valor Blvd., Warvet Cres. and Vicross Rd., were built in the 1940s for veterans coming home from the Second World War. And they share many of the same features: wooden framing, cladding, a steep roof, close to the sidewalk, with a separate garage in the backyard.

Some residents are concerned that new proposed developments for larger, modern houses will ruin the character of Sunshine Valley, a small enclave of the Topham Park neighbourhood, and want the area to be designated a Heritage Conservation District.

The postwar homes in Sunshine Valley hold historic value for many residents.
The postwar homes in Sunshine Valley hold historic value for many residents.

Designed by architect Bruce Haken Wright, the area is a distinct departure from Torontos grid subdivisions. The streets are laid out diagonally, with a grand boulevard with a central median, and four locations where houses stand around open green spaces. When they were first constructed in the 1940s, the 197 houses were staggered on the street in waves.

Last week, Ward 31 Councillor Janet Davis hosted a meeting attended by about 30 residents to discuss what options they have to try to stop the development of what she called monster homes.

Residents said they wanted more accountability and consistency from the Committee of Adjustment, which considers applications for minor variances on developments. Many raised concerns that some developments they consider to be monster houses are passing through the committee without serious consideration.

Were losing heritage buildings all the time, an angered resident said.

Some residents also want the city to move ahead with the Heritage Conservation District study, which would determine whether the neighbourhood should receive the designation and the additional rules that consider characteristics of an area when it comes to new developments and upgrades.

People tonight said we reject this model of development for our neighbourhood. They want to preserve green spaces and the smaller frame homes they chose when they moved here, Davis said last week.

Although some houses in the neighbourhood that have been torn down and rebuilt still reflect the esthetic of the postwar homes, over the past several years, new developments in Sunshine Valley have been met with heavy skepticism and, in many cases, outright hostility.
Dave Duncan is rebuilding his home to adhere to his neighbours' wises of keeping the characteristics of the neighbourhood intact.
Dave Duncan is rebuilding his home to adhere to his neighbours' wises of keeping the characteristics of the neighbourhood intact. (Melissa Renwick / Toronto Star)

Dave Duncan and his wife moved into a small, one-and-a-half storey home in Sunshine Valley seven years ago. When it was just the two of them, it suited them perfectly, but two kids and a dog later, the limited space was too much to handle. They decided to demolish and rebuild.

Duncan hired a local architect, who lives in Sunshine Valley, to design a home that would fit in with the neighbourhood. He met with concerned residents, showed them plans for his home, and still had letters submitted to the Committee of Adjustment over his development including one letter from his city councillor, Davis.

I found the process to be a lot less stressful and taxing than others have experienced, but part of that was we did a lot of ground work with our neighbours, he said.

Duncan said although its important to maintain the character of the neighbourhood something he went out of his way to do the community needs to be realistic when it comes to development.

Im torn because one of the things we love is the character of the neighbourhood. But, on the other hand, if I buy a car, I can make it any colour I want. If I own property, I can put in a nice, modern house, if thats what I really want.

Duncan hopes the Sunshine Valley residents will be able to have a constructive conversation as more people move into the neighbourhood.

I hope we can move forward as a community in a way that both respects the heritage but also respects the fact that development is a reality, and its not a bad thing.

Aristotle Christou, a planning consultant, testified at the Ontario Municipal Board (OMB) on behalf of the owner of 98 Squires Ave., who wanted to take down the existing property a small home totalling less than 600 square feet and build a substantially larger brick home.
Homes built for World War Two veterans still stand in Toronto's Topham Park's Sunshine Valley.
Homes built for World War Two veterans still stand in Toronto's Topham Park's Sunshine Valley. (Melissa Renwick / Toronto Star)

Christous clients requested variances were rejected because the mass of the house would overwhelm its near neighbours and the adjacent neighbourhood and therefore would not fit into the existing character.

Christou called the OMB decision unfair and dismissed the heritage value of the neighbourhood, saying that because something is old and dilapidated, it does not automatically have to be preserved in perpetuity.

These are very inexpensive houses that were built to reflect the needs of the people of the time. People didnt have cars, people didnt have high expectations, they only had a need to house themselves, Christou said. Things have changed over the past several decades. People like to have a bit of luxury in their homes.

He said new development and higher density homes are needed now more than ever because of Torontos housing crisis.

If that designation goes through, there wont be any changes and that is really detrimental for the renewal of an area where the houses are 90 years old, Christou said. This area needs renewal and reinvestment.

When Clevys Monasterios first saw the cute house on Merritt Road 19 years ago, she fell in love with it. The house featured original details glass door knobs, hardwood flooring, a cast iron bathtub that she adored, plenty of light, and a spacious backyard. It was the modest home shed always wanted. She felt like she was in a small community, despite the fact that downtown Toronto is a relatively quick drive away.

Monasterios attended last weeks meeting because she wants to see what can be done to maintain the areas charm/character.

If we dont pay attention, this charm is going to be lost, Monasterios said. Its not that Im against progress. There have been some changes that are great and really go with the neighbourhood, but now they are coming in with new kinds of construction that really dont belong.

She believes that going forward, new construction should be a compromise.

Its OK to build, but they should be respectful to the neighbourhood, Monasterios said.

At the meeting last week, Davis and other city representatives explained how residents can engage in the planning process through the Committee of Adjustments and then the OMB.

Neighbours have seen too many bad examples of inappropriate development, she said.
---
16. Ottawa Citizen: Château Laurier owners tell city council there's growing 'acceptance' for proposed expansion
Susana Mas

The Chateau Laurier in Ottawa is proposing a new addition to the landmark hotel. It unveiled its redesigned plans at the Chateau Laurier, November 17, 2016. Jean Levac - Postmedia News
The owners of the Château Laurier have delivered a public consultation report to city council which they say shows a growing acceptance for the proposed expansion of the iconic hotel after its design first sparked public outcry nearly three months ago.
The expansion project includes two new wings at the back of the hotel to lodge long-term suites, new terraces connected to the hotel's grand ballroom, the greening of the hotel's roofs, a new exterior courtyard and gardens, and the replacement of a 5-storey parking structure with an underground garage with additional spaces.
The report, which the owners of the Château Laurier say marks the end of the pre-consultation process, is based on the feedback they received during a public meeting where the team of architects gave a 45-minute presentation, took questions from the public and unveiled a 3D scale model of the proposed design. Community stakeholders were also consulted privately in September.
The Nov. 17 meeting was attended by 92 people, 56 of which took the time to respond in writing to a questionnaire.
According to the report, the results of the survey show that the overall look of the proposed design and its relationship with the existing Château remain the most divisive aspect of the expansion plan.
---
17. Willowbank: INTBAU
Willowbank Press Release
Willowbank becomes the home of INTBAU Canada

A worldwide organization in traditional building, architecture and urbanism
Willowbank is pleased to announce it has signed an agreement to host the Canada Chapter of the International Network for Traditional Building, Architecture and Urbanism (INTBAU), a global network of 5,600 individuals and institutions who support tradition in architecture, building and urban design. The two charitable organizations share His Royal Highness The Prince of Wales as their Patron.
The announcement comes during the 10th anniversary year of Willowbank, and as INTBAU prepares to host its World Congress on November 14-15 in London, UK, a biennial forum to discuss and debate pressing issues facing the built environment in communities around the world, this year exploring the future of cities and the wide-ranging impact of rapid urbanization on how and where we live.
---
18. Oak Bay News: Victoria Heritage
Christine Van Reewyk
Oak Bay neighbourhood pitches plan to preserve local heritage

Michael Prince and Karen Wallace-Prince propose Oak Bay designate their segment of Oak Bay (their home is behind on the right) as a Heritage Conservation Area. / Christine van Reeuwyk/Oak Bay News

Many living in Oak Bays first subdivision hope to be part of the communitys first Heritage Conservation Area.

They took notice, and worried a little, this summer as character homes from Oak Bay and Victoria barged off to the San Juan Islands.

As other historic homes came down in favour of new buildings, they started to bump around an idea.

When a 1912 landmark mansion in their Prospect Place neighbourhood changed hands, it cemented the growing concept for Oak Bays oldest suburb a Heritage Conservation Area.

That was part of the catalyst, the change in ownership and concern, said Michael Prince. Just because theyre old and beautiful doesnt mean theyre protected.

Prince and wife Karen Wallace-Prince live on Prospect Place, a scenic road that winds down from Oak Bay Avenue to Beach Drive.

It was designed originally as the route home for architect Frances Rattenbury, who then lived where Glenlyon Norfolk School now holds classes.

Oak Bay has 28 houses designated heritage, 11 are in the neighbourhood Prince hopes Oak Bay will consider for an HCA.

We wanted to look more long-term and be more proactive, he said.

It would be Oak Bays first HCA, but there are about 60 in B.C. with several in Victoria.

I think this HCA, if its successful and evolves over time, it could be a really successful model for Oak Bay in terms of identifying areas of heritage value and there are pockets everywhere, said Cairine Green, chair of the Oak Bay Heritage Commission which supports the idea. It aligns with a lot of values that this community seems to care about.

The Oak Bay Heritage Foundation issued a $2,500 grant to develop a statement of significance for the potential HCA, now underway.

We think theres some urgency because we see some properties around us at risk, Prince said. I dont think were asking for the moon.

Municipal and regional governments can create a Heritage Conservation Area that establishes regulatory guidelines and may list individual properties for protection. They protect ambience, landscaping and little historical things such as a rural lane way or low stone walls, Prince said, noting his neighbourhood is rich with history.

We cant take it for granted, Prince said, pointing to the hot housing market across Victoria. A lot of people are spending a lot of money on land and knocking down perfectly good houses.

Prince and Wallace-Prince shared the thought with council members and senior staff at Oak Bay municipal hall, garnering advice prior to presenting the concept at a council meeting last month. They invited council members into their 1908 Francis Rattenbury-designed home (featuring Samuel Maclure houses on either side). The neighbourhood is, as Prince says, the first designed suburb of Oak Bay.

They had a vision for the area, he says, noting Rattenburys drives past his ex-wifes home on a daily basis also feeds into the fodder of local cultural history another area hed like to see explored, perhaps with walking tours.

A challenge any designation could face is the perception that it would negatively affect property values. Not true, says Prince, noting research shows property values go up. People know & theyre attracted to the quality of an area.

Wallace-Prince notes that residents are heavily involved in development guidelines for an HCA.

Theyre specific to the guidelines we write up, Wallace-Prince said, echoing. We dont want rigid rules.

Those guidelines are again about being sympathetic and respectful to the neighbourhood and that includes keeping happy neighbours on board.

For example, one resident expressed a desire to protect the topography, the outcroppings of rocks that often meet a blasting fate.

The predictability and stability of such a written document, with expectations for future owners clearly is also a draw, Prince said.

Things are topsy turvy, Prince said, and designation would offer some reassurance.

It would keep development sympathetic to surroundings, in-keeping with the neighbourhood, they both say.

An HCA is a tool the province has vigil local government for almost 30 years. Its new here but its not new across Canada, Prince said. It doesnt stop development & you get the best of both worlds.

Wallace-Prince did a lot of door knocking this summer to garner support, with about 75 per cent of the neighbourhood on a petition suggesting exploration of an HCA. Of roughly 57 homes in the area they propose, about 43 indicate support. Those numbers do leave some notification and research work for the district, Prince said, and would likely need some cash included in next years budget.

This is a very exciting potentially demonstration project for Oak Bay if they are successful, said Green. I certainly admire the neighbourhood for coming together like this for a common purpose. Thats a very good demonstration of neighbourhood togetherness.

Learn more about the proposed HCA area at www.protectoakbayheritage.ca online. The proposal is expected to come up during Oak Bays committee of the whole meeting on Dec. 5 at 7 p.m. in council chambers at 2167 Oak Bay Ave.



Court-tested Heritage Conservation Area

The BC Supreme Court recently upheld the City of Vancouvers First Shaughnessy Heritage Conservation Area Official Development Plan that legally protects pre-1940 heritage properties in the area from demolition and provides clarity around conservation.

Establishing the First Shaughnessy District as Vancouvers first-ever Heritage Conservation Area in 2015 was an important move by city council toward preserving and protecting valuable heritage homes in Vancouver, the city said in a news release. First Shaughnessy is a historic Vancouver neighbourhood which was developed in the early 1900s as a premier residential area. The heritage conservation area designation is a strong response to the steadily increasing number of demolition permit requests for pre-1940 homes in the area in recent years.
---
19. Hyper allergic: AIA Trump Endorsement upsets Membership
Amelia Taylor-Hochberg forwarded by Leslie Thompson
The Unsettling Implications of the American Institute of Architects Memo Supporting Trump
To many architects, the 2016 presidential campaign has brought a reckoning of professional values. Just one day after the election, on November 9, the American Institute of Architects issued a statement to its some 89,000 members in response to the election of Donald Trump. Authored by CEO Robert Ivy, the statement reads, in part:
During the campaign, President-elect Trump called for committing at least $500 billion to infrastructure spending over five years. We stand ready to work with him and with the incoming 115th Congress to ensure that investments in schools, hospitals and other public infrastructure continue to be a major priority.
Ivy rounds off the statement with: "This has been a hard-fought, contentious election process. It is now time for all of us to work together to advance policies that help our country move forward." As it turned out, many architects — both AIA members and not — were pissed.
"Seething at this complacent message from the #AIA. This is not business as usual," tweeted architect, AIA-member, and University of Buffalo professor Joyce Hwang. Some architects threatened to not renew their membership in protest; some, as Maryland-based architect Fritz Read did very publicly, resigned.
---
20. Environmental Defence blog: "It's Time to Fix the OMB"
Tim Gray
The OMB is unaccountable to the public, undermines municipal decision-making and is a barrier to creating sustainable communities. It
We need your voice to inspire change. Sign the petition at FixtheOMB.ca. Join the conversation on twitter at #FixtheOMB. The deadline for providing feedback is December 19, 2016. See Ministry of Municipal Affairs OMB Reform website for more information and to submit your comments: http://www.mah.gov.on.ca/Page14965.aspx
---
21. Architizer: Women in Architecture
From A to Zaha: 26 Women Who Changed Architecture
Speaking to The New York Times in April this year, architect Yen Ha revealed an uncomfortable truth for the profession: Women are still discriminated against in the workplace, facing a daily battle for respect in the studio, on the construction site and everywhere in between.
"We absolutely face obstacles. Every single day," said Ha. "It's still largely a white, male-dominated field, and seeing a woman at the job site or in a big meeting with developers is not that common. Every single day, I have to remind someone that I am, in fact, an architect. And sometimes not just an architect, but the architect."
These sentiments were shared among many other female architects interviewed by the Times, their comments coming just a few days after the unexpected death of the ultimate flag-bearer for women in the profession: Dame Zaha Hadid. Hadid herself was well known for lamenting the lack of gender equality within architecture, asserting that, despite campaigns against discrimination in the workplace, "it's still a man's world."
Editor's Note:After Zaha Hadid died last spring a huge number of women architects gathered at the Gladstone to raise a glass to her success. Architecture is a tough calling for anyone, yet within the discipline are all kinds of interesting ways to practice. Women are finding them.
---
22. The Conversation: Nashville House Demolitions
Kevin Murphy
When a House is demolished More than the Home is Lost


In 2013 alone, more than 500 houses were demolished in Nashville, Tennessee, a sharp increase from previous years. And hundreds of additional teardowns are expected in a city thats projected to add a million residents over the next two decades.

Nashville is hardly the only North American city to experience a recent wave of teardowns. In Vancouver, a housing and real estate expert reports that the city issued more than 1,000 demolition permits in 2013. She points out that most of the demolitions are of single-family homes, and each sends more than 50 tonnes of waste to landfills.

While preservationists have long decried the loss of historic fabric and cultural capital through teardowns, the environmental costs of demolition are increasingly coming to the fore.
A waste of energy and a waste of space

The negative environmental consequences of teardowns are manifest. According to the Chicago Metropolitan Agency for Planning (CMAP), demolition and construction now account for 25% of the solid waste that ends up in US landfills each year. Further, when a building comes down and its materials are hauled off to the dump, all the energy embedded in them is also lost. This consists of all that was expended in the original production and transportation of the materials, as well as the manpower used to assemble the building.

As CMAP explains, examining embodied energy helps to get at the true costs of teardowns and links it to issues of air pollution and climate change (from the transport of materials and labor), natural resource depletion (forests, metals, gravel) and the environmental consequences of extracting materials.

Often, a more environmentally friendly, quaint home is replaced by a very expensive, much larger house, which is frequently left vacant. Meanwhile, in the most desirable cities, in their tony suburbs, and in popular resorts, investors park their assets in McMansions that are sporadically occupied.

Additionally, bigger houses necessarily encroach upon open space. Not only does expansion entail the uprooting of mature plantings which benefit air quality but it also eliminates trees that can provide shade and minimize energy required to cool buildings in warmer months.
In the wake of the housing crisis, many McMansions remain unoccupied. Michael McCullough/flickr, CC BY-NC
Urban facelifts erase more than crumbling buildings

In city neighborhoods, opponents of demolition will often cite the loss of historic character.

Advocates for development, on the other hand, frequently argue that demolition rids cities of decrepit, obsolete houses, paving the way for multi-unit developments. In this sense, cities can become more efficient with their limited space, avoiding suburban sprawl while alleviating the long, traffic-snarled commutes of those who travel to the city.

In many cities, however, new construction on the sites of torn-down houses is aimed at attracting relatively affluent young or middle-aged professionals the demographic that appreciates urban amenities like shops, restaurants and museums.

Time was that a walking world that is, an environment in which services and amenities are available within walking distance of ones home was possible for all city-dwellers, regardless of class. Today, in many urban areas, housing in the dense central core is the purview of the rich, and the less affluent are pushed to the outskirts.

As a result, formerly diverse neighborhoods become economically monolithic. Longtime residents scatter as home values and taxes are driven up by new construction.
Withering cultural capital

Teardowns also have negative cultural implications.

All houses tell a story: theyre evidence of how earlier generations thought about domestic life and designed spaces to reflect their daily needs. When we demolish them, we lose those crucial traces of the past.

Of course, older houses often cannot satisfy contemporary demands for amenities, and were frequently built on a smaller scale. Modestly scaled houses from the 19th and early 20th centuries which represent a wide range of architectural styles are sometimes built out or renovated. But often developers and homeowners opt to (as a For Sale sign in my neighborhood recently put it) scrape the lot.

For whatever reason, high square footage has become a prerequisite for new homes in the United States, where the average size of a house built since 2003 is more than double that in England. The United States Census Bureau reports that between 1973 and 2008 the average square footage of new houses soared from 1,660 to 2,519, only dipping after the Great Recession.

Small houses arent alone in falling victim to the wrecking ball. The Los Angeles Times recently reported on the demolition of mansions in desirable LA neighborhoods that had sold for as much as US$35 million.
Actress Jennifer Aniston has taken a stand against her mega mansion-inhabiting peers, arguing that The very idea that a building of 90,000 square feet can be called a home seems at the least a significant distortion of building code.

Even in less supercharged real estate markets, large and well-built homes fall victim to rising land prices that make them more valuable as dirt.

One example is Georgias Glenridge Hall, an historic Tudor Revival mansion, which The Georgia Trust, a statewide historic preservation organization, designated a place in peril earlier this year.

Featured in films and providing some of the setting for the first season of The Vampire Diaries, Glenridge Hall had been preserved, until recently, by descendants of the original owner. But the architecture and planning firm Duany Plater-Zyberk & Company darlings of the New Urbanism movement, which advocates for the revival of traditional town planning and walkable mixed-use developments demolished the building to make way for a new mixed residential and commercial English Village.
Richmond, Virginias Agecroft Hall is built in the Tudor style. Phoebe Reid/flickr, CC BY

As I pointed out in my recent book, the builders of Tudor mansions like Glenridge Hall in the 1920s and 1930s attached a great deal of significance to the historic feel of their homes: in famous Tudors like the Virginia House and Agecroft Hall, they went so far as to import materials from actual English Tudors.

Unfortunately, for todays wealthy builders and buyers, the past carries little cachet. For many, older homes are considered an obstacle rather than a badge of distinction. And when these radical presentists are given free rein to tear down the remains of the past, we all lose.
---
23. Creative Review: How National Trust London is using creativity to change our ideas of heritage
Eliza Williams
As a new immersive exhibition opens at National Trust property Fenton House in London, we talk to NTL creative director Joseph Watson about how his department is experimenting with new ways of approaching historical buildings and heritage

Fairfield House in Croydon. Photos: Sophia Schorr-Kon
When thinking of the National Trust, it is unlikely that the first thing that comes to mind will be Brutalism. Instead, it has a somewhat different image. "Country houses and cream teas?" says Joseph Watson, Creative Director of National Trust London, when I tentatively broach the organisation's reputation with him. Well, yes.
But in London, Watson and his team are experimenting with a number of different ways of thinking about heritage, and also examining the broader question of where the National Trust could and should be operating. This has brought about forays into promoting Brutalism across London, Sheffield and Norwich, and also a project looking at both the heritage and future potential of Croydon, an area that, let's face it, couldn't be much further from the accepted image of the National Trust.
---
24. The Guardian: Save our brutalist masterpieces, says top heritage expert
Staff
Simon Thurley, former head of English Heritage, warns 20th-century buildings risk becoming

The new Design Museum, formerly the Commonwealth Institute, on Kensington High Street in London. Photograph: Alamy
A former head of English Heritage has warned that the country's modernist legacy is being betrayed by a wrong-headed approach to 20th-century architecture. Simon Thurley, who stepped down as chief executive in May 2015 after a 13-year stint, says landmark buildings are uniquely vulnerable to demolition, in part because modernist architecture tends to be unpopular with the public and politicians.
---
25. John Blumenson: Where Am I?
John Blumenson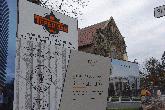 Teperman - The Demolition People: Working with Developers to Preserve Heritage Buildings
What is interesting is hoe the demo industry has become a partner in heritage!
---