Issue No. 257 | February 22, 2017
Feature Stories
Globe and Mail: Canada's Buildings - Investment Portfolio or City Fabric
Globe and Mail:Davisville Junior School-Why we are losing Ontario Schools
acotoronto.ca: ACO Toronto Publications Available For Free in Resources
CBC.ca Public Consultation re: Chateau Laurier Extension Con
Globe and Mail: Business Case for Heritage in Edmonton
Events
Continuing Education Course: Toronto's Neighbourhood Architecture
Wednesdays, Mar 8 - Apr 26, 2017 (8 sessions)
+ read
---
Shirley Blumberg Speaking in Ottawa
Wednesday, February 15, 2017
+ read
---
Regenerating Places of Faith
February 25, 8:30-4:30
+ read
---
Advertisements
Built Heritage News Sponsors
1. Extending Protection for Built Heritage in Toronto
Geoff Kettel

BMO Bank site following demolition photo by Linda McCarthy
The tragic demolition of the BMO Bank building in North Toronto was followed by intense media interest and public outrage. But it also led City Council to waste no time in passing a Motion calling for changes to Ontario legislation in order to speed up the listing and designation process. It happens that Bill 68, Modernizing Ontario's Municipal Legislation Act is in Second Reading in the Legislature, and therefore there is an opportunity for the City to request amendments when it goes to Standing Committee for public hearings.
The Motion directs that any City of Toronto submission to a Standing Committee on Bill 68 include the Ontario Heritage Act as a listed Act under Section 21(2) of the City of Toronto Act (COTA), which would permit delegation to a standing committee (like the Toronto Preservation Board) or a City Official (like the Chief Planner) of the powers to list and designate property under the Ontario Heritage Act. In addition the Motion requests that the Province enact a provision that allows the City to enact by-laws that provide for control of demolition of non-residential buildings. Right now in the case of non-residential property there is no requirement for a replacement building that has planning approval before demolition is permitted.
In order for these changes to be approved two things are required: (1) Toronto's request for amendment of COTA must be accepted by the Standing Committee of the Ontario Legislature as part of Bill 68, and (2) Bill 68 must be passed by the Ontario Legislature (if part of a government bill it is quite likely that this would happen)
These changes are vitally needed to ensure that the BMO building is the last building to be unceremoniously demolished in this manner. So what next? Heres what you can do: (1) write your MPP to ask for their support for the City of Toronto requested amendment to Bill 68, and (2) when Bill 68 goes to Committee, consider registering as a deputant in support of the amendment being accepted by the government and passed by the Legislature.
---
2. cbc.ca-Protecting Kensington Market Neighbourhood
Shanifa Nasser, Nick Boisvert
Toronto's Kensington Market one step closer to becoming heritage site
How do you preserve a neighbourhood that's unique but ever-changing?
That's the question the city will be tackling over the next year as it moves one step closer to designating Kensington Market a heritage site.
Community members met Thursday night with city officials for the last in a series of consultations to discuss exactly that. And while the details have yet to be worked out, the city will be moving forward to nail down the specifics over the next 12 months.
Adult colouring book puts focus on Kensington Market
Kensington Market tenants accuse new landlord of bullying them with rent hike of nearly 50%
"Developing a heritage district for Kensington that's classic Kensington ... will be a little chaotic," said Ward 20 Coun. Joe Cressy at the meeting, citing the area's inimitable cultural and physical heritage.
'You have to recognize a place like that'
But, he added, "It's happening."
That's good news to Ossie Paval, who has run a coffee shop in the area since 1963.
"I think they should stop dragging their feet. They've been promising it for years. You show me another site that deserves it in Canada," he said
Editor's Note:this is my neighborhood, and yes we are worried!
---
3. First Story Toronto: An App and a Blog on Toronto Indigenous History
First Story Toronto: Exploring the Aboriginal History of Toronto
App launched in 2012 explores aboriginal sites in Toronto. This organization offers tours, lots of writing and public events to share Toronto's First Nations history.
---
4. Globe and Mail: Canada's Buildings - Investment Portfolio or City Fabric
Andrew Willis, forwarded by Robert Allsopp
Europes richest families snap up Canadian commercial real estate
Europe's wealthiest families have discovered Canadian commercial real estate as a safe haven investment, snapping up landmark properties in Toronto, Vancouver and Montreal over the past year, in part because of concerns about the European Union's uncertain future.
Foreign buyers purchased a record $5.6-billion of commercial properties in Canada last year, according to data from CBRE Group Inc., with Europeans accounting for $950-million of the total. Asian investors made up the majority of foreign buyers, but most deals involving buyers based in Asia were hotel and office building acquisitions by financial institutions such as China's Anbang Insurance Group.
The buying out of Europe, most of it by first-time investors in Canada, came from wealthy individuals such as Spain's Amancio Ortega, founder of the Zara retail chain, who snagged a landmark corner in Montreal, and Germany's Klaus-Michael Kuehne, whose estimated $10-billion (U.S.) fortune comes from family-owned shipping company Kuehne + Nagel. He acquired the 37-storey Royal Centre office building in Vancouver from Toronto-based Brookfield Canada Office Properties, which turned a $285-million (Canadian) profit on the sale.
Editor's Note:Such international pressure on Canadian Real Estate foreshadows more challenging times for heritage properties in city centres.
---
5. Globe and Mail:Davisville Junior School-Why we are losing Ontario Schools
Alex Bozikovic
School's Out

Fred Lum, Globe and Mail image
The roof leaks. The classrooms are too small. A renovation would be tricky and expensive. But Davisville P.S. is an architectural treasure, writes Alex Bozikovic, and the school board's decision to tear it down is a bad sign for Toronto's heritage
A spaceship landed on Millwood Road. That's how an imaginative child might see Davisville Public School: a pointy-winged product of a distant civilization that loves syncopated windows and hyperbolic paraboloids.
In fact, the North Toronto school is the product of a distant civilization: Ours, in 1962, when public buildings had real budgets and Toronto's school board believed its architecture should represent the value of public education.
Now, it's slated to be torn down.
The structure, which houses both Davisville Junior Public School and Spectrum Alternative Senior School, will be replaced by a new building right next door; the Toronto District School Board will tear down the old one when construction is finished in 2020, to make room for a schoolyard and driveway. For the affluent and fast-growing area, this is a victory. The current school is overcrowded. The new building will be larger, with a community centre and bigger schoolyard.
But there is also a loss for the city: an unnecessary demolition of a building that has economic and environmental value, and real cultural worth. "It's a treasure," says architect Carol Kleinfeldt, one of the leaders of an informal activist group that is agitating to save the building. "And this is the school board's own heritage."
If the building had been designated heritage by the city, "we would be having a very different conversation," says Catherine Nasmith of the Architectural Conservancy of Ontario. But the school board's internal process ignored the building's heritage value and skipped past the city's heritage-preservation apparatus.
Not far up Yonge Street, the sneaky but legal weekend demolition of a 1920s bank building recently prompted an uproar. At Davisville, the City of Toronto, thanks to the leadership of councillor Josh Matlow, has given the school board the freedom to disregard heritage that a developer could only dream of.
Editor's Note:This article elegantly nails several nails on the head as to why we are losing Ontario schools
---
6. NOW: Toronto's Post-Industrial Buildings - Why we can't afford to lose them
Richard Longley
Toronto's new industrial revolution: why old buildings need new ideas

If she were writing The Death And Life Of Great American Cities today, Jane Jacobs might include 401 Richmond as an example of new ways of working that are transforming Toronto's former factories into sites of post-industrial innovation. It's a brilliant experiment born out of the real estate crisis of 20 years ago that is now being threatened by the latest boom.
These are revolutionary times for industrial heritage in Toronto and other cities across Canada.
Victorian masterpieces, plainer early 20th-century buildings and former factories are being adapted for use by artists, technological entrepreneurs and pioneers of new ways of working that did not exist when they were built.
But that's the way with heritage: built for new ideas in the past, ready for new ideas in the present - and the future.
In 1961 Jane Jacobs published The Death And Life Of Great American Cities, which includes what might be her most famous lines: "For really new ideas of any kind... there is no leeway for chancy trial, error and experimentation in the high-overhead economy of new construction. Old ideas can sometimes use new buildings. New ideas must use old buildings."
The "new ideas" she listed seem quaint today: neighbourhood bars, foreign restaurants, pawn shops, studios, galleries, stores for musical instruments and art supplies.
But Jacobs was on to something.
Editor's Note:This is a long, and excellent analysis of the role our post-industrial buildings play in the creative economy, and why Toronto is losing them to dumb tax policies, among other things.
---
7. Summer Beaver First Nations: Nibinamik
First Nations settlement 500 km. north of Thunder Bay, a group who settled here 40 years ago for reasons of religious freedom. This First Nation is in the news this week because of the tragic loss of the artist, Moses Beaver.
---
8. Toronto Star- On Façadism and Signism in Toronto
Edward Keenan
The Honest Eds sign will be saved. Or part of it anyway.
Just as news was circulating that the thousands of light bulbs which are such a familiar part of Bloor Street West — they are among the most familiar, photographed and filmed artifacts in Toronto — might likely be headed for landfill, David Mirvish announced he plans to take the 30-foot by 60-foot section most instantly recognizable and preserve it.
Fittingly enough, the plan is to affix it to the theatre near Yonge and Dundas that bears Ed Mirvish's name, albeit to the back of the building, facing onto Victoria Street, where the stage doors are.
Read more:
The move needs approval from city council, but that should be a no-brainer; it's not just a note-perfect tribute to the man and his life's work, but a contribution to a growing Toronto trend.
This city did not invent architectural façadism, but we've become particularly famous for it.
It's the practice of redevelopers saving parts — often the façades — of historic buildings and constructing new buildings around or on top of them.
When the members of the pointy-glasses crowd talks about this, they express contempt for a gesture toward history that can sometimes seem neither to preserve heritage, nor fit with the new buildings.
---
9. Unikkaat Films: Producer of the Angry Inuk
I saw this film a few weeks ago, it may be a bit difficult to find, but worth the hunt. It tells the story of the seal hunt and first nations, as well as how Inuit are tied to an international economy. Hunting seals is not a subsistence activity, but a critical part of the modern inuit economy. Every Canadian should see it, and then go out and buy sealskin products.
List of upcoming screenings, and past screenings:
http://www.unikkaat.com/projects/angry-inuk/screenings/
My favourite question to be asked? Where to buy sealskin!
http://www.unikkaat.com/projects/angry-inuk/where-to-buy-sealskin/
Editor's Note:I was hoping to find a website that outlined Inuit culture but have come up empty, this film gives a lot of insight, and the film maker has done several others. I'm a fan!
---
10. acotoronto.ca: ACO Toronto Publications Available For Free in Resources
Catherine Nasmith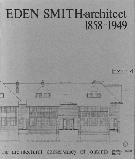 Cover of Book on Eden Smith
On ACO Toronto's website there are several publications that have been out of print since the 1980's available for free download. They include, Howard Chapman's book on Alfred Chapman Architect, Carolyn Neal's book on Eden Smith Architect, Doug Brown's book on Eden Smith, Edna Hudson's book on Bellevue Avenue, and the PDF version of Call for Tender, 1847-1890 which was put together by Alec Keefer, Charles Kinghorn and Kent Rawson.
Both the books on Alfred Chapman and Eden Smith have wonderful pen and ink sketches of important Toronto buildings, by William Moffat, and Howard V. Walker.
---
11. CBC.ca Public Consultation re: Chateau Laurier Extension Con
City of Ottawa launches consultation on much-maligned Château Laurier expansion

Hotel owner Larco Investments looking for approval of controversial hotel expansion
City staff told council's planning committee that public pushback, combined with both national and local interest in the hotel, which opened in 1912 and was declared a national historic site in 1980, were factors in the consultation process.
Architects and owners of the iconic hotel next to the Rideau Canal on Wellington Street first put forward drawings of a modern glass addition to the hotel in September 2016, sparking a fierce online backlash and a do-over in November 2016.
The architecture firm described the revised addition as eight per cent smaller than the original.
Some of the images presented for the redesigned Château Laurier appeared identical to ones already presented. At left, a design presented last November; at right, the design presented two months earlier.
The website launched for the public consultation said the proposed addition includes two tall buildings, 11 storeys on the east side and 12 storeys on the west side.
It would include 218 long-stay hotel units and five levels of parking including 385 stalls accessible from Mackenzie Avenue.
The application includes a request to remove the current parking structure, which was added to the north side of the hotel in 1960.
The Château Laurier is formally designated a city heritage building, which means certain restrictions apply to any changes.
A heritage working group will have a closed meeting at the end of February to discuss how the proposed design will affect the hotel's windows, roofline and other heritage elements.
---
12. CBC.ca-Massive Catholic Burial Ground under School Yard
Michael Smee
Graves discovered beneath downtown elementary school mean no expansion
Thousands could be buried beneath old St. Paul Catholic School on Sackville Street


The future of a downtown elementary school that was built over hundreds — possibly thousands — of buried bodies was on the agenda at a special meeting of the Toronto Catholic District School Board (TCDSB) Wednesday evening.
The meeting was called so parents could air their views about a plan to amalgamate schools in several parts of the city, because of changing enrolment numbers.

A plaque on the side of St. Paul Catholic School on Sackville Street commemorates the Irish immigrants who died and were later buried on the school site. (CBC News)
One of those areas is the Corktown - Regent Park neighbourhood, where St. Michael Catholic School is so desperately overcrowded that some children are taught in renovated squash courts leased from a neighbouring community centre.
Just blocks away is St. Paul Catholic School, designed to hold 447 students, but currently less than half full.
Editor's Note:I am astounded that this was a surprise.
---
13. Georiga Straight.com: Canada Post building redevelopment in downtown Vancouver passes heritage test
Carlito Pablo
The original structure and artwork will be preserved at 349 West Georgia Street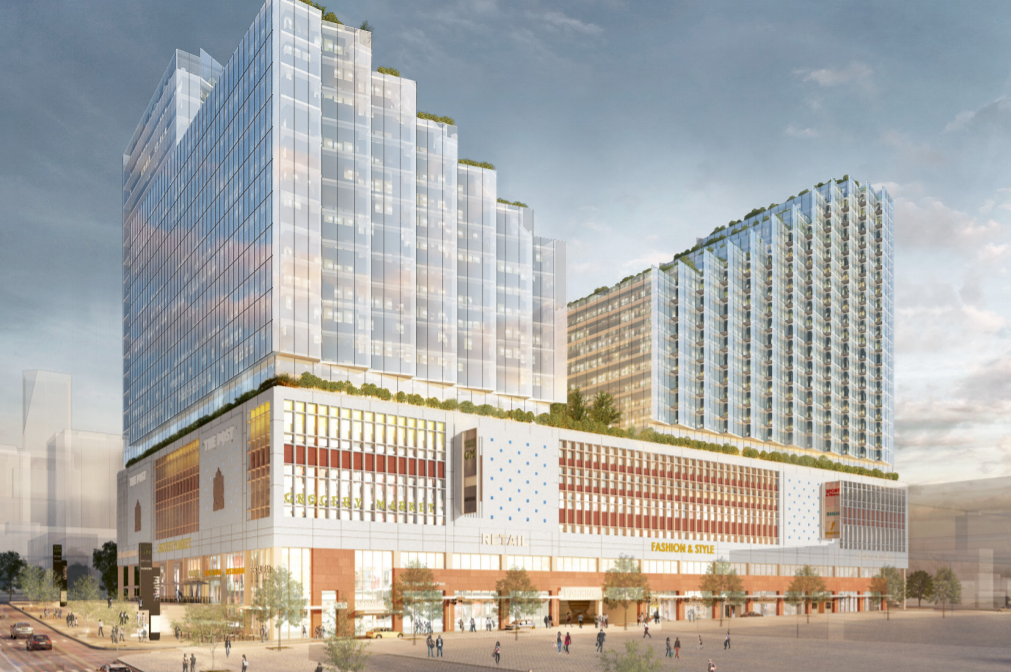 Plans call for three towers to sprout out of the preserved Canada Post building on West Georgia Street.
The Vancouver Heritage Commission has endorsed the redevelopment of the downtown site of the former central Canada Post building.
Members of the civic advisory body voted unanimously on Monday (February 6) to support the proposal to rezone 349 West Georgia Street for residential, office, and retail uses.
"It went very well from the heritage standpoint," commission chair Richard Keate told the Georgia Straight in a phone interview about the project.
The redevelopment will involve the rehabilitation of the heritage building, as well as the addition of three residential and office towers above.
Keate recalled that commission members at the meeting kept referring to two other downtown redevelopments as good examples of heritage makeovers.
One is the Reliance Properties building at 564 Beatty Street. The six-level brick warehouse dating back to the early 1900s was restored, with four floors of glass-and-steel office space added on top.
---
14. Globe and Mail: Business Case for Heritage in Edmonton
SHARON CROWTHER
The business case for heritage building preservation
Heritage advocates in Edmonton are making the case that building preservation can not only beautify the city but make economic sense.
A new report commissioned by the Edmonton Historical Board says heritage properties in the city provide significant long-term return on investments for buyers and generate a greater return on taxpayer dollars.
"There's been nothing like this before for Edmonton," researcher and author Shirley Lowe says. "We modelled the report on one which was undertaken by the city of Savannah in Georgia. We added in environmental metrics which we felt were an important part of the picture here."
Currently, Edmonton has 38 recognized heritage neighbourhoods, comprising 6 per cent of the city's land area.
"Much of the city's early pioneer buildings were torn down during the boom times," explains Ms. Lowe, who is herself a heritage advocate. "We consider Edmonton's current economic slowdown to be a good time to make our case."
"Rather than saying 'stop tearing down our heritage buildings,' we recognized that we need to change our language around this to be heard," she continues. "We needed to make the argument about economics and the environment. We needed to make it about numbers, not sentimentality."
Ms. Lowe argues that the numbers are compelling. Her research shows property values in all 38 heritage neighbourhoods matched the city average over a 17-year period from 2000 to 2016.
Heritage neighbourhoods contributed $6.51 a square metre in taxes compared with the citywide average of $2.03 a square metre. After removing the four highest density residential and commercial downtown neighbourhoods, the remaining 34 heritage communities still contributed 9 per cent of the city's total property tax income in 2016.
---