Issue No. 260 | September 11, 2017
Feature Stories
Events
A Toast to York Square
September 12, 2017
+ read
---
The Annex Tour of Houses and Cultural Organizations
Sunday, September 24 2017
+ read
---
Continuing Education Course: Evolving Toronto: Shaped by Function
Wednesdays, Sept 6 - Oct 25, 2017 (8 sessions)
+ read
---
Heritage Ottawa Walking Tour: Central Experimental Farm
August 27, 2017
+ read
---
Heritage Ottawa Walking Tour: Lowertown East
August 20, 2017
+ read
---
Heritage Ottawa Walking Tour: Parliament Hill: An Archaeological Tour
August 13, 2017
+ read
---
Heritage Ottawa Walking Tour: Rideau Canal
August 6, 2017
+ read
---
Advertisements
Built Heritage News Sponsors
1. Fight Continues at Bala Falls
Tim MacDonald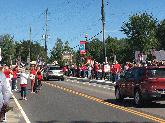 Demonstration at Bala Falls
On Friday September 1, more than 200 people came out in Canada's colours on the Bala bridge to protest against the planned unsafe privately-owned hydro plant. It will assume control (remotely, courtesy of Bracebridge Generation) of the water level of the Muskoka watershed – just to produce even more unneeded electricity.
See the Independent Electricity System Operator webpage here for the proof of this statement.
Some stalwarts were protesting on the Bala bridge all week. More protests are expected today.
This white elephant monstrosity can still be stopped. Phone numbers to call Premier Wynne are Queen's Park 416 325 1941 and her constituency office at 416 425 6777 (this is a good time to start targeting her local office as the Don Valley West MPP comes off her expected annual canoe trip, with her re-election bid just 10 months away).
The Muskoka411 interview with District councillor Phil Harding is in the article here.
Editor's Note:
Construction equipment is all over the place now. Take a minute to look at the drone video, it is a bit long, but very instructive.
---
2. My Summer Reading: Lost and Found Loyalist Worlds seen through the Eyes of Peter J. Stokes and Anne Michaels
Catherine Nasmith

Moving Christ Church to Upper Canada Village
Over the summer I have been quite a bit of Peter J. Stokes as references for a route guide I am writing for the Friends for Life Bike Rally. The route travels along waterways between Toronto and Montreal, going through some of the earliest (Loyalist) settlement areas in what was then Upper Canada. It also takes us past the St. Lawrence Seaway, and past the lost villages that were flooded for it.
Companion reading was Anne Michael's 2009 novel, The Winter Vault which poetically links three international places where heritage challenges resulted in different responses to lost fabric. She examines the human emotional connection to place, and the human limits to dealing with loss. The flooding of the St. Lawrence Seaway, the moving of the Abu Simbel pyramid to make way for the flooding for the Aswan dam and the rebuilding of Warsaw after destruction during World War II, all present different technical challenges, but what Anne Michael's considers, in astoundingly beautiful prose, is why such reclamation projects happen, why they matter, as well as the limits they have to satisfy our human need for connection to previous generations.
In spite of our current conservation ethics which poo poo moving heritage buildings around, and which I confess held me back from visiting Upper Canada Village, I found it a fascinating place. Two generations later, Upper Canada Village is a conservation story in its own right, ably told by Peter Stokes in In A Village Arising: The Story of Building Upper Canada Village. The experience of it as a museum is valuable. At the same time, thinking of the destruction of all the places that yielded the buildings makes it a very bittersweet experience. In A Village Arising, Peter Stokes gives an excellent history at the beginning of the book of the people who worked at Upper Canada Village how they were connected, and goes on to give a lot of detail about the conservation challenges posed by moving a lot of buildings from a lot of different places, as well as working with the powers that be. He sketches the founders of the conservation movement in Ontario, putting into context figures like Eric Arthur and Anthony Adamson, who founded Architectural Conservancy Ontario, Marion McCrae, Napier Simpson and many others. He also paints quite a picture of them working under great pressure, trying to understand the technologies of the buildings and how to best show and conserve them. Experiments failed, lessons were learned.
Peter Stokes started at Upper Canada Village a new graduate of architecture, with no particular specialty. I found myself a bit jealous of this generations' access, being able to glean so much experience through re-assembling so many building in a short period of time. All who worked there became the experts and founders of professional conservation practice in Ontario.
The choice to read these two books at the same time was somewhat accidental for me, but I encourage you to do the same. If you have never visited Upper Canada Village, put it on your "must visit" list.
---
3. The St. Lawrence Seaway and the Lost Villages
Catherine Nasmith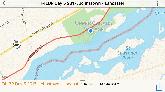 Map Showing St. Lawrence River before and after Seaway construction

The St. Lawrence Seaway, is stunningly beautiful, yet full of poignant buried memories. In 1954 the St. Lawrence Seaway and its accompanying project were started jointly by the U.S. and Canada. It was a critical improvement to the shipping routes from Duluth to Montreal. Initially the U.S. was reluctant to pay a share in the project, but Prime Minister Diefenbaker forced participation by saying that without U.S. partnership the route would be entirely on Canadian soil.
As early as 1783 work was started on a series of draft canals and locks to move ships through this section of the St. Lawrence, but the scale of ships was limited. Just below Cornwall, (not visible from our route) the international Sanderson/Moses Hydro Powerhouse and damn was built, and lands west were flooded. The Seaway opened in 1959, attended by President Eisenhower, Prime Minister Diefenbaker and Queen Elizabeth II.
The U.S. contribution was 130M, to 300M from Canada. 600 M was spent to develop hydro, which was recovered from power sales.
The construction project had monumental environmental and cultural impact. 15,400 hectares of land were flooded, requiring the relocation of 6500 people, flooding of parts of Morrisburg and Iroquois. The towns of Ingleside and Long Sault were built to accommodate displaced families. Eight Akwesasne Mohawk villages were flooded and the traditional fish habitat and fishery that sustained them was destroyed.
The Long Sault Parkway runs along the high points left after the flooding, and to either side are the sites of the Lost Villages, communities that are still underwater and visited by scuba divers. People still row out to see their former homes or family graves left behind underwater. 500 buildings were relocated, many to Upper Canada Village.
It took four days for the flooding to gradually bury the communities. Some of the bulldings found their way to the Lost Villages Museum, just south of Vincent Massey Drive, west of Cornwall, which is operated by the Lost Villages Historical Society. A map showing the former St. Lawrence and the locations of the lost villages can be found on the Lost Villages website.
---
4. New book: Art Deco Architecture Across Canada
Tim Morawetz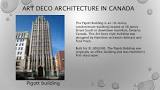 Book Cover
It is a very big, beautiful and important book, self published by Canada's passionate art deco scholar, Tim Morawetz. I am hoping to review in a future issue, but don't wait for that to order your copy. You can find out quite a bit about the book and order directly from Tim at

From the Website
Glue has just released its new publication, Art Deco Architecture Across Canada: Stories of the country's buildings between the two World Wars, written by Tim Morawetz.
ISBN: 978-0-9812413-1-9 | 320 pages; hardcover
11" x 11" / 28 x 28 cm | 3.5 lbs. 1.7 kg
435 colour photographs (many never before published)
Foreword by Alastair Duncan, worldwide authority on Art Deco
This book appeals to lovers of Art Deco, as well as those interested in Canadian history.
Using a combination of contemporary colour photographs and selected period images – all with detailed captions – the book showcases some 150 Art Deco-style buildings located in big cities and small towns across Canada. And through its stories about each of the buildings, it paints a unique picture of what life was like in Canada from the late 1920s to the early 1950s.
Purchases in Canada:
$79.95 CDN plus applicable taxes; mailing charges extra. Pay by Visa, Mastercard, Amex or PayPal. Purchases made in person or picked up at Glue office (no shipping charges) may also be paid in cash or by cheque (payable to Glue Inc.).
U.S. purchases: $69.95 USD; mailing charges extra. Pay by Visa, Mastercard, Amex or PayPal.
---
5. NOW Magazine: Why Toast York Square
Catherine Nasmith
Another Yorkville treasure going, going, gone to the condo boom

Photo, Vik Pahwa
Its modest red brick exterior seems unremarkable in 2017. But in architecture, context is everything.
When York Square was designed by the upstart firm of Diamond and Myers in the mid-60s, international architectural and planning wisdom was that the city was a dangerous place, full of decrepit, overcrowded buildings best bulldozed to make way for the brave new world of urban renewal.
Favoured at the time were buildings set back from the street, surrounded by big lawns and plazas. Projects like St. James Town were replacing large tracts of Cabbagetown. There were few places to dine outdoors.
But in Toronto, a new generation of urbanists was questioning conventional planning wisdom. Jane Jacobs had just published The Death And Life Of Great American Cities, and made Toronto home. John Sewell was organizing against urban renewal in Trefann Court, and counter-culture activists, architects and community advocates started organizing around stopping expressways, heritage preservation and the benefits of infill development.
Yorkville was full of people protesting the established order, so where better for an architectural project to break completely new ground?
"It began with Dick Wookey, who had bought the property and had not been a developer, so both he and we were starting out on a journey," architect Jack Diamond commented in a recent interview. "We persuaded him not to follow the rules."
Expand
York Square 1.jpg
Vik Pahwa
Old buildings were kept and adapted, mandatory setbacks from the street were ignored, and a square with long passageways and hidden and sheltered cafe spaces was created to allow people-watching.
The eye-catching round windows, which Diamond acknowledges today might be considered "a desecration of the historic buildings," were important in creating a landmark with visibility for the new retail uses. The approach inspired similar developments in the neighbourhood.
"The boldness of the approach was its simplicity and modesty," says Diamond.
York Square put the firm of Diamond and Myers on the international stage. Jacobs was quoted in Progressive Architecture on the project.
"Diamond and Myers have sensitively used the old buildings without trying to pretend they are something else; they have made them not in the least bit quaintsy, but of our times." She went on, "The uniqueness and promise of York Square, though it cannot and should not be copied in carbon, should be an example to all developers."
York Square was the hottest commercial development in Toronto. Key early tenants were the Book Cellar and London's Vidal Sassoon. In an era when women were burning their bras, Sassoon revolutionized women's hairstyling, putting an end to sleeping on pincurls and hair rollers. The salon interior was designed by Diamond and Myers in collaboration with Michael Stewart of Muller and Stewart, who custom designed the furniture.
York Square was the first of three key projects by Diamond and Myers to demonstrate that new places could be created by repurposing old buildings and adding around them. The other two are Dundas-Sherbourne and the Hydro Block, just north of Baldwin, east of Beverly.
In the late 60s there were no heritage protection laws in Ontario. The only way to save a building was through public pressure and persuasion, which worked for Union Station and Old City Hall but not much else.
York Square was owned and operated by the Wookey family for over 40 years.
But over the past decade, some well-intentioned provincial policies, such as intensification (with its commensurate property tax pressures), have come together to seal the fate of this rather magical place. By 2010, property tax increases had pushed rents above what businesses could afford, forcing the family to sell the property for redevelopment.
A high-rise condominium development designed by Zeidler Partnership Architects has been proposed for the site. The proposal calls for total demolition of the square and most of the buildings but retains facades along Avenue Road and Yorkville – acknowledging York Square's designation as historically significant under the Ontario Heritage Act. The project includes a new urban plaza opening onto Yorkville, as well as a community gallery space. The project was the subject of an Ontario Municipal Board hearing in January 2017. The OMB has yet to release its decision.
Interestingly, Diamond feels that the time may have come for a new project. In his view, the lessons of the place have been learned and Toronto is a very different place now than it was when York Square was built.
---
6. Developers learning heritage buildings can be money-makers: Hume
Christopher Hume
Developers learning heritage buildings can be money-makers: Hume
The Great Hall at Queen and Dovercourt was a mess until someone recognized its architectural, cultural, social and economic value.
The restored Great Hall includes design details and materials rarely seen these days, such as Crown mouldings, oak floors and hand-painted walls.
The restored Great Hall includes design details and materials rarely seen these days, such as Crown mouldings, oak floors and hand-painted walls. (Dominique van Olm)

Toronto's past may have a future after all. Despite the city's rush to tear down anything that stands in the way of yet another condo tower, developers are beginning to realize there's money to be made in heritage.

The most recent example is the Great Hall, a stately Victorian pile that has presided over the corner of Queen and Dovercourt since 1889. During its 128-year history, the building has housed a YMCA, the Royal Templars of Temperance, the Polish National Union Alliance as well as a gallery, theatre centre and an art school. It has also hosted weddings, diverse cultural events and countless indie rock concerts.

But for decades the Great Hall was a mess. Inside and out it was shabby and rundown, almost derelict. Visitors had to look hard to see beyond the dirt, dust and peeling paint. Though Torontonians have loved the building forever and feel a personal connection to it, until now no one was willing to invest the money needed to restore it and bring it up to modern standards.

Enter Steve Metlitski, a Belarusian immigrant who saw the Great Hall and immediately recognized its architectural, cultural, social and economic value. His firm, Triangle Development, bought the building and spent more than $4 million it to refurbish the west end landmark. His goal, he freely admits, was not just to make a profit, but a profit with honour. In its newest incarnation, it is a rental venue available for everything from classical music and rock concerts to corporate events and parties.

The building wasn't up to code but it had kept its original charm, Metlitski says. It has a lot of personality and character. It's living history; people can feel it when they come. The best use of a real estate asset like the Great Hall is to keep it as is. It's something you couldn't build today.

No doubt about that. Wandering through the urban homogeneity of a city created by bottom-line builders and hapless bureaucrats, it isn't hard to understand what Metlitski saw in the hall. Though the default response in Toronto is to demolish first and beg forgiveness after, as he points out, Sometimes it's about more than money.

Indeed, the search for the sort of experience offered by the Great Hall has grown intense. According to a U.S. study commissioned by the National Trust for Historic Preservation, Edge Research and the American Express Foundation, millennials are the reason. The report claims that fully 80 per cent of millennials would rather spend money at businesses supporting efforts to preserve and protect buildings, architecture and neighbourhoods over those that dont. It also found that twice as many millennials (52 per cent) choose to shop and eat in historic downtowns . . . and places with historic appeal . . . over malls and planned commercial districts or recently constructed places.

The report reflects what weve seen in cities from Los Angeles to Buffalo to Houston, Trust president and CEO Stephanie Meeks said in a news release, millennials prefer to live, work and play in neighborhoods with historic buildings. The revitalization of many urban communities is being driven in large part by the influx of young people seeking authentic experiences and places with character that are found in historic neighborhoods.
---
7. DurhamRegion.com Council eyes heritage designation for private residence in Uxbridge
Moya Dillon
Preservation could trump private ownership on Sam Sharpe property

UXBRIDGE -- Council moved to preserve the former home of local war hero Lt. Col. Sam Sharpe by adding the 50 First Ave. property to the heritage register in order to allow the Heritage Uxbridge Committee time to evaluate a potential designation
The historic home of Lt.-Col. Sam Sharpe could become ground zero for the battle between heritage preservation and private property rights.
The owners of the home at 50 First Ave. spoke to councillors during a meeting on Aug. 21, urging them not to designate the home. The argument was made in the wake of an application to split the property into three lots, which spurred talk of designating the property in order to ensure preservation.
"We want to let council know we are strongly opposed to the designation of our private property at 50 First Ave. and we ask council that whenever it's time to make that decision that you do not proceed with designation," said Robert Bishop, who purchased the home with his wife Jennifer Durkin in 1988.
---
8. CRB: Old London school not worthy of designation
Dan Schneider
CRB finds old school doesn't pass the test
---
9. County Live: Picton Mansion gets new Life
Sue Capon
Pictons historic Legion to become international culinary school
Emotions ranged from joy to a tinge of sadness – but mostly great relief – as Royal Canadian Legion President Pat Burrows helped screw in the 'sold' sign Tuesday morning on the lawn of the branch's historic Main Street, Picton mansion.
He and members of the Legion's building committee joined listing agent Kevin Gale to make the sale by realtor Elizabeth Crombie public knowledge on Tuesday morning.
The 152-year-old Ross/McMullen house has been home to the Picton Legion for 70 years – purchased by Prince Edward County Council and presented as a gift to Branch 78. It was officially opened by Govenor General Lord Alexander of Tunis, of Nov. 20, 1948. Tunis said then it was the most impressive Legion Hall of any he had visited.
Burrows had mixed emotions but was relieved the two-year process, made fraught by a fire, is almost finished.
"I have been a member for 46 years – 17 on the executive and four as president – and this has been my home," said Burrows. "This is our clubhouse, and our home, and there are a lot of members who think the same way."
The membership agreed two years ago to put their 'home' on the market after numerous fundraising attempts over the years to keep it viable.
"At one time this Legion had over 2,000 members and our veterans were alive and in good shape," said Burrows. "Now, we have less than 270 members and, as you know, costs and utilities just keep going up. We just couldn't afford to maintain the building."
The Ross/McMullen house was built as a private residence in 1864-65 by Lt. Col. Walter Ross, the first commander of the County's first Regiment of Volunteers from 1863 – 1883. Ross served eight years as councillor and four as Mayor of Picton.
In 1884, the property was bought by Ruth McMullen whose husband George worked in the United States and Canada, then took over the Prince Edward Railway. It was purchased by Dr. Roblin in the mid-1930s, who had married George's daughter, Ethel.
There was hope when Greg Sorbara, responsible for the stunning restoration to Picton's Royal Hotel, expressed interest in the mansion in 2016 and was investigating options available to create a residential development.
Legion secretary Mary Cannons shows the room where the fire was as it now looks.
But it was a fire on July 5, 2016 that pushed the membership out. Flames were contained to one first-floor room and smoke damage throughout the first and second floors, but some artifacts, including flags and documents on the walls, were destroyed.
"After the fire the Elks were kind enough to offer us use of their hall and we're grateful," said Burrows.
Members are continuing the arduous process of packing up belongings in the 13,000-plus square foot building. Cardboard boxes, carefully labelled, are now stacked in neat piles in the hall used by the Legion members and many community groups over the years.
---
10. 50 years on, TD Centre still stands out:
Shawn Micallef
50 years on, TD Centre still stands out:
Renovation project is a lesson in the importance of maintenance, being true to good design, and reinvesting in the buildings weve already built, Shawn Micallef writes.


Fifty years ago when the Toronto-Dominion Centres first black slab tower appeared on the citys skyline it preceded Stanley Kubricks 2001: A Space Odyssey by a year. In the Kubrick film, an impenetrable black rectangular monolith lands on prehistoric Earth from some alien civilization, causing momentous things to happen.

Archival pictures of the TD Centre rising above Toronto in the mid-60s has the same kind of resonance: a low-scaled, provincial city, with an assortment of buildings in various classic and colonial styles surround an austere black tower that seems like it landed from another planet.

The space ship that is New City Hall had already opened a few blocks north, having caused a stir here when completed in 1965. But the TD Centre was much taller and dominated a skyline that was once the dominion of the Royal York Hotel, Commerce Court and various church steeples.

That it was one of the last projects by German-American architect Mies van der Rohe, a continuation of the International Style themes he made famous with his 1958 Seagram Building in New York and others that followed, added to its gravitas.

Mies original plan was for two towers and the banking pavilion at the corner of Bay and King Sts., but in the decades after his 1969 death, three more towers were added. Purists say the towers diluted his rather pure vision, but most people passing by or through the complex wouldnt notice unless they looked closely, save for the final Ernst & Young tower that was built slightly differently and over the old Toronto Stock Exchange.

Though not an official centennial project, TD Centre shares a 50th birthday with quite a few other modern Canadian buildings from that year with their forward thinking and stark newness that still seems new today. However, like many 50-year-old humans, age is catching up, and it needs some rehab so Cadillac Fairview, its owner, is in the midst of a multi-year, $250 million rehabilitation of all six buildings and exterior plazas.
The TD Centre, which this year marks its 50th birthday, is set to undergo a $250 million renovation.
The TD Centre, which this year marks its 50th birthday, is set to undergo a $250 million renovation. (Philip Castleton Photo)

It takes six years to repaint the tower, says Dora Yeoh, senior manager of tenant projects for Cadillac Fairview, glancing up at the workers dangling on rigs suspended on the side of the original and tallest tower. Hopefully this will last 25 years.

An architect, Yeoh has been with Cadillac Fairview for six years and before that was with B+H Architects, the firm that was contracted to work on the TD Centre and, when they were known as Bregman & Hamann, were one of the Toronto firms Mies collaborated with on the original plan and who also designed the subsequent towers on the site.


Mies famously said God is in the details, and Yeoh is the guardian and caretaker of his Toronto details.

The challenge of this complex is its steeped in architectural history, she says. Sometimes we have to remind people of that. On a recent tour of the buildings I asked her if, after all these years caring for these buildings, if she has Mies dreams. Yes, she chuckled.
The first tower of the Toronto-Dominion Centre, which was completed in 1967, would eventually be surrounded by a sea of skyscrapers.
The first tower of the Toronto-Dominion Centre, which was completed in 1967, would eventually be surrounded by a sea of skyscrapers.

The buildings are austere monoliths only from a distance, and walking around the complex Yeoh referred to the many details that she and her team worked on, such as the tower directories. The directory and lobby in the original tower remain as they were in 1967, with each occupant listed on a backlit panel, a detail that is part of the buildings heritage designation. Yeoh pointed out that if one tenant takes up multiple floors, it leaves an awful lot of blank space on the old style directory. The other lobbies have had touch screens fitted into the original directory frames, and LED lights have been added in another building lobby. Its about tweaking the original design while respecting it, says Yeoh.

Other tweaks include a lush green roof over the banking pavilion, white rather than black-grey rooftops to keep them cooler, and reglazed windows, all things that have contributed to the Centres LEED Platinum certification, the highest environmental efficiency ranking possible.

The centre remains a unique aesthetic experience to walk through today, distinct from the heterogeneous jumble of much of downtown. The way the towers are set in urban space with all this open and green space is outstanding, says Yeoh. It set a precedent that very few developers have been able to match.

Below those vast plazas is one of the oldest parts of the PATH system too. Its interconnected and near-identical labyrinthine corridors can confuse even long-time Torontonians and downtown dwellers with repeating chain stores and food courts, but you could always tell when you were in the TD Centre. It was calming, clean and uniform, distinct from the visual clutter and noise in much of the rest of the PATH.
Members of Local 721 of the Iron Workers celebrate topping off the first TD Centre tower in April 1966.
Members of Local 721 of the Iron Workers celebrate topping off the first TD Centre tower in April 1966. (EDDY ROWORTH)

However, that rigorous attention to detail changed a decade ago when the uniform white-on-black typeface Mies designed himself for the underground shops was largely scrapped, and each store allowed to install their own individual vernacular signage. Perhaps only those who care about these things will notice the Miesian bits that are gone and those that are still there, but it remains a shame: Toronto had a mall designed by Mies van der Rohe. Now it has more of the same.

The Mies legacy is much better preserved above ground at the TD Centre and seems quite safe in the hands of Yeoh and her team. The current renovation is a lesson in the importance of maintenance, being true to good design and reinvesting in the buildings weve already built. As so many mid-century towers and structures reach a time in their lives when they need some renewal, the attention to detail and mostly gentle tweaks the TD Centre receives should be, as it was in 1967, trendsetting.

A visual and video display commemorating the 50th Anniversary of TD Centre runs until the end of August in the lobby of 66 Wellington St. W.
---
11. LinkedIn--COMMUNITY-LED URBAN STRATEGIES IN HISTORIC TOWNS
Matters Ripp forwarded by Richard Unterman
NEW: 7 Principles for heritage based urban development - Final publication of COMUS-Project available!
On-going efforts towards sustainable development require sound and innovative perspectives on human rights and democratic governance, beyond solely economic concerns. With the consideration of heritage as a social, economic and political resource, it is essential to develop a new way of looking at heritage, by setting the ground to reframe relations between all involved stakeholders. This has been done in the COMUS-Project.
Communities at the heart of heritage governance
In the context of eastern Europe, there are many small and medium-sized heritage towns with historic urban areas and valuable cultural heritage assets facing various challenges. Some of these challenges include economic downturns, emigration of skilled people, as well as ageing populations. Experience with participatory practices and local community engagement for the preservation and reactivation of the cultural heritage to support the cultural, socio-economic urban development is in its early stages. In this context, preserving and reactivating heritage sites – whether they are historic, spiritual or industrial – implies the double challenge of dealing with low investment in capacity and limited skills and resources. Sites that had previously been significant for their heritage value and importance for local or national identities became neglected or even derelict; others suffered due to the legacy of centralised planning systems and limited capacity and resources at the local level to deal with the growing responsibilities of decentralisation.
---
12. Treaty Map of Ontario
Government of Ontario
Fascinating map showing all of the treaty territories in Ontario.
---