Issue No. 107 | November 27, 2007
1. Unanimous Decision - Section 37 policies will include Heritage Conservation District Studies!
Toronto Councillor Adam Vaughan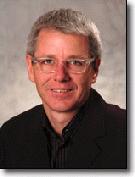 Councillor Adam Vaughan
After many months, and years, of negotiating and consultation, Toronto City Council reached a unanimous conclusion today that it is entirely appropriate to direct section 37 funds towards funding Heritage Conservation District Studies.
This could not have happened without your advocacy and persistence on this important issue.
Thank you!
Adam
Toronto City Councillor Adam Vaughan
Ward 20 - Trinity/Spadina
phone: 416-392-4044
email: councillor_vaughan@toronto.ca
website: www.adamvaughan.ca <http://www.adamvaughan.ca>
Editor's Note:
Councillor Vaughan really pushed this forward with assistance from Councillors Rae, McConnell in particular. The unanimous decision is quite a surprise for all as there was quite a lot of debate at the different committees. Congrats to all.
---
2. Facade Disappears on Berkeley
Catherine Nasmith
Thanks to spotter Margie Zeidler for pointing out this disappearance.
This week Margie drove up Berkeley Street just north of Dundas and noticed something was missing. The lovely facade that had been held up for years on the school site had been demolished. An inquiry to Heritage Preservation Services indicated that the facade had never been listed, and that it had been taken down because of structural problems.
The loss points to two problems. Inadequate resources at the City with which to ensure a comprehensive register of heritage property, and to the lack of funding from any level of government to ensure that such elements can be maintained. Of course it is always easier to preserve a whole building than to try to maintain a facade which was never intended to be left exposed to the elements.
Does anyone have a photo that we can add to this story.
---
3. 225 James Street Demolished
Hamilton Heritage Watch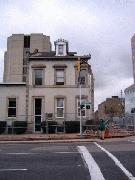 225 James Street, Hamilton, Under Demolition
Sadly, the demolition of 225 James Street South started this weekend.
The building was owned by St. Joseph's Health System. The date of construction was 1854-55, making it the oldest building on James Street South.
The building was a rare surviving example of stone architecture dating from 1854-55. The formal arrangement of door and window openings was accented by Italianate details such as the robust stone window surrounds and the bracketed eaves.
Built as a private home for a prominent community member (the banker, Henry Titus) and then occupied for many years by the lawyer Aemilius Irving, this building serves as a reminder of the desirable residential neighbourhood along James Street South, once occupied by many prominent members of Hamilton's history. Sir Aemilius Irving was the first President of the Hamilton Law Association, a member of the Law Society of Upper Canada, and a member of the House of Commons. This is the oldest extant building on the block bounded by Forest (originally Maria), James Street South, Hughson and Charlton (originally Hanna).
Contextual value
In the nineteenth century, this stretch of James Street South had buildings of substantial value occupied by professional, middle to upper class citizens. Some of these large residences (although adapted to new uses) still exist along James and several are designated.
Also see story in Hamilton Spectator
http://www.thespec.com/article/262610
Editor's Note:
This is one of the properties on the City of Hamilton's former Inventory of Heritage Properties that is now endangered by the Hamilton's failure to re-establish the list as a Register under the new Ontario Heritage Act, ensuring that the City would have at least 60 days notice to designate prior to demolition. In this case the City of Hamilton chose not to designate, in spite of the clear heritage value present and huge public outrcry.
---
4. Editorial: Union Station Plan pale beside ambitious St. Pancras Station
Catherine Nasmith
Comparing the Union Station story with the one on London's St. Pancras Station is depressing for those who love to travel by rail.
Abandoned by the federal government, cash strapped Toronto can't move forward to repair important infrastructure without private investment in a shopping mall under the tracks.
There is no talk in the proposal of the trains of the future or major reconstruction of the tracks and platforms to ensure high speed rail, accessible platforms or trains, or any of the niceties that European travellers enjoy. In fact the mall below may just make such investment impossible in future.
GO rail is very proud of the increase in numbers they can push through their stair to platform system, "no other rail station in the world does it this way" said a GO spokesperson at the public open house. If no one is prepared to spend any money at Union perhaps this is the only way they can improve service. The discussion is all about quantity, not the quality of the experience.
This plan is definitely better than the last one. One of the good features of the new Union plan is it re-incorporates the space at the east end of the concourse with a bridge across to the GO bus terminal.
But where is the vision for the next hundred years of rail travel? When such questions were put to the officials at the public meeting, the response was blame our forefathers who built the original station. And it is true, with no-one else at the table the planners are doing the best under difficult circumstances.
Are we settling once again for "good enough for Toronto"?
The train from London to Paris tunnels under much of the city and the English Channel...getting travellers back and forth in just over two hours. The distance from London to Paris is about the same as from Toronto to Montreal. Future generations will blame us for not investing in rail between Windsor and Detroit at a time of such wealth at the federal level.
---
5. London Free Press: Moore House to be spared
APRIL ROBINSON
But plans to turn the home near Sparta into a garage don't sit well with a heritage group.
Moore House, one of the oldest homes in the area, won't be demolished after all. Instead, the 19th-century house near Sparta will be turned into a garage.
---
6. Globe and Mail: Plans Revealed Today
Jennifer Lewington
Modernizing Union Station: Fresh start begins today
Mayor confident a financial partnership can be brokered with deep-pocketed pension funds to help revitalize transit hub.

After stumbles and setbacks, a fresh push to modernize Union Station begins today, in hopes that - this time - success is in sight.

Mayor David Miller, along with several councillors and transit officials, will be at the country's busiest transit hub today to start to seek public input on commuter-friendly design options and changes to open up access to downtown and the waterfront.

But a big key to redeveloping the city-owned heritage building will not be public reaction so much as the city's ability to attract deep-pocket pension funds as financial partners.

Since the collapse last year of a much-criticized deal with a private consortium to revitalize the building under a long-term lease of up to 99 years, Mr. Miller said the city has learned some lessons.
---
7. Globe and Mail: London's New St. Pancras Station
Elizabeth Renzetti, posted by Catherine Nasmith
This is more like it
Train Shed at St. Pancras Station
On Wednesday morning, a congregation gathered under a cathedral's soaring roof and began the day by getting quietly ripped on champagne. The cathedral may be a train shed – the newly refurbished St Pancras International, home to Eurostar's high-speed London-continental rail line – and the congregation a group of well-dressed business travellers, but the mood was as close to spiritual transcendence as modern commuting allows.

On the day the station reopened, there was something both jolly and antique in the air. Strangers flirted. Older women, perfectly powdered, sipped their champagne only a few feet from the tracks. Occasionally, someone would look up at the sun-streaked glass roof – the largest single span in the world when built by William Henry Barlow in 1868 – and murmur, "It's splendid, isn't it?" For a prisoner rescued from death row, St Pancras is now magnificently alive. If that Lazarus act was not enough, it might now help to resurrect train travel as the glamorous, romantic alternative to the brute utility of air.

"Is this better than flying?" Russell Blackmore asks as he and his girlfriend, Karen Levy, drink Bollinger and wait for the 12:30 to Paris. "Is this better than being in line at Heathrow holding my shoes in my hand while someone tries to take a Lypsyl off me? I'd say so."
Editor's Note:Depressing to compare the modest plans for Union Station with the innovations in high speed rail taking place in Europe, and the level of investment taking place there. Union Station will flow a bit better but there are no plans to improve the tracks, make trains accessible, or faster. Absolutely unforgivable in a time of massive surpluses at the federal level. Poor Toronto is trying to support transportation infrastructure by building a shopping centre.
---
8. Toronto Star: Union Station Plan passes Executive Committee
Vanessa Lu
Ambitious Union plan gets committee's blessing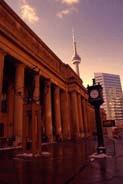 Despite its $388M price tag and need for private partner, unanimous approval spurs general relief

City council's executive committee has voted unanimously in favour of the latest repair and renewal plan for Union Station.

The projected bill for this long-awaited repair, restoration and improvement project has more than doubled, from $150 million to $388.3 million, but the result will be much better, says Mayor David Miller, who described as brilliant the $81 million plan to excavate to create a new retail mall in the station's lower area.

His enthusiasm was not shared by former mayor John Sewell, who said it should have included wider train platforms and escalators to replace the 34-step stairways to the tracks – changes Miller said could cost hundreds of millions.

But the general reaction was one of relief that things may finally be moving after decades of neglect.

Derek Boles, who conducts tours of the building, said a newly refurbished skylight that had been covered since World War II only highlights the building's warts. "Ironically, that wonderfully restored skylight only serves to cast a brighter light on the cracked floors, the crumbling plaster and the general shabbiness," Boles said.

But the city's hopes for carrying through on the renewal are pinned on finding a private-sector partner for the new retail complex.
---
9. Globe and Mail: Designated Homes
Kathy Flaxman
A badge of honour for the house-proud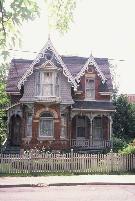 "The Witches House" in Cabbagetown Toronto
On Sumach Street in the picturesque Cabbagetown enclave of Don Vale, the home of Rollo Myers and Linda Schultz is a feast for the eyes, with its lavish gingerbread trim and carefully preserved brickwork.

The house is among Toronto's enviable stock of heritage properties, some of them officially designated as such and others simply listed as architecturally or historically significant. It is estimated that there are more than 8,000 structures in the two categories, including private homes, commercial buildings and landmarks such as Old City Hall.

Searching out these properties and going through the heritage-designation process is highly rewarding for some. Mr. Myers, for instance, has done it several times, and his experiences eventually prompted him to take a permanent job in the building preservation field. But for anyone who gains heritage status for their home, there are serious restrictions on what you can do to them. And a designation or listing may reduce the pool of potential buyers when it comes time to sell.

If a property is designated, it has a legal status that is part of the title. Simply listing a house does not carry quite the same legal implications. In both cases, however, should the owner wish to make alterations, the building permit application will be flagged and then reviewed by the city's preservation staff. Renovations or changes must be appropriate to a property's character, and demolitions are almost never allowed.

The home of Rollo Myers and Linda Schultz is a feast for the eyes, with its lavish gingerbread trim and carefully preserved brickwork.

Catherine Nasmith, president of the Architectural Conservancy of Ontario, is a lawyer [in fact architect] who specializes in heritage properties. She takes on a number of unpaid and time-consuming roles to ensure that the city's heritage buildings do not wind up as a pile of rubble in a landfill.

"A city can't be treated as disposable," Ms. Nasmith stresses. "There seems to be a notion that we have the right to demolish. But buildings should not be treated as garbage. People should keep in mind that a 20-foot [wide] building two or three stories high in a landfill is the equivalent of three million pop cans!"

Editor's Note:The article concludes with several useful heritage web-sites, including I am proud to say "Built Heritage News".
---
10. Globe and Mail: Toronto Archives "A Work in Progress: Preserving Toronto's Architectural Record
Dave LeBlanc
The journey from concept to completion

Toronto Architectural Conservancy photo Riverdale hospital by Chapman and Hurst
THE ARCHITOURIST: TORONTO ARCHIVES EXHIBIT

Daniel Libeskind's well-known cocktail-napkin doodle of what has become the Royal Ontario Museum's Crystal addition is both dangerous and instructive. It's dangerous because it suggests that the journey from napkin to finished work required no other hand than Mr. Libeskind's, while nothing could be further from the truth. Despite this, it's instructive because it shows that original pie-in-the-sky concepts are often scaled back before construction begins because of budget constraints or logistics.

In the Toronto Archive's new exhibit, "A Work in Progress: Preserving Toronto's Architectural Record," curator Patrick Cummins has successfully addressed both issues.

Using the vast wealth of material at his fingertips - conceptual sketches, renderings, correspondence between architect and client, blueprints filed with the city, landscape plans and post-construction photographs - Mr. Cummins demonstrates architecture's collaborative nature by telling the stories of individual buildings, from their concept to completion.

"I did want to try and get away from just sticking pictures of buildings on the wall," he says.

While some of the material has been in the city's hands for decades simply because of its doing business with architects, other things are drawn from five major collections recently donated to the archives by private firms.

Buildings - both "commonplace" and "monumental" - by Howard D. Chapman, Eric W. Hounsom, Mandel C. Sprachman, Irving D. Boigon and George A. Robb are featured, but, wherever possible, the names of other players are included.

Mr. Chapman's Woodland Acres (with partner Len Hurst) - a pair of round seniors' apartment buildings built for the city near the Warden subway station in the 1960s - are shown to have started life as a simple pencil sketch. And the playful curves of sexy Riverdale Hospital (now Bridgepoint Health and slated for demolition) are reflected in landscape plans by highly regarded landscape architect George Tanaka, plans that Mr. Cummins considers "vital" to the project.
---
11. Globe and Mail: More Mistakes in the Queen West Triangle
John Bentley Mays
On Queen West, a mistake in the making
Proposals for three condo developments near the Gladstone Hotel are the wrong scale in the wrong place with the wrong design

Viewed in the grand scheme of all things Toronto, the Queen West triangle is not a big deal. It's just another tiny parcel of old industrial land of the kind that abounds along the railway corridors that criss-cross the city.

Before Toronto's current real estate boom, this undistinguished plot of ground - wedged between the CNR tracks and Dovercourt Road, and lying south of Queen Street West - was largely, and understandably, ignored by developers and local residents alike.

But in the past couple of years, the triangle has emerged as an important battlefield. Though the area is small, the contest being waged there addresses large, crucial questions: What kind of city will we have when the condo building frenzy is over and the housing market settles into quieter patterns? Will the things we cherish about our traditional neighbourhoods survive? Or will they be lost forever?
---
12. Toronto Star: New Conference Centre at CNE
New CNE centre gets initial okay
At yesterday's executive committee meeting, chaired by Mayor David Miller, Toronto councillors endorsed several items that will now head to city council's December meeting for final approval.

Approved

A new conference centre at Exhibition Place (pictured, right). Council originally okayed the deal in March, but costs have risen from $29 million to $47 million. The committee voted to boost the city's loan for the project to $35.6 million from $21.2 million.

City-owned Exhibition Place will fund the balance out of its own resources.

Deputy Mayor Joe Pantalone, chair of the Exhibition Place board, said the higher cost will pay off in a better facility; some of that money will go into removing pillars that would obstruct the view of conference goers.

"So these are investments," Pantalone told the committee.

"With investments, you have to put up some money and you make more money and you have a better quality of life.

"So that's what the conference centre at Exhibition Place is all about."
---
13. Toronto Star: CNE Conference Centre in Automotive Building
Paul Moloney
Taxpayers face ballooning bill for CNE centre
Despite budget cuts, politicians want city to lend $35.6 million for conference site in Automotive Building
72
The city's critical financial situation has not stopped councillors from recommending borrowing millions more to cover the ballooning costs of a new CNE conference centre.

The price tag of the development – a pet project of Deputy Mayor Joe Pantalone – has climbed to almost $47 million from $29 million and the city has been asked to increase its loan to Exhibition Place. The city-owned agency is building the conference centre in the Automotive Building.

Pantalone, the Exhibition Place chair who pushed for construction of the Ricoh Centre and BMO Field, yesterday urged the budget committee to boost the loan. The committee agreed to increase it to $35.6 million from $21.2 million. Now, council will vote on the increase on Dec. 11.

"I think people will have some questions, rightly so, and the questions will be answered and council will overwhelmingly support it, hopefully unanimously," Pantalone said yesterday.

The committee was told conventions are big business with bookings attracting thousands of participants often taking place years ahead of time.

The new centre is needed because while the Direct Energy Centre has massive amounts of exhibition space, there is very little meeting space for exhibitors and no ballroom, both of which are sought by convention goers, members of the budget committee were told.
---
14. Globe and Mail: Proposed Tower at Royal Ontario Museum
John Barber
A tale of Two Condo Towers
Borat meets boondoggle

Here is a tale of two towers as they first tiptoe into view before landing with a definitive thump on two prime sites in downtown Toronto.

One is an outlandish speculation backed by shadowy investors from Kazakhstan, of all places, who are arriving late but keen to the local party, where they know nobody and nobody knows them. Their effort is huge and splashy -- a touch of Borat on Bloor.

The other tower is so precious it doesn't officially exist yet. It can only be inferred as the expected outcome of a carefully managed process, backed by the moneyed elite and tinged with high culture. High expectations and great promise attend the birthing.

One tower is a huge hit. Real-estate agents fought one another yesterday to be first inside the sales pavilion for One Bloor Street East. Some hired surrogates to sleep on the sidewalk. Before day's end, new prices were papered over the old ones on the billboard advertising the sale.
---
15. Globe and Mail: Rebuilding Robert Street Houses after the fire
Alastair Brown
Years of living stressfully

Robert Street Houses just after the fire, reconstruction just starting
Two years ago, my neighbours and I watched helplessly as fire leapt hungrily across the roofs of our houses. By the time the inferno had been brought under control, flames and water had destroyed or seriously damaged nine homes.

Built in the 1880s, our row of Victorian houses on Robert Street in downtown Toronto possessed both the virtues and drawbacks of such housing. In many ways, they represented the very heart of the city's architectural heritage.

As we scurried to contact our insurance brokers, inform family that we were safe and find temporary lodgings, we also struggled to gain some equilibrium. After all, nobody had been hurt. It was just "stuff," we told ourselves. I doubt if any of us guessed that it would be 30 months before our street would be fully restored and those of us still willing would be able to return home.

The sight of a lifetime of possessions and memories reduced to ash before one's eyes is a cruel blow. Over the next weeks and months, a marriage crumbled under the trauma, relationships became strained, short-term memory suddenly seemed as fragile as the burnt rafters in our former homes, and tempers frayed under the stress.
Robert Street
Enlarge Image

The homes on the right are all newly rebuilt, 30 months after a fire destroyed or damaged nine of them along Robert Street in the Annex.
The Globe and Mail

Three of our neighbours, worn out by the anxiety of rebuilding, gave up and sold their charred properties to developers. By the end of an often acrimonious process, only three out of the nine homeowners were still working with the contractors originally urged on us by our insurance companies.

Soon after the fire, I wrote about the experience in these pages, making the perhaps tongue-in-cheek comment that the next time our homes burned, we would all be experts. Perhaps not, but some lessons we did learn.

Editor's Note:I have a personal interest here as I am working on the Heritage Conservation District Plan for Robert Street. When the fire occurred community action, including sending in this consultant to meet with the Fire Marshall and the insurance agents to plead for preservation of the street facades helped ensure the houses were not bulldozed. The councillor convened a community meeting to assist the homeowners and displaced tenants.
---
16. London Free Press: Squatter Break Ins in London
JENNIFER O'BRIEN, Rob Hamilton
Squatter break-ins threaten buildings
"At least once a week, city staff are called out to an abandoned building that has been broken into by squatters, vandals and drug users", a bylaw official said yesterday. "We get a lot of complaints on buildings that have been breached," London bylaw enforcement manager Orest Katolyk said. ";We've had situations where people are living in these properties with full water and hydro"; he said. "But in almost 100 per cent of the cases, we come across drug needles -- hundreds of needles -- and evidence of fires that have been started." The threat squatters pose to abandoned buildings was demonstrated early Saturday when flames swept through Locust Mount, a 147-year-old mansion on Talbot Street.
---
17. Canadian Architect: Expansion of Cambridge Carnegie Library
LOLA SHEPPARD, Rob Hamilton
Redressing Urbanity
An inventive new expansion of an historic Carnegie Library inspires and gives new life to a southern Ontario community Cities, like people and ideas, fall in and out of grace, and Ontario's mid-size cities, like so many in North America, have been subject to the economic whims of globalization. The city of Cambridge emerged from the 1973 amalgamation of three municipalities: Galt, Hespeler, and Preston. Galt and Hespeler had been successful mill and textile towns in the 19th and early-20th century, due in large measure to the presence of the Grand River and the establishment of the railway. Hespeler, in particular, was home to Dominion Textiles, one of Canada's largest textile manufacturers, but as the Canadian textile industry fell into decline, so too did the towns' historic cores, exacerbated by the move of industry and retail to the exurban ring. Each of the three cities maintains an historic urban core endowed with some noteworthy buildings, but they continue to struggle urbanistically and economically.
---
18. TheRecord.com: Schoerg homestead in Kitchener threatened
LIZ MONTEIRO, Rob Hamilton
Demolition request nixed
Future uncertain; Developer who tore down historic barn says heritage house is unsafe. Part of the historic Schoerg homestead built nearly 200 years ago in south Kitchener should be torn down, says the developer who owns the heritage home. But Patrick George of JHS Properties Inc. and owner of the farmhouse at 381 Pioneer Tower Rd., said he won't be tearing it down anytime soon. At a city heritage committee meeting last week, George indicated he wanted a demolition permit to tear down an addition at the rear of the two-storey red brick house. The committee made it clear it wouldn't support a permit, said Coun. John Gazzola, who chairs the committee. In an interview yesterday, George said he will not formally apply to the city for a demolition permit. Instead, he will hire an engineering firm to determine if the addition is safe. A city building inspector declared the house unsafe during a visit to the site last week.
---
19. TheRecord.com: Developer starts Condo conversion in Cambridge
ROBERT WILSON, Rob Hamilton
Developer sees bright future for city's industrial relics
Developer Shawky Fahel of Waterloo is the new owner of the former American Standard factory in Cambridge. He plans to convert it to condos and retail space. Hespeler's heart will soon be beating with new life, if Shawky Fahel has his way. The Waterloo developer is the new owner of the closed American Standard bathtub and sink factory. He wants to turn the industrial eyesore into a environmentally friendly, residential-commercial landmark. Luxury condominiums and apartments for active seniors would be key parts of the project, as would solar power and recycled materials. "Heritage is close to my heart . . . this has been around for 200 years and can be for another 500 years." Fahel said. The president of JG Group said his companies saved historic buildings in Waterloo, Kitchener and Brantford from demolition and turned them into thriving parts of the local economy. The Hespeler project will be his biggest so far.
---
20. London Free Press: Locust Mount's future looks increasingly bleak after blaze
JOE BELANGER, Rob Hamilton
A city inspector has declared the historic home unsafe after a weekend fire.
Hope began to fade yesterday over the fate of one of London's most historic homes, ravaged by a weekend fire. The 147-year-old Locust Mount at 661 Talbot St. has been declared unsafe by city inspectors, the first step in a process that could eventually bring in the wrecking ball. "It's very unsafe,"said city building inspector Frank Galera. "Nothing is holding up that (southeast) corner to keep it from collapsing." The city is asking the owner, Drewlo Holdings, for a report from a structural engineer, which would outline remedial repairs needed. The city also wants the site fenced as a safety precaution.
---
21. City of Hamilton Planning and Economic Development Committee
Lee Ann Coveyduck
Built Heritage Emergency Management Protocol
Built Heritage Emergency Management Protocol (PD05122) (City Wide) RECOMMENDATION: That the Built Heritage Emergency Management Protocol (attached as Appendix A to Report PD05122) be adopted as the City of Hamilton's procedures for the management of heritage buildings in situations subject to an Emergency Order or Unsafe Order under the Ontario Building Code Act. EXECUTIVE SUMMARY: The Built Heritage Emergency Management Protocol was developed to address the need for a defined heritage management process in emergency situations, spurred by a structural failure in part of the Tivoli Theatre complex. City planning staff, in concert with a working committee struck by the Hamilton LACAC (Municipal Heritage Committee), and through interdepartmental and stakeholder consultation, developed this protocol document to guide future responses to such scenarios. BACKGROUND: On the evening of June 29, 2004, a portion of the south wall of 108-112 James Street North suffered a structural failure. The building, a former carriage factory, was the oldest component of the Tivoli Theatre complex. The Tivoli Theatre comprises three interconnected buildings designated in 1996 under Part IV of the Ontario Heritage Act, including the three-story carriage factory, the auditorium, and a one-storey link (the lobby) between the two... [The link below is to City of Hamilton's Planning Committee report 05-011. which was approved by Council on May 25, 2005.]
Editor's Note:This is a document that should be examined by every municipality in developing similar local emergency protocols.
---
22. Toronto Star: Sharon Temple Tree Massacre
Anne Freed
Mayor led tree-cutting crew at Sharon Temple
Photo from East Gwillimbury Website
Call it the Sharon Temple Tree Massacre.

When chainsaw-wielding, goggle-attired Mayor James Young showed up at the historic Sharon Temple last month it took the museum curator by surprise.

"Very peculiar," thought curator John McIntyre, after arriving site to witness the mayor of the Town of East Gwillimbury – of which Sharon is a part – amputating tree branches in the heavily treed culvert next to Young's own office at the civic centre.

But McIntyre was under the impression that the mayor and the town crew were just trimming the branches. The mayor even handed the curator a can of orange paint and asked him to mark trees whose branches could be cut, ostensibly for better maintenance access to the culvert, recalled McIntyre, an architectural historian who lectures at Seneca College.

Little did McIntyre dream that he was signing a death warrant for 50 to 75 mature trees and bushes, many of them towering pines.
---
23. London Free Press: Minister's intervention on behalf of Moore Farm House, Sparta
April Robinson
Moore House to be sparedBut plans to turn the home near Sparta into a garage don't sit well with a heritage group.
SeMoore House, one of the oldest homes in the area, won't be demolished after all.

Instead, the 19th-century house near Sparta will be turned into a garage.

"The outside exterior is being maintained," said Central Elgin Mayor Sylvia Hofhuis. "But the inside is pretty much going to be at the discretion of the homeowners."

The owners, Hank and Anne Vandenbrink, have agreed to restore the roof, windows and fireplaces, Hofhuis said.

The Vandenbrinks will connect a new house to what's left of Moore House and use it as a garage, a move that isn't going over well with members of Central Elgin's heritage committee.

"That, to me, seems an inappropriate use of the building," said committee member Sally Martyn. "It's an incredible interior and I'm sorry we're going to be losing that."
Editor's Note:A rather undignified ending for a provincially important house, and the use of the Minister's new powers. We're waiting for an official announcement from the Minister.
---
24. Cambridge Times: Demolished factory 'lost opportunity'
Ray Martin
A failure in communications and a suspension in protocol has led to the demise of a heritage building in south Galt. On Monday, a demolition crew from Kieswetter Excavating Inc. moved in to dismantle the former Galt Furniture Factory at the foot of Ainslie Street. The contractor had been hired by Waterloo Region to take the building down in 2003, but work on the project was suspended when an older building was discovered within the shell of the stone structure built in the late 1800s. Since then, the property at 188 Water St. S. had sat in a bureaucratic limbo as officials at both the city and Waterloo Region tried to sort out what to do.
---
25. Victoria Times Colonist: Developers give new life to old street
Carolyn Heiman
Multimillion-dollar upgrades will restore lower Yates Street to its former grandeur
This time next year, lower Yates Street could look like it did 100 years ago. Four late 19th century landmark buildings along Yates from Government to Wharf Street are getting multimillion-dollar beauty treatments to bring them back to their former grandeur, and, in turn, recreate the buzz of people living, shopping and working to the area. In 1998, the city created a tax-incentive program -- which Lefevre called "catalytic" in his heritage-revitalization efforts -- to assist heritage-building owners with the cost of seismically upgrading buildings. The goal was to make renovations economically viable while creating residential units. To date, 305 residential units in 16 rehabilitated heritage buildings have hit the market as a result. The city estimates the program has attracted $65 million worth of investment downtown.
---
26. CNW Telbec: The Historic Sites and Monuments Board of Canada has designated Maison Saint-Gabriel as a National Historic Site
In keeping with the recommendation of the Historic Sites and Monuments Board of Canada, the Environment Minister, the Honorable John Baird, has just designated Maison Saint-Gabriel as a National Historic Site.
---
27. CBC News Prince Edward Island: Loss of PEI's Catholic Churches
posted by Rob Hamilton
Bell tolls for Island's Catholic churches
The closing of dozens of Roman Catholic churches will change the unique character of the P.E.I. landscape. The loss of churches on P.E.I. has already begun, with many being put up for sale, converted to other uses or taken down for materials. Traditionally the steeples and white shingles or clapboard have brought many Island vistas into focus. Historian Harry Holman, who works for the provincial Department of Community and Cultural Affairs, says the churches are among the last community-defining buildings. "The churches of Prince Edward Island are part of our cultural landscape,"; said Holman, "but so are our lighthouses, so were the 410 one-room country schools that we used to have, so were the 70-odd railway stations that we used to have, our communities are changing."
---
28. The Province:Arthur Erickson's 1963 Graham Residence at Risk
Jennifer Saltman
Owner of Erickson house wants to demolish it - 1963 Graham residence
The architectural marvel that Arthur Erickson has credited with kick-starting his career is in danger of being torn down. "The David Graham house in 1963 launched my reputation as the architect you went to when you had an impossible site," Erickson is quoted as saying in 1988's The Architecture of Arthur Erickson. The current owner of the house, Shiraz Lalji, has applied to the District of West Vancouver for a demolition permit because the house, which is unoccupied, has not been maintained and is in disrepair.
---
29. TheTyee.caVancouver abandons Heritage Restoration Program
By Adele Weder
City Abandons Its Heritage Gems
Vancouver halts program that tied 'eco-density' to restoring historic buildings.
72
The garbage is getting picked up again, but behind the dumpster at city hall, plenty of heritage architecture has been left to rot.

In late July, just weeks into the strike, the city quietly put a moratorium on its robust heritage restoration program. That program was a win-win policy where the city would hand over "density units" to developers -- the right to build more square footage in a given area -- and the developers in turn agree to restore a significant heritage structure. By all accounts, it's been terrific: developers get to build more units or sell their rights to others; neighbourhoods get eco-density; vintage buildings get saved; and the public cash outlay is minimal. That's how Vancouver citizens got the Roundhouse Community Centre and the Stanley Theatre, to name just two big successes.
---
30. Public Works and Government Services Canada: The Government of Canada officially re-opens the restored Dominion Public Building
Public Works and Government Services Canada
The Honourable Michael M Fortier, Minister of Public Works and Government Services Canada, today officially re-opened the restored Dominion Public Building at 457 Richmond Street in downtown London. The building is now restored to its original 1936 grandeur and will ensure the delivery of Government of Canada programs and services to the public through the remodeled Service Canada Centre.
---
31. Architectural Record: New York Exhibits and lecture series on Jane Jacobs
Alec Appelbaum, Rob Hamilton
National Chains Rattle Jane Jacobs
In counterpoint to last February's three-venue series of Robert Moses retrospectives, New York City's design mavens are now revisiting Jane Jacobs, whose writings about urban life came to symbolize the opposite of Moses' own approach to planning cities. Manhattan's Municipal Art Society (MAS) is using the late community organizer and theorist as the touchstone for an inquiry into New York City's current character. Jacobs made her name in the early 1960s by helping organize a grassroots campaign to protect historic buildings and neighborhoods from destruction—most notably Greenwich Village, which lay in the path of an expressway Moses sought to build. The MAS show "Jane Jacobs and the Future of New York," which opened last week and runs until January 2008, invokes this history to rouse a new generation of community activists. The organization is also hoping for a similar effect from a series of seven talks that kicked off last night with a panel provocatively titled: "Is New York is losing its soul?"
---
32. Guardian: Pantheon Clock Fixed
Emilie Boyer King, forwarded by Rob Hamilton
Undercover restorers fix Paris landmark's clock

Pantheon Paris
'Cultural guerrillas' cleared of lawbreaking over secret workshop in Pantheon

It is one of Paris's most celebrated monuments, a neoclassical masterpiece that has cast its shadow across the city for more than two centuries.

But it is unlikely that the Panthéon, or any other building in France's capital, will have played host to a more bizarre sequence of events than those revealed in a court last week.

Four members of an underground "cultural guerrilla" movement known as the Untergunther, whose purpose is to restore France's cultural heritage, were cleared on Friday of breaking into the 18th-century monument in a plot worthy of Dan Brown or Umberto Eco.
---
33. CBC News Prince Edward Island: Don't let 'churches go without fight,' historian pleads
Rob Hamilton
Many churches are for sale on P.E.I., and with the Catholic Church about to amalgamate 50 parishes into 17, many more will soon be looking for new uses. Historian Catherine Hennessey would prefer to see those churches remain churches, but she says the most important thing is they remain standing. "Are we going to let the churches go without a fight, for God's sake?" Hennessey said this week. The Catholic Church is not the first on P.E.I. to amalgamate parishes. Many United Church congregations have already been closed. Some have been sold and converted to cottages. One in Bonshaw is now an antique shop. But others have been torn down and their materials salvaged.
---