Issue No. 108 | December 11, 2007
1. David Miller Talks Heritage
Catherine Nasmith
Landmarks not Landfill poster from the Architectural Conservancy of Ontario
Last week a group of Toronto's heritage advocates met with Toronto Mayor David Miller to talk about why we are still losing our heritage buildings when municipalities have the means to stop demolition. As we spoke the Bata International Building was being ripped apart.
Last spring's emergency demolition of Walnut Hall triggered this group to collaborate on an opinion piece titled "The Diminishing Soul of the City: Landmarks to Landfill", which the Toronto Star published in abbreviated form in July, over the signatures of Catherine Nasmith, Peter Ortved, and Tony Stappells representing 3 heritage organizations. The full text of the article is available on the Architectural Conservancy of Ontario web-site at
www.arconserv.ca/news_events/show.cfm?id=28
The original group involved 15 individuals, about 2/3 were able to attend. Shortly after the publication we had requested a meeting and were delighted that the Mayor was finally able to find time to meet with us. In the brief 1/2 hour that was scheduled we talked about what could be done to help keep Toronto's buildings standing in a post-Bill 60 Ontario.
We pointed to several key issues, some of which are within the powers of the City of Toronto to correct. Two areas of action would be to find more funding for owners of heritage property, and to make it harder to demolish buildings.
We asked the Mayor to complete the implementation of the City's Heritage Tax Program in a way that would yield meaningful amounts for owners of designated property, and to work with the heritage community in pursuing heritage incentives at the Province and the Federal Government. Rollo Myers, Ontario Governor for Heritage Canada Foundation, described the "Landmarks not Landfill" campaign that is building across the country.
On the slowing demolition side, we noted the City is not taking advantage of all the powers it has under the new Ontario Heritage Act to stop demolition by neglect. We indicated a longer-term goal for the heritage community is to make it much more difficult to demolish, not only because of the cultural losses involved, but the environmental waste. At the moment building waste makes up 20-35% of landfill. Introducing restrictions on demolition or dumping would have all kinds of benefits.
Another point raised by Peggy Kurtin was the desperate shortage of staff in Heritage Preservation Services, which has led to a two year moratorium on implementing Heritage Conservation Districts. Even with citizens doing the research and hiring outside consultants to prepare the reports staff can't keep up with the applications for heritage permits that follow.
David Miller of course noted that all requests for additional services have to be seen in the light of the city's current financial challenges but agreed it is important to find ways to do more. In particular he noted the value of the citizen driven heritage districts in community understanding of the places we live in, and in building community pride.
David Crombie and Sheldon Godfrey pointed out that the underlying cause of cultural attrition in Toronto is our collective failure to tell our stories.
In the world's most welcoming city, where a huge majority of the population were born somewhere else, we have not found the means to describe the accomplishments of the people who came before and are coming now in a way that makes the links between generations or generates a sense of collective pride. In celebrating and protecting all the layers of the city we encourage newcomers to make their marks ones of lasting importance.
It was clear that 1/2 an hour was not enough to cover all that was needed, particularly the matter of moving forward with pressure to senior levels of government. Miller assigned Chris Phibbs in his office as the contact person for heritage matters.
The full list of signators included Robert Allsopp, Toronto's Design Review Panel, Alan Broadbent Avana Capital, Robert Eisenberg and Michael Cruickshank, York Heritage Properties, David Crombie, former Mayor of Toronto, Mike Filey, author/historian, Joseph Gill, Friends of Fort York, Sheldon Godfrey, Rollo Myers, Ontario Governor, Heritage Canada Foundation, Catherine Nasmith, President Architectural Conservancy of Ontario, Peter Ortved, Chair Heritage Toronto, Stephen Otto, author historian, Tony Stappells, Toronto Historical Association, Andrew Stewart, archaeologist, Eb Zeidler architect and Margie Zeidler of Urbanspace Property Group.
---
2. Opinion: The Crystal has no Clothes
Catherine Nasmith

Napkin Design Sketch from the ROM website
I have to confess that if I had been on the Jury for the ROM competition I would not have voted for Daniel Liebeskind's Crystal. But as the building has evolved along Bloor street I have come to enjoy the way its reflective angled surfaces reflect the passing traffic and hubbub of Bloor, and the sparkle in the paving outside.
I visited for the first time last weekend, hoping that I would be able to come away saying that greater minds had prevailed, that the wild costs were worth it, and that Toronto had a new building of lasting value.
But alas. having passed through, what one roguish critic who would prefer not to be named, has described as the "mousehole' of an entrance, I was dismayed at just how little the interior delivers. The entrance, re-orienting the museum to the commercial Bloor street strip delivers an experience, and level of finish, akin to Walmart; a sea of cheap black ceramic floor tile, acres of drywall covering what is the building's most interesting aspect - its steel structure, grey plastic laminate ticket desk, all enhanced by dismal fluorescent lighting. The old museum beckons at the end of this white tunnel. Almost any hospital in town boasts a better atrium space.
Whatever the curatorial failings may have been of the previous R.O.M. addition, it had a materiality and sense of permanence that the Liebeskind building completely lacks. Given the short life of the last addition, perhaps it is appropriate that good materials were not wasted in the new one. The money has all been spent on elements that are now hidden.
Having come from a discussion the day before with Mayor David Miller about how Toronto doesn't tell our stories well, I was also struck in this visit by how the Royal ONTARIO Museum fails to tell Ontario's. There is little to see yet in the way of exhibits in the new space, but the exhibition in the basement says it all. It is as if the ROM, having blown its budget on the building, had to send out to all the rest of Canada for stuff to show. Trudeau's famous canoe is there on loan from the Peterborough Canoe Museum collection; a collection that was rejected by the ROM when it was offered.
Comparing the Liebeskind project to the other recent cultural buildings in Toronto, it starts as the showiest but in my mind finishes last. Give me the home teams any day. All over town, Toronto architects have been delivering beautifully made, sensitive insertions that show how to combine new and old without sacrificing either. The new ballet school by Goldsmith Borgal and KPMB is just plain gorgeous. Either side the Crystal at the Royal Conservatory and the Gardiner Museum KPMB deliver well detailed quiet elegance. It is the same story at the new ballet/opera house. Even with a tight budget Diamond Schmidt delivered a building with beautiful interior spaces that give the visitor a real sense of occasion. That glass staircase demands that everyone polish and wear their best shoes.
The next to open will be the AGO. What will we see there--a Canadian working with pride in their hometown, or the overworked starchitect doing a hit and run in an out of the way provincial city? The latter is what we got at the ROM. The design should have stayed on the napkin it was drawn on.
---
3. Bata Building under demolition
Catherine Nasmith

Photos will be all that is left of this iconic modernist building by John Parkin. It joins Peter Dickinson's icon in landfill
Just in, no details to report. Will try to add as I get them. C. The heavy machinery has started chewing up the western facade. Whoever planned the demolition did their homework. If they had started on the Don Valley Parkway side, there would have been a few rear-enders no doubt. Scott Burgess Information Coordinator Ontario Secondary School Teachers' Federation email: burgess@osstf.on.ca Tel: 416-751-8300 Fax: 416-751-3394 Toll Free: 1-800-267-7867
---
4. RCYC Votes to keep its present Building
Susan Stock
Members of the RCYC last week turned down a proposal to demolish and
rebuild the island yacht club main building.
The option of conserving the 1922 Sproatt and Rolph wood framed structure and adapting it to contemporary standards was not offered, much to the chagrin of 60% of the 900 members who cast votes that evening. The proposal for a new building, similar in style to the original but to be constructed of steel, drywall and vinyl siding, was designed by the Hicks Partnership, specialists in suburban golf clubs, and supported by heritage specialist Chris Shepherd, who reportedly obtained approval from Toronto Preservation Services staff to retain only the front staircase, ballroom murals and the appearance of the verandas of the listed heritage structure, believed to be the last large wooden institutional structure of its type in Toronto.
Editor's Note:
Can anyone clarify the position of Heritage Preservation Services on this matter?
---
5. Appointment of Glen Murray to President and CEO of Canadian Urban Institute
CUI News Release
1277200712November 27, 2007
The Board of Directors of the Canadian Urban Institute is pleased to announce the appointment of Glen Murray to the position of President and CEO of the CUI effective January 2, 2008. "Glen Murray and the CUI share a strong commitment to making our urban regions great places to live, work and play," stated Bob Onyschuk, Chair of the Board of Directors, "and we are excited to work
with such a dynamic leader."
Glen Murray is well known for his vision and efforts to build diverse and dynamic urban centres. He was a former mayor of the City of Winnipeg and was the first Chair of the Big City Caucus of the Federation of Canadian Municipalities. While in that role, he led the campaign for new fiscal
arrangements for municipalities – the New Deal for Cities. He has been active in the green municipal environmental movement and currently chairs the National Roundtable on the Environment and the Economy. Glen held the position of Research Associate for the Centre for Urban and Community Studies and was a Visiting Scholar & Urban Policy Coordinator at the
University of Toronto. He is active on several community boards and advisory bodies. Glen comes to the CUI from AuthentiCity, the urban policy practice of Navigator Ltd., and will continue, for a period of time, as a senior advisor to the firm on urban policy matters.
"We are at a turning point in human history", reflects Glen Murray. "For the first time the majority of the world's population live in cities. Issues affecting the capacity, design, sustainability and functioning of urban areas are more important than ever. How cities work will either enable or undermine humanity's ability to meet the unprecedented environmental, economic, governance
and cultural challenges that require us to rethink the fundamentals of the way we make our home on this planet. The CUI is central to Canada's capacity for innovation and to realizing the opportunities of this new age."
"The CUI brings together partners from the non-profit, public and private sectors to address issues of the urban realm. Glen will build on this and will strengthen our influence and impact as the pre- eminent urban think tank in Canada," said Bob Onyschuk.
"I look forward to working with the talented team of professionals at CUI and I am honoured to build on the extraordinary legacy of David Crombie and the blue ribbon Board of Directors," commented Glen Murray.
---
6. The Banting Homestead is now protected!
Dr. Peter Banting
11Here is an update on the Banting Homestead story.
In 1999, Edward Banting, the nephew of Sir Frederick Banting died, and bequeathed the more than 100-acre Alliston, Ontario farm and birthplace of Sir Frederick Banting to the Ontario Historical Society (OHS) in the expectation that they would preserve and maintain it for the benefit of future generations. Edward also had a dream that a camp for diabetic children some day would be located on the farm.
Despite income from rental of the farmland and despite offers of help from the Banting family, the OHS did not maintain the property and allowed the farmhouse and outbuildings to deteriorate. Observing this deterioration, the Town of New Tecumseth (formerly Alliston) negotiated over several years with the OHS to preserve the property, finally offering to purchase it for one million dollars. The OHS then announced it had sold the farm to a developer for $2.2 million.
To save the property from being buried in a housing development, the Town served notice of "designation" as an historic site under the Ontario Heritage Act. OHS objected. As a result, the Conservation Review Board of Ontario heard arguments from both sides in September, 2007. In October, 2007 the CRB recommended that there is sufficient cultural heritage value in the property to proceed with designation. On November 12, 2007 the Town passed the "Sir Frederick Banting Homestead Designation By-law." You can read about this at the following site:
http://www.allistonherald.com/allistonherald/article/53732
Currently, the OHS is the legal owner of the property. However, designation now obligates the owner to maintain it properly, and prevents its commercial development.
Several years ago, you published an article in Built Heritage News about our efforts to protect Sir Frederick Banting's birthplace from being destroyed. On behalf of the Banting family, and all those who believe that the wishes of Edward Banting (who made this generous gift to the OHS) should be respected, I wish to thank you for your help. And I wish to thank your many readers who wrote on our behalf to the CRB. The property is now protected. Maybe now the OHS will recognize the intrinsic value of Edward's gift.
To keep abreast of any further developments, check out our Web-site: http://www.discoveryofinsulin.com/
---
7. Donna Baker, ACO Heritage Activist has died
Death Notice, Globe and Mail
BAKER, Donna Marie (nee Hutchinson) 1927-2007 Died peacefully in the late afternoon on Wednesday, December 5, 2007. Beloved wife, mother, animal lover, friend, neighbour and community activist, Donna's warmth and kindness touched many. TA funeral service will be held at 3 o'clock on Tuesday, December 11th in the CATHEDRAL CHURCH OF ST. JAMES, 65 Church Street, Toronto.
If desired, donations may be made to the Cathedral Church of St. James (M5C 2E9) or to a charity of your choice. Condolences and memories may be forwarded through www.humphreymiles.com
---
8. insideToronto.com: Community council clears Cabbagetown conservation Northwest segment of area close to receiving heritage designation
JUSTIN SKINNER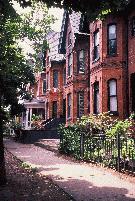 One of Cabbagetown's protected streets
The whole of Cabbagetown is one step closer to being deemed a Heritage Conservation District after Toronto and East York Community Council approved heritage designation of the northwest section of the area for conservation Tuesday. The approved section is roughly bounded by Wellesley Street to the north, Carlton Street to the south, Sherbourne Street to the west and Parliament Street to the east. If approved at city council later this month, Cabbagetown Northwest will join Cabbagetown-Metcalfe, Cabbagetown South and Cabbagetown North as protected heritage districts. "We want to eventually have all of Cabbagetown designated as a heritage district" said George Rust-D'Eye of the Cabbagetown Preservation Association (CPA). "Three areas are already protected, but this is the first west of Parliament Street."
---
9. Globe and Mail: Royal Canadian Military Institute next to go
James Rusk
Historic military building to be razed, then rebuilt as part of new condominium

Photo from RCMI website
The Royal Canadian Military Institute, one of the most venerable institutions on Toronto's University Avenue, is "beyond repair" and will be torn down and rebuilt as part of a new high-rise condominium.

Under the terms of a deal with Pickering-based developer Tribute Communities, the RCMI will be housed in the new 42- to 44-storey condominium tower on the club's site on the west side of University Avenue, south of Dundas Street.

Peter Hunter, chairman of the RCMI's long-range planning committee, said yesterday the institute, which has 1,500 members with an interest in military affairs, badly needed a new home.

"The building is old and obsolete and literally beyond repair," Mr. Hunter said.

Ironically, the parts of the building that are 50 years old are in worse shape than the original portion that is more than 100 years old, he said.Glov
Editor's Note:A federal/provincial incentive program to assist property owners with routine maintenance costs might have saved this building. It, like so many others in Canada, is reaching the 100 year mark when repointing and other repairs become necessary. If maintained they will last indefinitely, which is generally not true for the replacement structures.
---
10. Toronto Star: Toronto's Evergreen Project
Christopher Hume
Project keeps nature close to city's heart

From Evergreen website
While City Hall turns in ever-smaller circles, the city itself manages to move ahead regardless.

The latest example of how leadership has migrated away from council chambers to other sectors, mainly cultural and non-profit, is the emergence of the $55 million Evergreen project at the old Don Valley Brick Works.

After years of grinding away, the Evergreen Foundation has revealed its plans for the redevelopment of the 16-hectare site. Headed by architect Joe Lobko of DTAH, the ambitious scheme will transform a former industrial property into a sustainable multi-use complex dedicated to the idea of nature in the city.

With 16 buildings and a load of history, the Brick Works has the same kind of potential as the Gooderham and Worts Distillery, now establishing itself as a cultural/entertainment/residential centre. Already there's a market on site and various educational programs, but basically, in proper Toronto fashion, the Brick Works has sat empty and deteriorating for a quarter of a century.

Owned by the Toronto Region Conservation Authority and managed by the city, the place never really had a chance until Evergreen came along.

Its intention is to create a destination whose many attractions are all based on nature.

Evergreen founder Geoff Cape calls it "Canada's first full-fledged large-scale environmental discovery centre."
---
11. Canadian Architect: And Justice for All - An historic courthouse facility is transformed into a contemporary judicial facility through a series of deft manipulations.
Ian Chodikoff
PROJECT Renfrew COUNTY COURTHOUSE, PEMBROKE, ONTARIO
The oft-hermetic and intimidating courthouse is not a public building type usually associated with contributing to a sense of pride of place. However, a recent $20-million makeover to an Eastern Ontario courthouse proves that judicial facilities can indeed contribute to the public life of a community.
---
12. St. Thomas Times-Journal: Hopes fade for saving courthouse - Campbell fears another Alma College
Kyle Rea

Hopes for a consolidated court facility at the courthouse on Wellington Street are fading, say members of St. Thomas council. That news comes after Mayor Cliff Barwick, Ald. Gord Campbell and city clerk Wendell Graves met Nov. 27 with Chris Bentley, provincial attorney general, to discuss a proposed location for a courthouse facility to combine the physical presence of the Ontario Court of Justice and Superior Court. Earlier this year, it was announced that the province was moving up the time line for courthouse construction, with tenders going out as early as June.In August, the city threw its support behind an offer by Shmuel Farhi, owner of the courthouse on Wellington Street, to turn the historic structure over to the city, renovate it and build an addition on the south side at his own expense. The meeting with Bentley to discuss this issue, Barwick said, lasted 50 minutes and was two years in the making.
---
13. London Free Press: Elgin County Court House Owner fights back
CHIP MARTIN
Elgin courthouse in peril, warns building owner
Dislike for him lies behind the province's reluctance to consolidate all its courts at the historic Elgin County Courthouse, claims the outspoken private owner of the 1853 structure. Shmuel Farhi said that's why provincial officials have changed the rules in its courts consolidation study. For the London businessperson, it's getting personal. "If they think they are short-changing Shmuel Farhi, they better think again," he said. "They are short-changing the people of St. Thomas and Elgin County."
---
14. The Independent Online (Brighton) : A time for reflection
Editorial
Starting in January, the town of Brighton will make an early start on preparations for sesquicentennial celebrations. The haste and foresight shown by the council in planning for the town's 150th anniversary in 2009 is to be applauded. It is a fine opportunity to showcase what Brighton has to offer and to come together in common enterprise. The historic occasion should also help to focus the collective mind on Brighton's evolution, to reflect on where we have been and where we are going. We need to strengthen the sense that as a community we are making active decisions about our future development and plotting the truest course. Too often in the past year we have seemed to lurch from point to point, blown from side to side by crosswinds. The destruction of the 130-year-old St. Andrew's Church on Main Street was such a moment. The newly-formed council was caught flat-footed and was singled out by the Minister of Culture for not usings its powers under the Ontario Heritage Act.
---
15. London Free Press: City staff reject offer of Capitol site
PATRICK MALONEY
An offer that would give London ownership of the Capitol Theatre at no cost is a bad deal, board of control was told yesterday. Shmuel Farhi, who owns the aging building that was once a downtown hotspot, is willing to give the building to the city for just a tax receipt, but senior staff say that would be fraught with trouble. "We don't think it's a building we would want to take on," Jeff Fielding, the city's chief administrative officer, said of the decrepit Dundas Street movie house. "We would get the building as it is now." Instead, staff offered two recommendations for board of control to consider, both of which might salvage the building and the heritage elements of its street-level facade.
---
16. Caledon Citizen.com:Kerry Log House relocation
ALAN LICZYK
Location for Kerr Log House scrutinized
Caledon councillors had some differences about where the Kerr Log House should be located after the redevelopment feasibility study was presented to them recently. The redevelopment feasibility study was prepared for the Caledon Heritage Foundation by E.R.A. Architects Inc. of Toronto. The Kerr Log House is a mid-19th century log farmhouse that was dismantled and donated to the Town of Caledon in 2001. A subcommittee of Heritage Caledon developed plans to reuse the building as a Town-wide community heritage facility. The feasibility study identified five main uses for the house and site including a cultural heritage resource and visitors centre, gallery and exhibition space, community workshop and meeting space, office and storage space, and a community commons.
---
17. Brantford Expositor: Cockshutt Buildings Saved
Michael-Allan Marion
Cockshutt buildings to keep heritage tag
City councillors changed their mind Monday, deciding against removing the heritage designation on the Cockshutt office, warehouse and timekeeper's complex. Following a lengthy debate, council voted 8-3 against removing the designation. The vote overturned an earlier 6-5 recommendation by council's committee of the whole in favour of a resolution from Coun. Greg Martin to remove the designation. Voting against removal on Monday were Mayor Mike Hancock and councillors John Bradford, Jennifer Kinneman, John Sless, Dan McCreary, James Calnan, Richard Carpenter and Vince Bucci. Still in favour of "de-designation"were councillors Mark Littell, Marguerite Ceschi-Smith and Martin. The change of heart occurred because Hancock, Carpenter and Bradford switched sides. The vote came after presentations by heritage advocate Anne Westaway and Bill Cockshutt, a great-grandson of Ignatius Cockshutt, who founded the company that become a Canadian farm machinery manufacturing giant.
Editor's Note:Nice work. Thanks to those who supported the efforts to save this building in Brantford, including Hamilton ACO and Heritage Canada.
---
18. Waterloo Record: Charity hopes to save historic barn
JEFF OUTHIT
Time running out on historic barn
Charity has until Dec. 31 to raise funds needed to restore building CAMBRIDGE - There's new hope for a landmark barn that has survived 160 years but is steadily decaying. An environmental charity hopes to restore the barn and make it part of an outdoor education centre. It would be used to help teach students about land use, water quality, agriculture and the environment
---
19. Canadian Architect: Edmonton's Capital
Shafraaz Kaba
Without understanding the city's Modernist heritage, a clear vision for promoting quality urban design in Edmonton will be difficult
Edmonton is in the midst of another oil- and gas-inspired boom. Like past booms, it has become a period of prolific building. But when compared to the Modern architecture built in the period of the 1940s to the 1970s, it is hard-pressed to match the quality of design produced from that era. By examining the work of the past in relation to the current climate of architecture, one can make inferences for guiding future architecture.
---
20. Canadian Architect: As Good as New?
Josh White
The ongoing Calgary building boom is destroying much of that city's heritage. Unfortunately, many new projects are attempting to replicate historic buildings through an invented historicism
As Canadian cities rapidly intensify their historic urban cores, questions about the fit of new buildings in historic districts become increasingly relevant. Historicist buildings that seek to mimic old styles in order to "fit" into their surroundings highlight whether redeveloped urban neighbourhoods are becoming authentic expressions of our time. Nowhere is this issue more apparent than in Calgary's booming Beltline district, where several new developments have sparked heated debate about the merit of historicist design.
---
21. Halifax Chronicle Herald: The debate about combining old and new
LARRY HAIVEN
For a city with the best of old and new, look to Bologna
Beautiful heritage buildings and skyscrapers: Can they co-exist in a city? Or are they mutually exclusive? The recent debate in Halifax seems to run on the assumption that you must have either one or the other. But if we look at many European cities, we can see that heritage and modernity are not necessarily at odds. A thriving city can have both.
---
22. Globe and Mail: Erickson's Graham House At Risk
Marsha Lederman
Landmark Erickson house to be demolished

VANCOUVER -- A demolition permit is expected to be issued this week, possibly as early as today, for an Arthur Erickson-designed house in West Vancouver. The David Graham House, completed in 1963, helped kick-start Erickson's auspicious career. Set dramatically on a cliff"like a ladder," the house is multilevelled, with overlapping roofs and stacking terraces." The living room is a hovering glass platform with marvellous twisted pines clinging to the rock around "; Erickson wrote in his 1975 book The Architecture of Arthur Erickson. "The master bedroom hangs over the sea and its bathroom opens on submarine windows into the swimming pool." Erickson has credited the Graham House with launching his reputation as"the architect you went to when you had an impossible site." But in recent years, the house has fallen into a desperate state of disrepair. "Every beam is twisting and buckling, apparently," says West Vancouver Mayor Pamela Goldsmith-Jones. Along with the Arthur Erickson Conservancy, Goldsmith-Jones has been exploring options to try to save the structure, but she admits that's unlikely.
---
23. Vancouver Province: Erickson house faces wrecking ball - Renowned Vancouver architect launched his reputation with 1963 home
Jennifer Saltman, with file from Cheryl Chan
The owner of an Arthur Erickson-designed West Vancouver home is continuing with his plans to demolish the landmark. Shiraz Lalji has applied to the District of West Vancouver for a demolition permit because the house, which is unoccupied, has not been maintained and he says it is in a state of severe disrepair. The plan, according to the district, is to build a new house on the site.
---
24. Saskatoon Star Phoenix: Goodbye Barry Hotel
Jill Smith
Controversy checks in at Barry
Heritage group wants founding site of FSIN saved, not razed, by city The heritage community in Saskatoon says it's "premature" for city council to raze the Barry Hotel. "There hasn't been time for council to get enough information to make a vote" said Victoria Neufeldt, president of the Saskatoon Heritage Society. The city doesn't even own the hotel yet; however, city council will vote on whether to demolish it tonight.
---
25. Globe and Mail: Salvager and Scavengers in Vancouver
CHRISTOPHER POLLON
The fine line between salvager and scavenger
Growing trade in legally rescued antique building fixtures has spawned a black market in stripped materials In late 2003, John Atkin walked into an abandoned old house in Strathcona, carrying the tools required to salvage rare ornamental door trim for reuse in his own home renovation. Hearing loud crashing noises upstairs, Mr. Atkin followed the sound and came face to face with a man armed with a crowbar, who was smashing through valuable mouldings to remove $3 pulleys from an old sash window."These are mine," said the man before resuming. The two occupants of the derelict house represent the good and bad sides of Vancouver's growing trade in salvaged building parts. On one hand, there was Mr. Atkin, a Vancouver historian and heritage advocate with permission to enter, and on the other, a man willing to risk a breaking-and-entering charge to profit from a quick smash and grab.
---
26. New York Sun:Pennies To Build, Millions To Restore
KATE TAYLOR
In the 1950s and the early 1960s, Yale University commissioned buildings from a handful of the most important modern American architects: Louis Kahn, Eero Saarinen, Gordon Bunshaft, and Paul Rudolph. Now Yale finds itself at the forefront of a movement to restore modernist buildings to their original glory and bring them up to contemporary environmental standards.
---
27. Washington Post: The tired debate about property rights in heritage areas rears its head
Paul Kane
Heritage Areas vs. Property Rights - With Designations on Rise, Conservatives Sound Alarm
A new front has opened in the long-simmering dispute between conservationists and property-rights activists as Congress has increasingly given federal protection to lands dubbed "National Heritage Areas" With no official formula for their creation, the areas are designated by congressional action and overseen primarily by private, nonprofit community groups. The nonprofits also have roles in managing land use in the areas, which range from a section of abandoned steel mills on a riverfront in Scranton, Pa., to a stretch of the Hudson River between New York City and Albany. But historical preservationists are encountering opposition from conservative activists, who see the rapid growth in congressionally created heritage areas as a backdoor way to restrict property owners' rights to develop their land as they see fit. National Heritage Areas "pose a threat to private property rights through the exercise of restrictive zoning that may severely limit the extent to which property owners can develop or use their property," wrote Cheryl Chumley and Ronald D. Utt of the Heritage Foundation in a recent report on heritage areas. Chumley and Utt said such "regulatory takings" through zoning are the "most common form of property rights abuse today". Republicans in Congress and property activists say that individuals who own land in these heritage areas now have to answer to a quasi-governmental body about how they develop their property.
Editor's Note:Is anyone forced to buy there? Or forced to enjoy the increased property values that occur in heritage areas? I am amazed there are still people in the U.S., where the evidence of the benefits of Historic Districts are so strong, who trot out these dumb arguments. In New York, communities are fighting to get District status. In other parts of the U.S. anti poverty groups fight districts because of their gentrifying effects.
---
28. Washington Times: Modernism worthy of preserving
Deborah K. Dietsch
Saving the recent past has become preservationists' latest battle cry as development pressures increasingly threaten modern architecture with demolition. Steel and concrete structures representing the design ethos of the 1960s and '70s are just as deserving of restoration as older buildings but harder to protect from the wrecker's ball.
---
29. Expatica Spain - Expatica.com: Calatrava loses Bilbao Intellectual Property fight
Calatrava loses legal fight over Bilbao work of art

Calatrava's bridge
The city council of Bilbao modified a"singular work of art"without even consulting its creator - but the latter's claim to intellectual property gives way to the higher public interest. With this argument, Judge Edmundo Rod Achtecgui of Section 1 of the Mercantile Court of Bilbao has dismissed a suit filed by Valencian architect Santiago Calatrava against the city council of Bilbao and two construction firms. Calatrava brought the action after a walkway extension was added to his well-known bridge over the River Ria, nicknamed the Zubi Zuri.
---
30. Source of Funding to Restore St. Thomas Railway Station
Denise Payne

St. Thomas Railway Station from Hall of Fame website
I am from Canada and writing to enquire if your organization gives grant/seed monies to restore historic buildings. We are currently in process of trying to restore the Canada Southern Railway Station in St Thomas, Ontario Canada. To see photos of this grand structure please visit our website at www.railwaycapital. ca. Total cost of restoration will be 7-8 Million dollars in total. We are currently in process of developing the business plans and historical plans for the station. Once restoration is complete we will have a fully restored station housing business, tourism,retail and special events. Once again we hope that this station will be the catalyst for downtown activities and a place that is visited from persons around the world. Here is an update on our progress thus far:
The North America Railway Hall of Fame is non-profit organization committed to preserving railway heritage in St. Thomas and ensuring the future sustainability of the Canada Southern Railway Station (CASO). The Hall of Fame is redeveloping the CASO station making it a catalyst for the revitalization of downtown St. Thomas and the community. Many members of the St. Thomas community have banded together as volunteers spending tireless hours removing debris, partitions, false ceilings and any obstructions to prepare the CASO station for its restoration and, most importantly its return to the community. Because of its charitable status, The North America Railway Hall of Fame secured ownership of the station in 2005 from On Track. Since that time, North America Railway Hall of Fame has applied for and attained two Trillium Grants; one to replace the roof last summer and another to fund the feasibility study conducted by the Innovation team this past year. Also, through a granting opportunity with the Ontario Job Creation Program, we have hired 8 construction workers and a Construction Coordinator, 4 office staff and an administrator whose varying roles and skills contribute directly to the building's restoration and the increase of community events it houses. Through our efforts and the skills of our employees we have made great progress in documenting historical information, raising funds and holding events for the community within the walls of this station. The recent "Adopt-a-Window and Door" Campaign is nearly completed and will raise nearly $200,000 for the station. The momentum is building as a buzz of excitement is beginning to be heard and felt throughout the city of St. Thomas and its surrounding area. What began as a lofty dream is now reaching its actualization. The possibility for preservation of this great old piece of railway and architectural heritage is no longer a question.
Thank you for your time and consideration.
Denise Payne
Business and Fund Development Coordinator
North America Railway Hall of Fame
691 Talbot St .
P.O Box 20040
St. Thomas , ON N5P 4H4
Phone: 519-633-2535
Fax: 519-633-3087
denisepayne@ narhf.org
Editor's Note:
St. Thomas seems to have more than its share of heritage challenges. Hope someone can help here.
---