Issue No. 111 | February 4, 2008
1. Madison Avenue, a Unique Toronto Street
Catherine Nasmith

South West Side Madison Avenue
Madison Avenue is one of Toronto's most admired streets and has been recognized as a street of heritage importance since the mid 1970's when Toronto first started to undertake heritage protection. In a lecture delivered to architecture students at the University of Toronto in 1975 William Dendy commented that in his view "Madison is one of the finest residential streets in Toronto". In that lecture he pointed to the consistency of the style, particularly at the south end, to the consistent height and setback of the properties, to the relative proportion of the height of the buildings to the street width. Dendy noted that it was here that a unique Toronto style originated, a style that was subsequently named by Patricia McHugh "Annex style".
Madison was subdivided and sold by Simeon H. Janes, one of Toronto's most astute developers. Later, in 1897, Simeon H. Janes was one of the founding members of the Toronto Guild of Civic Art. Many of the architects who were commissioned to design houses on Madison were also members of the Guild.
Simeon Janes was no ordinary developer. American born, he maintained strong connections with his American roots. A frequent traveler to the U.S. and abroad, he sought inspiration from American developments. Madison Avenue is named after American President James Madison. A significant patron of arts and architects, Janes hired McKim Mead White alumnus A. Page Brown and the famous Olmsted Brothers to design Benvenuto, his own house and grounds. Alas, demolished by the City in 1931, Benvenuto was one of Toronto's most ambitious estates and houses. The stone walls survive along the edge of Avenue Road, and the gates have been moved to 40 Burton Road. The Olmsted plan is on display at the City of Toronto Archives at the moment.
Janes laid out two major parcels in the Annex, from Spadina Road to just east of Bedford. Other streets such as Huron, Bedford, St. George, Spadina and Lowther all share(d) the architectural wealth of Madison Avenue, but road widening and subsequent re-development on the other streets have left Madison as the best-preserved streetscape of the Janes' Annex.
Streets with the kind of consistent character found on Madison Avenue, particularly notable at the south end of the street, can be the result of a set of design codes and subsequent covenants set by the developer. No evidence of such codes exists for the Annex, even though the cultural sophistication of Janes suggests the possibility of such controls. What appears to be at work instead is a common culture that was developing among the Toronto's architects and builders.
The culture evolved through debate within emerging civic societies such as such as the Architect's Eighteen, The Toronto Guild of Architects, and the Toronto Guild of Civic Art, debates that were recorded in newspapers and journals such as the Canadian Architect and Builder. We see those discussions expressed along the length of Madison Avenue. The first Annex style house, designed by E.J. Lennox for Lewis Lukes at no 37 started the trend, but the style evolves as other architects and builders make their contributions. Lost houses by Edmund Burke (no. 5) and W. R. Gregg (no. 8) also had an influence. Annex style dominates the street but there is also an Eden Smith Arts and Crafts house, a fine Edwardian apartment building by Langley and Langley, a clinker brick house by Hamilton Townsend at no 138, and a contribution from the famous firm of Carrere and Hastings. Edwardian style dominates the north end, which developed later. Much of the history is lost in the mist, but a walk up the street yields a glimpse into the lively architectural culture that was emerging at the time, perhaps an era of debate that hasn't been surpassed since.
Even though about half of the houses on the street had been placed on Toronto's Inventory of Heritage Property in the 1970's. Recent research confirmed the earlier visual assessment of architectural significance. In fact, almost every Toronto architect of note from the period of development is represented on Madison Avenue. Unfortunately because of gaps in building permit records, it was not possible to identify the architects of the very fine first few houses at the south end of the street. The following architects were identified:
Eustace G. Bird w/ Carrere and Hastings (no 161)
Edmund Burke (no. 5)
Chadwick & Beckett (no 64)
E.J. Lennox (no 37),
R. J. Edwards (no 131),
W.R. Gregg (no 8 demolished),
Robert Heath (nos 69, 71),
Gordon Helliwell (no 60)
Charles Langley (nos 93, 95, 97, and 99),
Frederick H. Herbert (nos 54, 78, 80, 82, 88, 109, 111, 145, 193)
Andrew L. Ogilvie (no 56)
Robert L. Ogilive, (nos 124 -126)
A.J. Rattray (no 191),
Eden Smith (no 47).
William L. Symons, (no 140)
S. Hamilton Townsend, (no 138)
Editor's Note:
Catherine Nasmith Architect is the consultant for this HCD study, it has been a very interesting journey.
---
2. Changes at Torontos Heritage Preservation Services
Catherine Nasmith
An internal search has begun at the City of Toronto for someone to fill in for Denise Gendron, the Manager of Heritage Preservation Services while she is seconded to the Union Station team for the next two years. This is yet another change in a department where the door has been spinning rather than revolving.
Since the shift in 2000 of Preservation staff from the former Heritage Toronto, an arms length agency, to a City staff department the challenges have been overwhelming. Staff numbers were never sufficient, with former staff from North York and Toronto trying to cover their former territories as well as four new city areas. Almost immediately former heritage Toronto staff began to leave, beginning with Richard Stromberg and John Blumenson, followed shortly thereafter by Sean Fraser and Steven Bell. Since then many have joined and left after a year or two. The workload is very high, heritage planners are paid less than other planners in the Planning Department, and over the years budget cuts have made it impossible to hire to replace people. Some see HPS as a stepping-stone to higher pay in other parts of the planning department.
It will need to be a very strong person to take on the leadership of this beleaguered group, but a strong person is what is needed. It is a tough, but very important job.
---
3. Toronto Preservation Board Chair
Catherine Nasmith
Congratulations to Robert Saunders has been elected chair of the Toronto Preservation Board. Decisions and Agendas are now online at the following address:
http://www.toronto.ca/legdocs/2008/agendas/pb.htm
---
4. Heritage Canada Foundation Urges Ontario Minister of Culture to Intervene on Behalf of Threatened Heritage Buildings
Heritage Canada
News Release
For immediate release
January 28, 2008
Heritage Canada Foundation Urges Ontario Minister of Culture to
Intervene on Behalf of Threatened Heritage Buildings Ottawa, Ontario - January 28, 2008 - The Heritage Canada Foundation (HCF) is urging Ontario Minister of Culture Aileen Carroll to intervene on behalf of two heritage buildings featured on its 2006 Top Ten Most Endangered Places List— Hamilton's historic Lister Block and the landmark Alma College in St. Thomas.
In June, the Province of Ontario allocated $7 million to support the redevelopment of the 1913 Lister Block, considered a pivotal building in the ongoing revitalization of Hamilton's downtown. The City of Hamilton, set to be the building's tenant in this arrangement, is now balking at the office space leasing costs and the property owner's intentions remain unclear. The notion of demolishing this important historic building only to replicate part of its façade has resurfaced. HCF has written the Mayor and councillors urging them to freeze the demolition permit until a more sustainable solution can be found.
HCF executive director Natalie Bull has also urged Minister Carroll to ensure protection to the Lister Block by designating it a provincial heritage site.
Alma College, a Victorian Gothic Revival school, has stood proudly on a prominent 10-acre site in St. Thomas for 130 years. Designated a heritage site by the municipality in 1994, the college spent the intervening years deteriorating as development plans repeatedly surfaced and floundered. The current owner, Alma Heritage Estates, appealed city council's decision not to issue a demolition permit to the Ontario Municipal Board (OMB) last year. The city subsequently negotiated a deal with the developer—that was endorsed by the OMB in mid-January—permitting the demolition of all but the central entranceway. The building is now mere weeks away from demolition. HCF has called on Minister Carroll to use her powers under the Ontario Heritage Act to place a stop work order on the property and ensure its ongoing protection through the enactment of a provincial heritage designation.
The Heritage Canada Foundation's Top Ten Endangered Places List includes examples of some of the many conservation challenges faced by hundreds of communities in Canada—be it as a result of neglect, lack of funding, legislation not being enforced or inappropriate development.
For more information on HCF's 2006 Top Ten list visit http://www.heritagecanada.org/eng/news/endangered.htm
The Heritage Canada Foundation is a national, membership-based, non governmental, charitable organization with a mandate to promote the preservation of Canada's historic buildings and places.
For further information:
Carolyn Quinn, Director of Communications, cquinn@heritagecanada.org
Telephone: 613-237-1066 ext. 229; Cell: 613-797-7206
---
5. Community Heritage Project Finds a Home
From the Toronto Historical Association Newsletter
The Community History Project has finally found a home.
Jane Beecroft reports that her telephone will be up and operating on Thursday, February 7. It will be the same number as before the move, 416-515-7546. Jane will report in the next newsletter the address and other details.
---
6. National Post: Ryerson Builds on Sam the Record Man Site
forwarded by Stephen Otto
Ryerson's new look for Yonge & Gould
Ryerson University today revealed what its ''new face on Yonge Street'' will look like, a transformation of the former Sam The Record Man at Gould Street into a library and student centre.

"Sitting on Yonge Street with millions of people passing by, they will know about Ryerson. I want all our students to be in the front," said Sheldon Levy, president of Ryerson. "To move forward on Yonge Street, the whole world will see us proudly."
---
7. Globe and Mail: Humber College Campus on Former Lakeshore Hospital Site
LISA ROCHON
Humber's nugget of joy in a suburban wasteland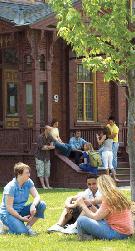 8The days are short. The nights are long. Sunshine and enlightenment are what we crave during a Canadian winter. Both were in rich supply during my recent trip to Toronto's west end, where Humber College and Taylor Hazell Architects Ltd. have been working together for 15 years to build enriching architecture. Thanks to their inspired complicity, an asylum has been converted into a splendid lakeshore campus, and a recently completed ecology centre on Humber's north campus stands as a triumph amid the surrounding suburban wasteland.

Driving to the edges of Toronto is a journey mostly to the dark side. What was previously farmland has now been erased to make way for a web of highways and flat-lined industrial buildings with gargantuan parking lots. North of the 401, a slick of jet fuel seems to hang in the air.

But we have been taught to take the good with the bad. And the lovely Humber Arboretum, tucked into the college's north campus, is very good. A team of women architects - Jill Taylor, principal of Taylor Hazell, with fellow architect Pat Hanson and landscape architect Diana Gerrard - combined forces to create a powerful building sculpted into the land.

Sited at the edge of a pond, visited often by songbirds and deer, the $4.7-million urban ecology centre resists the clichés of earthy-smelling, straw-bale construction. Instead, the centre is an unabashedly modern building system of steel frame, glass and a triumphant vertical fin - actually a glass- and aluminum-clad chimney that helps to circulate air - thrust into the sky.

What would an ecology centre be without operable windows, radiant floor heating and a large wooden brise soleil to diminish heat gain during the hot summer months? The achievement of Gold LEED Certification is proclaimed at the front vestibule, where elementary students by the thousands arrive each year to learn about soil, biodiversity and, perhaps, maple-syrup harvesting.

It appears to be a fresh and simple design, except that what presents from the main entrance (and a bright-red, extra-tall door) to be a single-storey glass pavilion actually drops down to two storeys at the back. A structural living wall of grasses and a graphically designed concrete wall hold back the embankment to open the back of the building to an excavated courtyard newly planted with river birch. A bio-filter is in place and rainwater is stored and recycled for irrigating the surrounding trees and plants.

Inside, overlooking the courtyard, is a teaching space as well as a kitchen, storage behind maple sliding doors and ample space for children to change into brightly coloured snowshoes.

In many ways, Humber College has managed to create templates of sustainability on both its north and south campuses. At 5,000 square feet, the ecology centre is practical, environmentally responsible and exhilarating to look at, even if most of the sprawling north campus is uninspired. Across the 401 and farther south, the Lakeshore campus demonstrates ways of reinvigorating an historic asylum to dramatic effect.

Lakeshore Psychiatric Hospital was designed in the late-1800s by Irish-Canadian architect Kivas Tully as a utopian community aimed at healing its distressed and demented patients by immersing them in a beautiful environment. Tully's vision was drawn and built as 10 brick Queen Anne cottages set within a vast landscape with room enough to run horses, play cricket and cultivate extensive gardens.
---
8. Toronto Star: Jarvis Slip Competition Winner
Christopher Hume
What's not so sweet about new Sugar Beach

Claude Cormier's Sugar Beach
First the good news; Toronto will have a new beach at the foot of Jarvis St.

Now the bad news; Toronto will have a beach at the foot of Jarvis St.

Everyone loves a beach, of course, but what a strange place to put one – next to a corporate head office, just across the slip from the Redpath Sugar refinery. Imagine lying in the sand under a hot sun, unable to go into the water but watching ocean-going tankers unload 50 metres away.

No doubt it will be an interesting experience, if not exactly appealing.

But such was the decision reached yesterday by a jury on behalf of the Toronto Waterfront Revitalization Corp, now known as Waterfront Toronto. The body chose a submission from leading Montreal landscape architect Claude Cormier, called, for obvious reasons, Sugar Beach. The scheme also includes a paved plaza punctuated by trees, and a promenade that extends through the site.

"The jury agreed the design had a confidence, a purity and a playfulness that would make Sugar Beach a favourite destination," said panel chair, architect Siamak Hariri.

Despite Hariri's enthusiasm, one can't help but wonder if this isn't the wrong place for Cormier's proposal, precisely because of its playfulness. The HtO "urban beach" farther west on the water's edge makes sense because it occupies open space and is connected to the lake. Mostly, though, it's not industrial, or even corporate. By contrast, the Jarvis St. slip is emphatically both. Indeed, Redpath represents one of the last remaining industrial uses on the waterfront.
---
9. Toronto Star: Commentary on Union Station Plans
Richard Gilbert
REVITALIZING UNION STATION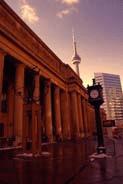 World oil production will likely begin a long, inexorable decline during the next decade. Fuel prices could rise to startling levels as a result. Aviation would be the hardest hit because there is no evident alternative to the kerosene that fuels jet aircraft. Rail, by contrast, could experience a massive resurgence because it can be powered by electricity, which can be generated without oil or other fossil fuels.

Toronto's response in the face of this prospect has been to propose investing about $1 billion in revitalizing its severely dilapidated main rail terminus, Union Station. This sum may be contrasted with the $4.4 billion being spent on Toronto's airport, which handles fewer passengers each day than Union Station and, in a decade or two, could handle many fewer.

The present plans of the City of Toronto and the regional train operator, GO Transit, are ill-conceived in almost every respect. The result – if the current plans are implemented – will be to replace one dreary train-travelling experience with another.
Editor's Note:Amen Richard
---
10. Hamilton Spectator: Councillors revive debate about selling City Hall
Nicole Macintyre
Two city councillors want to sell off City Hall. "Get rid of it," downtown Councillor Bob Bratina proclaimed yesterday. He joined Councillor Terry Whitehead in suggesting the city cancel the $69-million renovation and stay at its temporary location at the City Centre.
---
11. Hamilton Spectator: Dreaming big about Lister
Kathy Renwald
If the warring factions fail to agree on a rescue plan, the Lister Block should become the world's biggest garden folly.
At a dinner in the neighbourhood recently, a friend suggested embracing the whole world as a garden. I'm in. hat would allow me to write about Harris Inlet on Hamilton Harbour, where I'm sure the turtles and birds think it's a pretty nice garden even though it's landlocked by industry. To view a disappearing garden on a large scale, drive along Highway 5 from Hamilton to Oakville. A sea of roofs spreads like a tidal wave on the south side and is starting to spill across the highway. In undeveloped areas are lonely farm fields and occasionally a cow looking as bewildered as if she'd been pastured at Grand Central Station.
---
12. Hamilton Spectator: Architect, supporters lament loss of 1967 Education Centre
Rob Faulkner

Photo Courtesy Robin McKee
Architect Joe Singer, who built the Education Centre at Main and Bay, takes it personally that Hamilton public school board trustees voted not to retain his 1967 building. ";It's a pity," Singer said. "Of course in a democracy, trustees have spoken, but the people didn't speak. It's a major project, and I don't know if the trustees should be the ones to make the final decision."
---
13. Hamilton Spectator: Board axes reno option for centre downtown
Rob Faulkner
Hamilton's public school board voted last night to drop renovation as an option for its downtown Education Centre at Main and Bay. The board, faced with scattered administrators in aging buildings, asked staff to present business plans for just two options at an April meeting. Option one has lasted throughout the entire discussion of what to do with the headquarters and six other sites that house non-teaching staff. It's a $33-million plan to take the board out of the core and see it build a new headquarters for 600 or so administrative staff on the Jerome site, a treed plot the board owns southwest of the Linc and Upper Wellington.
---
14. London Free Press: The hard lessons of Locust Mount
Paul Berton
Locust Mount, the 153-year-old home of former London mayor Elijah Leonard, is lost. It was destroyed in a fire Nov. 10, but its fate was sealed many years ago, perhaps decades. Who is responsible? Drewlo Holdings Inc., which bought the property years ago to redevelop it? The city, which wanted Drewlo to preserve the building as part of its redevelopment plan? Or all of us, who never seem to care about heritage until it is too late. The Chapter House, Hotel London, the Customs House, the old Post Office, the Talbot Streetscape -- London is littered with the ghosts of magnificent buildings from our past. And our history is rife with the bitter memories of lost battles to save those buildings and so many other significant structures that recall our past, help identify us as a community in the present and have so much potential to carry us into the future.
---
15. London Free Press: Heritage Canada urges action on Alma College
DEBORA VAN BRENK
Embattled Alma College in St. Thomas has found an ally in the Heritage Canada Foundation. The group is urging Ontario Minister of Culture Aileen Carroll to intervene and save Alma College, a storied former private school for girls, from demolition. The foundation calls Alma College and Hamilton's commercial Lister Block two of the top 10 most endangered historic places in Canada.
---
16. London Free Press: St. Marys considers heritage designation
Distinctive Stonetown is looking to protect its downtown's historical assets and character.
Count St. Marys as the latest community to consider designating downtown a heritage district. The distinctive Stonetown is looking to protect its historical assets and character, perhaps as early as next spring. "These things tend to take time to build momentum," said Thor Dingman, an architect and senior partner in Town Design Collaborative.
---
17. St. Thomas Times-Journal: Alma owners, city mull decision
Kyle Rea
The owners of Alma College plan to sit down with engineers and review a recent decision by the Ontario Municipal Board before moving forward with plans for the historic school for girls. That's according to Jill Zubick of Alma Heritage Estates, commenting Tuesday on the Jan. 15 decision. Last week, the OMB upheld an agreement reached in Oct. 2007 between the Zubick family of London, Ont., and the city of St. Thomas to grant a demolition permit for the Moore Street site. The move avoided a costly OMB challenge from the Zubicks who contested council's refusal in August 2006 to grant a demolition permit. Under that agreement, the entranceway would be retained and a replica of the north facade would be constructed in its place. In addition, the Jan. 15 decision, "strongly recommends that the tower be retained along with the entranceway."
---
18. St. Thomas Times-Journal: OMB OKs ALMA DEMO - Asks tower to be saved
Jackie Gill
The Ontario Municipal Board has okayed demolition of historic Alma College but says the building's iconic tower should be saved. The board issued the report permitting the demolition on Friday after hearing a joint proposal from the City of St. Thomas and the Zubick family of London that aimed to keep only the college's northwest entranceway intact. But the recommendation isn';t enough, said Ald. Heather Jackson-Chapman, city heritage chairman. "I don't really see that as happening," she said. "I'd like to see more of the front facade saved. All we're going to get is the entranceway." The OMB's proposed order, an issue in city council last night, calls for the demolition of all buildings on the property except the entrance. Until then it will be held up in a metal frame before being attached to a new, replica facade.
---
19. Windsor Star: Diocese appeals St. Joachim's heritage designation
The Roman Catholic diocese of London is appealing the historical designation of St. Joachim Church. As the Roman Catholic diocese of London prepares to lead the Town of Lakeshore into another legal battle over the historic St. Joachim Church, Mayor Tom Bain is expressing doubts over whether the town can continue to afford the fight. "It's a matter of how much resources, time and dollars we want to continue to put into the fight," Bain said Saturday. "I know the lawyers have been pretty expensive."
---
20. Peterborough Examiner: Morrow Estate up for heritage tax relief
BRENDAN WEDLEY
>
The Morrow Estate, at 484 Weller St., will be considered for inclusion in the heritage property tax relief program when city council meets on Monday. It would be the 47th property to join the tax relief program. To date, the city provides $69,980 in tax relief for owners of designated heritage properties.
---
21. CTV.ca: Historic Banting property saved from developer
The childhood home of Sir Frederick Banting will be saved from a residential developer after a small Ontario town won the right to purchase the property from the Ontario Historical Society Foundation. The town of New Tecumseth purchased the 107.6-acre property for $600,000 earlier this week from the OHSF.
---
22. Peterborough Examiner: Former suburb an important heritage district
Andrew Elliott
Today's suburbs look and sound alike, with street names such as Windswept Lane, Rain Forest Drive and Owl's Cabin Way, all meant to evoke the rustic serenity that the developers bulldozed and replaced. The suburban dream has old and deep roots, and we can trace the ideal back to the late 19th century and the Garden City Movement founded by Ebenezer Howard in Britain. Garden cities were essentially self contained communities surrounded by greenbelts, and comprising carefully balanced areas of residences, industry, and agriculture. In Peterborough between 1895 and 1915, there was explosive growth in the city, and in order to accommodate that growth, suburban-style housing and street layouts were developed in areas west of Park Street and around King Edward Park. The general area was sandwiched between the relatively new GE factory to the south and Bonner Worth Mill complex to the north. Now called the "old west end, in the Edwardian era this area was the new west end, and considered to be suburbia because of its distance from downtown.
---
23. St. Catharines Standard: 'With some minor changes, they can be really beautiful'; Thorold's downtown property owners to benefit from free building facade improvement plans
TIFFANY MAYER
It's a view that captures the imagination of the secretary of Thorold's local architectural conservation authority committee. "I look up to the second and third floors (of buildings) and see what can be done" to spruce up the buildings - many of them heritage edifices - lining the streets of the city's core, Minns said. "With some minor changes, they can be really beautiful" she added. That's why the committee has decided to recruit the talents of an architect to draw up free facade improvement plans for downtown property owners. Minns is meeting with a potential candidate for the job next month.
---
24. London Free Press: Historic core defence rises - days after the demolition of Locust Mount
PATRICK MALONEY
Heritage activists want city action to save at least facades.
With the dust still settling around the rubble of Locust Mount, London heritage activists are urging greater protection for historic downtown buildings. City council's planning committee was asked yesterday to consider turning downtown into a so-called heritage conservation district that would protect the facades of the core's heritage structures from changes. "There's character (in old buildings) that can't be reproduced by modern means," said Joe O'Neil of the London Advisory Committee on Heritage (LACH) that made the recommendation. "Some of the moulds were made by hand. (Owners) can gut the buildings, but keep the facade." The suggestion comes just days after the demolition of Locust Mount, a 153-year-old Talbot Street landmark that was at one time home to former mayor Elijah Leonard. The stately home is now a pile of rubble.
---
25. The Amherst Daily News: Some bylaws are not serving our interests
JERRY RANDALL
A few weeks ago I attended a meeting of the Amherst Planning Advisory Committee in council chambers that really attracted a lot more attention that I think was anticipated. The meeting was called to discuss an application from Excel Real Estate Inc. This company has made application for a development agreement in order to permit a condominium-style development on property located at 155 East Victoria St., known by long-term residents as the Abe Swetsky property, and most recently the site of a total destruction fire which leveled the historic old home. The residents of South Adelaide Street and surrounding Victoria Street East properties turned out en masse, almost all to speak against this proposed development. The property is just under an acre in size, and yet the developer proposes to build a four-story building housing 32 units aimed at the 55-plus market for potential buyers, along with underground parking.
---
26. St. Catharines Standard: Church for sale
MONIQUE BEECH
Another historic downtown church is destined for the real estate market. Welland Avenue United Church will be put up for sale in the coming months following a vote Sunday by its congregation to amalgamate with Memorial United Church and St. Paul Street United Church. The congregation of Memorial United Church at 105 Maple St. has yet to decide if it will sell the property. Welland Avenue United Church council chairwoman Karen Thacker said she hopes a buyer will come along who wants to use the 131-year-old Gothic-style building on Henry Street as a place of worship.
---
27. Peterboroug Examiner: Former Zellers building to hold medical teams
JAMES NEELEY
The historic former Zellers building downtown is getting a facelift to create space for community medical teams and infant care. The building, renamed the Turnbull Medical Building, will house the Peterborough Community Family Health Team and the newly formed Maternity and Infant Care Centre.
---
28. Cambridge Times: Students find new uses for old fire hall
Ray Martin
Students from Conestoga College are trying to look at a Galt landmark in a whole new way. The 19 second year students are part of the college's architecture project and facility management program and are looking at finding new uses for Dickson Street's old Galt Fire Hall.
---
29. Dundas Star: $561,000 Town Hall restoration set for this year
Craig Campbell
A heritage permit and $560,000 budget have been approved for restoration of Dundas Town Hall. Work on the historically designated 159-year-old building's roof cladding, clock tower, windows, railings, eaves, soffit and fascia account for most of the estimated $561,000 total project cost. Restoration of the town hall's doors and chimneys are also included in the project. A capital budget detail sheet, included in this year's budget package, notes the project is expected to be completed in 2008.
---
30. The Independent Online: Brighton bets on visitors - Implement a heritage conservation policy by 2009
Eoin Callan
Brighton has developed a 20-year strategic plan that puts visitors firmly at the top of the town's development agenda, according to a draft copy of the document due to be unveiled next week.The town is targeting a significant increase in visitors and has ambitious plans to develop a system of walking and biking trails linked to the natural harbour.
---
31. Chatham Daily News: Saving Joe Storey's the Pines Chapel
ELLWOOD SHREVE
Saving the Pines Chapel; group wants vacant building preserved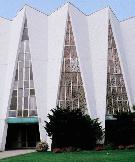 Ursuline Chapel, Joseph Storey Architect
828The historic Pines Chapel, once the centrepiece of the Ursuline Sisters motherhouse, doesn't fit into the design of a long-term care residence and condo complex being built on the site. However, the new owner, the Caleb Group, is working with the community to find a way to preserve the place of worship that was designed by architect Joseph Storey.

A steering committee has been established to discuss creative new uses for the chapel. A session held Friday at Ursuline College Chatham included a design workshop to get input from members of the public.

Allyson Storey, chairperson of the Joseph Storey Architectural Conservancy (JSAC), in honour of her grandfather, believes the style of architecture the chapel represents is too valuable to lose.
---
32. Globe and Mail: Death of Architect's Alliance Partner Adrian Di Castri
Obituary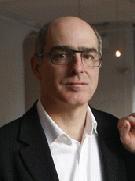 photo from Architect's Alliance pages
ADRIAN JOHN DICASTRI After a year-long battle with bladder cancer in which he displayed incredible strength and courage, Adrian died at home on January 29, 2008 at the age of fifty-five, surrounded by his loving family.

Memorial Service: 3:00 p.m. Tuesday Feb 5, Great Hall Hart House
---
33. newsdurhamregion.com: 'Heritage conservation district the only way to go'
Chris Hall
Port Perry landowners, businesses throw support behind Scugog's proposed heritage designation
The importance of preserving downtown Port Perry's unique historical character trumps any fears of government meddling, say those with an interest in any proposed designation for the downtown core. Following a meeting on Monday where the Township invited the public, and in particular local landowners from the downtown core, to an open house where the pros and cons of a heritage conservation district were outlined, it appears there's a consensus amongst building and business owners that the municipality should move forward with such a designation.
---
34. Winnipeg Free Press: New life for a landmark - Scientologists to spend $10M on Peck Building
Murray McNeill
The Church of Scientology plans to spend up to $10 million to convert a landmark building in the Exchange District into a church and community outreach centre. Rev. Yvette Shank, president of the church's Canadian office in Toronto, said the church plans to undertake a major refurbishing of the 115-year-old Peck Building, which it quietly acquired last March for a previously unheard of price for the Exchange of $2.2 million. "We love it," Shank said of the six-storey, brick-and-stone building at the northeast corner of Princess Street and Notre Dame Avenue. "When we're finished with it, it will be a beautiful building." Shank said the church expects to spend between $7.5 million and $10 million to refurbish the 50,000-square-foot-plus building. It hopes to complete planning by the end of this year "and that will dictate our schedule" for renovations.
---
35. NovaNewsNow.com: Rural churches face changing times
Patty Mintz
It's hard when a church comes apart at the seams. However old or humble in its construction, whatever the denomination or size of its former congregation, a vandalized interior or collapsing floor in a former place of worship can be a heartache for its community. Such is the case of the Bloomington Baptist Church south of Middleton, which has been closed for many years. It's one of 75 Baptist church buildings in Annapolis and Digby Counties documented four years ago by Acadia University archivist Pat Townsend, working with the Baptist Historical Committee and a Church History student for the records of the Convention of Atlantic Baptist Churches.
---
36. Montreal Gazette: Lambert fights to save historic monastery - Quebec City museum plans pavilion at site
MARIANNE WHITE
Architect and activist Phyllis Lambert is jumping into another battle to save a historic building, this time in Quebec City. Lambert has joined local residents in rising up against plans to demolish a centennial Dominican monastery to make way for a new pavilion of the Quebec Museum of Fine Arts at the entrance to the famed Plains of Abraham.
---
37. CBC News : Upper Fort Garry group in a hurry to raise $12.5M
The Friends of Upper Fort Garry are launching a public fundraising campaign Thursday to raise millions of dollars to build an interpretive centre on the historic downtown Winnipeg site. The group must raise $12.5 million by the end of March to proceed with its proposal to turn the former site of the fort, often described as the birthplace of Winnipeg, into a heritage park.
---
38. CBC News: Winnipeg man revamps plan to demolish century-old building
The owner of the St. Charles Hotel in Winnipeg's Exchange District is trying one more time to obtain permission to demolish a historic building next door to the hotel to make way for an expansion project. Last year, city officials denied Ken Zaifman permission to demolish the building known as the Albert Street Business Block, at 38 to 44 Albert St. Zaifman wanted to replace the building, which he also owns, with a surface parking lot and a patio for the St. Charles Hotel, which he is renovating.
---
39. Winnipeg Free Press: Upper Fort Garry looking for a friend in Gary Doer
Gordon Sinclair Jr.
WHERE IN THE WORLD IS GARY DOER? . . . Now that MP Vic Toews has met with the Friends of Upper Fort Garry and assured them he's supportive of their $12.5-million plan to develop the historic site, I have a question. Where's Gary? Premier Gary Doer has been strangely quiet -- at least publicly -- on the proposal that calls for Ottawa and Manitoba to each contribute $4.5 million to create the heritage site. After all, Upper Fort Garry is the birthplace of Manitoba's governance. One would have thought that the premier of Manitoba would have met long ago with representatives of the Friends.
---
40. Winnipeg Free Press: You could live in the city above The Bay
Joe Paraskevas

Hudson's Bay Store, Winnipeg
FAMILIES could one day be living in the upper reaches of The Bay's downtown store as university students sit down in class to hit the books on another level. Those are but two of the ideas being floated as representatives of The Forks North Portage Partnership meet with management of Hudson's Bay Co., likely within a month, to discuss plans to redevelop The Bay's 81-year-old flagship store at Portage Avenue and Memorial Boulevard. Jim August, chief executive of The Forks North Portage, said Friday the two sides had not set a date to talk but the community development organization had sent The Bay a series of architectural plans outlining redevelopment of the giant store, which has more than 15 acres (six hectares) of floor space.
---
41. Intbau: Prince Charles decries New Towers in London
Prince Charles Criticises London Tower Blocks:
New "carbuncle" speech asks why speculative building is allowed to damage major tourist attractions

The Prince of Wales has called for Britain's historic landscapes to be protected during a speech at the "New Buildings in Old Places" conference at St James's Palace, London, on 31 January.

The event, sponsored by The Prince's Regeneration Trust, The Prince's Foundation for the Built Environment, The National Trust and Historic Royal Palaces, was aimed to discuss the issues around new developments in historic places. In the speech, the Prince said that the UNESCO World Heritage status of historic places like Edinburgh's Old Town, the Tower of London and Westminster is being been threatened by construction of new buildings nearby.

Additional Stories:

http://arts.guardian.co.uk/art/news/story/0,,2250636,00.html

http://news.bbc.co.uk/1/hi/england/london/7220060.stm
---
42. Toronto Star: Art deco city a living museum of architecture
LINDA BARNARD
NAPIER, NEW ZEALAND First the earthquake hit. Then the fires. From what was left of Napier"s ravaged downtown in 1931, the resilient Kiwis of this North Island community built a new city in the most up-to-the-minute style of the day\ art deco. Strolling along its streets and the charmingly named seaside promenade called the Marine Parade is like a step back in time, 10 blocks of art deco re-imagined in New Zealand style, a living architectural museum.
---
43. Los Angeles Times: Tour shows off the blocks architect Wright played with - Architecture buffs visit one of his
Martha Groves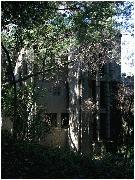 La Miniatura
Frank Lloyd Wright had a radical idea for low-cost construction when Alice Millard, a rare-book dealer and antiques collector, commissioned him to design a house in Pasadena. He would use concrete blocks, "the cheapest (and ugliest) thing in the building world," the architect wrote in his autobiography. "Why not see what could be done with that gutter-rat?" On Saturday, 1,000 architecture buffs got a view of what could be done during a rare tour of La Miniatura, the flawed jewel of a structure Wright built for Millard in 1923. The event, the first public opening of the house since 1992, was sponsored by Friends of the Gamble House.
Editor's Note:I had the opportunity to visit this house while on a tour organized by the Chicago FLW Foundation. Exquisite.
---