Issue No. 115 | April 1, 2008
1. Thanks to Subscribers
Catherine Namith
Today I managed to get caught up on a little BHN accounting.
I want to thank the subscribers who have very kindly sent small and not so small contributions to assist with costs of producing this bulletin. I don't want to list donors without their permission, but you know who you are.
In every case, along with the cheques came very encouraging notes. These really help keep me motivated to put out this little publication, when other interesting things are also calling for attention.
As subscribers know, BHN is not a profit making enterprise....the rewards are in the appreciation and seeing things happen that wouldn't happen if this journal wasn't available. For example publishing St. Thomas Mayor Cliff Berwick's recent letter to a constituent.
The donations are important. So far I have been able to raise enough to pay for internet and web development costs. I will make improvements as I can support them.
---
2. You Can Post Your News and Events at BHN
Catherine Namith
I hope you are enjoying the new look Built Heritage News, and that you occasionally go to the website between issues.
Regular readers will have noticed a shift in coverage in Links to a much wider range of periodicals being covered, picking up stories from coast to coast, and abroad too.
Many of these articles are forwarded by subscribers. However, we all owe a huge debt to Rob Hamilton who has been posting material he finds, probably 10-20 articles per issue. Thank you Rob.
If you have an article or an event you want others to know about, you can go to the web site at http://www.builtheritagenews.ca and click on the submit keys on the left side of the page. Then just cut and paste material in as you would in any word processing program.
And if you have a minute between issues, visit the site. We post new articles there almost every day, not all are sent out with the e-bulletin.
---
3. OAA Awards Announced People's Choice Awards
OAA Press Release
8 Toronto, ON - The Ontario Association of Architects (OAA) announced yesterday its 2008 award winners who represent the best in Ontario architectural design, innovation, and business. As well as launching it's newest award category, the People';s Choice Award.
Buildings in Brampton, Mississauga, Cambridge, Ottawa, and Toronto have been honoured.
The public will determine a winner of the People's Choice Award by an online vote from the selected 15 Design Excellence Award winners.
The interactive website launched March 13, 2008; www.oaa.on.ca features an online voting system allowing the public to vote for their favourite project amongst the 15 Design Excellence Award winners. Voting will close Friday, April 11 4:30 pm. The project with the most votes will be declared the People's Choice Award winner and announced at the Celebration of Excellence Awards Ceremony taking place on May 2, 2008 as part of the 2008 OAA Conference in Niagara Falls, Ontario.
The OAA Awards offers the Ontario architectural profession an annual opportunity to present its work to a public and professional audience; it advertises the excellence of both individual award winners and the profession as a whole; it fosters a greater appreciation of architecture and architects among all levels of society, professional and non-professional.
One hundred and sixty-two submissions were received and reviewed by three juries comprised of members of the public.
These award-winning projects illustrate the diversity, expertise and leadership within the profession today:
Design Excellence:
Academic Resource Centre
, University of Toronto at Scarborough, Toronto
Brian MacKay-Lyons Architect (Design Architects) with Rounthwaite, Dick & Hadley Architects (Prime Consultant)
Bloorview Kids Rehab
, Toronto
Montgomery Sisam Architects Inc. in joint venture with Stantec Architecture Ltd., Architects
Brampton Soccer Centre, Brampton
MacLennan Jaunkalns Miller Architects Ltd.
Conservation, Rehabilitation and Upgrade of the
Library of Parliament,
Ottawa
Ogilvie and Hogg Architects Inc., Desnoyers Mercure & Associés, Spencer R. Higgins Architect Inc. & Lundholm Associates Architects
Courtyard House
, Toronto
Studio Junction Inc.
Hazel McCallion Academic Learning Centre
, University of Toronto, Mississauga
Shore, Tilbe Irwin & Partners Architects
Hespeler Library
, Cambridge
Kongats Architects
Multi-faith Centre for Spiritual Study and Practice
, University of Toronto
Moriyama & Teshima Architects
Museum of Inuit Art, Toronto
gh3 inc.
The Peel Regional Cancer Centre and Ambulatory Care Centre
at the Credit Valley Hospital, Mississauga
Farrow Partnership Architects
Recreation, Athletic and Wellness Centre,
University of Toronto, Mississauga
Shore, Tilbe Irwin & Partners Architects
Scarborough Chinese Baptist Church, Toronto
Teeple Architects Inc.
The George and Kathy Dembroski Centre for Horticulture
,Toronto Botanical Garden
Montgomery Sisam Architects Inc.
Umbra Retail and Concept Store, Toronto
Kohn Shnier Architects
University of Waterloo, School of Architecture & Design at Riverside
, Cambridge Libraries and Galleries
Levitt Goodman Architects Ltd
Landmark Award

Toronto Eaton Centre, Toronto
Zeidler Partnership Architects
Rosedale Valley Bridge, Toronto


NORR limited Architects and Engineers the successor firm of John B. Parkin Associates
G. Randy Roberts Service Award
- Recognizing members of the OAA for extraordinary service to the members.
James William Strutt
Order of da Vinci
- Presented to persons who have made a significant and meaningful contribution to the profession of architecture.
Stephen V.E. Irwin
---
4. Job Posting: ACO Branch Co-ordinator
Rollo Myers: Manager
The Architectural Conservancy of Ontario
Branch Co-ordinator
The Architectural Conservancy of Ontario is seeking a part-time (2.5 days per week) Branch Co-odinator to assist in developing online management systems, and working with our branches to train them in the use of these systems.
The ACO is a charitable, Ontario-wide, volunteer-driven organization that for seventy-five years has been promoting the importance of preserving Ontario's architectural and environmental. heritage. ACO members are bound by a deep caring and concern for Ontario's built heritage, and support our aims and our events and programs.
A member-driven registered charity governed by a Board of Directors and a Provincial Council, the ACO operates with a provincial office located in Toronto and nineteen branch affiliates throughout Ontario.
The ACO is in the process of introducing online electronic systems to allow branches to register members and track and report membership renewal, to produce lists for events, mailing, financial records and other administrative tasks, in order for our Toronto office to be able to produce reports for the whole system.
The branch co-ordinator will work with the office manager in conjunction with the steering committee, (sub-committee of the executive), our management consultants, and for financial systems, our Treasurer, assisted by the book-keeper.
Further details about the ACO and specifics about the work plan can be found at www.arconserv.ca.
The successful candidate will have proven skills working with volunteers, with online facilitation, membership databases, basic finances and working with accountants, familiarity with charitable organizations, organizing training seminars, and an understanding of local politics and government. Interest in architectural conservation and experience in community organizing are assets but not a requirement.
Project funding for this three year project will be reviewed at the end of the first year.
Salary commensurate with experience.
To apply, contact
Rollo Myers, Manager aco@on.aibn.com
or mail to
The Architectural Conservancy of Ontario
#204 – 10 Adelaide Street East, Toronto ON M5C 1J3
by Friday, April 11, 2008
For More Information on the Project go to http://www.arconserv.ca
---
5. New Book- Peterborough Modern: A guide to the Architecture of the 1950s, '60s and '70s in Peterborough, Ontario
James Ashby and Susan Algie
This is a new illustrated guide to residential, commercial, religious and institutional buildings of the modernist era in Peterborough, Ontario.Written by James Ashby and Susan Algie, the self-guided tour features 29 buildings in Peterborough, many of which were designed by Eberhard Zeidler and Ron Thom.
The guide may be ordered from: Winnipeg Architecture Foundation, 259 Garfield Street, Winnipeg R3G 2M1 or through local bookstores (ISBN 978-0-9683100-3-8).
---
6. Heritage Planning Students Succeed in Saving West Montrose Covered Bridge
From North Waterloo Branch ACO Newsletter
Last year, a partnership of Woolwich Township and the University of Waterloo resulted in the designation of the historic West Montrose Covered Bridge (built in 1881) and its listing to the National Register of Historic Places.
Due to the success of this joint venture, students of the Heritage Resources Centre at the University of Waterloo will continue to work with the township on heritage projects. This cooperative effort will provide students with the opportunity to develop and practise their planning and tourism development skills through the application of "real world skills." It will also assist the township in elevating interest in and increasing public knowledge of the benefits of careful heritage planning and the potential for appropriate growth in tourism.
The Heritage Resources Centre and township staff have agreed on the projects that the students will be working on. The projects include compiling an inventory list of urban and rural heritage structures, securing designation of the historic town hall in Elmira, a focus on official plan policies for heritage, drawing up a tourism promotion plan and creating a website, a preliminary evaluation of heritage conservation districts, and an inventory of heritage cemeteries. This work began in February and will be completed by the end of April. The aim of this project is the "strengthening of the relationship between the township and the Heritage Resources Centre, two entities, which recognize and respect the importance of heritage."
[Information has been provided by Anne Fitzpatrick, who is a graduate student in Planning at the University of Waterloo, a recipient of the Waterloo Regional Heritage Foundation's Heritage Research Award, and a spokesperson on behalf of the Heritage Resources Centre (UW) at a Woolwich Township Council meeting held January 15].
---
7. Inside Toronto; Annex Guardian: Heritage conservation directory takes to the web
Cynthia Reason
Owners of heritage properties will now find conservation projects a little easier thanks to the recent posting of a directory of conservators and restorers online. . . Richard Longley, of the Harbord Village Residents' Association, said the compilation of links to experts, crafts people and suppliers, provides guidance to those planning to conserve and restore heritage homes rather than renovate them. . . The project began, Longley said, when, nearly four and a half years ago, an absentee homeowner on his street (Brunswick Avenue) decided to move back into the neighbourhood. Rather than restore the home, he determined to demolish and rebuild - angering neighbours who took great pride in the fact that much of their street had remained untouched since the 1880s. Their fear, he said, was that a new building would take away from the character of the community. Talks with city officials determined that the only way the demolition could have been prevented was if the neighbourhood were designated a Heritage Conservation District. After discovering Brunswick Avenue qualified because of architectural interests, phase one (stretching the length of Brunswick Avenue south of Ulster Street) of the Harbord Village Conservation District was established in April 2004.
---
8. Toronto Star: Ramps at Osgoode Hall
Christopher Hume
Ramping up political correctness at Osgoode Hall

In the architecture of the 21st century, political correctness is a design factor like any other. Sometimes this makes sense, sometimes less so.

In the case of Osgoode Hall, it hasn't always been easy to tell which is which. The provincially owned building, on the northeast corner of Queen and University, ranks among the most significant heritage properties in Canada, let alone Toronto. It has been altered and added to over the decades, but so far has managed to retain its architectural integrity. The oldest parts of the structure date back to the 1830s, the newest to the 1970s.

So when former chief justice Roy McMurtry started agitating a decade ago to make the building accessible to the disabled, there was some concern – and not just among preservationists.

Mary Louise Dickson, a lawyer, bencher and Osgoode Hall regular, was one of those less than thrilled at what design fate might befall it. What made this especially interesting was that Dickson, who had polio as a child, uses a wheelchair.

For years, she has used a handicapped entrance on the east side of Osgoode Hall. It has never presented any problems.

Then came 9/11.

"I was concerned they'd do a big clumsy ramp," Dickson admits. "But the design is not bad. They don't want people to go all the way through the building, which is what happens when they enter from the east. I've been going to the building since I was a student; the east entrance has never been a problem. But court security has increased now.

"I really do think that sometimes beauty should trump other considerations. With the political correctness of today, people have to have access through the front door."
---
9. Toronto Star: Condemned Houses on Charles St.
Christopher Hume
Urban tragedy unfolding as highrise to erase history
Who wouldn't love to live on Charles St. between Bay St. and Queen's Park? Located on the north edge of the University of Toronto's downtown campus, one block south of Bloor St., it's in the heart of the city. At the same time, it's ever so slightly removed from the core, more institutional than commercial, retail or even residential, though that's starting to change.

Needless to say, these changes come at a heavy cost, perhaps too heavy. There's a row of 19th-century houses on the north side of Charles just west of St. Thomas St. that will soon be torn down to make way for yet another condominium tower, to be called the St. Thomas.
---
10. Toronto Star: Toll booths in Toronto
Adam Mayers
When Yonge was a toll road

Former toll booth at Yonge and Marlborough, Metro Library Collection

Restored building hearkens back to mid-1800s when collecting cash could be downright dangerous

Few people driving along Davenport Rd. near Bathurst St. spare a thought for the small building sitting on the north side of the road in Davenport Square Park.

More than 150 years ago, they would have been flagged down and forced to stop, because it was one of several places along Davenport where travellers were required to pay a toll.

The cottage that sits in the park has been restored over the past few years by a community group and with luck should be open this summer as a museum. It stands as a reminder that when it comes to tax collection, what's old is new again.

A few weeks ago, a volunteer blue-ribbon panel looking at ways to put Toronto on a better financial footing raised the idea of road tolls on the Don Valley Parkway, Gardiner Expressway and 400-series highways. The panel figured tolls could raise $700 million a year that could be used to improve transit. Premier Dalton McGuinty and Transportation Minister Jim Bradley were quick to say they're happy to help out with transit, but dead set against the idea of tolls.

In the mid-1800s, McGuinty's predecessors leaned the other way. As Upper Canada grew and York became bustling Toronto, the colonial administration had a limited tax base and a vast area to administer open to settlement. So they looked to private enterprise to build and maintain roads. Firms bid for contracts to build sections of thoroughfare, paid a fee to the government and recouped their investment through the tolls......

Toll Keeper's Cottage Project

The toll keeper's cottage in Davenport Square Park was probably built in the early 1830s. When the city abandoned toll roads in the mid-1890s the cottage was moved several times.

It ended up as part of a house on Upper Howland Avenue that in 1993 was to be demolished for a new building. A neighbour who knew about the cottage's history contacted the Community History Project, a local volunteer group.

Underneath the siding and seven layers of shingles lay the original building. The CHP bought the cottage from the developer for $1 and the TTC agreed to house it at its Wychwood Streetcar Barns Site.

The city agreed to move the cottage to its current home. Jane Beecroft, president of CHP hopes the cottage will be open as a museum by Canada Day.

An army of volunteers has spent thousands of hours restoring the cottage and are still $50,000 short of their fundraising goal.

Donations are tax deductible and can be made online at www.tollkeeperscottage.ca or by mail to: Tollkeeper's Fund - Heritage Toronto, Historic St. Lawrence Hall, 3rd Floor, 157 King Street East M5C 1G9
---
11. Toronto Star: Developer challenges Environmental Defence Charitable Status
Earl Rumm
Developer defends resort proposal
The authors of a guest column on Feb. 26 about the proposed Big Bay Point resort are right: The democratic process has been abused. But the abuse has been committed by Environmental Defence Canada and its executive director, Rick Smith.

The proposal has been going through the public, democratic process of approvals since 2002 when the original application was filed. As the Ontario Municipal Board said in its ruling on the resort proposal in December, 2007:
"The development is consistent with, and has regard to, the Provincial Policy Statement, is supported by all levels of government and agencies required to review the project, including the Province, the County, the Town and the local Conservation Authority. A significant number of local residents ... are in favour of the development."

The board concluded that "the Big Bay Point development proposal and the planning instruments filed in support of the project . . . represent good planning."

But none of this democratic process that has unfolded over five years is good enough for the self-styled overseers at Environmental Defence, who, it turns out, have been funding the opponents of the resort proposal with charitable dollars provided by Ontario taxpayers.
---
12. thebulletin.ca (Down Town Toronto): City hall stepping on heritage church - Parishioners request consultation on damaging development
Developers are threatening historic St. Basil's church with skyscraper condos in its backyard, the largest being 55 storeys high. The St. Basil's complex is the oldest building on the University of Toronto campus. Today the graceful church faces massive upheaval including blocked handicapped access and the loss of all parking. Systematically excluded from the decision-making process, St. Basil's parishioners are now urging Toronto mayor David Miller to take up the church's cause at city council on Monday March 3.
---
13. Globe and Mail: Ballenford Books on Architecture to Close
Architectural bookshop threatening to close doors
Toronto's architectural bookstore, Ballenford Books, is threatening to close and trying to liquidate its stock.

In a letter to customers and supporters, owner Susan Delean blames her troubles on big-box retailing in the book industry, university programs buying their books from large distributors in the United States and the slowness of Canadian publishers to lower prices as the dollar reached par with the American dollar.

"Over the past few years, it has become ever more clear that Ballenford Books is no longer a viable business...," she wrote. "I cannot express how devastating this is for me personally and for my family."

The store, specializing in books on architecture and urban design and located on Markham Street, first opened on Scollard Street in 1979. Its name combined the surnames of its original owners, Barbara Ballentine and Susan Ford. Delean took over in 1996.
Editor's Note:I give away my age by saying when I was a student to get architectural books we had to visit New York or London..... At least one generation of architects has grown up with the luxury of this centre of architectural culture, where one can go and hold books in one hands. Having been peripherally involved in the 1996 bail out I don't think it is possible to expect this facility to survive as a private enterprise -- if Susan DeLean couldn't make a go of it, no one could. But nonetheless it is essential for architectural culture in Toronto. It is time for the next generation of Toronto architects to find a way to keep the service.
---
14. Globe and Mail: Opportunities for Adaptive Re-Use in Toronto
Dave LeBlanc
Turning the houses of industry into homes
A drawback to being an architourist is that one can never stroll blissfully unaware of one's surroundings.

As I walk dense urban streets or even spread-out suburban thoroughfares, I'm constantly on the lookout for vintage neon signs, store logos fossilized in terrazzo (both covered in this space before), new infill construction, and old buildings awaiting new life ¡K or the wrecker's ball.
Of particular interest are old Toronto buildings that would make for great condominium conversions. For instance, while looking for parking near Queen Street and Broadview Avenue, I turned onto Saulter Street, which dead-ends at the railroad tracks. On the west side are typical Toronto "bay-n-gable" homes; most of the east side, however, is the former home of the Maydwell Manufacturing Co., a wood mouldings fabricator.

With a little imagination, this low, U-shaped building transforms from a boarded-up eyesore into a hip residence. Heck, it already displays good urban manners by rising no higher than the homes beside it, and the courtyard offers the potential for a stunning landscaped entryway, perhaps with a glass roof to create a microclimate.

Unfortunately, the posted development notice announcing that Captiva Investments plans to build 16 three-storey townhouse units suggests that the building is not long for this world.

A gem that is currently occupied but underused, in my opinion, is the mid-century office building at 1880 O'Connor Dr. (at Victoria Park). I can remember when this building had a name — the Roy Building —emblazoned on the turquoise brick wall, and the clock on its facade actually worked.
---
15. The Downtown Toronto Bulletin: Ontario Heritage Trust to operate Enoch Turner Schoolhouse
The Honourable Lincoln M. Alexander, chairman of the Ontario Heritage Trust, and Lynne Kurylo, chair of the Enoch Turner Schoolhouse Foundation, announced the transfer of the Enoch Turner Schoolhouse to the Ontario Heritage Trust.
---
16. Eye Weekly.com: The End of TTC Washrooms as we know them
Dale Duncan
TTC turns back on "washroom" heritage
The Bloor-Danforth line just isn't pretty enough to be preserved for its historical value, TTC commissioners decided yesterday. Councillors on the commission want pizzazz; they want subway stations to have "a relationship with the neighbourhood," and, perhaps most of all, they want to get rid of the "public washroom" look our stations are often criticized for. "You know, it's interesting to listen to the public from time to time," said Councillor Sandra Bussin, referring to those bloggers and city hall watchers who have been advocating to preserve the stations's "heritage."[But] there comes a point where we have to be the visionaries here". And I had to respond, because I come from an art background and I think, you know, those stations on the Bloot-Danforth line, they are boring!"
---
17. The Downtown Toronto Bulletin: Little Trinity, city commit to restoration, preservation of houses
Rollo Myers
Torontonians, still in shock over the loss of 1850s Walnut Hall, will be pleased to learn that Little Trinity Church, the owner of those remaining historic mid-19th-century buildings at 399 and 403 King St. E., has long-term plans to restore their respective front elevations as part of a new pastoral-care centre.
---
18. St. Thomas Times: Quotes Built Heritage News on Alma College
Ian McCallum
Real blame for loss of Alma goes to failed heritage policy
While we tend to look upon the fate of Alma College as a conundrum limited to the confines of St. Thomas, the former school for girls is the subject of discourses on websites around the world.

One of those notable destinations is www.builtheritagenews.com, the website of Toronto architect Catherine Nasmith which has a mandate to "provide information and communication for those interested in our built heritage, past and future."

The website currently features a fascinating interchange between city resident Bob Foster and Mayor Cliff Barwick in which Foster lambastes council for its "shameful" decision to issue a demolition permit to Alma Heritage Estates, owners of the Moore Street property.
---
19. St. Thomas Times: Save the Courthouse Demonstration
Jackie Gill, forwarded by Rod Kelly
Rally puts focus on courthouse
Hundreds of cheering, fist-pumping supporters, led by a bagpiper, a drummer, flag-carriers and a town crier waving a bell, wound their way around the Elgin county courthouse on Saturday.

All in the name of heritage.

The block-long march kicked off a rally held by the Save Our Court House committee, to send a message to Queen's Park that St. Thomas wants to keep its city heritage alive and healthy.

"The rally follows everything we've done to this time," said Bob de la Penotiere, leader of the Save Our Court House effort and organizer for the rally.

"We're just trying to build our campaign," he said, adding that their latest effort, an ongoing petition that argues for preserving the historic building, has grown to 4,200 names. Part of that petition went to Ontario Premier Dalton McGuinty's office last week.

"It could be a tragedy," said de la Penotiere.

The crowd around him is worried that the building could end up in total disrepair like Alma College, the former St. Thomas school for girls that fell into disrepair during struggles over its future.
---
20. Guelph Mercury: Province commits 5M Infrastructure funds to Lorretto Convent
Museum's magic moment
Museum's magic moment

The Guelph Civic Museum is moving into the Loretto Convent -- for sure this time.

The province announced yesterday it will invest $5 million into the project. That's on top of $1 million committed earlier this year by the federal government.

It means the project will go through, since the city last year said it would move the museum if upper-tier governments put in $6 million.

"So you've got the magic number," Guelph MPP Liz Sandals said yesterday, to cheers and applause in the blustery and cold parking lot behind the convent.

Sandals was on hand to announce the cash, which came from a $450-million provincial infrastructure fund. MPPs around the province were making announcements about the infrastructure money yesterday in 243 of the 462 municipalities that applied.

The Region of Waterloo received $7.3 million to expand its recycling and green bin facilities, while Kitchener got $3.2 million to update the downtown streetscape.
---
21. Kingston Whig Standard: Heritage buffs fear sale of abandoned train station; 'It's at the crisis stage,' local historian says of plan to sell Montreal Street landmark
Frank Armstrong
Local heritage proponents fear the city is on the brink of losing a civic landmark.'"It's at the crisis stage," local historian Peter Hennessy said yesterday, reacting to news that CN Rail is in discussions to sell the Outer Station on Montreal Street. Hennessy, a retired high school history teacher and Queen's University education professor, has been tracking local efforts to see the 148-year-old limestone station turned into a model train museum or other tourism destination. He fears such plans could be dashed if the property is sold to private interests. Hennessy received an e-mail last week from CN business development and real estate manager Ernie Longo, informing him that CN has entered into an agreement of purchase and sale to sell the property. "Negotiations are currently under way with the Ontario Heritage Trust in order to obtain the necessary concurrence [to] sell this property," Longo wrote .
---
22. Hamilton Spectator: Stinson's Connaught offer firm
Wade Hemsworth
Developer Harry Stinson has firmed up his deal to buy the Connaught, setting the stage for him to take possession of the historic downtown Hamilton hotel by the end of June, possibly sooner. Stinson recently moved to Hamilton from Toronto, where he left a mixed record of impressive successes and ongoing legal snarls. He is planning to convert three-quarters of the original Connaught into condos and the rest into a boutique hotel, and to build two other buildings on the site, including a condo tower of up to 60 storeys. He estimates the whole project will be worth $300 million by the time it's finished around 2010.
Editor's Note:This was the site of the first combined ACO/CHO conference in 2004
---
23. Hamilton Spectator: Homing in on heritage buildings
Nicole Macintyre
The city is on a mission to find out which Hamilton heritage buildings are worth saving before they are threatened by a bulldozer. Over the decades, nearly 7,000 properties have been pegged for heritage interest -- a distinction without perks or protection. Council recently approved a pilot project to start sorting through the inventory to research which properties should be elevated to a new registry. The owner of a registered property must give council 60 days notice of plans to tear it down. "It's a proactive approach," said David Cuming, the city's senior project manager of heritage and urban design. "It's just a better way of managing heritage."
---
24. Tapestry: English Barns
Robert Hulley
The Winds of Change: Venerable Old English Wheat Barns
The last remaining barn in the Cold Creek Conservation Area shares a history with many old Ontario barns. It has been remodeled, renovated and adaptively reused over the years to
meet changing agricultural needs and circumstances and may even have been moved from its original location.

It probably started its life as a typical enlarged English Wheat Barn consisting as it does of four bays, and measuring 60.5'in length by 34.5' in width. It is framed with hand hewn and squared timbers having mortise and tenon joints, secured by
wooden pins. It has five bents one of which is a rare example of a swing beam, measuring approximately 34' in length and 13" x 18" at its widest point. The swing beam adds an entirely North American element to the English Barn, allowing for the extension
of the threshing floor by a bay with mows overhead for the storage. The barn floor is wooden with some planks measuring from 12" to 16" in width. It has a traditional gable roof with raked queen post supports, but without a ridge piece.
---
25. Barrie Advance: Heritage Barrie wants old station protected
Laurie Watt
Heritage Barrie would like to see the entire nine-acre Allandale Station property designated as historically significant – despite the fact the city has already issued a Request for Expressions of Interest in developing the site."It might have been wise two years ago for the city to do a heritage assessment. Now we're stuck because we're Johnny-come-lately. We were brought in because we started asking questions," said Rob Campbell, Heritage Barrie's vice-chairman. "Heritage Barrie wants to ensure development doesn't ruin the heritage aspects of the area" Campbell added. "It's a cultural shift. The city wants to develop, develop, develop." The questions Heritage Barrie began asking in January focused on preserving not just the train station, but also buried relics and the historic viewscape of the site. There's an Ontario Heritage Trust easement on the station itself, but otherwise, nothing to protect the site, Campbell noted. "If you stand on the platform and look down where the tracks were, it's spectacular. That's the view people had coming to and leaving Barrie for 150 years. That's a very important heritage aspect of that building.
---
26. London Free Press: OMB reviews Alma College decision
The Ontario Municipal Board is reviewing its decision to approve demolition of a former girls' school here, following questions from the city and property owner. Requests to review the Jan. 14 decision came from both the city of St. Thomas and Alma Heritage Estates, which owns the Moore Street site. What will happen next and when for the 19th-century building -- the focus of a long-running heritage preservation battle -- isn't clear, however.
---
27. Ottawa Citizen: Council ignores advisory board and neighbours, OKs in-fills
Jake Rupert
Councillors on the city's planning committee went against the advice of their architecture advisory board Tuesday, and endorsed two in-fill developments in the downtown area. First, by a vote of six to three, councillors on the committee approved a 12-unit, in-fill project in New Edinburg. After this, by a vote of seven to one, it approved a large apartment building at the corner of Bank and Gladstone streets. The apartment building will surround the front of the Metropolitan Bible Church, which will be retained. It will be nine-storeys high and contain 223 residential units with retail space on the ground floor.
---
28. St. Catherines Standard: Proposed tower won't block views, heritage expert says
KARENA WALTER
A heritage expert says a controversial condo tower proposed for Port Dalhousie won't block the view of people walking in the area. Spencer Higgins, hired by the Port Place developer, testified Thursday that although the building is tall, the design is slender. "When you go through Hogan's Alley, you probably won't even notice a condominium building is there" he said on Day 18 of the Ontario Municipal Board hearing. He explained people will be looking at activity in the courtyard, rather than at the building. "Does it block your view? Does it distract you? I'd say no." The hearing, in city council chambers, is being held to determine if the Port Dalhousie Vitalization Corp.'s proposal for a 17-storey tower will become a reality.
---
29. Gravenhurst Banner: Demolition Permit Issued for Historic Resort - Marygrove, located near Glen Orchard
Jacqueline Lawrence
A demolition permit has been issued for Marygrove, the historic Lake Joseph resort that was the centre of a fierce battle over heritage preservation two years ago. The permit was issued in late December, according to Muskoka Lakes township chief building official Neil Donald. As of this week, however, there is no indication when the building may be torn down. Tricia Hellingman, spokesperson for the Sisters of St. Joseph of Hamilton, the owners of Marygrove, said no date has been set for the demolition. While Hellingman acknowledged the public interest in Marygrove, she said the resort is "a liability" when it comes to selling the land. The Sisters, who up until recently used Marygrove as a summer vacation spot, have been attempting to dispose of the Glen Orchard area property for approximately two years with little success. "The thought is, there may be more options without a building on-site," said Hellingman. In addition to obtaining a demolition permit, the Sisters of St. Joseph recently submitted an application to rezone the Marygrove property from a private camp to waterfront residential.
Editor's Note:Reports from Muskoka indicate the building has been stripped of furnishings, and demolition may begin as early as April 1. Demolition combines cultural and environmental damage...this one is so unnecessary.
---
30. Northumberland Today.com: Reconstructed Main Street Port Hope
Shelby Parker
Renovations progress at fire-damaged buildings
One of three downtown businesses definitely moving back. A downtown fire last summer reduced the interiors of three buildings in downtown Port Hope to ashes. But like the proverbial phoenix, they will live again. "The renovations are going on as planned," said Judy Selvig, Port Hope's economic development officer. The June 9 blaze severely damaged three businesses, Mad Monkey and Campbell Company owned by John and Sandy Campbell, and Plummer's Pharmasave, as well as several apartments. . . The buildings housing the three storefronts had to be reconstructed under heritage guidelines based on a report written by Peter John Stokes of the Architectural Conservancy of Ontario. The guidelines only affect the exterior of the buildings.
Editor's Note:Port Hope has a strong contingent of emigre heritage architects, Phillip Carter has been joined by both Peter Stokes and Phil Goldsmith.
---
31. Toronto Star: Clearing Georgetown Log Cabin for Parkland
Leslie Scrivener
Architecture vs. landscape
A community and a conservation authority are fighting over the fate of an 1869 log cabin in Georgetown. At issue: What to do when fate puts heritage buildings in the hands of agencies with other-focused mandates

How do you decide if a building is worth preserving?

In Halton Hills, near Georgetown, a log cabin built around 1869 sits in a dilapidated state on Credit Valley Conservation property. The white clapboard Fallbrook homestead was home to Scottish pioneer farmers and their descendents.

The conservation authority wants it removed. A group of concerned citizens is fighting to restore it.

Credit Valley Conservation wants to renaturalize the Fallbrook property. It says preserving cultural heritage – old buildings and the like – is not its responsibility under the Conservation Authorities Act, while care for the natural environment – wetlands, wildlife and water – is.

This doesn't make much sense to Irene Carroll, who lived in the Fallbrook cabin as a child. Her father, from Scotland, was the farm manager and lived there until 1979.

"I still return to Fallbrook to walk around the area," Carroll says. "It gives me a feeling of peace, as though this little part of the country will always be safe from the bustle of daily life."

Sandy McKay sees in the modest building the history of his forbears, who owned the property until 1943. He objected to a heritage-impact assessment that found that the cabin – likely one of the earliest pioneer houses in the area – had merit for its craftsmanship and square cut logs but was of little historic value because "no significant persons or events" were associated it. "It hit right home to the gut," says McKay, who is a nurse among the Inuit in northern Quebec. "These were simple farmers... who worked themselves to the bone, opening this land. And their contribution, in a collective sense, no matter how modest, is worthy of recognition."

While Credit Valley Conservation owns the homestead, it must apply to the town of Halton Hills and the Niagara Escarpment Commission for permission to dismantle the building.

All conservation authorities include some kind of cultural heritage – buildings, archeological sites, hedgerows, or other patterns humans make on the landscape – says Dan Schneider, a senior policy adviser for the Ontario Ministry of Culture.

"It's increasingly artificial to separate so-called natural heritage and environment from cultural heritage and the environment made by humans."

---
32. Winnipeg Free Press: U of M to get $100-M revamp - Project Domino puts emphasis on restoring historic buildings
Nick Martin
Retiring University of Manitoba president Emoke Szathmary unveiled a $100-million-plus legacy project Wednesday that will change the face of the Fort Garry campus. All told, 13 faculties and departments will be affected by the massive undertaking. Music, art, biological sciences, international and graduate students could be delightedly dancing in the quadrangle once they hear about the new digs that U of M has planned for them under Project Domino. "At its heart is really sustainability," Szathmary said in an exclusive interview with the Free Press. "It will allow us to use several historic buildings -- if you went in and saw them, you'd cry "at their current condition.
---
33. CTV Winnipeg: City reconsiders heritage status
A developer who wants to turn a city block in the Exchange district into a boutique hotel is looking for permission to tear down one of the oldest buildings in Winnipeg. The request has Winnipeg City Hall looking at removing a January, 2007 heritage designation that was put in place to protect the old home. 15 months ago developer Ken Zaifman first approached city council with his plan to transform the St. Charles Hotel - but the proposal was rejected because of a building that is tucked away behind several store fronts on Albert Street. The unassuming structure dates back to the 1800's. The city listed the building as a grade three heritage site, which means it can't be touched unless there's a plan to replace it with a design that respects the character of the historic area, and several stake holders are on board.
---
34. Winnipeg Free Press: Council hopes to find land for developer
Bartley Kives
City councillors want to find a new piece of land for Crystal Developers to consider as a site for a downtown apartment building. Late last week, Crystal owner Rubin Spletzer backed away from his plan to build a 20-storey apartment tower at the corner of Fort Street and Assiniboine Avenue -- the contentious empty parking lot that served as the flashpoint for the Upper Fort Garry debate. Crystal's decision effectively ended a 10-month civic impasse over a proposed heritage park on the site of the former fort. But it also won the developer fans on a city council eager to speed the sluggish pace of creating more housing downtown. "I would be happy to see Mr. Spletzer get involved in another project," city council property boss Justin Swandel said Monday, as his downtown-development committee colleagues met behind closed doors to approve a plan to allow the Upper Fort Garry heritage park to proceed. "He's been the most honourable individual in this whole process.";
---
35. Winnipeg Free Press: The true heroes in the Battle for Upper Fort Garry
Gordon Sinclair Jr.
IT came down to the 11th hour. Literally. But, in the end, it was one of our finest. I wasn't at the city hall news conference late Friday afternoon to witness developer Ruben Spletzer wave the white flag on the battle of Upper Fort Garry. It was called on such short notice I couldn't get there. But I can tell you this. Despite how he presented himself -- "as a goodcitizen" making his "contribution" by giving up his own dream for the Friends of Upper Fort Garry's -- Ruben Spletzer is no hero. At least not to me. Just a week earlier he vehemently declared a deal's a deal, and made noises about suing the city at a council session where Dan Vandal had introduced a motion to let the Friends have the entire site.
---
36. Winnipeg Free Press: Upper Fort Garry site saved - Developer drops apartment plan
Bartley Kives
A 10-month struggle that pitted heritage advocates against downtown-housing proponents has ended as the Friends of Upper Fort Garry have won the right to build a historical park at the site of Winnipeg's birthplace. Late on Friday afternoon, Crystal Developers walked away from a $1.2-million deal for a chunk of surplus city land at the corner of Fort Street and Assiniboine Avenue -- an empty parking lot that had become the most contentious piece of real estate in Winnipeg.
---
37. Globe and Mail: Douglas Coupland and Richmond Park Design
Lisa Rochon
An artist's touch: design inspiration
48To rock people's world is the job assignment of any artist. To rock it while bowing to the constraints of site, structure and budget falls to the not-so-lucky, slightly beleaguered architect. Both may be creative types, but because of the nature of their work, artists and designers have to think differently. Which is why artists such as Douglas Coupland and Jill Anholt, both of Vancouver, are being asked to lend their unfettered minds to the making of parks and civic architecture.

Undoing conventions of design is a necessary kick in the mind. Introduce a celebrity artist and watch how condo units will sell faster than it takes for the paint to dry. Witness the West Village condominium in New York designed by artist and film director Julian Schnabel, dolled up with arched windows and painted a lurid pink - a move which apparently tickles the fancy of those willing to pay $4,000 per square foot to get inside, and horrifies those occupying the minimalist glass towers down the street.

In Canada, the designs of some parks and structures are being invigorated by artists, not as afterthoughts, like pieces of public art that get plopped in the middle of windswept plazas, but as key members of the design team. For a civic square outside the main entrance of the Olympic Speed Skating Oval in Richmond, B.C., Janet Echelman - an American sculptor who shapes urban space - has created a water-sky garden featuring a diaphanous, monumental net suspended over a storm-water collection pond and a series of other water features.

Coupland has been engaged by developer Concord Adex to provoke conceptual ideas for Cityplace, a park which occupies a crucial parcel of land alongside the Gardiner Expressway at the heart of a massive condominium tower development in Toronto. Over the course of a half-dozen meetings, Coupland deviated from the convention of imagining a coherent landscape narrative with respect for water drainage and eco-systems to push, instead, for iconic ideas such as a towering toboggan run or a Terry Fox miracle mile. He stacked old books which he had spray-painted and arranged them on a large table as a series of topographic grades and plateaus.

Though the park is still waiting approvals, some of Coupland's original energy has made it to construction drawings, including a massive bluff on the park's western flank, a land form to be topped by an abstracted canoe created by Coupland.
---
38. Victoria Times-Colonist: Buildings of recent vintage also deserve heritage designation
Sandra McCulloch
Victoria is known for the beautiful architecture like that found in the Fairmont Empress hotel, the downtown Yarrow Building and the Union Club. Now the city is looking to include buildings from the more recent past on its heritage registry. . . City planner Steve Barber told an assembly of 50 people yesterday that public comments are welcome on the initiative. "Victoria's history doesn't stop in 1945," said Barber at the forum held at city hall. It's a challenge to persuade the public there's a need to preserve buildings that don't have the old-world charm of those from an earlier age. And there's a general belief that buildings erected in one's own lifetime aren't interesting enough to protect.
---
39. New York Times: Undermining of Landmark
David W. Dunlap, forwarded by Adam Sobolak
The Leaning Landmark of Broadway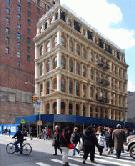 The expansive cast-iron facades of 287 Broadway seen from the north. The building was designated a landmark in 1989.
Talk about endangered landmarks.

The elegant cast-iron building at 287 Broadway, which "graphically illustrates the transformation of lower Broadway in the 19th century from a residential boulevard into the city's commercial center" (as the Landmarks Preservation Commission put it), is leaning about eight inches to the south.

This month, steel shoring is being erected against its south facade to replace the timber bracing that has been in place since late last year. The entire six-story building was vacated Nov. 29 by order of the Department of Buildings, leaving the Pizza Cafe, at the corner of Reade Street, with Christmas holiday decorations still hanging.

"Our engineers feel strongly that 287 Broadway is stable and can be salvaged,"said Kate Lindquist, press secretary at the buildings agency. But for the moment, there is no saying when.
---
40. Who Built the Condemned Charles Street Houses
Catherine Namith
Does anyone know who the builders/architects for the Victorian Row of houses on Charles Street that are soon to be demolished.
Some of the houses are very similar to no 74 Willcocks that is written up in "Old Toronto Houses", and part of the Harbord Village Phase 1 Heritage Conservation District.
Builder unknown for the Willcocks house.
---