Issue No. 121 | June 23, 2008
1. Some Good News for a Change: Volunteers Succeed in Town where Developer Failed
Catherine Nasmith

St. Thomas Railway Station under slow restoration
A week after Alma College burned, I had occasion to attend an induction ceremony at the restored Canadian Southern Railway station in St. Thomas. After touring the rubble of Alma it was wonderful to be going to a happy occasion, to a property under restoration.
Restoring an abandoned railway station is a relatively common community project. The buildings are generally well built and a size that is manageable for volunteers. But St. Thomas residents took on a lot more when they decided to embark on restoring this massive building. Built in 1873, the buff brick Italianate building is 356 feet long, 36 feet wide, and towers over everything around it. The interior boasts 20-foot ceilings, very tall double hung windows with intact interior shutters. Each window has a plaque on it identifying the individual donor who paid for its restoration.
Tackling a building this big, a thousand dollar donation at a time is a pretty slow way to go, but it has saved the building. The local North American Railroad Hall of Fame owns the property has been renting it out for functions, and pouring revenue back into the station. They are hoping to begin renting out offices on the second floor in the near future, and ultimately to have space there to house a museum devoted to the railway. Since 1999 the Hall of Fame has been inducting important contributions to railway history in anticipation of having a place to house exhibits.
St. Thomas was once a major a centre for railway activity. Many of the rail lines served traffic between Detroit and Buffalo, operated by American companies. Before the days of railway dining cars, passengers disembarked at this station for meals. The grand dining room is still there and is used regularly for weddings and community events, complete with cast iron columns and heavy plaster cornices. The second floor housed offices for the railway companies who were based here.
In looking at the exterior it is clear that it will need at least $250,000.00 to re-point the masonry. More will be needed to repair the cornices, for new wiring and heating systems, and to repair the interior features.
It is absurd that such a major project has been left to volunteer fundraisers alone, but in Ontario it seems that, for now at least, local grass roots action is the only way. Indeed that has been how many have been saved - Victoria Jubillee Hall in Walkerton comes to mind as another example.
It is not hard to imagine an engineer coming to the conclusion that the railway station is "prohibitive to repair", the phrase that has condemned so many buildings -- the phrase that gave the Minister of Culture an excuse not to intervene to save Alma College. Yet the fact that the building still stands and is gradually being restored is a tribute to the determination and commitment of the community of St. Thomas, and the North American Railroad Hall of Fame. It stands in stark contrast to the devastation wrought on Alma College. The owner of Alma had far more resources than this community group, but was blind to the opportunity that the landmark offered. Preserving community landmarks is more a matter of commitment than resources.
The secret that the volunteers have learned is you can restore a building a little at a time. One doesn't have to wait for the big truckload of cash - small amounts strategically applied can work miracles. A similar strategy would have saved Alma.
To learn more about the history of this building and its restoration go to:
http://www.narhf.org/csrs/csrs.html
---
2. Call for Five Alarm Action Post Alma College Disaster
Erik Hanson-Peterborough
Here's something every one of you can do to honour Christopher Greene's memory.
Read the articles on Alma College then WRITE. Write to Council congratulating them on their support for Market Hall. Write to your MP asking him to voice a need for his government to comprehensively review preservation un-friendly tax law and support the inception of income tax credits. Write to your MPP and say whatever is on your mind when you are done reading about Alma College. Voices need to be heard- LOUDLY. Tell everyone that will listen that Canada, Ontario and Peterborough needs to implement stronger, enforceable property standard legislation.
Alma College didn't burn because of an insensitive developer. It burned because 15 years ago no one demanded that the roof be replaced, the windows boarded, the doors securely locked and the grounds kept neat and tidy. If someone had, Alma College would be a structurally sound gem today with developers crawling all over it cashing in on the "heritage cache".
Alma College was not demolished by an arsonist. It wasn't lost to the last minute indecision by the Minister of Culture or the callousness in 2008 of the Ontario Government. It was lost to years of willful neglect, and the inability (or chutzpah) of the province and municipality to demand that the moment a drop of water leaked through the roof or a shattered window went unfixed that a repair order wasn't issued immediately and followed up with severe financial penalties.
Property rights are not absolute in this country. They are not guaranteed under the Charter of Rights and Freedoms and the last time I checked, insisting that an owner patch a roof didn't constitute unreasonable search and seizure.
I am reminded of the admonition of Gwynne Dyer that we could solve all the world's problems on the back of a cocktail napkin in about ten minutes. The solutions aren't the problem. finding the will to implement the solutions is the problem.
Read, then act.
Editor's Note:
Erik Hansen calling on Peterborough Colleagues to take action following the Alma fire...the suggestions are good for all of us. The Alma fire should set off a five alarm call for action across the country. Your letters to your MP's and MPP's will make a difference. Make sure you copy any letter you write to the Premier, the Prime Minister, and the Minister of Culture. Mark them personal and confidential to make sure they are seen by political staff and you don't end up with form letter replies from the correspondence units.
---
3. The School of Restoration Arts at Willowbank Accepting Applications for This September for Diploma Program in Heritage Conservation
Willowbank
Established in 2002, The School of Restoration Arts at Willowbank is dedicated to the teaching of all arts related to the conservation and restoration of our built heritage. The school offers a unique Heritage Arts Education Program made up of an Audit Program and a full-time three year Diploma program. These programs are currently accepting applications for enrolment in September, 2008.
The philosophy of the Diploma Program at Willowbank is to make cultural heritage properties vital members of our community through a broad range of conservation strategies, including preservation, rehabilitation and adaptive reuse, restoration, and creative programming. Courses offered include conservation studies, architectural drawing, heritage carpentry, plaster lath and masonry. All are taught by experienced craftsmen, historians, architects, heritage contractors, archaeologists, artisans and landscape architects. The School uses its magnificent setting as an important venue for conservation debate and practice. Located on 12.5 acres in the Niagara area at Willowbank estate, a designated National Historic Site, the School uses the estate itself and other historic properties in need of restoration as teaching venues. Willowbank therefore differentiates itself from other educational programs by putting equal emphasis on theory and practice, bridging the gap between design and craftsmanship.
Graduates of The School of Restoration Arts to Fill Essential Need in Heritage Resources Sector A landmark study undertaken by Heritage Canada shows a growing and essential need for substantially more trained professionals in the Heritage Resources sector. According to the study (Heritage Canada Study on Heritage Workforce, August 31, 2005), the future success of heritage policies will depend on the availability of an appropriately skilled workforce. Meeting the demand for skilled workers is defined as an urgent problem that could lead to Canada's stock of heritage buildings (estimated to be 1.7 million pre-1920s buildings) being seriously reduced.
www.theschoolofrestorationarts.com
---
4. Proposed Alterations to Kincardine Lighthouse
Henry Simpson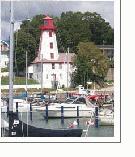 from City of Kincardine website
Mayor and Council, c/o the Clerk
June 5, 2008
Re: Kincardine Lighthouse
We have recently learned that the Municipality of Kincardine is changing the windows and exterior cladding of the Kincardine Lighthouse. We applaud the idea of maintaining the Lighthouse, which is one of the most important heritage sites in Bruce County, but we are very concerned about the way in which the work is being done, specifically about the materials being used.
In order to maintain the heritage features of a building it is essential that any repairs or renovations be done using materials that are as close as possible to the original materials. Use of modern synthetic materials effectively destroys the historic character of the structure. The use of synthetic materials on such important features as windows and cladding will significantly reduce the value of the structure as a heritage building.
The Architectural Conservancy of Ontario would point out that on a structure close to the lake it is doubtful that the siding will stand-up well. It is likely to quickly look cheap. On such an important landmark to Kincardine this would reflect poorly. You currently use the lighthouse image on much of your tourism material and maintaining it in an appropriate manner should be a major concern to many in the areas tourism industry. This building is one of the draws to the harbour area.
On the windows, replacing the look of the current pattern should be maintained,. The changing from 4 over 4 to 6 over 6 should be avoided. If going away from wood for maintenance, every effort should be made to match detail and colour of the current windows as possible. Also the original windows should be fully documented and saved if possible for future replacement if needed.
When undertaking work on such a prominent historic building you should take time to consult with the public and your heritage committee (Heritage Kincardine) who will take a longer term look at the building for future generations. If expertise is require that is not available locally the Architectural Conservancy of Ontario can help provide advice on appropriate materials and procedures for maintenance or restoration of heritage buildings.
Sincerely,
Henry Simpson
President
Architectural Conservancy of Ontario
South Bruce-Grey Branch
c/o Victoria Jubilee Hall
111 Jackson Street S. - Box 369
Walkerton, Ontario N0G 2V0
Editor's Note:
this is the kind of crummy compromise that could easily be avoided with a modest program of provincial grants. With provincial money would come expertise to avoid destruction of the heritage value.
---
5. The Hamilton Spectator: Lister Depends on LIUNA Commitment
Lee Prokaska
Time has come for Lister deal
66(Jun 23, 2008)

The city's proposal to purchase the Lister Block from LIUNA is a good one for the citizens of Hamilton and for the beleaguered downtown eyesore.

City staff recommend that council require a $1-million financial guarantee that the second phase of the project will have a minimum of 100 rental retirement home units and 100 condominium units for seniors. These conditions are reasonable and responsible.

City council, meeting today in committee of the whole to deal with the proposal, should not allow itself to be bullied into a deal with terms and conditions that offer less protection for property taxpayers. In the long run, it is not in our best interests as a community.

LIUNA vice-president Joe Mancinelli maintains a guarantee of $250,000 is plenty, if not too hefty. That is ridiculous. On a project of this scope, $250,000 is easily swallowed chump change.

---
6. Raise the Hammer: Release of the OHT report on Lister
Ryan McGreal
Heritage Report Released: Protect the Lister
The Ontario Heritage Trust has publicly released the 2006 recommendation prepared for the Ontario Ministry of Culture on the heritage value of the Lister Block. . .
Editor's Note:Hamilton has scored a real breakthrough in getting this report released. Their action raises the question of why provincial designation takes place in private, when municipal designation is a highly public process. The whole approach to provincial designation has to change. The current one is just not working, pitting activists against the Minister of Culture, and Ministry staff.....
---
7. Raise the Hammer: June 23 Deadline for Provincial Lister Deal
Ryan McGreal
At a June 23 committee of the whole (COW) meeting, city councillors will be asked to vote on a proposal from Laborers International Union of North America (LIUNA) to convert the Lister building into office space and then sell it to the city for $25 million. . .
---
8. Globe and Mail: Rochon on Ian MacDonald and Wychwood Park
Lisa Rochon
A G-G winner bows to the power of landscape

Catherine Nasmith Photo, View to Ian MacDonald's House, preserving the view to the house behind by sinking into the beautiful landscape
Canadian architect Ian MacDonald designs architecture provoked by the rise and fall of landscape. His private homes push up like outcrops of rock, they float planes of green roofs above the ground or they compress deep down, capturing light from slots in the earth. For his own family home in Toronto's Wychwood Park, winner of a 2008 Governor-General's Medal in Architecture, there are zones of defensible private space: walls of dry-laid sandstone or poured in place concrete which define intimate courtyards and privileged views of the enveloping forest.

Underpinning all of MacDonald's design decisions is a sublime reflex to take just enough space. It's clearly anathema to the big-box ethos and refreshing for that. Up on a mezzanine, there's a narrow sliver of a study with grand views below to a family room and across generous windows to the outdoors. In his world, the body experiences a comfortable compression - maybe, in a world of mostly dehumanized buildings, that should read as compassionate compression - producing an architecture which wraps and comforts a person. What the Wychwood house provides is grounding. There's a patio with room for one chair facing a massive oak tree.

Human movement has been carefully studied, so that journeying around the house is made effortless, starting with a ramp of flagstones that makes the ascent to the main entrance barely noticeable. There's a built-in couch from which a lounger can almost touch the people seated at the kitchen counter. Inspired by the mystery of the L-shaped room, something explored by German architect Mies van der Rohe, MacDonald slid courtyards outside the master bedroom and the living room, slightly beyond the foreground view. By withholding visual information within the 2600 square foot home, says MacDonald, space immediately feels larger.

You would only tire of an Ian MacDonald house if you were to tire of nature. And, at Wychwood Park, a private trust of 22 acres magnificently honoured in the heart of Toronto, nature is all around. The park is named for Wychwood Forest, an ancient wood near the Oxfordshire, England, childhood home of Marmaduke Matthews, a landscape painter and founding member of the Royal Canadian Academy of Arts. In 1888, together with a friend, Alexander Jardine, Matthews drew up and registered a subdivision plan with a circular park drive occupied at the centre by a ravine, tennis courts and a pond where Taddle Creek passed through. After that, artists, lawyers, businessmen and architect friends such as Eden Smith were encouraged to buy up lots within the enclave in order to build houses poetically on the land. Many were designed in the English Cottage style inspired by the Arts & Crafts sensibilities of British architects C.F.A. Voysey and Edwin Lutyens. Marshall McLuhan's home, recently sold, was a tall house faced in roughcast stucco, surrounded by oak, black locust and maple trees, and set as a landmark on grounds overlooking the Wychwood pond.
Editor's Note:Please note the imminent threat to Wychwood Park from an inappropriate development. This will be going to the OMB in the near future.
---
9. Hamilton Spectator: Lister hairball ready to be coughed up?
Andrew Dreschel
You know it, I know it, Mayor Fred Eisenberger knows it: Lister Block fatigue is everywhere. The endlessly unresolved fate of the vacant and dilapidated historic building in the downtown core is sticking in everyone's craw. But the hairball may finally be dislodged Monday. That's D-Day, the day council has to decide whether to buy the building from LIUNA for about $25 million or see the offsetting $7-million grant from the province slide off the table.
---
10. Globe and Mail: On Glazier John Wilcox
DAVE LEBLANC
A touch of glass
A graceful glazier gives a touch of glass to Toronto homes

You'd almost be inclined to call him a bull in a china shop the way he's bouncing around the 1,500-square-foot studio.

Almost. But don't confuse enthusiasm for a lack of grace: John F. Wilcox, the award-winning owner of Vitreous Glassworks, has gobs of grace and the delicate touch needed to be around all of this beautiful glass. It's just that he's got a lot of things he wants to show off — "Oh, you're a fan of Vitrolite? Follow me!" or "Oh, sure, we did the windows at the Sharon Temple; here's a picture!" — and not a lot of time.

And then there's that booming laugh that waggles his bushy beard. It's a laugh born out of confidence, not braggadocio, and it punctuates a fascinating conversation ranging from glassy things local to far-flung, modern to historic.

"We may have the largest collection of Victorian bird windows in the world!" he says, his chuckle ricocheting off the cinderblock walls. "It's something that we can always say because it's up to another city to try and say otherwise."
John F. Wilcox
Enlarge Image

John F. Wilcox sizes up a candidate for restoration in his Keele Street shop. (DAVE LEBLANC FOR THE GLOBE AND MAIL)
Related Articles

From the archives

* Despite bats in the belfry, the Pink Lady lands
* iPod architour of old York
* Lost and found
* Rebirth of the ratepayer's association
* Turning the houses of industry into homes
* Building lessons learned the hard way
* Housing incubator hatches novel scheme
* A pipe dream realized
* Old neighbourhoods never die - do they?
* Once revolutionary, now 'disappointing'
* A chance to peek inside the city's great spaces
* You can go home again
* A bricks and mortar ballet
* The house docs take my home's temperature

Photogallery

* Vitreous Glassworks

The Globe and Mail

He's holding up an example from Parkdale right now, which he's going to restore along with a bunch of others in the room.

He's such an expert craftsman, even if half of that gorgeous stained glass was missing — including the part with the little painted bird — he could recreate it.

Before I can get him talking about his own history, he's bouncing again — to the invention of glass as told by Pliny the Elder, to Britain's "window tax" of the 1700s and 1800s, to modernist architect I.M. Pei's urgent call for glass that was less green (the colour, not the movement) for his pyramid at the Louvre, and, finally, to where Toronto's glass factories once stood.

"It's a fascinating history, the history of glass," says the 43-year-old, sweating a little after all that running around.
---
11. Hamilton Spectator: Change of direction is required
John Henley
I like old properties. That's probably because I am a Brit and come from a country where old buildings are treated with respect and, where possible, preserved. That's one of the reasons why so many tourists visit the U.K. and marvel at castles and cottages anywhere from 500 to 1,000 years old that are still occupied. The ongoing Lister Block debate always seems to revolve around the same problems. Is the Laborers' International Union of North America (LIUNA) going to develop it? In fact, are they ever going to develop it?
---
12. Bracebridge Muskokan: Muskoka opens its historic doors
In Dwight, doors to some of the most breathtaking, historic buildings and homes are often closed. These treasures are nestled along the northern shore of the Lake of Bays, and privately owned cottages and homes "housing some of the town's earliest history" remain unseen by visitors and local historians. But thanks to Doors Open, a heritage project sweeping across the province, the doors are literally open this Saturday afternoon. As well, doors of other Muskokan treasures in Glen Orchard, Baysville, Dorset, Bala and Port Carling will open to the public. Dwight was founded by the Stewart family, a Scottish group that eventually took up roots in Rochester, New York. In fact, much of the land in Dwight can be traced back to original Stewarts, and many of the current residents have ties " either marital or direct " to the "founding family" of the tiny town.
---
13. northumberlandnews.com: Peter Stokes - Restoring Victoria Hall Restoration architect talks about the Grand Old Dame
Peg McCarthy
COBOURG -";Drama" and "danger" are words that might be found on the dust-cover of a murder mystery. In Cobourg, they describe an upcoming event that celebrates the 150th anniversary of Victoria Hall. As the Grand Old Dame of King Street, opened in 1860 by the Prince of Wales (later Edward VII), approaches her 150th birthday, three local heritage groups have joined together to present an evening on The History of Victoria Hall: Drama, Danger and Rebirth. Restoration architect and heritage consultant Peter Stokes, of Port Hope, will highlight the Tuesday, June 17, evening with a talk about the building. Mr. Stokes was architect for phase one and two of Victoria Hall's massive 1970's restoration.
---
14. Caledon Enterprise: St. Mary's HCD process
Jeff Heuchert
Questions and concerns still abound over HCD
As a team of consultants continue working out a final report, business owners and town residents had yet another opportunity last week to learn about Heritage Conservation Districts (HCD), and just what one could mean for the St. Marys if the town were to be designated one. Representatives from Town Design Collaborative, the Stratford-based company hired by the town to guide the designation process, made a presentation to the 30 or so residents, business owners and members of the community steering committee who packed themselves inside town hall's council chambers, before opening the floor for questions. Thor Dingman, of Town Design, said that the St. Marys "architecture and heritage could be a valuable resource for the town, that if properly preserved would "enrich the quality of life" for its residents and ensure "cultural and economic vitality" for the town down the road.
---
15. Vaughan Today: Woodbridge to undertake Heritage Conservation District Study
Tony Carella Ward 2 Councillor
Woodbridge studies aim to balance old and new
Their official titles are the Woodbridge Heritage Conservation District Study and Plan, and the Kipling Avenue Corridor Study. But the important thing is that they will both soon be published and available to all who are interested in the historic core of Woodbridge, in how it can be both preserved and renewed.
---
16. Owen Sound Sun Times: Good News Re: Paisley Inn
SCOTT DUNN
New hope for peaceful end to Paisley Inn fight
After two years of wrangling, there was an air of conciliation between officials from Arran-Elderslie and Paisley Inn owner Burke Maidlow following a Superior Court hearing Wednesday. The municipality has agreed to waive a $10,500 building permit fee and at least temporarily lifted about $100,000 in legal and engineering costs from Maidlow's tax bill. Maidlow agreed to get one of his engineers to sign off on a single set of plans in place of two by different engineers. The sides have been at odds since early 2006 over whether Maidlow has met conditions required to receive a building permit to make repairs to address concerns over the structural integrity of the Mill Drive wing of the building. The 145-year-old inn is fenced off and Mill Drive has been barricaded at Queen Street. Those barricades were removed Wednesday until November, at council's direction. Justice Robert Thompson took both sides lawyers aside Wednesday, midway through a proceeding, and returned to say he was attempting to make the "best utilization of court time" by making it clear what was expected from the municipality and Maidlow. Earlier in the morning he warned he wasn't putting a trial over the inn ahead of "serious criminal matters and child issues." It is unlikely a trial would be held this year anyway. Thompson ordered both sides to return Sept. 2 for a conference and to set a trial date, if necessary. Chief building official Craig Johnston and Maidlow have each been criticized by judges for not moving the process along. The fight has been bitter and tense, but Wednesday the two spoke during a court break and seemed more at ease. Both sides said a trial may not be needed.
---
17. niagarathisweek.com: 'It's history going down in flames' - designated heritage site
Michael Speck
Welland - Sunday's fire at 99 Victoria Ave. is being called a lot of things. Welland Fire Chief Denys Prevost called it "one of the biggest fires in a couple of years." ";I was there at (8:10 p.m.) and there was enormous amounts of smoke coming from the building," said Prevost. Jack Baird is calling it ";sad." ";It's history going down in flames is what it is," said Baird, whose wife owns Lynn's Pet Grooming and Supply next door to the near-century old heritage building. "It was a derelict building, true, but it was part of history, and now it's gone." But probably most importantly of all, the fire is being called a suspected arson, and is being investigated as such by the Niagara Regional Police."We suspect there was arson," said Prevost. The fire levelled the structure, a former seed company, once owned by the City of Welland's first mayor, Marshall Vaughn.
---
18. Waterloo Region Record: Centre Block proposal ready for council
Terry Pender
xCity council will be asked Monday to spend another $5.5 million on the redevelopment of a moribund block in the core. After a year of negotiations with Andrin Investments Ltd., staff will ask council to select the Brampton-based developer for the long-awaited rebuilding of Centre Block.
---
19. Waterloo Record: Stone House Rescue
Kevin Swayze
Cambridge rescues heritage building
>City council intends to buy a 120-year-old stone house to save it from destruction. People Care, a nursing home company, wanted to demolish the long-empty house at 65 Concession St. because people were breaking in and using it for criminal activities. The city's heritage advisory committee wants the building protected with a provincial heritage designation, which would halt demolition.
---
20. Windsor Star: Lakeshore OMB case
Gary Rennie
OMB OKs break in church debate
LAKESHORE - The Ontario Municipal Board took steps Monday to make sure historic St. Joachim Church won't fall down before completion of a precedent-setting hearing over the demolition permit sought by the Roman Catholic Diocese of London. OMB member Susan Schiller asked the Town of Lakeshore and the diocese to discuss the current condition of the 127-year-old church during a summer-long adjournment requested by the diocese.
Editor's Note:It would be a real tragedy if the OMB opts to overrule local decision making in this case. Getting these buildings designated in the first place involved local citizens taking their Council to court.
---
21. Owen Sound Sun Times: Preservation of Mennonite Church
DOUG EDGAR
Georgian Bluffs wants to be kept up to date on old church
An architectural study of the old United Mennonite Brethren Church at Mennonite Corners will be done before the end of the year, Georgian Bluffs council heard Wednesday. But council wants to be kept up to date about progress before then, Mayor Alan Barfoot told Heritage Georgian Bluffs chairman John Harrison. "How soon will something start to happen?" Barfoot asked. Harrison, who gave council an update about efforts to assess and rehabilitate the building, said he could understand any sense of impatience about the project, but the study has to be done as the next step. The group has funding for the study, to be conducted through the Architectural Conservancy of Ontario, but the timing depends on the availability of an architect, Harrison said. "We expect to go fairly quickly with the study,"he told council. Georgian Bluffs owns the 1880s-era board and batten building, also known as Salem Hall, which was saved from demolition during county road reconstruction at the intersection a few years ago. Heritage Georgian Bluffs agreed to take ownership of the building as part of the deal, but there has been little progress since.
---
22. Windsor Star: Bank of Montreal to Go
Dave Battagello
Bank building's days numbered - City says too late to save landmark on Ottawa St.
IT'S HISTORY: The former Bank of Montreal building on the northwest corner of Walker Road and Ottawa Street. City council Monday decided not to intervene, so the landmark will be demolished. An attempt to save an 89-year-old Walkerville bank building from demolition came too late. On Monday, city council decided not to intervene in the building owner's plan to tear it down, despite a heritage committee recommendation to declare it a protected site. The former Bank of Montreal at the corner of Walker Road and Ottawa Street has been vacant for three years and a request by owner Spiro Govas for a demolition permit triggered a last-minute effort to save it, after the committee and several concerned residents realized it was not on the heritage protected list.
Editor's Note:too bad, Walkerville doesn't need any gaps
---
23. Ottawa Sun: Pembroke Court House
TOM VAN DUSEN
Courthouse renovation boosts downtown Pembroke
PEMBROKE -- Beginning in the 1870s and terminating in 1952, thre Courthouse. All that's being hung these days, however, are balloons and bunting as staff prepare for tomorrow's grand reopening of the reconstructed downtown complex, beginning at 11 a.m. With the job e people were hanged in the indoor gallows at the Renfrew Countyconcluding last year -- the 140th anniversary of the courthouse -- $15 million was invested in expansion and historically sympathetic renovations of what was considered when it was built the finest quarried stone building in Canada. The state-of-the-art, award-winning building has been back in full use for months, but the opening was delayed to let those working inside get a feel for it, said John Warlich, the county's manager of court operations.
---
24. Ottawa Citizen: Preservation in Eastern Ontario
Maria Cook
Saving the Eastern Ontario look

Bedford Mill
As new development rolls through the region, a group of planners is documenting the special places, landscapes and buildings that make Eastern Ontario unique -- and worth protecting


Don't it always seem to go
That you don't know what you've got
Till it's gone
They paved paradise
And put up a parking lot

-- Big Yellow Taxi,

Joni Mitchell


The Rideau Canal, Almonte's main street, the farms of Prescott-Russell, even the relatively new Nortel campus, are all places that help define Eastern Ontario.

But as growing cities continue to plough under the countryside, a fear is growing that these elemental places may be lost or disfigured by the on-rush of development.

So how do we preserve these places? One first step is being taken by 16 members of the Eastern Ontario chapter of the Ontario Professional Planners Institute. They are compiling an inventory of buildings and landscapes, rural and urban, that captures what is special about Eastern Ontario. These volunteers believe that being able to articulate why these places have value is a first step toward preserving them.

The Eastern Ontario Visual Character Project identifies key features under the headings of natural areas and waterways, agricultural landscapes, special places, military places, main streets, scenic routes, and architecture.

The group warns that the region's unique landscapes and character could be altered utterly if inappropriate and unchecked development continues to gobble farm fields and intrude upon historic towns.

"It boils down to this," they write. "If the visual environment is deteriorating, how much are we, as planners and society, willing to accept?"

Already, large swaths of countryside look like giant suburbs and palatial summer homes are invading cottage country.

"There is a rich character to Eastern Ontario that sets it apart from other districts in Ontario and Canada," says Donald Morse, chairman of the institute's Eastern Ontario chapter and a City of Ottawa planner.

"Let's document what we have that's really good here and what will be missing if we jeopardize those things. The intention is to help raise awareness about visual character and to engage in a dialogue about the importance of creating a design culture in Eastern Ontario."
---
25. Charlottetown Guardian: Allied Sales Ltd. Building
DAVE STEWART
Landmark saved from wrecking ball
One of Charlottetown's historic landmarks has been saved from the wrecking ball. City council voted unanimously 9-0 (Coun. Terry Bernard was absent) Monday to reject a request by the owners of the Allied Sales Ltd. building at 68 Queen St. to have it demolished. The building, at the corner of Queen and Dorchester streets, was built in 1927 by well-known Canadian architect E.S. (Bones) Blanchard. Coun. Kim Devine, chair of the heritage committee, said the owners wanted to tear it down and leave the lot vacant."It's a building that is on a prominent street, on a prominent corner and it's part of our historical resources," Devine said.
---
26. Victoria Times Colonist: Public to decide fate of historic city buildings
Carolyn Heiman
A public hearing to decide if two prominent downtown historic buildings should be saved will be held later this month. Victoria city council last approved a motion to hold heritage designation hearings June 26 for the Janion building at 1612-1614 Store St. and the Morley's Sodawater Factory building at 1315-1317 Waddington Alley. Heritage designations are commonplace in the city of Victoria, but almost without exception they are done at the request of the owners. In the instance of the Janion and Morley's buildings, the city initiated the designations after the owner applied for a demolition permit for the unoccupied buildings, long recognized as historically significant. The city and the building owner, Oak Bay resident Clara Kramer, have been at loggerheads over the condition of the buildings, and publicly many on council expressed frustration at the owner's disinterest in either selling the properties or developing them.
---
27. Saint John Telegraph-Journal: Fort LaTour
John Leroux
Remains of French forts across province are testament to a period in our history when we were a battleground of competing empires, competing languages and competing cultures.
>While reading Telegraph-Journal columnist John Chilibeck's article several weeks ago about the value he saw in Saint John's Harbour Passage, my thoughts turned to a waterfront site that has reaped the benefits of thousands of new visitors and a renewed historical awareness since the popular public walkway opened: Fort La Tour. While Saint John proudly calls itself the Loyalist City, it had a French military presence a century-and-a-half before the tricorn-capped refugees arrived on our rocky shores in the 1780s. Regrettably, New Brunswick's French colonial architecture and the military buildings of the 17th and 18th centuries too often lie under the radar, mainly because most of what remains lies underground.
---
28. Hanna Herald: Former Synagogue to Heritage Park
Sarah Bjurstrom
Little synagogue on the prairie
A rare piece of prairie history was picked up and transported out of Hanna this week as the Montefiore Institute, a former synagogue, begins its journey to Heritage Park in Calgary. The move is part of a million-dollar historical project created by the Little Synagogue on the Prairie Project Society. They aim to expose and celebrate this unique piece of Alberta history because of the societies desire to include a piece of Jewish history for Canadians to learn about. "Heritage Park is very excited about this," said Trudy Cowan, the vice president and project supervisor for the society, "and being able to show this part of our prairie community." A settling community of Jewish farmers built the synagogue in 1913 near Sibbald, where it served as a place of worship for 12-years before being abandoned in the drought during the 30s. The empty building, which is the size of a single-room schoolhouse, was picked up and moved to Hanna in 1937.
---
29. Victoria Times Colonist: Pigsty to Tea Room
Sandra McCulloc
Historic cottage to be renovated - Display space, tea room in the plans as part of B.C.'s 150th anniversary
A building on the Government House grounds that once was home to pigs and chickens could soon be a tea house and possibly include space as an interpretive centre. The long narrow building dubbed Butterworth Cottage, built in 1871 and 1872, is one of the oldest structures west of Winnipeg, said Caroline Posynick, heritage officer at Government House, 1401 Rockland Ave.
---
30. Edmonton Journal: Future of Federal Building
Archie McLean, With files from Gordon Ken
Historic building part of $356M reno - Granite Edmonton edifice will anchor legislature grounds facelift ready for 2012
EDMONTON - The Federal Building's lobby will again echo with the busy footsteps of government workers after the province announced a $356-million facelift Wednesday. "It does my heart good to see something like this is not being knocked down and replaced with something shiny and new," said Infrastructure Minister Jack Hayden. "This is a wonderful building and it's going to be a great environment for people to work in." The 10-storey building, designed by George Heath Macdonald, sat empty for almost 20 years on the northeast corner of the legislature grounds on 107th Street. It was an eyesore for many, a granite and limestone monument to downtown despair.
---
31. aol.ca: On the Architecture of Happiness
SARAH TRELEAVEN
How Does This Building Make You Feel?
How to be happy. That's really what it all comes down to, isn't it? Even if life has been chugging along at a fairly joyous pace, most of us would admit a little more happy couldn't hurt. Often all that requires is a gentle reminder of how good we already have it or a simple tweaking of our glass-half-empty perspectives in order to turn the tide. This column will do that just that. Each week, Sarah Treleaven will seek out someone who has gained wisdom and insight into how to live a happier, more fulfilling existence and she will get their best advice. . . . This week: Swiss-born, London-based writer Alain de Botton has written prolifically on the subjects of love, status, travel and Proust. His latest book, The Architecture of Happiness, explores physical surroundings and their inducements of both happiness and misery. Here, he discusses how a beautiful building can elevate the spirit, and his lifelong yearning for the cozy cement walls of his youth.
---
32. Saint John Telegraph-Journal: Solid foundation
John Leroux
The Architects' Association of New Brunswick celebrates its 75th anniversary this year. It was established in 1933 to advance and maintain architecture standards, govern the province's architects, and safeguard the public. While most professions have a similar administrative body, the AANB can boast that it has been a critical element in our province's built history. As the practice of architecture has become much more complex over the past 75 years, the AANB has changed with it. Its history directly overlaps with that of the modern development of New Brunswick. Saint John architect H. Claire Mott is quoted in AANB files from 1983 as recalling "a time when architects didn't speak to each other "when being friendly with a fellow architect was unheard of in New Brunswick."; He had approached the Royal Architectural Institute of Canada about membership, but was told he couldn't join that association until he was a member of a provincial association, so he set out to form a New Brunswick group.
---
33. Saint John Telegraph-Journal: Building Greatness
John Leroux
Nothing tells us who we were, who we are and who we might become like our architecture. As his exhaustive new book 'Building New Brunswick: An Architectural History' is launched today, John Leroux offers his picks for the province's most spectacular structures, decade by decade. Beginning with the 1700s, our architecture columnist presents a sweeping survey that celebrates our built heritage and looks to the future of architecture here in New Brunswick.
---
34. Saint John Telegraph-Journal: A 'testimony to our very presence on this land'
Herménégilde Chiasson
In his introduction to 'Building New Brunswick,' the lieutenant-governor reflects on the interplay between nature, shelter and society's values
Building New Brunswick brings together two of my main interests: history and architecture - history, because knowing the facts instead of relying on a distorted view of the past is of the utmost importance, and architecture, because our buildings stand, I believe, as the testimony of our passage. Because of this point of view, I can't help but see the book as a valuable clarification of who we are, as it moves from the fragile portable First Nations dwellings to recent postmodern buildings, with their array of materials and styles and their somehow frenzied view of what shelter has become.
---
35. Los Angeles Times Magazine:Touring Architect's Houses
Christopher Hawthorne
On a vision quest, touring architects' homes
The private homes of architectural masters such as Alvar Aalto and Le Corbusier show their talent distilled From the center of Helsinki, the quickest way to get to the house that the great Finnish architect Alvar Aalto designed for himself and his family in the 1930s is to take the streetcar. After a handful of stops, the bustle of the city gives way to a quiet, leafy neighborhood called Munkkiniemi. And there, overlooking a balding soccer field, is a modest, boxy house, sheathed in white-painted brick and vertical-wood panels, with almost no windows facing the street.

---
36. New York Times: Preservation? of Steven Holl Shopfront
Fred A Bernstein
A Facade Like No Other: Once Temporary, Now a Fixture Worth Restoring



For more than 30 years the architect Steven Holl has explored an approach to design in which walls, floors and ceilings function as permeable membranes. One of the best illustrations of that concept, which he calls porosity, is his 1993 facade for the Storefront for Art and Architecture, a nonprofit gallery on Kenmare Street in Lower Manhattan.

A pivoting door is held in place by a chain link fence.

Working with the artist and designer Vito Acconci, Mr. Holl fashioned a concrete board facade with 10 pivoting panels that curators have used as doors, windows, seating and shelves in endless combinations. Intended as a temporary installation, it cost about $40,000.

As it turns out, the building's porosity was more than metaphorical: water flowing through the facade has left it badly damaged. Some panels are visibly cracked and peeling, and many of their steel frames have rusted. A frieze of poured concrete, spelling "Storefront for Art and Architecture," is in particularly bad shape: the final E now resembles an L with two drooping appendages.
---
37. New York Times: Riverview High School
Dan Wagner, Sarasota Herald-Tribune
Time Is Running Out for a Celebrated Building

A plan to save Riverview High School, designed by Paul Rudolph, has been rejected.

Of the many Modernist buildings Paul Rudolph designed in Sarasota, Fla., his stomping ground in the 1940s and '50s, Riverview High School is among the most influential.

Not only is it a classic example of his early Sarasota style, with clean, horizontal planes; natural lighting; and inventive sunshades to cool the interiors, but it has also housed tens of thousands of students who have been schooled there in the last half-century.

This week the Sarasota County School Board cleared the way for the demolition of the building at the end of the 2008-9 school year. The board voted 3 to 2 not to proceed with a restoration proposed by preservationists that would turn the school, built in 1958, into a music conservatory.

School board members voting against the plan said the building's defenders had failed to come up with a credible strategy to finance the restoration. They also said the project could jeopardize the future of a new Riverview High School building currently under construction on the tight 42-acre campus.
---
38. Threat to Paul Rudolph's Riverview High School, Sarasota Floridda
I just received this and wanted to pass it on so you might have time to respond. The folks trying to save Paul Rudolph's Riverview H.S. in Sarasota, Florida, have been working tirelessly to find a means to that end. I participated as a juror in the competition that was held last November to find a reuse and there were some very real alternatives both economically as well as architecturally. It is a highly significant building by Rudolph and is very adaptable. It is now the 11th hour and they could really use your support both organizationally as well as individually. Please take a moment to drop them a line to support the notion of saving and reusing this important modern school.


I have attached a link to an article that describes the new scheme.





---
39. New York Times: Ethics for Architects: Should we Working in Totalitarian Regimes?
ROBIN POGREBIN
Im the Designer. My Clients the Autocrat.
FOUR months ago the architect Daniel Libeskind declared publicly that architects should think long and hard before working in China, adding, "I won't work for totalitarian regimes." His remarks raised hackles in his profession, with some architects accusing him of hypocrisy because his own firm had recently broken ground on a project in Hong Kong.

Since then, however, Mr. Libeskind's speech, delivered at a real estate and planning event in Belfast, Northern Ireland, has reanimated a decades-old debate among architects over the ethics of working in countries with repressive leaders or shaky records on human rights.

With a growing number of prominent architects designing buildings in places like China, Iran, Abu Dhabi and Dubai, where development has exploded as civic freedoms or exploitation of migrant labor have come under greater scrutiny, the issue has inched back into the spotlight.

Debate abounds on architecture blogs, and human rights groups are pressing architects to be mindful of a government's politics and labor conditions in accepting commissions.

The ideological issue is as old as architecture itself. By designing high-profile buildings that bolster the profile of a powerful client, do architects implicitly sanction the client's actions or collaborate in symbolic mythmaking?

Or in the long run does architecture transcend politics and ideology? If the architect's own vision is progressive, can architecture be a vehicle for positive change?

For the most part, the issue is not a concrete one for the field's top practitioners; no architect interviewed for this article except Mr. Libeskind has publicly rejected the notion of working for hot-button countries. Yet the debate underscores the complex decisions that go into designing architecture — from the basic financial imperatives, to public access, to the larger message that a building sends — and is prodding architects to reflect on their priorities.

"It's complicated," said Thom Mayne, the Los Angeles architect, whose projects include a corporate headquarters in Shanghai. "Architecture is a negotiated art and it's highly political, and if you want to make buildings there is diplomacy required."

"I've always been interested in an architecture of resistance — architecture that has some power over the way we live," added Mr. Mayne, who said he had recently been interviewed for projects in Abu Dhabi, Kazakhstan, Russia, the Middle East and Indonesia. "Working under adversarial conditions could be seen as a plus because you're offering alternatives. Still there are situations that make you ask the questions: 'Do I want to be a part of this?' "
---
40. Bath Heritage Watchdog Website
forwarded by Stephen Otto
Ontario could use a web-site like this.
When you have time you may want to admire the whole Bath
Heritage Watchdog website.
---
41. Heritage Employment Opportunity City of Toronto
Heritage Co-ordinator: Heritage Preservation Services
File NO X8CSB15223
For More Info go to the file Number @

Application deadline July 10, 2008
---