Issue No. 124 | August 16, 2008
Feature Stories
See You in September
Injunction issued to stop demolition of Sutherland Press Bullding in St. Thomas
Events
Countdown to 2008 OHNY Weekend
October 4,5
+ read
---
Toronto's Residential Architecture: A History
Tuesdays, September 16 to November 1, 2008 (8 sessions)
+ read
---
Heritage Canada Foundation 35th Anniversary Conference
September 25 to 27, 2008
+ read
---
Advertisements
Built Heritage News Sponsors
1. See You in September
Catherine Nasmith

Windermere House,
Hope your summer is going well.
This issue is coming on a slowed down summer schedule from lovely Windermere, Ontario.
This issue distributes many stories that have been forwarded to me over the last few weeks.
BHN will be back to its regular schedule in September.
Upcoming Feature Stories:
View of Queen's Park in Danger,
CHPIF Program Success: Alton Mill Grand Opening
Decay at Toronto's First Post Office
Bathurst Street Bridge...What Next after Design Review Panel Sends Back for Redesign
---
2. Injunction issued to stop demolition of Sutherland Press Bullding in St. Thomas
Catherine Nasmith
David McGee, the owner of the Sutherland Press building on Talbot Street succeeded in getting an injunction to stop the Town's demolition of his property. The town's forces are reported to have continued for 3 hours following the judges order.
Significant damage has been done over the three days the demolition crews were at work.
Editor's Note:
This won't be the end, the case is still before the courts. Talbot Street has since been re-opened, the town saying now that the building is partly demolished the worst danger is over???
---
3. Death of Marion MacRae
The Ontario heritage community has lost one of its most important pioneers, the last of a generation.
Without the pioneering work in heritage conservation done by Marion MacRae, and colleagues Eric Arthur, and Anthony Adamson we would have lost so much of Ontario's architectural legacy.
I had the great pleasure of having her as a lecturer while at the University of Toronto School of Architecture during the 1970's. It was important to me that a woman was a professor in that huge sea of men.
I remember her gentle sense of humour, and thorough research. Her enthusiasm, along with those of her colleagues inspired me to pursue conservation as a discipline. She paved the way for the generation that followed.
If you wish to send a condolence to the family, go to the address below.
http://www.munromorris.com/home.html
Below is the death notice.
Peacefully at Glengarry Memorial Hospital, Alexandria, Ontario on Monday, August 11, 2008. Marion Bell MacRae of Maxville, formerly of Toronto; age 87 years. Beloved daughter of the late John D. MacRae (MP for Glengarry 1935-1940) and the late Hazel MacRae (nee Carlyle). Loving sister of Kenneth MacRae (Inez) of Maxville and the late Carlyle MacRae. Dear aunt of Morgan MacRae (Gerardine) of Calgary, AB, Glenn MacRae (Lisa) of Victoria, BC and Allan MacRae (Kimberly) of Hayward, California. Marion graduated from the Ontario College of Art and completed a postgraduate degree at the University of Illinois. She spent many happy years teaching the History of Design at the Ontario College of Art; lecturing on architectural history; consulting on both the restoration of Upper Canada Village and Dundurn Castle; and wrote three books on the history of architecture in Ontario for which she was awarded a Governor General's Literary Award (1975), a Lieutenant Governor's Award (1998), and her investiture as a Member of the Order of Canada (1982). Relatives and friends may call at the Munro & Morris Funeral Homes Ltd., 20 Main St., Maxville (613) 527-2898 on Sunday, August 17, 2008 from 12(noon) until 2 pm. A Funeral Service will be held in the Chapel of the Munro & Morris Funeral Home on Sunday, August 17, 2008 at 2 pm. Interment will follow in Maxville Cemetery. As expressions of sympathy Memorial Donations to the Maxville Manor Foundation, the Alzheimer's Society or to the charity of your choice would be appreciated by the family. As a Memorial to Marion a tree will be planted in Memory Woods. A tree grows - memories live.
---
4. Cobourg Trouble at t' Mill
Greg Hancock/Gail Rayment
On Monday August 11, 2008 the Cobourg Council voted down a submission by LACAC to designate the Old Woollen Factory at 180 Tremaine Street in Cobourg. Rob Mikel, Toronto based Cobourg historian who worked for the Toronto Historic Board and writes books on architecture, had provided a comprehensive designation statement outlining how the mill was in its time the largest woollen mill in British North America, produced carpets for the House of Commons, was the industrial base that powered Cobourg, and still exists as an attractive two storey buff- coloured brick building that could be readily adapted for residential or commercial use. The building was so magnificent that it was given the title of factory rather than mill. The factory is the only surviving Victorian industrial building in Cobourg and is rare even in Ontario. Phil Carter, Port Hope and Toronto based architect who has a long history with Port Hope ACO and quoted his chairmanship of ACOs Preservation Works, countered with a presentation that said the building was devoid of merit and should be demolished. According to the owner's lawyer in a statement he made at a LACAC meeting, the building would be replaced by some 'lovely Georgian' town houses designed by Phil Carter. This was a clear choice between the designation of a unique Cobourg building that could be adaptively re-used or tearing it down. It was disappointing that Councillor Miriam Mouton was the only member of council that voted for designation, despite the proposal having come from LACAC. It was disturbing to hear members of council berate groups who advocate preservation (presumably this was aimed at LACAC with a side shot at ACO), and to hear Mr. Carter described as a pristine person whilst Mr. Mikel was totally ignored. The whole matter raises questions of whether the council will ever support preservation in Cobourg, despite their public stance as a heritage town, and also the futility of any town committee trying to do its job in a meaningful way.
---
5. Public Supports Retention of Historic Properties Buildings
Heritage Trust of Nova Scotia
Press Release, Tuesday, August 5, 2008
Heritage Trust of Nova Scotia
For immediate release
Public Supports Retention of Historic Properties Buildings
There is strong public support for retention of the buildings in the Historic
Properties group, says the Heritage Trust of Nova Scotia.
The Trust sampled public opinion on the issue during Natal Day weekend.
The public was asked their opinion of the application by Armour Group to totally
demolish two buildings, to mostly demolish three others, and to attach to the
remnants a nine-storey office block. 693 people signed a post card
asking HRM Council to protect the heritage buildings.
The post cards were collected by volunteers at the Brewery Market, on
Spring Garden Road, at the Natal Day parade, and at or near the bus and ferry
terminals at the foot of George Street in Halifax.
"The people of HRM are strongly attached to our heritage buildings," said
Phil Pacey, president of the Trust. "Over and over, the ordinary citizens of Halifax told us of the beauty of these buildings, how important they are to the character of Halifax, and what a waste it would be if they were lost. The overwhelming majority were willing to sign a post card to the Council, even, in some cases, stopping in the rain to do so." "This attachment to heritage buildings crosses all walks of life: bus and ferry passengers, shoppers, and pedestrians. We were particularly pleased that tourists from across the continent and overseas were concerned about the buildings. They told us that heritage was a big factor in their decision to visit." "We are hopeful that Council will listen to the concerns expressed," said Mr. Pacey. "We hope they will follow the advice of the Heritage Advisory Committee and the District 12 Planning Advisory Committee and turn down Armour's application."
"The new Regional Municipal Planning Strategy clearly states that significant
architectural features are not to be removed in any project subject to a development agreement. It also states that any addition must be subordinate to the heritage buildings."
The text of the post card is as follows: "In the 1970s, the citizens of Halifax
organized to oppose the destruction of Historic Properties. Now Armour Group has proposed to completely demolish 2 buildings (O'Carroll's and Sweet Basil dining room) and to mostly demolish 3 other buildings in the central block of Historic Properties. Armour proposes to construct a 9-storey modernistic building attached to remnants of the existing buildings. I am a resident of ____ and I urge you not to allow the destruction of these buildings.".
Armour have applied to completely demolish the wooden Peter Martin
Building at 1870 Upper Water Street, which now houses the dining room of Sweet Basil, and the Imperial Oil Building, which houses O'Carroll's. The facade of this building would be replicated and attached to the proposed nine-storey, glass office block. The Fishwick Building, at 1861-3 Hollis Street, the Harrington Building at 1865 Hollis and 1860 Upper Water, and the Shaw Building at 1859 Hollis would be mostly demolished.
Because of a 25-foot as-of-right height limit on the block, the development
cannot be constructed without an agreement with HRM Council. The full Council will 8make a decision on the application. The matter is on the agenda tonight.
-30-
For more information, please contact Phil Pacey, 494 3334, 423 4807, 237 1375, 422
8814.
---
6. Medical Arts Building History Erased
Marcia Cuthbert
If you'd like to get a photo of the U of T's latest efforts at obliterating our heritage, take a walk over to the St. George St.
entrance to the Medical Arts Building today (August 13th, 2008) to see the removal of the stone carved with the name of the Medical Arts Building and its replacement with the Jackman Self-Promotion Building signage.
This action, I've heard, was OK'd by the Toronto Preservation Board at one of its first meetings of the new term, with mainly new members, even though I understand one of them expressed the view (but was ignored) that the name of the building could remain and a sign could be put on the lawn saying something like "the Jackman Centre in the Medical Arts Building".
When I - at that time a member of the volunteer Toronto and East York Preservation Panel - first learned that the U of T had gotten its hands on this building, I suggested that Preservation Services staff amend the designation by-law (No. 129-89) to add a number of omitted items (for example the historic mail chutes on every floor) to the "Statement of the Reasons for Designation". But they didn't want to expend the resources on creating a new by-law.
In the end though, it probably wouldn't have mattered what was contained in the Statement of the Reasons, since it was a staff recommendation that the stonework be removed, on the grounds that "the proposed alterations ... are based on standard conservation practice ... addressing issues of minimal impact and reversibility". This means that the carved stonework could be re-erected sometime, who knows when - if it doesn't get cracked or disappear.
---
7. Calgary Sun: City's heritage hangs in balance
RICKY LEONG
Construction cranes dot Calgary's skyline, a testament to the lack of office space in this city and developers' desire to fill that pressing need. Although the demolition rate for historic buildings doesn't seem as alarming as it was decades ago, we continue to lose buildings of historic value to new developments. The latest victim in this saga is Curtis Block, a century-old building which stood at 12 Ave. and Macleod Tr., near the Stampede grounds. Last year, Calgary lost Penny Lane Mall for a high-rise development. Bob van Wegen, a board member of the Calgary Heritage Initiative, seemed upbeat about future preservation possibilities, but acknowledged the fight to preserve our architectural history isn't easy.
---
8. The Lakeside Leader (Slave Lake, Alberta): Kinuso landmark gets a new lease on life
Patrick Keller
If the folks of the Kinosayo Museum have anything to do with it (and it turns out that they do), the landmark UGG grain elevator in Kinuso will stand tall for another 25 years. Museum curator Jennifer Churchill has spent the better part of a year putting together a deal that will see the ownership of the elevator turned over to the museum, while CN Rail renews a 25-year lease on the land where it stands. For its part, the museum has to reshingle the roof (among other things), in a fashion that is in keeping with the history of the building. In this case, that means cedar shake shingles on all eight or so roof elements, or 3,600 square feet of shakes.
---
9. St. Thomas Times-Journal: Council nixes heritage bid
Kyle Rea
A last-ditch attempt Monday to save the former Sutherland Press building by having it designated as an historic site failed to find support at the city council table. Monday, lawyer Valerie M'Garry, who represents building owner David McGee, made a presentation before council, arguing that the age of the building combined with a brick recognizing it as the location where the 91st battalion embarked to fight in the First World War, made it worthy of designation.
---
10. St. Thomas Times: Time to Recycle St. Thomas Buildings
Ian McCallum
Tear-down mentality torn up
"You have a great recycling program in St. Thomas, but you're not very good at recycling buildings."

In light of the Alma College saga and now the on again, off again demolition of the Sutherland Press building, Catherine Nasmith, president of the Architectural Conservancy of Ontario, gives the city a failing grade on heritage preservation.

Nasmith, who was in St. Thomas recently for the North America Railway Hall of Fame induction ceremony at the CASO station, is extremely critical of council and city staff for their unwavering desire to tear down the Talbot Street structure and quickly dismiss any consideration of heritage designation for the building, owned by David McGee of Scarborough.

It should be viewed as an asset to St. Thomas, she argues in an interview this week with City Scope.

"My assessment is based on its age and its architectural character and aside from its cultural value, there's a utility to it. And a level of effort to put it in place that shouldn't be disposed of easily. The argument for really working hard with owners to retain buildings for a community use is a far better way to spend money than on demolition."

Having recently visited and toured the CASO station, Nasmith is puzzled at the difference in how the city dealt with each structure.

"I can't see any difference in the building condition. You could very easily condemn the train station. But nobody would dream of it. So I don't understand why this building is being treated differently. It's not the same order as the train station, but it's a handsome building that contributes to the streetscape. Developers in Toronto have run out of buildings like that and they're recreating them."

Not that she ever was in favour of demolishing the station, she stresses. Instead the city is entirely on the wrong track with private owners of properties that have the potential for heritage designation.
---
11. Cobourg Daily Star: Rob Mikel and Phil Carter Disagree on Mill Heritage Value
VALERIE MACDONALD
Council awaits LACAC assessment of former woolen mill
The lawyer for the owners of the former woollen mill on Tremaine Street says the town's architectural conservation advisory committee appears not to have used any criteria for pursuing historical designation of the buildings, blocking its demolition. "There are objective criteria the committee should have used," William Taggart told councillors at this week's meeting of Cobourg council. "It did not appear to me the committee used the (Ontario Heritage Act) criteria," he said.
But in a separate delegation, Local Architectural Conservation Advisory Committee (LACAC) chair Bob Marr clarified the committee's position, saying that without initiating the designation process, within 60 days of the formal demolition request (of June 27) there would be nothing left to preserve because the building would be razed. The committee hasn't undertaken a formal assessment yet, but will do so at a subcommittee meeting and discussing it further next month in order to bring a recommendation to council, Mr. Marr said. "We don't know if (the late-1800s woollen mill) will meet the criteria," he said.
Mr. Marr asked council not to take any position about designating the building until that time -- and that is what happened at Monday night's council session. The issue will come before council's next meeting which, because of the summer schedule, won't be until August 11.
Ann Kerr of Castlehead Homes has requested a demolition permit for the former industrial plant buildings to make way for the construction of residential units. One idea put forward by her lawyer was that the floodplain area along Cobourg Creek could become part of the trail area of the town.
Another point of view has come from the Cobourg branch of the Architectural Conservancy of Ontario (ACO). In a letter to council, local ACO president Malcolm Wardman stated that the ACO's compromise suggestion would be that the floodplain be deeded to the town, providing an important green connection between Peace Park and King Street West and in return the developer be allowed to build the equivalent of 30 single-family homes on the remaining six-acre site. "We suggest that the building form could be stacked townhouses...," Mr. Wardman wrote in his letter of July 13.
Several times during the presentations and questioning by councillors, Councillor Bill MacDonald said proper process wasn't being followed in LACAC's handling of the demolition/designation process. "What part of council's process is not being followed?"questioned Councillor Miriam Mutton at one point. "It's very clear Mr. Marr wants to follow due process... and bring back a reasoned recommendation to council," said Councillor Stan Frost.
Councillor Dean McCaughey, however, argued that Mr. Marr's oral report couldn't be passed along with the written ones and so was removed from the motion to forward the information to LACAC.
The intent of providing as much information as possible to the recommendation-formulating body (LACAC) got bogged down in complexities for a short period as tempers flared, but ultimately council has been left awaiting LACAC's recommendation on designation. At the same time, the owners are waiting for a decision about demolition of the same Tremaine Street building with two opposing expert opinions on the table: local historian Rob Mikel calling for the building's preservation because of its significance and Port Hope architect Phillip Carter calling for its demolition for its lack of significance. LACAC must sort this out.
---
12. Cobourg Daily Star: Woollen Mill's Value Disputed
VALERIE MACDONALD
Fate of former mill on council agenda
The fight against designating a former woollen mill on Tremaine Street instead, demolishing it, continues tonight at Cobourg council. Last week Cobourg's Local Architectural Conservation Advisory Committee (LACAC) heard representations from the lawyer for Ann Kerr and Castlehead Homes supporting the request for a demolition permit and received a report from well-known local architect Philip H. Carter supporting that application.
But after discussion -- and a review of an opposing report by local historian Rob Mikel supporting preservation of the old factory at 180 Tremaine Street -- the committee decided to pursue a heritage designation for the building. If council agrees, that would stop -- or at least delay -- demolition. Demolition applicant representative William Taggart, a Cobourg lawyer, will appear as a delegation before councillors tonight. In a letter dated July 17, 2008, he states he has "concerns with the (LACAC) process." "... Council should be aware that LACAC did not make this recommendation on the basis of a strong opinion that the buildings merited designation. In fact, several members stated that they were undecided, because the expert opinions before the committee from Mr. Carter and Mr. Mikel were diametrically opposed." "At Councillor (Miriam) Mutton's suggestion the committee voted in favour of designation simply to keep the matter alive." Mr. Taggart's letter does not mention, however, that several times throughout the meeting, LACAC chair Bob Marr said, if LACAC did nothing, then within 60 days of the June 27 official request for demolition, the building would be gone. In the final vote, only one LACAC member opposed the motion to designate the building and put this recommendation to council. That vote came from John Jolie, who agreed with the opinions of Mr. Carter that the building's remaining structure was not historically significant because it has been remodeled and rebuilt since its construction in the late-1880s.
---
13. Norhumberland News ( Cobourg-Port Hope)
editorial july 23
Council should reconsider tearing down pier buildings
A group of Port Hope residents are hoping to change the minds of their elected officials.

The Pier Group, formed to stop the proposed demolition of century-old buildings on the Ward 1 centre pier, hopes council has a change of heart and will reconsider its decision to tear down the three industrial heritage buildings, as part of the Waterfront Master Plan, unveiled last month.
"For now, The Pier Group assumes the decision was made in haste and that as the light dawns and the public becomes better aware of the possibilities, council will change its mind," said media spokesperson Michael Wallace.
Stepping back and taking a second look at the possibilities of the three buildings would be a good exercise for Port Hope council, despite what its initial report states.
Heritage buildings - no matter their current state - on waterfront properties are rare, and examples such as Toronto's Distillery District, a 19th century industrial site rehabilitated into a major tourist draw; the old cutlery-box factory in Newcastle; and Cornwall's Weave Shed Buildings, show that former industrial sites can be put to imaginative new uses. Although Port Hope's waterfront is a different beast because of the Cameco facility, people will still pay top dollar to see the sun rise on Lake Ontario every morning.
Surely many developers would be interested in a large tract of waterfront property for housing, much like neighbouring Cobourg. Or, if a developer doesn't feel the buildings can be turned into condominiums or apartments, maybe a business is looking for a beautiful waterfront property to open an office, which could also bring much-needed jobs to the community. Of course, it would be imperative for the local heritage committees to play a part in any revamp of these century-old buildings as waterfront rejuvenation continues. But Port Hope has a reputation for preserving its heritage buildings and this avenue should be explored again. Although councillors may not have originally thought about the potential of these buildings, revisiting their decision would be best, because any opportunity to make use of existing century buildings on the waterfront should not be overlooked.
---
14. Guelph Mercury News: Museum architect selected
Laura Thompson
When the convent on Catholic Hill reopens as the Guelph Civic Museum, it will be a certified green building that is just as significant as the artifacts housed inside it, says the architect in charge of the project. "We've got a really important challenge to deal with. The building itself -- the Loretto Convent -- is actually a museum piece itself," said Paul Sapounzi, a partner with The Ventin Group Architects. "It's a very important project actually. There aren't a lot of museums being built in Ontario these days," he said. The firm was awarded the $772,800 contract last week to create a design to convert the convent into a museum.
---
15. Kingston Whig-Standard - The great heritage district debate
JANE SWITZER
Proponents say designation will help preserve city's history
MENTION THE PHRASE"HERITAGE conservation district" to a homeowner, and you might not get a positive response. "A lot of people think of it as, 'You're not going to let me do anything to my property,'"said Marcus Letourneau, heritage planner for the City of Kingston, " but it's a tool for change management. "It's about how you respect the heritage element and the character-defining elements while allowing change to occur." On Thursday, the second of four scheduled public meetings will take place to gain input on making Old Sydenham Heritage Area into a heritage conservation district. The proposed designation would affect about 550 properties that exist within the triangle of Barrie, Johnson and King streets.
---
16. Daily Commercial News and Construction Record: U2 members and partners win battle over conversion of Dublin
U2 stars Bono and The Edge won a four-year legal battle Thursday to reshape their old-fashioned Dublin hotel, the Clarence, into a futuristic landmark - a decision that appeared to fly in the face of Ireland's conservative planning laws. Ireland's planning board approved a $235-million plan produced by British architect Lord Norman Foster to gut and drastically expand the riverside hotel. The new complex would more than triple the number of its rooms to 166 and would feature a massive, floodlit glass roof atrium - dubbed "the flying saucer."
---
17. Hamilton Spectator: A new vision for old buildings
Meredith Macleod
If creativity can transform a city, a partnership between a developer and a non-profit arts group is quietly sparking the change. The Imperial Cotton Centre for the Arts and Spiro Daniolos, owner of Dalton Developments, have just launched their second project.
---
18. Toronto Star: Window Rescue 719-21 Yonge
Joe Fiorito
Handsome old window rescued
The updates come early this month:

As of yesterday, that handsome old window at 719 Yonge St. was in the process of salvation, thanks to the alert work of the preservation crowd.

As you know, the southeast corner of Yonge and Bloor Sts. is about to be demolished to make way for our newest tower. When hoardings went up, various of our architecturally minded eagle-eyes spotted the glorious stone-bound and metal-clad fenestration and sent rapid notes about its pending loss.

Cathy Nasmith, an architect and the chief of the Architectural Conservancy of Ontario, passed the messages along, and this person talked to that person, and the builders were beseeched, and the wisdom of our finest craftsmen was also sought.

Plans at the moment are for the window to be dismantled and stored at the Brick Works until a new purpose for it can be found.
---
19. Oshawa this Week: Renovation of Regent Theatre
Jullian Follet
Regent Renovations on Track
OSHAWA -- Glyn Laverick looks like he's peering over the edge of a canyon. Standing on the second floor of the Regent Theatre, he stares down at the main seating area, which is filled with towering mounds of dirt and rubble -- the result of jackhammering out the concrete floor that lie five feet deep in some spots.
"We're making a lot of progress" the theatre owner said during a recent tour of the Regent. "You can start to picture how it's going to look when it's done." This week, the sidewalk and part of the street outside the theatre will be blocked off so trucks can haul away the floor debris.
From there, crews will get to work creating sloped seating. The floor was one of the biggest tasks on a long list needed to get the vacant, water-damaged theatre restored and re-opened. Work has been underway since March, when a chemical peel stripped layers of infamous blue paint from the exterior brick. There was a slowdown in June when the Ministry of Labour requested a hazardous materials survey and environmental consultants were brought in to check out the building -- but ministry officials gave the all clear and work is continuing now at a brisk pace. Roof repairs, electrical upgrades and new plumbing are underway, and old plaster has been flattened out to make way for new mouldings. Upstairs, the theatre office is ready for use with fresh drywall and a new washroom. At street level, the box office and street-front cafe that once looked like cavernous holes, boast new window panes and framing. And this week a hole will be dug at the main entrance, so a vestibule can be erected. Despite this long list of accomplishments, there is still a lot to be done before the theatre can be operational.
---
20. Waterloo Record: Search for Franklin's Lost Ships
Feds to announce search for lost historic ships
8The federal government is poised to announce an expedition to find one of the most sought-after prizes in marine archeology -- the lost ships of the doomed Franklin expedition. Environment Minister John Baird has planned a news conference tomorrow to announce the launch of the HMS Erebus and Terror expedition. Those were the two ships in which Sir John Franklin set forth in 1845 to explore and sail through the Northwest Passage. No one returned. Franklin's disappearance launched one of the greatest searches in exploration history.
---
21. London Free Press: Wick's Flame Fading Fast
Jonathan Sher
BRUNSWICK HOTEL: Demolition permit sought for downtown landmark
It has outlived London's grand hotels and nearly all of its pre-Confederation buildings, but the demise of the Brunswick Hotel is nearing.


Heritage activist Joe O'Neil pauses by the Brunswick Hotel, an 1855 London building destined for demolition. Built during a railway boom, the legendary hotel and drinking hole outlived most buildings its age. (SUSAN BRADNAM/Sun Media)


The Brunswick Hotel at York and Talbot streets was built during the railway boom in London in the 1800s. (SUSAN BRADNAM/Sun Media)

The Wick, as it's sometimes called, has been a downtown fixture since it was built in 1855, its rooms steeped in history if not grace.

Now, the owner has applied for a city demolition permit, a request staff are backing.

With its wooden beams warping, its upper floors condemned and much of its original material unusable, heritage activist Joe O'Neil said he won't oppose the owner's bid to demolish it.
---
22. Mountain News: Future of Auchmar Estate
Kevin Werner
City considers saving historic Auchmar Estate
The historical Auchmar Estate could soon find itself under new management.

Politicians this week are expected to consider delaying any attempt to sell the heritage Mountain property, and instead wait until a city-inspired plan can be crafted that could possible save the building, says Hamilton Mountain councillor Terry Whitehead.

Mr. Whitehead said a motion introduced this week at the Aug. 7 council meeting, would give staff time to finalize a plan to make Auchmar a viable commercial business for the city. Mr. Whitehead did not want to comment what the city is planning for Auchmar.

---
23. Owen Sound Times: Meaford Hall Re-Opens to the Public
Hail to the hall
Meaford Hall before Restoration, photo Catherine Nasmith
The $6 million restoration of Meaford Hall is a reflection of a community that takes pride in its historic buildings, says Ontario Lt.-Gov. David Onley.

As the Queen's representative in Ontario, Onley attended the town's centre-piece Saturday to help mark its 100th birthday.

After touring the building, the Midland native spoke to reporters about the importance of preserving Ontario's building heritage.

"We can't understand where we are as a people . . . unless we really understand where we come from," said the author and former television broadcaster.

The 100-year-old town hall is a physical symbol of Meaford's history, he said in an interview. Onley, along with local politicians, Meaford Hall representatives and a large crowd of residents, attended the ceremony to celebrate the milestone.

The foundation of the main-street building was laid 100 years ago after the original town hall was destroyed by fire. The current hall officially opened on March 30, 1909. In its early years, Meaford Hall housed the town's council chambers, provincial and municipal court, a police station and jail, a library, ballroom and 650-seat opera house.

It fell into disrepair in the 1970s and stood mostly neglected throughout the 1980s and into the '90s. In 1994, the town learned it would cost about $1 million to restore the building to its former glory, but council decided not to take any action.

Just under a decade later, Meaford got a $1.7-million SuperBuild grant to restore and renovate the building. Fundraisers brought in about another $700,000, with the remainder funded by municipal tax dollars.

The expensive renovations -- and the amount required to be raised by taxes -- stirred up a storm of controversy, with many residents voicing opposition to the spending.

But despite the opposition, the municipality plowed ahead and the newly renovated hall opened its doors on May 13, 2006.

Hall manager Paul Osborn said although not all residents were in favour of funding the renovations, "the taxpayers were not prepared to let this facility go."

He said Saturday's ceremony was a chance for the community to acknowledge the hall's importance to Meaford and look forward to its future.

"We want and expect for this building to be alive and vibrant for the next century," he said.


Editor's Note:Congrats to Meaford, which is a place worth visiting
---
24. London Free Press: State of Heritage in London
Going, going . . . gone
Despite a tougher law, the future of heritage buildings in London remains uncertain at best

QUESTION: How do you raze an old building when others want you to keep it for its historic value?

ANSWER: Ignore it. Because time is on your side.

That seems to be the approach adopted by some property owners as London and other communities continue to lose historic properties despite toughened new Ontario heritage laws.

Demolition by neglect is a tried and true practice that has claimed some of the area's oldest heritage buildings and threatens many more structures.

Changes to the Ontario Heritage Act in 2005 were touted as giving municipalities more teeth to protect heritage sites.


Don Menard, London's heritage planner, says local governments were given the power to deny demolition permits for properties designated under the Ontario Heritage Act -- previously they could only delay issuing them for 270 days.
---
25. This is Bath: Fuller's Newark Works Controversy takes another turn
DYSON SCHOOL WAR OF WORDS INTENSIFIES

The bitter war of words between the Environment Agency and Sir James Dyson deepened today with claim and counter-claim over meetings about the millionaire's school plans for Bath.

The agency has strongly defended its role over a new and possibly fatal delay to the entrepreneur's plans for a £56 million school in the city.

A blistering attack by the businessman on the Government agency yesterday was followed this afternoon by another broadside from the Dyson camp, accusing the body of causing a "scandalous waste of time and money".

The pioneering project to create a new generation of young engineers and designers in the heart of the city has been thrown into doubt after a minister called a public inquiry because of objections from the agency over flood risks.
Sir James's education charity the Dyson Foundation said that the agency had "displayed the worst side of quango bureaucracy" in its handling of the scheme.

But the agency said it had been working with Sir James's team for more than two years to resolve problems, and was merely implementing Government policy on flood protection.

Local government minister Baroness Andrews has told council chiefs and the foundation that she wants the fate of the controversial school to be decided by a planning inquiry.
Her decision will delay the school, which has already been put back by a year.
The foundation has always stressed that it faces a race against the clock to hang onto public funding for the school, which will pioneer new ways of teaching design and engineering.
The Dyson School of Design Innovation is planned for the old Stothert and Pitt site at South Quays but has been opposed by many conservationists because of the impact on the historic Newark Works building and worries over flooding.No date has yet been set for an inquiry but the move is likely to mean that it will be at least another year before Sir James knows whether his scheme has planning permission or not.

The scheme was approved by Bath and North East Somerset Council earlier this year but needed the minister's approval because of detailed flooding obections from the agency.
---
26. Eye Weekly: Reviews Toronto's Design Review Panel
Paul Gallant
Architectural Idol
Everyone agrees Toronto's new Design Review Panel is a positive step for the growing city, even if no one's yet sure exactly what they're doing or how effective they can be

A tense group of eight people stand outside City Hall's Committee Room 2, licking their wounds and wondering what to do next. An emergency meeting? A young woman is clutching a white Styrofoam replica of a proposed condo development. She is nodding earnestly. "They said it was an urban building," says one man and, in this case, "urban" means "ugly."

Moments earlier, six members of Toronto's Design Review Panel voted unanimously that Graywood Developments "redesign" their proposal for a waterfront tower and two other complexes off Lakeshore Boulevard West. The voting system is something straight from a TV game show. Instead of deal or no deal, it's refine or redesign.

"The architectural elevation is a bit disturbing somehow…. It doesn't seem like a waterfront-feeling building," commented Paul Ferris of Ferris Architects.

"I'm uncertain that the new tower will be as interesting as you think," said Robert Allsopp of du Toit Allsopp Hillier.

Ralph Giannone of Giannone Associates is the closest thing the panel has to Simon Cowell: "It should be sitting in a parking lot in the suburbs, not on a main street."

Ouch.

Like American Idol judges, the panel, made up of 12 top industry professionals, is purely advisory. And as a pilot project covering a handful of specially designated zones, it's very much a work in progress. The wording of its support/non-support vote has changed five times since it starting reviewing developments in July 2007. Of the 30 projects it's looked at, it's supported about two-thirds of them.
---
27. The Toronto Star: Death of Albert Fulton
Daniel Dale
Body in lake identified as missing 70-year-old;
Wychwood Neighbourhood Watch leader became depressed after being accused of slashing tires

The body recovered Thursday from Toronto harbour was that of Albert Fulton, the 70-year-old volunteer archivist and retired teacher who had disappeared after he was arrested on accusations that he'd been slashing the tires of cars in his beloved Wychwood Park neighbourhood.

Foul play is not suspected in the death, said police Const. Tony Vella.
The apparent suicide left residents of the 60-home Wychwood Park community reeling.

The prevailing feeling among the dozen people contacted yesterday was sadness. But some were also upset with what they perceived as excessive coverage of Fulton's alleged crimes by the media.

Editor's Note:A terrible tragedy. Albert Fulton was a great resource; very generous with his time and his research. He will be missed.
---
28. Toronto History Site
Toronto's Historical Plaques online
this site is maintained by Alan Brown, a private citizen.
---
29. Globe and Mail: Eb Zeidler in Peterborough
Dave LeBlanc
The Bauhaus in Peterborough

Eberhard Zeidler studied with disciples of Mies van der Rohe and later left an indelible imprint on the Ontario city

To men like Eberhard Zeidler, there is no such thing as "modern" architecture — just architecture. When he emigrated from Karlsruhe, Germany, to Peterborough in 1951, it's not like his new employers — architects Walter Blackwell and Jim Craig — told him to design crazy-cool modern buildings.

Just to design what made sense.

"People want a building," says the 82-year-old architect while sitting at his Toronto dining room table 57 years later, "and they don't think of any style. And so, you [explained] to them how the building would work best and how it would be the most economic way to put together, and then they said, 'Okay,' and then it was finished and it was modern."

It was, he adds, architecture that "worked better." It worked well enough that Mr. Zeidler became Blackwell & Craig's chief designer early on and a partner by 1954, the same year that his Grace United Church on Howden Street was completed — which caused a "great uproar" because of its strikingly modernist form. It also was around the time he was wrapping his head around a residential project on Walkerfield Avenue. Its "funny site" seemed to suggest that the house have a garage where the front door ought to go.
Grace United Church
Enlarge Image

Eberhard Zeidler's Grace United Church in Peterborough, Ont., caused a 'great uproar' in 1954 because of its modernist form. (PHOTO FROM PETERBOROUGH MODERN)
Related Articles

From the archives

* The house docs take my home's temperature
* A touch of glass
* Back at the eco-deco mansion
* A love letter set in bricks
* Library made the hub of an 'impossible house'
* Eyes on second-prize

Photogallery

* A Zeidler sampler

The Globe and Mail

This innovative design won Mr. Zeidler his first Massey Medal for Architecture, and he'd create many more private houses, as well as churches, banks, schools and government buildings as a result.
---
30. History of 719 Yonge Street
Robert Hill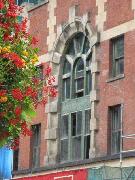 719 Yonge, Catherine Nasmith photo, Designed by Wickson and Greg, 1913
I'm pleased to tell you that I can shed some light on the design of the building at 719 Yonge Street. The architect is A. Frank Wickson (1861-1936), and the first portion of the building was constructed in 1904 for the successful Toronto baker George Coles.
The reference for this item is City of Toronto Archives, Building Permit No. 558, dated 28 May 1904. On that day, Wickson was given a permit for a three storey brick store for Mr. Coles, located at 719 Yonge Street, to cost $12,000. The location of the building is confirmed in Toronto Directories for 1906, 1907 and 1908.
The bakery business of Coles was very successful, and in 1913 he returned to Wickson's office, then renamed Wickson & Gregg, and commissioned him to design a three storey brick and stone addition, with offices, and addition to the bakery plant, at 719-721 Yonge Street. The client's name on the permit is again listed as George Coles Co. Ltd. The reference is CTA, Building Permit No. 3851, dated 5 May 1913, and the addition was to cost $11,000.
I suspect that the impressive window still facing Yonge Street, with the bold Gibbsian surround executed in masonry, was part of the 1913 expansion of Coles bakery operation.
Other works in Toronto by this architect include the Berkeley Street Fire Hall reconstruction (1903-04; still standing), the Marmaduke Rawlinson Warehouse on St. Joseph Street (1905-07; additions 1913, 1920; still standing), and an important pair of houses at No. 6-8 Elmsley Place, St. Michael's College, UofT, built in 1904 for Alphonse F. Jones and William R. Houston , and still standing.
Wickson & Gregg were also designers of the lavish mansion for Sir John Craig Eaton on Davenport Road near Spadina Road, built 1909-10, and regrettably demolished in 1936 (see William Dendy, Lost Toronto, 1978, pages 185-87).
Please forward this information immediately to Joseph Forito at the Toronto Star, and to the staff of Heritage Toronto, so that they can follow this up with more action to save both the window and, if possible, the Coles Building.
Robert G. Hill,
Architect, MRAIC
Editor, Biographical Dictionary of Architects in Canada 1800-1950
Editor's Note:
The window has been saved by the developer and will be stored at the Brickworks until a permanent home can be found. Alas, because of risk to the public in removing such large stones directly over Yonge, it was not possible to save the stone surround without causing significant delays to the project.
---