Issue No. 127 | October 7, 2008
Feature Stories
Heritage Conservation and Election 2008: What You Need to Know
Confidential report reveals government neglect of duty to preserve Alma College
St. Thomas Times: Ontario Heritage Trust Report on Alma
Events
HAVANA, CUBA - A New Master Plan
Thursday, October 9, 2008
+ read
---
Coach House Books 2008 Fall Launch
Thursday, October 9, 2008
+ read
---
Larry Richards to Lecture on 154 Years of Architecture at University of Toronto
October 7, 2008
+ read
---
U of T Continuing Ed. Course

+ read
---
Kiever Synagogue Heritage Toronto Plaque Ceremony
Sunday, October 19, 2008
+ read
---
Over any Distance Imaginable: The Royal Mail from York
Saturday, October 25
+ read
---
Advertisements
Built Heritage News Sponsors
1. Heritage Toronto Award Nominees
Media Release
Heritage Toronto announces 2008 Heritage Toronto Awards Nominees
Recipients in Architecture, Book, Media and Community Heritage to be lauded October 27th
Heritage Toronto is pleased to announce the nominees for the 34th Annual Heritage Toronto Awards. The Awards celebrate outstanding contributions by individuals and community organizations, as well as industry professionals and associations, in promoting and conserving Toronto's history and heritage landmarks. Award recipients will be announced at a ceremony on Monday, October 27th at the historic Carlu.
This year, nominations were solicited from the public in four categories: the William Greer Architectural Conservation and Craftsmanship Award; Book; Media; and Community Heritage. Independent juries reviewed the nominations and recommended the award recipients. In each category (except the Community Heritage Award, which is a cash prize) there are two possible levels of award: Award of Excellence (the highest) and Award of Merit.
During the evening's festivities Mr. John Campbell, President & CEO, Waterfront Toronto will deliver the William Kilbourn Memorial Lecture – A Shore Thing: The Future of Toronto's Waterfront. Tickets are now available: Members and Heritage Partners - $25, General Admission - $30, special pre-event Mayor's Reception - $100.
Nominees for the 2008 Heritage Toronto Awards
WILLIAM GREER ARCHITECTURAL CONSERVATION AND CRAFTSMANSHIP CATEGORY
This category honours projects that have restored or adapted buildings or structures that have been in existence for forty years or more. In addition to the quality of craftsmanship, appropriateness of materials, and the use of sound conservation principles, the jury considers how well the project meets current needs while maintaining the integrity of the original design vision.
Regal Road School Portico, 95 Regal Road
Commissioned by: Regal Heights Residents' Association and the Toronto District School Board
Architect: E.R.A. Architects Inc.
Crafts Person/Contractor: Limen Group
Wesley Building, 299 Queen Street West
Commissioned by: CHUM Limited
Architect: E.R.A. Architects Inc.
Crafts Person/Contractor: Clifford Restoration Limited
Kingston-Lambton United Church, 85 The Kingsway
Commissioned by: Kingston-Lambton United Church
Architect: Black & Moffat Architects
Crafts Person/Contractor: D.J. McRae Contracting Limited; CRS Masonry
Canadian Volunteers Memorial, Queen's Park Cres. West
Commissioned by: City of Toronto - Culture Division
Architect: Spencer R. Higgins Architect Inc.
Crafts Persons/Contractors: Trevor Gillingwater (Conservator); Colonial Building Restoration; Heather & Little Ltd.
King Parliament Square, 340 King Street East
Commissioned by: King George Square Properties Inc.
Architect: PDA Architects
Crafts Persons/Contractors: Halcrow Yolles; Zakss Construction; Colonial Restoration; and others
Breden Galbraith House, 22 St. Leonards Avenue
Commissioned by: Blaine Rust and Linda Pellowe
Architect: Renex Custom Builders
Crafts Persons/Contractors: JAG Creative Cabinetry; Harmony Stained Glass; and others
BOOK CATEGORY
This category recognizes well-written non-fiction books published in 2007 that explore Toronto's archaeological, built, cultural and/or natural heritage and history.
Rifke: An Improbable Life
Author: Rosalie Wise Sharpe
Publisher: ECW Press
Historical Distillates: Chemistry at the University of Toronto since 1843
Authors: Adrian G. Brook and W.A.E. (Peter) McBryde
Publisher: The Dundurn Group
Concrete Toronto: A Guidebook to Concrete Architecture from the Fifties to the Seventies
Authors: Michael McClelland and Graeme Stewart (editors)
Publisher: Coach House Books and E.R.A. Architects
Mean City – From Architecture to Design: How Toronto Went Boom!
Author: John Martins-Manteiga
Publisher: Key Porter Books Ltd.
The Great Adventure: 100 Years at the Arts & Letters Club
Author: Margaret McBurney
Publisher: The Arts & Letters Club of Toronto
I've Got a Home in Glory Land: A Lost Tale of the Underground Railroad
Author: Karolyn Smardz Frost
Publisher: Thomas Allen Publishers
My Life in Crime and other Academic Adventures
Author: Martin Friedland
Publisher: University of Toronto Press
Toronto Sprawls: A History
Author: Lawrence Solomon
Publisher: University of Toronto Press
MEDIA CATEGORY
This category salutes non-fiction projects such as videos, websites, exhibits, magazines and other publications that educate the public about aspects of Toronto's archaeological, built, cultural and/or natural heritage and history.
"What Lies Beneath," The National Post, Post Homes
Author/Director: Scott Weir
Producer: Shari Kulha, Editor, Post Homes
Distillery District Heritage Website
www.distilleryheritage.com
Author/Director: Sally Gibson
Producer: Thane Lucas, Lucas Digital Art
COMMUNITY HERITAGE AWARD
This award is open to one volunteer community-based organization in each of the four Community Council areas as defined by Toronto City Council. The organization must be currently active, and have either initiated and/or completed a significant activity that promotes, protects and/or preserves cultural and/or natural heritage in its specific Community Council area. This is a cash award and no organization is eligible to receive it more than once every 5 years.
O'Connor Irish Heritage House
North Toronto Historical Society
Scarborough Historical Society
Kensington Market Area National Historic Site Designation Working Group
Cabbagetown/Regent Park Community Museum
The Draper Street Residents Association
For a complete list of nominees, descriptions and photos, and how to order tickets, please visit www.heritagetoronto.org.
- 30 -
For more information:
Rebecca Carson, Communications Coordinator
Heritage Toronto
416-338-1339
rcarson@toronto.ca
---
2. ICOMOS Elections Results
Below find the results of Saturday's election to ICOMOS international Executive. The new President is Gustavo Aaroz, a Cuban expatriot who has more than ably headed U.S. ICOMOS for many years. Congratulations to Mr. Aaroz.
Canadian delegates to the ICOMOS conference were proud of the candidacy of Heritage Montreal's Dinu Bumbaru for President. Dinu has been an active member for several years and served most recently as Secretary General.
Next time perhaps?
16th ICOMOS General Assembly - Elections Results
President: Gustavo Araoz
Secretary General: Benedicte Selfslagh
Treasurer General: Jadran Antolovic
Vice Presidents:
Kristal Buckley
Guo Zhan
Francisco Lopez Morales
Andrew Hall
Olivier Poisson
Executive Committee
Sofia Avgerinou Kolonias
Alfredo Conti
Gideon Koren
Kirsti Kovanen
Philippe La Hausse de la Louvière
Wilfried Lipp
Christoph Machat
Yasuyoshi Okada
Hae-Un Rii
Angela Rojas
Hristina Staneva
Boguslaw Szmygin
---
3. Society for the Study of Architecture in Canada ConferenceCall for Session Proposals and Papers
Sharon Vattay
Society for the Study of Architecture in Canada, Annual Conference May 20-24, 2009, Ryerson University Toronto, Ontario,
CALL FOR SESSION PROPOSALS AND PAPERS
From Theory into Practice: thinking critically about architecture, history and theory
Conference Co-Chairs: George Thomas Kapelos, Ryerson University and Sharon Vattay Members of the Society for the Study of Architecture in Canada (SSAC), representatives of affiliated societies, and other scholars who wish to chair a session or present a paper at the 2009 Annual Conference in Toronto, Ontario, May 20-24, 2009, are invited to submit proposals by October 15, 2008.
The conference will take place at Ryerson University in the heart of Toronto. The conference will coincide with the annual Festival of Architecture and Design, and specifically with Doors Open Toronto (May 23-24) an annual event that celebrates the city's architecture by providing free access to buildings that are not generally open to the public. Attendees will be able to take advantage of the opportunity to visit architectural sites throughout the city on their own over the course of Saturday afternoon and all day Sunday.
For more information: http://www.canada-architecture.org/conference09.php
---
4. Heritage Conservation and Election 2008: What You Need to Know
Heritage Canada Foundation
Ottawa, October 6, 2008 – The Heritage Canada Foundation is committed to assisting members and others in staying informed about the positions all major political parties are taking with respect to heritage conservation issues.
The HCF Election 2008 Information Package <http://www.heritagecanada.org/eng/services/advocacy.html> has been developed to help you make informed choices and to help us raise awareness about heritage issues during this election campaign. The Information Package includes key questions for candidates, a backgrounder on key issues and suggested ways that you can make a difference.
In keeping with HCF's belief that the rehabilitation of Canada's heritage buildings makes environmental and economic sense, we have asked all major party leaders what policies they've developed to keep Canada's landmarks from becoming landfill. Their responses will be posted on our website. Stay tuned!
Canadians polled have consistently indicated that they want their governments to support the preservation of heritage properties. Only working together can we increase the national political profile of issues associated with the preservation of the built heritage of Canada.
cquinn@heritagecanada.org <mailto:cquinn@heritagecanada.org>
---
5. Confidential report reveals government neglect of duty to preserve Alma College
Suzanne Van Bommel

Alma College, before and after
For immediate release October 2, 2008
Heritage advocates now have proof Culture Ministry ignored top level advice
ST. THOMAS – The paper trail proving the provincial government knowingly chose not to act to save Alma College is out.
Local heritage advocates have finally won their long battle to obtain a copy of a report filed with the Ministry of Culture that advised the former St. Thomas girls' school "is a property of cultural heritage value or interest of provincial significance as defined under the Ontario Heritage Act."
Elgin-Middlesex-London federal Liberal candidate Suzanne van Bommel went public today with the revelation that the provincial Culture Ministry has shown a consistent and concerted effort to deny access to Ontario Heritage Trust (OHT) reports to the Minister about the significance of built heritage properties in Ontario. Local heritage advocates have had to resort to filing a request through the Freedom of Information and Protection of Privacy Act process to obtain copies of three reports that were requested by the Minister from the OHT.
All three requests were initially denied by the Ministry of Culture but local heritage advocates appealed the denials and were eventually successful in obtaining copies of the reports, personally signed by the Honourable Lincoln M. Alexander, Chairperson of the OHT and a former Lieutenant Governor of Ontario. The three reports involved Alma College, destroyed by fire on May 28 and subsequently demolished, Sparta's Moore House and Hamilton's Lister Block.
"The Ministry of Culture has repeatedly stonewalled requests for access to these reports in order to cover up their stubborn unwillingness to address the preservation of built heritage in Ontario," van Bommel said. "When elected as your member of parliament, I will fight for national leadership on built heritage issues and I will work to ensure a tragedy like Alma College never happens again."
van Bommel is repeating her call for an immediate comprehensive review of all built heritage properties, not only in Ontario, but across Canada.
"I am calling on the Ministers of Culture, both provincially and federally, to let Alma for one last time be a teacher. Governments must launch this review into the protection and designation of built heritage our country. We must be proactive about the preservation of our heritage."
"All levels of government must work together to preserve our heritage," van Bommel said. "A balance can be struck between the interests of preserving these beautiful buildings and the interests of property owners. The provincial and federal governments must find the resources to help municipalities preserve heritage buildings within their jurisdictions."
van Bommel, an Alma Alumnae, is active in many fields including bio-fuel development as the Manager of Stakeholder Relations for GreenField Ethanol, co-owner of HarMar Farms (a hog and cash crop operation) and restaurateur (as co-owner of M.E. & Suzie's in Port Stanley).
-30-
For more information, contact Suzanne van Bommel, (519) 200-6700 or s.vanbommel@greenfieldethanol.com
Editor's Note:
Suzanne van Bommel was instrumental in the fight to save Alma College that was ended by arson. If elected she will be a strong voice for culture and heritage in Ottawa
---
6. Open Letter to all MPP's on Protection for the Remaining Alma College Property
Bob Foster
Dear MPP's,
On Saturday October 4th,I visited the beautiful City of St.Thomas.
As many of you are well aware, Alma College stood in this city for 130 years, until an arsonist brought it down on May 28th, 2008.
I had 2 reasons for visiting St.Thomas,one was to visit the campaign office of Federal Liberal candidate Suzanne van Bommel, and the second was to see if any improvements have been made on the property in the 4 months since the horrific fire.
While visiting the campaign office, I had the pleasure of talking with Speaker of the House, Mr.Steve Peters, who was assisting Suzanne van Bommel with her election campaign.
Just let me say,Steve Peters is exactly what a politicians should be,very understanding and best of all, open to suggestions. For the past 4 months I've been working tirelessly, to get a response from Aileen Carroll regarding land designation, for the property at 96 Moore Street. I've also sent e-mails to Steve Peters, in regards to this dilemma,and he has responded on 2 occasions with a detailed letter, answering all my questions.
Now this is the kind of response I would expect from Minister Carroll, who instead remains silent, responding only once, with a "standard form letter". To say it's frustrating dealing with Minister Carroll, is an understatement, she has left the Alma supporter's wondering what will become of the land, and the 2 remaining buildings at 96 Moore Street.
I ask Minister Carroll to please designate the property, and protect what's left of the Alma College legacy.
---
7. St. Thomas Times: Ontario Heritage Trust Report on Alma
Ian McCallum
Withheld Alma report may have saved college
Alma Fire, May 2008
It may now be of little consolation, but if nothing else the report from the Ontario Heritage Trust to former Minister of Culture Caroline Di Cocco is a resounding affirmation of the veracity of those individuals who valiantly battled to preserve Alma College from the wrecker's ball.

This corner has obtained a copy of the report, authored by the Honourable Lincoln Alexander, which Di Cocco and her successor Aileen Carroll withheld from the public for more than two years.

And for good reason.

In April, 2006 the Executive Committee of the OHT resolved that Alma College, including the chapel, music building and amphitheatre "is a property of cultural heritage value or interest of provincial significance. The report further recommended "the Minister should encourage the municipality to continue to work with the owner, (Ontario Heritage) Trust and Ministry of Culture staff and other stakeholders to find a creative solution to the preservation and adaptive re-use of the property."

It encouraged the ministry to direct its staff "to assist the owner and municipality by determining if there are any provincial sources of funding, or other incentives that could assist in the stabilization, repair and long term conservation of the college."

And for more than two years the ministry did its damnedest to ensure these findings would never see the light of day, let alone be acted upon.

It took a Freedom of Information request in June of this year by Alma watchdog Dawn Doty to finally pry the document from the steely grip of the culture ministry.

Why would the minister want us to know she should "encourage the municipality to refuse any request for demolition or substantial alteration that would destroy the building or heritage attributes," as is advised in the report?

Furthermore, should Alma be threatened with demolition or alterations that would compromise the heritage character, integrity and attributes of the property, "it would be appropriate for the Minister to designate Alma College using the powers prescribed under section 34.5 of the Ontario Heritage Act."...

Editor's Note:3 times the Architectural Conservancy of Ontario has requested provincial designation, 3 times the Ontario Heritage Trust has recommended designation, yet not one property has been designated by the Minister of Culture. The Moore House is mangled, Lister hangs on by a thread with parts lost already, and Alma destroyed. To say it is discouraging is an understatement of a very large order. I am just back from Quebec where the Ministry of Culture is an extremely pro-active and important Ministry. Quebec pride in its culture and environment is evident to anyone who lives there or visits. Ontario can do so much better. Please call your MPP. See BHN editorial, July 7, 2008 http://www.builtheritagenews.ca/newsletter_archive/51.html#8
---
8. Peterborough Examiner: Heritage property designation rejected for Little Lake Cemetery
BRENDAN WEDLEY
Little Lake Cemetery may be the most culturally significant property in the city, a city councillor argued Monday night, but city council decided against designating it a heritage property. Council, sitting as committee of the whole, endorsed a staff recommendation to not designate Little Lake Cemetery as a heritage property under the Ontario Heritage Act. Owners of properties that are designated under the heritage legislation must meet certain requirements, such as preserving specified heritage aspects. Instead of heritage designation, council plans to ask city staff to work with Little Lake Cemetery administrators to develop a conservation plan for the property. Mayor Paul Ayotte argued against designating the property under the heritage legislation. Little Lake Cemetery is already preserving the heritage aspects of the property and the designation would cause operational headaches and additional expenses, Ayotte said.
---
9. Niagara Falls Review: Canadian Niagara Powerhouse had the largest generators in the world
TONY RICCIUTO
It's been a majestic landmark in Niagara Falls for more than 100 years. And while it is seem by millions of visitors every year when they drive past it on their way to view the Horseshoe Falls, few people ever get the opportunity to see what's inside the Canadian Niagara Powerhouse building. The closest most people get is when they turn into the Niagara Parks Commission parking lot which is located just across the street from Table Rock and the Horseshoe Falls. The building sits right at the corner on the right hand side as one heads into the parking lot. A gate prevents unauthorized persons from parking on the property. Many visitors fail to notice the building when they pass it because most are looking in the opposite direction toward the falls. The massive building is impressive. Not only from the outside with its extraordinary blend of brick and stone, but also the inside with its tile floors, imported marble that lines the walls, and especially the copper coated doors and wood trim. On an upper floor there is a large board room and offices, there's a walk-in safe quite similar to what is found in most banks, and there's a large control room where an operator once sat behind the curved desk and closely monitored the countless gauges and switches that control the heart of the operation.
---
10. Chatham Daily News: Core takes next step - PLANS MADE TO RESTORE FORMER BANK
BOB BOUGHNER
A 109-year-old building at the corner of King and Fifth streets in historic downtown Chatham is about to be reborn. Chatham business entrepreneur Dan Warrener said Monday he plans to restore the building, known as the Victoria Block, to as original as possible. "I'm meeting with staff from Kooman and Sons Demolition of Chatham at the site (today) to discuss the removal of the current facade,' he said. Warrener, who also owns a building along with his son, Carson, at 136 King St. W., said he hopes much of the old facade remains under the new skin that was added several years ago. His research has discovered that the building was constructed in 1899 and officially opened March 29, 1900. The inscription on the original building's roof ornament read " G.and A" 1899 D."It stood for Isabella Garner, the original owner of the building,' he said. "She lived to see the construction completed, but died later that year.' The second floor ornament inscription reads "Victoria Block.'
---
11. Peterborough Examiner: : Heritage or not? Councillor finds error in report on Little Lake Cemetery
JAMES NEELEY
>If granted heritage designation, Little Lake Cemetery would not be the first "active" private cemetery in Ontario to receive the prestigious designation, the city's heritage preservation officer told The Examiner yesterday. The statement from Erik Hanson came a day after he told city council's committee of the whole, "while a number of historic inactive cemeteries have been designated, Little Lake Cemetery would be the first known case in Ontario in which an active cemetery, owned and operated by a private, not-for-profit corporation, is designated as a heritage landscape." That's a factual error in the report. In fact there may well be a designated cemetery that is still actively burying," Hanson said yesterday. The city's heritage office staff searched through the Ministry of Culture database and "based on that research, staff concluded there were no active cemeteries that were designated,"Hanson said. But yesterday, Hanson said, based on research by Coun. Ann Farquharson, "it sounds as if the City if Brampton is in the process of designating cemeteries and it will include active cemeteries," he said, adding he was waiting for a return call from Brampton officials to confirm the exact details.
---
12. London Free Press: Capitol renovation a $5.6M investment in London's core
IAN GILLESPIE
At first glance, spending $5.6 million to save the facade of the old Capitol Theatre -- which is what city council decided to do Monday night -- doesn't make sense to me. But maybe that's because I'm a gap-toothed guy. Because one of the reasons trotted out for saving the 88-year-old limestone facade is that if it's knocked down and replaced by a parking lot or contemporary structure, Dundas Street will resemble a gap-toothed smile.
---
13. The Hamilton Spectator: City Hall Cladding Debate
Dana Brown
City Hall collision course/ Councillors, staff at odds over renovation quality

Early Photo, Hamilton City Hall
Concrete cladding and aluminum window trimming won't cut it for Hamilton's new City Hall, a new staff report says.

The materials were proposed as possible replacements for the original marble and stainless steel, and the change would save about $3.5 million on the renovation project.

But city staff say the impact on the heritage aspects of the building are too great to give the new materials the green light.

"The removal of the marble will end this building's symbolic association with civic institutions, quality and timelessness, and therefore reduce its cultural heritage value," the report says.

Councillors have been trying to figure how to trim $8 million from the renovation budget to bring the total cost down to $50 million.

Tim McCabe, general manager of planning and economic development, said that although staff rejected concrete, they would support the use of limestone.
Editor's Note:The image of Hamilton is at stake. Civic pride demands the highest quality for such a significant public building. The wrong choice will be depressing for the City for a very long time.
---
14. Waterloo Record: Income for Heritage Sites
forwarded by Brian Dietrich
New England heritage sites build and sell reproduction furniture

The Associated Press

It's a handcrafted wooden chest with two rows of side by side drawers, a type found in 17th-century New England.

But this beautiful piece, made from oak and pine, with decorative red and black applied mouldings and wooden turned drawer pulls, is not an antique.

It's a brand new reproduction of a chest made in Plymouth colony in Massachusetts between 1660 and 1700. The artisan who made it, Peter Follansbee, works at Plimoth Plantation, a living history attraction that depicts the lives of the settlers.

"Peter's work is a real lost art, rediscovered,' said Plimoth Plantation spokesperson Jennifer Monac. "He makes about 20 pieces per year, including specialty boxes, chests, chairs, cupboards, etc. Boxes can start at $800 and go from there. Chests start at $5,000 and up.'

Follansbee said the chest, one of several pieces of furniture on display outside the entrance to the gift shop at Plimoth Plantation in the Craft Center, took a month to make. To get the designs, he said, "I study original pieces in various museums and private collections.'
---
15. Saskatoon StarPhoenix: Condos to go up next to cathedral - Riverfront land sold to provide funds for church upkeep
Rod Nickel
City council has cleared a path for construction of a condo highrise as tall as 15 storeys on the south side of the historic St. John's Anglican Church. After a public hearing Monday, council agreed to lift the heritage designation from a small parcel of land owned by the church immediately south of the cathedral. The heritage designation remains in place on the cathedral. The church is selling the land to Remai Ventures. The developer has promised within the sale agreement that its tower won't be higher than the church steeple. The sale agreement also requires the high-rise's design to complement the church, have no communication devices on the roof and include a common green space between the high-rise and cathedral. "We recognize some will lament the changing skyline along Spadina," said Derwyn Crozier-Smith, representing the church at City Hall on Monday. It's true that the view of the steeple will be blocked from certain vantage points, he said.
---
16. Apollo Magazine: A new book and exhibit Celebrate Osbert Lancaster, Architectural Satirist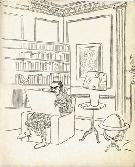 All the architecture in this book is completely imaginary, and no reference is intended to any actual building living or dead. So Osbert Lancaster noted at the beginning of Pillar to Post, which first appeared exactly 70 years ago but has scarcely dated. Augmented with further caricatures of domestic interiors first published as Homes Sweet Homes and with a few American examples, it was later reissued as A Cartoon History of Architecture, one of the most influential books on architecture ever published and certainly the funniest, because of its illustrations. Osbert Lancaster cartoonist, designer, writer on architecture and travel, stage-designer, wit and dandy was born in 1908.

His centenary is being celebrated with an exhibition at the Wallace Collection, curated by James Knox, accompanied by a splendid book, Cartoons & Coronets: The Genius of Osbert Lancaster, which includes a wealth of his drawings, cartoons and stage-designs as well as an admirable biographical introduction by Knox. The story of Lancaster's life has been told before, not least in his own, captivating, two volumes of autobiography. Knox, however, not only presents new material but emphasises that although Lancaster belonged to a seemingly blessed and gilded generation his friends included John Betjeman and John Piper (with whom he collaborated on the Pleasure Gardens in Battersea Park for the Festival of Britain in 1951) he was prodigiously productive and had a unique talent, no, genius as a draughtsman and caricaturist.
---
17. Toronto Life Looking for Examples of Residential Adaptive Re-use
Laura Trethewey
Toronto Life magazine is looking for residential spaces that have been
converted from school houses, fire halls, churches and the like for an
upcoming article. To be specific, we're interested in houses that have
retained a part of its former use, such as church pews or fire poles or
stages, which are incorporated into the present living space. Please let me
know about ANY structure you think will be of interest to us at the phone
number listed below.
Laura Trethewey <ltrethewey@torontolife.com>
---