Issue No. 145 | July 7, 2009
1. New Support for Strong Heritage Conservation Districts
Paula Wubbenhorst

Metcalfe Street in Cabbagetown HCD Toronto
The Architectural Conservancy of Ontario (ACO) has just released a new publication that, true to its title, confirms that Heritage Districts Work! Moreover, it reveals that strong heritage conservation districts are even better! The report summarizes an investigation of thirty-two established heritage conservation districts in Ontario. The ACO, in partnership with heritage groups and the University of Waterloo's Heritage Resource Centre (HRC), conducted the study.

Municipalities have been designating heritage conservation districts since 1980. The Ontario Heritage Act enables such designation. As its name suggests, a heritage conservation district is a district, i.e. an area comprising more than a single property, that offers protection from demolition and alterations that are unsympathetic to the district character. More than simply extending beyond a single parcel of land, heritage conservation districts regulate the spaces in between, such as streets, sidewalks and natural areas. Of course, being tied to property, all of these elements can be individually designated. Heritage conservation districts allow for a holistic approach to managing change. This can include maintaining views and vistas.

Heritage Districts Work! picks up on Dr. Robert Shipley's examination of designated heritage property values. (Shipley is Chair of the HRC.) The landmark 1998 report relays that property values in heritage conservation districts were consistent with or above the community average. This 2009 summary goes even further. Based on figures to 2007, the analysis demonstrates that heritage conservation district property values "generally rise more consistently than surrounding areas." Moreover, "in many cases," property values "resisted real estate downturns."

The research compared property values with those in the surrounding kilometre. Accordingly, though this is a fair approach considering the disparity of property values between neighbourhoods, it does not take into account the fact that the areas surrounding heritage conservation districts may be reaping some of the district's positive real estate value. The rise in property values in heritage conservation districts may be even greater than this paper purports.

In addition to property value, the project measured resident satisfaction. Poll results illustrate that 77% of people living or owning property in heritage conservation districts are satisfied or extremely satisfied; 16 % are neutral. Only 7% are dissatisfied or very dissatisfied. The "overwhelming" rate of satisfaction is likely attributable to the stability that heritage conservation districts offer.

Perhaps most interesting are the findings regarding heritage conservation district rules. The analysis revealed that: "consistent enforcement results in higher property value increases." Moreover, "there were more complaints that the rules were not strict enough than there were complaints that rules were too strict."

The authors recommend the creation of more heritage conservation districts and Provincial funding to update heritage conservation district plans. They also cite the need for increased public awareness: "Efforts should be made to better inform residents of the benefits of District Designation." This is critical.

As Ontario's communities mature, all planners, whether they be specifically engaged in heritage planning or not, should examine this report. District designation is not limited to obvious examples such as Niagara-on-the-Lake. When applied with consistent zoning bylaws and other planning tools, many communities, such as war time and post-war housing, have their own special character that can be preserved with district designation. Heritage Districts Works! is an essential document for anyone engaged in conserving neighbourhood character.

Heritage Districts Work! is available from the Architectural Conservancy of Ontario http://www.arconserv.ca and the University of Waterloo's Heritage Resource Centre http://www.fes.uwaterloo.ca/research/hrc.


Editor's Note:
This study confirms what has been known about HCD's or Historic Districts in Europe and U.S. for years, but we have never had the same study for any Canadian jurisdiction.
---
2. Heritage Canada Foundation Releases 2009 Top Ten Endangered Places and Worst Losses Lists
Heritage Canada Press Release


OTTAWA, ON-July 7, 2009 - The Heritage Canada Foundation (HCF) has released its Top Ten Endangered Places and Worst Losses Lists drawing attention to a total of 17 architectural and heritage sites in Canada either threatened with demolition or already lost.

The Top Ten Endangered Places List, compiled from nominations received as well as from news items that HCF has been following and reporting on throughout the year includes:

· The David Dunlap Observatory and Park, Richmond Hill, Ontario, a scientific and cultural landmark associated with Canada's international accomplishments in the field of astronomy—threatened with development

· Vancouver's Pantages Theatre—the city's oldest vaudeville house—heading for landfill

· Bellevue House, Amherstburg, Ontario, a National Historic Site connected to the War of 1812—a scandalous case of demolition by neglect

· Quebec City's Franciscan Sisters Missionary Chapel—the finest example of neo-baroque décor in the province—praying for a miracle

· Moncton High School, New Brunswick, magnificent sandstone landmark, victim of province's lack of commitment to existing schools

· Dominion Exhibition Display Building II, Brandon, Manitoba—monument to agriculture and National Historic Site—hovering on the brink of collapse

· Quebec's Grenville Canal, one of the oldest military canals in Canada, desperately seeking funding

· St. Mary's Community School, Saskatoon—the oldest Catholic school in the city—destined for landfill in order to create a "green" space

· Crowsnest Pass Mining Complexes and Coleman's Historic Downtown, Alberta, home to designated historic mining sites suffering from neglect, vandalism and development pressures

· Heritage Conservation Districts in Ontario—landmark Ontario Municipal Board decision threatens integrity of provinces more than 90 designated heritage districts

Topping the Worst Losses List is the historic Alma College in St. Thomas, Ontario tragically lost to fire just hours after the local MPP met with Premier McGuinty's chief of staff about its preservation.

Examples of historic places needlessly destroyed by the wrecking ball are plentiful: Ontario leads the country with the demolition of the heritage-designated Erie Street United Church in Ridgetown, and the Muskoka's Modernist Marygrove Resort that was torn down in the name of development progress—and the tax assessment revenues that will result.

The iconic Bens Deli Restaurant in Montréal was torn down in favour of a 14-storey boutique hotel with, ironically, a restaurant on the ground floor.

Out west, Edmonton lost its oldest apartment block, the elegant Arlington Apartments, to bureaucratic wrangling; and in Weyburn, Saskatchewan the massive Souris Valley Hospital was consigned to landfill.

In Halifax, Nova Scotia the Violet Clark Building, the last wooden "sailortown" structure on Water Street, was demolished—a scapegoat in a larger development dispute.

The Heritage Canada Foundation is a national, membership-based, non-profit organization with a mandate to promote the preservation of Canada's historic buildings and places.

For further information:
Carolyn Quinn, Director of Communications, cquinn@heritagecanada.org
Telephone: 613-237-1066 ext. 229; Cell: 613-797-7206
For backgrounders go to:
http://www.heritagecanada.org/eng/featured/current.html


Editor's Note:
Of these twenty properties, endangered and worst losses, four are in Ontario where we have laws strong enough to stop such losses. But officials have to be prepared to use the powers they have if we are to succeed.
---
3. Bowmanville's Camp 30 - An Architectural Conundrum
Catherine Nasmith

cafeteria building, one of several in the Boys Training School complex, 1925

50 Heath Street, 1923 Architect Unknown
Who designed this place? That was the question that went unanswered at a recent tour of Camp 30 in Bowmanville.

There has been quite a bit of concern about the potential redevelopment, and loss of Camp 30 in Bowmanville, triggered by a recent application to demolish buildings on the property. A prisoner of war camp during WWII, it is of national significance and has received national publicity.

Expecting to find a collection of ramshackle temporary prison camp structures, it was a real surprise to find a complex of substantial masonry and glass buildings, including an infirmary, a cafeteria, a gymnasium and swimming complex, as well as residences. The buildings are designed in an intriguing variation on the Prairie School, designed by an unknown architect.

The property's use as a prisoner of war camp during World War II was a brief time out from its use as the Bowmanville Boys Training School, which operated successfully from 1925 to 1979. It was then sold by the province and operated as a private school until it came into the hands of the current owner.

The buildings share a signature horizontal massing, augmented by high clerestoy ceilings to let light into the centre of the larger floor spaces. The roofs, float above strip windows and bands of ceramic tile insets, often with a simple diamond tiles set to stress the horizontal. Besides the large complex of buildings there are acres of grounds.

The property is provincially significant, both for its history as a groundbreaking social institution, and also for its distinctive architecture. Any of the above should be reasons for designation, yet all that is between Camp 30 and destruction is a listing on the municipal register and a Council hesitant to exercise its powers in the matter. The Council equates designation with financial obligation and white elephants, yet hope that the Minister of Culture will step in, in fact recently wrote to invite her to do so. The Minister was mystified that a council that recognized the value of a property would hesitate to designate……This complex may be lost to yet another "After you Alphonse" shuffle between the different levels of government.

Most of the buildings were constructed during the 1920's, very modern at a time when very little modern was being built here. It has been suggested that it is reminiscent of the work of Francis Conroy Sullivan, who trained under Frank Lloyd Wright, and practiced in Ottawa. However Sullivan closed his practice in 1916 before these buildings were built. Someone he trained???? There is a tantalizing similarity in detail and massing to the house at 50 Heath Street in Toronto, built in 1923, also architect unknown.

There has been so much focus on its War history that no one has done the research to find the architect of this remarkable complex of buildings. Given that they were built by a Provincial agency, it should be relatively easy to uncover the record. Built Heritage News Readers are the best informed on our architectural history……Does Anybody Know Who the architect might be? The first right answer gets lunch at the Arts and Letters Club.
---
4. East Gwillimbury Demolition Meets the Judge
Jim Sullivan, Sharon Ontario
In August 2008, a building listed as a significant heritage property by the Town of East Gwillimbury was demolished by the owner. The building was a farm structure, and the owner is a numbered (i.e. legal) company.

Rural communities like Bradford West Gwillimbury, Innisfil, Georgina, King and East Gwillimbury risk losing their listed properties because of a discrepancy between the application of the Ontario Building Code Act (OBC) and the Ontario Heritage Act. The OBC does not require a demolition permit for farm buildings, however the Ontario Heritage Act states:

"The owner of the property shall not demolish or remove a building or structure on the property or permit the demolition or removal of the building or structure unless the owner gives the council of the municipality at least 60 days notice in writing of the owner's intention to demolish or remove the building or structure or to permit the demolition or removal of the building or structure".

Therefore, although a demolition permit is not necessary, 60 days notice to council is required. Notice was not provided in this case, Following advice provided by Ministry of Culture staff, the East Gwillimbury Heritage Committee and municipal staff recommended that the Town press charges under the Ontario Heritage Act.

Through the diligence of Don Sinclair, the Town's general manager of Development and Legal Services, the senior prosecutor for York Region, Hans Saamen (well known for taking precedent-setting cases) decided to try the case. On June 8th the property owner pleaded guilty and the court imposed a $2500 fine. Although this amount may seem small relative to the maximum of $50,000, it was a win for heritage and set a precedent for future prosecutions.

We must lobby to eliminate these discrepancies in acts that affect heritage structures in Ontario. Our rural heritage inventory is still at risk since other municipalities may not have the political willpower or resources to seek recourse as East Gwillimbury has done.
---
5. Request For Information - Examples of Adaptive Re-use of Heritage Properties in Ontario
Sarah Unterman, Cultural Services Unit, Ministry of Culture

Ministry of Culture Tours Former St. Peter's Elementary School which Re-opens as Affordable Housing Units, Peterborough, ON
Adaptive Re-use Projects in your Community

The Burra Charter constructed by ICOMOS Australia defines adaptation as modifying a place to suit the existing use or the proposed use. Recently, unprecedented social and economic change has rendered many historical buildings original use obsolete. Where a building is no longer viable through its original use, a new adaptive re-use may be the only way to preserve its heritage significance and prevent demolition.

The ministry invites you to share examples of completed adaptive re-use projects which you are/were involved or you think are great and contribute to a creative community.

Tell us why and how new uses are being introduced into heritage buildings and properties and what are the challenges and opportunities to bring together heritage conservation while meeting the contemporary needs of the space.

We would like to hear from you before July 3rd, 2009.

Here's the type of information we are looking for to help us:

Property Name
Street Address or location
Original and New Use
Owner of the property ~ private ownership, municipal, provincial or not-for-profit organization.
Type of heritage protection ~ is the property designated under Part IV or V of the Ontario Heritage Act or listed on the Municipal Register
Brief explanation of why the project is important
Photographs: 2 or 3 images that show the exterior of the building and if possible, a photo taken before project.

Send Info to: heritage@ontario.ca

For More Information on this Project Contact:

Sarah Unterman
Junior Research Assistant
Culture Services Unit
Ministry of Culture
Email: sarah.unterman@ontario.ca
---
6. Heritage Toronto Walks - Summer Schedule
Heritage Toronto

This year's program of Heritage Toronto Walks continues with new tours that explore our cultural, natural and architectural history.

New walks that are part of the summer schedule include: Fringe Festival Sites, Union Station and the Railway Lands, Mackenzie's 1834 Toronto, Agincourt Village, The Leafy Side of the Beach, Imagining Toronto's Past, Atop the Davenport Hill in the 1920s and The Humber: Celebrating 10 Years as a Heritage River.

Heritage Toronto Walks is a true community project. The tours are researched, designed and led by local historians, groups and professionals from across the city, who volunteer their time and energy. Walks are free and no reservations are required in order to attend.

This year's July to October schedule includes tours of:

Saturday, July 4 - Fringe Festival Sites
Sunday, July 5 -The Village of Fairbank
Saturday, July 11 - Union Station and the Railway Lands
Saturday, July 11 -The Queen's Park Stroll
Sunday, July 12 -The University of Toronto - Downtown Campus
Saturday, July 18 -Cabbagetown -North
Sunday, July 19 - Mackenzie's 1834 Toronto
Saturday, July 25 - Lambton Mills
Sunday, July 26 -Theatres in Old Toronto
Wednesday, July 29 - The Exhibition Grounds
Saturday, August 8 -Cabbagetown People: Discoveries of Remarkable Lives
Sunday, August 9 - The Splendour That Was Sherbourne Street
Saturday, August 15 - Agincourt Village
Sunday, August 16 -Town to Park: Avenue Road to Rosehill Reservoir
Saturday, August 22 - Marlborough to Summerhill
Sunday, August 23 - Yorkville
Saturday, August 29 - The Leafy Side of the Beach
Sunday, August 30 - Bâby Point: 10,000 Years of History
Saturday, September 12 - Imagining Torontos Past
Sunday, September 13 - Fort York and the Garrison Commons: Battlefields, Graves and Urban Development
Sunday, September 13 -Atop the Davenport Hill in the 1920s
Saturday, September 19 - The Humber: Celebrating 10 Years as a Heritage River
Sunday, September 20 - The Guild Inn Gardens
Saturday, September 26 - Before Kensington: St. John's Ward 1900 - 1918
Sunday, September 27 - Murdoch's Toronto: Fact Into Fiction
Saturday, October 3 - Thomson Pioneer Settlement
Saturday, October 3 - Along the Boardwalk of Humber Bay
Sunday, October 4 - The Beach

For full descriptions of Heritage Toronto Walks, please visit http://www.heritagetoronto.org or call the Heritage Toronto Information Line at 416 338-3886.

The Heritage Toronto Walks Program is generously supported by TD Canada Trust, TD Friends of the Environment Foundation and sponsored by spacing magazine.
---
7. Volunteers Act to Protect Muskoka Records
Catherine Nasmith
The Windermere Women's Institute has yet another heritage feather in its cap, or should we say bonnet.
Last weekend a ceremony marked the re-opening of the heritage school house which is the Windermere Community Centre, home to the Women's Institute, Lion's Club and the Windeeford seniors group.
Reverend Peter Hill, and Mayor Susan Pryke were on hand for the ribbon cutting, as were representatives of the Trillium Foundation, who gave a modest $18,000.00 grant towards the establishing of an online archives facility for Windermere area. The Township of Muskoka Lakes funded the rehabilitation of the building, including creating a damp-proof environment for records in the basement of the hall.
The real heroine here is Barb Dutton, who is a third or fourth generation citizen of Windermere, with both maternal and paternal grandparents who were founders in the community. She led this project with other members of the Women's Institute, first to house the Tweedsmuir histories, but also to create a centre where other records could be protected.
The Trillium fund paid for computer and scanning equipment and the development of software and a website to showcase the collection.
Take a look, http://windermerearea.ca
Another heroic effort by citizen volunteers to preserve valuable community records. Hats off to the Women's Institute, who have been such an important force in recording and protecting Ontario history.
---
8. Good News from Cannington
Alison Bennie
On June 22, Council voted (unanimously ,and I think this is a first!) to move the
library to the old town hall. Community members get to keep the theatre space upstairs as well. It will be switched to a non-profit and we are electing our Board
of Directors the first week in July.
Editor's Note:
This will preserve the historic town hall, there had been some discussion of tearing it down and building a new facility.
---
9. Globe and Mail: Opinion Piece, Canadians Don't Know Their Own History
Marc Chalifoux and J.D.M. Stewart
Canada is failing history
To function in a modern democracy, citizens must understand the country's past. We must teach them.
As high school students across the country sit to write their final examinations this month, Canadians may be shocked to discover that few of them will be tested on what they know about Canada's history.
For more than a decade, the Dominion Institute has commissioned surveys chronicling the national malaise about Canada's history: Four in 10 Canadians cannot name our first prime minister or identify the year of Confederation. Young Canadians often know even less about our country's past than their parents or grandparents.
The Dominion Institute decided to find out what exactly was required of high-school students in Canada when it comes to learning about the country's past. What events, people and themes are they required to learn in our nation's classrooms? What skills are they expected to acquire?
---
10. Globe and Mail: Review Art Deco Toronto
Dave LeBlanc
A Tour through Art Deco Toronto
Tim Morawetz stands on the steps of the Mayfair apartments on Avenue Road in Toronto. After a lightning session pointing out the traits that place this handsome building firmly in an earlier period of art deco than neighbouring buildings up on St. Clair - strong verticality, piers with multiple planes and low-relief carvings of Jazz Age owls, lotus buds and sunbursts - he cranes his neck to take a closer look at one of the lighting sconces that frame the doorway.
"Look" he says, pointing to a mounting bracket that passersby and, likely, building residents never see. Here too, there is a flourish, a detail that evinces a brain rather than a machine was behind the design. "Deco went from the largest, broadest detail about the building design right down to the most subtle detail," he says, clearly pleased.
And so, too, does his new self-published book, Art Deco Architecture in Toronto: A Guide to the City's Buildings from the Roaring Twenties and the Depression (Glue Inc., 2009). It takes a wide view of the style while drilling down to the smallest detail and, as such, it's a feast for armchair architourists and urban walkers alike.
---
11. Toronto Star: Regent Park
Christopher Hume
New Regent Park revitalizing neighbourhood

Toronto Star
The rebuilding of Regent Park shows the city at its most ambitious. The goal of this bold experiment is nothing less than the remaking of an entire neighbourhood.
Ever since the vast housing project was launched in the late 1940s, it has been controversial; though based on the most progressive ideas of the time, it didn't turn out quite as planned. Utopias never do. And this one, inspired by notions of up-to-date living conditions, shared green space and urban separation, became a ghetto of sorts, the kind of place only residents entered.
Not surprisingly, the area surrounding Regent Park has always felt like a no man's land; the almost complete lack of amenities – retail or institutional – further exacerbates the sense of disconnection.
---
12. Toronto Star: Yet another idea about the Gardiner
Vanessa Lu
Don't pull down Gardiner, green it up, architect says

from the Toronto Star
Call it the ultimate "green roof."
The Gardiner Expressway – the city's key commuter route into downtown – could simultaneously become a centrepiece park with the addition of a plant-covered upper deck as envisioned by a Toronto architect.
Similar to westside Manhattan's scenic – and instantly popular – High Line Park, which opened this month along the path of an old railway track three storeys above street level, Toronto's elevated expressway could offer a unique enhancement to the city's downtown, says Les Klein, founding principal at Quadrangle Architects.
"I've been appalled at the sheer folly of taking down the Gardiner," Klein said before yesterday's speech at the ideaCity event, where he unveiled his dream. "It's about thinking innovatively, keeping it, adding on to it, renovating it, and renewing it
"That's the fundamental part of the organic growth of cities."
His idea, dubbed the Green Ribbon, calls for the addition of a level about 8 metres above the highway's elevated section, from Dufferin St. to the Don Valley Parkway. Columns would be added to the side to anchor the new level, which would become a linear park stretching for 7 kilometres. Estimated costs range from $500 million to $600 million.
Editor's Note:I served on the Gardiner Lakeshore Task Force for 15 years, for about 10 as co-chair to Jack Layton, Dan Leckie and others. Over that time we saw so many schemes. At the end of the day I concluded that unless Council commits to a significant reduction in the number of cars in the city, any scheme to re-organize traffic in this corridor is an exercise in "moving the ugly bit around". However organized it is just too many cars to deal with in any kind of pedestrian or bike friendly environment. Les Klein's scheme requires a complete rethink of the role of cars in Toronto, and it is time we did just that. If we make that commitment, then we can think about what to do with the structure....other suggestions include a bikeway, a transitway, combined with park????
---
13. Azure: Arthur Erickson Obituary
Arthur's Legend
In another life, Arthur Charles Erickson might have chosen writing or drawing or philosophy or painting as his vocation. As it happened, he chose a field that embraced them all. Growing up in Vancouver, he spent his late adolescence as a precociously young participant in the fireside conversations of artists and architects: Lawren Harris, B.C. Binning, Richard Neutra and others who were nurturing an emerging West Coast culture. On one such evening, the young Erickson asked Neutra if he knew of any university that taught architecture as an art. Neutra told him if that's what he wanted, he should study engineering instead.
---
14. Alliston Herald: Heritage park proposed for Banting Homestead - study presented to council
Maija Hoggett
Sir Frederick Banting's homestead in Alliston could soon be known as the Banting Homestead Heritage Park.
A New Tecumseth commissioned study, which cost the town $50,000, recommends the site be used to maintain the heritage value of the homestead and tell the story of Banting and early 20th century rural life. It should also contribute to healthy-living practices and experiences and support the sustainability of farming through training and innovation.
The report will be up for discussion at tonight's (Mon., June 23) committee of the whole meeting.
Lord Cultural Resources put together the report, working alongside a town steering committee that includes council members, people from the community and members of the Banting family.
---
15. Barrie Examiner: Board opposes designation
BOB BRUTON
Questions raised whether Prince of Wales should be considered a heritage building
The public school board will officially take issue tonight with city designs to designate Prince of Wales school as a heritage building.
The Bradford Street school, scheduled to be closed following the 2009-10 school year, is to be put on the municipal register for heritage properties -- an important step in having it designated under the Ontario Heritage Act.
"If a demolition permit is applied for, we will get the information right away," Coun. Andrew Prince, chairman of Heritage Barrie, said of the register. "It will raise a flag."
But Holly Spacek, senior planner for the Simcoe County District School Board, will make a deputation to council tonight opposing the addition of the school to the municipal register.
In a June 18 letter to the city, Spacek said the board also opposes designating the former King Edward school on Bradford Street -- closed a year ago -- as a heritage building.
Both school buildings are more than a century old.
"The school board would oppose such a designation on the grounds that neither school contributes to cultural heritage value," Spacek said in her letter.
---
16. Brantford Expositor: Groups wants historic buildings kept in public hands
RICHARD BEALES
The fight to keep historic buildings in public hands continues for members of the South Dumfries Historical Society.
"There's a bunch spread out over the county, perhaps 11," says David Simpson, the society's past president and current treasurer. He mentions The Harley museum, Glen Morris hall and other community halls and centres, but the focus is on St. George Memorial Community Hall.
"We've concentrated on the memorial hall," he says, "partly because the museum's there and partly because we co-ordinated the plaque."
That plaque honours the woman who donated the hall to South Dumfries back in 1924. It reads: "Presented in the memory of Salem Griswold Kitchen by his wife. It was remodeled by the citizens of the community and is a memorial to the soldiers who fought in the Great War, World War II and Korea."
It is the association with veterans, in part, which has community members upset with a County of Brant plan to designate it as surplus, thus paving the way to a potential sale.
The future of another building in the village is also at issue -St. George Old School.
"The old school has already been confirmed surplus," Simpson says, "but the memorial hall was given a six-month reprieve in May."
Simpson got an architect, Ian McGillivray of the Architecture Conservancy of Ontario, to inspect the building. The architect reported that it was in solid condition.
"And he had a local engineer, James Knight, prepare a report, as well.
---
17. Daily Commercial News and Construction Record: Cambridge, Ontario's city hall renovation preserves the past
DON PROCTER
Custom fabrication just one of projects challenges
Cambridge's historic City Hall is getting a makeover. Judging by the exterior condition of the 152-year-old building, one might think the project would be a straightforward one. The structure looks solid and the stone façade appears to be in good shape.
But renos and restorative work to the 16,500-square-foot heritage hall are not without their challenges, says project manager Jim Hughes of Kitchener-based PM Contracting Limited, the general contractor.
The project — the last of a three-phase Master Plan redevelopment — includes: revised entrances on the ground and second floor, including new stairs at the exterior of the five-storey tower that fronts the three-storey main building; relocation of elevator and new associated lobbies; new archive offices; a fully renovated third floor council chamber including an updated audio-visual network and restoration of all exterior windows. Throughout the building, original plaster walls will be restored where feasible
---
18. Georgina Advocate: Farm market sprouts to help restore old mill
L.H. TIFFANY HSIEH
A group of local residents is bringing back the farmers' market as a means to save and revive an abandoned historical site.
The Unionville Village Conservancy has one objective in mind: to restore the Stiver Mill on Station Lane and turn it into a Stiver Mill Cultural Centre . . . The restoration is estimated at $725,000, he said.
The Unionville Village Conservancy has launched a website for the restoration project. According to www.stivermill.com, the mill, designated under the Ontario Heritage Act as a significant industrial heritage resource within a heritage district, is suffering from years of neglect and is in dire need of cleaning, repairs and restoration.
The mill and property were bought by the town in 1993.
---
19. New Website for Sally Gibson
Sally Gibson
Sally Gibson, CAHP, has a new website and renewed interest in pursuing heritage consulting opportunities, especially in the areas of built-heritage research and site interpretation, but in any areas where her background would advance the projects.

If you are looking for a Toronto-based partner who is familiar with Ontario-wide resources, consider contacting her.

See also www.distilleryheritage.com for examples of previous work, including originally researched "heritage snippets" about various aspects of the history of the Gooderham & Worts National Historic Site, building histories for most of the 40-plus heritage buildings, a guide to Victorian industrial architecture at the distillery, and other interpretive materials.
---
20. Owen Sound Times: Arran-Elderslie fires CBO
Mary Golem, forwarded by Henry Simpson
Johnston says he's done nothing wrong
Arran-Elderslie has dismissed chief building official Craig Johnston, claiming he breached his contract with the municipality.
Reading from a prepared statement, Mayor Ron Oswald announced shortly after noon Thursday that Johnston was found to have breached terms of his contract relating to a prohibition on designing buildings for construction within the municipality and further for not advising the municipality of receipt of building permit applications for buildings which he had designed.
Johnston disagrees. In a press release sent to The Sun Times yesterday, Johnston said that as per the last contract signed July, 2007, he can
design buildings in Arran-Elderslie.
Johnston said he has done nothing wrong and is confident the court will agree.
Oswald said Thursday that Johnston's employment contract with the municipality stated he may not design buildings for construction within the municipality and if such a design is presented for a building permit, he cannot inspect the building.
On Dec. 12, 2008 and again on Jan. 15, 2009, Johnston, who owns Craig Johnston Design, an architectural design business in Owen Sound, stated in writing to the municipality that there were only two buildings that he could recall
having designed within the municipality. The one was the Paisley Medical Clinic, a project undertaken at the instruction of council, and one other project which was never built, said Oswald.
---
21. Peterborough Examiner: Council approves cemetery conservation plan
BRENDAN WEDLEY
A conservation plan to help preserve the heritage features of the historic Little Lake Cemetery got the endorsement of city council last night.
Council, sitting as committee of the whole, which means the item must go to a regular council session for approval, endorsed a conservation agreement between the city and the Little Lake Cemetery board of directors.
The plan stems from Little Lake Cemetery Company's proposal in 2005 to build a visitation centre at its cemetery next to Little Lake.
Public outcry buried the proposal and the company decided to build the centre at its Highland Park Cemetery after council rejected the original plan in November 2005.
For 160 years, the Little Lake Cemetery Co. has looked after that property, Coun. Henry Clarke said in support of the agreement.
"The place is immaculate, incredibly well preserved, incredibly well looked after and managed," he said.
Council considered imposing a heritage designation under the Ontario Heritage Act on the property instead of a negotiated agreement. Council decided against using its heritage designation power last year.
Little Lake Cemetery Co. established the non-profit cemetery in 1850. It is at the east end of Crescent Street on Little Lake.
---
22. SouthShoreNow.ca:Old courthouse wasn't without controversy
Lisa Brown
Two towns battled over 1893 construction
BRIDGEWATER - The new Bridgewater justice centre has been a long time coming, but the original courthouse wasn't without its controversies either.
Even before it was built, the Pleasant Street structure was a source of contention as Bridgewater and Lunenburg struggled for supremacy in the county.
Lunenburg had been the centre of government here since 1775 and did not want to lose that position to the growing Bridgewater. So when officials began discussing the need for a courthouse and jail near the end of the 19th century, a battle began.
---
23. St John Telegraph-Journal: Property Dexter home was at the centre of controversy between owner and the town of Rothesay
Reid Southwick
ROTHESAY - A heritage building that has been at the centre of controversy for years was torn down over the weekend.
A heritage house at 37 Gondola Point Road in Rothesay was demolished on Saturday. Demolition crews operating excavators razed what is known as the Dexter home, at 37 Gondola Point Rd., on Saturday. But the property owner did not have a demolition permit.
A town engineer and police officer appeared at the property at mid-morning to issue a stop-work order, said Dennis Murphy, whose wife is executor of the estate.
The order, obtained by the Telegraph-Journal, warned the town would seek a separate order with the Court of Queen's Bench if the property owner did not stop work and submit the required permits, including a demolition permit.
Murphy said he had planned on carefully removing historical pieces of the home, including old stone. But he said when the town delivered the order, he asked crews to quickly tear the building down.
"Had they not come rushing in with a stop-work order, we were going to remove it stone by stone because there is a fellow from Vermont who wants to rebuild the house," said Murphy, who would not identify the man, adding only the man wanted to rebuild the home in Vermont.
"But since they came in with the stop-work order, we had to bash it down as quickly as possible."
---
24. Stirling Community Press: At long last library gets its due
John Campbell
Campbellford - Like a book checked out a year ago and never returned, the designation of the Campbellford-Seymour Public Library as a heritage building was long overdue.
Not anymore. The building on Bridge Street West now bears a plaque declaring it a heritage building. Its addition was officially recognized in a special ceremony held June 18 attended by members of council and the Trent Hills Heritage Committee and library staff.
Mayor Hector Macmillan acknowledged the library's designation had been "long overdue" and he thanked the committee for "all the hard work" in making sure it came to pass.
Director of planning Jim Peters said ample research into the library's beginnings had been carried out when the library was expanded in the mid-1990s, but the initiative to have it designated "got lost" after Campbellford and Seymour Township amalgamated in 2000.
---
25. The School of Restoration Arts at Willowbank
a rare and beautiful 19th century estate
photo, Catherine Nasmith
Willowbank
National Historic Site . School of Restoration Arts . Foundation

At Willowbank, a rare and beautiful 19th century estate is the setting for an innovative educational and training program in heritage conservation. The two come together in a living, learning and working environment that celebrates the preservation of our cultural and historical legacy.

On the grounds and within the early 19th Century mansion, visitors discover restoration-in-action, as they view the site's rich archaeology, architecture and landscape undergoing research and treatment. The School's full-time program involves students and 50+ faculty members, and its educational outreach extends far into the community through lecture programs and conferences. Community events - from jazz festivals to a harvest ball, weddings to village picnics - grace the grounds today as they have for centuries.

Willowbank is open for tours May through August, and by appointment from September through April.

Through Friends of Willowbank, members can become involved in Willowbanks rich and varied activities. Volunteers help plan and organize events, participate in site activities such as archaeology and landscape restoration, and contribute in other ways related to each person's interest and talents.

To learn more about membership in Friends of Willowbank, Fall/Winter Lecture Series or Willowbank's academic programs visit: www.willowbank.ca

Contact Info: 14487 Niagara Parkway, P.O. Box 212, Queenston. 905-262-1239,
email: willowbank@willowbank.ca
---
26. WOODSTOCK SENTINEL-REVIEW: Churches no longer heritage buildings
Hugo Rodrigues
Faith United Church's two facilities will no longer be designated as heritage buildings.
Council unanimously approved a request from the church's governing council to repeal the 1988 and 1996 bylaws that declared the exteriors of both facilities and the interior of one as deserving of heritage designation. The facilities are the former Chalmers United Church on Vansittart Avenue, built in 1928, and the former Central United Church on Riddell Street, built in 1875.
"The buildings are structurally sound, but require work on bricks, boilers and what not," the church council's Marg Murray told council. We cannot do nothing ... It is not a viable option for us to keep these buildings."
---
27. Canadian Press / Winnipeg Free Press: Masons battle harsh climate, massive stones in northern Manitoba fort restoration
Steve Lambert
For something that was supposed to be destroyed by the invading French military 227 years ago, and abandoned for most of the time since, the Prince of Wales Fort in northern Manitoba has proven remarkably resilient.
But even the sturdiest structures eventually need a little TLC, so Parks Canada is in the midst of a 10-year, $5-million effort to stabilize the massive stone walls of the fort, which once served as an icy militarized outpost of the fur trade in the northwest.
It's a mammoth undertaking. The walls of the fort run about one kilometre in length. They are made up of huge stones that weigh up to 2,700 kilometres each, stacked six metres high and a whopping 12 metres thick.
Complicating matters is the fact that the repair work can only be done during the two-month period when the area near Churchill is frost-free, to prevent new mortar from freezing as its sets.
---
28. Exchange Morning Post: Sale of Centre Block lands is another step in the revitalization of Kitchener's downtown
Editor
Soon after the draft agreement between the city and Andrin was tabled in April, some concerns were raised by downtown interest groups -- primarily around the length of time it would take to redevelop the heritage buildings at King and Young streets
KITCHENER - History was made Monday nightt when Kitchener Council voted in favour of entering into an agreement of purchase and sale with Andrin Investments Limited for the redevelopment of the Centre Block property in downtown Kitchener -- a fair deal that balances the interests of the city and the developer.
The Centre Block agreement allows the city to meet its objectives at a reasonable cost to taxpayers; while recognizing that, as a private-sector company, Andrin has the right to expect a return on their investment in the project.
---
29. Montreal Gazette: return to glory days
Jeff Heinrich

1985: Place du Canada, with Dorchester Square in the distance and the Sun Life Building in the middle. Photograph by: Gazette files, Gazette files
MONTREAL - Montrealers today know them as Dorchester Square and Place du Canada. For almost a century, it was all simply Dominion Square. Before that, it was the Cimetière Saint-Antoine (for Roman Catholics) and before that, on a much smaller plot of land, Shearith Israel Cemetery (for Jews). These days, just call it a big construction zone. Dorchester Square and Place du Canada whose threadbare lawns, rutted walkways and clunky picnic tables have blighted downtown Montreal for much of this decade are getting a major makeover. In all, $23 million of city and provincial money is being spent to upgrade the sister parks and restore a bit of the civic pride they once evoked in the heart of the metropolis. Not only will they return to the larger, original layout of a century ago no more car-friendly cut corners the two quadrangles will get new trees, new lighting, new granite walkways, new benches and flowerbeds, new fountains and a circular pond. Its not all a done deal. Restoration of the extreme northern end of Dorchester Square is in limbo, as negotiations continue between the city and owners of the palazzo-style Dominion Square Building that fronts the park and has part of its parking garage underneath. The city wants to reduce the four lanes of Dorchester Square St. to two, gaining yet more green space and allowing the construction of another vespasienne-style stone edifice to mirror the one already there. If all goes according to plan, Dorchester Square will grow in size by 20 per cent and Place du Canada by 10 per cent. Deadline for completion is the end of 2011. The digging has begun. Historically, this was once the largest public square in Canada, landscape architect Claude Cormier, a lithe figure stylishly dressed in black, said as he toured the site he designed with project manager Sophie Beaudoin. Their firm has been contracted by the city of Montreal as part of a consortium with Groupe Cardinal Hardy to redesign and revitalize the heritage site with respect. The parks havent been well kept-up for several years now, but all the elements are still intact for us to work with. Thats what we want to do: give back to the place the nobility it once had.
---
30. Waterloo Record: 42 Waterloo buildings make heritage list
Liz Monteiro
Kevin Coupal isn't against preserving heritage buildings.
The Waterloo business owner says some historical buildings are noteworthy and should be safeguarded but just not his.
Coupal is frustrated that his business, Capri Hair Salon and Spa at 52 King St. N., is now on a list of non-designated heritage buildings.
"It in no way, shape or form resembles the building it was,' Coupal told councillors at a meeting.
The salon is Georgian architectural style and was built in 1849. Coupal said his family has owned the business for 52 years and modernized the building.
Councillors voted in favour of creating a municipal heritage list of 42 non-designated properties. Of the total, 38 buildings were built on or before 1857, the year Waterloo became incorporated as a village, while four buildings have cultural value.
The registry is simply a recognition list and does not convey a heritage designation to properties, said Marg Rowell, former chair and current municipal heritage committee member. Owners will not be limited in the structural or cosmetic changes they make, she said.
---
31. Winnipeg Free Press: To preserve & protect
Alison Mayes
Author- historian Randy Rostecki wants Winnipeg to recognize and herald its architectural heritage
Randy Rostecki never got to see the most magnificent house that ever stood among the grand mansions of Armstrong's Point.
The huge, Norman Revival-style home of merchant, politician and philanthropist Andrew Bannatyne, built of limestone in 1883-85, was known as Bannatyne's Castle. It stood in baronial splendour on a river estate at 158 West Gate.
From 1899 to 1929 it was owned by the prominent Tupper family. Then it became Ravenscourt School, forerunner of today's St. John's-Ravenscourt, and then a convent.
The city seized the castle for taxes and demolished it in 1950 -- a year before Rostecki was born.
"It looked like a Scottish castle, but no one appreciated it," says the 57-year-old architectural historian, author of the new book Armstrong's Point: A History. "The city only wanted it to get the land."
The demise of Bannatyne's Castle helped plant the seeds for the heritage-preservation movement that arose in the 1970s. Rostecki, raised in the North End by Polish immigrants, has been one of the most passionate members of that movement.
---
32. Winnipeg Free Press: Unique white knight for heritage - Self-storage firm using an old gem in Exchange
Martin Cash
One of the newest businesses in downtown Winnipeg presents an interesting study in creative usage of the beautiful yet awkward heritage buildings of the Exchange District -- self-storage.
Adelaide Mini-Storage opened earlier this year in an 80-year-old, four-storey, 44,000-square-foot, brick and stone building.
It features more than 350 self-storage units of varying sizes throughout the four floors.
The metal storage units fit perfectly in the 10-foot-high ceilings and airy, well-lit space as if the building was constructed for just this purpose.
The fact it is located in the downtown heritage district gives it the added cachet of being part of the ongoing renaissance of downtown.
"We have destroyed so many of our old downtown buildings it's about time someone came up with a way to utilize one of these old buildings in a helpful way," said Gwen Pasveer, who along with her husband, Glenn Tewnion, is managing the business.
The building started its life as the Adelaide Street Stables for City Dairy & Silverwood Western Dairies.
---
33. Associated Press: Iconic skyscrapers find new luster in green tech
CHRIS KAHN

The Christman Building in Lansing, Michigan, recently received two LEED Platinum ratings. SmithGroup designed the project, a renovation and restoration of the 1928 Mutual Building. Photo: Gene Meadows, Meadows & Co. Photography
NEW YORK - When owners of the Empire State Building decided to blanket its towering facade this year with thousands of insulating windows, they were only partly interested in saving energy.
They also needed tenants.
After 78 years, Manhattan's signature office building had lost its sheen as one of the city's most desirable places to work. To get it back, the owners did what an increasing number of property owners have done — they went green, shelling out $120 million on a variety of environmental improvements, a move would have been considered a huge gamble a few years ago.
Buildings that define city skylines across the country, some national icons, are catching up to the sleek, new structures designed with efficiency in mind, as property owners and managers become convinced that a greener building now makes financial sense.
That's because in recent years environmental retrofits have begun to pay off for owners and tenants alike. Higher-profile companies are seeking out more efficient office space, and new technology at older buildings has started to translate into higher property values, leases and occupancy rates.
"In a good market, we're going to get the best rents for the best tenants," said Anthony E. Malkin, who leads a real estate group that owns the Empire State Building. "In a bad market like we have now, we're going to get tenants when other buildings won't."
Renovation specialists around the country have been plugging porous walls in numerous old buildings, adding high tech water systems and using recycled material in carpets and tile.
One of them is the Christman Building in Lansing, Mich., an 81-year-old Elizabethan Revival office that's listed on the National Register of Historic Places. While repairing the limestone exterior and preserving unique details like the mica light fixtures, the building owners spent $8.5 million to add water-efficient plumbing and increased the amount of natural light. They also capped the building with a reflective "cool" roof.
Chicago's Sears Tower announced late last month that it will embark on a five-year, $350 million green renovation. The 110-story, staggered skyscraper, which turned 36 this year, will crown its rooftops with solar panels, wind turbines and up to 35,000 square feet of sunlight-absorbing gardens.
When complete, the improvements will cut the tower's annual electricity use by 80 percent and save 24 million gallons of water, property managers say.
Building owners trumpet their environmental commitment when extensive modifications are made, yet in many cases those changes are being pushed by tenants.
Many high-profile tenants won't even consider moving into a property without the U.S. Green Building Council's Leadership in Energy and Environmental Design (LEED) certification, said Allan Skodowski with Transwestern management group. They may not even know what the certification means, he said, but they demand it nonetheless.
"They say 'We want LEED,'" Skodowski said, "and that's it."
---
34. Chicago Sun Times: Celebrating Daniel Burnham
Dave Newbart
New angles on Burnham
The two pavilions on display at Millennium Park this summer are designed "to have a global effect' on future architecture, as one pavilion designer says.
But both structures also look to the past -- namely to Daniel Burnham's Plan of Chicago, the visionary document that guided Chicago's growth and celebrates its centennial this year.

The pavilion designed by Amsterdam architect Ben Van Berkel, which he says was inspired by Frank Lloyd Wright, incorporates the diagonal streets prominent in Daniel Burnham's 1909 plan, in a three-dimensional sense.

The two "Burnham Pavilions,' designed by world-renowned architects, go on public display today through Oct. 31. They are part of a yearlong celebration of Burnham's plan, which includes lectures, symposiums and tonight's world premier of "Plans," an orchestra and chorus based on the work.
Editor's Note:There are many different exhibits and celebrations of Daniel Burnham this year, the 100th anniversary of Burnham's great City Beautiful plan for Chicago. For a bio http://www.architechgallery.com/arch_info/artists_pages/daniel_burnham_bio.html
---
35. Globe and Mail: Prince Charles and Lord Rogers Clash over London Redevelopment Project
Doug Saunders
Charles in charge

From the Globe Website
Britain's leading architect cries constitutional crisis as the Prince quashes his plans for a modern neighbourhood
Lord Richard Rogers is the architect who brightened Europe's cities with such landmarks as the Lloyd's Building and the Millennium Dome in London, the Pompidou Centre in Paris and the new Madrid airport terminal. Until this week, he was to design London's newest and greenest housing project.
Prince Charles is the son of Britain's head of state. He is a sworn enemy of contemporary architecture, the head and founder of an architectural organization and a man known for sending long, handwritten letters to cabinet ministers and fellow monarchs in order to get his way.
When this unstoppable force of architecture and urban planning collided with this immovable face of hereditary rule this week, something resembling a constitutional crisis exploded over London.
It was revealed Tuesday that Lord Rogers, who has spent 21/2-years designing a $6-billion neighbourhood of condominiums and affordable-housing apartments on the site of the Chelsea Barracks in West London, had been booted off the project after the Prince lobbied Sheik Hamad bin Jaber Jassim al-Thani, the project's financier and a member of the Qatari royal family.
---
36. New York Times: Streetscapes - Former Garages - A Mansion for Me, Another for My Cars
CHRISTOPHER GRAY

Garages of New York - In 1927 Kahn completed a garage, designed by Gilbert, for 10 automobiles at 422 East 89th Street. This is how the garage looked in 1939.Photo: Office for Metropolitan History
THINK of them as the poor relations of the big Fifth Avenue mansions: the garages, often built simultaneously and in complementary design by the same architects. There are three such pairs still standing, and although the mansions have survived intact, two of the three ancillary structures have been radically altered with added floors.
Now the third, the 1917 Willard Straight garage at 162 East 92nd Street, is also gaining floors.
Andrew Carnegie, one of the richest men in the world, built his great mansion, now the Cooper-Hewitt National Design Museum, at 91st Street and Fifth Avenue, in 1902. He constructed his three-story Georgian-style "automobile house," as it was described in the building application, at 55 East 90th Street, at the same time.
Designed by Whitfield & King, the completed garage had space for five electric cars, with three charging panels, and a lift at the rear to allow the removal and replacement of the batteries. The 1910 census found eight people living there, including a footman and four chauffeurs. Five of the eight were of Scottish birth, like Carnegie, and one of these was 26-year-old James Hill.
Hill was a speed demon; in 1909 he was stopped for going 25 miles per hour in a 15-m.p.h. zone on the Grand Concourse. His bail was set at $100. Carnegie, who was in the car, emptied his pockets, but could not come up with enough cash. According to The New York Times, he said he had "a house on 91st Street which he would pledge," and Hill was released.
Otto Kahn began work on his great palazzo, across 91st Street from Carnegie's, in 1914. The house, designed by J. Armstrong Stenhouse and Charles P. H. Gilbert, is now owned by the Convent of the Sacred Heart.
It's not clear where he first kept his cars, but in 1927 Kahn completed a garage for 10 automobiles at 422 East 89th Street. Kahn retained Gilbert again for what resulted in a reserved, even tepid, design, especially compared with his suave limestone mansion.
The 1930 census taker recorded 12 people in the Kahn garage, including a groom and four chauffeurs who were born in that apparent cradle of drivers, Scotland.
---
37. New York Times: Streetscapes - The Guggenheim Museum
CHRISTOPHER GRAY
Fifth Avenue Shocker: The Building Wore Red

The Guggenheim Museums That Never Were - In January 1944, Wright described his choice of color and material as "Exterior: Red-marble and long-slim pottery red bricks."

The Guggenheim has been repainted several times over the years. The exterior of the Guggenheim, with the paint removed, in 2005.
FRANK LLOYD WRIGHT made his name as an architectural revolutionary, but in the case of the color of his 1959 Guggenheim Museum, he started out waving a flag of red, but ended up with PV020 Buff. The 50th anniversary exhibition now on view will surprise anyone who thinks the spiral is the most startling aspect of his design.
Historically, New York's colors have been red brick and the white and buff of marble, limestone and, in the 1960s, glazed brick. Indeed, we often complain bitterly when someone violates the norm. Thus, the 1962 blue-glazed brick apartment house at Madison Avenue and 65th Street was a target of indignation, as if the ubiquitous white glazed brick was somehow preferable. The building became brown in 2004, ending the argument.
Although most attention focuses on Wright's shapes, he had a strong sense of color. He wanted the concrete of his 1937 house Fallingwater, in southwestern Pennsylvania, to be gold-leafed, and the Fallingwater Web site, www.fallingwater.org, describes "his signature Cherokee red."
Anyone who visits Wright's Johnson Wax Building in Racine, Wis., comes away with the warm orangey glow of the same color, which is also used for the floors and furniture.
Hilla Rebay was the art adviser to Solomon R. Guggenheim, the mining entrepreneur, and in 1943 she approached Wright to design a museum. Several of the architect's early proposals are shown in "Frank Lloyd Wright: From Within Outward," organized by the Solomon R. Guggenheim Foundation and the Frank Lloyd Wright Foundation, and on view at the museum through Aug. 23.
Dating is uncertain for many of the early drawings, but in 1944 Wright proposed a polygonal structure, partly in blue. He also made designs in pink, peach, red and a sort of ivory. These are illustrated both in the exhibition and in Bruce Brooks Pfeiffer's new book, "Frank Lloyd Wright, Complete Works 1943-1959," published by Taschen and the first of three volumes.
---
38. TheArtNewspaper.com: Fate of historic Scottish houses under severe threat
Gareth Harris
Concerns over collections as National Trust for Scotland closes three properties

Hill of Tarvit Mansion house Fife
London. The future of one of Scotland's most prestigious mansion house collections, belonging to Hill of Tarvit near St Andrews, is in doubt following the decision by its owners, the National Trust for Scotland, to recently close the property (28 June).
The turn-of-the-century residence is one of three important Scottish National Trust properties—along with the famed Glasgow landmark Hutchesons' Hall (1802-05) and Leith Hall in Aberdeenshire (1650)—forced to close their doors as part of a cost-cutting exercise at the troubled conservation organisation which safeguards 130 sites.
When asked if the collection could be transferred to the ownership of another public institution, be sold or dispersed, a Trust spokeswoman responded: "We are currently considering options for the future care and conservation of the collections at [the three] properties which will be closed to the public."
---
39. TheArtNewspaper.com: Historic Dutch country house at risk
Giles Waterfield
Government plans to punch route through middle of 300-year-old estate

Kasteel Amstenrade
Aamstenrade. An important historic house and estate in Amstenrade, a small, semi-rural village in Limburg, the most southern province of the Netherlands, is under threat from a proposed motorway cutting across the province.
One of the few important country houses surviving in private hands in Limburg, Kasteel Amstenrade was built in the early 1780s on the site of an earlier castle, to the design of a Liège architect. The patron died before the house was finished, and one wing, and a second tower, were never built, but the interiors were sumptuously completed, a rare example of a late 18th- and early 19th-century Dutch interior. Notable are a striking entrance hall, a dining room with painted Arcadian scenes, and a floridly decorated Chinese bedroom. The charm of the house is enhanced by the early 19th-century garden, with its winding paths and original garden buildings.
---
40. TheArtNewspaper.com: Venice's Accademia Bridge to be redesigned
Rachel Spence
The city council aims to provide access for the disabledbut refuses to contribute to the ¬5m cost
Venice. The city council has announced plans to redesign the Accademia Bridge, next to the eponymous art gallery, to provide access for the disabled. But architects and construction firms bidding to undertake the project will also have to prove they can raise the sponsorship to finance the work; the council will not make any contribution to the estimated €5m costs.
Restoration of several other historic monuments through the use of sponsorship has already divided opinion, with the sight of the Ducal Palace and the Bridge of Sighs covered in hoardings, advertising the sponsors, causing dismay.
Editor's Note:Note: for more on the 1932-33 "temporary" wooden bridge designed by Eugenio Miozzi see, http://www.italyheaven.co.uk/veneto/venice/accademia-bridge.html
---
41. Victoria Times Colonist: Developer wants to raze rental building from 1800s
Bill Cleverley
Victoria land use committee opposes new condo plan - The apartment building at 1082 Richmond Ave. was built in the late 1800s for St. Michaels University school
Victoria's new planning and land use committee is recommending against a plan to bulldoze a 1800s-vintage Rockland rental apartment building to make way for new condos.
"I will not be supporting it when it comes to council," said Coun. Pam Madoff, who chairs the city's new planning committee.
"We've fought so hard to find mechanisms to preserve rental housing and discovered that the tools are just not available to us. So all I can do in terms of living with myself is not enable developments that take away rental housing," she said.
Although the proposal meets existing zoning requirements, Abstract Developments Inc. needs a development permit in order to demolish the five-suite Richmond Court Apartments at 1082 Richmond Ave. to make way for a 12-unit condo project. The company is seeking some minor variances in setbacks and site coverage.
---
42. Who is the Architect of the Bowmanville Boys Training School
Catherine Nasmith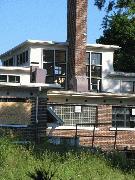 Clerestory Windows, 1925

See story, Architectural Conundrum for more information.
---