Issue No. 152 | December 2, 2009
1. Is Anyone Going to Defend the Views of the Legislative Assembly?
Catherine Nasmith

Impact of 44 storey tower from Queen St. The current proposal is shorter but still would be visible in this view.

Postcard View of Queen's Park, taken from north of College Street
If ever there was a case of a provincial interest in a municipal planning matter it is the case of the proposed development at 21 Avenue Road, the site of the Four Seasons Hotel at Avenue Road and Yorkville. Tall buildings in this location would appear directly behind the roofline of the Legislature, destroying the visual integrity of a carefully conceived vista that has been enjoyed for over 100 years.

Almost two years ago in an article entitled, Who Defends the View of The Ontario Legislature? http://www.builtheritagenews.ca/newsletter_archive/38.html#9 (Built Heritage News Issue 110, article no 9) I posed a number of questions regarding the need to protect the views of the Legislative Assembly from several overly high development projects proposed in the area to the north of the Legislature.

Sadly the answer to the question seems to be no-one, at least not yet. The protection this view once had through City of Toronto planning instruments was eroded in the post amalgamation Official Plan. The Office of the Speaker controls what happens in the Legislative Precinct but does not have jurisdiction outside it.

21 Avenue Road, an application by Menkes Development, (Architect Peter Clewes), for a mixed-use development with tall condo towers, reached the OMB this week. I attended the meeting to register the Architectural Conservancy of Ontario as a participant in the matter. The Speaker of the Legislature, represented by assistant Maggie Head, also requested participant status.

The City had been expecting a representative of the province, through the "one window" system of response. A week before lawyers for both the Ministry of Culture and the Ministry of Municipal Affairs Ministries had been lining up their case, but did not appear.

That left the City lawyer holding the bag as the only party defending the views of Queen's Park, but without final direction from Toronto City Council to do so. The OMB deferred the matter to a second pre-hearing on February 1st in order to give Toronto City Council an opportunity to take a position on the proposed development.

Since the proposal for a 44 and 46 storey tower was last at Community Council, a Heritage Impact Assessment has been undertaken by Archaeological Services Inc.(ASI) with international heritage expert Herb Stovel as senior project manager. The ASI report recommends a number of things, including "protecting the highest level of visual integrity of significant views associated with the Queen's Park Cultural Heritage Landscape" and the gradual reversal of existing intrusions into the viewscape, It also recommends the City and the Province work together to develop protection, including designating the Legislature under the Ontario Heritage Act.

So far, the position of provincial lawyers is that the Ontario Heritage Act prevents either the Minister or the City from designating property owned by the Crown, so it is not clear how that much needed protection will be established. The issue is not a threat to the physical fabric of Queen's Park, but to its symbolic presence, much more subtle and complex to protect.

Many places in the world have such protection, including views of the Ottawa Parliament buildings. Picture the Presidential inauguration, the procession to the Capital with a condo tower sticking up behind it….impossible! That is exactly what could happen to Ontario's democratic symbols.

Even though all of the bureaucracy at both the City and the province are strongly in favour of establishing such protections, it is not yet clear if any of the political masters will actually step into the breach to make it happen.
---
2. Schools are not Garbage: ACO and CHO meet with Kathleen Wynne, Minister of Education
Catherine Nasmith

John Campbell School Windsor, saved after massive citizen effort
How do we get different answers? That was the first question that came from Kathleen Wynne, the Minister of Education to Paul King, president of Community Heritage Ontario and I as, Past President of the Architectural Conservancy of Ontario at a meeting last week to discuss Ontario's disappearing school buildings. Mike Jancik, Director of Policy accompanied Ms. Wynne. Paul King and I came away from that meeting impressed by the Minister's interest in reducing losses and her understanding of the issues.

The conversation with the Minister began with a discussion of why it Is both a false economy, and poor environmental conservation to demolish--no matter how green the replacement building. We stressed the value of conservation of existing resources, and suggested that current Ministry of Education practice, like many in the society at large, has tended to favour new over existing. We noted that the heritage movement is not just interested in conserving buildings with cultural heritage value, but in promoting a conserver society in which more than just the "pretty ones" are saved.

Even though many of the final decisions are made at the local level, there are Ministry of Education practices that push decision makers towards demolition. For example, if on review the cost to repair is 65% of the cost to build new, the system favours building new.

We pointed out that one of the reasons repair costs are high has been chronic underfunding of repairs. Years of deferred maintenance, combined with the need for once in a century repairs, such as re-pointing of heritage masonry, are distorting costs to retain existing buildings. If the repairs are done, the old building will outlast several generations of new buildings. If new schools had to be built to last as long as the old ones, we would soon see the cost benefits of conserving our existing buildings.

We were pleased to hear from Mr. Jancik that over the past few years the Ministry has put 400 million towards dealing with the maintenance backlog.
There are two articles in this issue of Built Heritage News describing the imminent loss of the Brighton Public School, a fine solid red brick Edwardian School, which was declared prohibitive to repair. Its story is being repeated around the province because of condition reviews undertaken by engineering consultants during the Harris era. In many cases the reviews, undertaken by consultants with inadequate experience working with older structures, have indicated costs that seem wildly inflated to heritage developers.

To answer the Minister's first question, we suggested getting a second opinion from a member of the Canadian Association of Heritage Professionals before condemning a building, and raising the threshold from 65% to equal or greater than the cost to build new.

Another practice that is leading to losses is that when a school has to be closed because of consolidation, or declining enrollment, school boards are expected to get full market value for the redundant properties. Even though public agencies must be asked first if they want the property, there are no discounts to encourage the retention of public property in public ownership. In some cases the municipality is being asked to buy back property that it had originally donated to the school board.

Another problem is that whether or not a school is protected from demolition in this process is left to the individual municipality. It is often difficult for the local Council to stare down the local school board when it is resisting a heritage designation. ACO and CHO suggested asking the Ministry of Culture, perhaps through the Ontario Heritage Trust, to conduct a survey of existing school buildings to identify those with cultural heritage value.

Minister Wynne noted that In cases where a school has been declared redundant, but could be put to other community uses, other community partners must be found. We noted a very successful example in northern Halifax, Imagine Bloomfield http://www.imaginebloomfield.ca/ where a redundant school has been rented out to community groups and artists and is starting to become the 401 Richmond of Halifax. The income from rentals has been able to cover some of the costs of retaining the buildings in public use, thereby allowing for the possibility of a future return to school use.
The successful retention of the historic John Campbell school in Windsor is a good news story, but only because of huge public pressure. We suggested that earlier, broader community consultation might generate innovative thinking on retaining buildings.

While the Minister could not make any promises, it was clear she would like to find ways to prevent losses. We were pleased to have had the opportunity to arm the Minister with new questions for the bureaucracy. We can only hope that she will start to get different answers.
---
3. Bigwin Inn Tea House Restoration
Lake of Bays Association Newsletter
The Bigwin Tea Room is being restored to serve members and property owners of the Bigwin Island Golf Club. This unique octagonal stone building is one of the original structures of the old hotel and features the Arts and Crafts style and beautifully crafted stone fireplaces that signify the classic Bigwin look. Situated just east of where the Rotunda once stood, the Tea Room originally served as a daytime restaurant for light lunches and an ice cream parlour. When the Rotunda was demolished last year, care was taken to preserve several of the stone fireplaces as landscape features within an outdoor area now called the Rotunda Gardens.
According to Dave Smith, vice president of Bigwin Island Golf Club, plans are being considered to connect the Tea Room and the Rotunda Gardens with landscaping, creating a new indoor-outdoor venue for special events. The project has required extensive repairs to the roof and interior, but it will be worth it, says Smith. Preserving this building is a wonderful way to highlight the heritage of the
Bigwin facility.
---
4. Investment in Rail History Tourism in St. Thomas
Nancy Mayberry

Exterior south-east coner of the Elgin County Railway Museum, 2008, Courtesy Elgin Tourism Services
The devastating blows to the St. Thomas economy has encouraged the strengthening of cultural tourism related to the city's railway heritage. Infamous as the city that stood by as Alma College suffered demolition by neglect and destruction by arson, the municipality is working hard to keep what is left. St. Thomas is now involved in acquiring railway lands and assisting the Elgin County Railway Museum (ECRM) in negotiating the purchase of their building from CN. Purchase of the property is imminent.
Built in 1913, and known as the Michigan Central Locomotive Repair Shops, the building is impressive. Located in the downtown core, and close to existing tracks, it has a total of 58,400 square feet. That is almost 3 times larger than its close neighbour, the Canada Southern Railway Station, also under restoration by its owners, the North America Railway Hall of Fame, (NARHF). The ECRM houses an impressive array of large rolling stock, a steam engine, diesel engines, baggage and passenger cars, troop cars, box cars, and cabooses to name a few, all lovingly restored by volunteers. A large model railway is a faithful historical replica of the railways in and around St. Thomas and Elgin County in the fifties.
A Public Survey Analysis administered to over 173 respondents from the rail community, funding, education and government agencies, found strong support for the acquisition of the current building. An astounding 90% preferred keeping the museum at its present site, rather than building new or moving. The reason most cited by the respondents was its historical significance and the heritage nature of the building, an artifact in itself. A committee had investigated alternate sites, given the fact the present building needs a new roof estimated at a million dollars, plus considerable updating to meet present-day fire, building and life safety codes. In fact, parts of the museum were shut down because of safety issues following the failure of sections of the roof. Several of the many small window panes have been broken by vandals giving the false impression the building is vacant and derelict.
The museum board has done its due diligence. For five years it has been running a Day Out With Thomas the Tank Engine event, the proceeds from which have been prudently invested for the future restoration. A five-year strategic plan has recently been completed and presented to the public at an open house. In partnership with NARHF, the plan was partially funded by the Ontario Ministry of Culture. Two years in the making, it includes the Public Survey Analysis, an operational review, and an architect's conception of the future museum. The architectural plans promise to maintain the integrity of the existing building and include the sentence "all new materials and finishes added to the building will be sympathetic to the historic structure."
A phoenix rising from the ashes of Alma?

---
5. Envisioning a New Future for the Old Thamesford Mill
Sarah Hill

Old Thamesford Mill c1898
The old Thamesford Mill, built in 1898, is a mysterious and imposing structure that dominates the streetscape in the little village of Thamesford, Ontario. It has lain forgotten and empty for some time, a reminder of a bygone era at the height of agricultural production and industry. Don't let its dilapidated façade or the boarded up windows fool you however. Behind the peeling paint, cobwebs and creaking floorboards lies a diamond in the rough, or so believes the Friends of the Thamesford Mill group.

Inspired by a recent dissertation written by local Masters Graduate Sarah Hill, the Friends of the Thamesford Mill are now looking to investigate the possibility of restoring the mill for a new use that will best serve the community. So many of our great heritage buildings fall into disrepair and are demolished when they are no longer fit for their original purpose, commented Hill. I've driven past the mill so many times and often thought it showed potential to be adapted for a new use. I'm glad that my work has been able to encourage others to think the same.

The Friends of the Thamesford Mill group, although newly formed, has been hard at work this past year to organize themselves as a registered charity and better understand what will need to be done to see the project through to completion. Activities have included discussions with the current owners, the Township of Zorra, and Upper Thames River Conservation Authority, as well as commissioning a base structural assessment. The evaluation, conducted in July by Thor Dingman, a representative of Architectural Conservancy Ontario, concluded that the Thamesford Mill was in sound condition and worthy of preservation. Overall, it was considered feasible to preserve or re-purpose [some of the] buildings for future uses.

The latest activity undertaken by the Friends group was a visioning session held at the Thamesford Library on November 12th. The event was considered a success, with 22 members from the community in attendance, including Mayor Lupton and representatives of the Hogg family (former operators of the mill). The meeting opened with a round of introductions and a summary of what the Friends group has accomplished to-date. Dave Whitney, Chair of the Friends group, said this evenings workshop was the first of what may be many public consultations as this project moves forward. The intention of the meeting was not to debate the merits of saving the building, but instead to find out how the public feels about the mill, what they would envision it becoming and how it could benefit Thamesford.

The session continued with a slideshow presentation by Dingman which highlighted areas of the mill requiring repair, restoration or removal, and gave attendees an insiders look at what the interior and exterior of the mill looks like at present. The remainder of the session was given over to Laura Dent of Dent Planning, who has been acting as an adviser to the group. Dent conducted a warm-up exercise to get the group thinking about how they felt about the mill. The results of the exercise were later reported and identified that the public saw the mill as having a part in Thamesfords economic development, having branding potential, and, most importantly, being of heritage value. The meeting then broke into 3 groups to discuss 4 key questions; how participants envisioned the revitalized mill looking, how the grounds surrounding the mill would look, what the building would be used for, and what use would best suit the interests of Thamesford. The meeting closed with an open discussion of outstanding issues.

Remarking on how the event went, Whitney said the dialogue created was both productive and constructive. Several excellent ideas were put forward and I think participants now have a realistic picture of where the mill is and where it could be in the future.

Information and feedback gathered at the meeting will now be analyzed and used to draft a visual representation of the mill and potential promotional materials. In the meantime, the Friends of the Mill group will continue moving forward with their work. Their next major milestone is a decision by the Ontario Trillium Foundation expected in early February on their recent application for funding to carryout a full options appraisal and feasibility study. Additionally, the Friends group will also be looking to generate further support from the community for their project.

The Friends of the Thamesford Mill group meeting regularly at least once a month. For further information on the group or how to join please contact Dave Whitney at oldthamesfordmill@gmail.com .
---
6. Successful revivals explored at pier evening
Ted Amsden
A shift in mindset can set the stage for change, a speaker told the Port Hope Centre Pier:A Capitol Evening of Informative Speakers on Thursday, Nov. 19.

Tim Jones is president and chief executive officer of Artscape, Toronto. It played a significant role in turning Toronto's Distillery District into a cultural, retail, commercial and artistic community. It was also central in transforming an abandoned streetcar property called the Wychwood Barns in Toronto.

Speaking to a more than half-full theatre at the Capitol Arts Centre, Jones spoke from the Distillery and Wychwood experiences as well as other observations based on community revivals involving creative re-purposing of derelict properties or rundown neighbourhoods around the world.

Before Jones' address, Chris Wallace briefly presented the situation of The Pier Group, including some timelines that indicated that hope for preserving buildings on Port Hope's Centre Pier could be maintained for well into the foreseeable future.

Wallace said The Pier Group, which has more than 400 members, is the largest organization in Port Hope.

Jones began his talk by with the suggestion that the best way to begin to solve the problem was ask what is the fundamental problem. Proper framing of the problem, he said, could be a catalyst for change.

Citing a bold solution for broad ranging civic improvement that occurred in Tirana, Albania where artistic painting of many city blocks helped to pull the town out of a massive civic funk, he pointed to a shift in mindset as the catalyst for change. Bold moves create ripple effects that inspire other areas, Jones said.

With confidence and ingenuity, solutions will come from the framework.

It's a mistake to simply see the Centre Pier buildings issue as an either/or case of buildings or park, Jones said. Redefine the word "park," he said. Maybe it includes buildings.

The regeneration should be culture led, Jones said.

He pointed out that the Distillery District was an overnight success and a tourism phenomenon, with the power of the culture to regenerate responsible for that.

With Wychwood Barns, the vision included affordable artist space, areas for organizational groups, open space for indoor growing of food, market areas and more.

From the success of the project, Jones drew five major points, including:

* a strong, compelling vision will attract investment, energy and promotion of the project * a critical mass of creative people is necessary for the project to succeed. Collective strength will carry the project. The collective will be the source of powerful ideas that are magnetic.

* the project must be diverse, both in organization and uses.

* collaboration is essential.

* develop capacity, which means investing the surrounding community in collective ownership of the success of the project. Money is not the problem but momentum and the creation of it.

Also speaking during the evening were Gord Hume, chair of the Ontario Municipal Cultural Planning Partnership and president of Hume Communications, and Port Hope resident Rod Stewart.

A question-and-answer period followed the speakers.

Master of ceremonies for the event was Gray Abraham.
---
7. New Heritage Act in New Brunswick
Government Press Release
FREDERICTON (CNB) - An act replacing two existing, outdated acts was introduced in the legislature today by Minister of Wellness, Culture and Sport Hédard Albert. The Heritage Conservation Act will replace the Historic Sites Protection Act and the Municipal Heritage Preservation Act.
"This new act will modernize and consolidate New Brunswick's legislation governing the conservation of heritage, and makes our legislation more consistent with other jurisdictions in Canada," said Albert. "Our built heritage, and our archaeological and paleontological heritages are shared by all New Brunswickers, and the government has a responsibility to ensure that these heritage resources are conserved today for future generations. The new Heritage Conservation Act will improve heritage stewardship throughout the province."
Heritage conservation is a shared responsibility in New Brunswick. The new act will incorporate the concepts of heritage under one statute that will be applicable at both the provincial and local government levels.
Many stakeholders were involved in the process of creating the new act, including local governments, heritage volunteers and professionals from around the province, and provincial departments and agencies.
"The department has also been engaged in discussions with representatives of First Nations during the development of this legislation, and is continuing the work of building on existing collaborative Aboriginal heritage conservation efforts," said Albert. "New provisions in the legislation specifically address objects and sites related to the cultural heritage of the Aboriginal peoples of the province."
The highlights of the new act are:
* clarification and strengthening of the province's ability to conserve heritage sites and objects by establishing the Crown as legal owner of heritage objects, and prohibiting the alteration of heritage sites;
* creating tools to help conserve fossil sites and burial sites outside of established cemeteries (no laws currently exist to prevent the destruction of these sites);
* improvements to the existing process of designating heritage places, including providing opportunities for public input, establishing a means for the public to nominate places having provincial significance, and establishing linkages to the provincial land registry for sites that are designated;
* increased fines for non-compliance with heritage conservation laws, making them comparable with those in other jurisdictions in Canada;
* expanding the scope of municipal-heritage authority to create bylaws, and giving municipalities more flexibility to tailor bylaws to community interests;
* providing a means to designate heritage places of local interest in unincorporated areas; and
* continuing to have the Assessment and Planning Appeal Board be the avenue through which appeals involving municipal heritage bylaws may be referred.
The new act will allow government to reach a level similar to other Canadian provinces regarding appropriate authority and measures to conserve and manage heritage resources.
Albert said that the Heritage Conservation Act demonstrates government's commitment to self-sufficiency, and that it is proof that New Brunswickers know future success comes with being respectful and proud of their past and their shared heritage.
09/11/18
MEDIA CONTACT: Elizabeth Joubert, communications, Department of Wellness, Culture and Sport, 506-457-6445
---
8. eyeweekly.com: Toronto Notes - The charade of facadism
Fan-Yee Suen
Citizens square off against condo developers over the fate of 251 King E.

Pretty soon, this wall may be all that remains of 251 King E.
Walking east on King, even on a sunny afternoon, it is easy to miss the little tawny-coloured building currently at the centre of public debate between developers and local residents. At only three-storeys high, the turn-of-the-century heritage building located at 251 King E. — with its dimpled bricks and corroded miniature pillars — is anything but noticeable. Shadowed by adjacent newer builds and add-ons, the neglected former hotel, which currently is occupied by the Aronovitch Macaulay Rollo law firm, faces a shaky future — a future supported only by its north and west walls, thanks to a convention known as façadism: the practice of demolishing an entire building, except for the exterior.
Used as a method for "saving" heritage buildings, façadism ignites a fervent debate among historical preservationists, many of whom oppose the practice on the principle that architecture is about more than just exteriors; it is a three-dimensional experience held up by archways, doorways, cornices and everything in between.
---
9. Globe and Mail: Downsview Hangar Issue Reaches Mainstream Press
ANTHONY REINHART
Heritage advocates seek new mission for historic Second World War hangars
From Friday's Globe and Mail Published on Friday, Nov. 20, 2009 12:00AM EST Last updated on Friday, Nov. 20, 2009 3:00AM EST
They went up quickly for the most pressing of reasons: to provide airplanes for the Allies in the Second World War.
In the process, the de Havilland hangars at Downsview became integral if inelegant symbols of a young country's best efforts in the global fight against fascism.
Now, the planned demolition of two of the hangars, later known as Buildings 55 and 58 at Canadian Forces Base Downsview, has spawned another urgent effort by heritage advocates: to pull back the wrecking ball, restore the buildings as landmarks and put them back into use.
Leading the effort is Paul Oberman, the Toronto developer whose deft conjuring of the LCBO's flagship Summerhill store from an old train station earned critical praise.
Mr. Oberman and his supporters won some breathing space this week when Defence Minister Peter MacKay called for "a temporary pause" in predemolition work to allow for a review of the decision.
"These buildings are interesting historically and culturally, and they are eminently reusable," said Natalie Bull, director of the Heritage Canada Foundation in Ottawa, adding that the hangars were federally designated as heritage structures in 1992. "So I think the real question is whether best efforts have been used in looking for alternative uses."
Captain Raymond Brown, a construction engineering officer with the Department of National Defence, said the military did just that, but "it was deemed to be more cost-effective" to demolish than to restore.
"The buildings were deemed a safety risk to both soldiers and the general public once sections of the ceiling began to collapse in pieces," Capt. Brown said, adding that the buildings contain lead paint and asbestos and are considered a health hazard.
Still, Ms. Bull said the federal heritage designation on the buildings demands that "best efforts" be applied to avoiding demolition - efforts Mr. Oberman said he is willing to support with his own money.
To his eye, the hangars could be put back to a use fitting with their past. "I've even offered to purchase them from DND, restore them and see that they're used for an appropriate use that's acceptable to them," he said.
---
10. Globe and Mail: Restoration of Automotive Building
Chris Atchison

Globe and Mail photo

Globe and Mail photo
Stanley Rogers has a lot of memories of the grand old Automotive Building on Toronto's Canadian National Exhibition grounds - memories that date back almost to the time the hulking structure was erected, in 1929.
He remembers when, as a carefree young boy, he "used to run through this building to see the cars."
And he remembers the time when, as a young man preparing to go off to war, he was housed here after the building became a barracks for HMCS York.
Stanley Rogers, 91, remembers when the building became a barracks for HMCS York. 'What they've done with the building is just unreal,' he says.
"My bunk was over in that corner," says Mr. Rogers, 91, pointing to a spot in the expansive corridor. "What amazes me is they've made it so bright. It was pretty dim when we were sleeping here."
The newly refurbished Automotive Building - now known as the Allstream Centre - once again gleams on the shore of Lake Ontario, a few kilometres west of Toronto's central business district.
The 1920s art-deco elements that make this building stand out have been painstakingly restored. But the $46-million, 19-month project was not only a revitalization of a crumbling heritage landmark. The structure has also been updated with 21st-century technological and environmental features that Exhibition Place hopes will earn it the title of "Canada's greenest convention centre."
---
11. Globe and Mail: Skating coming back to Maple Leaf Gardens
Elizabeth Church
Hockey in store for Gardens as Ryerson strikes deal

Maple Leaf Gardens Lit at night, Toronto Star Photo
The puck dropped on a new life for Maple Leaf Gardens this morning with the official announcement that the Toronto arena will be the home ice for Ryerson University and a Loblaw supermarket.
The deal will see the legendary rink transformed by the spring of 2011.
The new pact between the school and Loblaw Co. Ltd., owner of the site, includes plans for the long-dormant rink to become a new athletic facility for the space-starve campus, which will share the building with the grocery chain.
Under the terms of the arrangement, a grocery store will be built on the ground floor, with a recreation facility on the second storey and a new ice surface with room for 5,000 spectators on the third floor, under the Garden's storied roof. A volleyball and basketball court also will share the space on the top floor.
Editor's Note:Woohoo! A win for all -- Ryerson, Loblaw's, neighbourhood residents who want a supermarket, Canadian public and most of all Toronto skaters. God bless John Sewell and the Friends of Maple Leaf Gardens for continual work on this issue, and keeping the idea of ice at the Gardens alive.
---
12. Globe and Mail: Underwater Discovery in Klondike
Katherine O'Neill
The barge at the bottom of Lake Laberge

from Globe and Mail
A team of international archeologists hunting for a relic of the Klondike gold rush has hit pay dirt at the bottom of Lake Laberge, a dark and frigid Yukon waterway immortalized by Robert Service.
The A.J. Goddard, the first steamer ever to reach Dawson City, the hub of the famous gold rush, has been found in near perfect condition 108 years after it sank on Oct. 22, 1901.
While the search attracted experts from both Canada and the United States and funding from the National Geographic Society, an amateur underwater diver from Whitehorse is receiving a lot of credit for leading them to it.
Since the early 1980s, Doug Davidge, an Alberta native and Environment Canada employee, has been searching off and on for the A.J. Goddard in Lake Laberge, a widened portion of the Yukon River about 30 kilometres north of Whitehorse.
"A lot of this wouldn't have happened without his perseverance," said Jim Delgado, president of the Institute of Nautical Archaeology. The organization, which is based in Texas and Turkey, also helped with the hunt.
Mr. Davidge, who is the volunteer president of the Yukon Transportation Museum, is thrilled such an important piece of the territory's history has finally been located. "We had been searching in the right area ... but just missed it completely. That's the nature of the business," he said with a chuckle.
What makes the A.J. Goddard such a key find is that it's relatively intact, save its pilothouse that likely broke off when it sank during a storm.
While about 30 shipwrecks connected to the gold rush era exist in the Yukon, many are in poor condition or have been salvaged.
Mr. Delgado, a veteran nautical archeologist, said the A.J. Goddard is an invaluable "time capsule" from that colourful period of history, and numerous items from it have already been catalogued, including a coat, a pair of boots and tools.
Three people, including the captain, Charles MacDonald, died when the A.J. Goddard sank. They were buried by local police about three kilometres from the wreck site. Two crew members survived.
Mr. Delgado said little is known about the five men, and he hopes news about the shipwreck being found will generate new information about them.
The small iron sternwheel steamboat was built in San Francisco, brought to Alaska, and then dismantled so it could be hauled over mountain passes to Lake Bennett, where it was reassembled by May of 1898.
Later that summer, it was the first steamer to reach Dawson City at a time when thousands of would-be gold diggers were making the difficult journey to the northern frontier in hopes of striking it rich.
Mr. Delgado said Lake Laberge turned out to be a perfect grave for the A.J. Goddard, which was named after its first captain, because cold fresh water is ideal for preserving shipwrecks. "It's literally put on ice," Mr. Delgado said.
---
13. Toronto Star: Union Station Renovations
Paul Moloney
Union Station's big reno: Grin while you bear it

Toronto Star Photo
Union Station users should brace for a long haul as the $640 million renovation of the historic transportation hub gets going in spring. The work, including excavating a large new lower level to house shops and restaurants, will take until 2015.
Though it's a big project, it's not overly complex, said Graham Brown, president of Carillion Construction Inc., whose Vanbots division was named Tuesday as general contractor.
"Probably the biggest challenge ... is dealing with the 65 million people a year that come through this concourse, and making sure that life goes on as well as it has to date, during the period of construction."
Commuters will encounter lots of construction hoarding, Brown said. "We'll make that hoarding attractive, we'll try and make it amusing in places so people bear with us during construction."
---
14. Torontoist: The Opening of The Gardens
The success of Battle of the Blades has brought Maple Leaf Gardens back into the national spotlight. The show's mix of glamour and excitement fits some of the visions Conn Smythe had for the building when it opened its doors to the public seventy-eight years ago this week. Built in an almost unimaginable span of five months, the building that became a temple for generations of hockey fans is a testament to the executives who used their persuasive skills to raise the necessary funds during the Great Depression.
From the dawn of the National Hockey League in 1917, its Toronto franchises had called the Arena Gardens on Mutual Street home. By the late 1920s, its small capacity (eight thousand seats) and lack of amenities like reliable heating led Smythe to push for a new facility at any opportunity. Larger arenas in Chicago, Detroit, and New York allowed those teams to offer higher salaries to top players, which made Smythe fear that Toronto's limited financial resources would leave the team uncompetitive. He also felt the arena's drawbacks prevented a higher-quality clientele from attending games. As he told the Star's Greg Clark, "As a place to go all dressed up, we don't compete with the comfort of theatres and other places where people can spend their money. We need a place where people can go in evening clothes, if they want to come there from a party or dinner. We need at least twelve thousand seats, everything new and clean, a place that people can be proud to take their wives or girlfriends to."

---
15. Waterfront Toronto: Fly through of East Bay Front Neighbourhood Toronto
A new community: East Bayfront
Quite an impressive piece of computer animation....
---
16. www.theliberal.com / yorkregion.com: Town to pursue fines over observatory tree cutting
ADAM MC LEAN
The Town of Richmond Hill is throwing the proverbial book at Metrus, its sub-corporation and official landowner Corsica Development Inc., following last week's destruction of what was estimated by the town to be nearly 150 trees on the David Dunlap Observatory site.
Council decided last night that the town will pursue fines and penalties to the fullest extent possible in response to Metrus' actions during its archaeological assessment of the observatory's southwest field, which resulted in at least 17 fallen trees to be of a size that breaches the town's tree preservation bylaw.
Mayor Dave Barrow made the announcement Monday, which prompted a earty round of applause from those in the packed council chambers.

---
17. bigwinsteamboat.com: Restoring the Bigwin Steamboat
bigwinsteamboat.com
Bringing The Bigwin Steamboat Back To Life

Restoration Photo from bigwinsteamboat.com
"There was a time in the early 1900's when the world's elite travelled and experienced the beauty of Lake of Bays aboard majestic wooden steamships. The Bigwin [formerly the ferry of of the defunct Bigwin Inn] is the last of the original fleet of these steam ferry boats. This restoration project will return a precious part of our long lost [built nautical] heritage to the residents and visitors to Lake of Bays, enabling future generations to explore and enjoy our Lake of Bays the way our forebears did".

[San Franacisco's system of moving cable cars was designated as a National Historic Landmark in 1964. The fact together with the vibrancy of the heritage assets contemporary usage suggests the heritage value of protecting built vehicles and vessels in Canada, including the S.S. Bigwin.
---
18. Caledon Enterprise: Alton Mill gets National Achievement Award
Alton Mill awarded Heritage Canada Foundation National Achievement Award

View across pond to modern addition and historic mill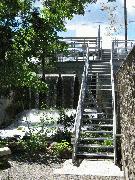 Fire Escape/Viewing Platform over waterfall
From a vision nearly 20 years ago, Jeremy and Jordan Grant's successful rehabilitation of the Alton Mill recently gained national acclaim by being awarded the Heritage Canada Foundation's National Achievement Award.

The Grants were recognized for their dedication to the rehabilitation and adaptive reuse of the historic Alton Mill, a municipally-designated heritage property. Town of Caledon Mayor Marolyn Morrison and members of Council echoed that commendation recently, congratulating the brothers for their successes and thanking them for their contributions to the community.

"Congratulations Jeremy and Jordan. You worked so very hard to have this project reach this level; it's just phenomenal," said Morrison. "Thank you for your time, effort and investment in the Alton Mill — and in Caledon."
The award was presented at a gala ceremony and reception as part of the Heritage Canada Foundation's annual conference.

The event was held at the Artscape Wychwood Barns, a recently-completed adaptive re-use project in Toronto. The Honourable David Onley, Ontario's Lieutenant Governor, presented the awards.

"The projects which were recognized were outstanding, and, I have to say, the Alton Mill is definitely of that calibre," Morrison added. "Yes, this is the big time, and you have certainly made it. What an honour to have been there."

Nominated by Heritage Caledon, the Town of Caledon's municipal heritage committee, the award was given jointly by the Heritage Canada Foundation and Heritage Caledon. In the nomination package, Mike Starr, Chair of Heritage Caledon, noted that since the restoration and revitalization of the Alton Mill, the property has once again become an integral part of the community. Not only did the restoration and adaptive re-use of the mill buildings adhere to the guidelines of a number of heritage regulations, such as those under the Standards and Guidelines for the Preservation of Historic Places in Canada, the Grants were also diligent in working with the local conservation authority to ensure that modern environmental regulations were met.

"By exposing and enhancing the character-defining heritage elements of the building, the restoration has achieved a balance between acknowledging the past and meeting the contemporary needs,"said Starr. "The mill now includes a variety of functional spaces, from artists' studios, galleries and workshop areas, to open-concept multi-functional spaces ideal for meetings, exhibits and concerts."
Editor's Note:Congrats to Jordan and Jeremy. I am very proud to have been the architect of this project. It takes a special kind of commitment on the part of owners to make such an investment....but the result is a very special place (if you will allow me to toot my own horn). The project also won a 2009 award of merit from the Canadian Association of Heritage Professionals
---
19. Church for Sale in Brigden
---
20. Community Press (Trenton): Divine intervention needed to save Brighton school
Jack Evans
Brighton – Unless some "angel" appears and puts up several million dollars, Brighton's historic public and high school goes under the wrecking ball within a few months.
Council Monday passed a resolution to "take no further action with regard to the use of Brighton Public School."
That resolution came from Brighton's Growth Management Advisory Committee.
Along with that, the committee also recommended that council discuss with the Kawartha-Pine Ridge school board that some architectural features of the historic school be used in the new school.
Background to the decision included data from a meeting between Brighton CAO Gayle Frost and school board officials which indicated that a study by the board in 2003 estimated costs to upgrade the old building "for required standards for continued use as a school" at more than $5 million, plus a further $2 million for fire alarm upgrades.
Frost suggested a round figure of some $8 million involved in making the old school usable for community purposes.
---
21. Northumberland News: Brighton School Toast
Bill Tremblay
Council abandons efforts to save Brighton Public School

Brighton School, BHN photo
Renovating school would cost $8 million
BRIGHTON - Brighton Public School will soon become a historical memory rather than a historical structure.
Council agreed to take no further action to find alternatives uses for the school during its meeting on Monday, Nov. 16.
"I think it is the death of it. It's sad to say that," Councillor Dave Cutler said.
The councillor had previously asked council to examine the possibility of a feasibility study with the Kawartha Pine Ridge District School Board to use the school as a cultural centre. The school board expressed no interest in partnering with the municipality to study possible joint uses for the building constructed in 1915.
Brighton was offered the opportunity to use the building if the municipality agreed to cover adaptation costs. An estimated $8 million is needed to upgrade the school to the required building standards.
"That figure scared (council) to death," Coun. Cutler said. "All the other statements around the withdrawal of funding and slowing down construction are total red herrings."
The Ontario government announced the school board will receive $5.4 million to construct a new Brighton elementary school in July. The school will be built on the current site.
"Think of the generations of Brightonians who went to school there," Coun. Cutler said. "I'm surprised the community hasn't reacted to the fact it will be demolished."
Coun. Cutler said he accepts council's decision and won't try to "force his values" on Brighton residents.
"I guess I have to accept in a lot of cases (Brighton residents) are not too concerned about actually preserving the built heritage," Coun. Cutler said. "I guess not every community is dedicated to that."
With the exception of Coun. Cutler, all of council agreed to no longer pursue alternatives to demolition for the school.
"It's one of the toughest decisions this council has had to make," Mayor Chris Herrington said.
Editor's Note:I don't know what the basis is for the estimate to repair. I wonder if it was done by a member of the Canadian Association of Heritage Professionals.
---
22. Northumberland Today: Appeal to consider preserving Brighton Public School fails
JOYCE CASSIN
The fate of Brighton Public School is in the hands of the Kawartha Pine Ridge District School Board after Brighton council voted November 16 to stand by and watch another piece of Brighton's heritage be demolished.
Coun. Dave Cutler wanted council to take another look at preserving the school, but the rest of council was against him.
Cutler told council he realized it would be an enormous challenge, but Victoria Hall in Cobourg could have suffered the same fate had members of the public not interfered -and now Victoria Hall is a beautifully restored heritage building.
---
23. Northumberland Today: Pier Group a team effort
Chris Wallace, Co Chair Pier Group
I very much appreciate Dan Christie's editorial on Thursday, but I'm afraid that Dan is giving me more credit than I deserve. The Pier Group is made up of many more highly qualified people.
Yes, I'm an architect. Yes, I have a life-long commitment to heritage architecture, and I'm certainly familiar with the projects mentioned. But most of my hands-on heritage experience has been with historic single-family houses.
Phil Goldsmith, a key member of the Pier Group Steering Committee, is one of the pre-eminent heritage architects in Canada. Phil has designed the restored Summerhill Station (LCBO), the National Ballet School in Toronto and the Bruce County Museum. He has been directly involved with the restoration of the Don Valley Brickworks, the Fort York barracks, the Royal Alexandra Theatre, and the Royal Conservatory of Music, among other projects.
Phil Carter, The ACO's representative to the Steering Committee, has many heritage design projects to his credit, locally and across Ontario, as well as extensive experience in preparing heritage studies, to support the creation of Designated Heritage Districts, in many Ontario Communities.
Rick Brooks, through his firm of architectural technologists, has worked on many commercial and institutional renovation / restoration jobs, including the historic Woodlawn Inn in Cobourg. Rick is also a key member of Heritage Port Hope Advisory Committee.
Irena Orlowski is an architect with extensive international experience in the administration of both new construction and renovation of commercial structures, and an enthusiastic heritage advocate.
---
24. Kitchener Waterloo Record: Religion going to the edge of town
Mirko Petricevic
Kitcheners periphery a magnet for faith groups
WATERLOO REGION – Take a Sunday drive along Highland Road, toward Petersburg past the last roundabout, and turn right onto Glasgow Street.
If you're the rubber-necking type you'll probably notice the left side of the road is lined with a string of relatively new buildings dedicated to servicing people who praise The Almighty.
There's the Spanish-language Baptist church followed by Fellowship Christian School, Kitchener Baptist Church, First Romanian Baptist Church and, before you reach the railroad tracks, the bare cement block walls of the Muslim community centre that's under construction.
In some ways, the stretch of road is the spiritual equivalent of the big-box-store complexes dotting suburbia.
But it's not a neighbourhood city planners specifically designed to house the holy.
"There's no master plan to have this as sort of a religious cluster area," said Alain Pinard, interim director of planning for the City of Kitchener. "It just happened that way."
Pinard said he's not sure why the area has become a magnet for religious groups. But it's probably a combination of land prices and provincial planning laws that regulate land use.
---
25. Lake of Bays Association Newsletter: Bigwin Inn Tea House Restoration
Lake of Bays Association
"The Bigwin Tea Room [an original building from the defunct Bigwin Inn] is being restored to serve members and property owners of the Bigwin Island Golf Club. This unique octagonal stone building is one of the original structures of the old hotel and features the Arts and Crafts style and beautifully crafted stone fireplaces that signify the classic Bigwin look. Situated just east of where the Rotunda once stood, the Tea Room originally served as a daytime restaurant for light lunches and an ice cream parlour. When the Rotunda was demolished last year, care was taken to preserve several of the stone fireplaces as landscape
features within an outdoor area now called the Rotunda Gardens. According to Dave Smith, vice president of Bigwin Island Golf Club, plans are being considered to connect the Tea Room and the Rotunda Gardens with landscaping, creating a new indoor-outdoor venue for special events. The project has required extensive repairs to the roof and interior, but it will be worth it, says Smith. Preserving this
building is a wonderful way to highlight the heritage of the Bigwin facility.
---
26. Ottawa Citizen: Fire St. Paul's Aylmer
Tony Spears
Man arrested in church arson released without charges

St. Paul's Church, Aylmer
OTTAWA — A Gatineau man arrested in connection with a fire that destroyed Aylmer's historic St. Paul Roman Catholic Church was released without charge at 8:30 p.m. Wednesday.
Gatineau police said they seized items from the man, who is in his 50s, when he was arrested Wednesday morning in Aylmer. The items have been sent to Montreal for analysis, police said, but they would not provide further details.
Police also executed a search warrant at the man's home Wednesday.
The fire tore through the landmark church on June 11, causing about $25 million in damage. Only a few blackened stone walls remained standing after flames broke out around 1:15 a.m.
Investigators later found evidence of a break and enter and an abandoned gas can near the church. A witness helped police create a composite picture of a man seen in parking lot of the Eardley Road church a half-hour before the blaze started.
A spokesman for the church said it is unlikely to be rebuilt on its original site because it would be too costly.
---
27. Ottawa Citizen: Hart Massey Washroom Pavilion to be Replaced
Kelly Egan
Massey's work down the toilet
OTTAWA — Only government could spend $2.2 million to put up a spiffy bathroom in a public park.
Only Ottawa, caught up in all its commandments, could make the story even stranger, possibly dishonouring a governor general's son in the process. Suffer with us.
At Vincent Massey Park, at the end of a long parking lot, there is an unusual entranceway. It was designed by Hart Massey, the son of the GG for whom the park is named and an acclaimed architect in his own right.
His design consists of three big pieces, mostly done in a white, glazed brick. The first is a bus shelter, with a roof, a long wall and bench seating. Inside the park, there is an entrance court, then a refreshment stand and covered eating area, and, finally, public washrooms about 50 metres away. The canopies are unusual in that the steel trusses and slender poles give the roof the feel of floating, stylized tree branches.
Massey, who died in 1997, was given an architectural prize for his creation in 1958, a year after it was built.
He is, briefly, considered a prominent Canadian designer and a pioneer in bringing the Modernist and Bauhaus movement to Ottawa's heavily tilted Victorian landscape.
---
28. Owen Sound Suntimes; Architectural 'gem' well worth saving, church members say
PAUL JANKOWSKI
OWEN SOUND: Renovating St. George'sAnglican Church stone tower and spire has blossomed into $360,000 project
There's an almost palpable sense of pride among those at St. George's Anglican Church most closely involved in the restoration work that's going on there.

What began in 2006 as a warning in an engineer's report that the stone tower that holds up the soaring spire had to be repaired or torn down -- something they thought would cost them $150,000 -- has grown into a more than $360,000 project to restore both those parts of the church so they may last for another 100 years or more.

There are fewer than 200 people in St. George's congregation now and "nobody really wealthy. We don't have any wealthy parishioners," Nancy King, who chairs the fundraising committee for the project, said in an interview. "It's just a huge, huge thing for us to undertake."

"We've tried everywhere we could think of to get any kind of financial support from any branch of government and there's just no money for churches."

The congregation voted unanimously to proceed with the project anyway.

St. George's is one of the four stone churches at 10 St. E. and 4th Ave. E., a collection that gave the intersection the nickname Salvation Corners. When it was opened and dedicated on Aug. 7, 1881, a church pamphlet says, "It was considered (and still is) one of the most beautiful churches in Ontario."

Built at a cost of $12,000, "St. George's Church is constructed of stone ashlar in the Gothic style. The steeple measures 142 feet in height and that measurement is directly proportional to all of the measurements in the church -- the nave and chancel are exactly the same length and the distance between the north and south transepts is exactly half that distance," the pamphlet says.

The church was designed by Marshall Aylesworth, the architect behind some dozen churches and 24 other buildings, according to Laurie McBride, a masters of art history student at York University who is researching his work. She calls St. George's "the most spectacular" of the Anglican churches he designed.

Among the stained glass windows that grace the church is a huge one on the north wall designed by Robert McCausland Limited, which bills itself as the oldest stained glass studio in North America. It depicts Christ calling on his first disciples to follow him and won a bronze medal at the 1883 Chicago World's Fair, according to church history.

It was only after workers began replacing the mortar in the tower this summer that the need to extend the project came to light, said John Hull, the chair of the property committee. The tin on the spire was leaking, allowing water to get inside the tower where it would freeze and thaw as temperatures fluctuated and some of the wood was rotting.

"We had to get permission from the congregation to go ahead" with the much larger job, he said.

Church members, Hull said, "are kind of proud of the structure in a way, but it's also a faith symbol, a symbol of history . . . We're going to keep it, we're going to keep it for future generations."

"This building is not just the property of the people of St. George's and it's not even just Owen Sound, I see this an an architectural gem belonging to the people of Canada and I would do anything to try and keep the building going . . . I'm just in awe of it," King said.

The church has hired Roof Tile Management to do the work. The company does "a lot of historical restorations - churches, government buildings, that sort of thing," said Brian McClelland, the foreman on the job.

His crew is replacing the old metal with lead-coated copper, a substance that will retain its grey colour and not bleed or stain the limestone as it weathers with age, he said. The cladding they are taking down is typical of the time it was built, he said. Some places have been caulked to try to stop leaks, but it's mostly original workmanship. What they are replacing it with "definitely will be there in 100 years" from now, he said.

The problem is, "we don't know how we're going to pay for it yet," said Hull.

The church is raising funds in a myriad of way -- from a performance by the cast of the Trailer Park Boys in the summer to a raffle for a doll house, which is now going on -- to pay for the project.
---
29. Shoreline Beacon: Good News from Paisley
Scott Dunn
Judge rules Paisley Inn demolition permit invalid

Paisley Inn, Catherine Nasmith photo
A Superior Court justice ruled last Tuesday that a demolition permit clouding the future of the Paisley Inn for the past 3 1/2 years was invalid.

Paisley Inn owner Burke Maidlow hugged his lawyer and vowed to apply for another building permit to make repairs, first to the most problematic west wing roof, which his own engineers agree could collapse.

"The past four years have been bullshit," Maidlow declared after the ruling in an Owen Sound courtroom, referring to the protracted battle with the municipality.

He has been unable to obtain a building permit that he could use to make the inn safe.

A trial, set for 13 days, was called to hear expert testimony on whether Maidlow met terms set out by the municipality's chief building official to obtain a building permit or if the municipality could proceed with demolition of the entire building.

Structural shortcomings of the Paisley Inn were detailed during a convoluted opening day of a trial to decide whether the municipality may tear the inn down.

Arran-Elderslie was seeking permission to use a demolition permit issued by former chief building official Craig Johnston to remove the inn "because it is unsafe, dangerous," Arran-Elderslie lawyer Ross McLean said.

There has been public animosity between Johnston and inn owner Burke Maidlow and his supporters, but Johnston appeared Monday under subpoena initiated by Maidlow. Johnston, who was dismissed from his job as chief building official this summer for breach of contract, initially refused to say anything to Maidlow's lawyer, citing a "gag order" the municipality placed on him upon his dismissal.

McLean said normal employment confidentiality is all that Johnston was subject to and he had no objection to him testifying.

The first day of proceedings brought into focus the difficulty judges have faced to sort out problems over the past 3 1/2 years that the old inn's fate has been before the courts.

At least four judges had a crack at this case, the latest being Superior Court Justice Donald Gordon, who halted the trial early Monday to read background documents because he said he found it too confusing.

He remarked it appeared as if he was hearing "two different cases" and he urged both sides to focus on identifying and narrowing issues. He said the trial record was the "oddest trial record I have ever seen."

In his ruling, Justice Gordon said the power to enter private property, order repairs and possibly demolish buildings represents a "significant intrusion" and so the demolition "order must be specific" and it was not.

He ruled Johnston failed to specify the section of the Building Code Act he relied on to issue the demolition order Feb. 21, 2006. He also failed to specify, as required, the immediate dangers presented by the derelict 19th century inn and what major structural repairs needed to be done, the judge found.

The municipality argued it was following S. 10.15, though it wasn't stated on the order, dealing with building structural emergencies presenting an immediate danger.

That would have given Gordon jurisdiction, but he ruled the section was not followed properly and so it does not apply. Gordon also said his ruling was "not criticism of actions taken" by the municipality.

The judge declined to determine under what section the order was issued. The Superior Court doesn't have jurisdiction over certain sections of the act which also could have applied.

"Craig Johnston did not cause any delay. There's been a process under way and the process is the structure, meaning the legal structure," McLean said when asked if Johnston's actions could lead to a lawsuit against the municipality.

After court, Maidlow met with the municipality's lawyer. He said he will talk with his engineer next week about what's required to get a building permit.

"If they turn him down, I will go to compel the chief building official to issue a building permit," said Maidlow's lawyer Sharon Ramsden.

But Ramsden also said "I am hopeful that the new chief building official will look at the building permit that is in front of him and make a decision."

Maidlow said that since he first approached Arran-Elderslie council four years ago, he has spent "probably $100,000" in dealing with the Paisley Inn. He has legal bills outstanding too, he said.

Maidlow is a principal of a numbered company that owns the inn. The company has about 20 investors, each of whom has put in about $2,500. His brother has also invested money.

Maidlow also paid $10,000 for a building permit he could never use.

He said he owes Arran-Elderslie about $4,500 in property taxes. There had been $105,000 added to his taxes by the municipality but that was removed at one time.

McLean said he didn't know how much money the municipality will seek from Maidlow.

Had the judge found the original demolition order was valid under S. 15.10, the municipality would have been asking Maidlow for the expense of the chief building official's time, the engineer's bills, the legal expense and the cost to contractors to remove the building.

"Those issues are up in the air now," McLean said.

The inn has deteriorated and McLean said the municipality's concerns about safety remain. He said he expects the new chief building official will share them.

"We continue to have an obligation to look out for the safety of the public," McLean said after court. "The issue still remains that something has to be done to make the building safe."
Editor's Note:I'm no lawyer, but such a case seems such a miscarriage of justice....surely all those legal fees on both sides would have been better spent on the building. And it will certainly cost the owner more to fix now than if he had been permitted to undertake repairs when he wanted to do so.
---
30. The Hill Times.ca: Mall next to Rideau Canal in Lansdowne Park
Tom Korski, forwarded by Diana Crosbie
If anyone could slap a mall next to a World Heritage Site, it's Ottawa City Council
If anyone could slap a mall next to a World Heritage Site, it's Ottawa City Council
In promoting his mall, Roger Greenberg was afforded deferential treatment I have not seen in any other city. No other developer was invited to negotiate. No other proposal for Lansdowne Park was considered.
OTTAWA—It was a little municipal tragedy, scarcely worth a mention in the out-of-town dailies. All at stake was 37 acres and 140 years of history. But it provoked sadness and anger—less than a fifth of people surveyed supported it—and reminded everyone how government runs when there is no official opposition, no wide-awake Parliamentary Press Gallery, no public accounts committee armed with powers of subpoena.
Editor's Note:To get the rest of the article you will have to purchase it from The Hill Times....
---
31. The liberal.com: Town of Richmond Hill to Fine against Metrus over Tree losses
Adam McLean
The Town of Richmond Hill is throwing the proverbial book at Metrus, its sub-corporation and official landowner Corsica Development Inc., following last week's destruction of what was estimated by the town to be nearly 150 trees on the David Dunlap Observatory site. At least 17 trees were found to breach Richmond Hill's tree preservation bylaw.
Town bylaw staff are currently preparing legal documents and the eventual amount of the fine and specific charges will be formalized at the municipal courts at 50 High Tech Rd. Jan. 15.
According to town officials, bylaw staff can't comment on the fines due to their ongoing investigation.
Mayor Dave Barrow made the announcement about the fines at council on Monday night, which prompted a hearty round of applause from those in the packed council chambers. The official court date was announced the following day.
Jan. 15 will no doubt be a day observatory supporters have circled on their calendars.
"We will all be there to listen to the charges, hear the fines and support the town," DDO Defenders president Karen Cilevitz said following Tuesday's announcement.
---
32. The Sault Star: Old Stone House Renewal Project
Michael Purvis, forwarded by Eric Rogers
Province to chip in $1M for Old Stone House interpretive centre

Ermatinger-Clerque National Historic Site
The Old Stone House is a quarter of the way to securing the $4 million it needs to build an interpretive centre on the downtown site.
MPP David Orazietti announced Friday the province's share of the Ermatinger-Clergue National Historic Site project will be $1 million.
Kathy Fisher, the site's curator, said much of the rest of the money for a planned Discovery Centre is being sought from the federal government.
"We're hoping this will spark them to make the announcement," said Fisher.
Planned for a 2012 opening to coincide with the bicentennials of both the War of 1812 and the opening of fur trader Charles Oakes Ermatinger's home, and the centennial of the incorporation of Sault Ste. Marie, the 6,300-square-foot visitor centre would include a 50-seat movie theatre, gift shop and public washrooms.
Films will explore both the home's past and the area's connection with the War of 1812. An exhibit will highlight the role of aboriginal women and family life during that time.
Mayor John Rowswell said the centre will be a "wonderful addition," to the Bay Street corner. He said it fits well with the city's plan to strengthen the east end of the waterfront, while working to secure an attraction for the Gateway site in the west.
---
33. Toronto Star: Heritage buildings on Pickering Airport Site
David Cooper
Empty house revives Pickering airport fears

Toronto Star Photo
A government-owned house that was the site of a defiant last stand by three women fighting plans for an airport in Pickering 34 years ago has been boarded up.
Aside from renewing decades-old fears that the airport project could be revived if the two-storey 19th century home is destroyed, some local residents are also angry that a home with such historical significance is being left to deteriorate by the federal government, which owns the property.
"This is an iconic building, part of our history," said Mary Delaney, who belongs to Land over Landings, a group opposed to an airport in north Pickering.
Ottawa recently evicted a family that had been renting the home – they're being relocated nearby – because of mould and other problems that are too expensive to fix.
---
34. Alberni Valley Times: New use, same look for historic post office
Shayne Morrow

Pete, left, and Anita Kurucz have purchased the historic Alberni Post Office, and it will soon re-open as Pete's Mountain Meats. Pete says he intends to preserve the landmark building with minimal visual impact.

Alberni Post Office, 4589 Johnston Road, Port Alberni, BC.
Pete Kurucz and his family are going to preserve one of Port Alberni's architectural icons, by turning it into a deli.
You heard it right. This week, the sold sign appeared on the old Alberni Post Office building at Johnston and Gertrude, and some time early next year, Pete's Mountain Meats will be moving from its present location at Clutesi Haven Marina to the new site.
"We intend to keep the building the way it is," Kurucz said. "We'll be putting up some awnings with our name on it, but we're going to clean up and preserve the exterior. I'm working with the heritage society. We're planning on putting in an eating area in keeping with the post office theme, and they've offered period black and white prints for the walls."
---
35. Alberta's Real Estate Heritage
Website dedicated to Alberta's Real Estate Industry
This site is interesting in it stresses the value of Alberta's architectural heritage, unusual for the real estate industry.
---
36. AlbertaVenture.com: Everything Old is New Again
Wes Lafortune
Property developers used to scoff at the idea of historical restoration. Then came a few more ways they could make a buck
Neil Richardson hardly looks like a property developer. Wearing a ski sweater and khakis, he resembles a tradesman on a job site and not a slick, suited businessman. But this native Calgarian, who has degrees in math and law, is the proud owner of the Lougheed Building, a once again prestigious address in downtown Calgary that represents a larger trend towards historical property restoration.
Editor's Note:Although this article dates from February 09, 2008, BHN readers might benefit from taking the time to read this, as Alberta appears to have a fairly sophisticated program in place - one which appears to be supported by the business community.
---
37. Annapolis Royal Heritage: Loss of All Saints in Annapolis
forwarded by Rob Hamilton
All Saints Part III

On the weekend I had the opportunity to do a bit more research into the background of the soon to be dismantled All Saints Church in Granville Centre. Talk about your complex evolutions. For some time we have been using 1814 as the date for this church due to an inscribed cornerstone. While this accurate to an extent, a handful of toher dates could easily be used. Land was actually donated for the construction of a church on this spot by Samuel McCormick in 1789. Progress, it seems, was slow on the building. Despite a report in 1791 that the building was enclosed and the windows were glazed, in 1811 the local residents were upset. Bishop Charles Inglis wrote that the church "was in a very unfinished state. It is considered so much larger than is necessary and is so much in decay that the congregation are very desirous of taking it down and completing a neat building of smaller dimensions". A deal was struck with Nova Scotia's Lieutenant Governor, George Prevost, that 330 pounds would be granted from the Arms Fund if the congregation could raise another 170 pounds. When I was reading that money came from the Arms Fund, it struck me that this was an odd investment considering that war with the United States broke out a year later.
Editor's Note:1814! A bittersweet situation, at least the church will continue to be enjoyed. How can we match growing new religious groups with these lovely buildings?
---
38. Apollo Magazine: The new Neues
Gavin Stamp
Berlin's Neues Museum has reopened. How justified was David Chipperfield's determination to repair the building rather than restore it?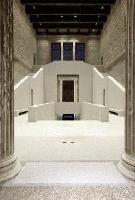 photographs Ute Zscharnt and David Chipperfield Architects. New staircase Neues Museum

photo Adrian Welch
The old East Berlin could seem romantic and beautiful – although to enjoy it was perhaps uncomfortably self-indulgent on the part of a foreigner able to escape back to the modernity of the west. East Berlin somehow seemed more authentic, as the terrible history of the 20th century was visible, tangible. And, after all, the old city centre was in the east, so that most of the historic buildings that mattered lay beyond the obscene concrete wall. Some still retained their war- time scars; elsewhere there were bombed sites, dereliction and ruins. Here was Schinkel's celebrated Altes Museum, facing the site of the destroyed Schloss across the Lustgarten. And behind was the Neues Museum, designed by his successor August Stüler, but this was still in ruins. It presented a strangely beautiful sight, with collapsed colonnades and raw brick interior walls open to the sky.
No longer. This last wartime ruin on Berlin's Museumsinsel has now been rebuilt and reopened with much fanfare – rightly so, as the building is as distinguished as its contents are precious (it houses Berlin's prehistoric and Egyptian collections). The Neues Museum was built in 1843-59. Externally, its stuccoed walls were designed in the rational classical tradition of Schinkel, but inside the galleries were richly coloured and decorated to enhance a didactic display illustrating the progress of art through the centuries. The structure was also remarkable as, to reduce weight on unstable sandy soil, Stüler used a great deal of cast-iron as well as vaults of hollow clay pots – an idea possibly derived from John Soane.
http://www.apollo-magazine.com/news-and-comment/architecture/5574508/the-new-neues.thtml
photographs Ute Zscharnt and David Chipperfield Architects. New staircase Neues Museum

photo Adrian Welch
see http://www.e-architect.co.uk/berlin/neues_museum.htm, and see also http://www.designboom.com/weblog/cat/9/view/2901/the-neues-museum-project-by-david-chipperfield-architects-at-sir-john-soanes-museum.html
Editor's Note:see http://www.e-architect.co.uk/berlin/neues_museum.htm, and see also http://www.designboom.com/weblog/cat/9/view/2901/the-neues-museum-project-by-david-chipperfield-architects-at-sir-john-soanes-museum.html
---
39. Daily Gleaner: Fredericton Train Station facelift starts - Building to be restored
SHAWN BERRY
There are more signs of progress on the revitalization of the former York Street train station.
Work is underway to replace the station's roof. That will help clear the way to a restoration of the historic building.
J.D. Irving Ltd. recently announced the downtown landmark would be refurbished as part of a 20-year lease agreement.
The deal will see the building used as part of an NB Liquor store that will also include a new addition to the structure.
Mike O'Brien, vice-president of supply chain and facilities for NB Liquor and a city councillor, toured the site Thursday.
He said the goal is to have the building ready by late summer.
---
40. Edmonton Journal: Alberta Hotel to be reborn downtown
Gordon Kent
Iconic structure would rise on original site
Alberta Hotel circa 1903
In what could be a Canadian first, work is underway to rebuild the old Alberta Hotel from pieces lying in storage since the historic structure was demolished 25 years ago.
The five-storey building was torn down in 1984 to make way for Canada Place, but its distinctive turret, metal balconies, exterior sandstone blocks and bricks were numbered and put into crates.
Now they're set to go back up metres from their original location after architect Gene Dub started foundation work this fall on land west of the federal office tower.
"There are pictures of the inaugural parade from 1905, when Alberta became a province, running right past the building," Dub said Friday.
"There are rumours that the prime minister at the time, (Wilfrid) Laurier, stayed there."
He plans to create a 14-room bed and breakfast style boutique hotel with a restaurant, office space and perhaps a spa at the Jasper Avenue site, which has been used as a park.
Editor's Note:For more background on this project see (1) http://www.edmontonsun.com/news/columnists/graham_hicks/2009/11/26/11930596-sun.html and (2) this 2008 article, http://www.rewedmonton.ca/content_view2?CONTENT_ID=2199.
---
41. Heritage Canada Conference Presentations
The Heritage Imperative: Old Buildings in an Age of Environmental Crisis
All of the presentations from this very interesting conference are now online at Heritage Canada's website.
---
42. Journal of Commerce: Historical preservation - Greening heritage buildings a trade-off
PETER KENTER

GAIR WILLIAMSON ARCHITECTS. The Keefer Hotel in Vancouver, shown here before the retrofits began.
Gair Williamson Architects is a Vancouver firm that specializes in refurbishing and adapting older heritage properties, so they can continue to function as thriving urban elements.
But while adaptive re-use of heritage buildings can help to meet some of the goals of green planning and building, the process is a trade-off.
"An existing building is an invested resource of energy and material," said Gair Williamson, owner of the firm.
"By preserving that, we're meeting some of the goals of green building, but by any performance-based standards, these buildings are not green."
One of Williamson's recent projects is the $7-million Keefer Hotel renovation, located in Vancouver's Chinatown.
The Edwardian building now hosts four lofts, a rooftop pool and a bar.
"The city places a lot of importance on the heritage aspects of the building, and understands that we can't meet all of the modern criteria of the building code," said Williamson.
"A building constructed in 1904 is not going to perform to modern standards. If we were to take the Keefer project and bump it up to LEED standards, it would be unrecognizable as a heritage building.
---
43. King Township Sentinel : Township ready to designate the Shift under Heritage Act
David Anderson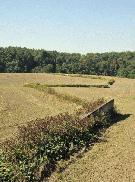 Eamon MacMahon - Globe and Mail. Shift is composed of six zigzagging concrete walls.
King council decided Monday night to go forward with the designation of the Shift sculpture in King City as a heritage site.
The Shift is a stonewall structure that meanders through a field in the southeast quadrant of King City. It was created in the early 1970s by Richard Serra.
This issue first came forward almost two years ago, when the Township's Heritage Advisory Committee put forth a request for council to consider the designation.
At that meeting, in January 2008, a number of deputations were received in favour of the designation. But Haydn Matthews, vice president of Hickory Hills Investments, the company that owns the Keele Street property containing the sculpture, requested that the decision be deferred to provide an opportunity have discussions with councillors, staff and the committee on the implications of designating the sculpture and other options to protect the artwork.
Monday, the committee recommended that the property be designated.
Lawyer Chris Barnett, who spoke on behalf of Matthews Monday night, said his clients have no desire to have the subject property designated as lands of cultural value or interest under the Ontario Heritage Act. Barnett also explained that Hickory Hills does not wish to alter, damage or destroy the sculpture, and that he did not believe designation was necessary to protect it.
The staff report stated designation of the property comes with certain responsibilities, such as maintenance and costs, which Barnett said the company was not prepared to undertake.
Many previous attempts were made to find a common ground. Council established an ad-hoc committee in February 2008 to discuss and identify the options and endeavour to come to some form of agreement to address the needs of the owners and of the Township with respect to protecting and preserving the Shift.
The positions of the Heritage Committee and the property owners have not changed and virtually no progress was made, with the exception that the committee has clarified its position and advised it is not interested in maintenance and access, but only in preserving and protecting the Shift.
Editor's Note:see also, http://www.theglobeandmail.com/news/arts/fate-of-five-hectare-richard-serra-sculpture-could-be-decided-next-week/article1380317/ for an old report see, http://www.kingsentinel.com/news/2006-07-12/News/Efforts_being_to_have_Richard_Serras_Shift_registe.html
---
44. Nanaimo Daily News: Our disappearing heritage - 'Out with the old, in with the new' habit erases remnants of Nanaimo's history
Dustin Walker
A number of Nanaimo's historically significant buildings have, in recent years, been ravaged by fires, flattened by developers or left to rot and crumble after years of neglect.
The city will soon shell out thousands of dollars to repair the downtown's iconic 156-year-old Bastion, which is leaning and needs structural repair. But many other historical haunts have disappeared in the past decade, such as Nanaimo's first public school (bulldozed in 2004) and the 108-year-old foundry, which was dismantled three years ago.
Seven buildings on Nanaimo's heritage register have been demolished in the past seven years but not all structures of historical value make this list and their destruction often goes unnoticed.
---
45. National Post: A nation's restoration
Lia Grainger
Students at the Willowbank School are learning how to save Canadas architectural gems

Antonio Giordano for National Post. The Willowbank School of Restoration Arts is both a classroom and a project for its students: The 1836 Classical Revival mansion in Queenston, Ont., is in need of serious renovation.
At the crest of a rolling hill overlooking a deep, leafy ravine in Ontario's Niagara valley towers a white mansion, withered at the corners and greying with age. Though its history is as old as Canada's, this crumbling edifice barely escaped demolition seven years ago to become what it is today: the Willowbank School of Restoration Arts.
"Hannah Hamilton of the Jarvis family raised 10 kids here all on her own in the early 1830s," says Julian Smith, the school's director and one of Canada's most respected heritage architects. "You read her letters and it's like a Jane Austen novel."
He swings open the massive front door to reveal a wide entranceway flooded with sunlight and dusty air. The floorboards creak underfoot and the walls are cracked and powdery. Withered wallpaper is torn back to reveal splintered wood and hand-hewn nails, centuries old.
---
46. Nova Scotia Chronical Herald: Church Relocation to U.S.
Gordon Delaney, forwarded by Mark Wilson
Louisiana pastor excited about new-to-him church

All Saints Church is going to be moved from Granville Ferry, where its been for 200 years, to a town in Louisiana.
A 200-year-old Nova Scotia church is going to a Louisiana town, where it will be rebuilt to serve a congregation of 80 people.
All Saints Church in Granville Ferry, Annapolis County, is being dismantled and will be shipped to Abita Springs, where it will become the community's first Baptist church, said the man in charge of the project.
Rev. Gerel Keene, pastor of the Baptist congregation in Abita Springs, said Wednesday that he is excited about the church coming to his small community near New Orleans.
He thanked Nova Scotians for sharing a piece of their history.
"I'm excited. This is more than I could ever dream for," Mr. Keene said in a telephone interview from his home. "I appreciate that Nova Scotians are blessing Louisiana with some of their culture and history.
"Not only did we get some of their great people, but now we get some of their great architecture. . . . I'm just as pleased as I can be," Mr. Keene said about the historic connection between the two areas.
During the deportation of the Acadians by the British in 1755, many Acadians, now known as Cajuns, resettled in Louisiana.
---
47. Gropius in Chicago Coalition: Demolition Begins on Gropius's Power Plant
With profound regret, we inform you that the Michael Reese Hospital Power Plant is now being demolished. Alas, there will be no equivalent of the Tate Modern in Chicago as many had hoped. Instead, more of the same: Destruction and visionless waste.
Again, we must look backwards for inspiration, instead of forward to a new joyous day on the South Side.
Yet another profound casualty for a city that has lost more great architecture than most places hope to ever build. Its replacement? A city-sponsored vacant lot. Its meaning? A reminder to all future architects and artists that in Chicago, only the fine art of the deal draws lasting praise.
The Michael Reese Hospital Power Plant was a collaborative effort between Walter Gropius and The Architects Collaborative (TAC), with the Michael Reese Hospital Planning Staff and Friedman, Alschuler, and Sincere of Chicago. The plant was the most overt nod at the campus to the nearby Illinois Institute of Technology Campus, by Ludwig Mies van der Rohe.
Today, with only the most bitter irony, demolition also commenced on a building by Mies van der Rohe at IIT.
Editor's Note:Good grief, Chicago is generally so smart about heritage It is a very interesting website, full of stories about modern landmarks in Chicago.
---
48. New York Times: A Revolutionary War Widow's Estate Becomes a Preservation Battleground
STEPHANIE STROM

Robert Stolarik for The New York Times. Montgomery Place, a house and a 434-acre estate held by one family for generations, is now owned by Historic Hudson Valley, a nonprofit group.
ANNANDALE-ON-HUDSON, N.Y. - In the mid-1980s J. Dennis Delafield and his cousins faced a hard fact: They could no longer afford to maintain the estate established in 1802 by their distant ancestor, Janet Livingston Montgomery, widow of Gen. Richard Montgomery, a hero of the Revolutionary War.
"It was eating us up alive," Mr. Delafield said of Montgomery Place, a majestic house overlooking the Hudson River that is but one small part of the 434-acre property here. "We had to let it go, though it broke our hearts."
They decided to turn the house and its grounds, with working orchards and more than a dozen outbuildings, into a museum. So they sold it to what is now Historic Hudson Valley, a nonprofit group founded by John D. Rockefeller Jr. that owns Washington Irving's house, Sunnyside, in Tarrytown, N.Y., and several other properties.
"We made a bargain sale in the belief that that way the house would be protected," Mr. Delafield said.
Now, though, Mr. Delafield and others are worried about the fate of Montgomery Place. The house was closed to the public in 2006 - though the grounds were available for weddings, photo shoots and other events — until August, when it was hastily reopened for four hours on Fridays after a state official began inquiring about its status. Under the terms of a state financing package, the house must be open at least 12 days a year.
---
49. New York Times: Architectural Reconstruction in New Orleans
Cheryl Gerber, forwarded by Stephen Otto and Mary Lou Lobsinger
Brad Pitt's Gifts to New Orleans
AL ANDREWS, who lives on Tennessee Street in the Lower Ninth Ward of New Orleans, said he didn't mind the tour buses coming through his neighborhood, but he wished the visitors "would give some of what they pay to the community." Mr. Andrews lives in one of the brightly colored, modernist houses rising on a small patch of the Lower Ninth, four years after it was devastated by Hurricane Katrina.

In 2007, frustrated by the slow pace of rebuilding in the Lower Ninth, Brad Pitt set up a foundation called Make It Right; the foundation then commissioned 13 architecture firms to design affordable, green houses. The organization plans to build 150 homes, all for returning Lower Ninth residents. So far, just 15 of them are occupied, but those 15 make a big impression.
Indeed, from the main route into the Lower Ninth, the Claiborne Avenue Bridge, it's impossible to miss the Brad Pitt Houses, as everyone here calls them. They are sprawling, angular buildings in bold hues not usually seen outside a gelateria. Monuments to the city's resilience, and to Hollywood's big heart, they are also New Orleans's newest tourist attraction.
Tour buses, including those of Cajun Encounters (504-834-1770; www.cajunencounters.com and Gray Line (504-587-0709; www.graylineneworleans.com pass by the houses but don't stop to let passengers walk around. You can also take a taxi the five miles or so from the city's center to the Lower Ninth; the round-trip fare is under $30. (Virginia Miller, a spokeswoman for Make It Right, said the organization may eventually offer tours, but "right now the priority is getting residents settled.")
Editor's Note:Do the showiness and tourism aspects of these replacement houses make you uncomfortable....
---
50. The City Journal: Le Corbusier - Unintended Consequences?
Theodore Dalrymple
The Architect as Totalitarian

from City Journal
Le Corbusier was to architecture what Pol Pot was to social reform. In one sense, he had less excuse for his activities than Pol Pot: for unlike the Cambodian, he possessed great talent, even genius. Unfortunately, he turned his gifts to destructive ends, and it is no coincidence that he willingly served both Stalin and Vichy. Like Pol Pot, he wanted to start from Year Zero: before me, nothing; after me, everything. By their very presence, the raw-concrete-clad rectangular towers that obsessed him canceled out centuries of architecture. Hardly any town or city in Britain (to take just one nation) has not had its composition wrecked by architects and planners inspired by his ideas.
Writings about Le Corbusier often begin with an encomium to his importance, something like: "He was the most important architect of the twentieth century." Friend and foe would agree with this judgment, but importance is, of course, morally and aesthetically ambiguous. After all, Lenin was one of the most important politicians of the twentieth century, but it was his influence on history, not his merits, that made him so: likewise Le Corbusier.
Yet just as Lenin was revered long after his monstrosity should have been obvious to all, so Le Corbusier continues to be revered. Indeed, there is something of a revival in the adulation. Nicholas Fox Weber has just published an exhaustive and generally laudatory biography, and Phaidon has put out a huge, expensive book lovingly devoted to Le Corbusier's work. Further, a hagiographic exhibition devoted to Le Corbusier recently ran in London and Rotterdam. In London, the exhibition fittingly took place in a hideous complex of buildings, built in the 1960s, called the Barbican, whose concrete brutalism seems designed to overawe, humiliate, and confuse any human being unfortunate enough to try to find his way in it. The Barbican was not designed by Le Corbusier, but it was surely inspired by his particular style of soulless architecture.
Editor's Note:Last Friday I saw an interesting film, entitled San Yuan Li --described as "Chinas rapid modernization literally traps the village of San Yuan Li within the surrounding skyscrapers of Guangzhou, a city of 12 million people." As China rushes towards the modern city with huge apartment blocks and boulevards empty of cars and people, one can't help thinking that the reason for erasing the old city is not its "ill health" but the older city's capacity to generate surprises and hide people and activities. It would be impossible to become invisible or be out of step with others in the modern Chinese City.
---
51. The Scotsman: Dead - 17 Storey Hotel in Haymarket
Brian Ferguson
Towering ambition crashes to earth as Haymarket hotel plan rejected

From the Scotsman
Campaigners were celebrating last night after ministers ruled that the benefits of the £250 million scheme were not enough to justify the impact on the city's skyline and potential damage to its tourism industry.
Edinburgh city council, which approved plans for the project after just one hearing, was condemned for flouting several of its own policies in backing the scheme by Tiger Developments.
The decision – which would have seen a five-star hotel created along with a budget hotel, new office blocks and shops – was attacked by senior councillors and business leaders for "setting back" efforts to restore the city's economy.
Irish developer Tiger, which had spent three years pursuing the scheme after paying the council more than £40m for the site at Morrison Street, said the government had turned its back on a huge investment, 2,150 jobs and an international hotel presence.
However, campaigners said the demise of the scheme could have been avoided, had the council and the developer compromised over the hotel's height.
Yesterday's decision, by planning and infrastructure minister Stewart Stevenson, was a humiliation for the council.
A gap site which has lain empty for 40 years is now expected to remain derelict for the foreseeable future, despite planning permission being in place for an alternative scheme with a five-storey shopping arcade, offices, cafés and bars.
Sources close to Tiger said it was "highly unlikely" the company would proceed with the development, which it has publicly criticised several times.
The inquiry report stated: "In urban design terms, the hotel building would dominate the townscape of Haymarket and nearby streets. The hotel would rise above the height of the surrounding buildings and impact on key views of St Mary's Cathedral spires and Edinburgh Castle rock. "
Jim Lowrie, the council's planning convener, said: "It's very disappointing the democratic decision of the council has been overturned. It was a bold decision to go for something of this height, but I still feel it was the right decision. We felt a landmark was needed for this site."
Editor's Note:See next article, Testimony from Canadian expert Herb Stovel was instrumental in overturning this decision....similar testimony in the Port Dalhousie case went unmentioned in the OMB decision...
---
52. The Scotsman: Herb Stovel testimony in Haymarket Hotel Controversy
Brian Ferguson
Hotel would 'obliterate' city's heritage status, says expert
ONE of the world's foremost conservation experts believes plans for a controversial hotel development "ignore and obliterate" the world heritage status of Scotland's capital.

Professor Herb Stovel, a long-time adviser to world heritage body Unesco, told a public inquiry in Edinburgh that the 17-storey development would dramatically change the city's Haymarket district.
Prof Stovel, who was behind a major study which led to Edinburgh securing world heritage status, said it made no difference that the five-star hotel proposed by Irish developer Tiger was outside the designated site.
The professor, a regular visitor to Edinburgh in recent years, was accused of "betraying" his independence by agreeing to back the heritage group which is fighting the development, earmarked for a gap site which has been lying empty for more than 40 years.
He insisted he was addressing the hearing in a personal capacity and that during recent visits to Edinburgh he had become increasingly concerned about the impact of proposed major developments, like the ones at Haymarket, Caltongate and the proposed replacement for the St James shopping centre. The inquiry has heard claims that the Intercontinental hotel will ruin famous views of the city and dominate the Haymarket area. It has attracted almost 2,000 objectors.
Editor's Note:We are lucky to have Herb Stovel back in Canada and training the next generation of heritage conservation professionals at Carleton University.
---
53. thechronicleherald.ca (Halifax): Losing the look of Halifax - Historian Anthony Tung notes threat to heritage
BRUCE ERSKINE
Halifax designated its first historic district only three weeks ago
Halifax is close to the "tipping point" in losing its unique architectural ambience and the economic benefits that flow from it, says an architectural historian.
"If you continue to build without thinking about making positive relationships between new development and old buildings, you're going to lose it," Anthony Tung said Thursday in a Halifax interview.
Mr. Tung, a former commissioner with the New York City Landmarks Preservation Commission and author of Preserving the World's Great Cities: The Destruction and Renewal of the Historic Metropolis, was in Halifax to speak on urban management at Saint Mary's University .
Mr. Tung first visited Nova Scotia several years ago and was amazed to find that Halifax, with its wealth of historic architecture, didn't have a designated historic district at that time. The districts are increasingly common in American cities like Charleston, S.C.
"Halifax has historic resources that very few other cities have," he said.
He cited the Citadel, the Grand Parade, St. Paul's Anglican Church, city hall, Government House and Province House as examples.
"Not a lot of towns on the eastern seaboard of North America purposely have these cultural seeds planted in the cityscape."
---
54. Developer Wanted Fast: School Building Will be Lost
Catherine Nasmith

A fine Edwardian School, with high ceilings, big windows. Fantastic to convert to housing, lofts, or whatever
A developer with a little imagination and who is prepared to take engineer's reports with a grain of salt needed. The school has been in use, and I believe is still in use until a new one can be built.
The School Board in Brighton has not put the old Brighton School on the market, and it is slated for demolition. See Northumberland News link.
However, to my knowlege it has never been offered for sale, and I daresay the Board might be surprised at interest if it was put on the market. An unsolicited offer might prove to be a win-win for all concerned.
The ACO has had some success in slowing demolition with offers to purchase from private developers, most recently the Downsview Airport Hangar.
Brighton is just east of Cobourg, a town that has a large commuter population, and has been an attractive place for Toronto retirees. The area offers the amenity of smaller communities, yet is within easy reach by train to all of Toronto's cultural attractions.
If you are interested, or can think of someone who might want to try to create an opportunity here, email me at cnasmith@sympatico.ca and I will work to try to put you in touch.
Editor's Note:
My home office is in a former Edwardian school converted for condos.
---
55. Was this Ontario house first built in 1771?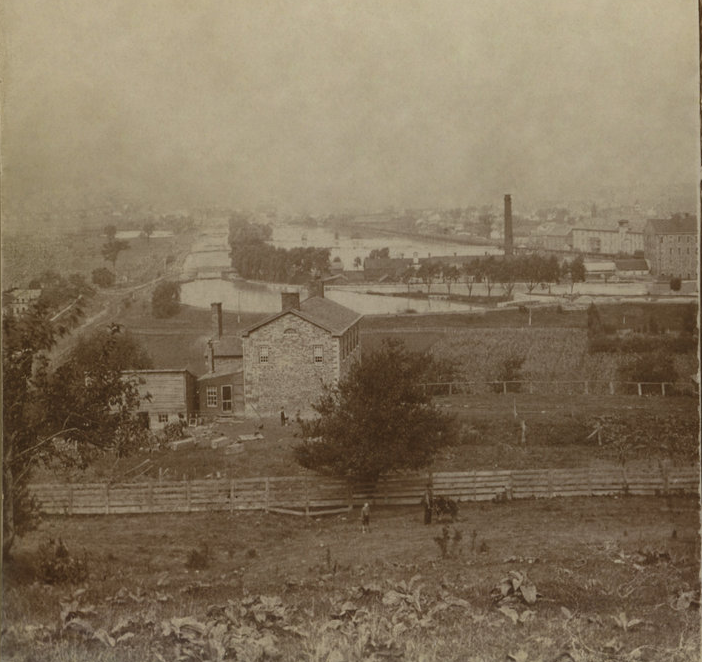 View from Escarpment

Modern View
Can anyone verify the claim that this stone farmhouse near St. Catharines was built in 1771?
The illustration is from the Toronto Newspaper, as well there are a modern and older photos. The illustration says
"Dates back to 1771, This is the Record Claimed for This Old House in Merriton, Ontario, Built by John Ball on Arrival From Scotland."
Here is the Request to George, on behalf of friends Chris and Susan Corbin.
"The building has a plaque marked mid-1820s (1826?) on the outside, but on the inside of the front door it is marked as having been "re-built" at that
time, suggesting it was probably originally built some time earlier.

Chris showed us a cutting from a (1930?) edition of a newspaper
(Telegram?Globe?) clearly showing the building and stating it was built in 1771.
Local historians have told Chris and Susan it is unlikely the property was
builtas early as 1771.

One other point, the window above the front door has inscribed on it:
"J.Ball rebuilt 1829"

It's heritage designation states that it was first mentioned in a will
in 1828, I think, so it obviously predates that by some amount....

Do you have any suggestions as to how Chris and Susan might try to date the
building and learn more about its history?"
If you have any information or ideas on how to verify the date,
Please contact George Rust-D'Eye at GRUSTDEYE@weirfoulds.com
and copy to cnasmith@sympatico.ca
---
56. 1923 Newspaper Clipping
---