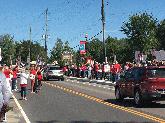 Demonstration at Bala Falls
On Friday September 1, more than 200 people came out in Canada's colours on the Bala bridge to protest against the planned unsafe privately-owned hydro plant. It will assume control (remotely, courtesy of Bracebridge Generation) of the water level of the Muskoka watershed – just to produce even more unneeded electricity.
See the Independent Electricity System Operator webpage here for the proof of this statement.
Some stalwarts were protesting on the Bala bridge all week. More protests are expected today.
This white elephant monstrosity can still be stopped. Phone numbers to call Premier Wynne are Queen's Park 416 325 1941 and her constituency office at 416 425 6777 (this is a good time to start targeting her local office as the Don Valley West MPP comes off her expected annual canoe trip, with her re-election bid just 10 months away).
The Muskoka411 interview with District councillor Phil Harding is in the article here.
Editors Notes:
Construction equipment is all over the place now. Take a minute to look at the drone video, it is a bit long, but very instructive.