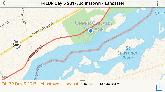 Map Showing St. Lawrence River before and after Seaway construction

The St. Lawrence Seaway, is stunningly beautiful, yet full of poignant buried memories. In 1954 the St. Lawrence Seaway and its accompanying project were started jointly by the U.S. and Canada. It was a critical improvement to the shipping routes from Duluth to Montreal. Initially the U.S. was reluctant to pay a share in the project, but Prime Minister Diefenbaker forced participation by saying that without U.S. partnership the route would be entirely on Canadian soil.
As early as 1783 work was started on a series of draft canals and locks to move ships through this section of the St. Lawrence, but the scale of ships was limited. Just below Cornwall, (not visible from our route) the international Sanderson/Moses Hydro Powerhouse and damn was built, and lands west were flooded. The Seaway opened in 1959, attended by President Eisenhower, Prime Minister Diefenbaker and Queen Elizabeth II.
The U.S. contribution was 130M, to 300M from Canada. 600 M was spent to develop hydro, which was recovered from power sales.
The construction project had monumental environmental and cultural impact. 15,400 hectares of land were flooded, requiring the relocation of 6500 people, flooding of parts of Morrisburg and Iroquois. The towns of Ingleside and Long Sault were built to accommodate displaced families. Eight Akwesasne Mohawk villages were flooded and the traditional fish habitat and fishery that sustained them was destroyed.
The Long Sault Parkway runs along the high points left after the flooding, and to either side are the sites of the Lost Villages, communities that are still underwater and visited by scuba divers. People still row out to see their former homes or family graves left behind underwater. 500 buildings were relocated, many to Upper Canada Village.
It took four days for the flooding to gradually bury the communities. Some of the bulldings found their way to the Lost Villages Museum, just south of Vincent Massey Drive, west of Cornwall, which is operated by the Lost Villages Historical Society. A map showing the former St. Lawrence and the locations of the lost villages can be found on the Lost Villages website.