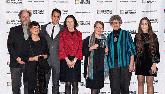 ACOToronto gets Community Heritage Award at Heritage Toronto Awards, October 25
If you will forgive me tooting my own horn a bit, I am very proud that ACO Toronto Branch (I am President) was awarded the Heritage Toronto Community Heritage Award on Monday night. It was awarded to us by popular vote of Heritage Toronto members so means a lot to our small committee. We, like many other small heritage organizations, work hard to put together programming and make some progress against the army of demolition crews stomping through Toronto.
We were very grateful for the opportunity to promote our biggest project to date, TO Built, an open source database of Toronto buildings at http://www.acotoronto.ca. Our goal is to have every architect post their projects, and to have citizens across the city photograph their neighbourhood buildings, landscapes and landmarks, and post them, along with any information they may have about who built or designed them.