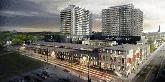 Image from Cambridge Times of Southworks Project
From ACO Cambridge
Update: OMB Motion to Dismiss proceedings
Wednesday, January 3rd, 2018 10:00 a.m.
City of Cambridge Council Chambers
OMB Vice Chair, and the session's Chairperson, Susan Schiller presided at yesterday's hearing of the HIP Southworks Inc. Motion to Dismiss.
The proceedings got underway at 10 a.m. and concluded at 1:03. Peter Pickfield (Garrod Pickfield LLP) represented ACO Cambridge & North Dumfries, supported by Allan Ramsay (planner). Eric Davis (Miller Thomson) represented HIP Developments, supported by David Aston and Dan Currie of HMBC Planners. City staff attending were Kelly Yerxa (City Solicitor) and Elaine Brunn Shaw (Director of Planning). HIP Developments staff attending were Scott Higgins (President of HIP Developments Inc.) and Joel Doherty (Director of Development).
Several board members attended as did a small number of concerned citizens, some of whom are local branch members.

Submissions were presented by both legal counsels, and throughout these, Chair Schiller asked questions of Eric Davis, Peter Pickfield, and City Solicitor Kelly Yerxa. The Chair then concluded, stating that she 'would not be delivering her decision today' but would reserve her decision until further notice.
Those board members attending were impressed with Peter Pickfield's submission, and by extension his team of Allan Ramsay and Christopher Andreae, and were reassured that ACO C&ND's case has merit, regardless of the outcome.
Board members were also impressed by the manner of the Chair and her questions and directions to counsel; and they expressed guarded optimism about the eventual decision from OMB Chair Schiller.
Thank you to those who were able to attend, and for everyone's continuing support of this community's built and natural heritage.


--


The Board of ACO Cambridge & North Dumfries
formerly Heritage Cambridge