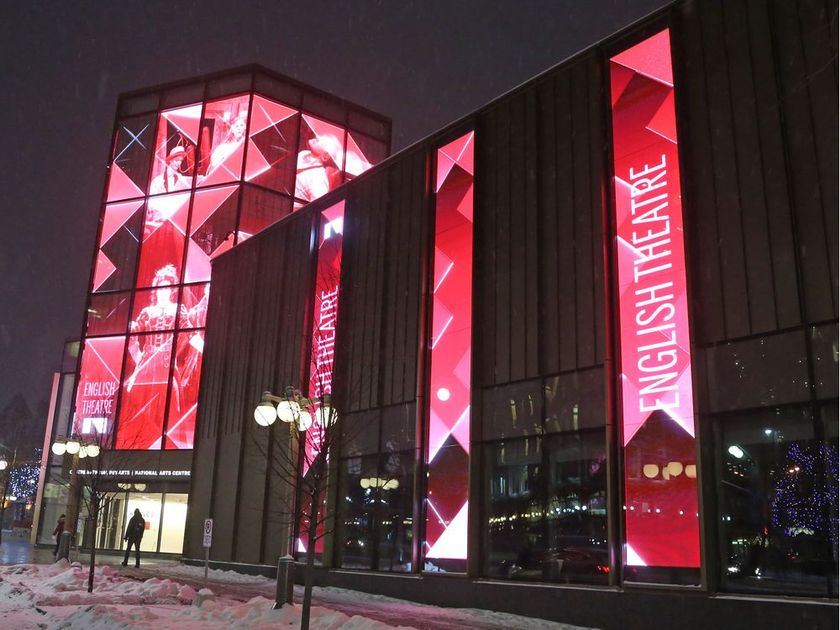 From National Arts Centre website
I had a lovely mid-winter break in Ottawa. From our hotel window we had a great view of Confederation Square, the canal and the newly renovated National Arts Centre, a long time favourite building of mine. First let me say hats off to Diamond Schmitt Architects for a sensitive alteration which has opened the building to the surrounding public spaces in an intriguing, sophisticated way. Watching people moving about in the foyers is a welcome view on a winter night.
Regrettably, the Kipnes Lantern misses the mark; unveiled on New Year's Eve, it is a programmable LED display embedded in the glazing that wraps around the corner of the building and extends down Elgin Street. At 3 stories high, it is far too visually demanding in the square that is also home to Canada's war memorial, whose carefully designed night lighting is eclipsed by the overly brilliant showiness of the Lantern. This is particularly true moving up Elgin Avenue, where the Lantern dominates the night view. What is promoted as abstract art, billed as promoting Canadian Arts, behaves more like a billboard that escaped from Toronto's Dundas Square or the Gardiner Expressway.
Over the decades Ottawa's core has steadily advanced, project by project, to create a place that reflects its role as the Nation's capital. Careful orchestration, monitored by civil society, led and encouraged by the National Capital Commission and implemented with careful consideration by all levels of government have created a city centre that is a source of Canadian pride.
The Lantern is presented on the National Arts Centre pages as follows "Rising dramatically above the NAC's new front entrance, the glass tower incorporates cutting-edge transparent LED screens to display stunning images of Canada's leading artists and productions. Beginning every day at dusk the Kipnes Lantern becomes a beacon for the performing arts in Canada, showcasing the breath and excellence of the work being produced across Canada." What I witnessed was a steady stream of promotional images, mixed with an abstract light show, lacking in the subtle elegance demanded by its place in Canada's pre-eminent civic square. Confederation Square is not Times Square. Time for a reset.