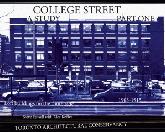 College Street: A Study Part !, Steve Russell and Alec Keefer
The City of Toronto Heritage Preservation Services department is to be applauded for its current program of looking at larger areas, particularly along Toronto's main streets, and adding a large group of properties to the City's Heritage Register at a time.
At the recent Toronto Preservation Board a large group of properties along College Street between Beverly Street and Bathurst Streets were added at once, along with a survey of Broadview Avenue. This is not the City wide survey that councillors have been asking for, but I hope it represents first steps in developing the methodology. Both of these surveys were undertaken in association with Secondary Plan processes. The reasons for studying them as a group, as well as some general statements of their significance are included, as well as a Statement of Significance for each property.
ACO Toronto, (I am the current President) is very enthusiastic to see several of the properties researched and published by us in Alec Keefer and Steve Russell's book College Street, as well as several properties along College we had researched and posted to TOBuilt. ACO Toronto wrote in support of the College Street listings, both for their architectural significance and their importance as home to many small businesses that would be unlikely to be found in the new out of scale re-developments that are rapidly encroaching. College Street is also one of the important edges of both Kensington Market and the Harbord Village neighbourhoods, both part way through the process of becoming Heritage Conservation Districts.
ACOToronto developed the TOBuilt database as a place where citizens from across Toronto could post in a central place all that they know about Toronto's buildings. It is our hope that TOBuilt will become an important part of the process in identification, recording and conserving Toronto's architecture.
Congrats to the city staff for this terrific advance.