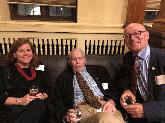 At 2017 ACO Awards Dinner, Connor Turnbull, Stephen Otto and Dan Schneider
Stephen Otto, who passed peacefully in his sleep April 21/22, will be remembered for his generosity. Generous in spirit and with his time and knowledge. He kept up with a vast circle of friends and acquaintances. He expected them to be as generous with each other as he was to them.
There are probably hundreds of stories like this, but when he became aware that I was planning to celebrate a big birthday in New York City, he was on the phone to a friend from Harvard who was a member of the Metropolitan Club to arrange accommodation, an extraordinary place I would never have been able to set foot in otherwise. He was constantly orchestrating, making connections for people and making arrangements all over the place. No-one knows the full extent.
Since his death, many have commented on his encouraging words at some critical point in their endeavours. For me, he was a great friend of Built Heritage News, continually sending stories that I might share with others.
His early work in the 1970's and 1980's at the Ontario Ministry of Culture and the Ontario Heritage Trust established a spirit of sharing among those interested in Ontario's history. He was as interested in social history as Ontario's built culture. Right until the day he died, he had an extraordinary memory for all kinds of detail, dates and people. As his health declined, there was never a moment when he was not completely on top of his facts. Buildings were touchstones, and no building story was complete without also relaying the history of its occupants and the architects and builders who created it. And he told those stories with such ease, he was just plain interested in all kinds of things. It was impossible to spend any time with him and not be impressed with his intellectual capacity and how ready he was to share his knowledge.
Few today will have first-hand memory of the legendary SAO dinners. During the 1980's Steve, a fine cook and host, would gather others who were researching different aspects of Ontario's history to dine together. For these prized invitations, guests were expected to share their knowledge. Through convivial conversations over his steak and kidney pie, Steve broke down academic rivalries between guests like Douglas Richardson, Marion MacRae, or William Dendy, who were all building careers as university professors.
Several years back, while Steve was recovering from cancer treatment, John Sewell would visit and take him out for walks to rebuild his strength. In return Steve would organize routes and share the stories of the places as they rambled.
He sought out the next generation of talent. Early hires to the Ministry of Culture like Dan Schneider and Herb Stovel went on to important careers in the field. Steve kept in touch, visiting the Stovel family in Rome. There was a steady stream of people in Steve's guest room. More recently, Matthew Blackett and Shawn Micallef of Spacing Magazine became frequent dinner guests. Shawn later served on the board of the Friends of Fort York.
Steve would often offer picnics at Fort York to those with whom he wanted to share his love of the place. Egg salad sandwiches were often in the basket.
Steve was perhaps generous to a fault. He was the go-to guy for Toronto history, for scholars, media and so many others. Occasionally he was overwhelmed with requests. The last conversation I had with him the week before he died, he commented that he was still getting calls for information, and that he tried to respond to them even though his strength was flagging.
That culture of sharing continues today in the work of so many in the field and may be his most important legacy.