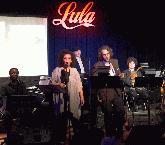 Performance at Lula Lounge, 2017
For well over a century, St. John's Ward, a.k.a., "The Ward," was a working-class enclave in downtown Toronto, situated between Yonge and University, Queen and College. From the 1840s to the 1950s, this community became synonymous with immigration, poverty, vice and squalor. It saw waves of newcomers – African-Americans, Irish, Italians, Eastern European Jews and finally Chinese – settle in dense and often run-down neighbourhoods that city officials saw as slums.
Yet as the award-winning 2015 Coach House anthology co-edited by Michael McClelland, Ellen Scheinberg, Tatum Taylor and I showed, The Ward was much more than its poverty. The streets teemed with entrepreneurial energy, activism and culture. Moreover, the community's sounds – everything from Italian street musicians to Chinese opera and Jewish cantoral songs -- evoked the homelands of the groups that settled in the area.
The Ward Cabaret was conceived by the Juno Award-winning musician David Buchbinder, a unique show that combines the musical traditions of the groups that lived in the Ward's crowded streets – African American, Italian, Jewish and Chinese.
Led by Buchbinder, Michael Occhipinti and Andrew Craig, The Ward Cabaret is a 90-minute collection of songs about emigration, love, struggle and traditions lost or renewed. Playwright Marjorie Chan, artistic director at Cahoots Theatre, has added vignettes based on the lives of Ward residents – stories that express the hardships and determination of Toronto's earliest immigrants. The show's director is Leah Cherniak, a resident artist and associate director at Soulpepper.
Earlier versions were performed in 2016 and 2017 to sold-out houses at Soulpepper/Young Centre for the Performing Arts and Lula Lounge (check out a short video about that show here). Later this spring, the next iteration, which for the first time includes Chan's script and actors, will be performed over three nights at the Berkeley Street Theatre, from June 20 to 22. Tickets for the shows are available through Luminato, and can be purchased here.
The Ward Cabaret, produced by the book's co-editors, is a joint venture between Luminato and Diasporic Genius, a Tides Canada project founded by David Buchbinder. The show depends on both Luminato contributions and ticket sales, as well as donations to Diasporic Genius. We have had great support, including a generous gift from the Architectural Conservancy of Ontario/Toronto and others in the heritage community. But we still have a $10,000 gap to close. All contributions over $25 receive a charitable receipt. If you would like to donate, please visit this site and click on the option directing funds to The Ward Cabaret.
I am incredibly excited about this show and the way it evokes one of Toronto's most important but least understood neighbourhoods. On behalf of my co-producers and the artistic team, thank you for supporting our project. – John Lorinc