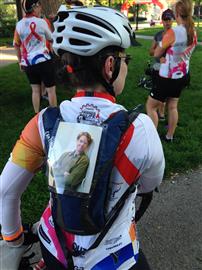 Cathy and Carl setting off on Historic Bike Rally Route to Montreal
Promoting Architecture Conservancy Ontario's Work to a New Audience
I have been publishing BHN for nearly 20 years now, and rarely ask for your support. I am asking for it now.
Starting July 29, I will be riding from Toronto to Montreal with the PWA Bike Rally. This will be my fifth year of participating in the Bike Rally, and my fourth ride. I began supporting PWA after my brother Carl died in 2014, because it was his favourite charity, and because I love to ride. As I rode the 600 km with my brother's picture on my back, I fell in love with the cause and the route.
The Bike Rally goes through the earliest settlement areas of Ontario, fascinating for a heritage architect. The history is so interesting, with stories from so many eras; French trading and settlement, the British treaties with Indigenous Peoples, Loyalist settlers (refugees), the history of transportation and settlements, a secret spy camp and of course the architecture and cultural landscapes left by all those people and processes.
As someone who has twice been President of Architectural Conservancy Ontario (ACO) I am working to bring the two charities together. A partnership between ACO and PWA is emerging which will have ACO sharing stories about the places along the route with Bike Rally participants, a new audience for ACO's work.
The stories are going out in the Bike Rally Newsletters. Over the next few years research and stories will be compiled, at first to be read on tiny screens in tents. I am 75% of the way to reaching my $20,000.00 goal. I am training hard, (not easy at 65) but without the support of friends, family and colleagues I can't make the fundraising distance. If you are interested in reading the history stories and supporting my fundraising efforts, you can DONATE HERE!