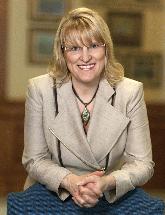 Sylvia Jones, the New Minister of Culture Tourism and Sport
The Ontario Heritage Act was produced by a Conservative government in 1975, Minister Robert Welch, assisted by then Deputy Minister, Stephen A. Otto. The revisions which were passed by the McGuinty government in 2005, were essentially drafted by two Conservative Culture Ministers, Tim Hudak and David Tsubuchi and carried forward by the very able Liberal Minister, Madelleine Meilleur.
It's too early to say what the new Ford government's attitude to this relatively small portfolio will be, but I am encouraged by the appointment of Ms. Sylvia Jones, from Dufferin-Caledon, as Minister of Tourism Culture and Sport. She represents an area that has long been very careful of its history and heritage property. You can find her bio here:
Several measures have already been implemented affect heritage property, but these were not focussed on heritage per se. The elimination of the $100M fund to address school repairs going forward is concerning, leading to premature losses of important public buildings. The cancellation of the energy conservation subsidy programs, inadvertently cut funding for energy upgrades to heritage windows which was in its roll-out stages. Many green energy projects (windmills) have been cancelled, most notably in Prince Edward County, thereby conserving an important cultural heritage landscape.
Save the Bala Falls is hoping that Premier Ford will keep his promise to cancel the hydro project at the Bala Falls. Although it is under construction now, stopping it would save ongoing energy subsidy costs and eliminate the potential safety concerns because of the proximity of a hydro plant to a public swimming and boating area.
A change in government brings with it the chance to change government practice. For example, this government might consider being more proactive in establishing a list or provincially significant properties and acting to defend them, a project that was actively pursued by the Conservatives before the switch to the Peterson government. Now is the time to get in touch with the incoming Minister and welcome her.