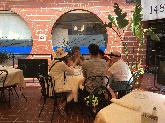 Recent Lunch in York Square, masonry is in perfect condition and food terrific
Depending on what the OMB decides about the future of Toronto's York Square, (Yorkville and Avenue Road) there may not be too many more chances to visit. If you can, go have lunch in the square over the next couple of months, it is one of the great Toronto experiences and could go any minute.
ACO Toronto is putting together a celebration, (hope its not a wake), of York Square. On September 12, from 5:30 to 7:30 we'll be partying in the square, rain or shine. You are invited to wear what you were wearing in the 70's. If you are too young to remember look at old pics....We'll be shooting video.
Drinks and snacks from Il Posto Restaurant. Put in your calendar now, details to follow.